My Ford Flex Experience
Not having a car payment is nice. Then you drive by the car dealership on your way home one day and you see those shiny new cars sitting on the lot. Stylish, sleek, with the latest gadgets and gizmos. You read about some of the newer models online, maybe you take one or two for a test drive, but it's hard to really evaluate a car in such a short time span. Thanks to Ford, we recently got a unique opportunity to really put a car to the "real world" test.
The folks at Ford allowed me to pick out the Ford vehicle model of my choice, then had it delivered to my front door for me to keep and use for a week. Talk about great service.
We decided to make it a family road trip, to head out to grandma and grandpa's place – about 450 miles away. When you go somewhere for a week and bring the whole family and the dog, you need a lot of space. A regular car was not going to cut it. We decided to try out the Flex.
The Ford Flex is an interesting and unique vehicle. With it's long boxy frame, it looks different than anything else out there. . It's not quite an SUV, it's not quite a crossover, it's not a minivan, and it's definitely not a truck… it's a little of all, it's a Flex.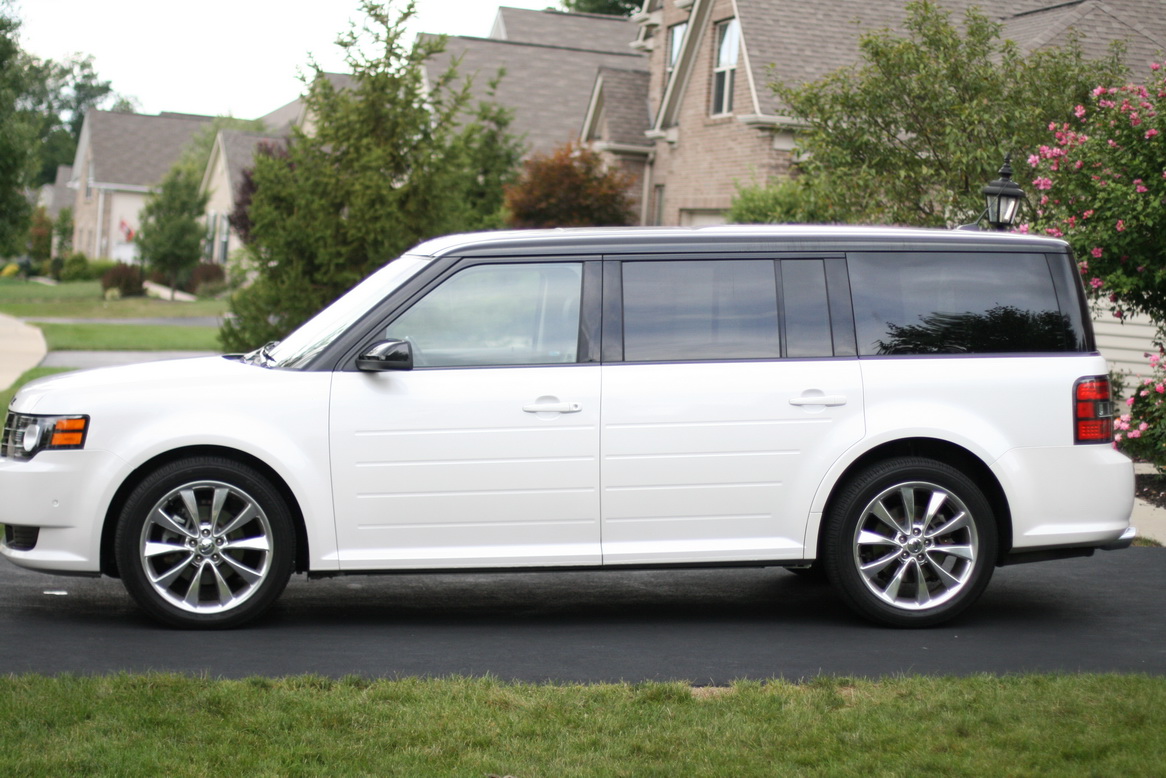 The first thing you notice when you get into the Flex is that it's very roomy on the inside, much more roomy than you would expect by looking at it from the outside. It has 3 rows of seating for a total of 7 seats. The leg and headroom for the front and middle rows are excellent, much better than what I've seen in other similar vehicles (including the Explorer). The 2 seats in the third row offer enough space for an adult to sit comfortably. The third row seats are very easy to fold down to expand cargo space as needed, even using  just one hand. One issue we had was that if you have two or more child seats or boosters in the middle row, there's no way to get to the third row seats. If you put those child seats in the third row, the cargo space is extremely limited, and it's tough to get the kids buckled into their seats.
The second thing you notice is that the Flex is very nicely finished. You can tell that a lot of thought and effort went into the interior design and finish. No cheap plastic look and feel. Buttons and controls are where you'd expect them to be and are easy to use. The leather seats are very comfortable and can be adjusted a million ways to fit just right. The overall impression is that of a high end vehicle.
When you have a vehicle for 7 days and you take it on a road trip, you really get a feel of what it's like to use it on a daily basis. One of the things we really liked about the Flex is that it's packed with all the electronic goodies you could want. Bluetooth connectivity, built in GPS navigation system, a touchscreen interface on the dash where both the driver and passenger can reach it, Sirius satellite radio built in, easy phone pairing, and the really cool Ford SYNC functionality. You can easily pair up the SYNC with your smart phone (android or ios), play music from your phone or MP3 player, and control the music using voice commands so you can keep your hands on the wheel. Being able to change channels, select songs by title or artist etc all without lifting a finger is great. You can check out all the SYNC features here: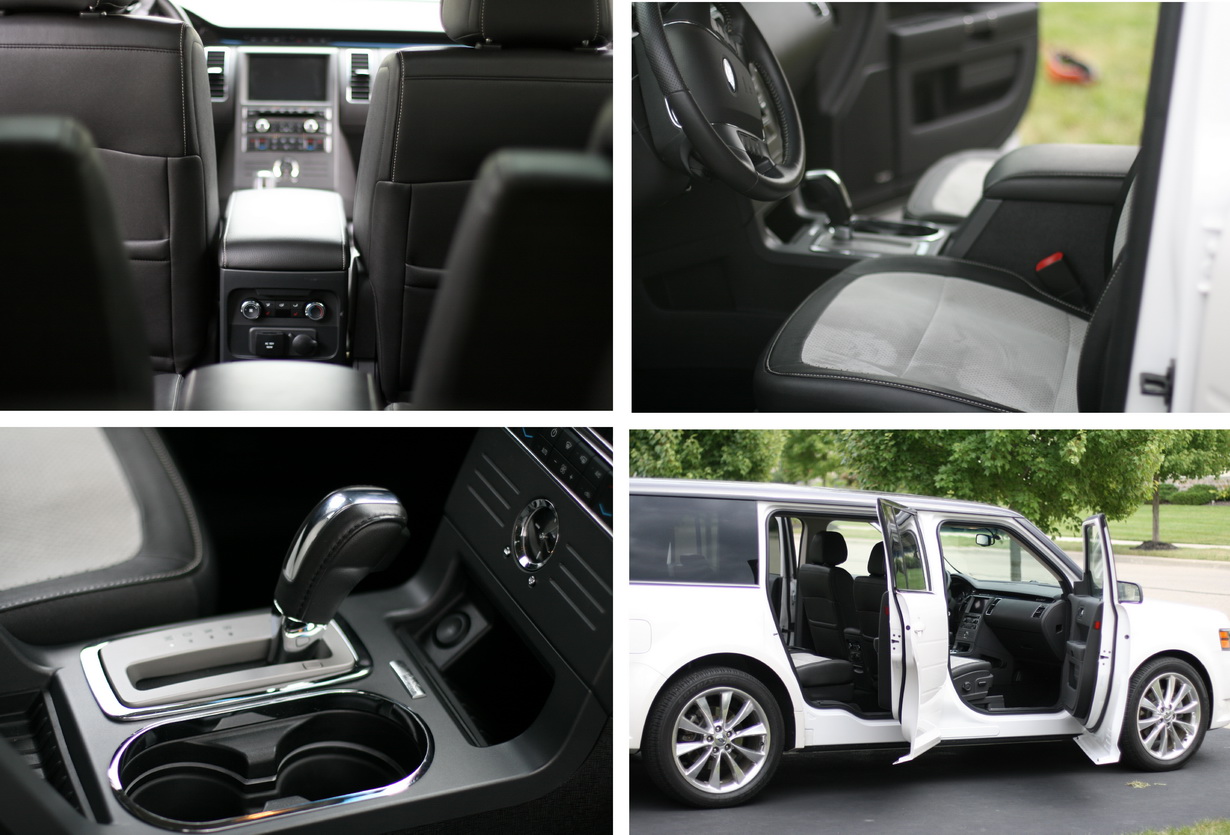 Another cool feature is being able to see exactly how much gas your engine is using at any particular time. The vehicle we used was equipped with the 3.5L EcoBoost engine , and we actually got better mileage than the EPA estimated 16 city/23 highway. We were consistently getting 26 mpg on the highway. We were a little surprised when we stopped for gas and noticed that there is no gas cap on the Flex, it uses the Ford "easy fuel" cap-less system, a nice touch.
Another feature that you won't find in many vehicles is a refrigerated compartment in the middle console. That's fantastic when you go on a long road trip, you can put some drinks in there and keep everything nice and cool, even on the hottest of days (the temps hovered in the 100's during our trial).  I could forgo the refrigerated center console to have a clear path to the far back seats however.
Pros: very flexible with seating, very roomy, packed with technology, very refined, plenty of "oomph" under the hood, good mileage given it's size.
Cons: when the third row seats are not folded down, cargo space is very small.
So what's the final verdict? The Ford Flex is a really cool vehicle and true to its name it is very flexible in configuration. The Flex (depending on the model) goes for $29k to $39k. I personally would not be willing to pay close to $40k for the Flex, but in the $30k to $35k range it's a very good value. Ford continues to add innovative and interesting models to its lineup, I look forward to taking some of the other new models for a spin.