Hexbug Nano Halloween Party Creeping Crawling Oh My!

I have two boys, and naturally they love bugs, snakes, worms and anything that naturally freaks me out.  With Halloween coming up, we decided to throw a small party and have a little creepy crawling fun with bugs, Hexbugs that is.  We had the chance to invite over friends and have a glow in the dark Hexbug Halloween Party.  We had treats, kids and lots of bugs!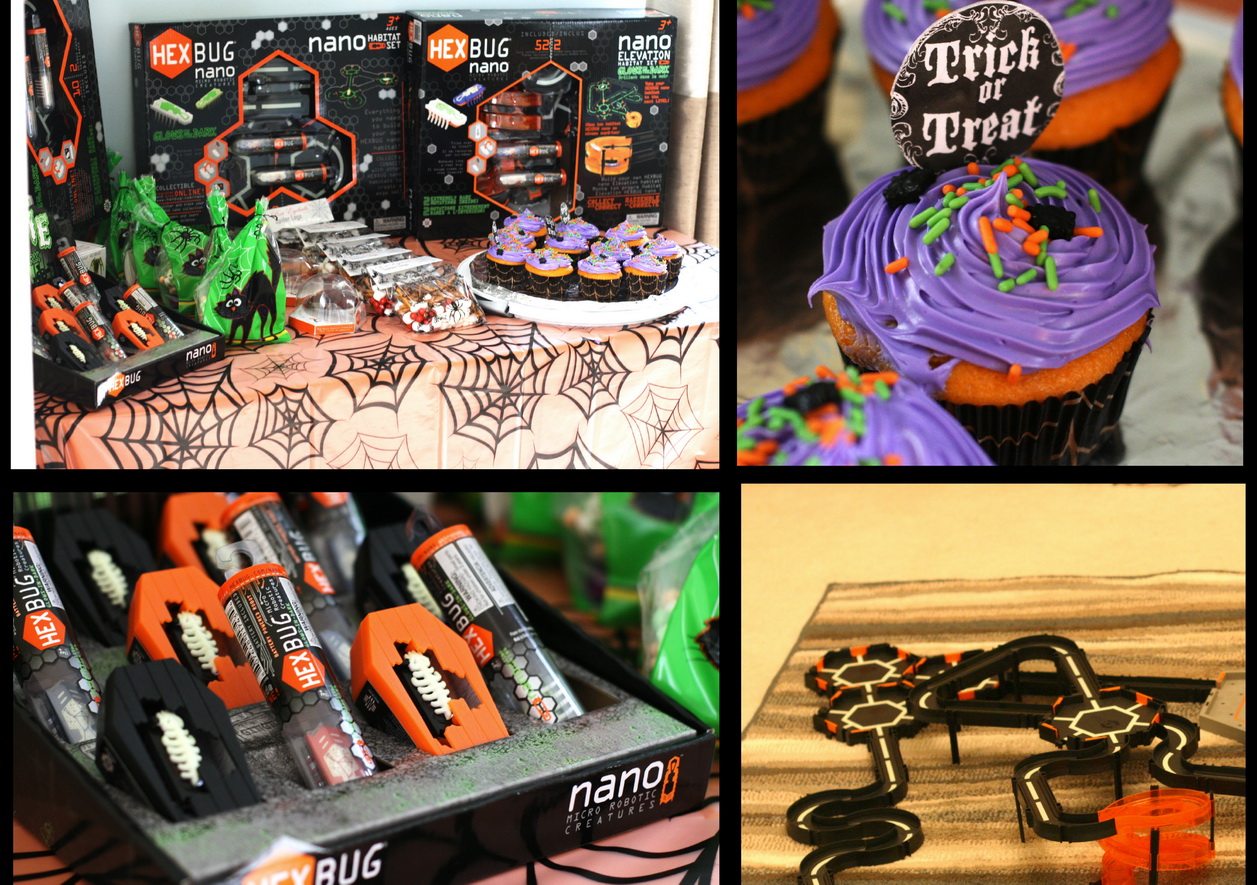 Just in time for Halloween we were sent Hexbug Nano bugs, and limited edition Hexbug Nano Halloween Zombie bugs complete with their own habitats.  The unique thing about them was that the bugs glow in the dark along with the habitat tracks.  So when the lights go out, it is twice the fun and the kids had a blast.  There is no end to what you can come up with Hexbugs, and our favorite part was when each kid got their bugs and decided to race them start to finish through the habitat.  The first person whose bug made it to the finish was the winner.  It got a little crazy in the house, but it was truly a blast.
Check Out Our Video!
I was amazed at how well these things got around, it was like they had a mind of their own and could find their way through the twists and turns of the habitat.  We were even sent some Hexbug Larva, that crawled around with uncanny resemblance to the real thing.  It even had a sensor that makes it turn around to avoid things in it's path.  It was a little gross for me, but gross is what the boys love.

Overall, my take, is that Hexbugs are pretty entertaining for the kids.  When I checked out the Hexbug website they have all sorts of cool bugs, and even remote ones.  My only beef is that it seems like they run out of batteries quickly, but usually kids tend to seem to leave them running and walk away.  But overall they are really cool and quite ingenious how they move about.
From bugs races, to entertaining your cat, Hexbugs are sure to make your kid smile.  Right now you can find the limited edition Hexbug Nano Halloween Zombie bugs at a Radio Shack location near you, but don't limit Hexbugs to Halloween, they would make great stocking stuffers for the Holidays and the perfect size in their little test tubes.
Disclosure *Hexbugs, and habitats were provided to us to host a party by Mom Select and Hexbug, all opinions,video, and pictures are that of my own*