Mizuno Wave Ascend 6 Review
I haven't kept my recent journey to weight loss a secret. When I first started out, I knew that I wanted to run eventually when I was in much better shape. When I finally decided it was time, I realized that my walking shoes weren't going to cut it. Not only were my feet already hurting, but any ramp up in my activity in them made matters worse.
I do a ton of walking on local trails, so I knew that I eventually wanted to jog them as a well. I am also a major overpronator, or I tend to walk to the inside of my feet, you can see it by the way my soles on my shoes tend to wear. Initially, I said to myself, ok I need a running shoe. When I began to look, I began to panic at all the various choices. There are about a billion different brands, different styles, there are trail running shoes, neutral running shoes, and shoes that feel like no shoes at all. After about three days of looking, my head began to hurt and that is when I was introduced to Mizuno shoes, my saving grace in my search for trail running shoes and for my feet.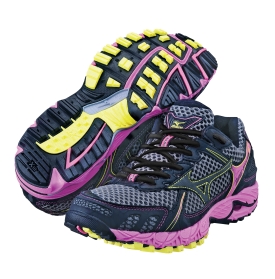 The folks at Mizuno were kind enough to send me a pair of their Wave Ascend 6 trail runners. This particular shoe is in it's 6th generation which already tells me it's a keeper and clearly time and dedication went into it's creation. When I received them, I opened the box and was delighted to see the one thing that was going to be significant in my weight loss journey and how awesome they looked. I loved the black mesh shoes, with hot pink and yellow accents, but I loved them on my feet even more.
The fit was that of a glove, and all the love a hug could give. They fit a tad snug, but felt extremely comfortable, I had a feeling that it was designed to stay on your foot so when you are running, your feet aren't moving all over the place in your shoe. The shoe itself is extremely lightweight. 9.6 ounces to be exact, but offers ample cushioning from heel to toe. The real test however, was to take a test run in them and I was more than excited.
About the Wave Ascend 6  (taken directly from the site)
Unlike other shoe technologies, as your foot touches the ground, Wave actually reduces and redirects impact forces away from your foot. Wave acts much like your car's suspension—offering cushioning and keeping your foot centered in your shoe throughout your stride.

Disperses impact forces away from foot
Progressive, tunable support
Lightweight, compact, responsive
Doesn't break down over time

SmoothRide is the result of years of development designed to the most fluid, smooth, rocking-chair-like motion in every step.

Smoothride begins working the moment your foot touches the ground. Flex Grooves in the heel promote natural movement from the back of your foot to the front, initiating that rocking-chair motion. Our AP+ Midsole gives the shoe a bouncier feel. And Flex Grooves and Flex Controllers in the forefoot work together to smoothly continue the roll forward to give your foot a more solid platform at toe-off. It all adds up to a more fluid, enjoyable run, every time you head out.

Smooth, rocking motion throughout your stride
Increased flexibility
More power at toe-off

From heel strike to mid stride to toe off, Dynamotion Fit is all about creating a shoe that works with your foot through the design and materials we use to create it. As your foot twists, bends, and stretches in each step, the shoe upper moves with you. Flex Eyelets help keep your heel secure throughout your stride by allowing the upper to stretch and contract as needed. And Stretch Mesh eliminates bunching and pulling that can create discomfort and even blisters–especially at toe-off. Together, the features of Dynamotion Fit create a shoe that gets out of your way, so you can become the best runner you can be.

Emulates the motion of your foot
Secure fit that still freely moves
Eliminates bunching, pulling, and sliding
I took off on the trails with my pup , and did a quick 15 minute test run. The trails behind my house have lots of rocks, and the traction on the Mizuno Wave Ascend 6 is amazing. At first, I felt hesitant on my first down hill turn, but realized that these particular shoes had what felt like a tacky grip on the rocks. I never once, felt my feet slip beneath me, which was an inherent problem when walking in my other shoes. The mesh on the shoe offers great breath-ability, because let's face it, you're feet sweat. It was hard to tell after first run, how the pain in my foot would fair, but after logging approximately 150 miles in the Wave Ascend 6, I can tell you that any pain that I had, has apparently corrected itself as well as the over pronation problem.
Overall, I am extremely impressed in the wear of the Wave Ascend 6 and how it has held up to my pounding the trails in them.  With a $99 price point, it is a great running shoe for the wear.  I have learned that a running shoe is only good for around 300 miles and I intend on pushing the limits , so my next pair will definitely be Mizuno because it takes the guess work out of finding a good shoe.  There are a lot of shoe choices out there and you have to find a good one that you love to wear and that feels good on your feet.  It is obvious that Mizuno took a great deal of effort to make the Wave Ascend 6 a shoe you want to run in.
**Disclosure:  I was sent a pair of Mizuno Wave Ascend Shoes to facilitate my review, the opinions in this posting are that of my own**