Family Movie Night Game Of Your Life December 2nd on NBC!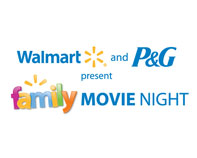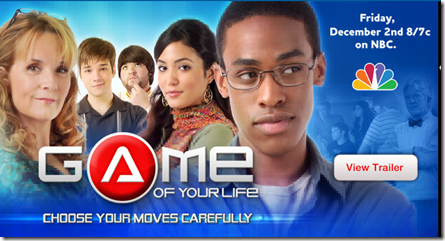 Teaching our kids to make the right choices is something that you hope to instill in them before they go off on their own.  Life is full of lessons, that we either learn the easy way or sometimes the hard way.  It is hard to watch your children do this, but often times these are things that help them in the end.
At least once a week we watch movies or a show together as a family.  Some of my favorite shows to watch are the ones that involve life's valuable lessons with examples that kids today can relate to.  Periodically, P&G and Wal-Mart offer Family Movie Night, and I have been pleasantly surprised by their wholesome quality.  Their newest movie, Game of Your Life, premieres December 2at 8/7c on NBC.  I love the wholesome content of the movies offered, and I feel like I don't have to shield my child's ears or eyes when we are watching.  It also has valuable lessons, that can open up good conversations after the movie about the story, and the lessons learned.  My boys are only 5 but no matter what they got from the movie you can incorporate lessons learned.  Game of Your Life, was a good story with a great ending and I loved the movie as always.
What the movie is about


When Zach Taylor heads to an elite video game design program his future takes a promising turn.  First he must survive the good ole freshman year and make the cut after the first three months.

Teamed up with determined group leader Sara, his roommates, Donald and Phillip, the four set out to involve the entire campus  in a new social interactive game of making choices. At the height of their new project development Zach learns that his father Billy, is  facing growing debt and financial problems back home. Worried and desperate  to help his Dad and not lose the only home he has known, Zach accepts an opportunity to work directly with Marcus Bentton on the side which is against policy at the school. His new secretive project has Zach falling asleep in classes and falling behind on the team project. which he should be devoting to the project. Struggling to keep it together, Zach is torn between his responsibility to his team, his admiration for Bentton and a chance to help his father.

Everything comes undone when Zach's teammate threatens to remove him from the group the  truth behind Bentton's secret project comes to light. With the help of his  Professor Abbie Lambert, Zach must make a decision that will impact his family and those around him.



Game of Your Life, premieres December 2at 8/7c on NBC. So grab some popcorn and your kids, curl up in your pjs and watch a movie that you all can watch. You can check out the Family Movie Night webpage to see previous movie offerings and read about the current movie and become a fan on Family Movie Night's facebook page.
"I wrote this review while participating in a campaign by Mom Central Consulting on behalf of P&G and received a promotional item to thank me for taking the time to participate."