When I first started blogging, I was fairly lost at how to go about starting one.  There are so many different aspects of starting a blog that you don't think about.  You start mainly with it's design and layout and then you go from there.  I only thought it was a matter of posting daily but then as I went along and learned more about links, SEO and key words for search optimization, and learning the ropes on how to track my incoming traffic, I realized that it wasn't so simple for me.
Omniture is the leader in web analytics. The Omniture Online Marketing Suite™ is one of the leading solutions to help you optimize ad spend and conversion. It includes a comprehensive portfolio of applications for visitor acquisition, conversion, online analytics and multi-channel analytics built on an open business analytics platform.

Basically this suite has all the tools you need to help you effectively target and reach your web audience, and convert them into customers.  This is a great way to gain active readers to your site and extend your reach and keep track of who is showing up on your site and who is coming back.  It is a great tool for your business. Omniture.com offers a whole host of information to get you started in having a successful online presence.  If you are just starting out, it is best to arm yourself with tons of knowledge about blogging, running an online business and maintaining a good customer base.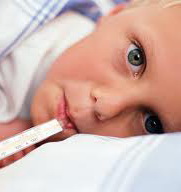 Sometimes when you're in the middle of what seems like a whirlwind of things going on, you think about some of the strangest things.  This week, one of my boys got very sick and ended up at the hospital.   While waiting in the hospital room, I heard nurses and doctors talking about signing off on meds, dispensing them and so forth….   As consumers we see the tail end of the pharmaceutical manufacturing and distribution process, the part where the medicines actually go to the patient.  Given the mountain of regulations around dispensing controlled substances and medicines, the whole process from start to finish has to be monitored and controlled.  From the production facilities all the way to the dispensation to the end consumer, every box, every case, every little bottle, every little pill that moves on the conveyors has to be tracked, monitored and accounted for.  Every little piece of the distribution puzzle has to be tracked, documented and monitored.
The complexity of managing that kind of tracking and processing is simply mind boggling.  With the advent of modern computers, there are pharmacy automation systems to handle all this stuff.  I have no idea how all these things were was done before computers were around.   Probably with an army of people to document everything, and a mountain of paperwork to go along with it, and a level of inefficiency that makes the government look lean and mean in comparison.
We take this stuff for granted, the medication is just available at the pharmacy or hospital when you need it, but when your child is struggling to catch a breath and that medicine is going to be the difference between a good or a bad outcome, you appreciate the work that has to happen behind the scenes to make it possible.

I have always loved watching the show Survivor with my husband, and I also love watching that show the Survivorman.  Both shows are completely different in how the people involved go about surviving in their environment.  I like to call Survivor a "fluffy" way to live in the wild.  I have always complained that the show itself isn't really hard core survival.
Survivorman on the other hand, is a little more true grit when it comes to living out there in the wilderness on your own.  I honestly think I would starve before I ate a bug, but I always rationalize that if I were starving I would probably entertain it, but I would have to be near death.   He has far more knowledge than I do on what is edible and what isn't.
With the end of the world always being talked about in the news and half crazed people who think they can  predict it, I have always considered having some of the things I would need to have for our family in case of a real emergency. Foods for survival like freeze dried meals,  that have a long shelf life,  can be useful just to have in case you or your family are unable to leave the house.  Now I am not predicting a world disaster, but it cannot hurt to be prepared for things that could possibly come up.
When it comes to surviving out in the wild, I can tell you I am not much help, but if I can do easy things like having flash lights with fresh batteries, warm blankets, food, water and the basics available at all times, we could all get by without having to eat a single bug  lol!  I am pretty tough but hopefully it won't involve the extremes like survivorman.  Do you have any special precautions you have taken to get by in case of an emergency?



I remember planning my husband and I's wedding.  It is the day that most little girls daydream about and the day that women remember for the rest of their lives.  The fun part about getting married is the planning and picking out of each others wedding bands.  After all, these are the bands that you will more than likely wear for the rest of your married lives and a special symbol of the significance of your relationship.
When looking for my husband's wedding band, we found that it was a bit overwhelming because of all the various choices.  For him, we wanted something that was simple, but interesting, and a ring that I know he would wear.   Men are hard to shop for in my opinion, and finding a ring or jewelry that men might wear can be challenging.  You want something that is slightly elegant, if that is in a man's repertoire,  and yet looks nice on his hand and that he is comfortable wearing.  I found tungsten bands to be some of the more attractive men's wedding bands out there.  They are interesting to look at, offer something that is elegant but masculine for his finger.
Men's Tungsten Online offers a wide range of men's wedding bands and rings.  I have found myself looking at them, and thinking about upgrading my husbands ring for our ten year anniversary or just getting him something new that he can just wear.   I love the laser etched tungsten rings, and love the slight, but not overpowering detail etched on the rings.  The prices are beyond reasonable and would be the perfect addition to his finger.
Take a look at tungsten wedding bands if you want something that fits his personality, and is elegant yet masculine.  After all, this is a day that you will remember for the rest of your life.  Your wedding rings are that special reminder of your commitment to each other.

Having kids, equals a big mess, no matter how you think about it, they are not the neatest and cleanest creatures on the planet.  Inevitably, there is always a stain that pops up on their clothes, and it never fails to be the newest shirt that I just bought for them.   Since, I have boys, there is always dirt involved and one of my boys has the habit of wiping his mouth on his shoulder/sleeve which drives me crazy.  By the time I do laundry, it looks like they have been wallowing in the mud for the past week.
I am always doing battle with one stain or another on our clothes, whether it is grape juice stain, spaghetti sauce, grease stain or ink, I am usually always trying something new to get them out.  In addition, myself and my children have pretty sensitive skin and I am usually very cautious and particular about the detergents, I use to wash our clothes.
I am always on the look out to try things that actually work on some of the more set in stains or the surprise stains that pop up in the weekly laundry.  I recently had the opportunity to try Shout Free, and shout products have always been one of my mom's favorite go to stain removers, so I was interested in giving it a try.  Shout free, appealed to me because  it is dye free, fragrance free, has 99% natural ingredients, and is safe for all your washables.  This way, I don't have to worry as much about potential skin reactions, and use the same great product to get stains out of our clothes.
The handy spray bottle allows you to effectively cover the stain and cover a wide area of the stain quickly, so you can toss your clothes right in.   So for a week, I served up juices, and spaghetti to put it to the test.  Shout Free took out a grape juice stain, as well as, spaghetti sauce.  It works best if you treat the stain as soon as you notice it or when it happens.   Overall, I was pleased with it, and it doesn't seem to bother our skin.  The nice part is that I can save some of our clothes that would otherwise be ruined by a permanent stain.  There is nothing more frustrating then getting new clothes for the boys and not being able to remove a stain.
Currently Shout is offering downloadable coupons on their Facebook page for Shout Free and Color Catcher with Oxi!  And to get your stain fighting off to a good start DoubleBugs is giving away a free sample of Shout Free, to two lucky readers.
Here's What You Gotta Do
Subscribe to my RSS Feed, and Become a fan on the Shout Facebook Page
Extra Entries
Tweet about this giveaway and provide the link to your tweet
Follow Me On Twitter
Contest starts December 27, 2011, and Ends Jan 2, 2011
Open To US residents only

Good Luck!!!
*winners need to respond within 24 hours of being contacted otherwise the prize is forfeited*

"I wrote this review while participating in a campaign by Mom Central Consulting on behalf of Shout and received a product sample to facilitate my review and a promotional item to thank me for taking the time to participate."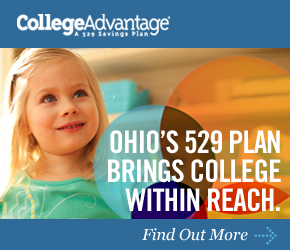 The holidays are in full swing and like me, many of you are out searching for the perfect gift to give.  If your kids are like mine, they get spoiled by two sets of grandparents, Santa comes to the house, and they have all their aunts and uncles.  So why not give a thoughtful gift, like the gift of education, designed to benefit families and their children for their future?
Giving the gift of education, is probably one of the most valuable gifts we can give our children and saving for college can be a family's most daunting task.  The Ohio Tuition Trust Authority  has the perfect gift this season, the CollegeAdvantage 529 plan. CollegeAdvantage, Ohio 529 plan, makes it easy for a family to save for college and offers a choice of investment options from leading fund managers. Funds invested in CollegeAdvantage can be used at any college in the country to pay tuition, fees, books and room and board.  I don,t know about you, but with having twin boys, we are going to need all the help we can get.
Right now, if you open a CollegeAdvantage account with at least $100 by Dec. 31,2011 you will get a $25 bonus contribution to the newly opened account. All you have to do is enter the promo code SAVINGS at sign-up.
FEATURES AND BENEFITS OF A 529 COLLEGE SAVINGS PLAN.
If you ask us, they pretty much speak for themselves.
TAX-FREE WITHDRAWALS

The account grows tax-free. Withdrawals are free from federal and state income tax if used to pay for qualified higher education expenses.
STATE INCOME TAX DEDUCTIBILITY

Contributions to your state's plan may be eligible for a total or partial deduction on your state income tax return.
REDUCED ESTATE TAX

Generally, the account value isn't included in anyone's estate for federal estate tax purposes. State estate taxability varies by state.

INVESTMENT FLEXIBILITY

Generally, you can choose between two types of investments: age-based options (investments change to a more conservative mix as your child nears college) and individual investments (you manage and create your strategy). You can change investments within the plan once each calendar year.
UNLIMITED PARTICIPATION

Under Ohio's plan, anyone—parent, grandparent, or friend—can own an account or contribute to another's account for a beneficiary. Some states' plans allow only the account owner to contribute.
ABILITY TO CHANGE BENEFICIARY

You may transfer the account at any time to a different beneficiary who is an eligible family member of the original beneficiary.
MINIMUM IMPACT ON FEDERAL OR FINANCIAL AID

Funds invested in a 529 plan are considered to be an asset of the account owner. If the parent is the account owner, on average, about 5.64% of the value of the account is considered in determining federal financial aid.
NO INCOME RESTRICTIONS

You may invest in a 529 plan no matter how much you earn.
FLEXIBLE AGE LIMIT

Most plans allow contributions for a beneficiary of any age. Only a few plans have age restrictions.
Ohioans who contribute to a CollegeAdvantage 529 account can also take advantage of the state of Ohio tax deduction for college savings. Up to $2,000 of contributions can be deducted each year per contributor (or married couple), per beneficiary, with unlimited carry forward in future years. Any Ohio taxpayer contributing to a CollegeAdvantage account including grandparents, other family members and friends can also claim the state tax deduction. In addition to the state tax deduction, earnings in a CollegeAdvantage account are free from state and federal income taxes when the funds are used for higher education expenses.

Being a new parent, I had not even heard of CollegeAdvantage, and I have been living here for nearly 17 years. As my husband and I were getting our bills in order, these are the types of things that cross your mind. The boys are only 5, but momentary panic sets in when you realize just how much it will cost to send both of them to college at the same time. With CollegeAdvantage, it makes it a realistic option to actually save up for college without making big adjustments in the family budget. Also, I like that anyone can contribute, so when Christmas, and things like graduations come around, money can be spent on a gift that matters most.
Rather than buying toys that eventually fall apart, why not give the gift of education for Christmas? Now, is the perfect time to get the new niece or nephew in the family started on one of a family's biggest investments, their child's future. Families, can quickly open a CollegeAdvantage account by visiting the CollegeAdvantage site.
To help get you on your way, DoubleBugs is happy to offer 3 $100 CollegeAdvantage Savings Plans to help you start saving for your child's college.  It is never too late to start!
To Enter
Leave a comment why you would like to win and how this would benefit you.
Additional Entries
Become a fan of Ohio's 529 College Savings Plan on facebook
Tweet about this giveaway and leave the link
Follow me on Twitter
Contest starts December 19, 2011 and Ends January 19, 2011
Winner has 24 hrs to respond or prize is forfeited
Good Luck!
**I was compensated for this post all opinions expressed here are that of my own**
Winner has been contacted and has responded.
Congrats to Eugene, our winner of the rockboard scooter, drawn via random.org  Enjoy your prize!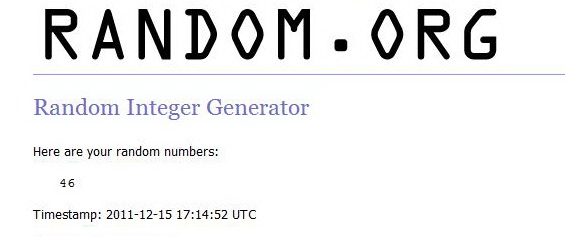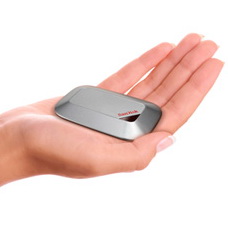 Before I had my children I just dabbled in photography and didn't particularly take that many photos.  Once they were born, as all new parents do, I felt compelled to snap numerous pictures of the boys each and every day as they grew.  Even though I didn't have all of them printed, I slowly over time, have acquired thousands of images on my local hard drive and that which we store on our home server as well.  Besides the obvious digital storage options, I have always wanted a place though, to keep them besides just on the home computer.
Our plan was to ultimately burn all our photos on to cds, and make triple copies, sending one to my parents to keep, one to put in a safe and one to just have on a shelf in our home.  That way I would be sure to have copies, no matter what happened.  I am always on the lookout, however, for compact ways to have my most precious memories kept safe without risk of damage and readily available to me if I need to access images.  Let's face it, cds break, get corrupt, and hard drives fail.  Having a low risk, highly reliable, and compact way to store your pictures has to be the most logical and desirable way to store digital images and video.
But, what if there was a way to store your photos for at least one hundred years, in a compact location, with minimal risk of losing your precious photos?  And what if you didn't have to rely on your computer's hard drive to store your digital images and risk them failing?  SanDisk has come up with a way to protect, and store your most important images, and videos for at least 100 years.  The SanDisk Memory Vault is designed for long-term preservation.  All you have to do is connect it to your computer's USB port and drag-and-drop.
Features

SanDisk Memory Vault features Chronolock™ technology:

Engineered to preserve the quality of photos and videos long term
Tested to support data retention for up to 100 years*
Physically designed for long-term reliability and durability

*For more information, see www.sandisk.com/preserve
1 gigabyte (GB) = 1 billion bytes. Some capacity not available for data storage.

Additional Info

Minimum System Requirements

Windows® XP, Windows Vista®, Windows® 7 and Mac OS® X v10.4.11 or above
USB 2.0 high-speed connector

Package Contents

SanDisk Memory Vault
USB 2.0 transfer cable
Quick start guide
Writable labels
Storage pouch
With as many pictures as I take, the SanDisk Memory Vault is very useful.  I also like the designated place that they have for a label which is provided with the Memory Vault and the handy little storage pouch.  I was sent the 16GB SanDisk Memory Vault for review a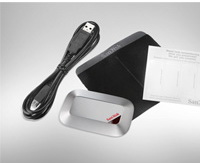 nd I found that I am going to need a whole lot more space than what is available on it.  I take so many pictures that it was full in the first twenty minutes of transfer.  Currently, the SanDisk Memory Vault retails for a whopping $90, which personally I feel is a tad on the steep end for a flash drive like device with some added technology.  I would like to see a much larger storage capacity at that price range.   Putting the price aside, I feel like it is a really nifty little device and has a potential to be a a really great go to device for the future of photo storage.  I would like to see this with more storage capacity and for organization sake a place like storage box in which I could slide the SanDiskMemory Vaults into it, with the labels visible within the box.  The SanDisk Memory Vault is a great forerunner in the future of digital memory protection and storage options.
If you are looking for a great way to preserve your treasured photos and memories, the SanDisk Memory Vault would make a great stocking stuffer or gift for an avid photographer or just a special person in your family. DoubleBugs would like to offer a 20% discount to the first four people to email me at laurie@doublebugs.com. The coupon is good for one discount and can only be used at the SanDisk online store (http://shop.sandisk.com) and expires December 31, 2011 at 12am EST.  Keep your memories safe with the SanDisk Memory Vault.
"I wrote this review while participating in a campaign by Mom Central Consulting on behalf of SanDisk and received a product sample to facilitate my review, and coupons to giveaway."


Christmas is in full swing at our house,  the tree is up, shopping is being done, and I am busy checking off my list of people that we have to buy for.  The kids are easy, because toys are usually at the top of their list for Santa to bring.  But I always seem to get stuck when it comes to getting things for the adults in the family.  I always struggle with gift ideas.  What do you buy for people who seem to have everything, who give you very vague ideas as to what they could want, and who tell you they want nothing but you insist on buying something for?
We recently received a wonderful Hickory Farms Gift basket, stuffed with yummy summer sausage, and smoked cheeses and we have already been enjoying its contents.  Hickory Farms, is one of my favorite go to gifts during the holidays.  I have loved Hickory Farms since I very little and remember when my Mom would bring home a gift basket from them, or we would buy some of their famous beef summer sausage and cheeses.  I have fond memories of the strawberry bon bons that they used to place in between all the wonderful tasting food goodies within the basket.  For us, our traditions would often involve a family movie night, and we would slice up the sausage and cheeses, and crab the crackers.
Every year around this time Hickory Farms sets up shop in our local mall and I always love to stop and get a few things for our travels back home.  My parents are always delighted to get Hickory Farms goodies, and the tiny mint meltaways are one of my mom's favorite treats.
So, when it comes to giving, I like to give Hickory Farms.  There is something for everyone and you cannot go wrong with food.  It is a perfect general gift that can be given to family and friends and something that everyone can enjoy.   Hickory Farms has a wide selection of signature sausages and savory cheeses that are always packaged so pretty.
And, to kick off the holiday gift giving season, Hickory Farms will donate $5 from each Party Planner gift box sold to Share Our Strength's No Kid Hungry Campaign, a national nonprofit that is working to end childhood hunger in America. In addition, Hickory Farms provides free shipping on select products to APO/FPO military addresses across the globe, allowing loved ones overseas to share in holiday traditions.   I love when companies incorporate good causes into the items that they are selling and  Hickory Farms products taste so yummy, that it makes it easy to buy. Right now you can have Hickory Farms delivered right to your door in 3 days for just $3!
So if you are stumped as to what to buy family and friends and you don't want to give them something they might not like.  Hickory Farms has some tasty gifts for everyone.
**"I wrote this review while participating in a campaign by Mom Central Consulting on behalf of Hickory Farms and received a product sample to facilitate my review."**
If you have kids and you have a garage, it might look a lot like mine.  We have about twelve different things with wheels on it, and every outdoor play thing known to mankind.  I didn't have half of the things, I see kids with today, and sheepishly I admit that I would even like to have some of them.
Scooters seem to be a big deal in our neighborhood, I have seen motorized scooters, scooters with three wheels, my boys have scooters that spark, and I've even seen those ripstick things that look like anyone would break their neck on.  I think as a parent we are always kept informed by our children of the newest, latest and greatest toys out there.
Recently, we were given the opportunity to review the Rockboard Scooter, and the boys were absolutely excited to get this and try it out.  It was not like any other scooter that I had seen roaming about the sidewalks and streets in our neighborhood.  At first when we took it out of the box, the size seemed a little intimidating to me, but I couldn't get it set up fast enough for my two before they were up and rockboarding away.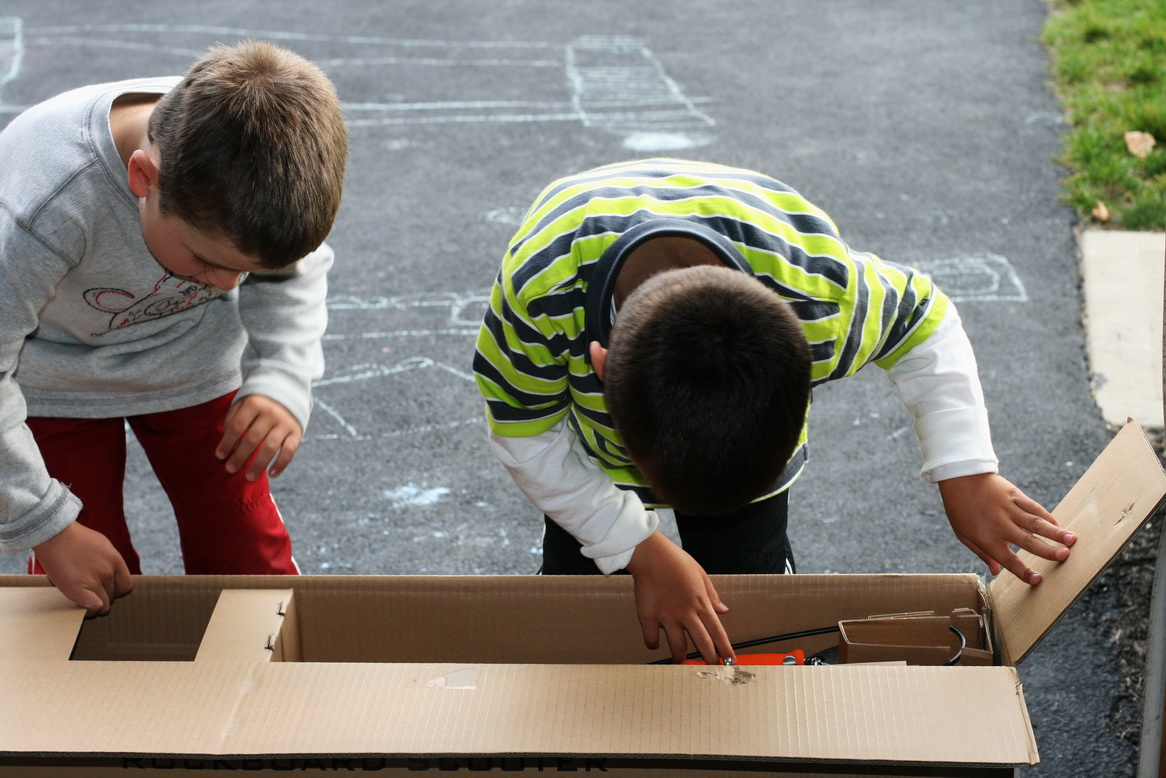 Firstly, there was absolutely no assembly required other than unfolding it and adjusting the handlebar height to fit the boys.  We were sent the full size Rockboard for them.  The recommended age on it is 8 and up with a 200lb weight limit.  They make a Rockboard mini for children ages 5 and up with a 90lb weight limit.  Despite the boys being 5, the full size Rockboard was perfect for them to handle.  I was a tad nervous at first when they got on it, but they made it look easy. Your child does have to have a sense of balance to ride this scooter.
The scooter is propelled forward by your child rocking the main step platform back and forth with their feet.  I had a slight heart attack at how fast they can get this thing moving, but thankfully it comes equipped with a brake on the handle bar.  In my nervous mom voice, and probably for my own sake, I had to continually remind them to brake, but they had the hang of it before I really had to say much, they quickly retorted "I know Mommmm" in the voice of a teenager in a five year old's body.  The Rockboard also doubles as a regular scooter, you simple lock the platform back into place and off you go. It comes equipped with a kick stand as well, which I really like, this way the scooter isn't getting tossed to the ground.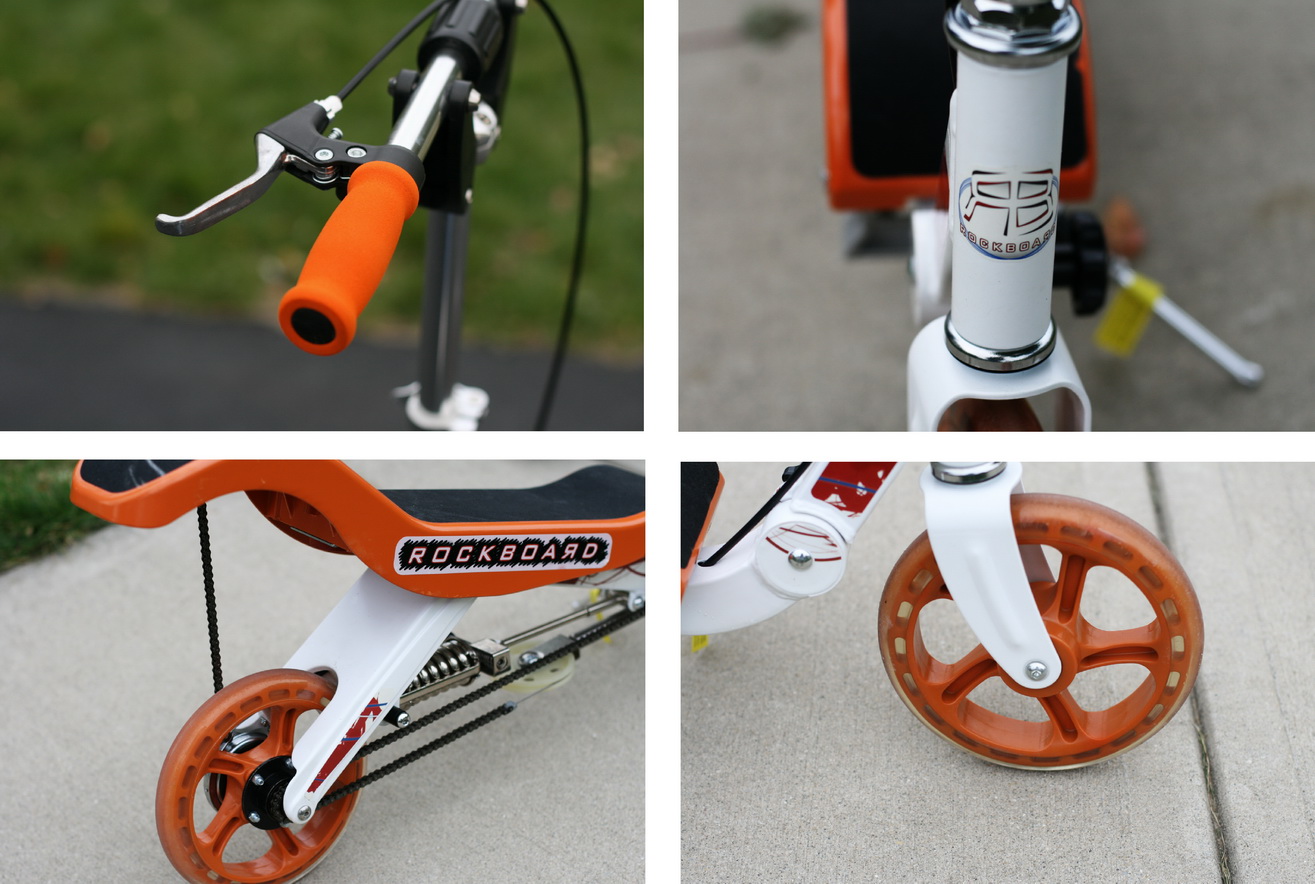 Product Features
One thing in particular, that I did notice, is that over time with braking repeatedly, you could possibly need replacement urethane wheels. Since we haven't had it that long that may or may not be an issue. All in all we really like it, and it drew quite the crowd when we got it out. The boys liked the fact that it could "race" really fast as they say, and it also appealed to the older kids 9, 11, and 12 that decided to take it for a spin as well. It is now one of my boys favorite things to get out when they want to play.
This would be a great scooter for younger and older kids alike. It deviates from the standard looking scooter and it is pretty cool how it gets around. The Rockboard scooter retails for right around $200 which may be a little pricey for some but you can find it at Target, Amazon or even Toys R Us.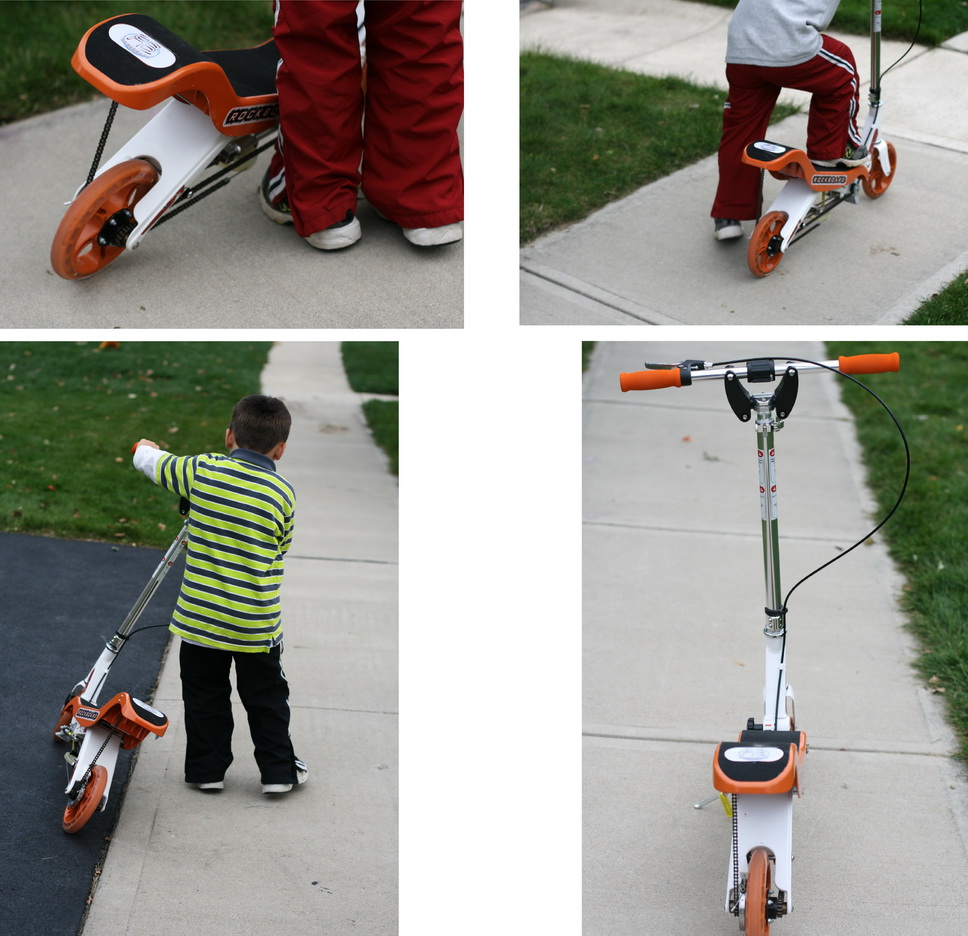 Would you like to see your kid rocking the neighborhood? To help you with your holiday shopping and to give you a chance to get your special someone a really cool and totally rocking scooter, Rockboard was kind enough to give one DoubleBug's reader a chance to win their very own full size Rockboard Scooter!.
Here's What You Gotta Do
(Mandatory) Leave a comment and tell me why you want to win
Additional Entries
Tweet about this giveaway and leave the link to your tweet
Follow me on Twitter @Laurie2008
Open to US Residents Only
Giveaway starts December 7, 2011, and Ends December 14, 2011
Good Luck!!!
**A Rockboard Scooter was provided in order to facilitate my review, the opinions voiced in this post are my own.**