Rockboard Scooter Review and Giveaway!
If you have kids and you have a garage, it might look a lot like mine.  We have about twelve different things with wheels on it, and every outdoor play thing known to mankind.  I didn't have half of the things, I see kids with today, and sheepishly I admit that I would even like to have some of them.
Scooters seem to be a big deal in our neighborhood, I have seen motorized scooters, scooters with three wheels, my boys have scooters that spark, and I've even seen those ripstick things that look like anyone would break their neck on.  I think as a parent we are always kept informed by our children of the newest, latest and greatest toys out there.
Recently, we were given the opportunity to review the Rockboard Scooter, and the boys were absolutely excited to get this and try it out.  It was not like any other scooter that I had seen roaming about the sidewalks and streets in our neighborhood.  At first when we took it out of the box, the size seemed a little intimidating to me, but I couldn't get it set up fast enough for my two before they were up and rockboarding away.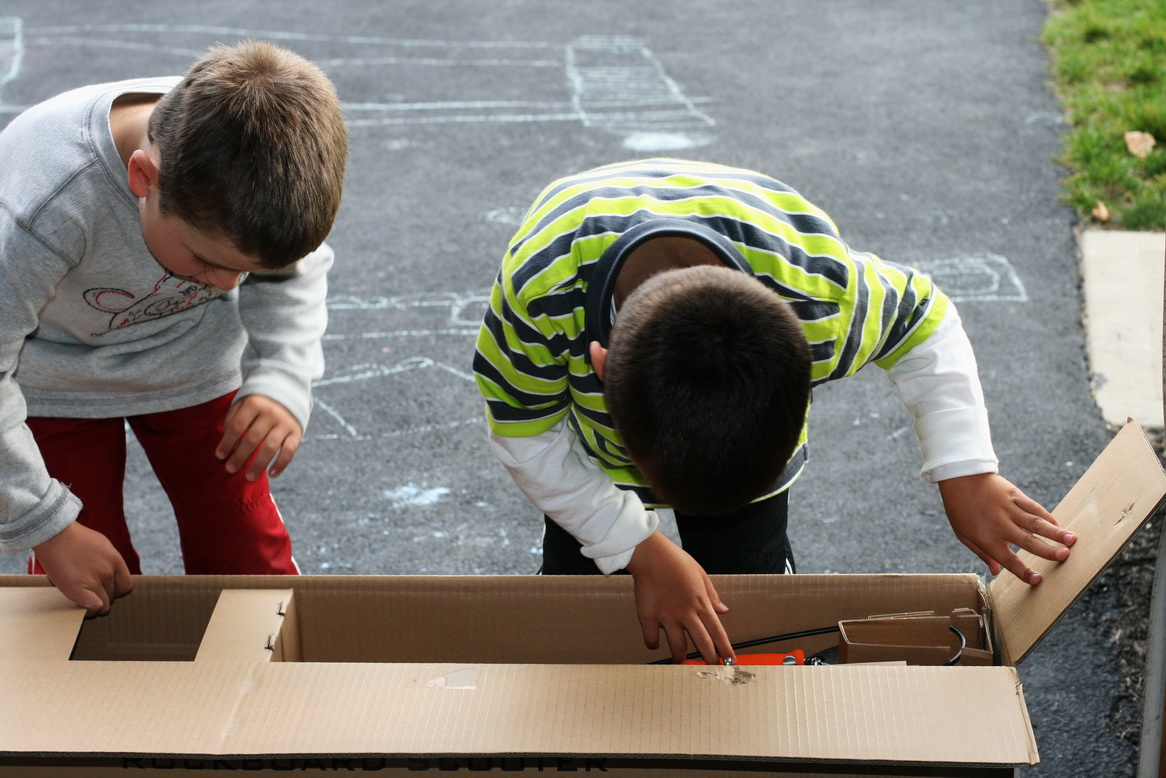 Firstly, there was absolutely no assembly required other than unfolding it and adjusting the handlebar height to fit the boys.  We were sent the full size Rockboard for them.  The recommended age on it is 8 and up with a 200lb weight limit.  They make a Rockboard mini for children ages 5 and up with a 90lb weight limit.  Despite the boys being 5, the full size Rockboard was perfect for them to handle.  I was a tad nervous at first when they got on it, but they made it look easy. Your child does have to have a sense of balance to ride this scooter.
The scooter is propelled forward by your child rocking the main step platform back and forth with their feet.  I had a slight heart attack at how fast they can get this thing moving, but thankfully it comes equipped with a brake on the handle bar.  In my nervous mom voice, and probably for my own sake, I had to continually remind them to brake, but they had the hang of it before I really had to say much, they quickly retorted "I know Mommmm" in the voice of a teenager in a five year old's body.  The Rockboard also doubles as a regular scooter, you simple lock the platform back into place and off you go. It comes equipped with a kick stand as well, which I really like, this way the scooter isn't getting tossed to the ground.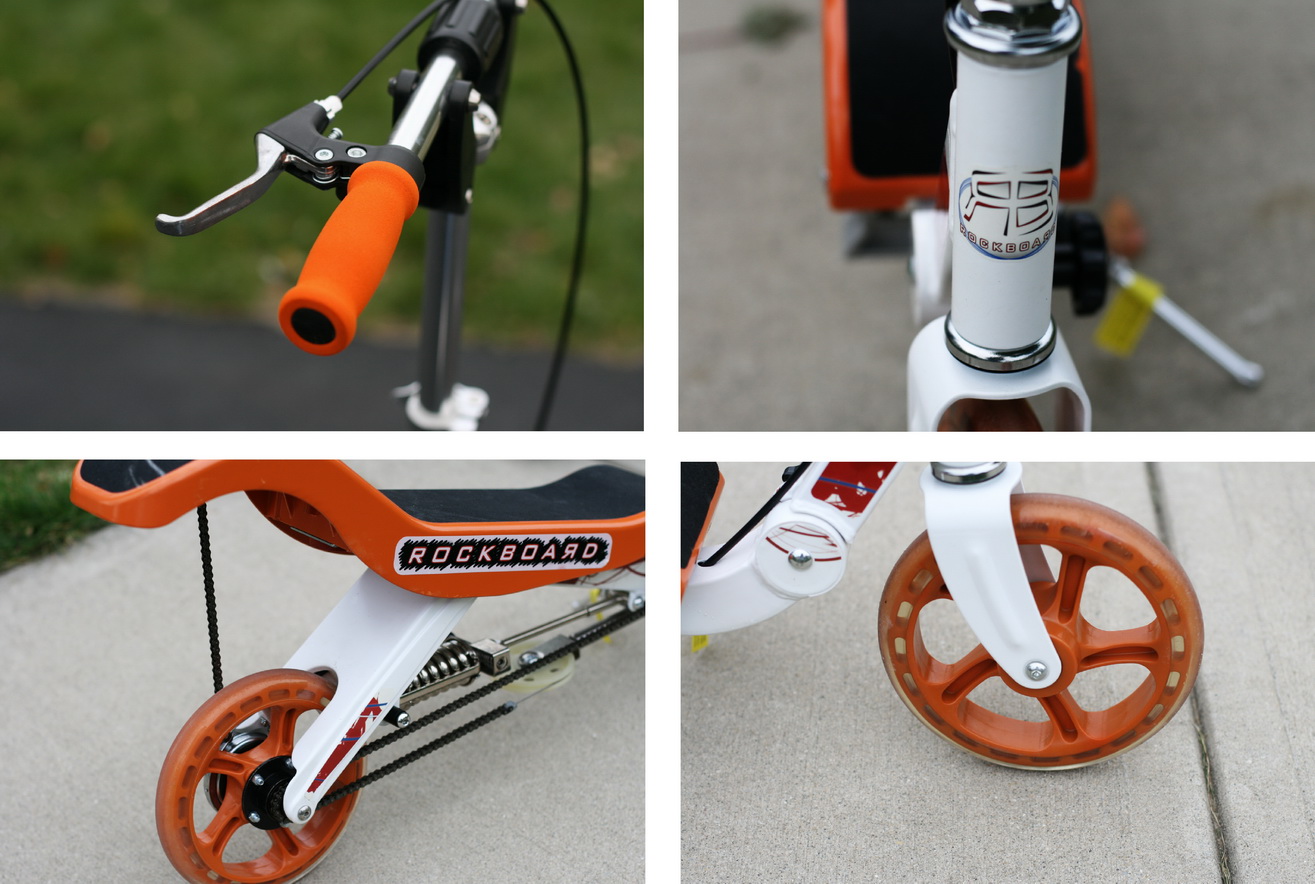 Product Features
2-in-1 scooter that combines shredding scooter with kick scooter
Advanced Rockboard propulsion technology with steel power-drive chain
Rear spring-enhanced suspension creates smooth ride on unforgiving pavement
Nylon-reinforced spokes and super-tough urethane wheels
Folds for easy storage; adjusts from 36 to 46.5 inches tall; 90-day warranty

Specifications

Wheel base: 27 inches (rock mode); 29 inches (kick mode)
Handlebar height: 36 to 46.5 inches (adjustable)
Curb weight: 20.8 pounds
Maximum weight: 200 pounds
Warranty: 90 days
One thing in particular, that I did notice, is that over time with braking repeatedly, you could possibly need replacement urethane wheels. Since we haven't had it that long that may or may not be an issue. All in all we really like it, and it drew quite the crowd when we got it out. The boys liked the fact that it could "race" really fast as they say, and it also appealed to the older kids 9, 11, and 12 that decided to take it for a spin as well. It is now one of my boys favorite things to get out when they want to play.
This would be a great scooter for younger and older kids alike. It deviates from the standard looking scooter and it is pretty cool how it gets around. The Rockboard scooter retails for right around $200 which may be a little pricey for some but you can find it at Target, Amazon or even Toys R Us.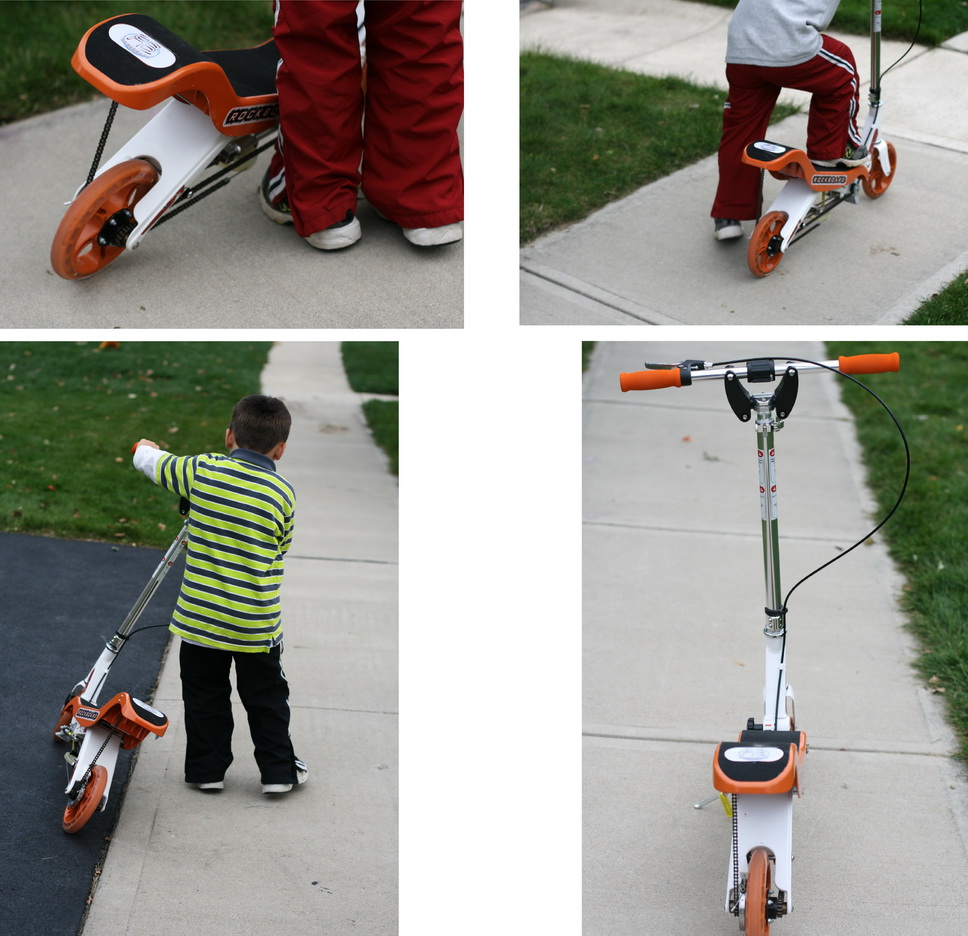 Would you like to see your kid rocking the neighborhood? To help you with your holiday shopping and to give you a chance to get your special someone a really cool and totally rocking scooter, Rockboard was kind enough to give one DoubleBug's reader a chance to win their very own full size Rockboard Scooter!.
Here's What You Gotta Do
(Mandatory) Leave a comment and tell me why you want to win
Additional Entries
Tweet about this giveaway and leave the link to your tweet
Follow me on Twitter @Laurie2008
Open to US Residents Only
Giveaway starts December 7, 2011, and Ends December 14, 2011
Good Luck!!!
**A Rockboard Scooter was provided in order to facilitate my review, the opinions voiced in this post are my own.**