Shout Color Catcher *Review and Giveaway*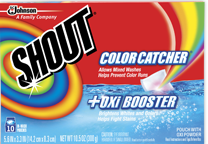 Laundry reproduces like bunnies in our house.  There isn't even a full day where I can officially say I am all done or caught up on doing laundry.  I get a less than satisfied look on my face when I turn a corner and the hamper has a few articles of clothing in it after I just emptied it.  Then there is the tiny load dilemma, where I have some light colors and dark colors,  and I don't really have enough to kick off a load unless I combine them.  We all know that colors bleed, hence why there is sorting of laundry.
Since I am a Shout Brand ambassador, I have been given a chance to try some of their wonderful products like their Shout Free Stain Remover that I reviewed a few weeks ago, and this time Shout Color Catcher with Oxi Booster.  What if you could combine some of those darks with the lights without risking your clothes coming out pink or grey or a new shade of baby blue?  Shout Color Catcher eliminates having having to separate darks and lights and eliminates the need to wait until you have enough darks or lights to complete a load.  Just toss a sheet into your laundry and it absorbs loose dyes to prevent them from bleeding on to other clothes.

About Shout Color Catcher With Oxi

Product Information
Sheets lock up loose dyes found in the wash water to prevent dyes from running or bleeding onto other clothes.
Sheets change color as they absorb any loose dyes.
Saves time by reducing the need for sorting.
Saves money by reducing the need for
half-size loads.
Oxi Booster powder contains active stain removers to brighten whites and tackle tough stains like grass, dirt, blood and coffee.
Safe for all colorfast washables.
Works in all water temperatures.
I will admit when using the sheets I was still a little hesitant to use them.  After twenty plus years of sorting religiously like my mom always taught me, it was like I was committing a felony by tossing darks and lights together.  I wasn't as liberal with my color combining because I wanted to test things out before I knew if it really worked.  So, I took some of my husband's dark work socks and threw them in with some of my light colored pajamas.  After the cycle was complete, I looked at the color catcher sheet and it was a light shade of gray from the black socks, and I noticed nothing on the light colored clothes.  So I would say it does it's job.  I eventually got a little braver and threw in a red placemat with some light towels and the sheet came out pink but nothing was visible on the towels.  I was pleased with the results.  Will this end my sorting days?   Probably not, because I think it has been drilled into my laundry psyche, but for days when I have less than a load and want to get clothes washed and put away, this is a great alternative, just toss in a Shout Color Catcher with Oxi and I don't have to give it a second thought!
Want to try out Shout Color Catcher with Oxi for yourself?  You can win it, right here on DoubleBugs!  I am giving it away to two lucky winners! And, if you can't wait to win it and you want to try it out,  the Shout Facebook Page is offering downloadable coupons  Shout Free and Color Catcher with Oxi !

Here's What You Gotta Do to Win!

Leave me a comment and tell me your worst laundry nightmare, I know we have all had one.
Additional Entries
Follow me on twitter
Subscribe to my RSS feed
Tweet about this giveaway and provide the link
Contest starts Jan 23, 2012 and Ends Jan 29, 2012
Winners have 24 hrs to respond or the prize is forfeited
Open to US residents only
Good Luck!!!!!
"I wrote this review while participating in a campaign by Mom Central Consulting on behalf of Shout and received a product sample to facilitate my review and a promotional item to thank me for taking the time to participate."