Caffeine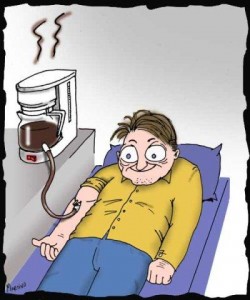 I am not a regular drinker of caffeine.  I mostly drink some Sprite, water or milk.  I was driving to the grocery store yesterday and have been feeling particularly sluggish when it dawned on me that the problem may be the caffeine.  I have been drinking a regular coke here and there, probably more than I should, and I am thinking the caffeine is making me tired!  After I drink it, it rampls me up for a few hours, but coming down from that, I feel horribly sluggish.  I am almost convinced that this drug makes you want more just to keep up the high of being alert.
After reading about it on wikipedia, I no longer think I want to have much of it.
Caffeine is a bitter, white crystallinexanthinealkaloid that acts as a stimulant drug. Caffeine is found in varying quantities in the seeds, leaves, and fruit of some plants, where it acts as a natural pesticide that paralyzes and kills certain insects feeding on the plants. It is most commonly consumed by humans in infusions extracted from the seed of the coffee plant and the leaves of the tea bush, as well as from various foods and drinks containing products derived from the kola nut.
Does this sound all that good for us?  I  hear every day that someone needs their morning coffee to get going or otherwise their day isn't going to go so well.  At the same rate, it's no wonder that we are a bunch of addicts because we are all workaholics too.  We work more than most people in the whole country, and get no vacation.  I wonder if we were a more rested society, if we would have so many caffeine addicted people?
In humans, caffeine acts as a central nervous system stimulant, temporarily warding off drowsiness and restoring alertness. It is the world's most widely consumed psychoactive drug, but, unlike many other psychoactive substances, it is both legal and unregulated in nearly all parts of the world. Beverages containing caffeine, such as coffee, tea, soft drinks, and energy drinks, enjoy great popularity; in North America, 90% of adults consume caffeine daily.

Withdrawal symptoms—including headache, irritability, inability to concentrate, drowsiness, insomnia, and pain in the stomach, upper body, and joints—may appear within 12 to 24 hours after discontinuation of caffeine intake, peak at roughly 48 hours, and usually last from one to five days.    *source wikipedia*
I probably will still enjoy my occasional bottled coke, but will lay off the caffeine in general.  I think it just makes me feel a million times worse than the initial burst of energy I get from drinking it.  Do you drink caffeine every day?