Fort Magic Review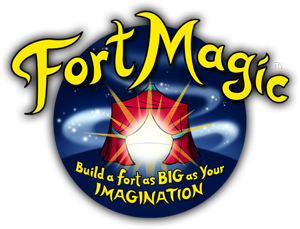 I remember when I was a kid and my imagination was always trying to dream up something new.  I can remember when me and a friend dug up my mom and uncles flower garden to build a volcano complete with fizzing pink foam.  Some of my fonder memories were when we would take big empty appliance boxes, decorate them and turn them in to our own secret clubhouse.  We even had a flag that we made and raised up on our flagpole out front.  In hindsight, it seems so funny to me, but back then it was serious business and the foundation for creative thinking later in my life.
Even now, I see myself in my boys.  They both love inventing games to play and building secret hideouts with couch cushions, blankets, and creating their own games from that.  It's always a pretty big mess afterwards, but they enjoy it and the mess is worth it.  Recently, we were given a chance to try Fort Magic, a fort building toy designed to spark your child's imagination and creativity.  Basically it is a kit that comes with all sorts of pvc type rods in varying sizes and connectors so your child can build his own secret hideout or castle, clip blankets and sheets to it and make cool hideout all of their own.
About Fort Magic

Fort Magic gives kids the ability to let their imaginations run free. This new interactive "Fort" building kit allows kids to build a variety of structures that fit into a make-believe world that they can create all on their own.

Fort Magic Contains A Whopping 349 Pieces!

A single Fort Magic kit includes 142 straight and curved sticks – in seven different sizes that can build anything kids can think of! Each kit has 77 Connector Pieces in 5 varieties of shapes and sizes for unlimited kid-building fun!

Fort Magic also contains 130 Fabric and Accessory Clips! Securely fasten accessories or fabric covers to any fort design with NO SEWING!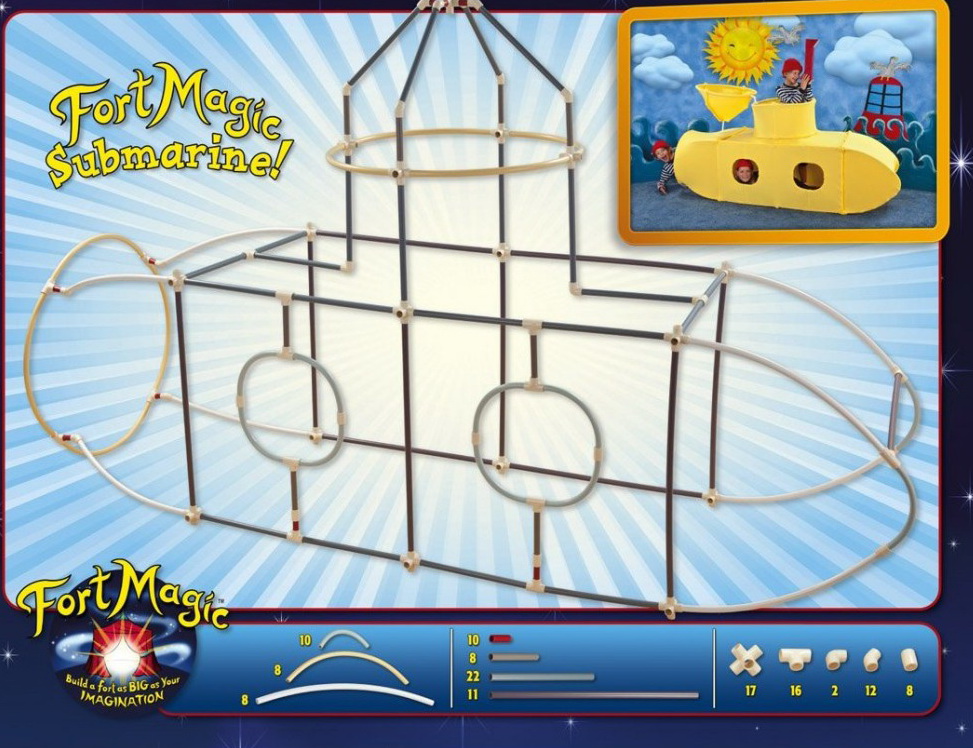 When we received our Fort Magic kit we were all excited to try it, and the boys and their daddy got right to work building one of the creations in the booklet that came with the kit.  Directions were easy to understand which consisted of gathering the specified pieces and begin building.  We first decided on trying to build a submarine, after we got the main structure built for it we tried covering it up with the fabric and the clips designed to hold it in place.  Unfortunately, we didnt have a piece of fabric big enough to adequately cover it, and had a difficult time covering all the curves and bends. so we decided to take that apart and build a standard square fort. This worked much better and the fabric clips worked great and held everything in place nicely.  The boys spent half the evening, playing lookout with their plastic soldier guys, and then they played knights in fortress.
When they are done, you can leave the structure in place or take it down and put it away in the box it came with.  Eventually, there will be a storage bag available to store all the pieces in.  Overall, the boys had a really great time with it and it really does allow them to build and create something fun wither in the house or out in the backyard.
What I like about it, is there are open possibilities for your child to create and build with minimal limits and it helps develop thinking skills and problem solving.  It is easy to take apart and put together, designed for kids ages five and a half and up, my boys had some trouble connecting pieces but overall did well with it.
The $200 plus price range, I felt was a little steep for what is in the packaging since I had to provide the fabric, but would like to see some fabrics included and a good way to store the pieces so I don't have the 300 pieces floating all over the house.  Other than that, we really loved playing with Fort Magic and get it out often, especially on rainy afternoons when they are stuck inside.  It is a great way for kids to use their imagination and to have fun when they can't be outside.
**We were sent a Fort Magic kit for review, the opinions expressed here are that of my own**