Rubbermaid Hidden Recycler

I will admit, we aren't big recyclers in our house.  It isn't because I don't think recycling is great, it is because I have no one were to put all the trash for recycling where it isn't unsightly.  If I had a place to put all the stuff that I could easily get out to the curb in the recycler, than it would make my effort to recycle something I am more willing to do.
The Rubbermaid Hidden Recycler fits the bill.  It is a great way to hide the unsightly empty containers and bottle for recycling, it easily attaches to your cabinet door where you can hide it neatly inside.  The handle allows you just to take it outside and dump.  The five gallon lined leak proof, canvas bag holds up to 36 12 ounce cans or even milk jugs.  If the bag gets a little yucky, you can just toss it in the washing machine.  And to top it off the bag and all the packaging is made from recyclable materials.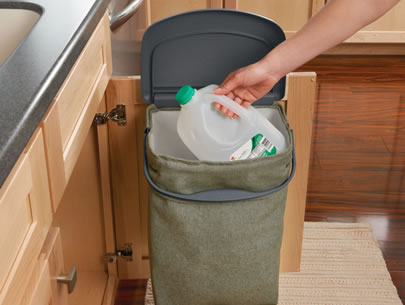 What I love about the Rubbermaid Recycler, is that it is easy to install, and makes me more apt to take the time to recycle.  It keeps the trash im saving for the week, off my counters, and out of sight.  I like that I can tuck it all neatly away inside the cabinet.  It makes it easy to want to recycle, and I can keep things looking organized throughout the week.
Rubbermaid offers some great tips on recycling too!
Tips from the Rubbermaid Site
• Recycling does require a degree of attention to detail on the part of the recycler. And cleanliness does count—rinsing your cans makes them easier to process, which keeps costs down (and also effectively neutralizes the smell factor in your kitchen).

• DO recycle: steel cans, aluminum cans, newspapers, magazines, catalogs, junk mail, plastic beverage bottles, milk jugs, glass bottles and jars, cereal boxes, other clean and dry cardboard boxes. Probably NOT recyclable: plastic grocery bags, Styrofoam, light bulbs, food-soiled paper, wax paper, ceramics. (Check with your municipality or county for specifics, resources and guidelines.)

• Hazards: Household hazardous wastes like paint cans, motor oil, anti-freeze, car batteries and pesticides typically need to be disposed of separately. (Check online or with your municipality for resources and guidelines.)

• Hardware: Items such as computers, cell phones and even eyewear can be recycled or repurposed. Look online for local organizations that accept them (a host of retail stores across the country, for example, collect cell phones for donation or recycling).

• Food scraps: certain food waste can go into a composter (which could be located under the kitchen sink) and the results can be used later to help fertilize your garden soil. With other food products, choose a covered Rubbermaid Step-on Waste Can with its innovative easy-to-use step-on mechanism. (For composting dos and don'ts as well as a better understanding of composting in general, see compostingcouncil.org.)
The Rubbermaid Hidden Recycler retails for $14.99. You could easily put one or two in your kitchen and make recycling a a snap and is a great way to get the family involved in recycling. My boys love to help me fill and empty the Hidden Recycler.
**The Rubbermaid Recycler, was sent to me for review, the opinions expressed here are that of my own**