VTech Multitasking Phone System

There are some days when I don't get to even sit down, till after the boys are in bed.  Along with being a mom, comes this weird phenomenon when you have kids, it is the one where if you sit everyone is right there needing something, but if you are busy doing the laundry, everyone seems to leave me alone for a few minutes anyway.  I call my laundry time, my phone time, when I can call my mom and talk while I fold, but holding the phone isn't always feasible.  I also, like to call my husband when I am outside watching the boys, so a hands free option is always welcomed, so I can do several things at once.
Vtech has the perfect solution. I was given te opportunity to try out  the Vtech LS6475-3 cordless phone set and answering system.
Here's what you get in the box and all very easy to set up.
An answering machine and phone base unit with AC power adapter.
A charging cradle with AC power adapter.
2 DECT cordless phone handsets
1 DECT headset with ear hook and ear bud
1 head band for use with the headset
Phone cable, manuals, two battery packs (one for each phone)
3 additional ear buds and two ear hooks.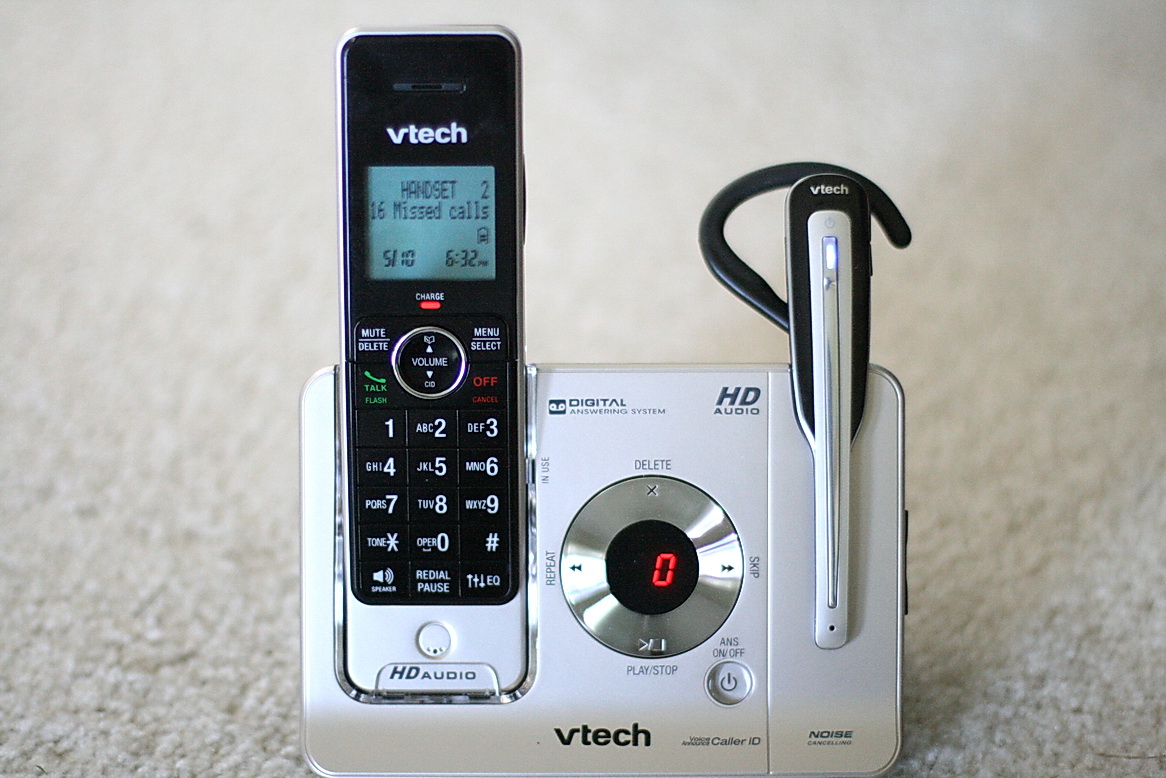 The phones themselves feel solid and well put together,  they are not heavy and I love the sleek silver that accents the handsets and is the primary color of the base.  You can see from the pictures that the phones and the base/charging units look very nice.  To me, if a phone has to sit there on my counter or wall, it needs to look decent.
The handsets were partially charged when I got them out of the box, but I decided to fully charge them for my review.  Setting up the base was very simple, the phone cord into a phone jack, plug the ac adapter into any outlet, and voila, you're ready to go.   One thing you'll notice right away is that Vtech added a little "lip" on the cradle for the handsets so that when you put the phone in the cradle, you know for sure it's in there correctly to charge.  That's a nice touch.
One of the things that makes this phone set unique is the included headset.  The headset is very versatile, it can be worn on the ear (kind of like a blutooth cell phone ear piece), but it also comes with a head band so you can wear it using the over the head band.  You also get additional ear buds, and various different size ear hooks so you can be sure you can fit it on your ear properly.  This is a great feature if you are running around the house getting things done, yet you have phone calls to make.  The headset is well built and I was able to wear it comfortably on my ear.  More importantly, the sound on the headset is excellent, and the range is absolutely great.  I was able to wear the headset and walk outside my house over to the neighbors house while talking on the phone without any static or noise!
There is a button on the headset to answer an incoming call (which works well), but there is no way to make a call with the headset.  You have to first make a call using one of the cordless hand sets, and then you can continue the call on your handset.  If you want to be able to make calls using the headset, this unit is not for you.  One of the things I really liked about it though, is the way you connect it to the base when charging.  It has a magnetic connector that makes it super easy to put the headset on the base to charge it.  It clicks into place snugly – no worries about having the headset laying around somewhere and not being able to find it.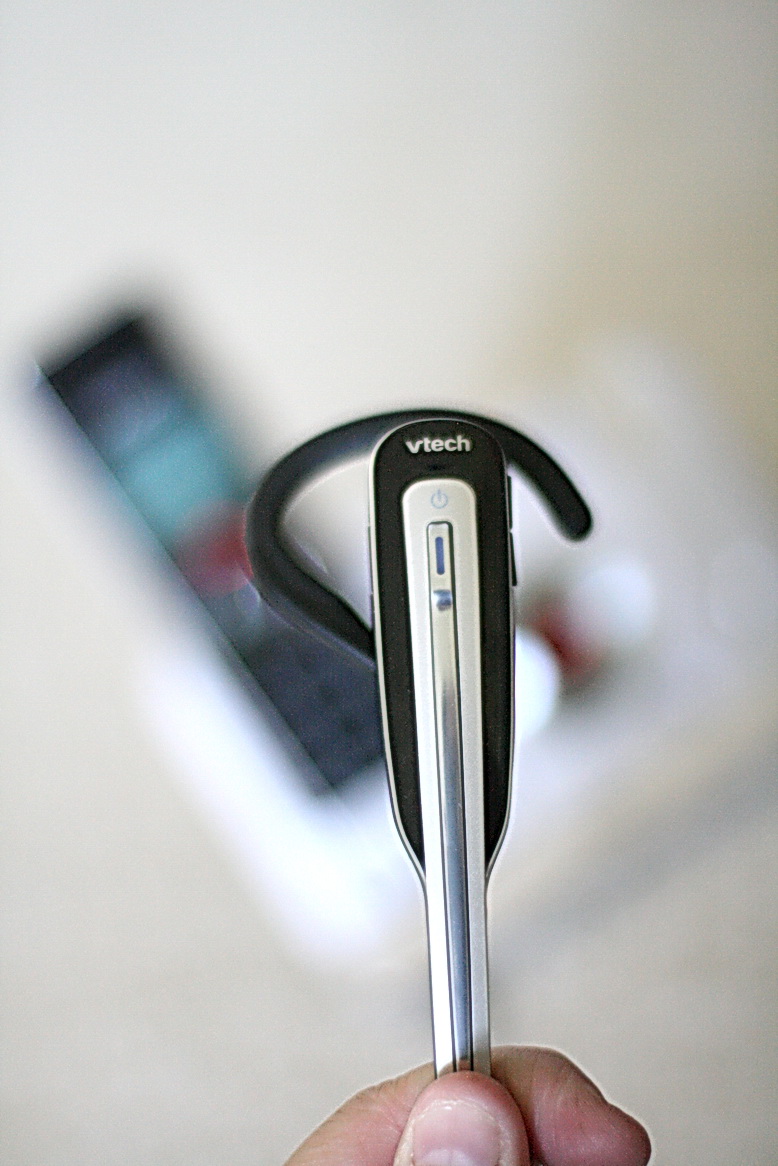 The two handsets come with a very clear and easily readable blue backlight, including the key pad.  No fumbling around in the dark trying to see the keys when you're trying to call at night.  The contrast on the displays is good so the text is easily readable.  This phone set uses DECT 6.0 technology, which means it won't interfere with your home wireless network for your PC or other wireless devices.  I tested both handsets in different areas of my house, in my yard, and even across the street — the sound remained crystal clear, the range on these phones is remarkable.  Vtech calls it "HD Audio", and it definitely delivers.  Both handsets have speakerphones built in, just push the speakerphone button and you can use the handset as a speakerphone.  The speaker produces clear sound and the mic seemed to work well.
Another feature I really like on this phone set is "voice announce".  The base unit as well as the two handsets announce the name and number (based on caller ID info) of the person calling using a robotic sounding voice.  The digital voice is sometimes funny in how it pronounces names, but it's very handy to be able to tell who's calling without having to be near any phone.  This has to be one of my most favorite features in the Vtech phones.  It is so nice, not to have to go running for a telemarketing call or for someone I don't know.
The phone handsets also have a handy "push to talk" feature.  Just click a button and your phone becomes a two way radio with other handsets.  The set I got only has two handsets, but you can easily expand your set by adding more handsets.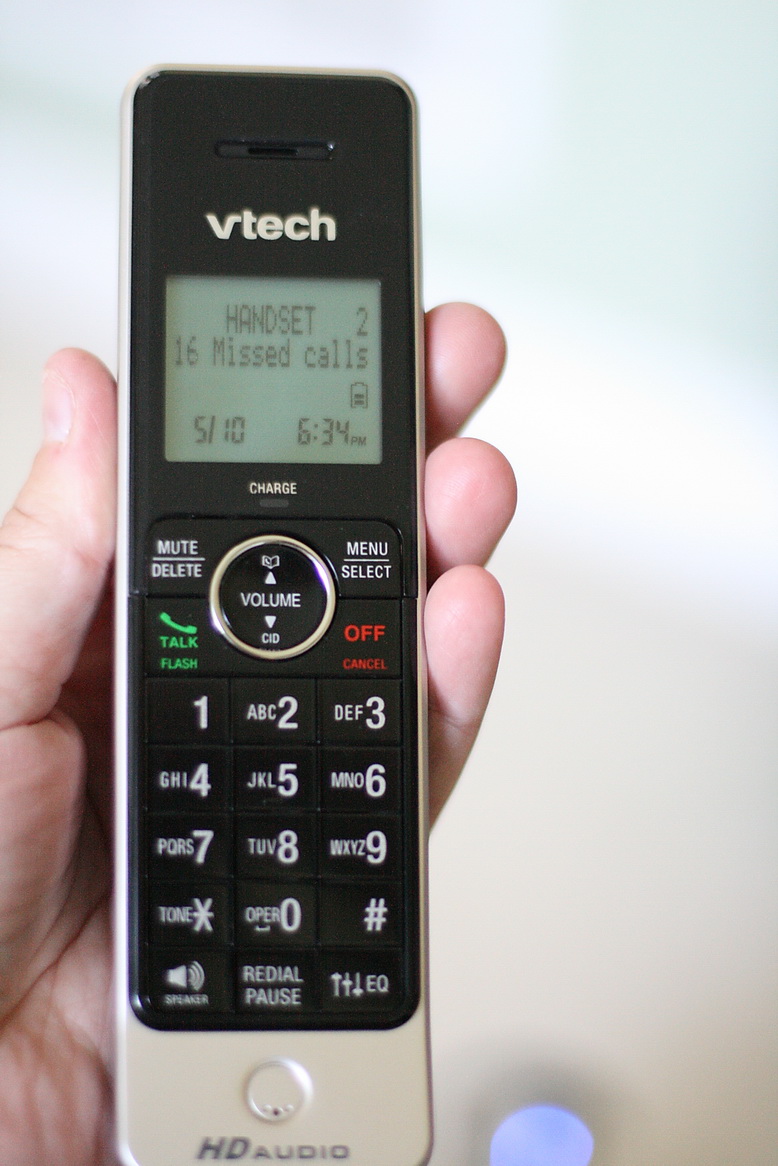 The fully digital answering system works as expected, it allows you to record up to 14 minutes of messages.  The messages are recorded clearly and can be played back from any handset so you don't have to go to the base answering machine to hear the messages.
All manufacturers claim wonderful talk times for their phones, but actual results are often less than spectacular.  Both cordless phones worked for more than a week without having to be recharged, with at least a few hours of active use.  Basically, battery time on your phones should not be an issue.  The headset lasted even longer than the cordless handsets on a single charge.
Final verdict:
The Vtech LS6475-3 generally retails for about $80.  At that price point, it's really an excellent set.  It does everything you'd expect, and more.  It looks nice, feels well built, and can easily be set up in your home.   The headset is a feature you generally won't find on other phone sets in the same price category.
Pros include the large feature set, cool headset with multiple configurations, voice announce, DECT technology, push to talk, and nice speakerphones.  The headset simply rocks, it's very handy to be able to talk on the phone while keeping both hands available to do other stuff.
The only cons to this set are the lack of bluetooth (cell phone) integration and the inability to initiate a phone call using the headset.
A great way to stay up to date on all of Vtech's latest technology you can visit Vtech's Facebook Page, or follow along the Vtech Twitter Stream!
"I wrote this review while participating in a campaign by Mom Central Consulting on behalf of VTech and received a product sample to facilitate my review."