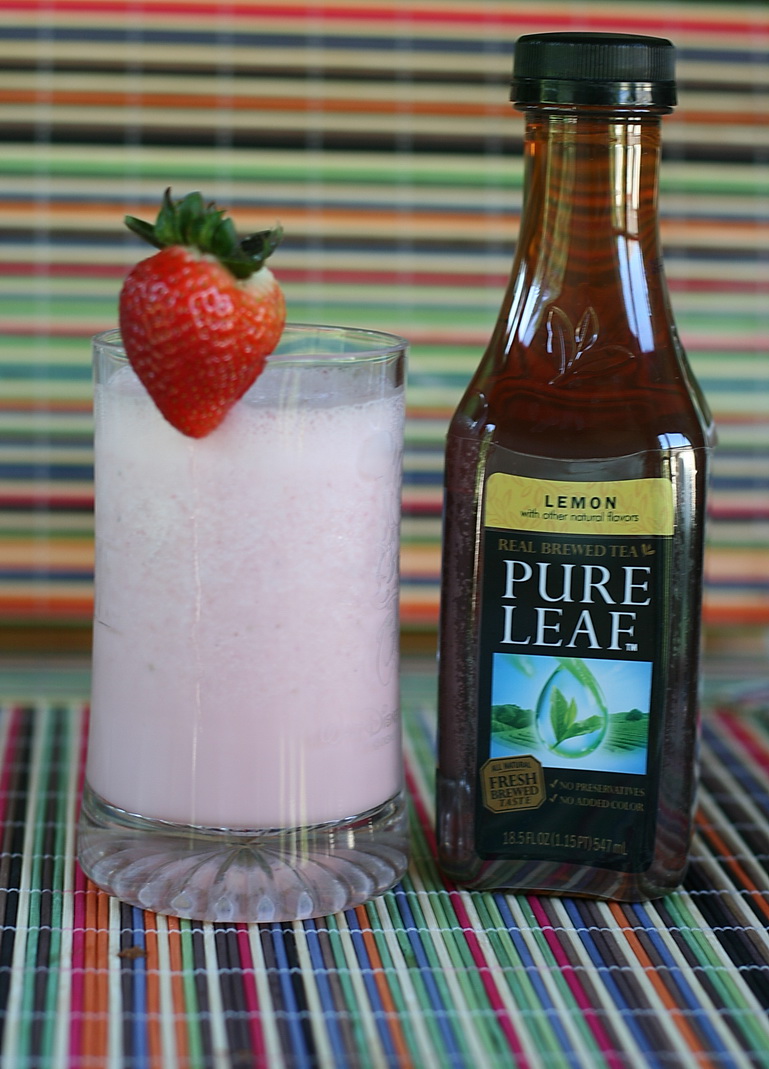 We just got a new patio put on this Summer so we could enjoy our great backyard and have a few people over.  I love Summer because it is the perfect time for entertaining friends and family, the kids are outside playing and it sort of brings people together.
After the patio was done, I was very excited to have a small get together with some of our friends, to show off the new patio and get the chance to do some outdoor entertaining.  Before, we had nowhere to be other than the grass, so this was great.  Along with the new patio, I was looking for some fun drink recipes that I could try to share with some of our guests.  I wanted to create some family friendly beverages that everyone could enjoy.  Some of my favorite drinks in the Summer include lemonade and ice tea, but I wanted to do something different.  What if I could incorporate one of these classic Summer beverages into a new drink with a twist?
Pure Leaf Iced Tea by Lipton offered me some really great recipe ideas to try incorporating tea into adult beverages and even smoothies and even using it to prepare pork chops!  Naturally, I was intrigued because all I have ever done with tea is add ice, and sugar and drink it, so I was excited to try doing something new with it.  I was really surprised to see how versatile tea can be.
Since, the weather here has been insanely hot, I chose to make Pure Leaf's Fruit-Tea Smoothie to cool everyone off.  I had freshly picked frozen strawberries on hand and I thought this would be a great way to use them. The recipe included sweetened or unsweetened Pure Leaf Tea, vanilla ice cream, low fat, or I chose to put the good full fat stuff in mine, frozen strawberries and sugar (recipe to follow).  These turned out really fabulous and tasted awesome, and everyone really enjoyed them, including the kids.  Everyone was shocked when I handed out the recipe to them to find that there was tea in their smoothie.
FRUIT-TEA SMOOTHIES
Servings: 4
Prep Time: 10 minutes
16 ounces Pure Leaf Iced Tea with Lemon or Pure Leaf Unsweetened Iced Tea, chilled
2 cups frozen strawberries
1 cup fat free vanilla ice cream
1 tablespoon sugar
In blender, process all ingredients until smooth. Serve immediately in tall glasses and garnish, if desired, with fresh strawberries.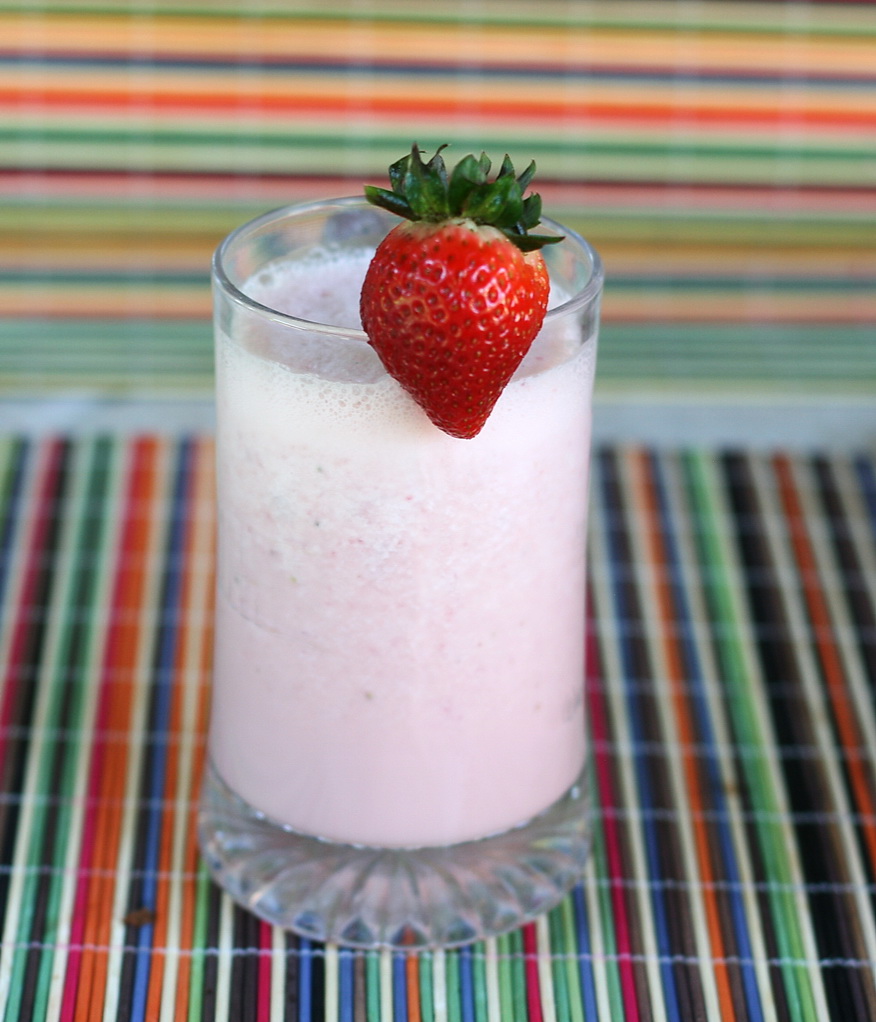 Pure Leaf Tea also teamed up with Gail Simmons judge on Bravo's Top Chef to come up with some great recipes like Peach Ginger Fizz.
(See Recipe Below)

Lipton tea has been around as long as I can remember. I can remember the tea bag hanging out of my hot cup on days when my mom had me home sick from school nursing my sore throats. But, besides, having great tea , Pure Leaf has put a great deal of thought into their packaging. I love companies who make a genuine effort to create something that tastes good, but goes that extra mile to improve things about them and to make their product better in not just one aspect but all aspects. Take a look at what they are doing!
Why did Pure Leaf change its packaging?

• Pure Leaf is dedicated to the environment and wanted to make a change that would positively impact the world we live in.
• PET plastic is 100% recyclable.
• The innovative packaging is more consumer-friendly for on-the-go and out-of-home occasions compared to the previous glass bottles.
• The new square bottles are lightweight and provide a high pallet efficiency, which equates to more bottles, lighter loads and less fuel used in transport.

What is PET?
• PET is the type of plastic labeled with the #1 code on or near the bottom of bottles and containers and is commonly used to package soft drinks, water, juice and many other products.
• PET plastic is 100% recyclable.
o Source: http://www.napcor.com/PET/whatispet.html

Why the change from round to square bottles?
• The new square bottles (vs. round) fit together in a condensed way, creating high pallet efficiency, which equates to more bottles, lighter loads and less fuel used in transport.

Will you still offer glass bottles in addition to the plastic?
• No.

In what size bottles is Pure Leaf offered?
• 18.5-oz. and multi-serve 59-oz.

What does it mean to be Rainforest Alliance Certified?
• Rainforest Alliance certification is built on the three pillars of sustainability: environmental protection, social equity and economic viability.
o Source: http://www.rainforest-alliance.org/agriculture/certification
• Recently, in recognition of our commitment to sustainability, several of our tea estates, including our Kericho, Kenya plantation, have earned Rainforest Alliance certification.
• This certification is available exclusively to farms that meet or exceed the rigorous standards for sustainability that are necessary to achieve Rainforest Alliance certification.
• We are very proud to source our tea leaves from these farms and to be able to use the Rainforest Alliance Certified™ seal on Pure Leaf.
o Source: http://www.liptonpureleaf.com/ra_certified/
Summer is a great way to enjoy Pure Leaf Tea, and enjoy entertaining your friends and family. Pure Leaf Iced Tea is great straight form the bottle, but now that I know you can use tea in other things, I can't wait to experiment!  You can check out the Pure Leaf facebook page for some really great recipes!
"I participated in a campaign on behalf of Mom Central Consulting for Lipton Pure Leaf. I received product samples and a promotional item to thank me for participating"
Grilling is one of my favorite things to do during the Summer months.  The kids are usually actively playing outside and I like being able to be outdoors with them.  Grilling for me as a mom is much faster and pleasant than being inside with a hot oven, heating up the house.  I love the taste of grilled hamburgers, vegetable and potatoes, and anything that I can prepare on the barbeque pit.
I am always on the lookout for things that I can prepare as a whole meal on the grill, so everything is sort of ready at once. Ore Ida Grillers is a great new product introduced by Ore Ida, a well known name in my household.  Ore Ida already has  really great frozen potatoes like tater tots, french fries and hash browns.  I love potatoes on the grill, but I always have to wrap them up in foil to keep them from burning to black hockey pucks before I can get everything ready.  I was able to give the new Ore Ida Grillers a try over the weekend and I love them.  Firstly, I can just put them directly on the grill, which makes preparation easy from package to grill to table in about fifteen minutes.  We chose a meal of a fresh garden salad, hamburgers and Ore Ida Grillers.  Cooking them is easy as can be, you flip them over once or twice during the fifteen minutes and then they are ready to go.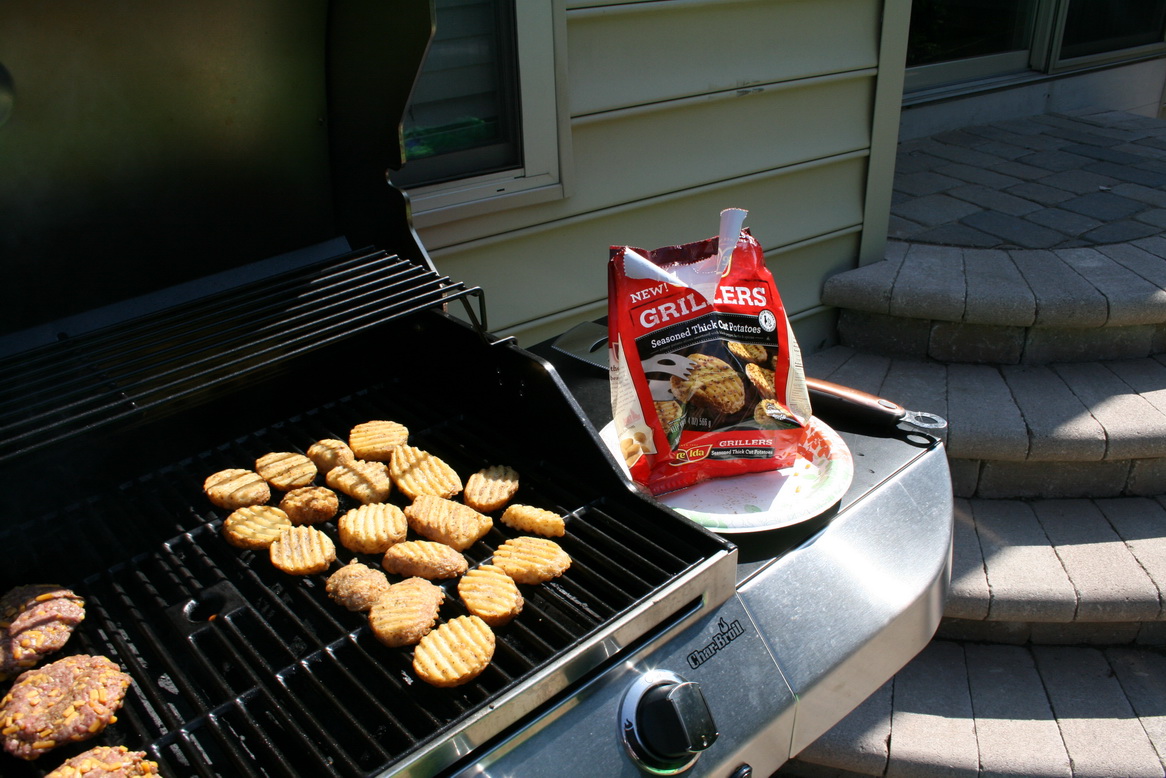 We had the chance to try the Grillers Golden Thick Cut Potatoes as well as a package of the Grillers Seasoned Thick Cut Potatoes and my personal favorite were the seasoned Grillers.  They went perfect with the meal and at first I thought the potatoes might be too hard after cooking but they were the perfect amount of crispy outside and soft on the inside.  I took one of them and put it on my hamburger and it was a really yummy addition!  The best part, is that they are easy to prepare, there is no cutting and peeling of potatoes, getting them sealed in a foil packet and then wondering if your potatoes are cooked enough.  I don't know how many times I have burnt my self on foil packets of potatoes trying to peek inside to see if they are done on the grill.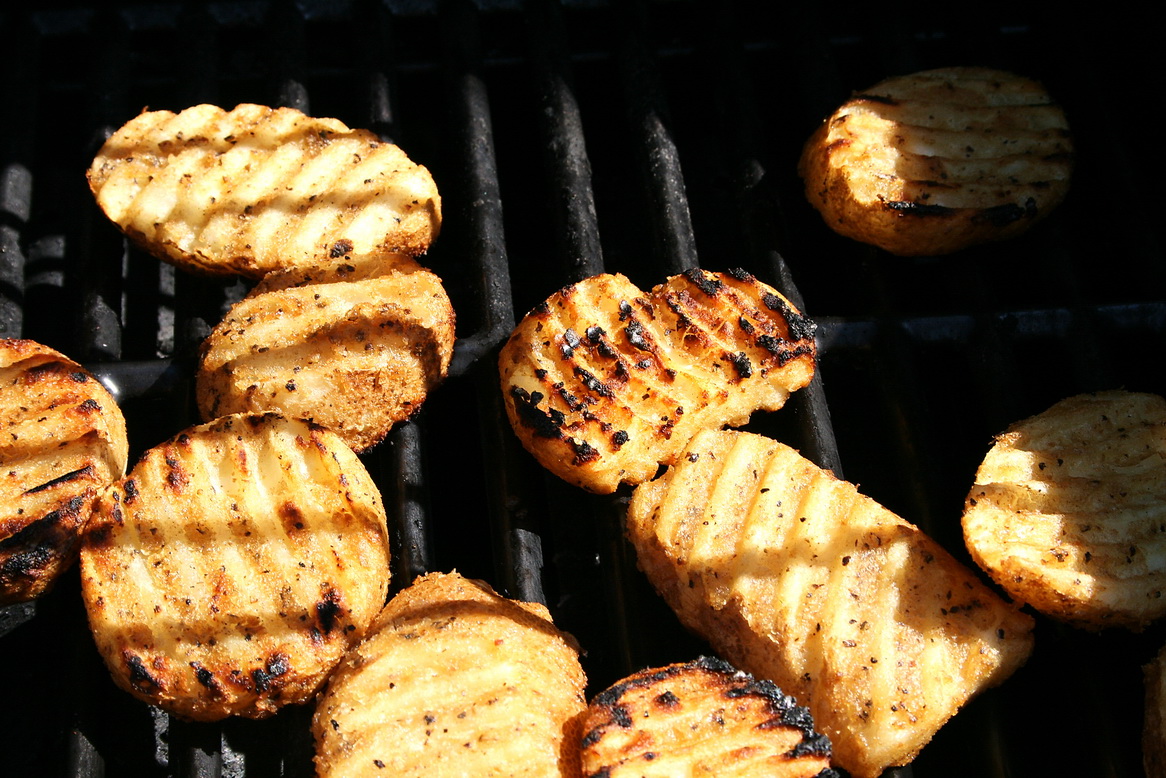 As a mom, Ore Ida Grillers will be something I have on hand in my freezer from now on.  It makes for a great side dish to whatever you may be grilling and they are super simple to make!  Ore Ida Grillers can be purchased at grocery stores and places such as Target, Walmart, and Sam's Club.  You can also check out the Ore Ida facebook page and let everyone know how much you like Ore Ida products.
"I participated in a campaign on behalf of Mom Central Consulting for Ore-Ida. I received coupons to purchase products to facilitate my review and a promotional item to thank me for participating"
Movie night in our house is always a perfect opportunity to get the family together and enjoy time with one another.  I was driving in my car a few weeks ago and I was telling my husband that I actually missed going to a drive in movie.  I can remember as a kid when we would all pile in the car with a cooler full of snacks, and blankets, and spending the evening at the drive in.
What if there was a perfect way to bring back those memories in your own front yard or have your own big screen right in your own home?  The 3M Mobile Projector brings the big screen to you in a tiny package.  3M's Mobile Projector allows you to turn your mobile devices like an iPad, or iPhone into a big screen theater. Set up is pretty easy right out of the box, and you are ready to make some movie memories.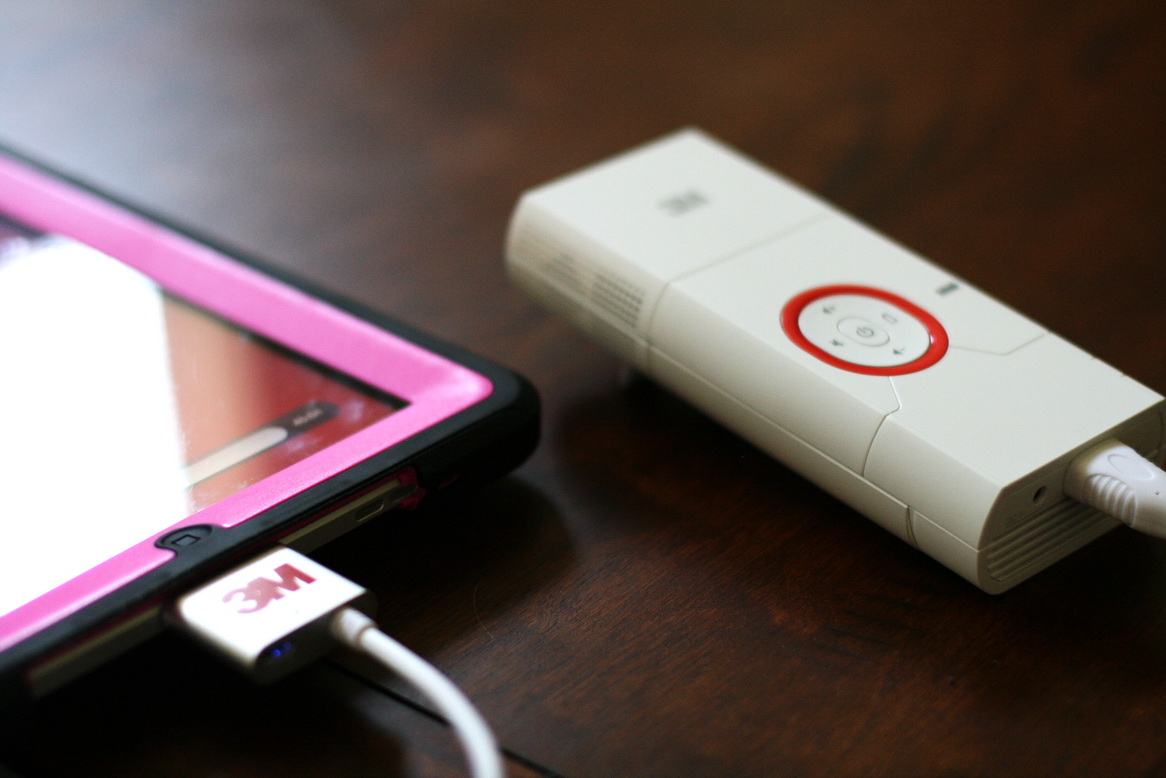 Video quality on the 3M Mobile Projector is pretty darn impressive.  You can plug in any portable speakers and have instant sound.  I had a little trouble with the sound being a little too low, I am not sure if this is a product of the device itself, or something that needed adjusting on my end.  Overall, though, it sounds really good.  Our first experience we watched a documentary on sharks and the ocean.  The boys and I had so much fun with it, we all curled up in bed and watched the show on the ceiling!  We had a movie night set for our front yard, but we had a storm blow through here and knocked out power, so we didn't get the opportunity to have our drive in movie with the neighborhood kids. The 3M Mobile Projector has 2 hours of battery life per charge (or runs continuously on AC power).  If you don't have an iPad or a mobile device you can easily get a cable specifically sold by 3M to hook up to your laptop.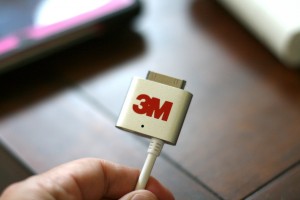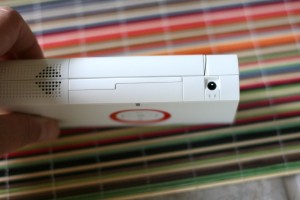 The screen size is ample and projects a screen size of up to 80" diagonally.  You can put the projector on a table top and it has a small flip out tab to elevate it, but I found it easier to use a tripod since it has a standard tripod mount and it keeps the screen from moving.
3M Mobile Projector Features
Up to 2 hours of battery life per charge (or runs continuously on AC power)
Projects a screen size of up to 80" diagonally
32 lumens brightness
Built-in stereo speakers
Audio out for external speakers or headphones
Native resolution: 800 x 600 SVGA
Supported resolutions: VGA 640 x 480' SVGA 800 x 600' XGA 1024 x 768' WXGA 1280×768 and 1440 x 900 @ 60 Hz' SXGA 1280 x 960 @ 60 Hz
MAC: 640×480 @ 67Hz' 832×624 @ 75Hz' 1152×870 @ 75Hz
No lamps to replace; uses long-lasting LED technology (up to 20'000 hours)
Flip stand (built-in image height adjustment)
Standard tripod mount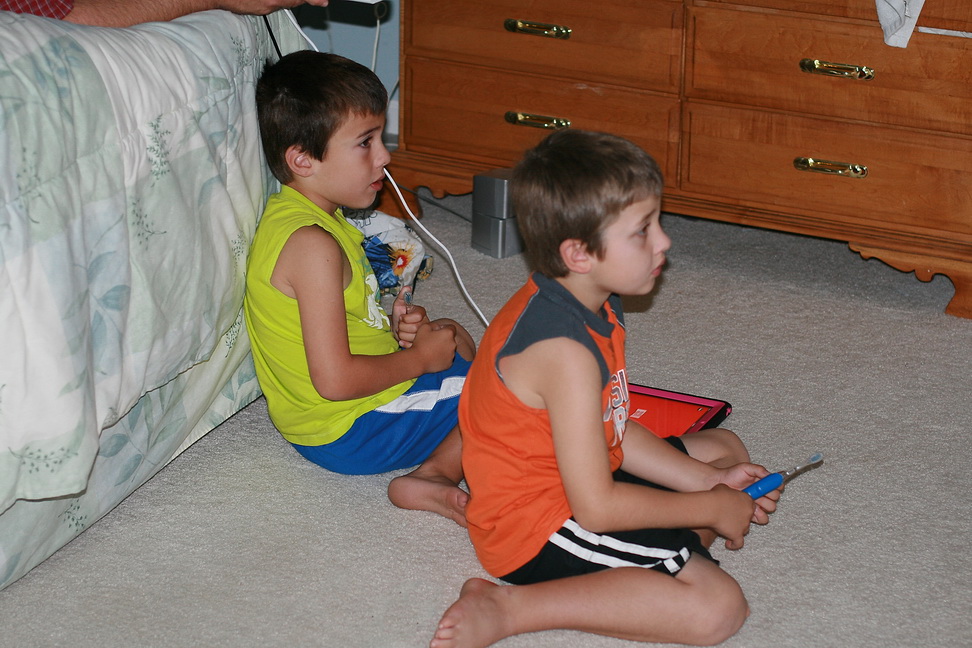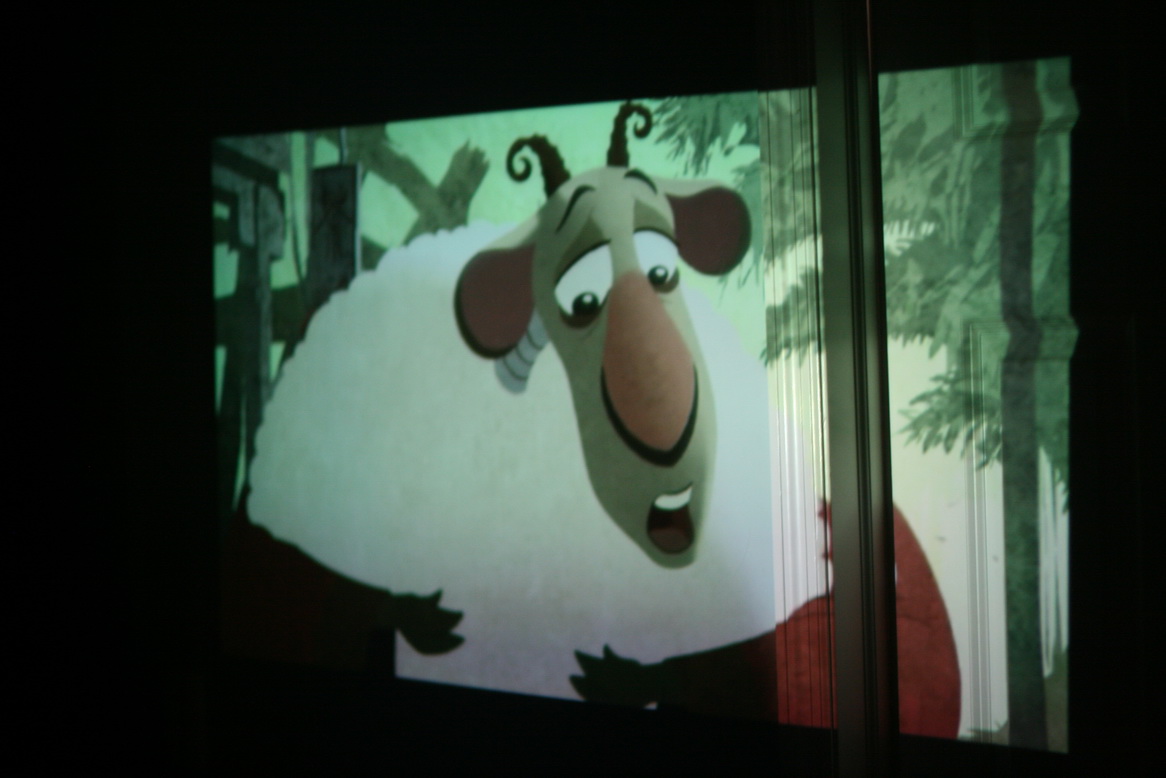 One fun thing you can do which I didn't get to try because I have an iPad 1, was that you can project your favorite apps on the wall too, it would have been really fun to play Angry Birds in big screen mode.  Overall, I love the 3M Mobile Projector, the resolution is great for such a small device, it is easy to set up out of the box, and it is great if you have young children to create a fun family movie night.  There are so many versatile ways to use this projector.  I can imagine it would be a great tool in classrooms for presentations, and the device could easily fit in your purse or bag.  I can't wait to have our make up movie day at the drive in, complete with blankets, snacks, and lots of smiles! The 3M Mobile Projector brought back so many fun memories for me, and I love just doing something different as a family.  I love it!
If you want to learn more about the 3M Mobile Projector, you can check out the 3M  facebook page or follow their twitter stream!
"I wrote this review while participating in a blog tour by Mom Central Consulting on behalf of 3M and received a promotional item to thank me for taking the time to participate."
.