Orbit For Kids Keeps Them Brushing When They Can't
"I participated in a campaign on behalf of Mom Central Consulting for Orbit for Kids. I received product samples to facilitate my review and a promotional item as a thank you for participating."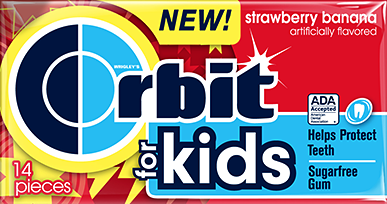 I am a mom to boys, and let's face it, boys tend to get messy, and refuse to get clean.  When it comes to brushing their teeth and getting ready for bed it is like I am wrestling a bull in a china shop.  For the longest time when I would brush their teeth, they would whine through the whole process, saying things like, "it hurts, it tickles, toothpaste tastes bad."   I have come oh so close to practically sitting on them.  If you are a parent, I am sure you are well aware that there will be many more battles to fight, and can appreciate anything that might make things easier.
A great way to help protect your kiddos teeth between brushing is to chew gum!  Not only does it clean their mouths of food debris and stimulate saliva flow, which helps to protect teeth by reducing plaque acids and strengthen teeth, they are usually pretty willing to participate.  New Orbit for Kids sugarfree gum gives parents an easy and fun way to help protect kids' teeth between brushing.   Orbit has come out with two kid-friendly sugarfree flavors, Original Bubblegum and Strawberry Banana (yummy!)  In fact, Orbit for Kids gum has been awarded the ADA Seal of Acceptance.
Since I need all the help I can get, we decided to give new Orbit for kids, a try.  We had Strawberry Banana, and I personally thought it was really tasty and definitely a flavor that my kids enjoyed.  The flavor lasted with enough intensity that you could chew for a good long while without losing the taste.  Brushing should always be a part of your child's daily routine, but you can always give them a head start with Orbit chewing gum for kids, and it tastes good so they think they are getting a treat!  Check out what one of my little guys thought about Orbit for Kids.