I have been away for awhile, simply because I have been enjoying our newest addition to the family.  Outside of the enjoyment, I have been just dragging my tail a bit after the birth of my third child.  Having a baby at 40, is a lot harder than when I had the boys at 33.  Things hurt, that I didn't think were possible in areas that I didn't even know I had.
This pregnancy was a real surprise in a lot of ways.  I didn't really get to go into labor with the boys because I had been on bed rest with them for 16 weeks, I had a cerclage, and my water was leaking at 34 weeks, 5 days, and in order to pull the stitch I had an epidural, long before delivering them naturally.  So, I never felt a thing.
With this little bundle, I was never on bed rest, went into full blown labor at 33 weeks 5 days, baby was breech, and I had an emergency c-section!  I thought I was dying shortly after, but I prevailed and we have a beautiful baby girl to show for it all.  I guess I haven't been here as much because I have been drinking up every single moment with our daughter and boys, and trying to figure out the logistics of dividing my time between school, the boys and the baby and all the other household stuff.  I can say, that I missed my blogging interaction, but I have always told myself that being a mom was first and foremost and this was always secondary.
Having a little girl has been an absolute dream for me.  My husband is worried he won't know what to do with her and I am just thrilled that I get to dress her up, by girl stuff in general and looking forward to having that mother daughter bond that I thought was surely out of reach as the years passed and we tossed around the idea of having another.  Time was running out, and life has a way of surprising you.  I thank God every day for the gift of having this lucky experience.  I can now say I have the best of both worlds.  Even if she weren't a she, I am so lucky to have what I have.
I hope to be writing more, as I miss it.  For now the baby is asleep, the boys have a project and laundry is multiplying like dust bunnies.  What are you up to?
"I participated in a campaign on behalf of Mom Central Consulting for Orbit for Kids. I received product samples to facilitate my review and a promotional item as a thank you for participating."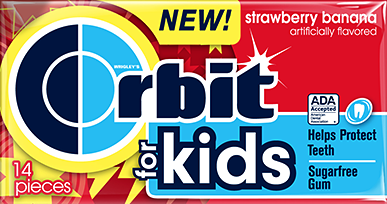 I am a mom to boys, and let's face it, boys tend to get messy, and refuse to get clean.  When it comes to brushing their teeth and getting ready for bed it is like I am wrestling a bull in a china shop.  For the longest time when I would brush their teeth, they would whine through the whole process, saying things like, "it hurts, it tickles, toothpaste tastes bad."   I have come oh so close to practically sitting on them.  If you are a parent, I am sure you are well aware that there will be many more battles to fight, and can appreciate anything that might make things easier.
A great way to help protect your kiddos teeth between brushing is to chew gum!  Not only does it clean their mouths of food debris and stimulate saliva flow, which helps to protect teeth by reducing plaque acids and strengthen teeth, they are usually pretty willing to participate.  New Orbit for Kids sugarfree gum gives parents an easy and fun way to help protect kids' teeth between brushing.   Orbit has come out with two kid-friendly sugarfree flavors, Original Bubblegum and Strawberry Banana (yummy!)  In fact, Orbit for Kids gum has been awarded the ADA Seal of Acceptance.
Since I need all the help I can get, we decided to give new Orbit for kids, a try.  We had Strawberry Banana, and I personally thought it was really tasty and definitely a flavor that my kids enjoyed.  The flavor lasted with enough intensity that you could chew for a good long while without losing the taste.  Brushing should always be a part of your child's daily routine, but you can always give them a head start with Orbit chewing gum for kids, and it tastes good so they think they are getting a treat!  Check out what one of my little guys thought about Orbit for Kids.
Bread is a staple in our house.  We can sometimes go through up to four loaves of bread in a week.  My husband likes to eat bread plain, toasted, and with sandwiches and I am always making sandwiches for the boys to pack in their lunch.  Bread is one of those things that can be versatile in meals and even recipes.  In fact, it is a primary ingredient used to stuff our Thanksgiving turkey with.
Bread is one of those things that we don't think much about, since it has sort of been around for a very long time. This year marks the 250th anniversary of the sandwich.  History has it that in 1762, Sir John Montagu – the 4th Earl of Sandwich – requested his dinner meat be served between two slices of bread and thus, the sandwich was born.  Besides the history, sandwiches are one of America's favorite things to eat.
A recent survey  by the Grain Foods Foundation and conducted online by Harris Interactive® indicates that more than a third (41%) of American adults eat sandwiches up to six times a week, and more than 60% of American adults eat a sandwich at least once per week.  I personally love eating sandwiches, they can be eaten cold or warm and is a really great comfort food.  With my children, it is one of the most asked for things when it comes to packing their lunch, whether it is a peanut butter and jelly or my favorite a ham sandwich.
About the Grain Foods Foundation

The Grain Foods Foundation, a joint venture of members of the milling, baking and allied industries formed in 2004, is dedicated to advancing the public's understanding of the beneficial role grain-based foods play in the human diet and a healthy lifestyle. Directed by a board of trustees, funding for the Foundation is provided through voluntary donations from grain-based food companies and is supplemented by industry associations.  For more information about the Grain Foods Foundation, visit gowiththegrain.org, facebook.com/gowiththegrain or twitter.com/gowiththegrain.
But, besides just being yummy, bread contains whole grains which are a good source of fiber and complex carbohydrates and is low in fat.  Enriched grains are also a good source of complex carbohydrates and are one of the major sources for iron and folic acid in our diets.
To help celebrate National Bread Month, Celebrity Chef Bryan Voltaggio has created some delicious recipe creations.  Sandwiches such as Banana, PB, and Honey, or the Pastrami Reuben are just a few of the recipes featured.  Some of my most favorite sandwiches are the turkey, avocado and provolone panini.  Since becoming pregnant, I crave a good hot sandwich at least twice a week.  However you like to eat your bread, it is one of those foods that is essential to the American diet, and is a great contributor to a well balanced diet.  I can't imagine a life without it either, whether it finds itself in a recipe, or just being devoured in something as simple as jelly and toast.
What's your favorite sandwich recipe?  Create something new to celebrate National Bread Month
"I wrote this review while participating in a blog tour for Mom Central Consulting on behalf of the Grain Foods Foundation. I received a promotional item to thank me for taking the time to participate."
I guess it has been awhile since I have posted anything personal on my blog.  Life has been crazy over the past months, and I honestly don't know where to begin.  The boys started school, so that has had me running a whole lot more than I am used to.  It seems like once they start school you are running to a classroom event, here and there and then plopping down at the table to look at some form of homework.
With all of that though, I must say I am enjoying seeing what they are doing and how much they are learning.  I keep their art work, and love when they talk about their day.  Kids tend to see the world with a much greater enthusiasm.
I turned 39 back in February, and I honestly didn't feel much older.  I also can say, that I am not one of the typical people that dread turning 40.  I guess it is because my children are still young, so I have to keep the old lady blues out of my repertoire.  This year has brought a really nice surprise with it however.  I am happy to say that doublebugs is growing, and not going to be so double anymore!  Sometime in May, we will be welcoming our third child into our family!  And even more exciting, is that we are having a little girl.  Before finding out I was pregnant, I could only dream about all the pink ruffles, bows, and shop for everyone else who had a girl.  Now, I am in seventh heaven because not only do I get to shop, I get to experience that special relationship between mom and daughter.  It was a chance that I didn't think I would have.
I hope to be updating you more as the time goes by.  I abandoned my blog for a little while because I mostly had my head in the toilet but for good reason.  I can't wait for you to meet our little girl.
Costco is running a great deal on pork this month and as part of a project to promote the National Pork Board I am posting one of my favorite recipes using my trusty crock pot and a Sirloin Tip Roast from Costco. Pork is considered the "other white meat" and it is relatively easy to prepare. I recently made a trip to my local Costco to pick up the things I needed to make a really great dinner for my family using pork.
Costco has a lot of great products that I buy on a regular basis. I was able to pick up the canned mushroom soup I needed, fresh organic Ceasar salad mix, rolls, and organic broccoli, pre made mashed potatoes and four pork sirloin tip roasts. As a busy mom, I typically make a lot of things in my crock pot because it is convenient. Usually what happens, is that I get busier as my day progresses, and by the time dinner rolls around, I am very short on time to come up with something to make on short notice. The crock pot is ideal because I can throw everything in there in the morning and just let it go for the day. When dinner rolls around, I can make up a few side items and dinner is pretty much ready to go.
Pork is relatively easy to prepare for the crock pot. You can make lots of great things, like pulled pork, and roasts that simply melt in your mouth by the time they have been in the crock pot for hours. My favorite is super easy and versatile for making sandwiches, Sunday dinner, or shredding up the pork roast for later use like egg rolls, or serving over rice. Recipe to follow.
Get your roasts at Costco!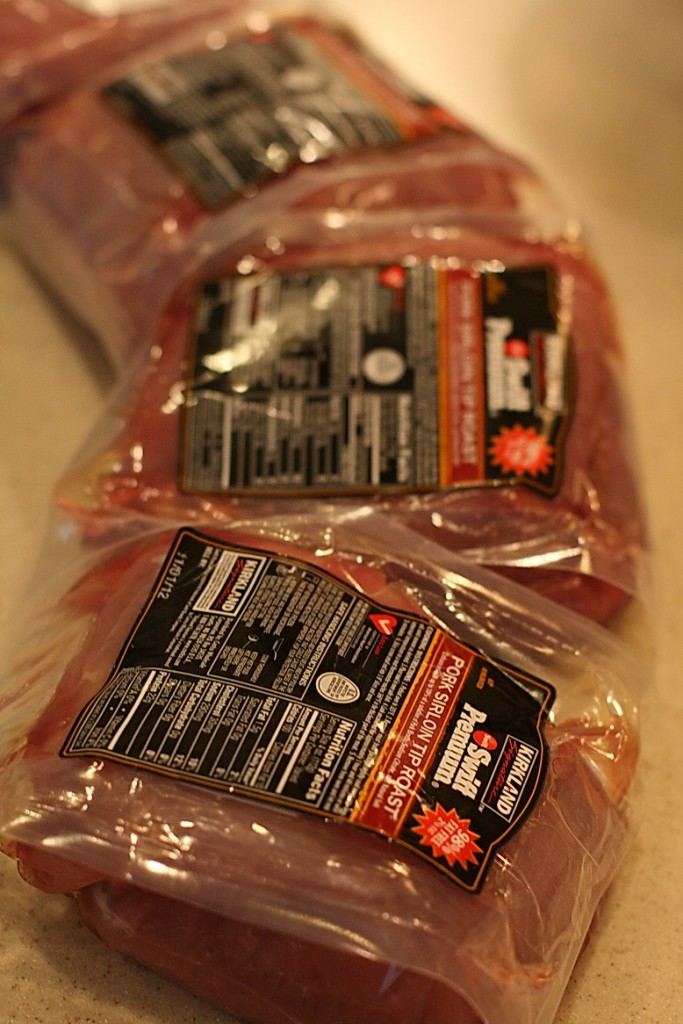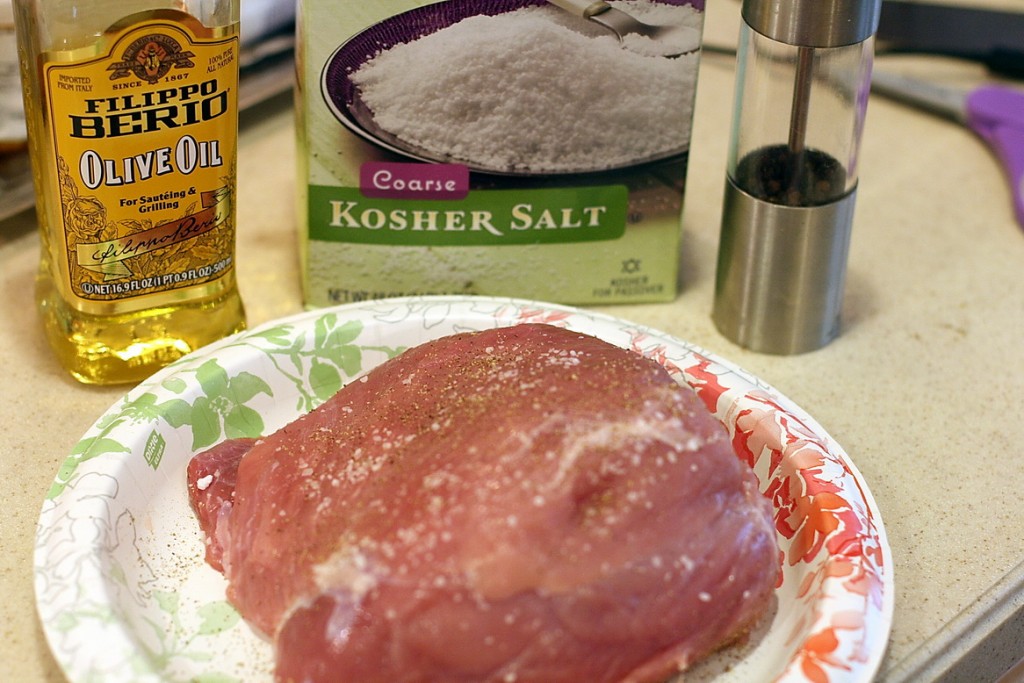 Get the roast ready for browning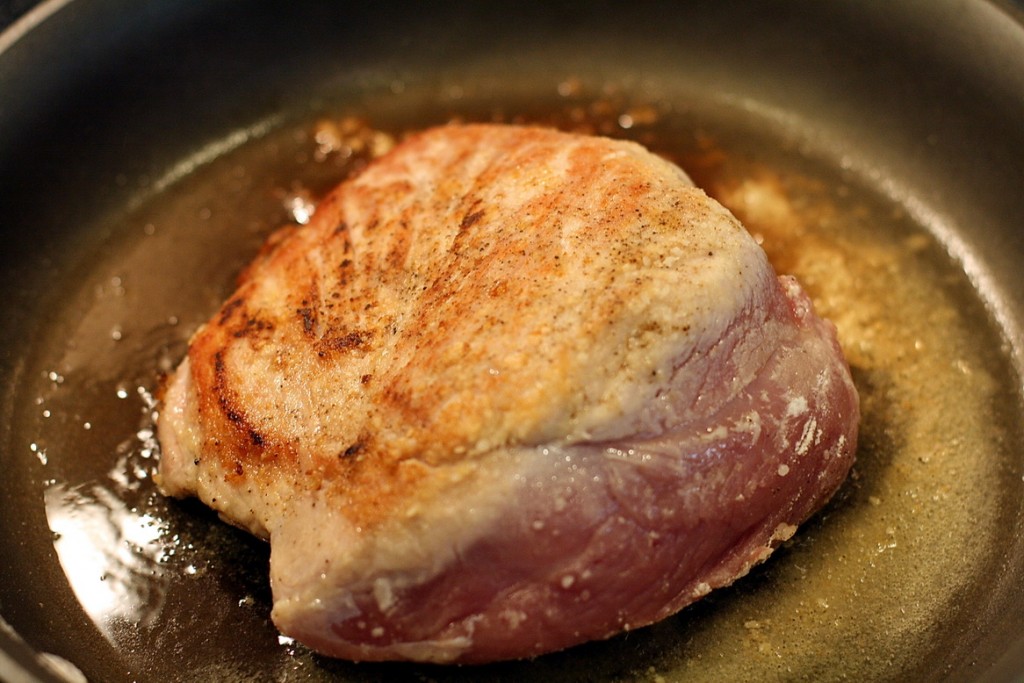 Brown the roast evenly on all sides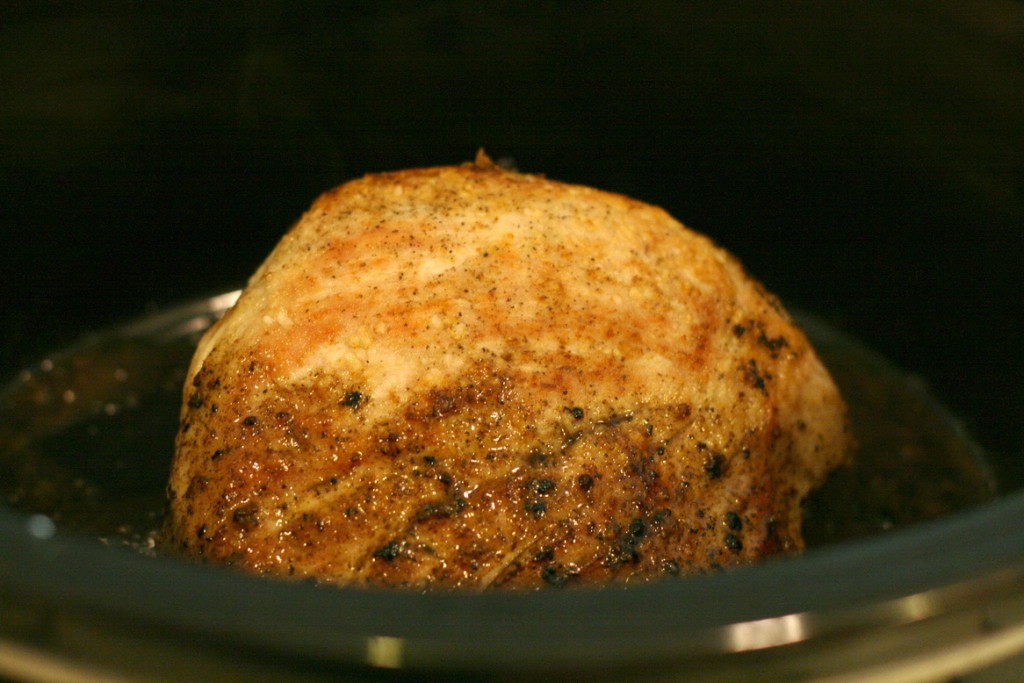 Deglaze the pan and put into the crock pot.  It's looking pretty already!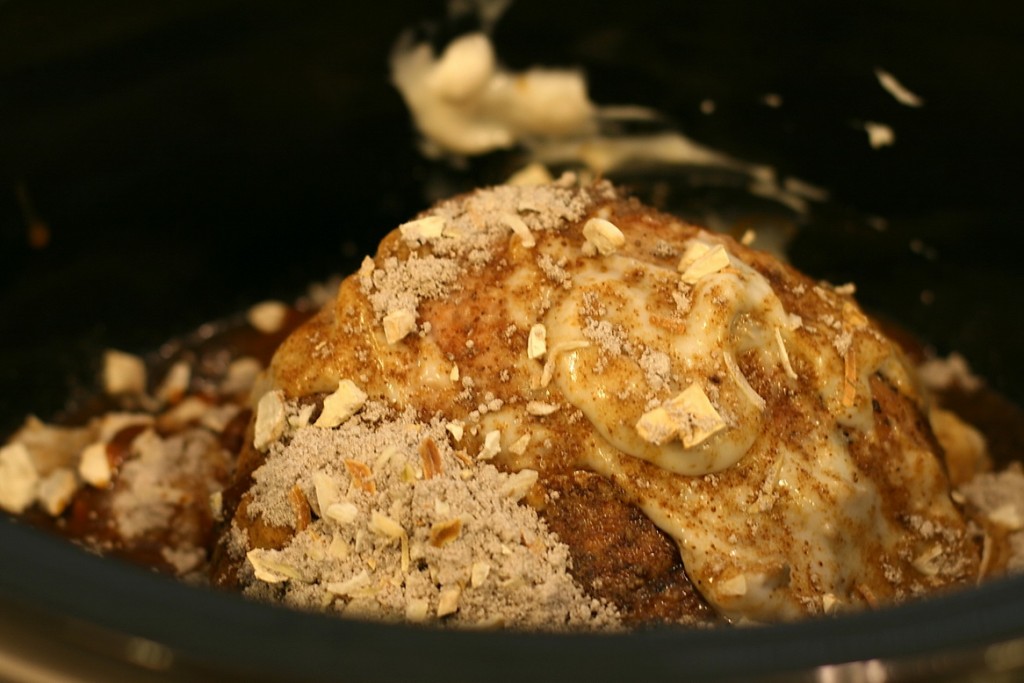 Add all the other ingredients, beef broth, soup mix, mushroom soup, and mushrooms and let the crock pot do its job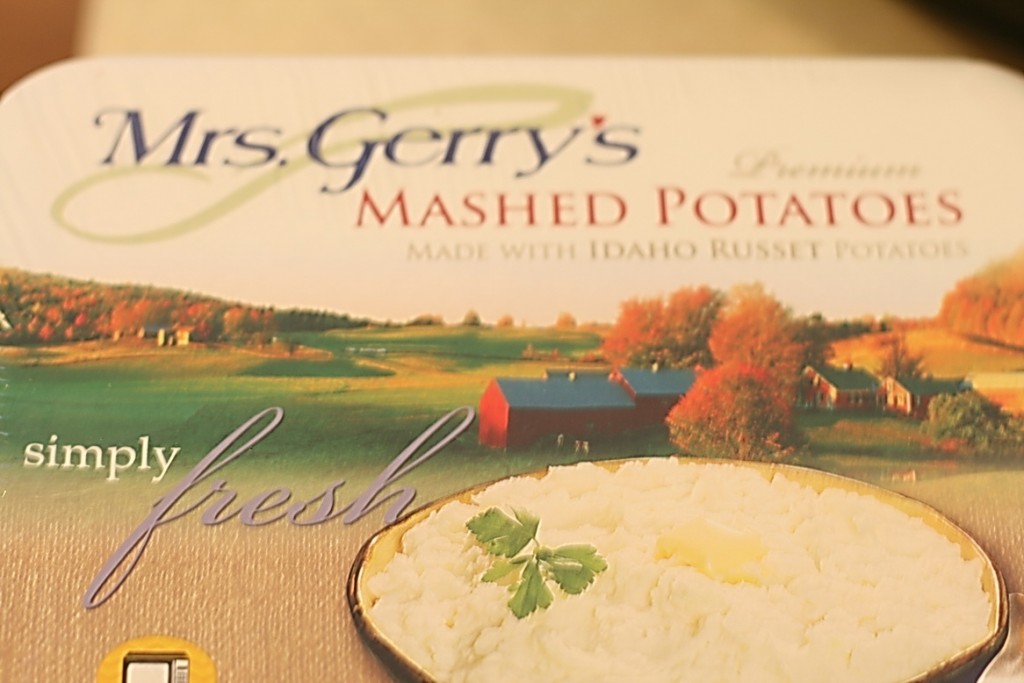 These were the mashed potatoes that I used that were on sample at Costco the weekend I went.  Who knew pre-packaged mashed potatoes could taste so good!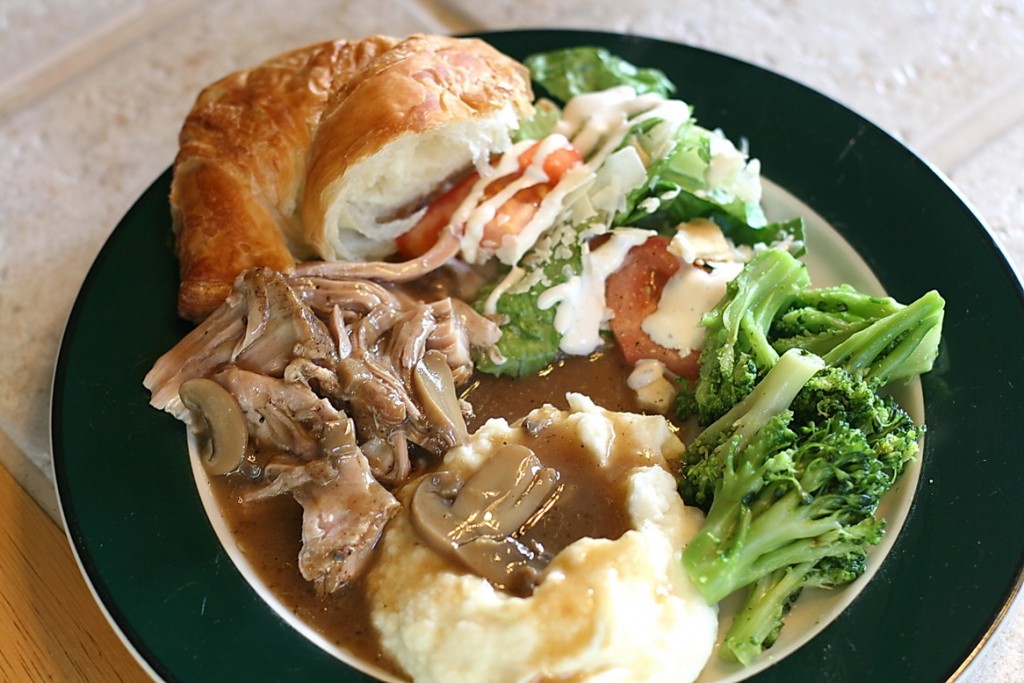 I know this looks all lumped together on the plate, but this is the best dinner ever!  The roast will just melt in your mouth!  Yum!
Crock Pot Pork Roast
1 2-3 lb Pork Sirloin Tip Roast
Olive Oil for browning
Flour
1 pouch of lipton onion mushroom soup
1 can of campbells cream of mushroom soup
3-4 cups of beef broth
Kosher Salt
Pepper
Can of sliced mushrooms if desire
White cooking wine for deglazing the pan

Directions:   Rinse and pat the pork roast dry.  Then sprinkle with kosher salt and pepper.  I just kind of eye ball it, I really don't have a set amount.  Heat 2-3 Tbs of olive oil in a skillet, and coat the pork roast in flour.  Brown it in the skillet, and remove the roast and put it into the crock pot set on high.  After I have browned the roast, I usually deglaze the pan with a little white cooking wine, it gets all the good stuff left behind from browning the roast and I toss it in the crock pot.  Add the lipton soup mix, cream of mushroom soup, mushrooms and beef broth over the top of the roast and put the lid on and let it go on high for 6-7 hours.  If you will be gone longer you can cook on low for 8-10 hours.  If you like potatoes or carrots, you can add these too about half way through the cooking process.  At the end of cooking, I will sometimes add a little cornstarch mixed with water to thicken up the sauce for a gravy.
I served broccoli, rolls, salad, and mashed potatoes this time around.
So, as you can see pork can be as simple or as complicated as you want for meal preparation.  This is by far my favorite recipe and the leftovers make really great sandwiches.
This is a sponsored post on behalf of Costco and The National Pork Board through The Motherhood.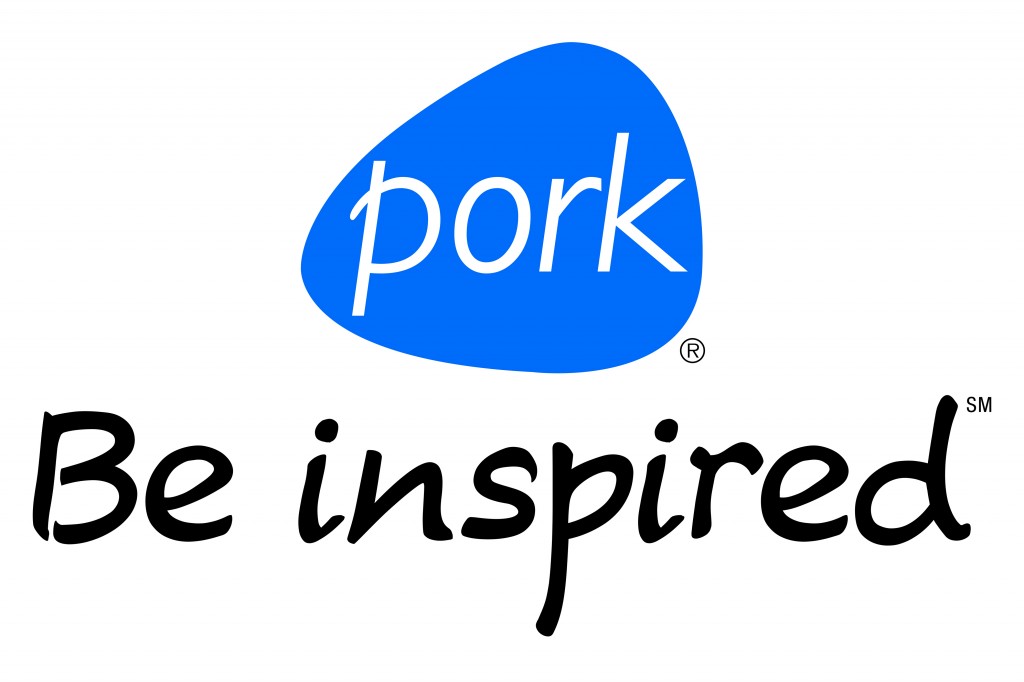 I used to be intimidated by making pork of any kind, although I  have always liked when my Mom made  pork roasts for family dinners.  They are so good and aren't nearly as dry as eating a beef roast.  After I got married, I started experimenting with different cuts of pork throughout our marriage and eventually I came up with a few of our favorites.  My most favorite recipe is one that I toss in the crock pot and let it go.  Now that I am pregnant, it makes it an even easier go to recipe for my family.
This month Costco is offering discounts on top pork cuts from chops and roasts to pork tenderloin and boneless loins with savings of $2-$2.50 on various cuts.  One of my favorite cuts for the crock pot, the Sirloin Tip Roast is on sale now between October 8 and October 14.  I was able to pick up a package this weekend that had four 2-3 pound pork sirloin tip roasts for $16 before the discount was even applied.  That will feed our family for four meals!

With the holidays coming up this a perfect opportunity to offer a variety of foods at your gathering.  I can think of some great pulled pork recipes in the crock pot for sandwiches, that can be great crowd pleasers. And if you are unsure of how to prepare pork, there are a ton of recipes out there.  And if you are uncertain about temperature and cooking guidelines, The USDA reduced the temperature guideline for pork loins, chops and roasts from 160 to 145 degrees F, with a three minute rest. Ground pork, like all ground meat, should be cooked to 160 degrees.  This will help take the guess work out of how to make cuts of meat you might be unfamiliar with.
The following is a great video and recipe using slow cooked pork!

If you steer clear of pork because you just don't know what to do with it, I will be posting a great and simple recipe using a sirloin tip roast from Costco. They offering a really great deal on them! To help you make a fabulous pork meal, I am offering one lucky reader a $50 Costco cash card. You can co and stock up on these great deals and more for meals and holiday gatherings.
Here's what you gotta do!
Watch the video in this post and share your favorite part of the video in the comments.  And that's it!
Giveaway starts October 10, 2012 and Ends October 24, 2012
Good Luck!
This is a sponsored post on behalf of Costco and The National Pork Board through The Motherhood.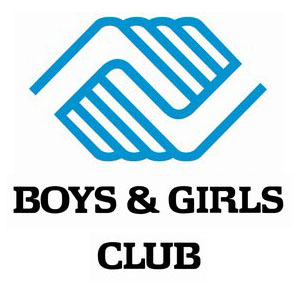 It's back to school for most, including my boys first year of kindergarten. I was the one who was hesitant about sending them off simply because my babies are growing up. Before they started school, I was overwhelmed with all the details of getting them ready to go. There are so many things to consider, like clothes on their backs, backpacks, supply lists, filling out registration forms, getting them caught up on vaccines, and just preparing for a change in their schedules.
Sometimes though, there are often families who struggle with providing the basic supplies for school, and often show up without the supplies that they need. A neighbor of mine who is a teacher, mentioned that she is always buying pencils because the kids have none. The Boys & Girls Club of America (BGCA) has been around for a hundred years providing kids with a safe place to be, offering fun activities ,life skills and a sense of self confidence, in order to help them do well in school and out. They offer a myriad of programs designed to give young people what they need.
Who are The Boys and Girls Clubs of America?

Boys & Girls Clubs are a safe place to learn and grow – all while having fun. It is the place where great futures are started each and every day.

In every community, boys and girls are left to find their own recreation and companionship in the streets. An increasing number of children are at home with no adult care or supervision. Young people need to know that someone cares about them.

Boys & Girls Clubs offer that and more. Club programs and services promote and enhance the development of boys and girls by instilling a sense of competence, usefulness, belonging and influence.

Boys & Girls Clubs are a safe place to learn and grow – all while having fun. It is the place where great futures are started each and every day.
Boys & Girls Clubs nationwide and Disney have paired up, and are making preparations for back to school by launching the Tools for Back to School initiative. Their priority is to make sure students, especially the ones who need it most, have the supplies that they need, and the guidance to succeed. Also, the BGCA website features many educational resources and content, offering numerous ways for Moms and Dads to engage and support the organization.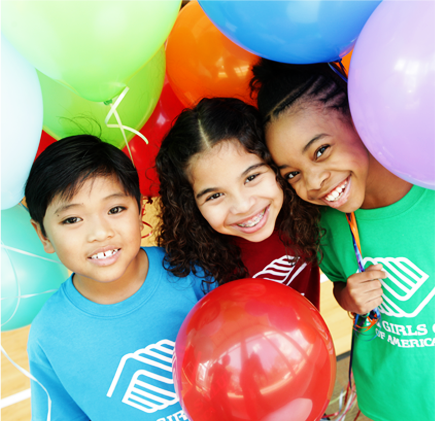 Also, if you do a little shopping in August at JCPenney, you can join jcp cares and your purchases can benefit The Boys and Girls Club by "rounding up your purchase"  We all want  our children to succeed, be provided for and be able to grow up happy and well provided for.  I believe in giving every child the chance to do this regardless of their circumstances.  The BGCA is doing just that, by giving kids the head start that they need throughout their childhood.
"I wrote this review while participating in a blog tour by Mom Central Consulting on behalf of Boys and Girls Club. I received a promotional item to thank me for taking the time to participate."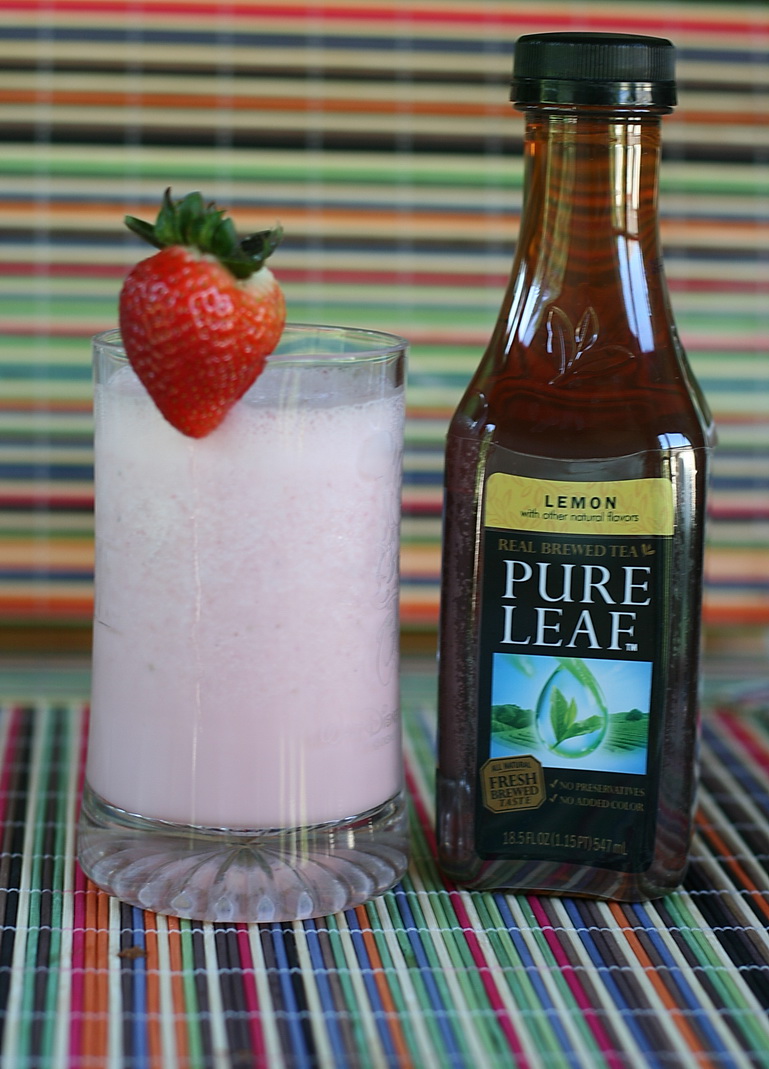 We just got a new patio put on this Summer so we could enjoy our great backyard and have a few people over.  I love Summer because it is the perfect time for entertaining friends and family, the kids are outside playing and it sort of brings people together.
After the patio was done, I was very excited to have a small get together with some of our friends, to show off the new patio and get the chance to do some outdoor entertaining.  Before, we had nowhere to be other than the grass, so this was great.  Along with the new patio, I was looking for some fun drink recipes that I could try to share with some of our guests.  I wanted to create some family friendly beverages that everyone could enjoy.  Some of my favorite drinks in the Summer include lemonade and ice tea, but I wanted to do something different.  What if I could incorporate one of these classic Summer beverages into a new drink with a twist?
Pure Leaf Iced Tea by Lipton offered me some really great recipe ideas to try incorporating tea into adult beverages and even smoothies and even using it to prepare pork chops!  Naturally, I was intrigued because all I have ever done with tea is add ice, and sugar and drink it, so I was excited to try doing something new with it.  I was really surprised to see how versatile tea can be.
Since, the weather here has been insanely hot, I chose to make Pure Leaf's Fruit-Tea Smoothie to cool everyone off.  I had freshly picked frozen strawberries on hand and I thought this would be a great way to use them. The recipe included sweetened or unsweetened Pure Leaf Tea, vanilla ice cream, low fat, or I chose to put the good full fat stuff in mine, frozen strawberries and sugar (recipe to follow).  These turned out really fabulous and tasted awesome, and everyone really enjoyed them, including the kids.  Everyone was shocked when I handed out the recipe to them to find that there was tea in their smoothie.
FRUIT-TEA SMOOTHIES
Servings: 4
Prep Time: 10 minutes
16 ounces Pure Leaf Iced Tea with Lemon or Pure Leaf Unsweetened Iced Tea, chilled
2 cups frozen strawberries
1 cup fat free vanilla ice cream
1 tablespoon sugar
In blender, process all ingredients until smooth. Serve immediately in tall glasses and garnish, if desired, with fresh strawberries.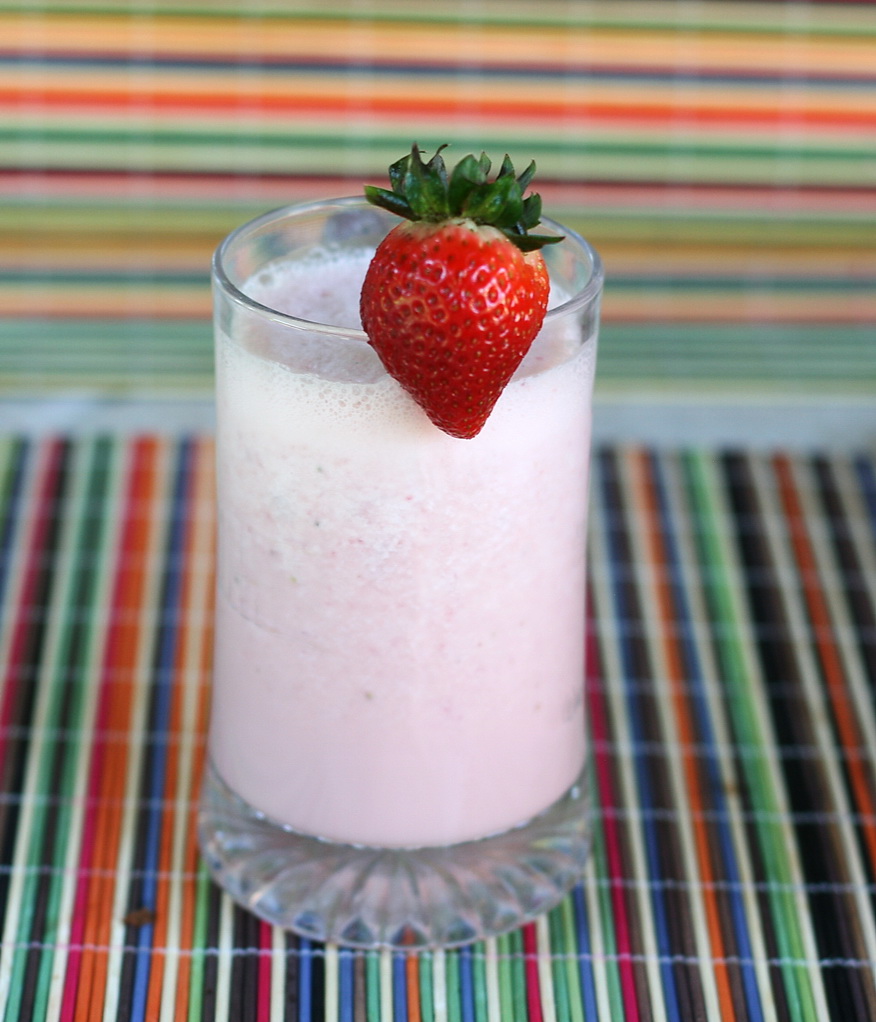 Pure Leaf Tea also teamed up with Gail Simmons judge on Bravo's Top Chef to come up with some great recipes like Peach Ginger Fizz.
(See Recipe Below)

Lipton tea has been around as long as I can remember. I can remember the tea bag hanging out of my hot cup on days when my mom had me home sick from school nursing my sore throats. But, besides, having great tea , Pure Leaf has put a great deal of thought into their packaging. I love companies who make a genuine effort to create something that tastes good, but goes that extra mile to improve things about them and to make their product better in not just one aspect but all aspects. Take a look at what they are doing!
Why did Pure Leaf change its packaging?

• Pure Leaf is dedicated to the environment and wanted to make a change that would positively impact the world we live in.
• PET plastic is 100% recyclable.
• The innovative packaging is more consumer-friendly for on-the-go and out-of-home occasions compared to the previous glass bottles.
• The new square bottles are lightweight and provide a high pallet efficiency, which equates to more bottles, lighter loads and less fuel used in transport.

What is PET?
• PET is the type of plastic labeled with the #1 code on or near the bottom of bottles and containers and is commonly used to package soft drinks, water, juice and many other products.
• PET plastic is 100% recyclable.
o Source: http://www.napcor.com/PET/whatispet.html

Why the change from round to square bottles?
• The new square bottles (vs. round) fit together in a condensed way, creating high pallet efficiency, which equates to more bottles, lighter loads and less fuel used in transport.

Will you still offer glass bottles in addition to the plastic?
• No.

In what size bottles is Pure Leaf offered?
• 18.5-oz. and multi-serve 59-oz.

What does it mean to be Rainforest Alliance Certified?
• Rainforest Alliance certification is built on the three pillars of sustainability: environmental protection, social equity and economic viability.
o Source: http://www.rainforest-alliance.org/agriculture/certification
• Recently, in recognition of our commitment to sustainability, several of our tea estates, including our Kericho, Kenya plantation, have earned Rainforest Alliance certification.
• This certification is available exclusively to farms that meet or exceed the rigorous standards for sustainability that are necessary to achieve Rainforest Alliance certification.
• We are very proud to source our tea leaves from these farms and to be able to use the Rainforest Alliance Certified™ seal on Pure Leaf.
o Source: http://www.liptonpureleaf.com/ra_certified/
Summer is a great way to enjoy Pure Leaf Tea, and enjoy entertaining your friends and family. Pure Leaf Iced Tea is great straight form the bottle, but now that I know you can use tea in other things, I can't wait to experiment!  You can check out the Pure Leaf facebook page for some really great recipes!
"I participated in a campaign on behalf of Mom Central Consulting for Lipton Pure Leaf. I received product samples and a promotional item to thank me for participating"
Grilling is one of my favorite things to do during the Summer months.  The kids are usually actively playing outside and I like being able to be outdoors with them.  Grilling for me as a mom is much faster and pleasant than being inside with a hot oven, heating up the house.  I love the taste of grilled hamburgers, vegetable and potatoes, and anything that I can prepare on the barbeque pit.
I am always on the lookout for things that I can prepare as a whole meal on the grill, so everything is sort of ready at once. Ore Ida Grillers is a great new product introduced by Ore Ida, a well known name in my household.  Ore Ida already has  really great frozen potatoes like tater tots, french fries and hash browns.  I love potatoes on the grill, but I always have to wrap them up in foil to keep them from burning to black hockey pucks before I can get everything ready.  I was able to give the new Ore Ida Grillers a try over the weekend and I love them.  Firstly, I can just put them directly on the grill, which makes preparation easy from package to grill to table in about fifteen minutes.  We chose a meal of a fresh garden salad, hamburgers and Ore Ida Grillers.  Cooking them is easy as can be, you flip them over once or twice during the fifteen minutes and then they are ready to go.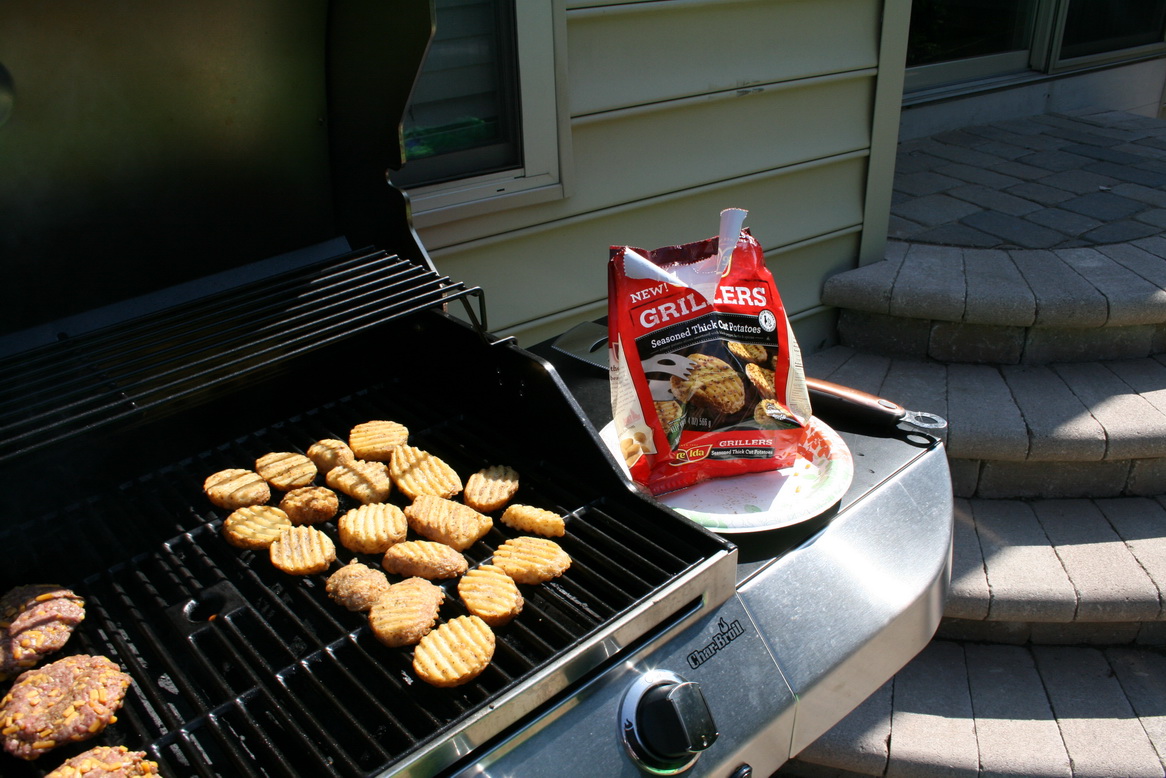 We had the chance to try the Grillers Golden Thick Cut Potatoes as well as a package of the Grillers Seasoned Thick Cut Potatoes and my personal favorite were the seasoned Grillers.  They went perfect with the meal and at first I thought the potatoes might be too hard after cooking but they were the perfect amount of crispy outside and soft on the inside.  I took one of them and put it on my hamburger and it was a really yummy addition!  The best part, is that they are easy to prepare, there is no cutting and peeling of potatoes, getting them sealed in a foil packet and then wondering if your potatoes are cooked enough.  I don't know how many times I have burnt my self on foil packets of potatoes trying to peek inside to see if they are done on the grill.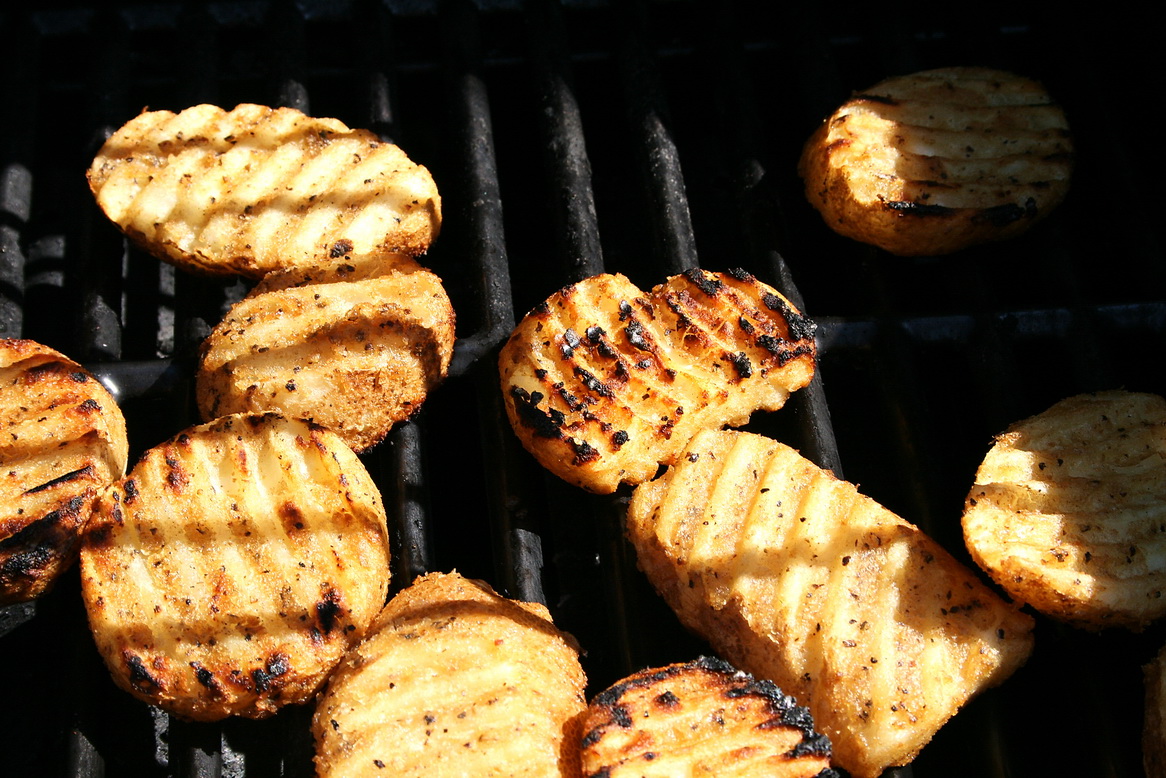 As a mom, Ore Ida Grillers will be something I have on hand in my freezer from now on.  It makes for a great side dish to whatever you may be grilling and they are super simple to make!  Ore Ida Grillers can be purchased at grocery stores and places such as Target, Walmart, and Sam's Club.  You can also check out the Ore Ida facebook page and let everyone know how much you like Ore Ida products.
"I participated in a campaign on behalf of Mom Central Consulting for Ore-Ida. I received coupons to purchase products to facilitate my review and a promotional item to thank me for participating"
Movie night in our house is always a perfect opportunity to get the family together and enjoy time with one another.  I was driving in my car a few weeks ago and I was telling my husband that I actually missed going to a drive in movie.  I can remember as a kid when we would all pile in the car with a cooler full of snacks, and blankets, and spending the evening at the drive in.
What if there was a perfect way to bring back those memories in your own front yard or have your own big screen right in your own home?  The 3M Mobile Projector brings the big screen to you in a tiny package.  3M's Mobile Projector allows you to turn your mobile devices like an iPad, or iPhone into a big screen theater. Set up is pretty easy right out of the box, and you are ready to make some movie memories.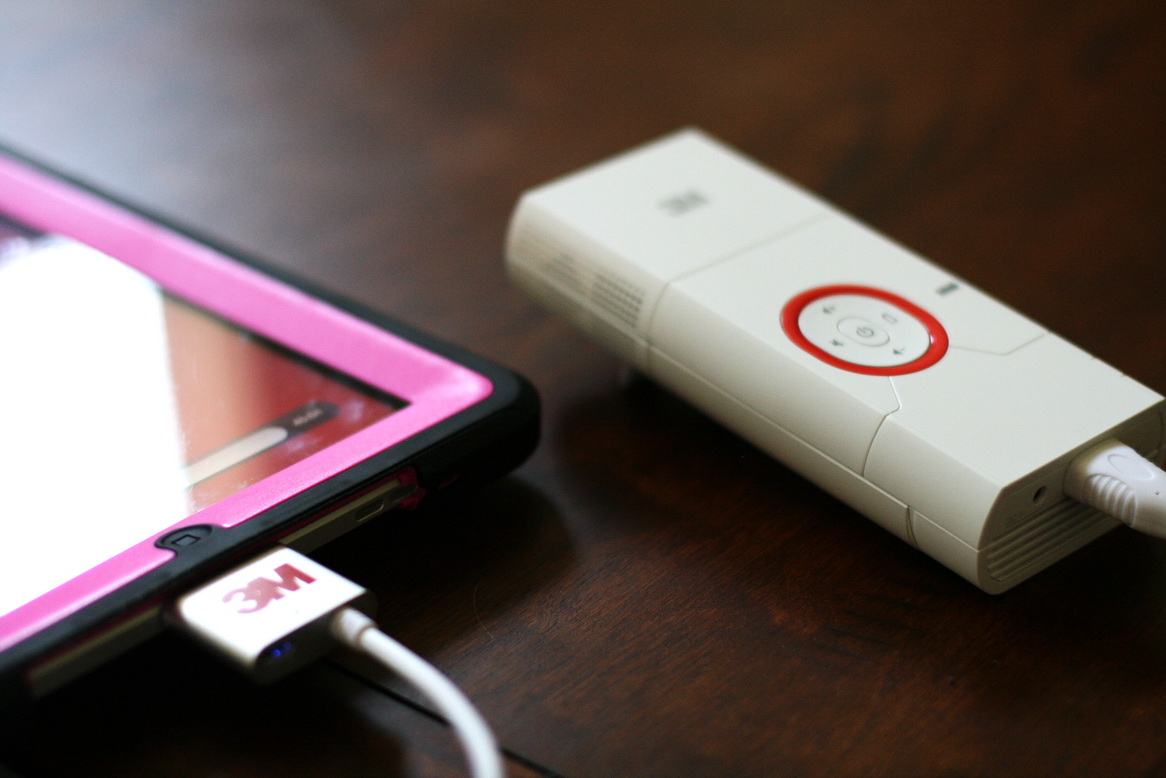 Video quality on the 3M Mobile Projector is pretty darn impressive.  You can plug in any portable speakers and have instant sound.  I had a little trouble with the sound being a little too low, I am not sure if this is a product of the device itself, or something that needed adjusting on my end.  Overall, though, it sounds really good.  Our first experience we watched a documentary on sharks and the ocean.  The boys and I had so much fun with it, we all curled up in bed and watched the show on the ceiling!  We had a movie night set for our front yard, but we had a storm blow through here and knocked out power, so we didn't get the opportunity to have our drive in movie with the neighborhood kids. The 3M Mobile Projector has 2 hours of battery life per charge (or runs continuously on AC power).  If you don't have an iPad or a mobile device you can easily get a cable specifically sold by 3M to hook up to your laptop.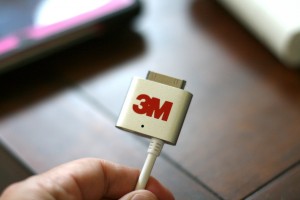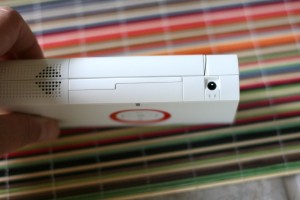 The screen size is ample and projects a screen size of up to 80" diagonally.  You can put the projector on a table top and it has a small flip out tab to elevate it, but I found it easier to use a tripod since it has a standard tripod mount and it keeps the screen from moving.
3M Mobile Projector Features
Up to 2 hours of battery life per charge (or runs continuously on AC power)
Projects a screen size of up to 80" diagonally
32 lumens brightness
Built-in stereo speakers
Audio out for external speakers or headphones
Native resolution: 800 x 600 SVGA
Supported resolutions: VGA 640 x 480' SVGA 800 x 600' XGA 1024 x 768' WXGA 1280×768 and 1440 x 900 @ 60 Hz' SXGA 1280 x 960 @ 60 Hz
MAC: 640×480 @ 67Hz' 832×624 @ 75Hz' 1152×870 @ 75Hz
No lamps to replace; uses long-lasting LED technology (up to 20'000 hours)
Flip stand (built-in image height adjustment)
Standard tripod mount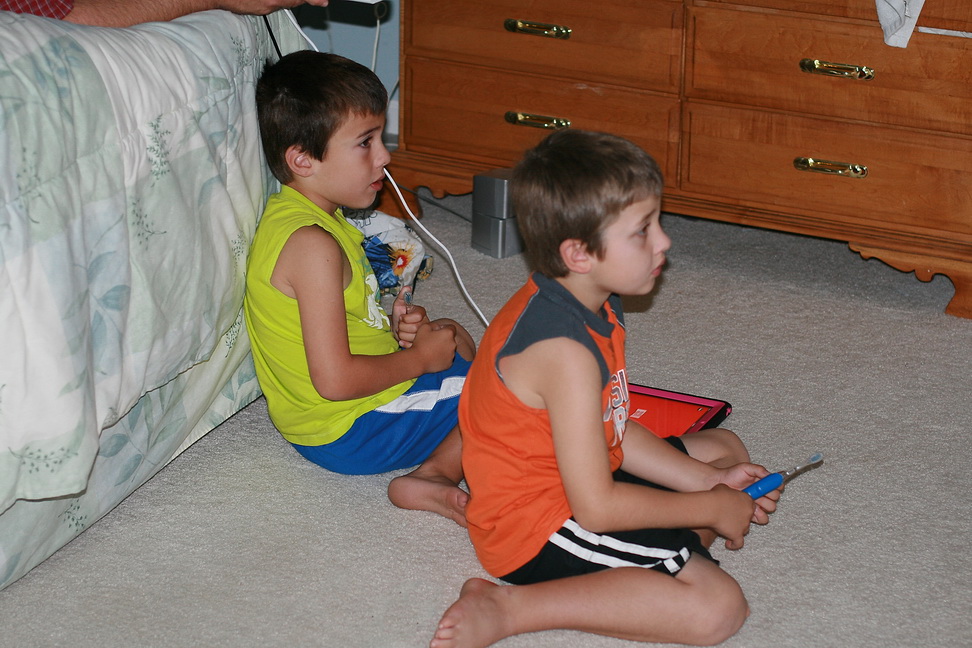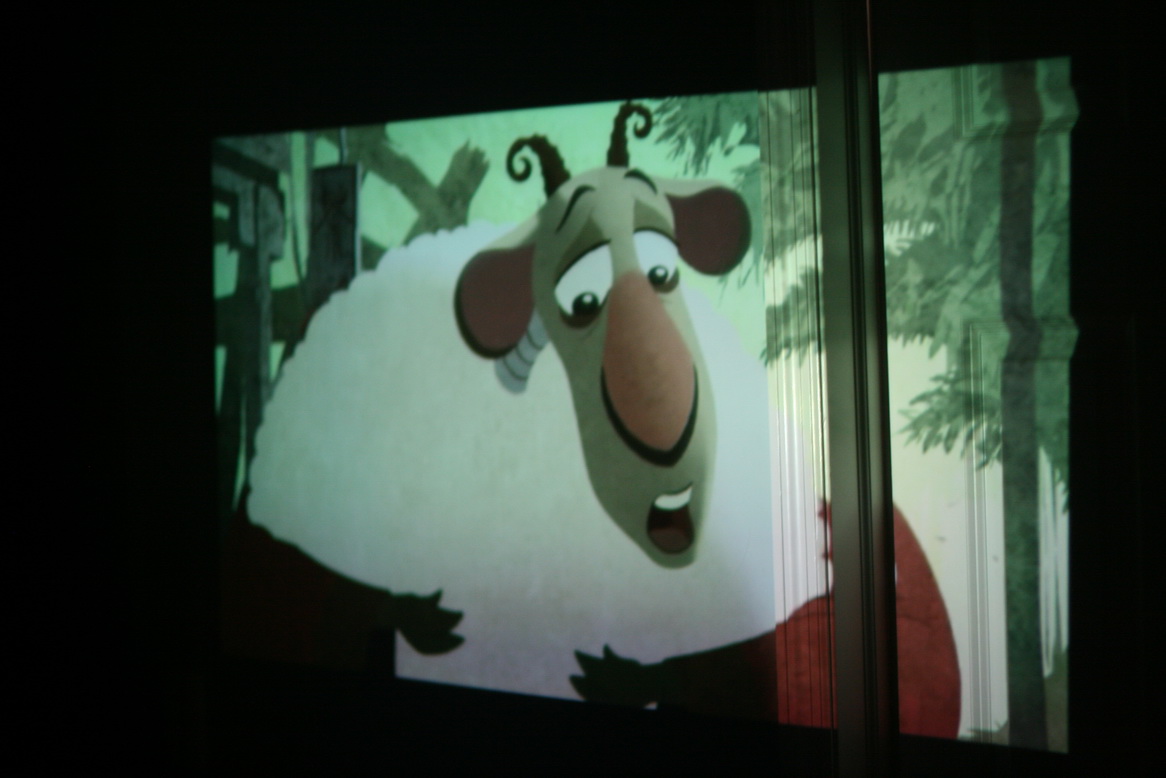 One fun thing you can do which I didn't get to try because I have an iPad 1, was that you can project your favorite apps on the wall too, it would have been really fun to play Angry Birds in big screen mode.  Overall, I love the 3M Mobile Projector, the resolution is great for such a small device, it is easy to set up out of the box, and it is great if you have young children to create a fun family movie night.  There are so many versatile ways to use this projector.  I can imagine it would be a great tool in classrooms for presentations, and the device could easily fit in your purse or bag.  I can't wait to have our make up movie day at the drive in, complete with blankets, snacks, and lots of smiles! The 3M Mobile Projector brought back so many fun memories for me, and I love just doing something different as a family.  I love it!
If you want to learn more about the 3M Mobile Projector, you can check out the 3M  facebook page or follow their twitter stream!
"I wrote this review while participating in a blog tour by Mom Central Consulting on behalf of 3M and received a promotional item to thank me for taking the time to participate."
.