With this crazy lack of rain, I wasn't sure that I could grow much of anything this year.  My pepper plants are still looking a little sad, they are growing peppers but the plant isn't growing upwards. This year we planted some carrots, celery (which the rabbits have eaten), broccoli, three types of tomatoes, potatoes, basil, thyme, and watermelon!  I also planted pear trees.  We have had bad luck with our planting of trees, and they affectionately turn into "the stick."
My Seckel Pear tree started dropping and leaves and I thought it was doomed, but it has stopped and appears to be thriving.  The Anjou pear tree hasn't gotten any pears yet, but I am thinking their pears start a tad bit later.
One of my favorites though, is the tomato, and I can hardly wait to eat the first of the season.  What do you have in the garden this year??  Here is my broccoli, it will be going in stir fry!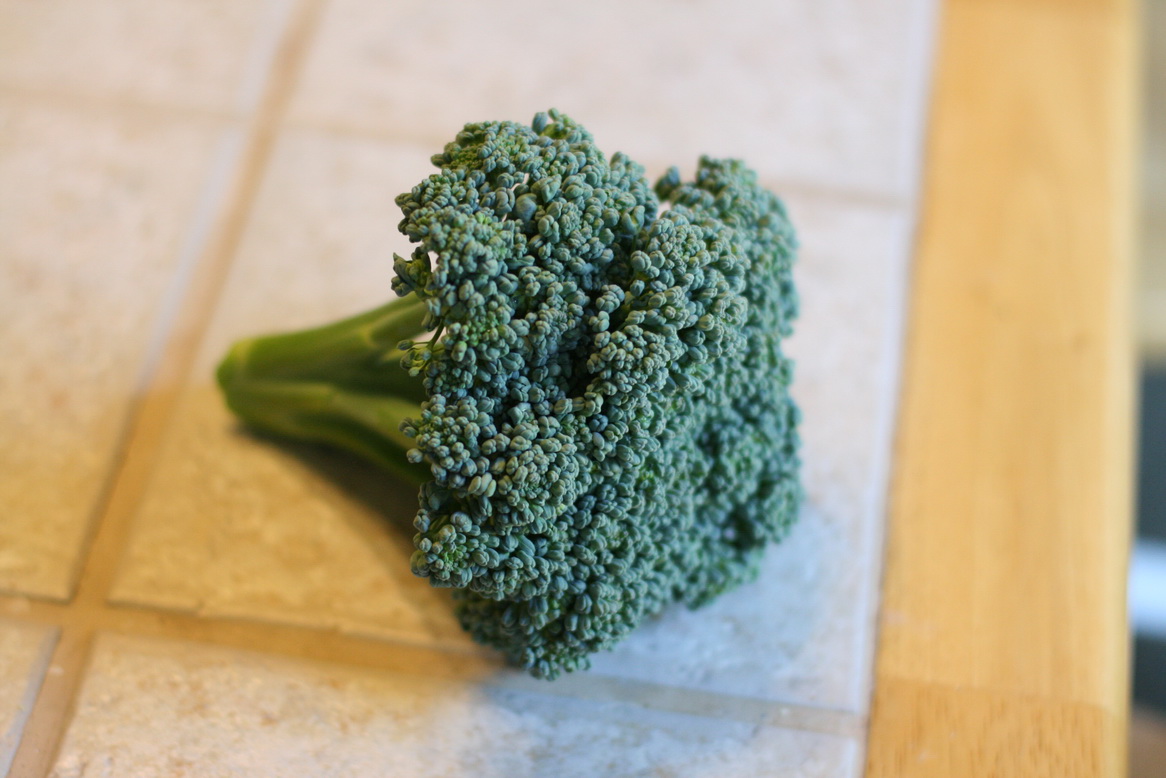 I have been one very busy mama, and that means I rarely sit down in the Summer months.  There is so much happening with our family, and all really fun and exciting stuff.
Summer is one of my favorite times.  The warmer weather means we head outdoors as a family and rarely see the inside of the house until the sun goes down.  I have been tending the vegetable garden, we have potatoes growing, broccoli, celery, carrots, tomatoes, bell peppers, watermelon, and lettuce.  We also planted two pear trees that will be growing Anjou and Seckel Pears.  I have been to the strawberry fields twice, and made 24 jars of strawberry jam which I have handed out to close friends, neighbors and family.  I froze a couple of bags for jam making and desserts later in the year.
I have been busy inside as well, our home office is getting a makeover with new furniture and paint, we have new couches arriving very soon, and a new patio going in.  So, there is lots on the agenda.  Later in July, there will be blackberries to pick, farmer's markets to go to, the boys 6th birthday, and lots more in between.
I hope to have some really cool news to share later this Summer, but until then, tell me what your Summer plans are?

I have never tried biscotti,probably because I rarely drink tea and never drink coffee.  But I have always wondered what it tasted like, and always contemplated buying it when I passed by it in local cafes or at the grocery store.  I had a an Aunt who always used to dip shortbread in her coffee, and I can remember as a kid grabbing a glass of milk and following suit.
I was recently given an opportunity to try out Nonni's Biscotti Bites and even though I don't drink coffee or tea, I couldn't think of anything more perfect to dunk in my cold glass of milk.  So I took the challenge to have my own "Biscotti Moment."  My favorite mommy time comes after the boys go to bed and the house is quiet.  I put on a favorite show or a good movie and grab a glass of milk and cookies.  Nonni's Biscotti bites were a welcomed change to my favorite night time snack and I loved them!  They are just as perfect for dipping in a cold glass of milk.
Biscotti are gourmet dunking cookies, pronounced <bis-­?coat-­?tee> in Italy, but more commonly pronounced <bis-­?cot-­?tee> in America. The name Biscotti was derived from 'bis' meaning twice in Italian and 'cotto' meaning baked and it was first created in the fourteenth century in the Tuscany region of Italy. Biscotti is made with real eggs, butter and gourmet bittersweet chocolate which gives it that delicately sweet taste and nice light crunch.
My favorite of the three flavors, almond dark chocolate, caramel milk chocolate, and classic almond, had to be the caramel milk chocolate.  In fact, the bag didn't last very long because between me and the boys they were gone in a day!  It had these slightly chewy bits of caramel imbedded in the biscotti and one side dipped in a layer of milk chocolate.  It sure cured my craving for for something slightly crispy and chewy like a chocolate chip cookie and they are perfect for dipping.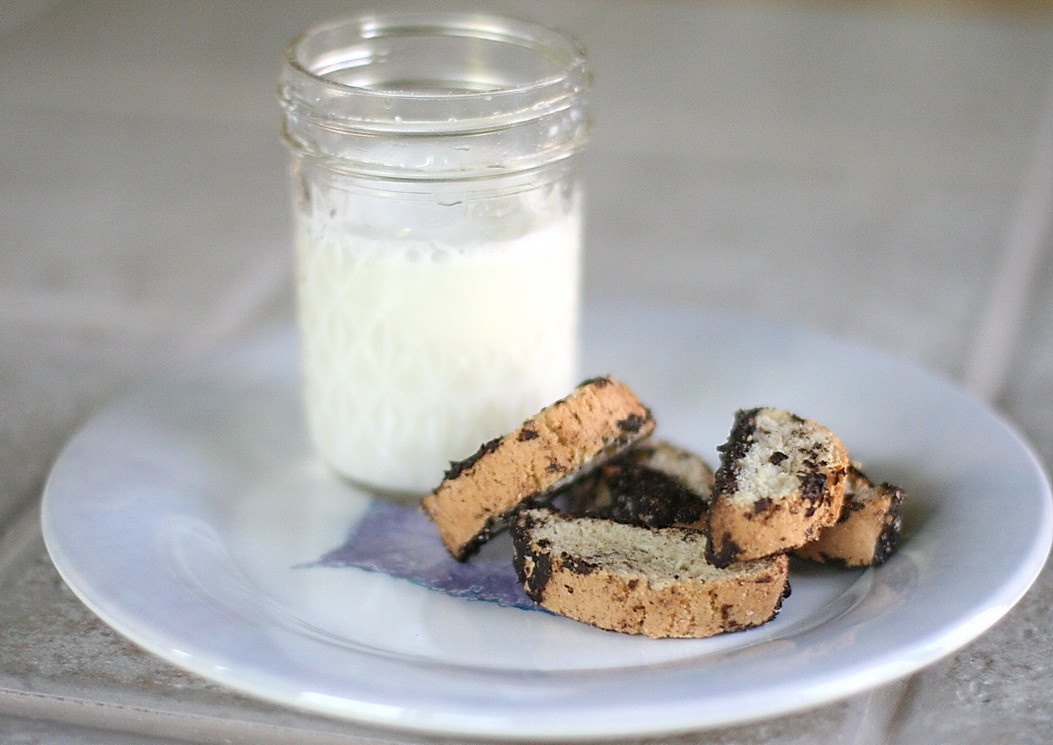 About Nonni's Biscotti Bites

Created just for your craving, it is a unique eating experience crafted with all natural ingredients making them rich in flavor, light and crunchy in texture, and delicately
sweet.

Biscotti has been an Italian tradition for generations and now you can enjoy delicately sweet mini biscotti; baked with quality, each biscotti is the perfect size for snacking or sharing.

Delicious, all natural, special occasion treat in an everyday snacking size

Snack bag packaging makes it easier to share and wrap back up for another biscotti break

Excellent complement to enhance a favorite coffee beverage, enjoying with a glass of wine, perfect
for a cold glass of milk or eating by itself.
Comes in a variety of flavors

Almond dark Chocolate is a classic almond biscotti dipped in gourmet dark chocolate; a modern tradition combining the delicate flavors of biscotti with the
rich taste of the finest chocolate.

Caramel Milk Chocolate is light, filled with sweet creamy caramel and dipped in gourmet milk
chocolate; an indulgent combination that is irresistible.
Classic Almond is crisp and crunchy, with the sweet flavor of almonds and just a hint of anise.
This classic bite-­?size creation is rich in Tuscan tradition and is an excellent complement to a cup
of coffee, espresso, or wine.
Do you like Biscotti? What is your favorite treat, or ways in which you pamper yourself? Nonni's Biscotti wants to offer you the chance to win a trip for two to Hollywood. You can also upload a photo of your Biscotti Moment to have a chance to win the weekly prize of a Nonni's Biscotti Gift Basket. You can learn more about the Biscotti Moment Sweepstakes on the Nonni's Biscotti Facebook page.
My Biscotti Moment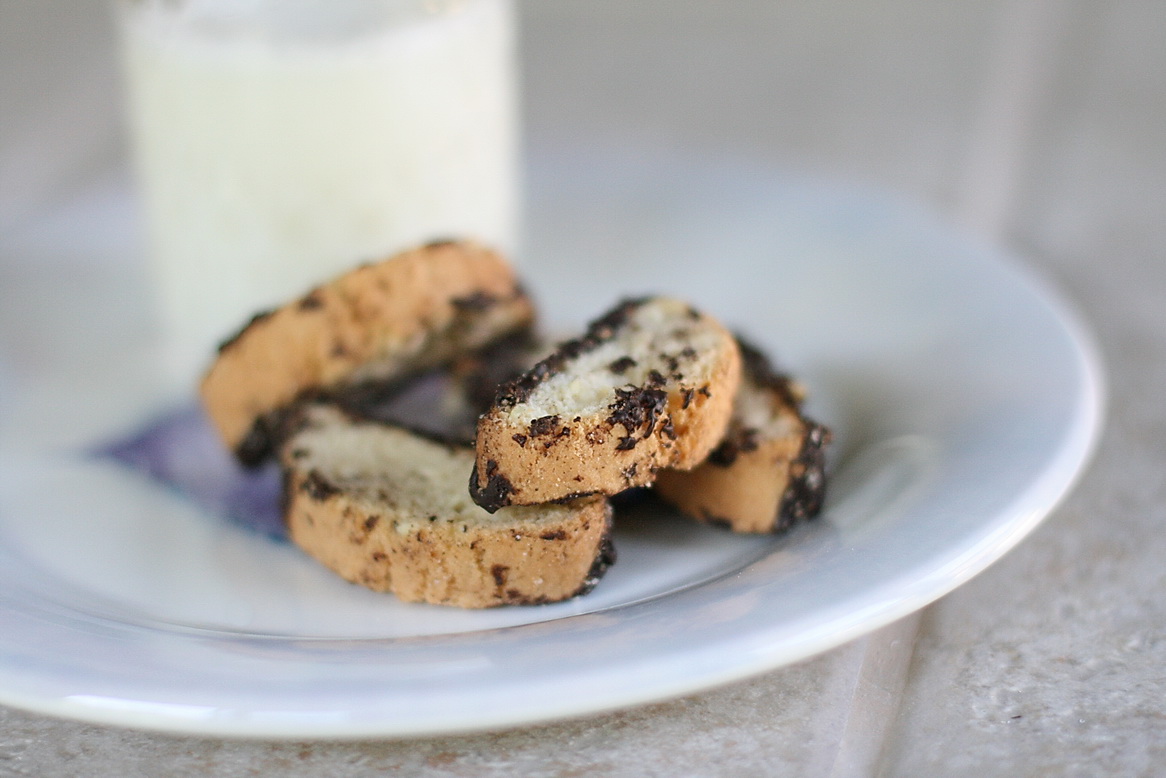 "I wrote this review while participating in a campaign by Mom Central Consulting on behalf of Nonni's Biscotti and received a product sample to facilitate my review and a promotional item to thank me for taking the time to participate."

There are some days when I don't get to even sit down, till after the boys are in bed.  Along with being a mom, comes this weird phenomenon when you have kids, it is the one where if you sit everyone is right there needing something, but if you are busy doing the laundry, everyone seems to leave me alone for a few minutes anyway.  I call my laundry time, my phone time, when I can call my mom and talk while I fold, but holding the phone isn't always feasible.  I also, like to call my husband when I am outside watching the boys, so a hands free option is always welcomed, so I can do several things at once.
Vtech has the perfect solution. I was given te opportunity to try out  the Vtech LS6475-3 cordless phone set and answering system.
Here's what you get in the box and all very easy to set up.
An answering machine and phone base unit with AC power adapter.
A charging cradle with AC power adapter.
2 DECT cordless phone handsets
1 DECT headset with ear hook and ear bud
1 head band for use with the headset
Phone cable, manuals, two battery packs (one for each phone)
3 additional ear buds and two ear hooks.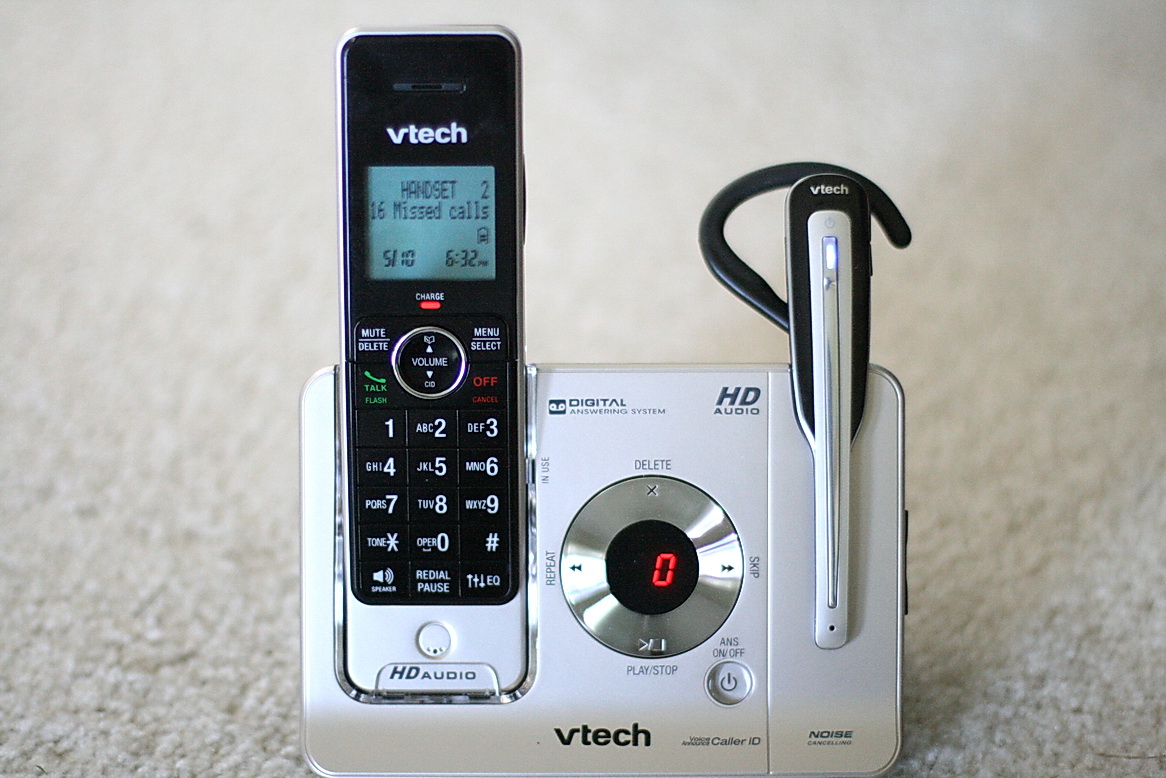 The phones themselves feel solid and well put together,  they are not heavy and I love the sleek silver that accents the handsets and is the primary color of the base.  You can see from the pictures that the phones and the base/charging units look very nice.  To me, if a phone has to sit there on my counter or wall, it needs to look decent.
The handsets were partially charged when I got them out of the box, but I decided to fully charge them for my review.  Setting up the base was very simple, the phone cord into a phone jack, plug the ac adapter into any outlet, and voila, you're ready to go.   One thing you'll notice right away is that Vtech added a little "lip" on the cradle for the handsets so that when you put the phone in the cradle, you know for sure it's in there correctly to charge.  That's a nice touch.
One of the things that makes this phone set unique is the included headset.  The headset is very versatile, it can be worn on the ear (kind of like a blutooth cell phone ear piece), but it also comes with a head band so you can wear it using the over the head band.  You also get additional ear buds, and various different size ear hooks so you can be sure you can fit it on your ear properly.  This is a great feature if you are running around the house getting things done, yet you have phone calls to make.  The headset is well built and I was able to wear it comfortably on my ear.  More importantly, the sound on the headset is excellent, and the range is absolutely great.  I was able to wear the headset and walk outside my house over to the neighbors house while talking on the phone without any static or noise!
There is a button on the headset to answer an incoming call (which works well), but there is no way to make a call with the headset.  You have to first make a call using one of the cordless hand sets, and then you can continue the call on your handset.  If you want to be able to make calls using the headset, this unit is not for you.  One of the things I really liked about it though, is the way you connect it to the base when charging.  It has a magnetic connector that makes it super easy to put the headset on the base to charge it.  It clicks into place snugly – no worries about having the headset laying around somewhere and not being able to find it.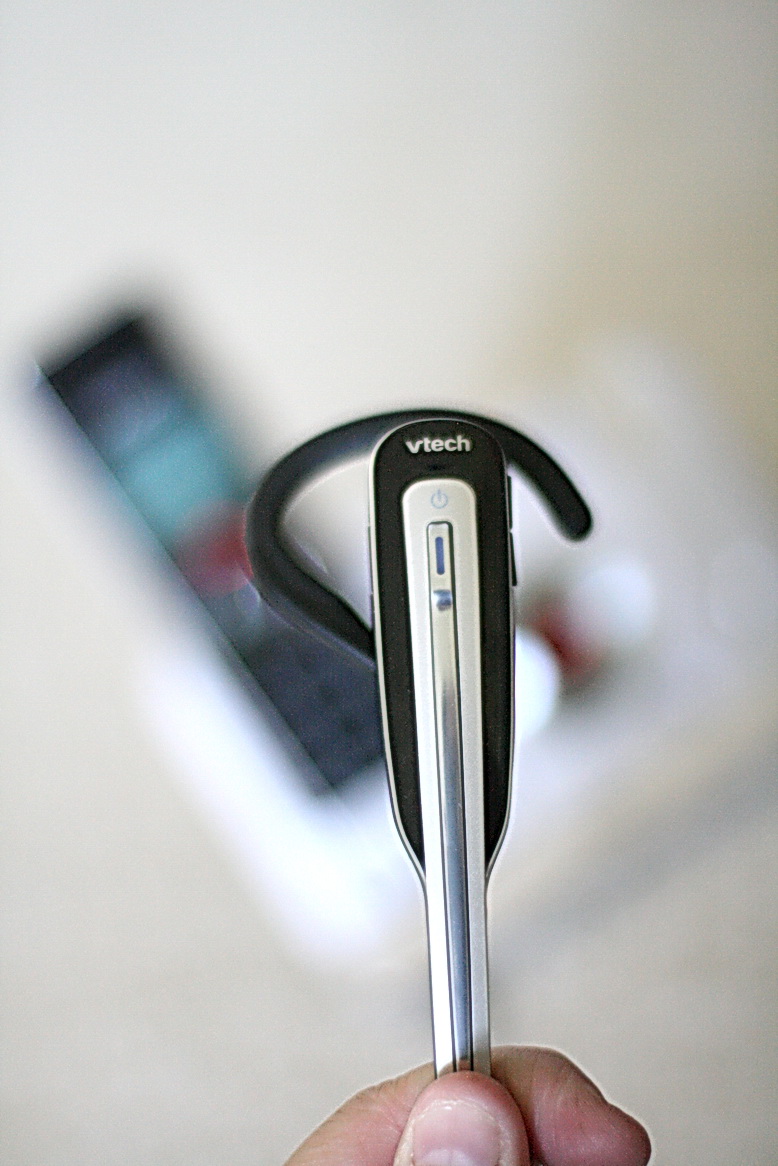 The two handsets come with a very clear and easily readable blue backlight, including the key pad.  No fumbling around in the dark trying to see the keys when you're trying to call at night.  The contrast on the displays is good so the text is easily readable.  This phone set uses DECT 6.0 technology, which means it won't interfere with your home wireless network for your PC or other wireless devices.  I tested both handsets in different areas of my house, in my yard, and even across the street — the sound remained crystal clear, the range on these phones is remarkable.  Vtech calls it "HD Audio", and it definitely delivers.  Both handsets have speakerphones built in, just push the speakerphone button and you can use the handset as a speakerphone.  The speaker produces clear sound and the mic seemed to work well.
Another feature I really like on this phone set is "voice announce".  The base unit as well as the two handsets announce the name and number (based on caller ID info) of the person calling using a robotic sounding voice.  The digital voice is sometimes funny in how it pronounces names, but it's very handy to be able to tell who's calling without having to be near any phone.  This has to be one of my most favorite features in the Vtech phones.  It is so nice, not to have to go running for a telemarketing call or for someone I don't know.
The phone handsets also have a handy "push to talk" feature.  Just click a button and your phone becomes a two way radio with other handsets.  The set I got only has two handsets, but you can easily expand your set by adding more handsets.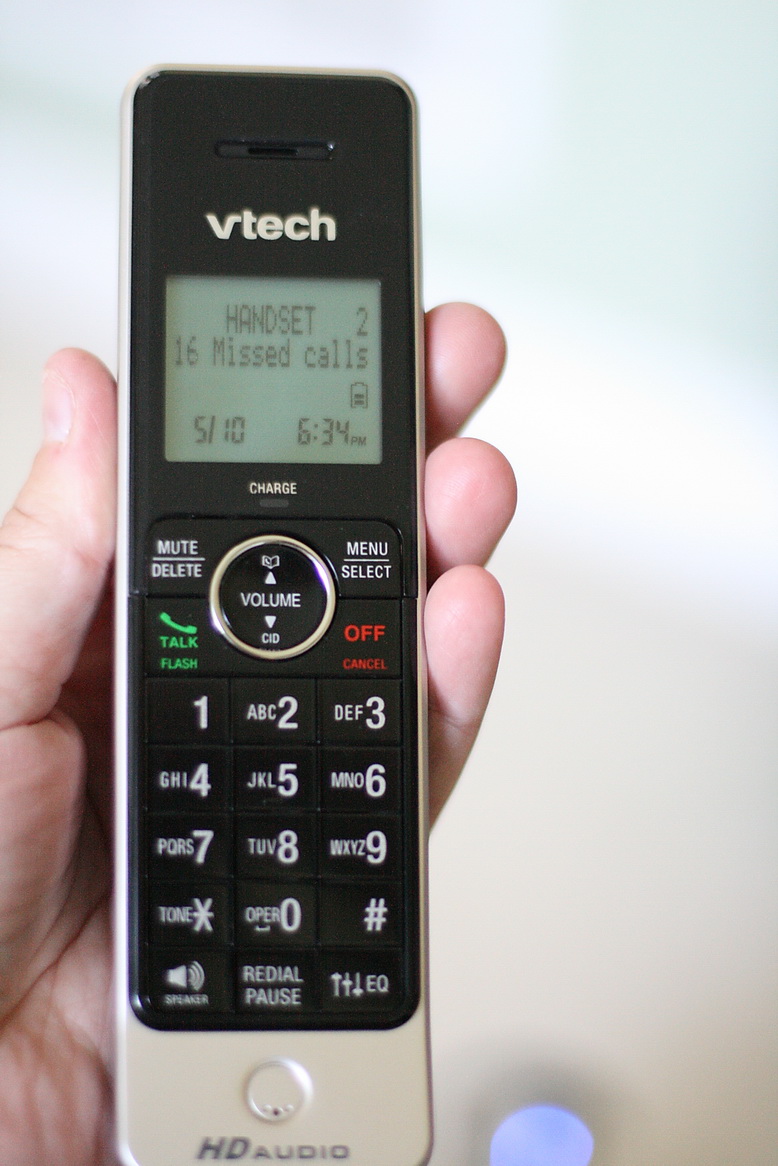 The fully digital answering system works as expected, it allows you to record up to 14 minutes of messages.  The messages are recorded clearly and can be played back from any handset so you don't have to go to the base answering machine to hear the messages.
All manufacturers claim wonderful talk times for their phones, but actual results are often less than spectacular.  Both cordless phones worked for more than a week without having to be recharged, with at least a few hours of active use.  Basically, battery time on your phones should not be an issue.  The headset lasted even longer than the cordless handsets on a single charge.
Final verdict:
The Vtech LS6475-3 generally retails for about $80.  At that price point, it's really an excellent set.  It does everything you'd expect, and more.  It looks nice, feels well built, and can easily be set up in your home.   The headset is a feature you generally won't find on other phone sets in the same price category.
Pros include the large feature set, cool headset with multiple configurations, voice announce, DECT technology, push to talk, and nice speakerphones.  The headset simply rocks, it's very handy to be able to talk on the phone while keeping both hands available to do other stuff.
The only cons to this set are the lack of bluetooth (cell phone) integration and the inability to initiate a phone call using the headset.
A great way to stay up to date on all of Vtech's latest technology you can visit Vtech's Facebook Page, or follow along the Vtech Twitter Stream!
"I wrote this review while participating in a campaign by Mom Central Consulting on behalf of VTech and received a product sample to facilitate my review."
I can remember when I used to freak out when the boys got hurt.  One time when they were toddlers, one of the boys pulled a chair down on them and a goose egg grew the size of a golf ball out of his head.  I can remember sitting on the floor next the freezer with a bag of frozen peas hysterical.  I think I was crying just as much as he was, of course I think it was the ice on his forehead more than the bump.  I think you hate to see your babies getting hurt.
The first two years, I went into states of panic whenever I heard that blood curdling scream that was a telltale sign they were hurt.  I lost most of my ability to think relatively straight and was in a motherly state of distress.  Year three, was a little better, I still ran like I was in a marathon to get to them, and my heart felt like it would pound out of my chest.
Parenting, seems to season you though, like a well marinated steak.  Now that the boys are 5, I don't tend to run in a state of panic when they skin a knee.  I stop and survey the situation, get the injured inside and arm myself with Batman or Phineas and Ferb band aids.  I no longer go into cardiac arrest and I hardly ever cry and in a matter of a minute, the boys are off playing again.  But, even still, as a Mom, I always have that flutter of anxiety always waiting to surface, for the big things, but thankfully I don't go all sorts of crazy at the normal bumps and bruises anymore.  It's amazing what five mommy years can do to you!

I will admit, we aren't big recyclers in our house.  It isn't because I don't think recycling is great, it is because I have no one were to put all the trash for recycling where it isn't unsightly.  If I had a place to put all the stuff that I could easily get out to the curb in the recycler, than it would make my effort to recycle something I am more willing to do.
The Rubbermaid Hidden Recycler fits the bill.  It is a great way to hide the unsightly empty containers and bottle for recycling, it easily attaches to your cabinet door where you can hide it neatly inside.  The handle allows you just to take it outside and dump.  The five gallon lined leak proof, canvas bag holds up to 36 12 ounce cans or even milk jugs.  If the bag gets a little yucky, you can just toss it in the washing machine.  And to top it off the bag and all the packaging is made from recyclable materials.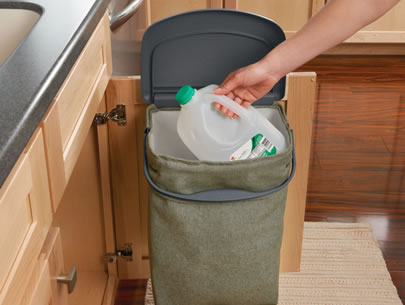 What I love about the Rubbermaid Recycler, is that it is easy to install, and makes me more apt to take the time to recycle.  It keeps the trash im saving for the week, off my counters, and out of sight.  I like that I can tuck it all neatly away inside the cabinet.  It makes it easy to want to recycle, and I can keep things looking organized throughout the week.
Rubbermaid offers some great tips on recycling too!
Tips from the Rubbermaid Site
• Recycling does require a degree of attention to detail on the part of the recycler. And cleanliness does count—rinsing your cans makes them easier to process, which keeps costs down (and also effectively neutralizes the smell factor in your kitchen).

• DO recycle: steel cans, aluminum cans, newspapers, magazines, catalogs, junk mail, plastic beverage bottles, milk jugs, glass bottles and jars, cereal boxes, other clean and dry cardboard boxes. Probably NOT recyclable: plastic grocery bags, Styrofoam, light bulbs, food-soiled paper, wax paper, ceramics. (Check with your municipality or county for specifics, resources and guidelines.)

• Hazards: Household hazardous wastes like paint cans, motor oil, anti-freeze, car batteries and pesticides typically need to be disposed of separately. (Check online or with your municipality for resources and guidelines.)

• Hardware: Items such as computers, cell phones and even eyewear can be recycled or repurposed. Look online for local organizations that accept them (a host of retail stores across the country, for example, collect cell phones for donation or recycling).

• Food scraps: certain food waste can go into a composter (which could be located under the kitchen sink) and the results can be used later to help fertilize your garden soil. With other food products, choose a covered Rubbermaid Step-on Waste Can with its innovative easy-to-use step-on mechanism. (For composting dos and don'ts as well as a better understanding of composting in general, see compostingcouncil.org.)
The Rubbermaid Hidden Recycler retails for $14.99. You could easily put one or two in your kitchen and make recycling a a snap and is a great way to get the family involved in recycling. My boys love to help me fill and empty the Hidden Recycler.
**The Rubbermaid Recycler, was sent to me for review, the opinions expressed here are that of my own**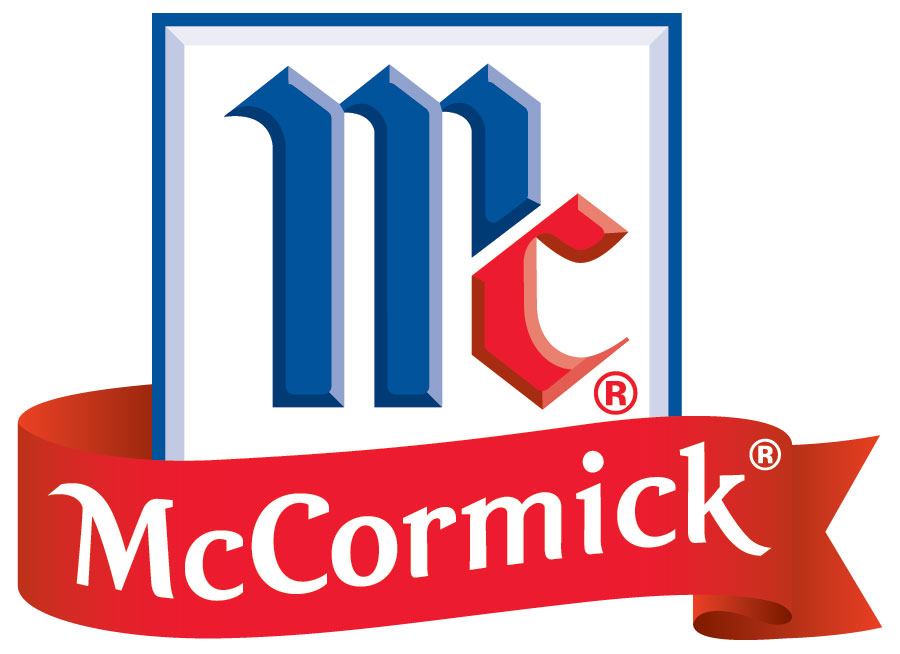 I am always on the look out for new recipes to try. I especially like changing up some of the standing recipes that we have in our house. I am addicted to flipping through recipes online and I love having the internet as a resource to create new things for my family.
McCormick has been a long standing name in my kitchen. Over half of my spice selection contains McCormick, my baking cabinet has vanilla, various flavored extracts, cinnamon, and nutmeg all with the classic red McCormick lid and name. McCormick also has a great resource online called the Look Book that has some really great recipes using some of McCormick's great spices and extracts. I went looking around at all their great Spring Recipes to try and the photos all had me drooling on my keyboard.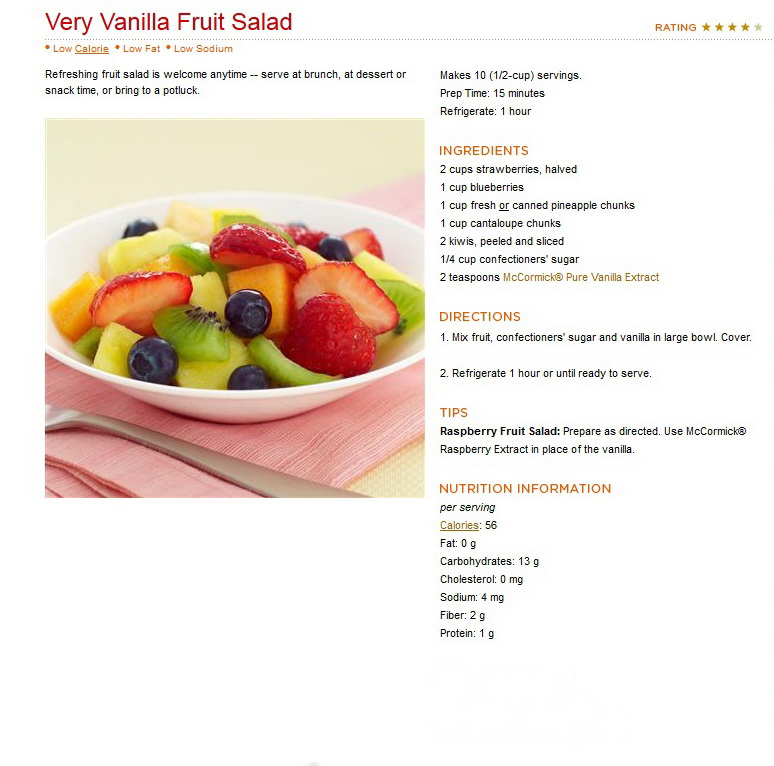 They have a little bit of everything from breakfast to dessert. We were sent some of McCormick's great products to make one of the recipes shown in the Look Book. Although, I saved about 10 of the recipes to make for a later date, I chose one of the healthier recipes available, the Very Vanilla Fruit Salad, since I am on a weight loss mission.  Fruit salad, is one of my favorite things to make during the Summer and when fruits become in season.  The McCormick Look book offered a new twist on our family favorite by adding vanilla and powdered sugar to your fruit salad.  I usually just toss with some fruit saver and serve it, so the vanilla was a unique twist.  This particular recipe was easy to throw together, and the vanilla gave the fruit a really nice subtle taste difference. The boys and I ate the whole fruit salad in a sitting and I will definitely be making this again in the near future.
Ours turned out lovely, and I love all the vibrant colors of the fruit and the subtle vanilla taste.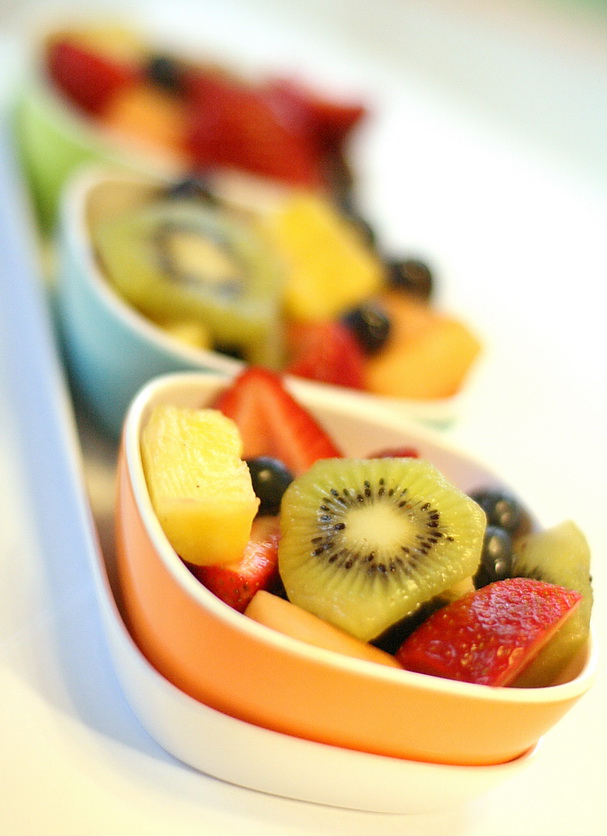 All the the recipes in the McCormick Look Book offered easy variations on products that we already use in our home.  I like that I can pin recipes, print them and save them for a later date.  Another great thing about the McCormick Look Book is that they offer images of all the recipes available, which is the first thing I look for when making something new.  The Vanilla Rich Chip Cake, will be next on on my list to celebrate when I lose my first ten pounds.  Check out McCormick's Look Book, there are some great recipe ideas.
"I participated in a campaign on behalf of Mom Central Consulting for McCormick. I received product samples and a promotional item to thank me for participating"

It is tax time, which means everyone is in a time crunch to get their taxes done and out the door by the April 15th deadline.  If you are anything like me, you look forward to getting some sort of refund.  Most families have already earmarked what the money is for, whether it is home improvements, to pay off debt, or just to put a little money back in the bank.   With a little extra money in your pockets you feel a little richer and can set aside money for more important things.  What about college?
College advantage has a great way to put money aside for your child's education.   Getting started is super simple and families can enroll by going online at www.collegeadvantage.com. In just a mere ten minutes, you are already taking a step in in the right direction to ensure your child's or children's future. You can invest as little as $25 to get started you can make contributions through payroll deduction or electronic funds transfers throughout the year. Future participants can enroll online, download enrollment materials or request enrollment materials by calling 1-800-AFFORD-IT.

When you look at College Advantage you may be noticing that is says the "Ohio College Advantage 529 savings plan" but CollegeAdvantage funds can be used at any college not just Ohio and any university nationwide to pay for tuition, fees, room and board and other eligible expenses.  CollegeAdvantage offers nationwide enrollment, so you don't have to be an Ohio resident to participate in Ohio's College Advantage 529 Savings Plan.   This makes it to where anyone can get a child ready for the future, whether you are a parent, a doting grandparent, or you wish to give someone a gift, it is a win win situation for everyone and a gift you can feel good about giving.
Recently, College Advantage welcomed Paul Paeglis as the new Executive Director. Paul brings more than 20 years of experience in the banking and financial services industry, with skills in finance, risk management, operations, strategic planning and relationship management. Most recently, he served for more than 10 years as Chief Financial Officer of Tax Related Products at JPMorgan Chase. With  children of his own, Paul is passionate about the mission to provide high-quality savings programs to help families prepare financially, he understands what this means to families and the financial challenges that saving for college entails.
Now is a great time to start a College Advantage Savings Plan!
Currently, Ohio Tuition Trust Authority is encouraging families invest using their tax return dollars. From March 18 through June 1, 2012 Tuition Trust will provide a $25 account bonus to any new  College Advantage direct account with a $500 or more initial contribution. Existing account holders who make a onetime contribution of $3,000 to an account between March 1 and April 30, 2012 will receive a $50 bonus. This is a great added bonus and who couldn't use free money towards college?
So if you are wondering what to spend your tax refund on, or you want to give a thoughtful gift to a child in your life, College Advantage is a great way to do that!  They may not jump for joy at a gift that isn't tangible right now, but will appreciate the gift of education later when it matters the most.  More information can be found about College Advantage's latest promotions and SAVINGS by visiting www.collegeadvantage.com and entering promo code SAVINGS or by visiting the OTTA Promotions tab at Facebook.com/CollegeAdvantage.
**I was compensated for this post all opinions expressed here are that of my own**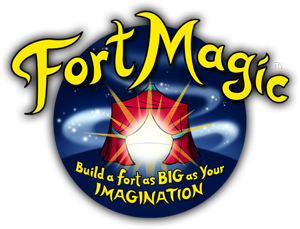 I remember when I was a kid and my imagination was always trying to dream up something new.  I can remember when me and a friend dug up my mom and uncles flower garden to build a volcano complete with fizzing pink foam.  Some of my fonder memories were when we would take big empty appliance boxes, decorate them and turn them in to our own secret clubhouse.  We even had a flag that we made and raised up on our flagpole out front.  In hindsight, it seems so funny to me, but back then it was serious business and the foundation for creative thinking later in my life.
Even now, I see myself in my boys.  They both love inventing games to play and building secret hideouts with couch cushions, blankets, and creating their own games from that.  It's always a pretty big mess afterwards, but they enjoy it and the mess is worth it.  Recently, we were given a chance to try Fort Magic, a fort building toy designed to spark your child's imagination and creativity.  Basically it is a kit that comes with all sorts of pvc type rods in varying sizes and connectors so your child can build his own secret hideout or castle, clip blankets and sheets to it and make cool hideout all of their own.
About Fort Magic

Fort Magic gives kids the ability to let their imaginations run free. This new interactive "Fort" building kit allows kids to build a variety of structures that fit into a make-believe world that they can create all on their own.

Fort Magic Contains A Whopping 349 Pieces!

A single Fort Magic kit includes 142 straight and curved sticks – in seven different sizes that can build anything kids can think of! Each kit has 77 Connector Pieces in 5 varieties of shapes and sizes for unlimited kid-building fun!

Fort Magic also contains 130 Fabric and Accessory Clips! Securely fasten accessories or fabric covers to any fort design with NO SEWING!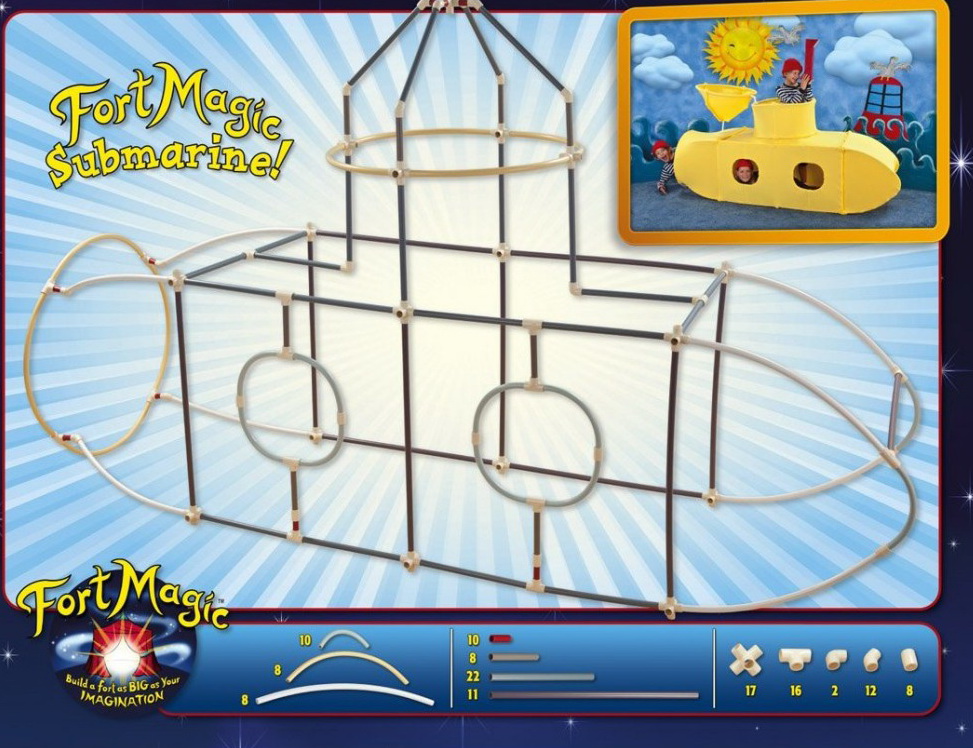 When we received our Fort Magic kit we were all excited to try it, and the boys and their daddy got right to work building one of the creations in the booklet that came with the kit.  Directions were easy to understand which consisted of gathering the specified pieces and begin building.  We first decided on trying to build a submarine, after we got the main structure built for it we tried covering it up with the fabric and the clips designed to hold it in place.  Unfortunately, we didnt have a piece of fabric big enough to adequately cover it, and had a difficult time covering all the curves and bends. so we decided to take that apart and build a standard square fort. This worked much better and the fabric clips worked great and held everything in place nicely.  The boys spent half the evening, playing lookout with their plastic soldier guys, and then they played knights in fortress.
When they are done, you can leave the structure in place or take it down and put it away in the box it came with.  Eventually, there will be a storage bag available to store all the pieces in.  Overall, the boys had a really great time with it and it really does allow them to build and create something fun wither in the house or out in the backyard.
What I like about it, is there are open possibilities for your child to create and build with minimal limits and it helps develop thinking skills and problem solving.  It is easy to take apart and put together, designed for kids ages five and a half and up, my boys had some trouble connecting pieces but overall did well with it.
The $200 plus price range, I felt was a little steep for what is in the packaging since I had to provide the fabric, but would like to see some fabrics included and a good way to store the pieces so I don't have the 300 pieces floating all over the house.  Other than that, we really loved playing with Fort Magic and get it out often, especially on rainy afternoons when they are stuck inside.  It is a great way for kids to use their imagination and to have fun when they can't be outside.
**We were sent a Fort Magic kit for review, the opinions expressed here are that of my own**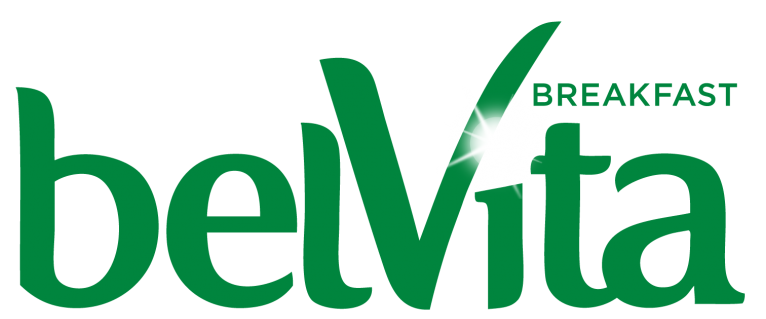 The kids have been sick and when they are sick, I get very little sleep.  The mornings come all to fast and then I hear that little whisper in my ear "mom, it's time to get up."  I am usually less than enthusiastic since it feels like I just went to bed.  Our morning routine consists of me getting to the kitchen, getting the boys set up with a drink, and whatever they decide on having for breakfast.  Most days I don't even remember to feed myself until noon, when my stomach reminds me that I am past hungry.
There isn't anyone to make me a full course breakfast, so I have to grab and run.  Nabisco has created the perfect solution, something that is easy to grab yet is filled with all the good stuff your body needs to get going.  BelVita Breakfast Biscuits are the perfect solution to my problem.  Each individual package of biscuits is has 18-20g whole grains per serving which gives you the fiber your body needs and has four B vitamins.  In case you didn't know B vitamins are great for stress relief and as a mom, I know I need it! BelVita breakfast biscuits also contain no high fructose corn syrup, no partially hydrogenated oils, and no artificial flavors or sweeteners. They come in three varieties, Blueberry, Golden Oat, and Apple Cinnamon.
About belVita

belVita Breakfast Biscuits are specially baked to release energy regularly and continuously in your body—which means you have nutritious sustained energy that lasts all morning.

Each pack includes four lightly sweet, crunchy biscuits to help you stay fueled up all morning long.

The sustained energy in  belVita Breakfast Biscuits comes from a combination of specially selected ingredients and a carefully controlled baking process that helps preserve the integrity of the grain. This means the carbohydrates from the grain are slowly released in your body, providing nutritious, long-lasting energy to help fuel your body throughout the morning.

Each individual package of 4 biscuits is portioned for part of a balanced breakfast. A 50 gram serving contains 18–20 grams of whole grain carbohydrates, 3 grams of dietary fiber, 3–4 grams of protein, and a good source of four B vitamins and iron. belVita Breakfast Biscuits also contain no high-fructose corn syrup, no partially hydrogenated oils (0 grams of trans fat per labeled serving), and no artificial flavors or sweeteners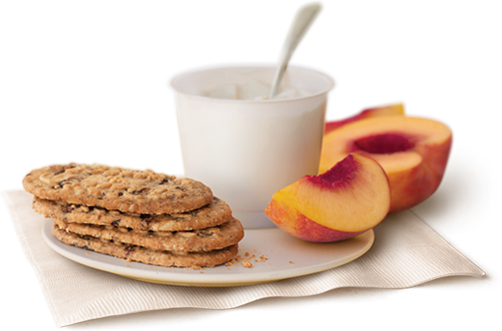 I have been trying belVita breakfast buscuits daily now for a little over a week, and truthfully I love how versatile they are in terms of breakfast or even snacks.  I love oatmeal in the morning and usually dip toast in it, but the belVita biscuits are even better especially the apple cinnamon flavor.  You can add them to just about any snack or meal or just tuck a package in your purse if you get hungry throughout the day.  My favorite belVita biscuits however, are the blueberry, with a thin layer of light cream cheese and a few strawberries on top or some organic strawberry fruit spread.  The boys usually come and snatch them before I get to eat one.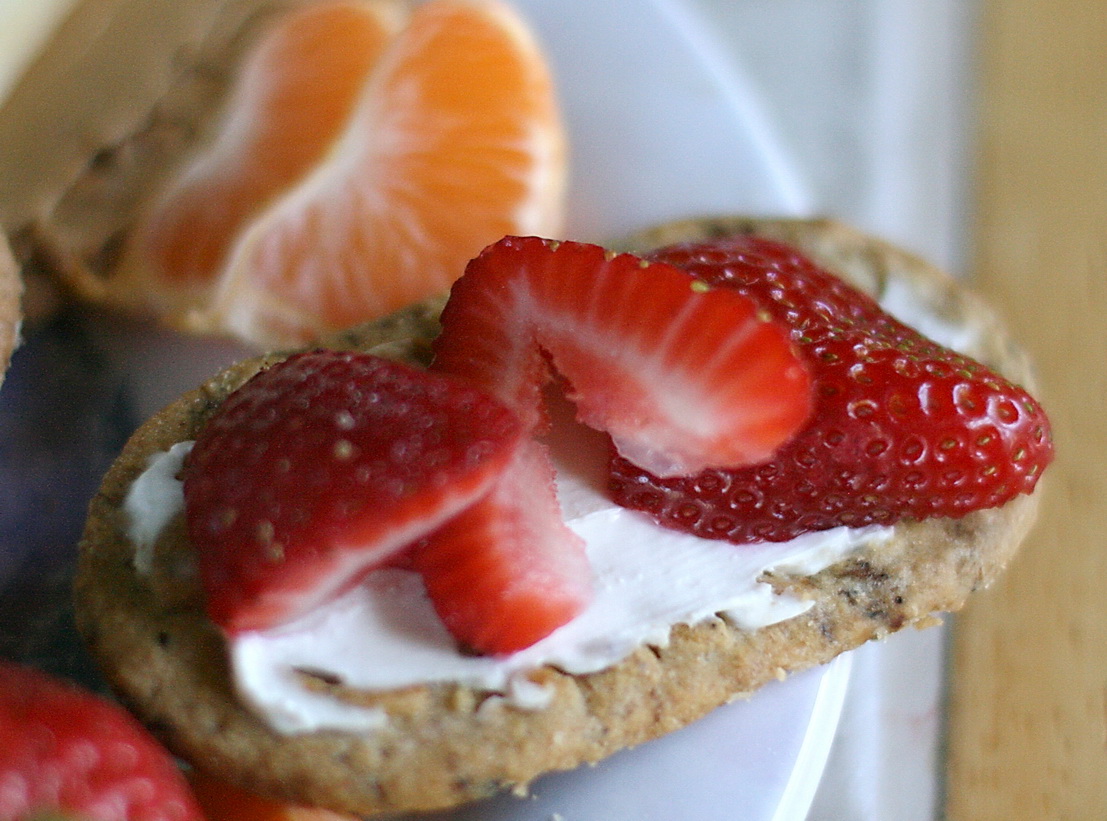 I have really enjoyed trying some new things with them. The golden oat belVita biscuits are fabulous with a little peanut butter and an apple slice.  We have already been to the store to buy more. What I Like is how simplistic and versatile belVita biscuits are. You can just eat them straight from the package or you can jazz them up with fresh fruit, peanut butter or just dip them in coffee or tea. Even if it is quick, you are getting the things you need to get up and go in the morning or that added extra pep in the day, or just a really yummy snack.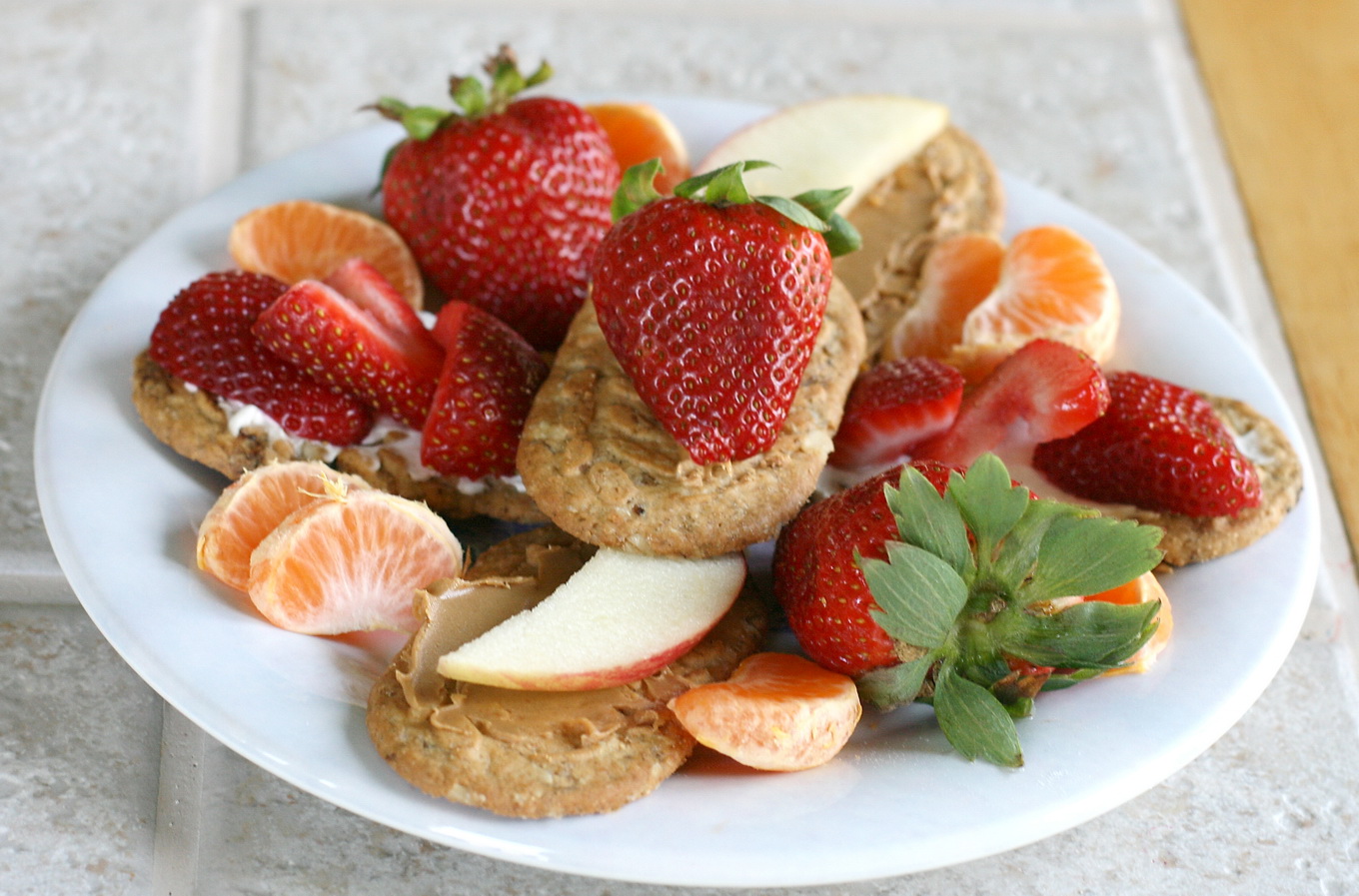 Breakfast is supposed to be one of the most important meals of the day. But if you are like me trying to find a minute in your day, belVita may be the perfect solution. You can just grab and keep on going! For more information on belVita Breakfast Biscuits you can visit belVitaor for information on how to "Power Up" check out belVita Breakfast's Facebook page!
**I wrote this review while participating in a blog tour campaign by Mom Central Consulting on behalf of belVita Breakfast Biscuits and received belVita Breakfast product samples to facilitate my review, and a promotional item to thank me for participating.**