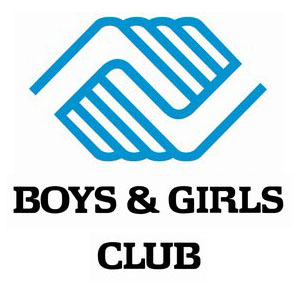 It's back to school for most, including my boys first year of kindergarten. I was the one who was hesitant about sending them off simply because my babies are growing up. Before they started school, I was overwhelmed with all the details of getting them ready to go. There are so many things to consider, like clothes on their backs, backpacks, supply lists, filling out registration forms, getting them caught up on vaccines, and just preparing for a change in their schedules.
Sometimes though, there are often families who struggle with providing the basic supplies for school, and often show up without the supplies that they need. A neighbor of mine who is a teacher, mentioned that she is always buying pencils because the kids have none. The Boys & Girls Club of America (BGCA) has been around for a hundred years providing kids with a safe place to be, offering fun activities ,life skills and a sense of self confidence, in order to help them do well in school and out. They offer a myriad of programs designed to give young people what they need.
Who are The Boys and Girls Clubs of America?

Boys & Girls Clubs are a safe place to learn and grow – all while having fun. It is the place where great futures are started each and every day.

In every community, boys and girls are left to find their own recreation and companionship in the streets. An increasing number of children are at home with no adult care or supervision. Young people need to know that someone cares about them.

Boys & Girls Clubs offer that and more. Club programs and services promote and enhance the development of boys and girls by instilling a sense of competence, usefulness, belonging and influence.

Boys & Girls Clubs are a safe place to learn and grow – all while having fun. It is the place where great futures are started each and every day.
Boys & Girls Clubs nationwide and Disney have paired up, and are making preparations for back to school by launching the Tools for Back to School initiative. Their priority is to make sure students, especially the ones who need it most, have the supplies that they need, and the guidance to succeed. Also, the BGCA website features many educational resources and content, offering numerous ways for Moms and Dads to engage and support the organization.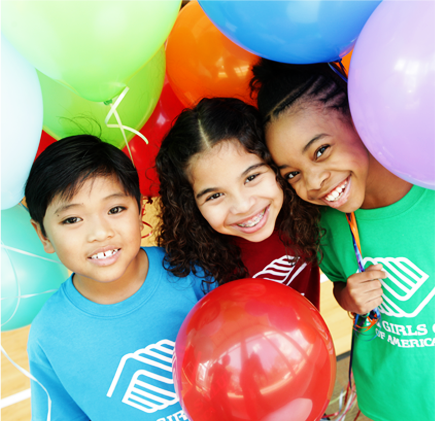 Also, if you do a little shopping in August at JCPenney, you can join jcp cares and your purchases can benefit The Boys and Girls Club by "rounding up your purchase"  We all want  our children to succeed, be provided for and be able to grow up happy and well provided for.  I believe in giving every child the chance to do this regardless of their circumstances.  The BGCA is doing just that, by giving kids the head start that they need throughout their childhood.
"I wrote this review while participating in a blog tour by Mom Central Consulting on behalf of Boys and Girls Club. I received a promotional item to thank me for taking the time to participate."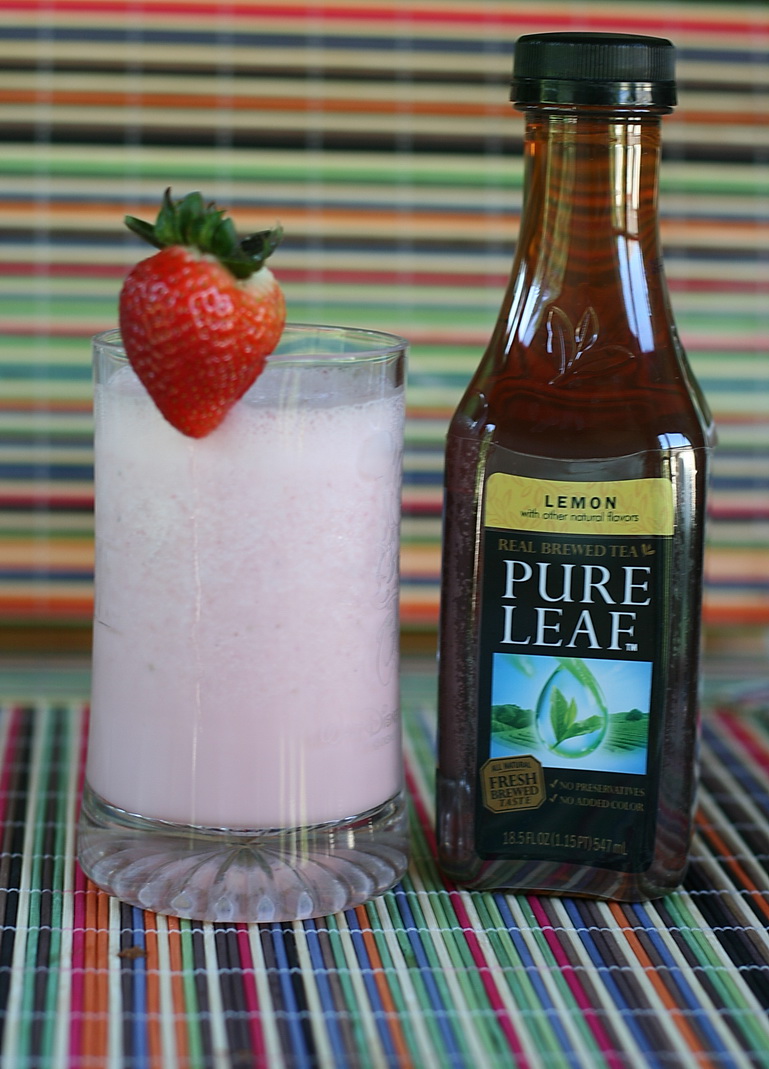 We just got a new patio put on this Summer so we could enjoy our great backyard and have a few people over.  I love Summer because it is the perfect time for entertaining friends and family, the kids are outside playing and it sort of brings people together.
After the patio was done, I was very excited to have a small get together with some of our friends, to show off the new patio and get the chance to do some outdoor entertaining.  Before, we had nowhere to be other than the grass, so this was great.  Along with the new patio, I was looking for some fun drink recipes that I could try to share with some of our guests.  I wanted to create some family friendly beverages that everyone could enjoy.  Some of my favorite drinks in the Summer include lemonade and ice tea, but I wanted to do something different.  What if I could incorporate one of these classic Summer beverages into a new drink with a twist?
Pure Leaf Iced Tea by Lipton offered me some really great recipe ideas to try incorporating tea into adult beverages and even smoothies and even using it to prepare pork chops!  Naturally, I was intrigued because all I have ever done with tea is add ice, and sugar and drink it, so I was excited to try doing something new with it.  I was really surprised to see how versatile tea can be.
Since, the weather here has been insanely hot, I chose to make Pure Leaf's Fruit-Tea Smoothie to cool everyone off.  I had freshly picked frozen strawberries on hand and I thought this would be a great way to use them. The recipe included sweetened or unsweetened Pure Leaf Tea, vanilla ice cream, low fat, or I chose to put the good full fat stuff in mine, frozen strawberries and sugar (recipe to follow).  These turned out really fabulous and tasted awesome, and everyone really enjoyed them, including the kids.  Everyone was shocked when I handed out the recipe to them to find that there was tea in their smoothie.
FRUIT-TEA SMOOTHIES
Servings: 4
Prep Time: 10 minutes
16 ounces Pure Leaf Iced Tea with Lemon or Pure Leaf Unsweetened Iced Tea, chilled
2 cups frozen strawberries
1 cup fat free vanilla ice cream
1 tablespoon sugar
In blender, process all ingredients until smooth. Serve immediately in tall glasses and garnish, if desired, with fresh strawberries.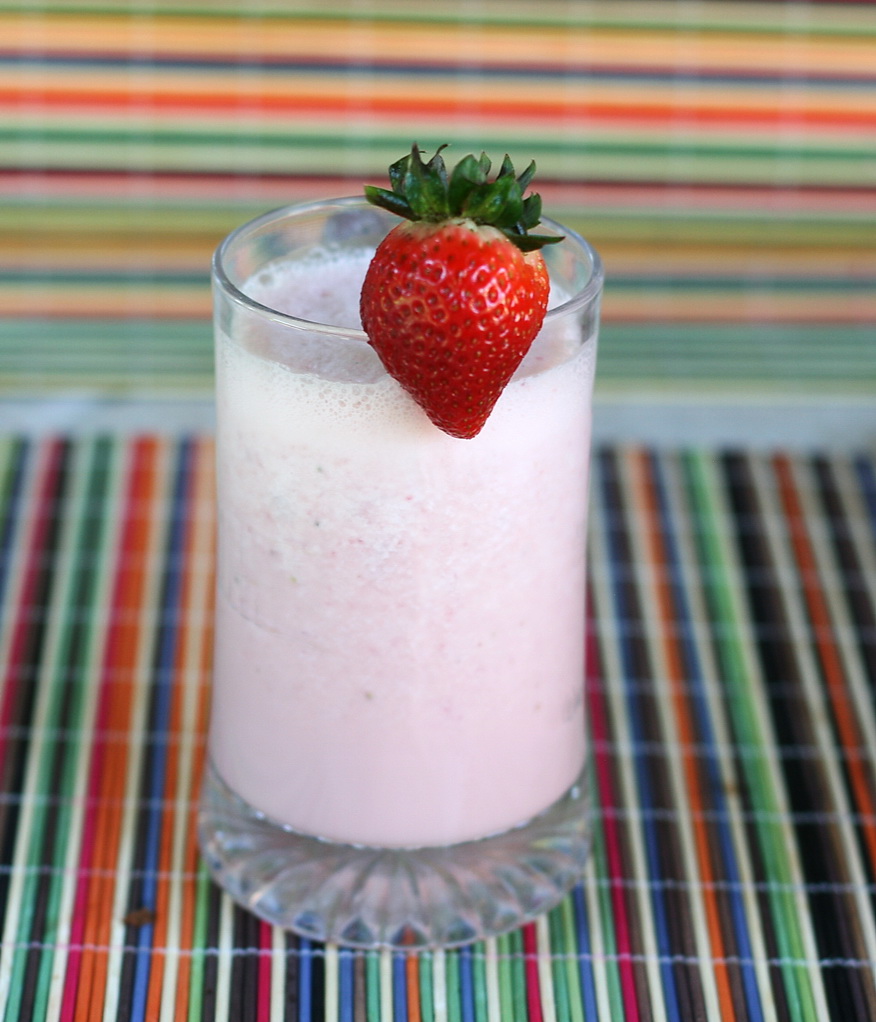 Pure Leaf Tea also teamed up with Gail Simmons judge on Bravo's Top Chef to come up with some great recipes like Peach Ginger Fizz.
(See Recipe Below)

Lipton tea has been around as long as I can remember. I can remember the tea bag hanging out of my hot cup on days when my mom had me home sick from school nursing my sore throats. But, besides, having great tea , Pure Leaf has put a great deal of thought into their packaging. I love companies who make a genuine effort to create something that tastes good, but goes that extra mile to improve things about them and to make their product better in not just one aspect but all aspects. Take a look at what they are doing!
Why did Pure Leaf change its packaging?

• Pure Leaf is dedicated to the environment and wanted to make a change that would positively impact the world we live in.
• PET plastic is 100% recyclable.
• The innovative packaging is more consumer-friendly for on-the-go and out-of-home occasions compared to the previous glass bottles.
• The new square bottles are lightweight and provide a high pallet efficiency, which equates to more bottles, lighter loads and less fuel used in transport.

What is PET?
• PET is the type of plastic labeled with the #1 code on or near the bottom of bottles and containers and is commonly used to package soft drinks, water, juice and many other products.
• PET plastic is 100% recyclable.
o Source: http://www.napcor.com/PET/whatispet.html

Why the change from round to square bottles?
• The new square bottles (vs. round) fit together in a condensed way, creating high pallet efficiency, which equates to more bottles, lighter loads and less fuel used in transport.

Will you still offer glass bottles in addition to the plastic?
• No.

In what size bottles is Pure Leaf offered?
• 18.5-oz. and multi-serve 59-oz.

What does it mean to be Rainforest Alliance Certified?
• Rainforest Alliance certification is built on the three pillars of sustainability: environmental protection, social equity and economic viability.
o Source: http://www.rainforest-alliance.org/agriculture/certification
• Recently, in recognition of our commitment to sustainability, several of our tea estates, including our Kericho, Kenya plantation, have earned Rainforest Alliance certification.
• This certification is available exclusively to farms that meet or exceed the rigorous standards for sustainability that are necessary to achieve Rainforest Alliance certification.
• We are very proud to source our tea leaves from these farms and to be able to use the Rainforest Alliance Certified™ seal on Pure Leaf.
o Source: http://www.liptonpureleaf.com/ra_certified/
Summer is a great way to enjoy Pure Leaf Tea, and enjoy entertaining your friends and family. Pure Leaf Iced Tea is great straight form the bottle, but now that I know you can use tea in other things, I can't wait to experiment!  You can check out the Pure Leaf facebook page for some really great recipes!
"I participated in a campaign on behalf of Mom Central Consulting for Lipton Pure Leaf. I received product samples and a promotional item to thank me for participating"
Grilling is one of my favorite things to do during the Summer months.  The kids are usually actively playing outside and I like being able to be outdoors with them.  Grilling for me as a mom is much faster and pleasant than being inside with a hot oven, heating up the house.  I love the taste of grilled hamburgers, vegetable and potatoes, and anything that I can prepare on the barbeque pit.
I am always on the lookout for things that I can prepare as a whole meal on the grill, so everything is sort of ready at once. Ore Ida Grillers is a great new product introduced by Ore Ida, a well known name in my household.  Ore Ida already has  really great frozen potatoes like tater tots, french fries and hash browns.  I love potatoes on the grill, but I always have to wrap them up in foil to keep them from burning to black hockey pucks before I can get everything ready.  I was able to give the new Ore Ida Grillers a try over the weekend and I love them.  Firstly, I can just put them directly on the grill, which makes preparation easy from package to grill to table in about fifteen minutes.  We chose a meal of a fresh garden salad, hamburgers and Ore Ida Grillers.  Cooking them is easy as can be, you flip them over once or twice during the fifteen minutes and then they are ready to go.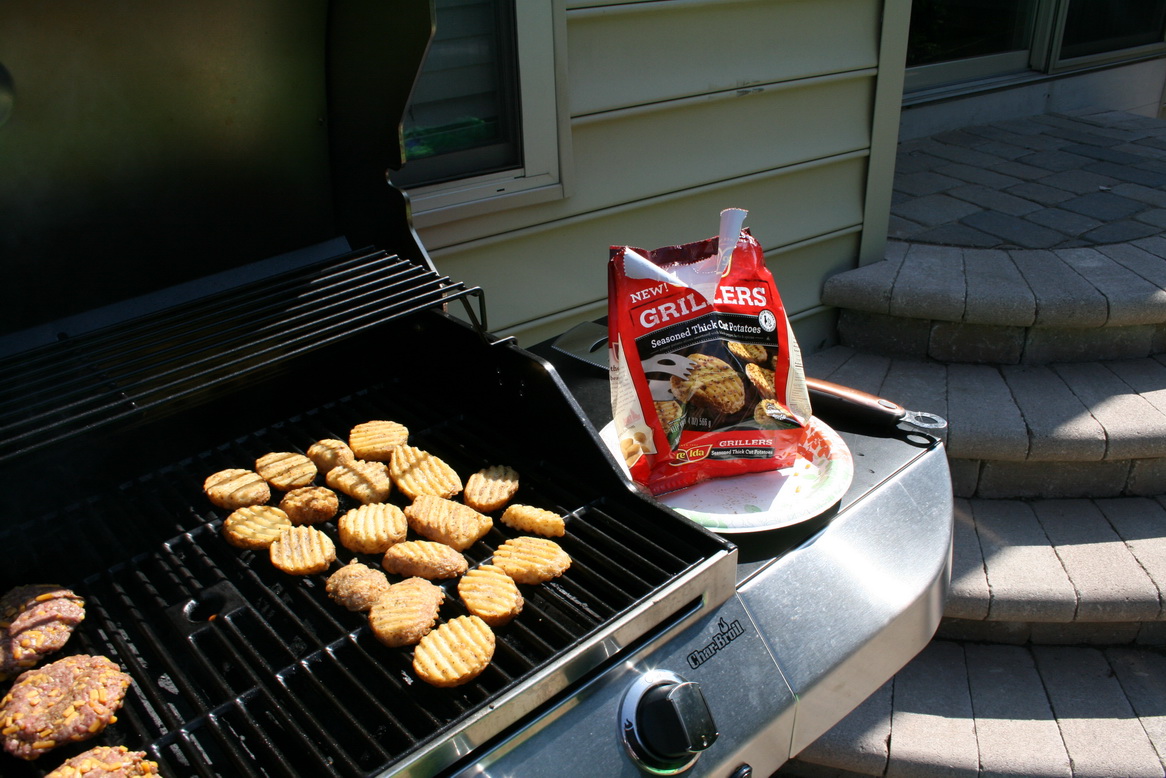 We had the chance to try the Grillers Golden Thick Cut Potatoes as well as a package of the Grillers Seasoned Thick Cut Potatoes and my personal favorite were the seasoned Grillers.  They went perfect with the meal and at first I thought the potatoes might be too hard after cooking but they were the perfect amount of crispy outside and soft on the inside.  I took one of them and put it on my hamburger and it was a really yummy addition!  The best part, is that they are easy to prepare, there is no cutting and peeling of potatoes, getting them sealed in a foil packet and then wondering if your potatoes are cooked enough.  I don't know how many times I have burnt my self on foil packets of potatoes trying to peek inside to see if they are done on the grill.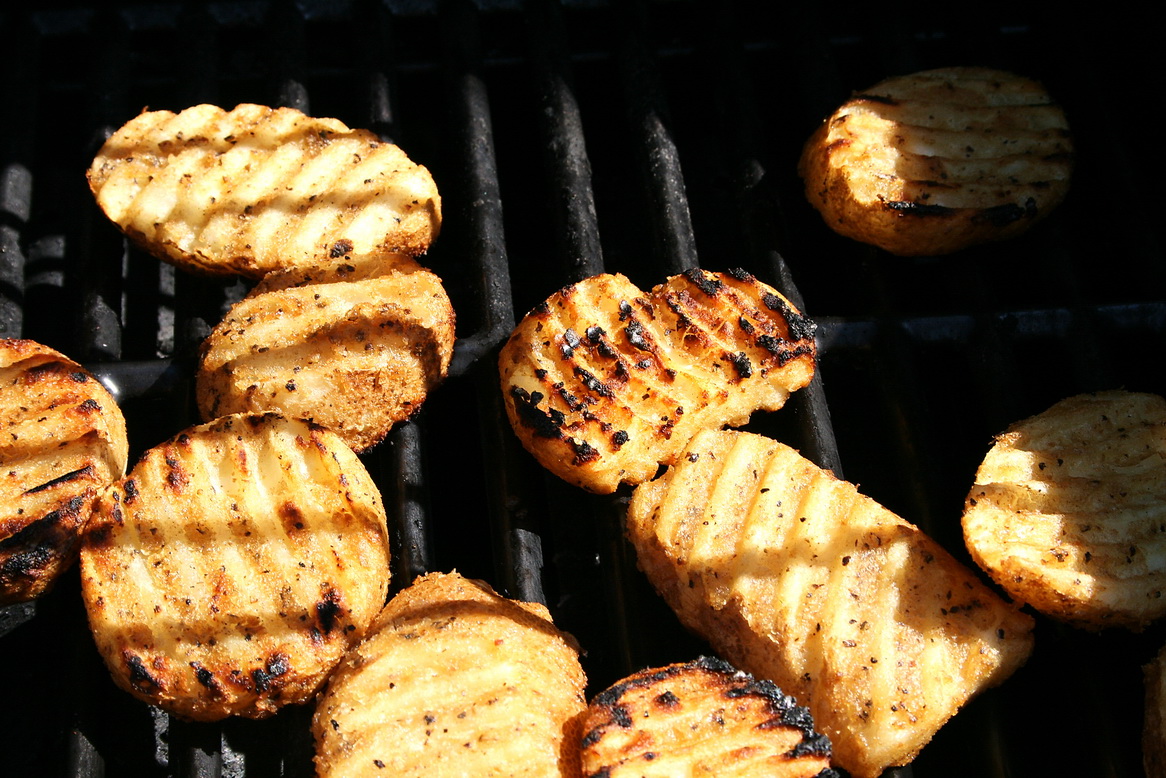 As a mom, Ore Ida Grillers will be something I have on hand in my freezer from now on.  It makes for a great side dish to whatever you may be grilling and they are super simple to make!  Ore Ida Grillers can be purchased at grocery stores and places such as Target, Walmart, and Sam's Club.  You can also check out the Ore Ida facebook page and let everyone know how much you like Ore Ida products.
"I participated in a campaign on behalf of Mom Central Consulting for Ore-Ida. I received coupons to purchase products to facilitate my review and a promotional item to thank me for participating"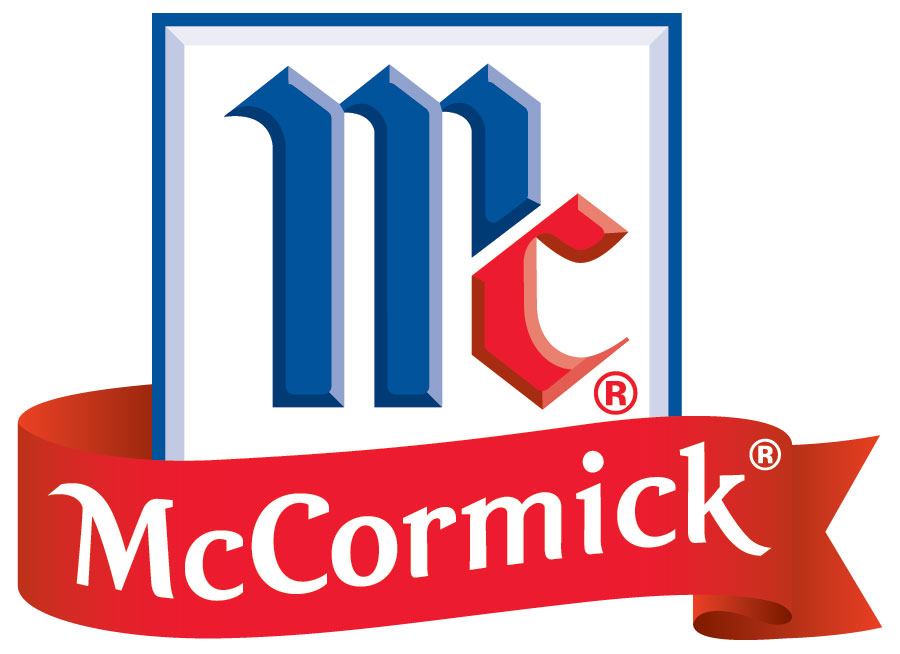 I am always on the look out for new recipes to try. I especially like changing up some of the standing recipes that we have in our house. I am addicted to flipping through recipes online and I love having the internet as a resource to create new things for my family.
McCormick has been a long standing name in my kitchen. Over half of my spice selection contains McCormick, my baking cabinet has vanilla, various flavored extracts, cinnamon, and nutmeg all with the classic red McCormick lid and name. McCormick also has a great resource online called the Look Book that has some really great recipes using some of McCormick's great spices and extracts. I went looking around at all their great Spring Recipes to try and the photos all had me drooling on my keyboard.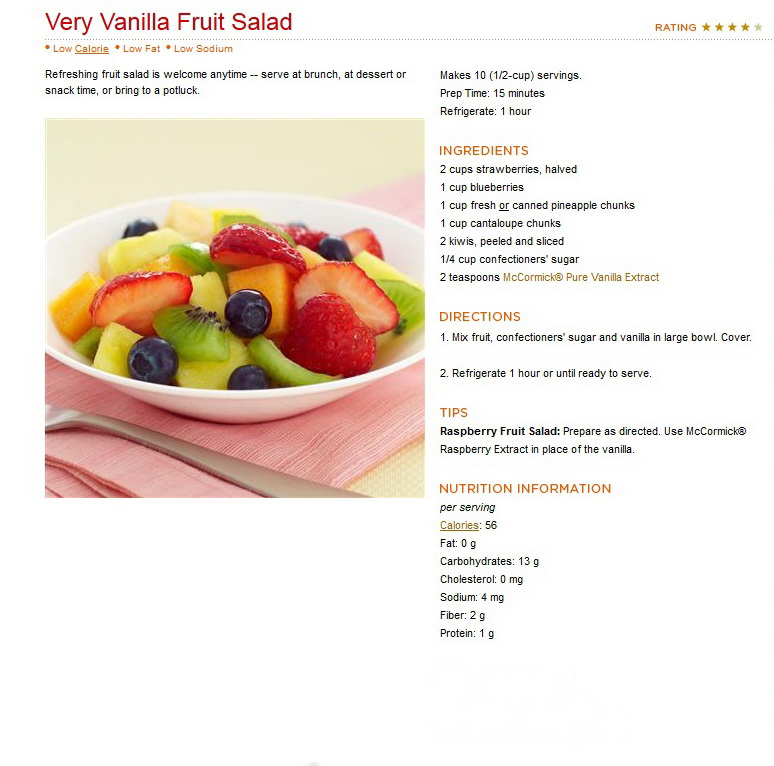 They have a little bit of everything from breakfast to dessert. We were sent some of McCormick's great products to make one of the recipes shown in the Look Book. Although, I saved about 10 of the recipes to make for a later date, I chose one of the healthier recipes available, the Very Vanilla Fruit Salad, since I am on a weight loss mission.  Fruit salad, is one of my favorite things to make during the Summer and when fruits become in season.  The McCormick Look book offered a new twist on our family favorite by adding vanilla and powdered sugar to your fruit salad.  I usually just toss with some fruit saver and serve it, so the vanilla was a unique twist.  This particular recipe was easy to throw together, and the vanilla gave the fruit a really nice subtle taste difference. The boys and I ate the whole fruit salad in a sitting and I will definitely be making this again in the near future.
Ours turned out lovely, and I love all the vibrant colors of the fruit and the subtle vanilla taste.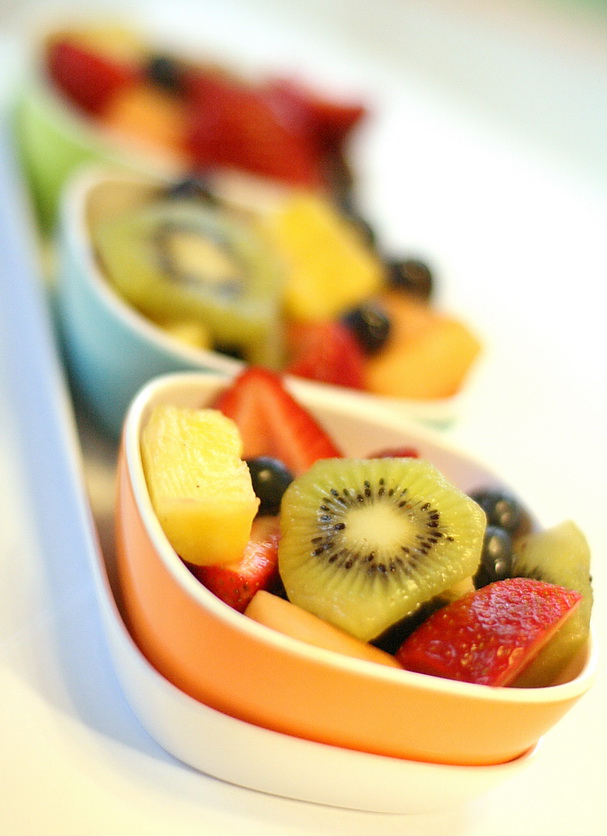 All the the recipes in the McCormick Look Book offered easy variations on products that we already use in our home.  I like that I can pin recipes, print them and save them for a later date.  Another great thing about the McCormick Look Book is that they offer images of all the recipes available, which is the first thing I look for when making something new.  The Vanilla Rich Chip Cake, will be next on on my list to celebrate when I lose my first ten pounds.  Check out McCormick's Look Book, there are some great recipe ideas.
"I participated in a campaign on behalf of Mom Central Consulting for McCormick. I received product samples and a promotional item to thank me for participating"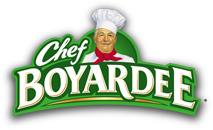 Chef Boyardee has always been a favorite in our house, but usually we would just have it as a quick and easy go to meal.  But what if you could turn it into an entire meal for your family or entertain a houseful? Well, this weekend, I put that idea to the test.  We rounded up some of our favorite people and went to work in the kitchen!
I decided to invite my neighbors and their family over for a fun dinner and dessert.  One of their twin daughters loves to cook so she was very excited to come over and help.  We decided to make a top secret dinner for her Mom and Dad and brother and sisters.  So on party day we turned on some music, and put together a masterpiece for dinner.  To help us out we were sent all the right tools, aprons, chef's hat, mixing bowls, baking dishes, and a timer.  I think everyone had just as much fun wearing the aprons and hat!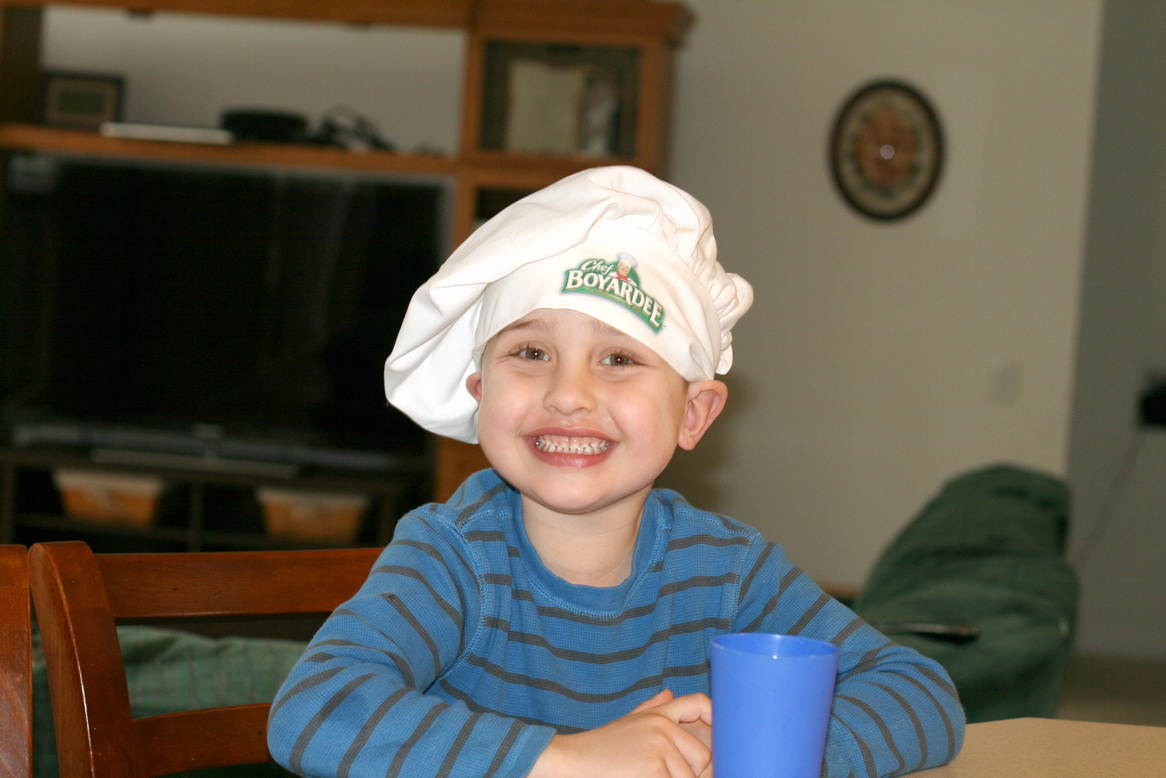 As part of our party, we had to create a Chef Boyardee recipe to share with everyone.  We chose to make the very tasty Pepperoni Spaghetti Bake and added some of our own little touches to the recipe.  We added some grated Reggiano and Romano cheeses and baked garlic bread on the bottom.  We made a side salad and the meal was complete!  Everyone had their own job in the kitchen, and the boys got a kick out of helping mom.  This has been a really wonderful opportunity for me and the kids, and the recipes offered really were not that difficult to prepare.  This made it easy for the boys and the other kids to participate and enjoy something that they made.  The end result was a really tasty meal, spending less time in the kitchen, and more time enjoying family and friends.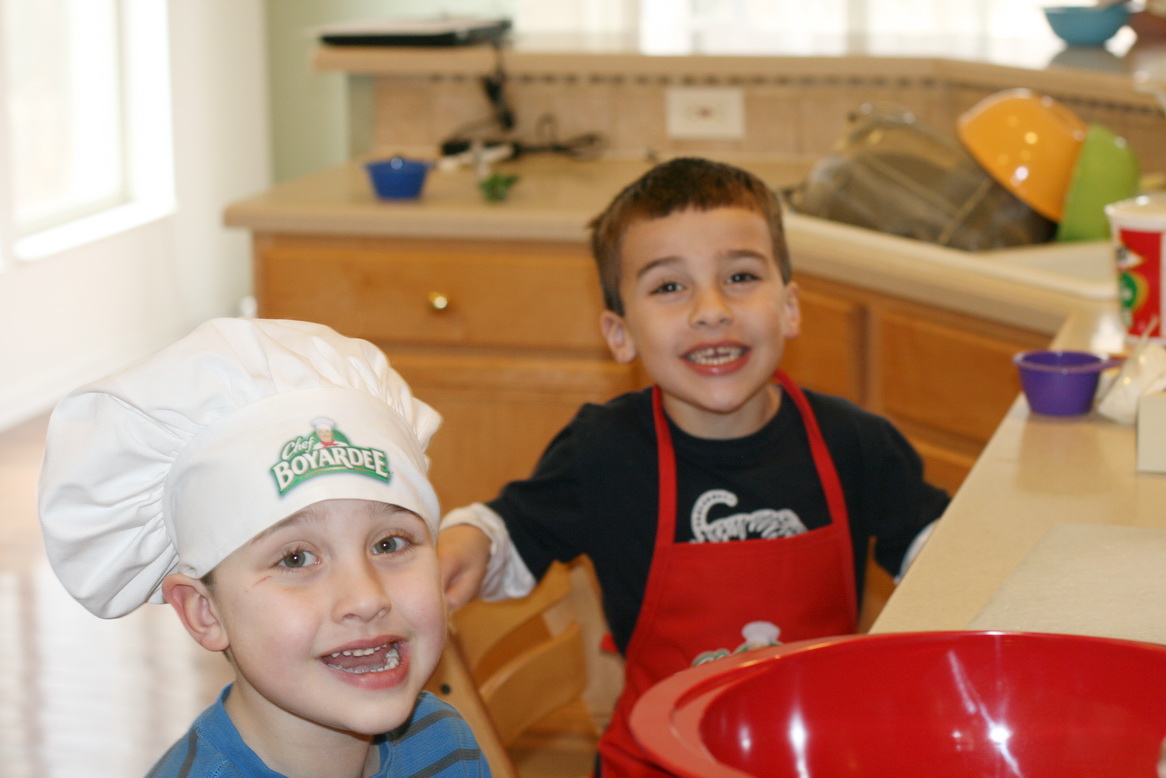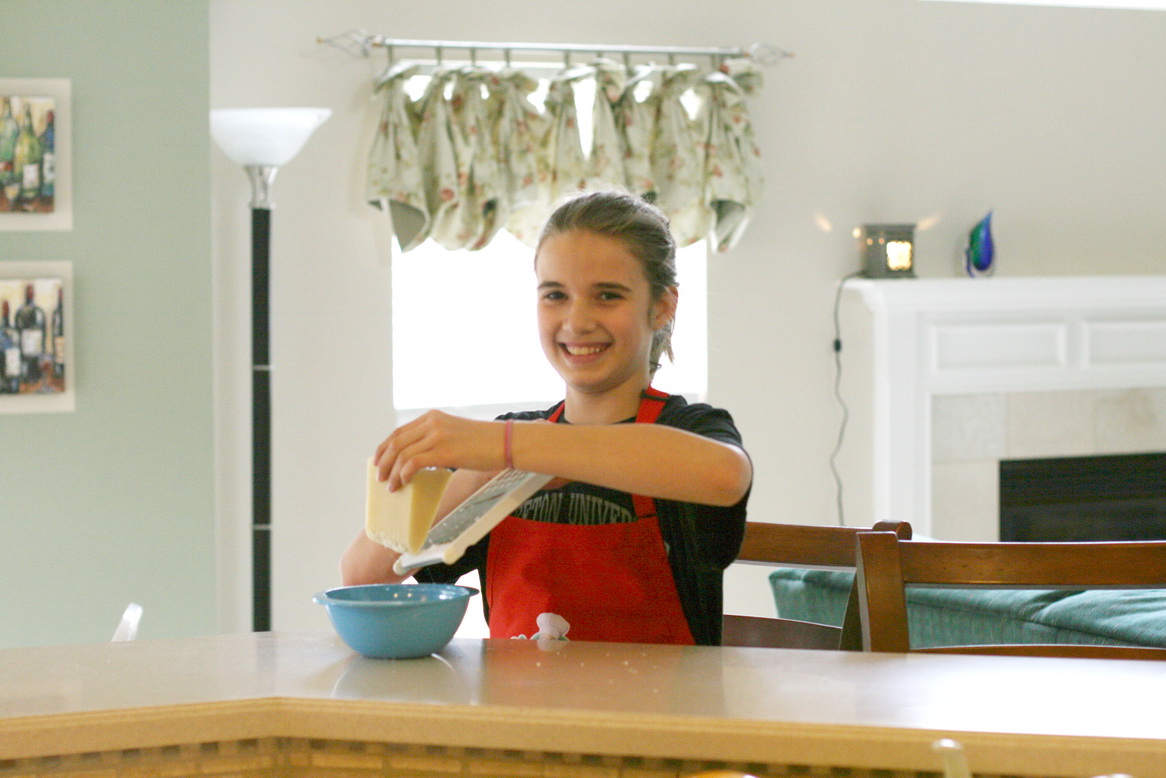 Right now through March 11, 2012, you can submit an original recipe that uses Chef Boyardee as an ingredient (anything you can dream up).  All you have to do is upload a photo of your recipe, and share why your family loves it.  A winner will be chosen based on creativity, all-family appeal, ease of preparation, and palatable appeal by an expert panel of judges.   You can win a $500 prize as well as $75 in Chef coupons or the grand prize of free groceries for a year!  I don't know about you, but who couldn't use a stocked fridge and pantry for the year to make delicious recipes like the ones offered by Chef Boyardee?   You can visit the facebook contest for your chance to win.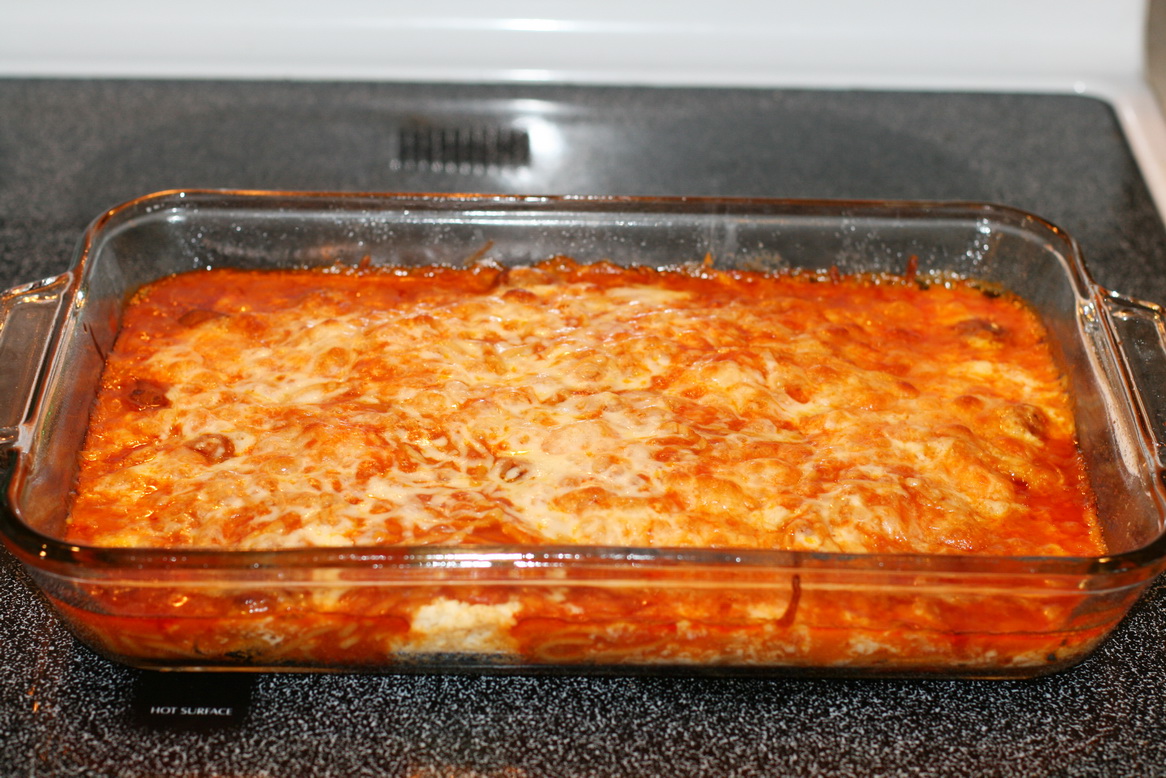 After all was said and done, everyone loved the meal that was prepared and we could hardly believe that it only took 30-40 minutes to prepare.  We loved throwing a party and I loved getting my kids involved in the meal preparation process.  It was a great learning experience and most kids like having a role in helping.  You can find some more really great Chef Boyardee Recipes on their site.  Don't forget to enter to win free groceries from now until March 11, 2012!
"I wrote this review while participating in a In Home Party campaign by Mom Central Consulting on behalf of Chef Boyardee and received product samples to facilitate my party and review, and a promotional item to thank me for participating."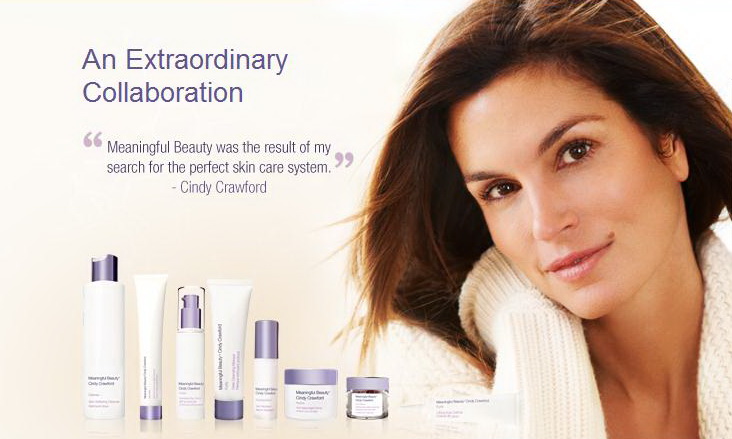 Since becoming a mom to twin boys, I rarely have much time to do anything that is remotely centered around myself.  They say you should take time outs, but that is a rare moment around here.  As part of that, I think that it is even rarer, that I look in the mirror.  There have been days in which I have forgotten to brush my hair, and I have even walked into the grocery store realizing I had my pajama pants on.
I have never been a make-up wearing girl, in fact I probably wear it once or twice in a given year.  Truthfully, I haven't paid much attention to the skin on my face.  Usually, when I am in the shower, I just use lather from my soap on my face and rinse.  Today, I turned 39 and realized that the dreaded 40 is right around the corner, and it makes me question just how things are holding up in this body of mine.  Looking in the mirror, I can see subtle signs of aging, like a few more wrinkles around the eyes, and my skin isn't exactly glowing like a 21 year old.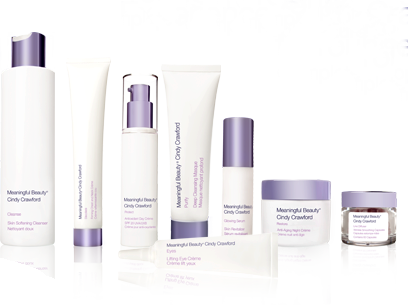 So, I have been asked to  participate in a four week Meaningful Beauty Program for my skin.  Meaningful Beauty is a simple five-step skin treatment plan to help boost your skin's resilience, and reduce the visible signs of aging.  Meaningful Beauty is designed to hydrate, firm and restore healthier and younger looking skin.
About Meaningful Beauty

With Meaningful Beauty®, Cindy Crawford shares her secret for younger looking skin.  This comprehensive skincare system was created by internationally acclaimed anti-aging specialist, Dr. Jean-Louis Sebagh.  Meaningful Beauty is formulated with a powerful super-antioxidant from a rare melon along with such skin rejuvenating ingredients as peptides, vitamins, minerals and marine extracts and can help skin appear radiant and youthful.
Included in my kit: Glycolic Treatment Pads ,Glowing Serum , Skin Softening Cleanser, Antioxidant Day Crème SPF 20 UVA/UVB, Crème de Serum , Lifting Eye Crème – Advanced Formula , Skin Brightening Décolleté and Neck Treatment SPF 15
I'm really excited to try Meaningful Beauty and to have an actual plan for my skin and hopefully it is something easy that I can follow, that doesn't take up much time in the morning or evening. Like I mentioned before, it is rare that I use much on my face in the way of facial care products or make-up, so it will be interesting to see if I notice any changes in my skin. So at the end of these next coming weeks, I will share with you my experience with the Meaningful Beauty skin care regimen, as well as my thoughts, about it's ease of use, how my skin feels, and if I notice any marked differences.
In addition to me being able to try Meaningful Beauty I was also sent an  additional kit to give to someone meaningful in my life.  I have decided to pass this other kit on to my Mom, who took care of me all my life, who still guides me in many aspects of my life and who is beautiful to me in every way. I am looking forward to sharing Meaningful Beauty with all of you.
**I wrote this review while participating in a test drive campaign by Mom Central Consulting on behalf Meaningful Beauty and received a 5-step treatment kit to facilitate my review, a second 5-step treatment kit to giveaway, and a promotional item to thank me for taking the time to participate.**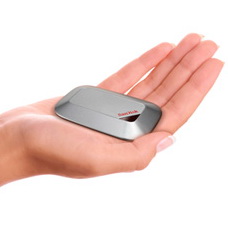 Before I had my children I just dabbled in photography and didn't particularly take that many photos.  Once they were born, as all new parents do, I felt compelled to snap numerous pictures of the boys each and every day as they grew.  Even though I didn't have all of them printed, I slowly over time, have acquired thousands of images on my local hard drive and that which we store on our home server as well.  Besides the obvious digital storage options, I have always wanted a place though, to keep them besides just on the home computer.
Our plan was to ultimately burn all our photos on to cds, and make triple copies, sending one to my parents to keep, one to put in a safe and one to just have on a shelf in our home.  That way I would be sure to have copies, no matter what happened.  I am always on the lookout, however, for compact ways to have my most precious memories kept safe without risk of damage and readily available to me if I need to access images.  Let's face it, cds break, get corrupt, and hard drives fail.  Having a low risk, highly reliable, and compact way to store your pictures has to be the most logical and desirable way to store digital images and video.
But, what if there was a way to store your photos for at least one hundred years, in a compact location, with minimal risk of losing your precious photos?  And what if you didn't have to rely on your computer's hard drive to store your digital images and risk them failing?  SanDisk has come up with a way to protect, and store your most important images, and videos for at least 100 years.  The SanDisk Memory Vault is designed for long-term preservation.  All you have to do is connect it to your computer's USB port and drag-and-drop.
Features

SanDisk Memory Vault features Chronolock™ technology:

Engineered to preserve the quality of photos and videos long term
Tested to support data retention for up to 100 years*
Physically designed for long-term reliability and durability

*For more information, see www.sandisk.com/preserve
1 gigabyte (GB) = 1 billion bytes. Some capacity not available for data storage.

Additional Info

Minimum System Requirements

Windows® XP, Windows Vista®, Windows® 7 and Mac OS® X v10.4.11 or above
USB 2.0 high-speed connector

Package Contents

SanDisk Memory Vault
USB 2.0 transfer cable
Quick start guide
Writable labels
Storage pouch
With as many pictures as I take, the SanDisk Memory Vault is very useful.  I also like the designated place that they have for a label which is provided with the Memory Vault and the handy little storage pouch.  I was sent the 16GB SanDisk Memory Vault for review a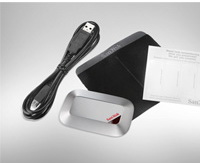 nd I found that I am going to need a whole lot more space than what is available on it.  I take so many pictures that it was full in the first twenty minutes of transfer.  Currently, the SanDisk Memory Vault retails for a whopping $90, which personally I feel is a tad on the steep end for a flash drive like device with some added technology.  I would like to see a much larger storage capacity at that price range.   Putting the price aside, I feel like it is a really nifty little device and has a potential to be a a really great go to device for the future of photo storage.  I would like to see this with more storage capacity and for organization sake a place like storage box in which I could slide the SanDiskMemory Vaults into it, with the labels visible within the box.  The SanDisk Memory Vault is a great forerunner in the future of digital memory protection and storage options.
If you are looking for a great way to preserve your treasured photos and memories, the SanDisk Memory Vault would make a great stocking stuffer or gift for an avid photographer or just a special person in your family. DoubleBugs would like to offer a 20% discount to the first four people to email me at laurie@doublebugs.com. The coupon is good for one discount and can only be used at the SanDisk online store (http://shop.sandisk.com) and expires December 31, 2011 at 12am EST.  Keep your memories safe with the SanDisk Memory Vault.
"I wrote this review while participating in a campaign by Mom Central Consulting on behalf of SanDisk and received a product sample to facilitate my review, and coupons to giveaway."

This one time (recently), our cordless phone was left on the bumper of the car (whoops!), and my husband, took it for a little drive where it spent the night lonely on the side of the road in the rain.  It still worked sort of, but no one could hear me when I talked. It's been a long time since I've paid much attention to cordless telephones.  If you're anything like me, you look at a cordless phone and think "hey, it's just a phone, what's the difference?".  Thanks to VTech, I've had a chance to play around with a new modern "digital answering system", the DS6421-3.  Apparently there's a lot of difference between cordless phone systems nowadays, a lot has changed over the past 5+ years.
First, here's what's in the box, neatly packaged:
Quickstart guides, user's manual
Wall mount bracket
3 cordless phones (handsets) with batteries
1 base station with power adapter and phone cable
2 charging cradles with power adapters
Specs
I won't go into all the detailed specs here as part of this review, you can find the complete listing on the VTech DS6421-3 site here.  This set of phones operates on the DECT 6.0 standard.  That means it uses the 1.9 GHz frequency and it won't interfere with your wireless network (home wifi equipment  that generally uses 2.4 and/or 5 Ghz frequency).   Another feature that comes in handy is the "Connect To Cell" technology.  Connect to cell means you can use both your cell line and your landline with this set, easily switching between the two.   The VTech DS6421-3 also includes "Push To Talk" technology so you can use the sets like walkie-talkies.  Overall, the features are pretty impressive, equaling those of some of the more expensive high-end sets on the market.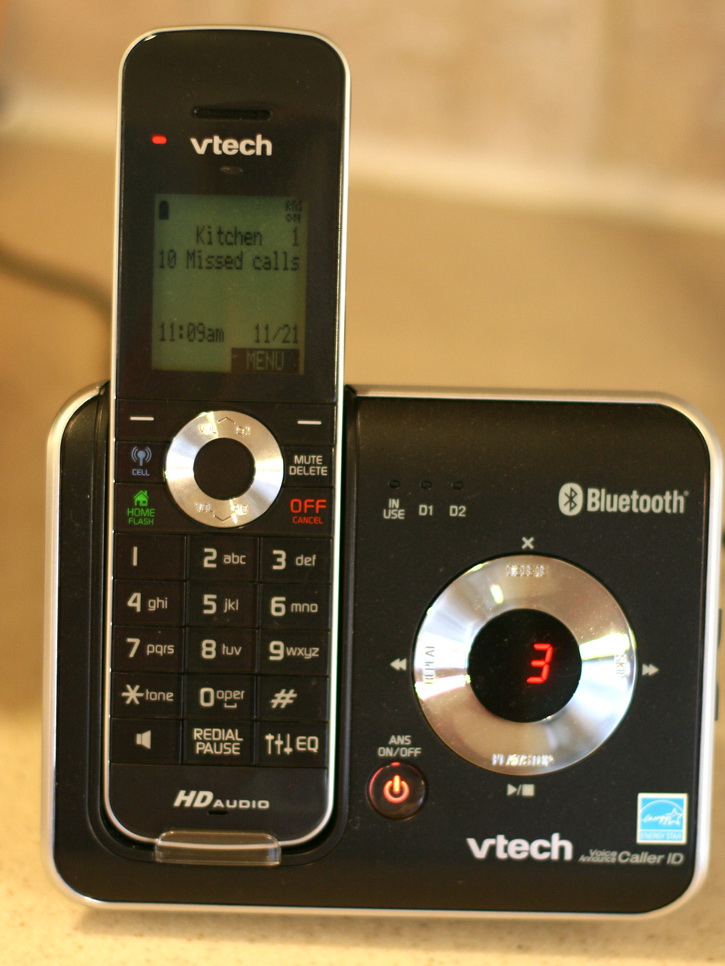 Installation
Installing the phone is as easy as can be.  You just have to figure out where you want to put the base station and plug the included phone cord into a phone outlet.  You can easily mount the base on the wall with the included wall mount bracket if you want, but I preferred to have mine on the counter.  The batteries included with the handsets come pre-charged, so you just plug them in and the 'base' automatically recognizes each handset and configures it.  One handset sits in the cradle as part of the base, the other two handsets can be placed anywhere you like, just plug each of the charger cradles into any available outlet.
Using the DS6421-3
Once you set up the base and cradles, you're ready to start using the phones.  The VTech DS6421-3 does everything you'd expect from a good cordless phone set.  The handsets themselves are very sleek, fit comfortably in your hand and feel well-built.  The back lighting is good, the screens on the handsets are crystal clear and easy to read.  So far everyone I have talked to sounds crystal clear. Each cordless phone has caller ID, functions as a speakerphone, and the base has an indicator on it that tells you how many voicemails (if any) are recorded.  You can also screen calls right on each handset – just hit the "screen" button  and you can listen to the person leaving the message on the handset speakerphone.  I love not having to get up to hear who is calling.   Another feature I found myself using frequently is the ability to listen to recorded messages from any of the handsets.  Just use the menu to select "play messages", and listen to the voicemails on whatever handset you have available.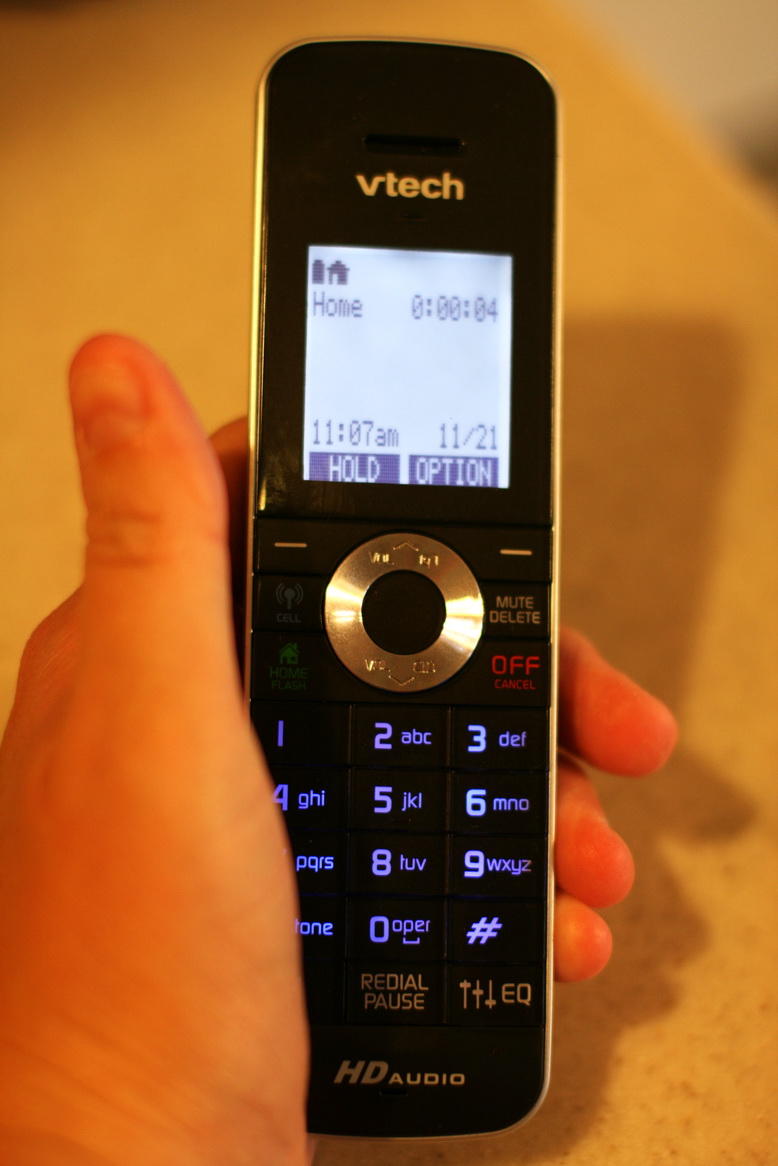 There's nothing more annoying than having your cordless phone run out of  battery all the time.  The VTech DS6421-3  features very long battery life.  I used the cordless phones for hours and didn't have to charge  them for at least a week.  I was very impressed with the battery life and I had no low battery sounds beeping in my ear mid conversation.
Another, aspect of cordless phones is their range of use.  I am often on the phone and going out to the mailbox and prefer not to lose connection.  You want something that will let you walk anywhere in the house without interference, as well as short distances like your driveway.  I was able to use the cordless sets throughout the house, outside the house all the way to the street in front of the house with no problems.  VTech lists the range as "up to 500 feet", which is probably only feasible under the most perfect conditions, but the range on these were great.
The 3 handsets in this set are identical.  They operate using a very simple menu, it didn't take long at all to figure out how everything worked without even opening the manual.  The menu is operated using a left / right select buttons along with a round disk .  The menu options are straight forward, you can customize pretty much everything from the ring tones to the ringer volume to the number of rings it takes before the answering machine picks up.  You can also set a name label for each handset so you know where each one goes.  This feature is perfect for when you want to use the "push to talk" functionality.   Picking up the phone and pushing the button for "Kitchen" or "Basement" makes a lot more sense then trying to remember where "handset #1" is located.
One thing I really liked about the phones is that when someone calls each set it speaks the name/caller id of the caller.  You don't have to look at the phone or base to know who's calling, which is very handy for easy screening of calls.  For me this is more fun than anything, because at first I had some trouble recognizing the pronunciations. The DS6421-3 also has "equalizer" functionality to optimize the sound quality of your phone calls.  I don't know about you, but I can't imagine ever needing to use an equalizer to fine tune the sound on my mono phone handheld…. But hey, it can't hurt, it's a nice touch they threw in!
Connect To Cell
The "connect to cell" functionality is one of the features relatively new to the cordless phone market.  Basically, it allows you to integrate your cell phone(s) and your landline together into one seamless phone system.  it works like this:  you "pair" up to two cell phones to the DS6421 base, using Bluetooth connectivity.  That means the paired phone just has to be somewhere near the base (in the same room generally) to be connected to the DS6421 base.  Once paired, the base will treat the paired cell phone as another "line" in addition to your land line.   You can receive incoming calls from your cell phone(s) on your cordless phone the same way you would incoming calls on the land line.  Different ring tones indicate whether the call is on the landline or on the cell.
This is an excellent feature for those with a cell phone with Bluetooth.  When you come home, just put your cell phone in the same room as the DS6421 base, plug it in to charge the battery, and you'll be able to make and receive calls using your cell or your landline with the simple click of a button.   Click the "cell" button, and you receive or make a call using your cell phone.  Click the "home" button, and you receive or make a call using your landline.  Since you can pair two cell phones, two people living in a home cold both have their phones paired, and both use the same set of cordless phones to access either the landline or the cell phone.
One important note to the landline/cell phone functionality is that you only need to have one or the other to use the system.  If you have both cell phone(s) and a landline, the DS6421-3  integrates them perfectly… but you can use the VTech DS6421-3 without having a landline at all, great for those who are thinking of getting rid of their land line and just using cell phones.  With this system you get the best of both worlds, a nice handset with great range and coverage while your cell phone is charging.   For example, you could use your cell phone for free long distance if your landline doesn't have free long distance.
Another great feature of the connect to cell technology is that the DS6421 phone system can copy your contacts from your cell phone(s) to the cordless phone system.  That makes the issue of having someone's info on your cell but not your home phone a thing of the past.
You can also connect Bluetooth headsets to the DS6421 for easy hands-free calling in your house.  I found this feature somewhat less than useful since you are limited to a relatively small area around the base of the phone system.  You can't use the Bluetooth headset and wander off to the other side of the house while on the phone, the Bluetooth signal will get disconnected.  Still, it's a nice option to have if you need to be on the phone a lot and want an easy hands-free setup.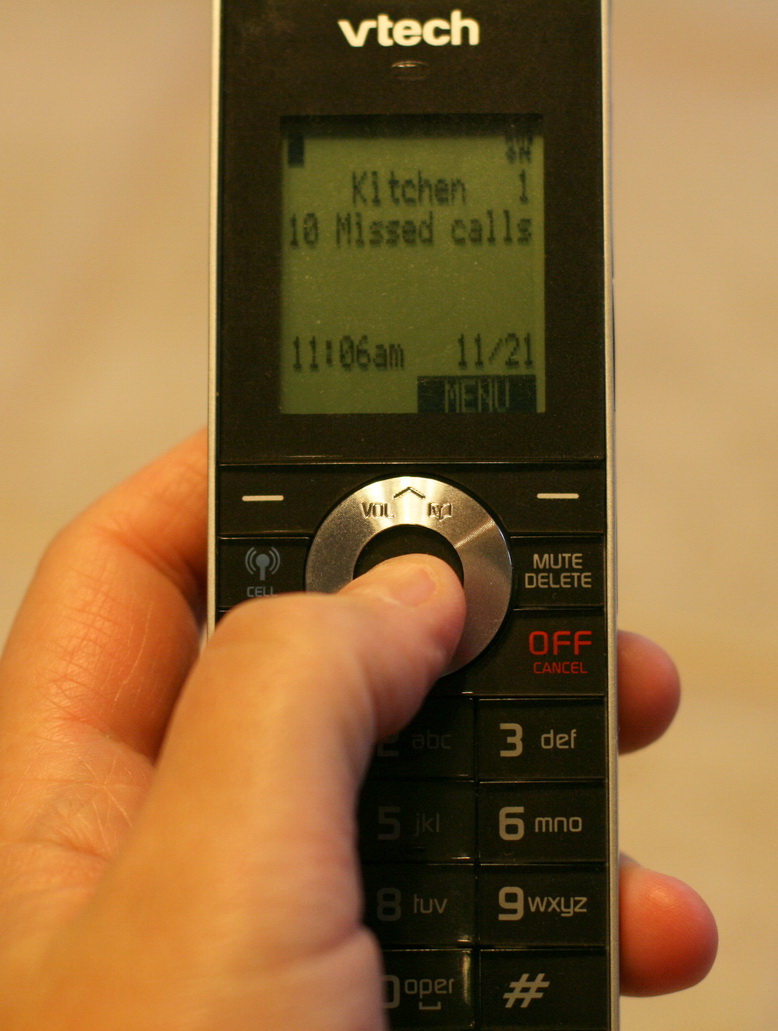 Expansion
The DS6421-3 can be expanded to up to 12 handsets, although who needs 12 handsets?  I found that the three provided were more than enough and felt like I had phones laying around everywhere.
In conclusion, I really like the VTech DS6421-3.
Pros: great feature set, great look and feel, cell/landline integration, phone contact copying, expandability, long battery life, ease of setup and use, overall value.
Cons: inability to set ringer volume for each handset, ringer options have to be set for all handsets at the same time.
Overall, I was thoroughly impressed by the VTech DS6421-3.  It was easy to set up, works great, integrates the land line with the cell phones seamlessly, and does everything at a very reasonable price (less than $100 last I looked).  That's a great bargain! I'd recommend this set to anyone who's in the market for a new cordless phone system.  You can save a few dollars by getting a "no frills" cordless phone set, but you'd miss out on a lot of great features and functionality for relatively small savings.  The bottom line: The VTech DS6421-3 is a really great phone for the home.
**I wrote this review while participating in a campaign by Mom Central Consulting on behalf of VTech and received a product sample to facilitate my review.  All of the opinions I have expressed here are my own.**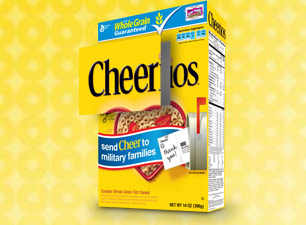 With the age of the internet, most things we do, even the mail we send is often via the computer. I sometimes miss the days when someone would just send me a handwritten letter. There is something special about receiving a note of encouragement or just a thank you in your mailbox outside. I believe it to be much more meaningful and a heartfelt expression to a special person or even a complete stranger.
I know a lot of military families that I have met either online or just friends and acquaintances. I know that sending their loved ones overseas for months and even years at a time cannot be something that is easy. Many of their spouses are back at home taking care of the family, paying the bills, and holding the household together. I think being in the military is a huge monumental sacrifice to take care of the American people and I think the families involved make just as many sacrifices by giving up their loved ones to go protect our country. I can imagine that it can be a huge emotional taxing on families, and often times it's nice to be able to hear kind uplifting messages to help get you through each passing day.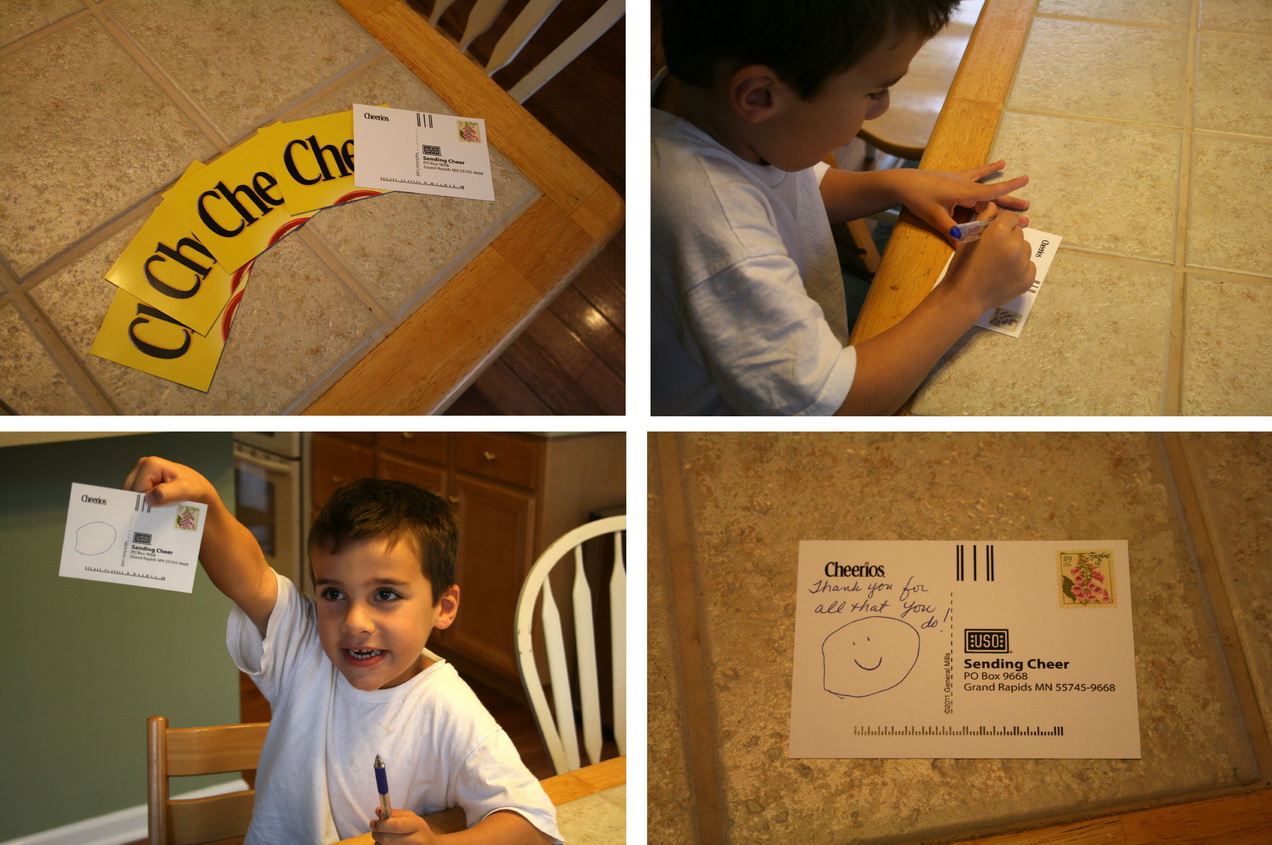 To help spread these messages, Cheerios has started a wonderful campaign. Cheerios and the USO have launched "Cheer," a postcard campaign that spreads cheer directly to these honorable military families and supports USO programs. During the months of October and November, 2011, specially-marked boxes of Cheerios cereal will feature Cheer postcards on the front of the box. You and your family, can out the postcard, write a message of thanks, let the kids make a drawing, or write words of encouragement. Then, all you have to do is, add a stamp, and mail the pre-addressed card to the USO. The USO will then deliver the Cheer card to military families across the country!
And, along with that, Cheerios will donate $1 to the USO for every postcard that is mailed and received by November, 30, 2011. Cheerios has already donated $150,000 to the USO, and will donate up to an additional $100,000 based upon the number of postcards received. Your participation is needed to reach this goal and who doesn't love cheerios?  So stock up on a few boxes, and mail some wonderful words of thanks and encouragement to these families who are making big sacrifices each day.
**I wrote this review while participating in a campaign by Mom Central Consulting on behalf of Cheerios and received product samples to facilitate my review and a promotional item to thank me for taking the time to post.**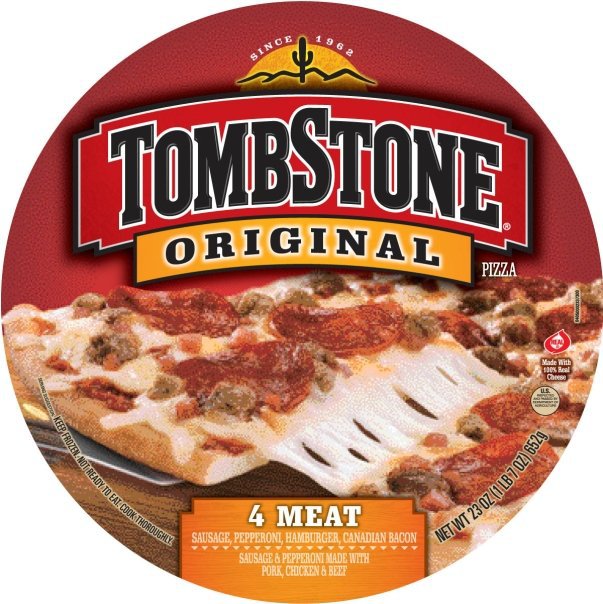 Halloween is fast approaching, and it's one of my favorites with the kids.  Besides loving the Fall weather, we love spending time with all our friends in the neighborhood.  Halloween, is always special because we have a pre-Halloween get together, take lots of pictures then some adults stay back with everyone's candy lined up in lawn chairs waiting for all the little ghosts and goblins.  After the kids get tired, there is a fire, lots of glow sticks and kids playing and parents chit chatting.
The hours before trick or treating are spent getting costumes in order, waiting for my husband to get in the door and my boys have their noses pressed to the window to see who is already out.  In all their excitement and mine, we have little time to get everyone ready and a meal on the table.  My favorite is to throw a Tombstone pizza in the oven, throw together a garden salad and dinner is ready in minutes! And who doesn't love pizza?
About Tombstone Pizza

Only fitting for the "Official Pizza of Halloween," TOMBSTONE pizza was brought to life in 1962, at a bar called the Tombstone Tap that was located across from a graveyard in Medford, WI.
It all started when Tombstone Tap owner, Joe Simek, broke his leg dancing the "Peppermint Twist."   While recuperating, Joe experimented with various pizza recipes in the kitchen in the back of the Tombstone Tap.  The tasty pizzas he made were an instant success, creating the TOMBSTONE pizza brand.
50 years later, TOMBSTONE pizza today offers eight different crust varieties (including Original, Brick Oven Style and Garlic Bread) and a multitude of tasty topping choices, including new TOMBSTONE Double Top. With so many options to choose from, moms are sure to please all their favorite little ghosts and goblins this Halloween season.
Moms can find TOMBSTONE pizza in the frozen section of their local grocery store.
This Halloween season, Tombstone is being dubbed "The Official Pizza of Halloween," and to help make your Halloween a success they are providing you with all the tools you would need to have a spooky good time!   Start by simply 'liking' the Tombstone Facebook page. There you can download a free Halloween Party Kit that will give you everything you need to make your Halloween party and conjure up lots of Halloween fun.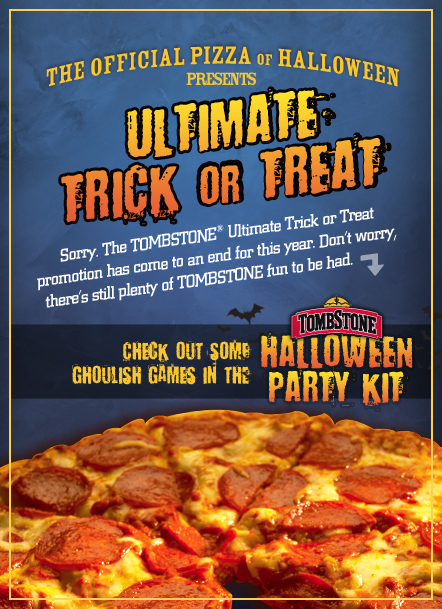 The free Tombstone Halloween Party kit includes tons of really great ideas including fun recipes, games you can play, fun tips, decorations and way to create fun Halloween photo ideas.  I love their spider web munch and bone chillin brew in the recipe section.  I know my kids would love it!
So while you are rushing to get those excited little ones out the door, pop in a Tombstone Pizza and make it your official Halloween favorite every year!
"I wrote this review while participating in a campaign by Mom Central Consulting on behalf of Tombstone Pizza and received coupons and a promotional item to thank me for taking the time to participate."