With tax time fast approaching, it is now time to go through receipts and all the important paper work that you need to get your taxes in order.  I always find myself going through my old receipts and bank statements to gather up the necessary paperwork to file taxes.  I used to just tear these things up, and give them a toss, but this day and age, you need to go the extra step to protect your private documents from getting into the hands of the wrong people.  This is why I believe having a paper shredder is one of your best investments against identity theft, and it also helps minimize all the clutter from paperwork.
Having a paper shredder is probably one of the greatest things you can have on hand in your home or home office.  I have found that rather than shoving piles upon piles of paperwork into a file cabinet or on a shelf, that shredding makes my life so much easier.  I don't have to deal with the clutter and I know that I can safely dispose of vital information.  Shredders today have come a long way, and now you can even shred your credit cards, and cds.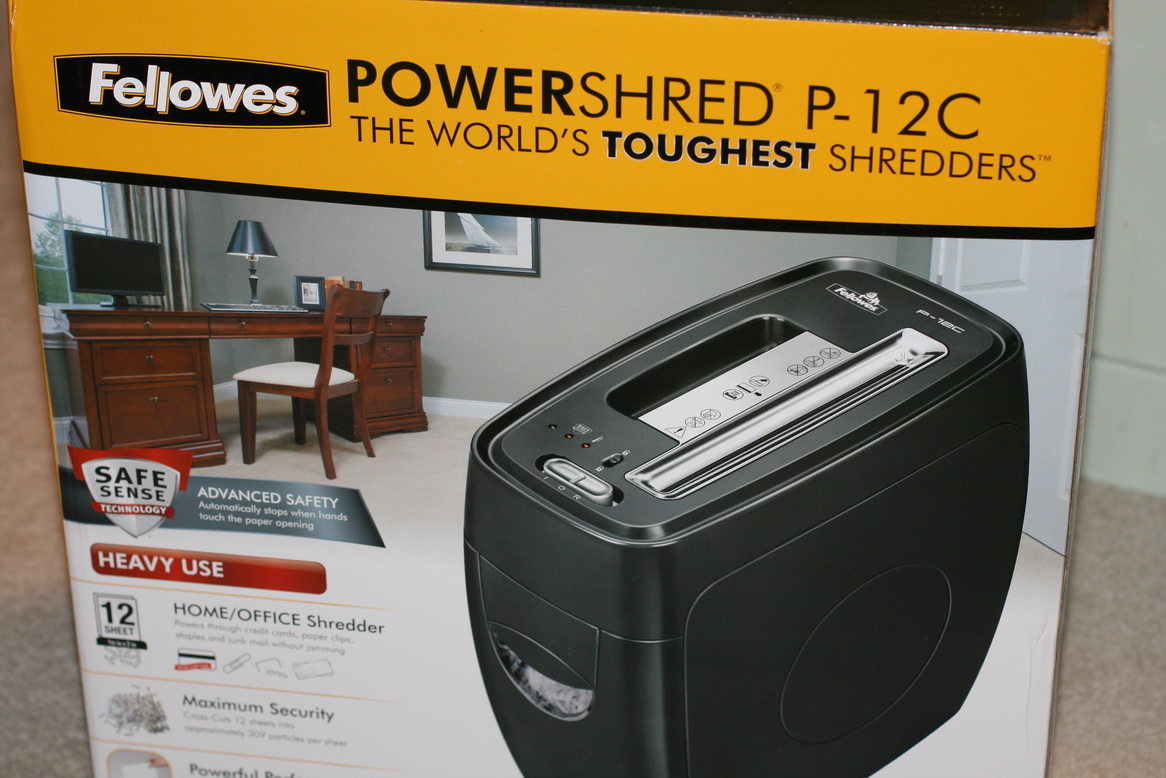 Recently I was given the opportunity to review the Fellowes PS-12Cs Cross-Cut Shredder.  This couldn't have come at a better time because we are in the process of gutting the home office.   When I took it out of its box my first overall impression was that it is sleek, and compact.  I was able to tuck it neatly next to our file cabinet, which made it very unobtrusive in the room.  If there is anything that I don't like are big bulky things that take up way more space than needed.  It looks great, but how well does it work?  So we put it to the test, first we shredded a few pieces of paper, and it gobbled it right up with record speed.  We then tried one of our old expired credit cards and it had absolutely no problems.  It can handle up to twelve sheets of paper at one time.  I found that the shredder moves a little slower if you put all twelve in there at once, but I find that I would hardly ever shred twelve at once anyway.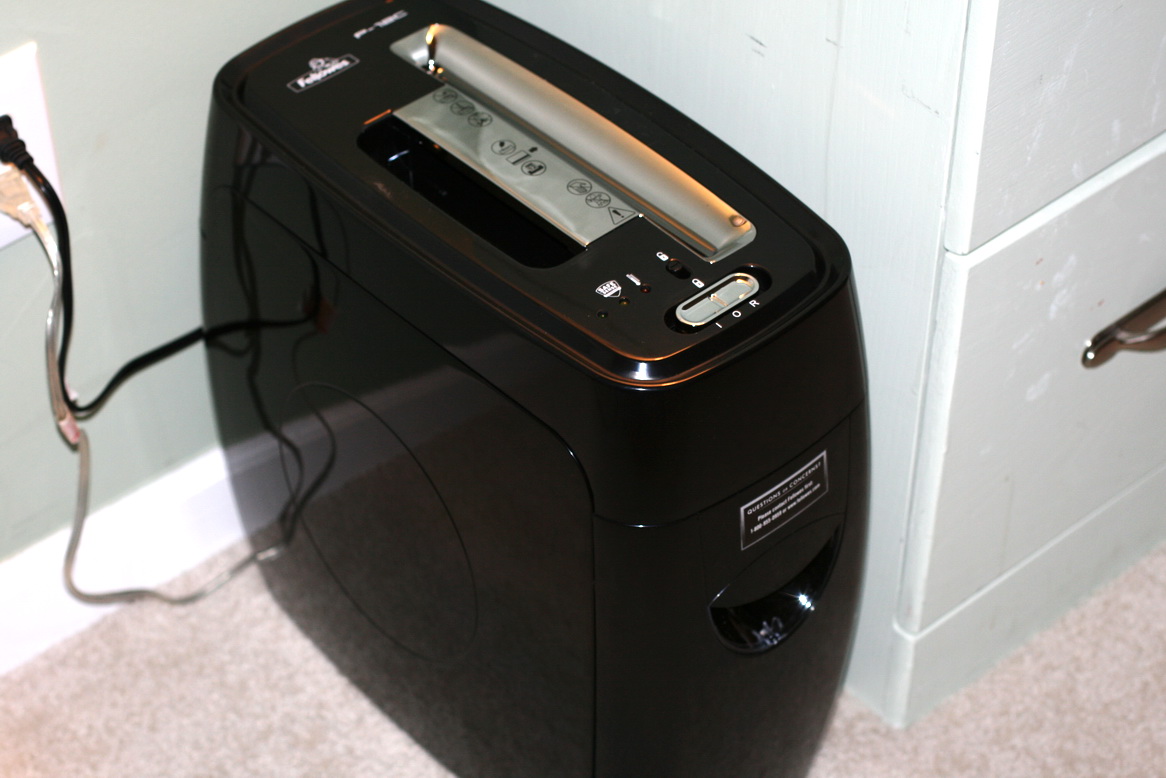 Take a Look!
If you are worried about little hands sticking their fingers into the shredder, the Fellowes PS-12Cs Cross-Cut Shredder also has a really great safety mechanism called the Patented SafeSense® Technology this stops the shredder when hands touch the paper opening.  I find this to be a great advantage, because I have two very curious four year olds that always manage to "laugh in the face of danger" so to speak and have an inherent knack for getting into trouble.  This makes one less thing for me to worry about, so my kids are safe as well as my identity.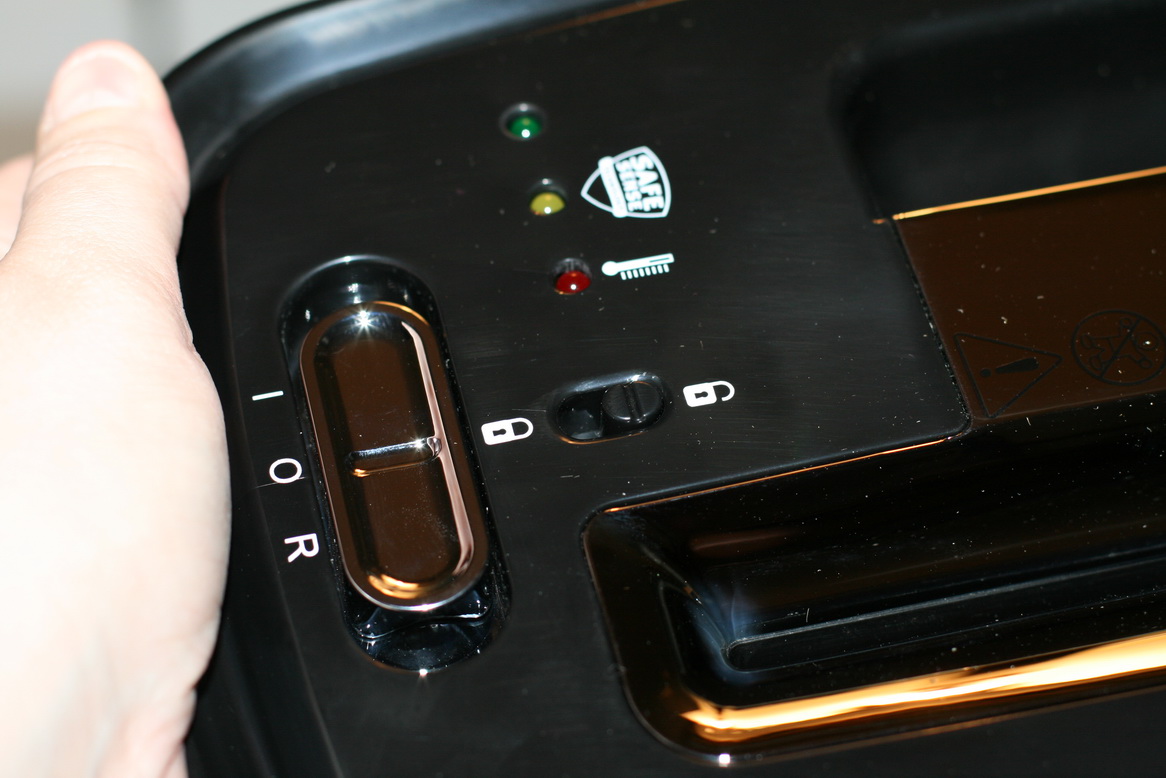 The paper collection bin is really nice and just neatly slides out so you can empty it.  I like the fact that the bin is not too large so I can easily slip a trash bag on top of it and turn it upside down to empty it without make a ginormous mess.  Our last shredder we had, the bin was too large and we wound up having an office that looked like we partied like 1999 with paper shred confetti all over.
Fellowes PS-12Cs Cross-Cut Shredder Features
Shreds 12 sheets per pass into 5/32" x 2" cross-cut particles (Security Level 3)
Patented SafeSense® Technology stops shredding when hands touch the paper opening
Slim profile fits neatly under desks
4-gallon bin
For individual use
Can shred: Paper, staples, credit cards, paper clips
The only drawbacks that I found were that the shredder itself is rather loud, and it doesn't shred cds.  Overall, I love Fellowes PS-12Cs Cross-Cut Shredder's compact size and the Safesense Technology so I don't have to lock it  up away from the kids. In general, it is very effective at shredding most of  the things you would want to shred.  It would make a great addition to any home office.
Tax time is just one good reason to have a paper shredder, but protecting your identity is a top priority so you can avoid the nightmare of identity theft.  Victims of identity theft can surely tell you how awful it really is.  It is important to make sure your computers have the appropriate protection, invest in a a small safe to keep your important documents, and invest in a good paper shredder to appropriately dispose of documents that contain vital personal information.
"I wrote this review while participating in a Mom Central Consulting blog tour on behalf of Fellowes. I received a Fellowes paper shredder to facilitate my review."
Fiber is one of those things that is important for our bodies, but let's face it, most people rarely get enough of it in their diets.  You hear it all the time "eat more fiber," it's essential for good health.  Fiber is found mainly in fruits, vegetables, whole grains and beans.  When I think of fiber, I think of poop.  Really, who doesn't think about that first?  It has its other health benefits, but I have always heard, you need more fiber to keep yourself regular.
With the new year, comes all the promises of a healthier lifestyle, and better eating habits.  I am always gung ho in the beginning, but eating the right foods, isn't always easy or very tasty.  When you are out of the habit of eating the healthy foods, everything good for you, is less than appealing.  Let's face it, lettuce leaves don't taste like much, unless you have cheese and dressing on it.  And eating fiber, is just as bad as the lettuce leaf, if you don't jazz it up with something it tastes like cardboard or wood chips.
Fiber Facts

Most people need 25 to 30 grams of dietary fiber each day, but most of us get only 12 to 15 grams a day.

One daily serving of FiberChoice® – just two chewable tablets – contains 4 grams of dietary fiber.

Fiber is typically associated with regularity, but fiber is also important for overall digestive and full-body health.

FiberChoice® should be taken every day as part of an ongoing effort to live a more healthy life.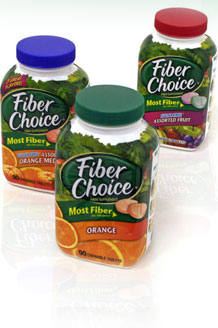 I always try to offer the boys fruits, vegetables and whole grains to ensure that they get enough fiber in their diets.  One of my boys has always had problems with constipation, so I have always tried to give him things like prunes, and encourage drinking lots of fluids.  I am always looking for easy additional ways to add some fiber in my diet and his.  I recently had the chance to try Fiber Choice, which is a fiber supplement.  My initial thought, when I read the bottle that said, sugar free and fiber supplement, was that this was a bottle of compressed taste free lettuce leaves.  But to my surprise, they actually tasted really good and are easy to take at any time during the day.  The recommended dosage is two tablets.  I started with that and found that I did get a bit bloated and gassy and I just reduced the serving to one and a half tablets for about a week to let my system adjust.   Each chewable tablet is scored down the middle so it makes it easy to break them in half and I also started giving my sons half a tablet daily, and my husband takes two in the morning.
Because they're chewable, FiberChoice® tablets are the fiber supplement you can keep anywhere, take everywhere – at your desk, in your gym bag, in the car, in your suitcase, in the kitchen counter – wherever it's convenient for you.

Inulin: A natural fiber source.

One daily serving of FiberChoice chewable tablets – just two tablets – contains 4 grams of inulin, an all-natural dietary fiber found in fruits and vegetables. Inulin is a unique fiber source that helps boost calcium absorption.*
We now make taking fiber a daily part of our routine. My husband hardly ever eats a vegetable or fruits for that matter, so this is also a great alternative, and helps to get at least some fiber in his diet. We recently stocked up with the 220 count bottle from our local Costco, and plan to keep up with the daily routine of taking Fiber Choice. A little more fiber in our diets can only help in maintaining our health and keeping our plumbing in order.  To learn more about Fiber and it's benefits you can follow @FiberChoice on Twitter or visit their website at http://www.fiberchoice.com
"I wrote this review while participating in a blog tour by Mom Central Consulting on behalf of FiberChoice and received a coupon to facilitate my review and a gift code to thank me for taking the time to participate."

With being right in the middle of the Holiday hustle and bustle, I find myself trying to beg borrow and steal time wherever I can, just to manage all the tasks on my list.  Not only am I chasing after the kids, managing the house, and rounding up the family for holiday travel, I also tend to do a majority of the paper work in the house.  Online banking has become a savior for me, and simply one of the greatest inventions ever!
When it come to banking, I cannot imagine banking the old fashioned way, especially with having two young kids.  I can pay all of my bills from my couch, I don't have to waste money on stamps, and the time it takes to fill out checks, and seal up envelopes, and make my way to the mailbox. Bank Of America offers some really great tools and time saving tips to help you save valuable time while helping to mange finances. We make greatest use of their online banking, and it makes managing bills so much easier.  You can see when they go out, you can schedule payments, receive alerts and balance information, as well as make money transfers.  With the winter months, I do not even have to put a toe out my front door, and I can take care of our financial obligations.
Bank on the go: It's easy to set up mobile banking and secure access to your money wherever you are. Download the mobile banking app and you can check balances, transfer money, pay bills, and locate ATMs.  Sign up for text banking and you'll be able to send a text message to get your balance instantly in a reply.
Make quick and easy deposits: Holiday means a lot of extra work, so eliminate the labor of depositing checks.  With Bank of America's Deposit Image ATMs, you simply feed checks or cash into the ATM with no envelopes or deposit slips required.  You get images of your checks and a list of cash deposited on your receipt as proof.
Save a trip to the bank: Don't worry about making an extra stop to the bank during all of your holiday shopping.  Keep track of your spending by using Bank of America's online banking: set up alerts, check balances, and transfer money.
During the holidays, it is important to manage your time, so you can enjoy those special moments with family.  Outside of banking, I try to plan ahead, and organize items on my to do list that coordinate with each other.  Both me and my husband split up (divide and conquer), each of us takes one kid, to take care of errands and chores.  It eliminates having to take up the entire day trying to get everything done, and allows for us to have some quality family time.   A little bit of planning goes a long way!  You can hear about other great tips by following @BofA_Tips on twitter too!
Would you like to win a preloaded $50 Bank Of America Gift Card?  With the Help Of mom Central, DoubleBugs will be offering one lucky reader the chance to win!
Here's What You Gotta Do!
(mandatory entry, you must complete this to have a valid entry)
Answer this question…What are some of the ways in which you get back time during the busiest times of the year?
Additional Entries
Tweet about this giveaway linking to this post

Follow Me On Twitter @Laurie2008
Good Luck!
Contest Runs From December 21, 2010-December 26, 2010

"I wrote this review while participating in a blog tour campaign by Mom Central Consulting on behalf of Bank of America and received a Bank of America preloaded gift card to thank me for taking the time to participate."
Just about everyone I know loves coffee, I am probably one of those rare people that doesn't drink a whole lot of coffee and didn't even own a coffee maker till I was married.  I don't drink it because I try to avoid the caffeine, so I have never really enjoyed it.  Nowadays, there are so many choices out there, that I can enjoy some of the hot beverages minus the caffeine.  My favorites however are hot chocolate and an occasional cup of tea.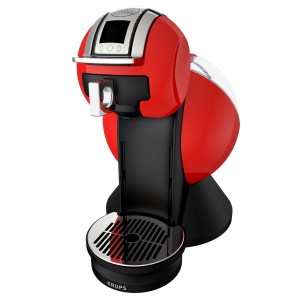 I was recently offered the chance test drive the NESCAFE'  Dolce Gusto coffee maker.  I took the opportunity because I like single serve coffee makers and like having the option of making a single cup at a time.  Going into the winter months, I tend to make a lot of hot chocolate and tea, and I like having the option of making it any time during the day, quickly, and without making an entire pot of hot water. Not only is the NESCAFE Dolce Gusto a coffee maker, but it was designed with kitchen decor in mind
"Each machine carries an individual style and personality,designed with something  for everyone.Compact,classic,modern and smart-it's a dramatic departure from what's currently in the marketplace."
With most of my kitchen electronics, I try to keep them stuffed in a cabinet, or well hidden in my kitchen.  Let's face it, many kitchen appliances are just big and bulky and unattractive to look at, and the only reason why they stay on our counters, are out of pure necessity and easy access.  NESCAFE has come out with some really cool looking single serve coffee makers, that actually look good on your countertop.  Names like Piccolo, Creativa, Melody 2 and Circolo, each coffee maker has it's own individual character.  I chose the Creativa, because it just looks fun, and kind of exudes my artsy personality.  It also comes, in this really sexy red, if you feel like making a bold statement in your kitchen.  I have had several people already pass by my new NESCAFE Dolce Gusto and say "oh that is cool!"  So, it definitely draws some attention.  I like how it looks and it is far from ordinary.  I definitely won't be hiding this one in the cabinet and it makes a great conversation piece.  It sort of makes you want to use it more, because it is fun, functional and really cool.  I couldn't wait to use it.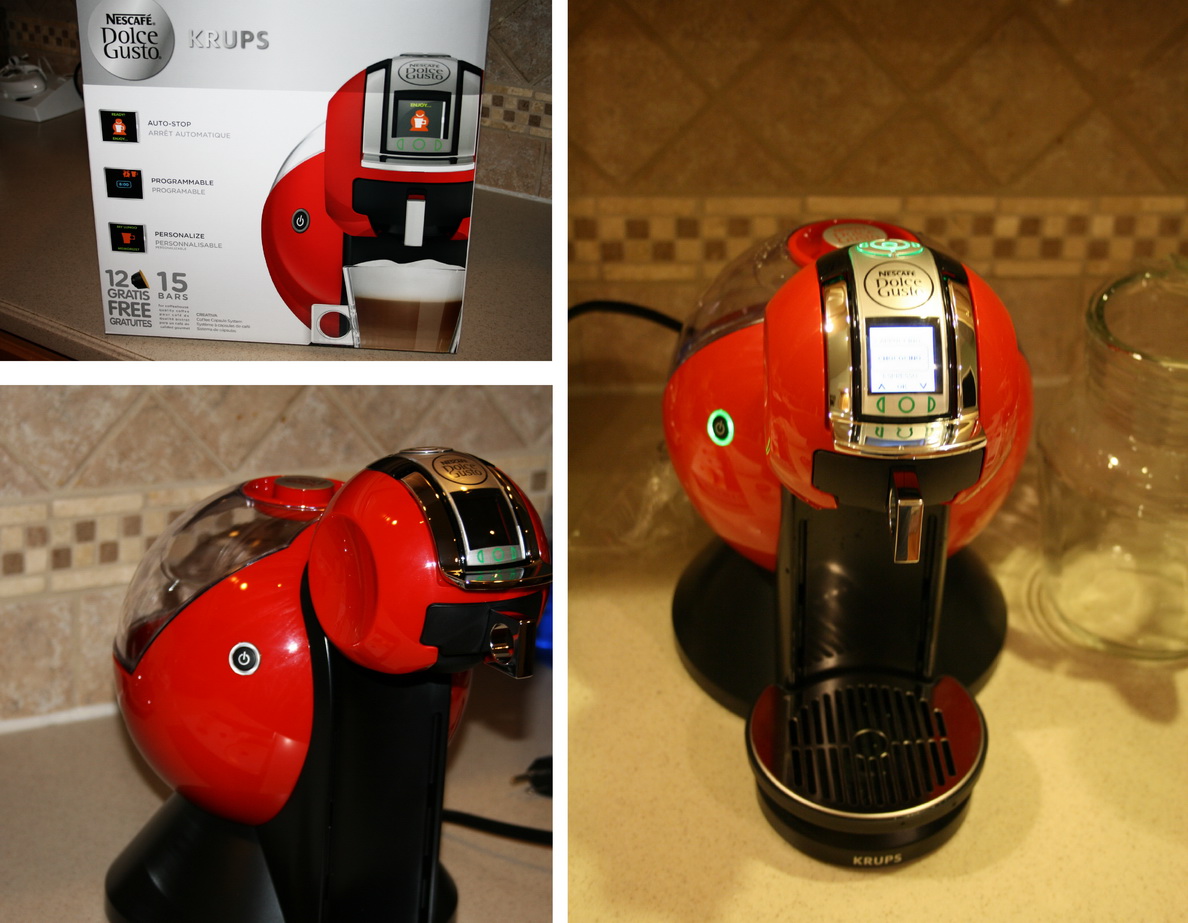 If you are looking for something that has functionality but adds a really nice design element in your kitchen, NESCAFE Dolce Gusto, offers you several choices to add pizazz to boring kitchen appliances.  They also come in a really nice neutral titanium and black color, so if you aren't as bold as me, you can still have something that looks great. It's a fun and exciting way to make your coffee! In my next post, I will talk about the benefits of a single serve coffee maker, all the fun flavors NESCAFE has to offer for your Dolce Gusto, and what my experiences were when using it.
"I wrote this review while participating in a test drive campaign by Mom Central Consulting on behalf of NESCAFÉ Dolce Gusto and received a coffee machine to facilitate my review."

We are a house that loves music.  One of my favorite things to do is to put on headphones, and do housework or go on a hike at our local parks.   Being able to have portable music via MP3 player has been one of the greatest inventions since sliced bread.  In fact I still have boxes of CDs in my closet wondering what on earth I will do with all of them.
For me when it comes to portable MP3 players, the smaller they are the better, because  it is easier to take with me on plane trips, on car rides, in my purse, and on walks.  I was recently given a really cool opportunity to check out the new Sansa Fuze+ and a VH1 slot radio card, and this thing is pretty cool.  I received a  red MP3 player  which just looks really sleek and compact, but I also love all the features.  The sound is really good, but the fact that I can listen to this pre-loaded VH1 slot radio card, is even better, or add additional music to a blank micro sd card.  I like being able to get a preloaded card that I don't have to mess with hand picking and adding songs,  and it had a lot of the very popular  songs from the 80′s.  The screen on the Sansa Fuze+ was really crisp and clear which and I had no trouble navigating with the Sansa Fuze "invisible" capacitive touch control.  You simple just have to touch right, left, up, down, or in the middle to navigate through song lists, genres, and even settings.   You can also watch videos on the bright 2.4 inch LCD screen which is really cool.


At a $79.99-$119.00 price point, depending on the capacity, you can get this for just about anyone in the family for a gift for this holiday season.  The Sansa Fuze+ is available in five colors, red (my favorite), black, white, blue and purple.  Also available on the Sansa Fuze website are all sorts of preloaded slot radio cards that you can get to accompany your new MP3 player.  I am already eying the one with Health and Fitness to get ready for my New Years workout plan.
Specifications/Features:

Capacities**: 4GB, 8GB, 16GB
2.4″ bright QVGA screen (320 x 240, 30 FPS) LCD screen
Audio formats: MP3, WMA, Secure WMA, Ogg Vorbis, FLAC, AAC, Audible, Podcasts
Video formats: MPEG-4***, H.264, WMV and Flip Video™***
Photo formats: JPEG and BMP; photo formats can be further extended with Sansa Media Converter PC software download?, enabling TIFF, GIF, and PNG formats
Digital FM Tuner with record functions
Rechargeable battery lasts up to 24 hours for audio playback and 5 hours of video playback†
Hi-speed micro-USB 2.0 port
Expandable microSDTM card slot and microSDHCTM card slot
Ready for slotRadio™ & slotMusic™ memory cards
Sleek industrial design with "invisible" capacitive touch control and highly intuitive graphical user interface

SanDisk® slotRadio™ Cards

Each SanDisk® slotRadio™ card includes 1,000 songs featuring artists from the Billboard® charts. Songs are preloaded onto a tiny card with handcrafted playlists that include hundreds of artists. Like a FM radio experience, you can lean back and let slotRadio do the heavy-lifting so you don't have to download music song-by-song. Songs are played in sequence and are locked to the card. You can skip individual songs as many times as you like, or switch between playlists with a touch of a button. Simply insert a slotRadio™ card into the slotRadio player and enjoy music in an instant. It's great music made effortless.
This is really a great little MP3 player for just about anyone with some really great features.  You can listen to your favorite radio stations, pop in a pre-loaded slot radio card with all your favorites, or add you own song line up.  You can even watch a video.  It would make a perfect gift, or stocking stuffer.
"I wrote this review while participating in a blog tour campaign by Mom Central Consulting on behalf of SanDisk and received the SanDisk Sansa Fuze+ and VH1 slotRadio Card to facilitate my review."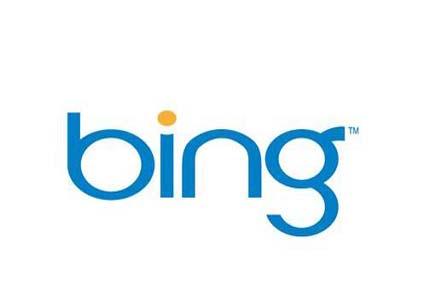 Education is one of the biggest and most important things that we can give our children so that they can be successful in their life.  It is the best gift that we give our children in hopes that they can flourish as individuals.
Bing is showing its commitment to education by helping teachers and students by providing them with the financial support needed to ensure their success in learning.  Bing will be giving away up to $1.1 million dollars through its Our School Needs contest.  In a bid to win $100,000 for their school, parents, students, and teachers around the country have been sending in essays, photos and videos to Bing to tell them what their school needs. The entry with the most votes wins $100k, and 3 others will each win $50k. The voting phase starts Friday, October 29 and runs through Sunday, November 7. America will be asked to vote on the 15 Our School Needs finalists as determined by the panel of judges. The winners will be announced Tuesday, November 9.  Be one of the first 30,000 to vote for your favorite finalists each day and receive a $3 donation code to redeem for the classroom project of your choice!
This hits so close to home, so do know that your votes matter!  I used to be an early development teacher and there were so many budget cuts that I found myself dipping into my own pocket to get the kids the books and material they needed for successful development.  There are so many great teachers, and sometimes there just aren't enough resources.  In the schools near me, teachers and parents have set up classroom donation lists where parents bring in two of a particular item so their is a surplus of much needed supplies.
When I watched some of the videos and read some of the stories, all of them touched me in some way.  But Bear River Charter School, a K – 8 school in Logan, spoke to me because of the importance of books in my own children's lives that I found getting them a new library is something that is like winning a million dollars.  Up to date books in every subject is great for little imaginations, and children who read are smarter, have better language skills and go far in their education.
If you want to help our schools out, casting your vote for a school in need is a wonderful start.  You never know the young minds you are helping to shape (maybe the next president or the one who finds the cure for cancer) just by clicking a button.
"I wrote this review while participating in a blog tour campaign by Mom Central Consulting on behalf of Bing and received a gift card and DonorsChoose.org giving code to thank me for taking the time to participate."

I am a sucker for pie especially when it is fresh out of the oven and when someone else makes it for me.  Pie has to be one of those comfort foods that tastes good out of the fridge or warm.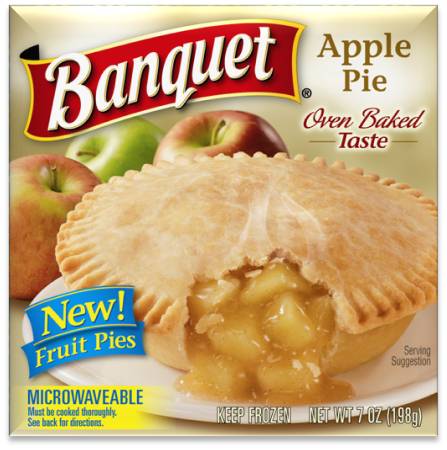 I love to roll up my sleeves and make a fresh pie, but sometimes I just crave a slice of pie that doesn't require me going through all the steps to make one.  Recently, I was given the opportunity to try Banquets new fruit pies, and I was excited, because who doesn't love pie?  Banquet has been making  meals for more than 50 years, and now they are introducing new single-serving fruit pies.  Each Banquet fruit pie has a half serving of real fruit inside a flaky pastry shell that you can enjoy hot from the oven or microwave. The pies come in three delicious flavors: apple, peach, and cherry berry for a great low price.
I   popped one of the cherry berry pies in the oven because I like a crust that is more brown and a little crunchy, but you have the option of making them in your microwave. Then after pulling the pie out, I topped that baby with some whip cream and grabbed my fork. The crust was nice and flaky and the filling was pretty good and had just the right amount of sweetness and tart mixed together. Banquet's new fruit pies are perfect if you have that late night sweet craving or if you want to treat the kids. And the fact that they only cost around a dollar makes it an even sweeter deal. I will definitely have a few of these on hand in the freezer from some late night indulgence and fun treats for the kids.
**I wrote this review while participating in a blog campaign by Mom Central on behalf of Banquet and received free coupons to facilitate my candid review. Mom Central also sent me a gift card to thank me for taking the time to participate**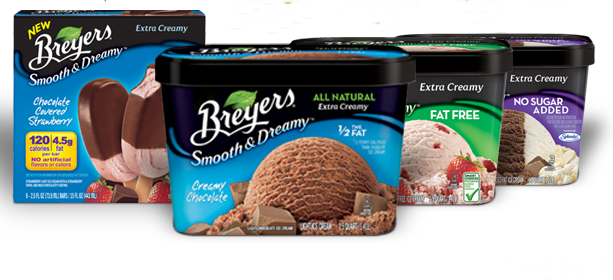 Who doesn't love ice cream in the Summer time or just about any time for that matter.  For us moms, I am sure we break out a pint of of favorite ice cream when the day hasn't gone so well and it makes all your trouble melt away.  July is National Ice Cream month and to help celebrate, I had the chance to try Breyers Smooth and Dreamy Ice cream bars.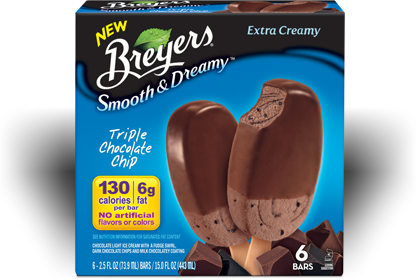 I am always looking for a chocolate fix and I almost always like my chocolate cold.  Ice cream seems to be my latest craving and the more chocolate the better.  Breyers, has a new selection of ice cream bars that will satisfy those chocolate craving that come up in the heat of the Summer.  I tried the Triple Chocolate Chip Bars and I thought I died and went to heaven.   They have just the right amount of chocolate goodness with a hint of crunch from the mini chocolate chips and the chocolate shell coating.  Nothing was left out and it is the perfect combination.  Not only that, Breyers Smooth and Dreamy Bars have no artificial flavors or colors, 160 calories or less and 4-6g of fat per serving!  What can be better than felling like you are indulging without the guilt?  After trying them, I shoved the box into the back of the freezer to keep them well hidden, so I don't have to share.  I will definitely be keeping a private stash in my freezer.  I can't wait to try all of the different flavors.
To help me celebrate my love for chocolate, and for the sake of chocolate in general, Mom Central and Breyers is letting me giveaway some Breyers Smooth And Dreamy to five lucky readers!   You definitely want to get in on this one, and who can pass up free ice cream????
"I wrote this review while participating in a blog tour campaign by Mom Central on behalf of Breyers and received products necessary to facilitate my review. In addition, I received a gift certificate to thank me for taking the time to participate."
Here's What You Gotta Do
Tell me why you would like to try Breyers Smooth And Dreamy Bars, Or share a childhood memory about ice cream.
Additional Entries
Follow me on Twitter
Subscribe to my feed
Tweet about this giveaway
Contest Starts July 30 and Ends August 2o, 2010
Good Luck!!!!
Winners are drawn at random, if winner does not respond within 24 hours the prize is forfeited
Contest open to US residents only.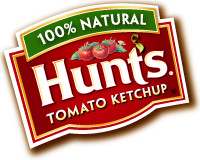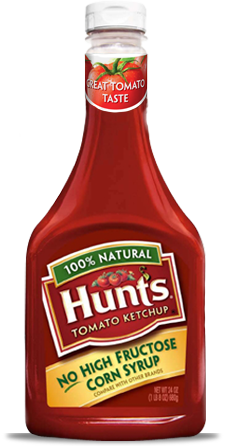 We are huge ketchup fans in this house.   Both of my boys always ask for everything with dip (meaning ketchup).  They dip their french fries, chicken nuggets, and fish sticks, so we find ourselves going through bottles of the stuff on a regular basis.  I always try to read the labels, and often times you cannot pronounce what is in your food.
We were sent a bottle of Hunt's Tomato Ketchup to try, which boasts no high fructose corn syrup.  As a Mom, you are always trying to make healthy and conscious food decisions for your family without compromising the taste.  High fructose corn syrup is something I try to avoid because it isn't really a  natural sugar in our diet.  Hunt's ketchup now features five simple ingredients. Hunt's reformulated recipe includes no high fructose corn syrup, and no artificial ingredients or preservatives and we all loved the taste.  It tasted just as good without all the extra fake fluff in our food (as I call it).
And to celebrate Moms and the choices they have to make for their family,  starting July 2nd, Moms have a chance to win a family vacation (up to $5,000) through a photo contest. To enter, go to facebook.com/hunts, submit a photo of you and your family achieving a "simple victory" and you could win that summer vacation you've been longing for.
Having basic and simple ingredients in our foods, doesn't mean that you have to sacrifice the taste.  I am seeing more and more foods offered in local grocery stores that are getting back to basic ingredients, and I like having those choices for my family!
"I wrote this review while participating in a blog campaign by Mom Central on behalf of Hunt's and received a ketchup sample to facilitate my candid review. Mom Central also sent me a gift card to thank me for taking the time to participate."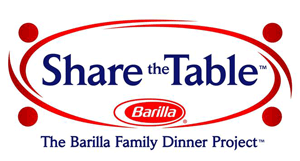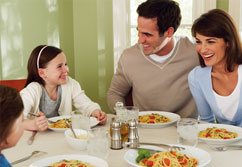 Many families today are extremely busy, with having kids in sports, working. and schedules that are hard to line up.  Dinner isn't the same these days, and is often eaten by everyone in the family at different times.  I know that we have a hard time sitting down to one meal together as a family through the week, with my husband working varying hours through the week.  We have made it a point to make dinner a meal that we could eat together, and catch up on how everyone's day was.
Barilla has started a "Share the Table"  program to help families make the most out of their dinnertime together. Barilla has a Share the Table website,  that offers  recipes from chefs like Mario Batali and tips on how families can make meal times more meaningful in bringing families together.
To help families get started sharing the table, Barilla now offers "Pasta Friday Sweepstakes" with weekly winners of pasta and pasta sauce giveaways and has created the "Mealtime Moments Contest," which gives families who commit to making a better mealtime experience,  the opportunity to share  stories and win select prizes throughout the summer. For everyone that becomes a fan of meaningful meals at ShareTheTable.com, Barilla will donate $1 to Meals on Wheels Association of America, helping seniors get the nutritious meals, that they often don't get.
To help our family "Share The Table,"  we were sent a wonderful package full of all the things we needed to create a meal for the family.  We all love pasta in this house so it was easy to create something that we all loved.    Our favorite Barilla pasta is the Penne, and I mix it up with Barilla's Garden Vegetable Sauce, hamburger, mushrooms, and sweet italian sausage.  It is rare that we have leftovers, and the whole family enjoys it.  There are so many great meals that you can create with pasta and Barilla makes it easy.
"I wrote this review while participating in a blog tour campaign by Mom Central on behalf of Barilla and received products necessary to facilitate my candid review.."