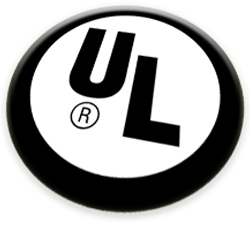 Summer, is the perfect time to head outdoors and enjoy the warmer weather with your family.  This means time spent swimming in the family pool, and running, jumping and climbing on the backyard swing set.  As a parent, you want to do what you can to keep your children and family safe. Just like you would child proof your home, there are safety measures for outdoor play that, sometimes, we tend to overlook.
Pool safety, is one of the things that I am so vigilant about.  Having had first hand experience with the loss of a family member's young son many years ago, makes it something that is burned into my memory.  To this day I still remember and watch my boys like a hawk when they are playing in just 2 feet of water.  After, they are done, the pool gets emptied, because you just never know when they may think to go back to it when you are sidetracked.   I know that you obviously cannot empty a much larger pool, but you can put safety measures in place, to avoid injury or tragedy.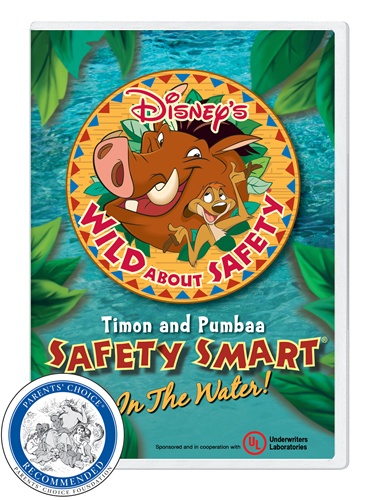 This summer, Underwriters Laboratories (UL), a leading product safety testing organization, has taken some time and provided some useful tips to help keep you and your children safe around play sets and the pool.  There is also a really great Disney video about pool safety you can watch with the whole family.
When you go out for a swim:
POOL SAFETY AT HOME
If you have a pool at home, install a fence. The fence should be at least four feet high and have a self-closing, self-latching gate that has a locking mechanism beyond a child's reach.
Cut overhanging tree limbs and remove chairs or ladders from the pool area to prevent children from climbing over the fence that surrounds the pool.
Keep grates and drain covers in good repair and secured in place. Alert your family and guests to stay away from these devices, as the suction from drain outlets can be strong enough to cause entrapment of hair or body parts, which can potentially cause a person to drown.
Make sure you know infant and child CPR if you own a pool.
BE SAFETY SMART WHILE SWIMMING
Supervision is a must. Follow the 10/20 rule when you're at the pool. The 10/20 rule states the supervising adult needs to position themselves to be able to scan the pool every 10 seconds, and reach the water within 20 seconds.
Always have rescue devices, such as UL-LISTED life preservers, nearby.
Flotation devices, toys and inflatable swimming aids are not safety devices. They are toys and can easily puncture and deflate.
Always drain wading pools after children are done playing. Infants can drown in just a few inches of water.
Have a telephone nearby and appropriate emergency numbers posted.
Remove all toys when you leave the pool. Toys may attract children to the unattended pool.
When at play on the backyard play set:
BEFORE INSTALLING A BACKYARD PLAY SET…
Make sure your backyard is large enough for playground equipment. The site must also provide good visibility and security. Before setting up equipment, look out for obstacles, such as the garage, tree branches, utility poles and wires.
Read and follow the manufacturer's directions when setting up play set equipment. Be sure your child's weight and age fall within the manufacturer's recommended limits for the equipment.
Install protective surfacing, such as rubber tiles or mulch under the play set, at least six feed in all directions, to prevent serious injuries should a child fall.
BEFORE HEADING OUT TO PLAY…
Carefully inspect backyard playground equipment. Make sure equipment is anchored safely in the ground, all equipment pieces are in good working order, S-hooks are entirely closed and bolts are not protruding.
Check for spaces that could trap children, such as openings in guardrails or between ladder rungs. These spaces should measure less than 3.5 inches or more than 9 inches.
Always supervise children on play set equipment to make sure they are playing safely.  
Never attach ropes, jump ropes, clotheslines, pet leashes or cords of any kind to play set equipment. If used improperly, they can be potential strangulation hazards.
Watch for potential trip hazards, such as rocks, tree stumps and concrete footings. Make sure you're children are aware of them as well.
Do a sandbox check. Before letting your child dig in, rake through the sand to check for debris or sharp objects. Also, inspect for any animal contamination or insect problems.
Doing a safety check list doesn't have to be a chore.  In fact, you can head out as a family and go over the check list together!  This way you can help teach your children the importance of safety and what is unsafe, and do something together as a family.  It is pretty scary to think of something happening to your children, and an ounce of prevention goes a long way.  Sometimes, I think we put off the little things, and that can sometimes cause big consequences.  So take the time out to be safe, so you can enjoy a fun and relaxing Summer!  Thank you to UL for some really great safety tips.  This will be something we do every year.
"I wrote this review while participating in a blog campaign by Mom Central on behalf of Underwriters Laboratories. Mom Central sent me a gift card to thank me for taking the time to participate."
As a Mom, it is always a challenge to come up with things to feed your family.  It is even harder to come up with creative ways to slip healthy dinner choices into your family's diet, especially if you have picky eaters.  One of my boys will eat just about anything, but my other, you have to convince him that the food you put in front of him is good.  Making subtle changes with healthier variations is what I found to be easiest when attempting to put something good for us on our plates.
I will be the first to admit that I tend to skip over the healthier version of a favorite food because it has been burned into my mind that it just won't taste as good or taste the same, but I am usually willing to try it, if you put it in front of me..  My husband is a very anti-healthy anything, and if the label even mentions whole grain foods or whole wheat anything, he won't touch the stuff.
I was recently given the opportunity to try Uncle Ben's Brown Rice and I must say that I was pleasantly surprised.  We use a lot of white rice with various dishes in the house, so I figured that making a switch would be a good idea in the long run.  We were able to try a few different varieties Natural Whole Grain Brown, with the traditional cook time (40 minutes), plus Fast & Natural Instant Brown Rice and Boil-In-Bag Whole Grain Brown Rice (both ready in 10 minutes).  I am a big fan of the boil in bag rice but we tried the Fast & Natural Instant Brown Rice.  I was serving a pork dish with a sauce that I dumped over the rice, but because rice is so versatile you can incorporate it into many dishes.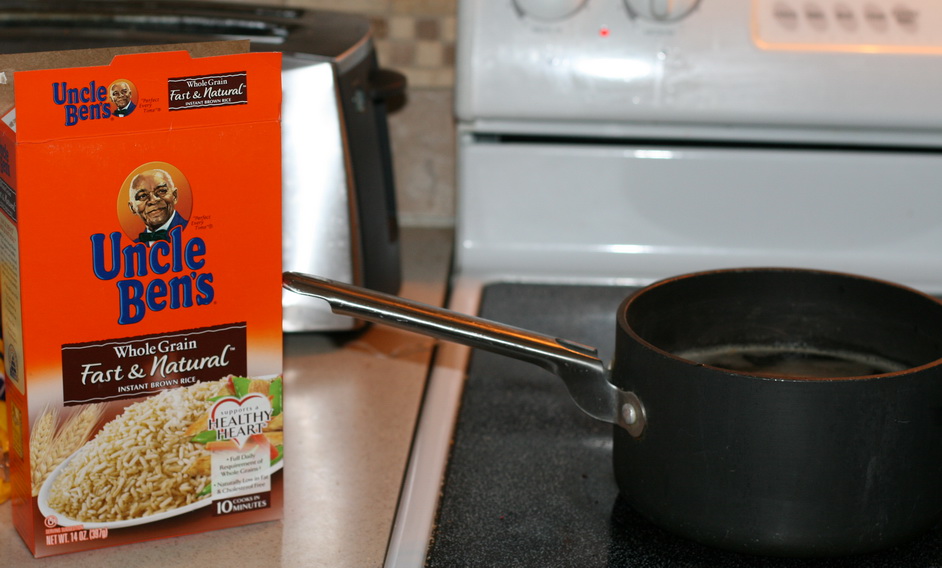 The rice definitely has a distinct taste, and you can taste the whole grain, but everyone seemed to really like it, and I can see switching to use it in place of just using white rice, although I don't think I will give it up completely.  Uncle Ben's also has some really  great recipes to try using their Whole Grain Brown Rice, such as: Chicken & Brown Rice Sloppy Joes (this is next on our list to try); Tex Mex Rice with Shrimp, Corn and Lime; Chicken, Apple and Walnut Brown Rice Salad; and Mediterranean Stuffed Portobello Mushrooms. This makes it really easy to incorporate healthier choices and please even the pickiest palate.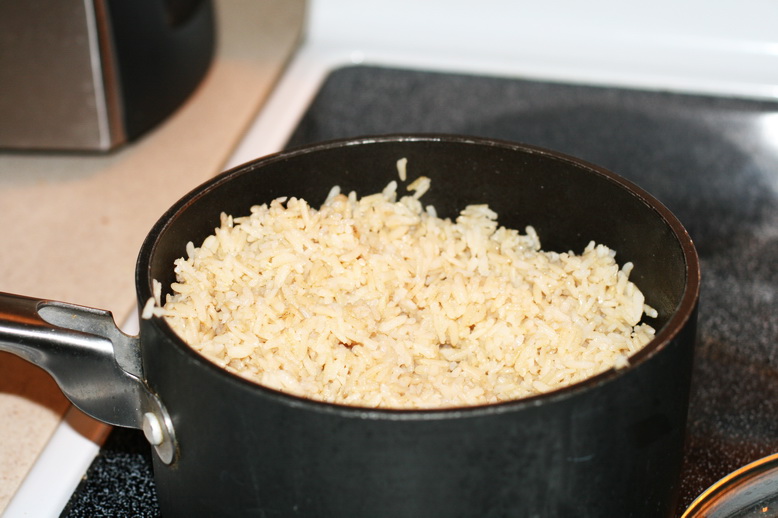 All in all, we really liked Uncle Ben's Whole Grain Brown Rice and will be keeping it as a staple in our pantry.  I can't wait to try their Sloppy Joe Recipe!
"I wrote this review while participating in a blog campaign by Mom Central on behalf of Uncle Ben's and received samples to facilitate my candid review. Mom Central sent me a gift card to thank me for taking the time to participate."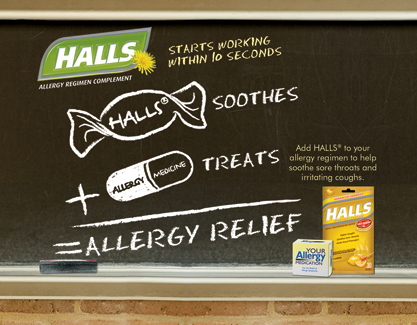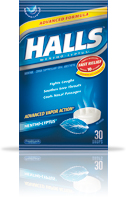 This has to be one of the worst allergy seasons for me and my family this year. Our entire family seems to suffer from seasonal allergies. But my husband seems to get them the worst. My poor husband has been sleeping upstairs because with allergies, his snoring has become almost unbearable.
All of us are armed with allergy medications this year and take them on a regular basis. But even with medication, it seems like it is hard to get any sort of relief. My husband and I have the biggest problem with our noses being so stuffed up we can hardly breathe, and my worst problem is always having one side of my nose plugged up in the morning.
I get up and take my allergy medicine and wait at least and hour or two for it to take effect. In the meantime me and my husband spend a good half of the time sniffling away with stuffed up noses.
Finding methods for quick relief are always a plus. We were sent some Halls cough drops to help with just this sort of problem and provide some much needed short term relief while you are waiting for allergy medicine to kick in. Halls can complement your medicine and help relieve allergy related sore throat and cough symptoms and even help cool nasal passages. I have always taken Halls when I have a cold, and the feeling of being able to breathe easier with a stuffed up nose, is just something you can appreciate, when you are already feeling miserable.
Halls is a great addition to your allergy regimen for fast-acting allergy relief, so you can get on with the more important things, like playing outside with the kids and breathing a little easier!
"I wrote this review while participating in a blog tour campaign by Mom Central on behalf of Halls and received products necessary to facilitate my candid review. In addition, I received a gift certificate to thank me for taking the time to participate."

So after three months of using our new Frigidaire Professional Refrigerator, I have had a chance to discover all the features that it has and some of the things I think can be improved.   My overall impression is that this a refrigerator that I would probably give some consideration to buying.
Some of my favorite features include:
The performance lighting which keeps all my fridge's contents clearly visible and just adds that extra special flair that you would want in a professional series refrigerator.
Ice and Water Filtration We use the water dispenser daily up to about 1 gallon or more a day and the water tastes great and doesn't come out at a snail's pace.  I love the crushed ice and it comes out fast and never once got clogged like out other fridge.  This is a definite plus!
No Slip Bin Liners I love this very small yet extremely useful feature.  Everything in my door typically bottles and such never slide around when the door swings open.  I love the fact that there isn't a bunch of clanging together.
Wine /Can Rack I just love this feature, and the fact that you can store your cans in the door.  One thing that I would love to see is a place for your eggs in the door too!
The freezer has ample space in it, and I especially love the space on the shelf at the top.  You can slide a frozen pizza right in there and a few pints of your favorite Ben and Jerrys, or frozen juices and the door still closes!  I love the deep basket drawers and I seem to be able to fit a lot more in them.
Stainless Steel this is just one of those things that gives an appliance a classy look.  I love how easy it is to clean without any special cleaners and added extra fuss.
Spill Safe Shelves cleanup is very easy and spills stay contained which makes it easier to keep a handle on keeping messes cleaned up and no drips down to the shelves below.
Adjustable Space Wise Shelf this feature is nice in concept, but I felt like the handle or crank to raise and lower the shelf was a little on the flimsy side and somewhat hard to turn when there were things on the top shelf.  I do love the feature overall but the mechanics are a little rough around the edges.
Automatic Alerts At first,when I heard the beeping sound the fridge was making when the door was left open, I found it a bit annoying.  But after a few days with toddlers, I found this a useful feature.  Also,  if there is something in the way of the door, this is great for pointing that out.
Humidity Controlled Crisper Drawers I love that the fruit and vegetable drawer has a separation in it,  the drawers to me seem a little flimsy, and the humidity controls take some adjusting in order not to freeze things.  It was mildly frustrating when  my meats and cheeses in the other drawer kept freezing, even with the control moved all the way over.  We had to raise the fridge a degree, which was no big deal as it kept everything cold enough.  But this may take some tweaking on Frigidaire's part.
Overall this is a wonderful fridge with some really cool and useful  features, which is what you look for in an appliance that you use daily.  The space is great for it's smaller size and definitely saves you some considerable time when putting way your groceries.  I love that there seem to be designated places for things.  It makes putting groceries away a much more efficient endeavor when you have a shelf for taller items, places to put cans, a fruit and vegetable drawer that's divided.  It makes keeping things organized a snap.  The fridge itself is beautiful to look at and it adds that extra touch of class to your kitchen.  Not only is it a classy fridge but its a great energy saver which can cut your electric bill by a few extra bucks so you can fill your freezer with extra Ben and Jerry's (ok ok so I like ice cream!)  Thank you to Frigidaire and Mom Central for giving me such a cool opportunity to be a test drive mom and to have this really wonderful appliance in our home for years to come!
"I wrote this review while participating in a Test Drive Campaign by Mom Central on behalf of Frigidaire and received a Frigidaire Refrigerator to facilitate my review."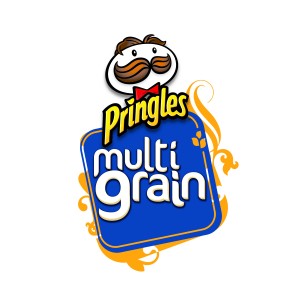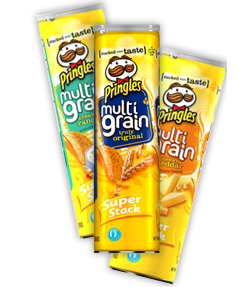 When it comes to snacking, we are a family that loves to break open a bag of chips to watch a good movie or just to have a little something with our sandwiches for lunch.  Snacking on chips isn't exactly a way to promote healthy eating and I almost always skip the ones that say multigrain.
I will be the first to admit that I usually pass over the multigrain selections in the chip aisle because I feel like they are lacking in the flavor department or taste a bit like cardboard.  Recently, Pringles and Mom central gave us the opportunity to give Pringles' new Multigrain chips a try.  I was eager to see if these chips would be something that my chip loving husband and kiddos could tolerate.    We were sent Truly Original, Cheesy Cheddar, and Creamy Ranch flavored Multigrain Pringles and let me tell you that, all three containers were gone within the week!  Not only that, they have a ranch flavor that I love, and for some odd reason ranch flavored chips are hard to find.  So now I have one that I love again, and its healthier too.   The one thing that I found which doesn't effect the taste at all, was that the chips seem a little thin which seems to make them break more easily.  But they are definitely yummy and everyone here loved them.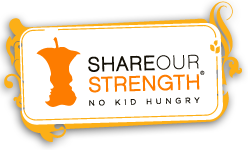 Pringles is also part of a really wonderful initiative called U Taste. We Donate.  Supported by celebrity chef, Tyler Florence, the campaign seeks to aid Share Our Strength with its mission to end childhood hunger in America.  For the 17 million children facing hunger in America, every dollar counts, and I believe that no child should go hungry!
Here's how it works. Enter the UPC code from any Pringles Multigrain product at PringlesMultigrain.com, and Pringles will donate $1 to Share Our Strength through June 30, 2010.  You can choose from any of the three New Pringles Multigrain flavors including, Truly Original, Cheesy Cheddar, and Creamy Ranch.  And to support this new campaign,  Tyler Florence created three unique and incredible recipes to go along with each flavor of Pringles Multigrain – a perfect snacking inspiration.
I cannot think of a better way to have your chips and eat them too.  You will be helping a great cause, eating great food and snacking on yummy multigrain chips from Pringles.
"I wrote this review while participating in a blog campaign by Mom Central on behalf of Pringles Multigrain and received a tote bag with samples to facilitate my candid review. Mom Central also sent me a gift card to thank me for taking the time to participate."

Every mom knows that there are days that we just don't feel like cooking a big fancy meal.  There are even days when I just don't know what I should prepare.  These are the says where I like to go to the freezer and pull out a TV dinner and call it a day.
We are fans of Banquet meals, which I can remember eating when I was a kid.  My favorite was always the dinners that came with a dessert and I still love an occasional salisbury steak.  Both of my boys love their chicken fingers dinner or the peperoni pizza, and they are ready in just minutes.  There are so many others to choose from, if you are in a no fuss kind of mood.
Overview and History of Banquet
For 50 years, Banquet has been making the familiar foods that families love. From Salisbury steak to crispy fried chicken and turkey pot pies to chicken breast tenders, you can always count on Banquet to provide consistently good taste at a great value.
Banquet products include frozen dinners, pot pies, fried chicken, chicken nuggets, tenders and patties, Banquet wings, Homestyle Bakes, and Crock-Pot® Classics.
The Banquet brand began in 1953 with the introduction of frozen meat pies. Banquet frozen dinners first hit store shelves in 1955. The '70s brought several different fried chicken offerings. Most recently, Banquet launched Homestyle Bakes and Dessert Bakes, and the brand revolutionized convenient, family-style cooking with the introduction of Banquet Crock-Pot Classics in 2004.
Now Banquet wants to give back to it's loyal customers!  They are giving away more that 16,000 cash prizes totaling $1 million in their Thanks A Million campaign.  You can play by looking for specially marked Banquet single-serve dinner meals in your grocer's freezer during the months of February, March, and April.  So not only can you make a fun and easy meal but you could be a lucky winner.  I could certainly dream up what I would love to do with a little extra cash. Read the Official Rules Here.
"I wrote this review while participating in a blog campaign by Mom Central on behalf of Banquet and received a sample to facilitate my candid review. Mom Central sent me a gift card to thank me for taking the time to participate."


With the holidays comes all the family gatherings and meal preparations to feed what seems like an army of people.  I know how easy it is these days to go to the store for just a few simple things and you wind up spending nearly a hundred dollars and feel like you come home with next to nothing.  With the current state of the economy, I think families are truthfully struggling to keep food on the table and finding ways to make a holiday meal and or party memorable on a budget can sometimes be tough.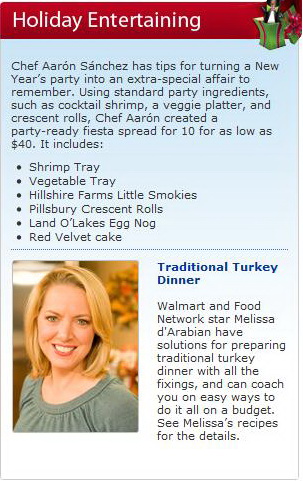 Walmart is helping families celebrate without breaking the bank and they are offering fresh and affordable holiday meals to help eliminate some of the stress that comes from footing the bill in hosting a large gathering.  Walmart's Christmas Dinner for Eight under $30 provides all the ingredients necessary for a traditional meal, including a 10-lb Spiral Cut Half Ham, three cans of Del Monte green beans, one 10-lb bag of russet potatoes, Sara Lee dinner rolls, and a pumpkin pie! The New Year's party basket for 10 for under $40 includes a Shrimp Tray, Vegetable Tray, Hillshire Farms Little Smokies, Pillsbury Crescent Rolls, Land O'Lakes Egg Nog, and a Red Velvet cake. And to give your recipes some pizazz Aaron Sanchez of Food Network is sharing some cooking tips and unique, delicious recipes he created with Walmart's basket of holiday and New Year's ingredients.  I am amazed at how much you can get for under $40 to make a really great event!  Not only that their holiday meal pages offer some great recipes and tips.
We do a lot of our pantry staple items at Walmart simply because they offer prices that are well below the supermarkets in our area.  I think that offering meals that the whole family can enjoy without the additional stress of finding out how to pay for all of it is a great way to give families a leg up.  One less worry makes our job as Moms a little easier so we can enjoy the holidays as well.
DoubleBugs, Walmart and Mom Central would love to give two lucky readers a $30 Walmart gift card to buy the perfect celebration meal for your family and friends.
Here's What You Gotta Do!
Tell me what your favorite family meal or tradition is, tell me what you love about Walmart's prices and meals for under $40
Additional Entries
Tweet about this great contest
Add me to your twitter
Blog about this giveaway
Grab my button and post it on your blog
Add Me To Your Technorati Favorites
Contest Starts December 18, 2009 and Ends December 31, 2009
Good Luck!
"I wrote this review while participating in a blog tour campaign by Mom Central on behalf of Walmart. In addition, I received a Walmart gift certificate to thank me for taking the time to participate and two to offer as a giveaway."



I was recently watching a news story about the dangers of teen drivers and the amount of text messaging they do while on the road.  We are in an age where technology isn't the same and it's hard to find people that don't own a cell phone.  I can remember being a teenager (wow that makes me feel old) and having the constant contact with friends.  Today it is even easier than going to hang out, you just pick up your cell phone and test away.
Texting behind the wheel of a car is getting more popular amongst teens and that is scary.  Not only are they new and very inexperienced drivers but it is compounded by even more lack of attention when you throw a cell phone in the mix.  I don't know about you, but as a teenager I was easily distracted by things.
According to The Allstate Foundation, two thirds of teens admit to texting and instant messaging while behind the wheel! Yet nearly 81% of teens rate parents as their number one driving influencers.  Recent research by Virginia Tech's Transportation Institute reveals that texting while driving can increase the risk of an accident by 23 times.  That is a pretty big percentage jump and not a risk I would want my child taking.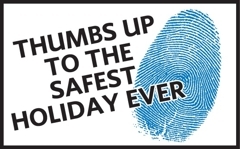 Allstate's "X the TXT: Thumbs Up to the Safest Holiday Ever" campaign challenges teens and parents alike to make the pledge not to text and drive. By joining the cause at www.causes.com/thumbsup, you're pledging to put your cell phone down behind the wheel. For each person who takes the pledge, Allstate will donate $1 to the National Organizations for Youth Safety (NOYS) – a collaborative network of national organizations and federal agencies that serve youth and focus on youth safety and health – for safe teen driving programs.
As part of the campaign, a 30-city "X the TXT" tour kicks off this holiday season during which teens and their families can add their thumbprints to a pledge banner as a public commitment not to text and drive.
I cannot think of a better way to teach your teen safe driving and help give funding to organizations to help educate our children of the potential dangers of getting behind the wheel.  You want to give them their freedom, but you also want them to be educated, cautious and responsible drivers.  It is so easy to give in but a labor of love to be vigilant with your kids.  Allstate can help give you and your teenagers a good start behind the wheel.
"I wrote this review while participating in a blog tour campaign by Mom Central on behalf of The Allstate Foundation. Mom Central sent me a gift card to thank me for taking the time to participate."


I have almost always love the holidays, not for the hustle and bustle, but for the memories they create.  We have a huge family on  my Mom's side and I can remember the huge gatherings at Thanksgiving and Christmas.  I also cannot forget the food that occupied the tables in every corner of my Grandmother's home.  We are all well fed by the time we left her house.
She always had a spot set up with cheese and crackers and sausage from Hickory Farms and in a tiny dish off to the side those strawberry hard candies that often come in a gift basket from them.  I loved the selection of  summer sausage, and cheeses, and I would always set up a plate as a kid, and stuff a few of the strawberry candies in my pockets.  That wasn't the last I saw of my favorites because my mom would almost always bring home a Hickory Farms gift basket from the bank where she worked.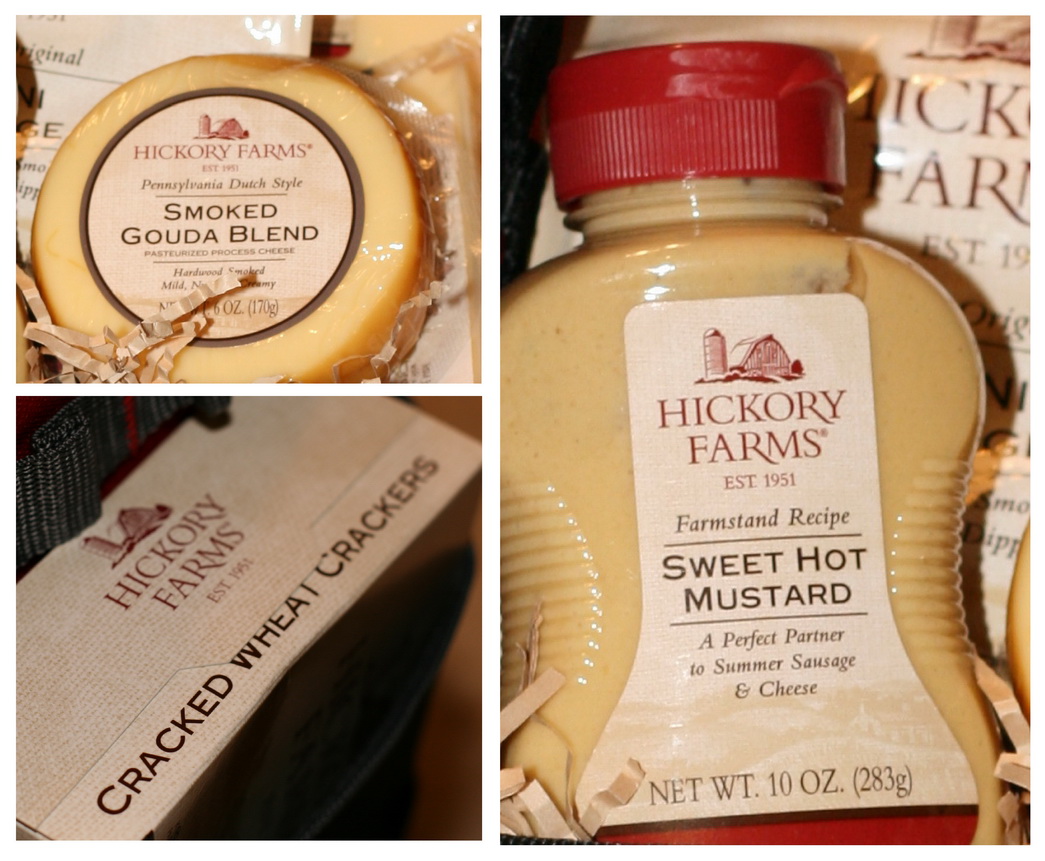 Fast forward to today, I still love to stop by the Hickory Farms displays in my local stores and occasionally pick up some of their summer sausage and cheese and set them out for the boys and the family to snack on. Recently, we were sent a wonderful gift basket for our family to try from Hickory Farms in this totally awesome tool bag that will come in handy for my husband to use around the house.  It is a great way to sort of give two gifts at once.  This gift basket came loaded with gouda cheese, mini sausages, crackers, mustard and many other wonderful signature items that Hickory Farms has to offer.  I loved the gouda cheese with the sausage and the boys gobbled it up.  The best way to serve the sausage is cold in my opinion, even though you don't have too.  Once the packages is open in this house, you won't have any leftovers.  I cannot think of a better way to add to holiday entertainment or making a classic statement in gift giving.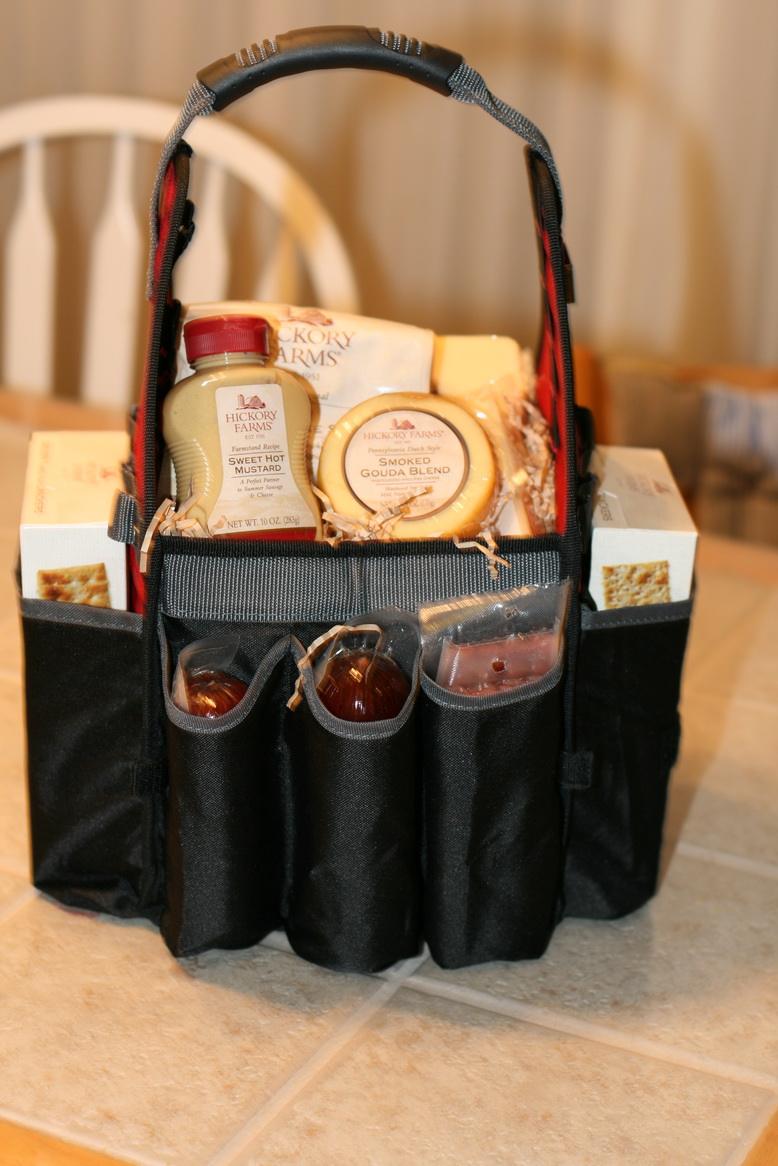 We loved all of the wonderful things Hickory Farms sent us, and the only thing missing this time around was the strawberry hard candy.  Hickory Farms has been around for as long as I can remember and have always offered a wonderful selection for gifts. It is a perfect gift to give for someone special or when you cannot think of something specific,  Hickory Farms makes gift giving easy.
"I wrote this review while participating in a blog tour campaign by Mom Central on behalf of Hickory Farms and received a Hickory Farms gift basket to facilitate my review."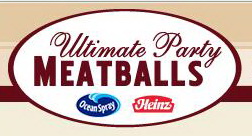 It is that time of the year when holiday festivities are about to be in full swing.  Every year my husband and I are invited to at lease several events that involve bringing a favorite appetizer or dish.  If you are a busy mommy like me, my ambitions are usually greater than my energy level in creating some new found masterpiece to bring to a gathering.
Over the weekend we were invited to a football party and it was a "bring a favorite dish" type party, so I found myself thinking about what I should bring. I quickly remembered that I had a new recipe to try, and I had all the ingredients to give it a test.  Heinz and Ocean Spray have teamed up to create a really easy yet great tasting addition to any holiday gathering.  Their Ultimate Party Meatballs recipe takes three ingredients and they taste unbelievable.  If I had known how easy this was all along, I would have been coined the meatball lady at all these parties!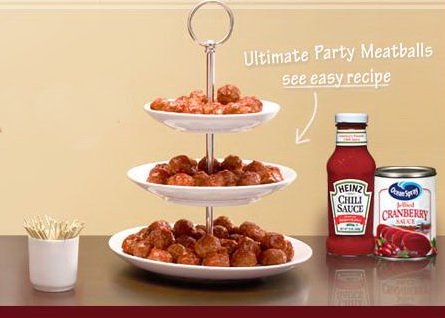 I chose to do the crockpot method of preparation.  All you do is throw in a bottle of Heinz Chili Sauce and Ocean Spray Jellied Cranberry Sauce, and two sof frozen meatballs and put your crockpot on high for four hours and you are good go.   They smell totally awesome and they taste even better.  I couldn't stop stealing meatballs from the crockpot,  at least I made a double recipe. They have the perfect combination of salty and sweet tangy zip that make you want to keep coming back.  I came home with just a few lone meatballs left.
Here is the official recipe
If you like a little bit of a kick to your meatballs you can add a dash of tobasco to them to give them a little kick. I refrained from adding it this time because some people might not like the spicy. They were so yummy that I took the last of the meatballs and made a sub out them for my late night snack.
Whether you are heading out to a party this holiday season or if you are looking for something easy to make for an appetizer. Ultimate Party Meatballs by Heinz and Ocean Spray are a perfect addition!
"I wrote this review while participating in a blog tour campaign by Mom Central on behalf of Heinz and Ocean Spray and received the ingredients necessary to facilitate my review. In addition, Mom Central sent me a gift card to thank me for taking the time to participate."