I will make this post a quick one because I have my nose in a good book. I haven't sat down to read in well over 3 years and even though I don't have a lot of time in my day, I have managed to read a thousand pages!
On a suggestion, I decided to read Twilight by Stephenie Meyer.  I had the book and kept walking by it.  My parents came up to visit and my Mom being and avid reader snatched the opportunity to read it.  I knew that there was a movie, but as they say, the movies never does the book justice.  My Mom came to visit us for about 9 days and in that time frame manages to read three of the four books in the series and each of them were over five hundred pages.
I thought they must be good since my Mom was so engrossed.  My husband has been teasing me, since the book is intended for young adults.  Intrigues by the story line and all of the talk surrounding how good it was, I decided to start reading.  It only took about twenty pages and I was hooked.  I haven't been able to put the books down and they go with me wherever I go in the house and every free moment I have my nose in a book.
Even thought the story itself could never happen, (sheepishly) I have found myself wanting to be wooed by a vampire  LOL.   Stephenie Meyer is brilliant at writing the story and describing each little detail.  The images in my head could not be more vivid.  I find myself feeling a little depressed that eventually the books will end and I won't have anymore to read.  In the meantime, here's to romance and vampires~I never though in a million years this would be something I would read.  In the meantime, here's to romance and vampires~
The boys have an absolute love for reading books as one of our nightly routines.  There is a stack of books by the bed and they both love being able to chose what will be read for the evening.  They simply adore the books with bright illustrations and they love a good story.  They are huge fans of the Trucktown series of books by Jon Scieszka and they love all fun characters.
We recently had the opportunity to review a couple of books by David Gordon. He is one of the illustrators for the Trucktown books, so naturally I was really excited to read these books to the boys. David Gordon has done conceptual work for the Pixar/Disney blockbusters Toy Story, Toy Story II, and A Bug's Life.

Smitten is an adorable tale of an unlikely meet up of a sock and a mitten.  Both of them are missing their other half.  They set off in a big city to find their other halves and wind up getting in some predicaments and discover along the way that they were meant for each other.  What a terrific way to introduce to your children friendship through diversity.  I won't give away the whole story but it is such a great book and my boys love it.  They already know what is happening on each page and like to sit and read the book to my husband and I (in their own words, of course).  I made them their own sock and mitten and drew faces on them and they like to act out the book.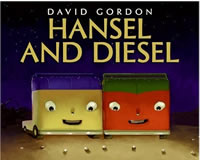 Hansel and Diesel
are sibling trucks that wonder from their home in search of fuel after overhearing their parents that they were low for the Winter. Trailing bolts behind them so they can find their way back home  they find themselves faced with the Wicked Winch.  The story ends happily ever after.  I don't think the boys understand the modern take on Hansel and Gretel but they love the story because it is about trucks and understand that it wasn't safe for the two trucks to leave without mommy and daddy.  It is a great book with a little lesson thrown in.
We are always in search of new reads for the boys and these particular books are ones that they will cherish for a very long time.  If you are looking for something new and different for the bookshelf, I highly recommend these books not just because we like them but because they are great for young minds.
My boys just love to sit with my husband and I and read. We usually read throughout the day, and have a stack of books by the bed and they get to pick a couple before bed. One of their most favorite series of books published by Simon and Schuster, has to be "Jack Truck" as they call it. If you don't know who "Jack Truck" is, he is one of the characters from author Jon Scieszka's Trucktown series of books. Both of my boys are in love with these books! They know all the characters by name and simply adore all the bright and colorful illustrations.
One of the newest releases "Melvin Might?" Is about Cement Mixer Melvin, Trucktown's fretful worry wort. Both of my boys always point this out whenever we read the book that Melvin is afraid or worried. It is so cute to hear them make that correlation. Whenever we are out and about, if they see a cement mixer, they call it "Melvin" or if they see a loader they call it "Payloader Pete!" They always amaze me at how quickly they pick up on these things and they are only two!  These books are a whole lot of fun, especially if your little one is into cars and trucks like my two are.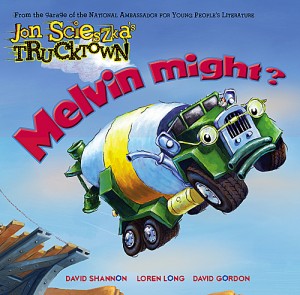 Melvin Might?
(Jon Scieszka's Trucktown)
By Jon Scieszka
Illustrated by David Shannon and David Gordon and Loren Long
This Edition: Hardcover
Publication Date: October 28, 2008
Price: $16.99
Description
Cement Mixer Melvin worries a lot. He worries he might get dirty. He worries he might get stuck. He even worries he might get worried. But one fateful day Rescue Rita is in need of a little rescuing, and Trucktown's biggest worrywart is the only one who can save the day. There's just one problem: He worries he can't. Jon Scieszka's latest racing and rollicking installment to the Trucktown franchise is a hilarious (and maybe even a little heartwarming) look at all the things a cement mixer can do…no matter how much he worries!
This is suck a cute series of books and is sure to put a smile on your little one's face especially if they are into big trucks.   This book would make a perfect gift along with all the other "Trucktown" series of books!

Taking time out to read and to engage in dialogue with your child is one of the most important aspects in their development. I know my two little guys are almost always running to the bookshelves in their playroom, and saying "READ!" It is amazing how much they have learned from just sharing that small amount of time here and there throughout the day.
Books are just not for teaching our babies and children language, but it helps them to gather information about their world. Books foster social, intellectual, and physical development as well as language skills. These are all so very important. Not only that, you are saying to your child that you "have the time" to devote to them and to teach them.
I was just recently introduced to some very unique books for infant and toddlers developed by children's author and publisher Harriet Ziefert. Begin Smart Books, are books designed to be age appropriate for your child's specific developmental stage. Most if not all of the modern bookstores carry books for young children, but always lump them together in such a wide age-range. As a parent, I go into a bookstore and spend a good deal of time in the 0-3 year section, looking for books that I think the boys may like and for the most part you have no clue and are blindly picking up books. These particular books I like. I like them because they give you a clear direction in what to choose (color coded by age) The colors are bright and the activities are fun. My two loved the "Look at Me!" book and took turns holding up to their face and "roaring like a lion" or "oinking like a pig". The activities are simple and versatile which encourage imagination and variety of learning opportunities. I look forward to seeing more from this company in the future..excellent choice in books! Look for them in your local bookstore…definitely worth picking them up for your little one! Happy Reading!
P.S. Keep checking back on your chance to get some of these wonderful books for your special little one!
The Five Love Languages by Gary Chapman
This is the current book that I am reading.  It talks about how partners or we as people express and receive love.  Chapman describes these five languages as 1) Quality Time  2) Words of affirmation  3)  Gifts  4)  Acts of Service  and 5) Physical Touch.
As a couple it is important that you discover what each other's love language is…that's what keeps the fire burning for you and your spouse!  For example for some people words of encouragement are high on their list and a wife that gives her husband continuous praise is speaking his love language fluently.  He will respond with love and feel like he is loved (his love tank is full).  For you it may be "Acts of Service" that keeps your love tank full.
But, say for instance, you are doing and doing all this stuff and your partner doesnt respond to it..perhaps it is the wrong love language!  You have to try what works!
For me I felt like I was in between two of the languages.  Acts of Service is a big one!  and Words of Encouragement.
I recommend you pick up the book…it is well worth the read!  Thank you Brian for giving me this book!
The Five Love Languages
by: Gary Chapman