I absolutely love The Cheesecake Factory, and in fact I was in mourning that there wasn't one near me, but in the last year they opened up one about ten minutes from my house!  I love all the choices they have on their menu and their cheesecake is to die for!  I admit I am not a huge fan of cheesecake but I never pass it up when I am there.
The Cheesecake Factory is giving away a trip for 4 to Florida!   You have the chance to win, just by sharing your pictures of a celebration.  Not only that, if you share the contest with your friends you can gain extra entries in to the contest. Take a look at the awesome prizes! You must hurry the deadline is June 30, 2009!
What you can win
By entering, participants receive a chance to win:
o Trip for 4 to Florida – Airfare, Hotel, Disney Resort Passes, and $1,000
o Chance to win a $25 gift card, or $500 in gift cards to Cheesecake Factory!
o Cheesecake for ONE YEAR!! (uh who wouldn't want cheesecake for a year from The Cheesecake Factory?!!!!)
How to Enter
During the Promotion Period, go to http://www.thecheesecakefactory.com/celebrate (the "Promotion Page") and fill out the online entry form. Complete and submit the online entry form including a valid home address. P.O. Boxes are not permitted. If this is your first visit to the site you will be required to upload one (1) photo or image of a celebration (the "Photo"). By uploading your Photo, you agree to the terms and conditions of these Official Rules, that your Photo conforms to the Photo Guidelines and Content Restrictions as defined below (collectively, the "Guidelines and Restrictions") and that Sponsor, in its sole discretion, may remove your Photo and/or disqualify you from the Promotion if Sponsor believes, in its sole discretion, that your Photo fails to conform to the Guidelines and Restrictions or if Sponsor determines, in its sole discretion, that removing your Photo is necessary in order to protect the name, reputation or good will associated with Sponsor or its parent, subsidiaries or affiliates.
Photo Guidelines

:

The Photo must be in .jpg format;
The Photo must not exceed 5 MB in size;
The Photo must contain a caption and description; and
The Photo's caption and description must be in English
The Photo cannot have been submitted previously in a promotion of any kind or exhibited or displayed publicly through any means.

Content Restrictions

:

The Photo must not contain material that violates or infringes another's rights, including but not limited to privacy, publicity or intellectual property rights, or that constitutes copyright infringement;
The Photo must not disparage Sponsor, Administrator or any other person or party whether or not affiliated with the promotion and administration of this Promotion;
The Photo must not contain brand names or trademarks other than Sponsor's mark, which entrant has a limited license to use for the sole purpose of creating and uploading a Photo in this Promotion
The Photo must not contain text, images or artwork not created by entrant;
The Photo must not contain or depict material that is immoral, unethical, illegal, inappropriate, indecent, obscene, hateful, tortious, defamatory, slanderous or libelous;
The Photo must not contain material that promotes bigotry, racism, hatred or harm against any group or individual or promotes discrimination based on race, gender, religion, nationality, disability, sexual orientation or age; and
The Photo must not contain material that is unlawful, in violation of or contrary to the laws or regulations in any jurisdiction where Submission is created.

The complete List of Rules are HERE
In honor of this celebration, The Cheesecake Factory would like to offer DoubleBugs readers the chance to win a $25 gift card to their restaurant!
All you gotta do is visit their site here, take a look around and drool a little and click on the link to  The Share Your Celebration Sweepstakes and enter if you wish!  The music is really catchy and you might find yourself dancing like me LOL!  Come back here and tell me what you love about the Cheesecake Factory and what your favorite celebration memory is.
THIS CONTEST IS CLOSED
For Additional Entries (*leave a comment for each additional entry*)

Add my button to your blog
Add me to your Twitter
Tweet about this fab contest and giveaway
Blog about it
Subscribe to my Blog
Add me to your technorati favorites
Contest starts June 29, 2009, and Ends July 31, 2009
Congrats to the Winner of the Little Miss Matched Giveaway!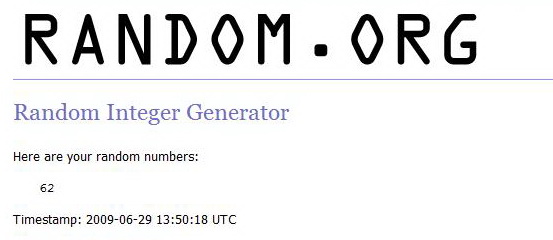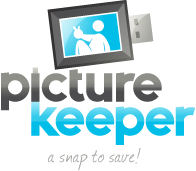 This day and age everything seems to be reliant on computers.  I know that I am on mine close to 8 hours a day and it is where I do a majority of all my writing and storing of just about everything.  Since we are smack in the middle of the digital age when it comes to cameras and taking pictures, it is only natural that you are storing them on your computer. When it comes to backing up images on your computer I bet a lot of us fail miserably.
I take tons and tons of pictures of the boys and I will have to sheepishly admit, that I don't have too many of them hanging on my walls. Let's face it in the digital age of picture taking, we all get lazy and get all too comfortable with the idea that we have them stored somewhere on our hard drive.  The reality of it is, that, hard drives fail and ultimately put you at risk for losing all of your precious memories.  My husband has a server in which he keeps a lot of our important files and photos on, but even then, I like to keep a disk or something that holds my pictures in a safe location far away from the computer.  Anything can happen and knowing that I have some alternate location for storing my photos eases my mind.
Up until now, there really wasn't an easy way to gather all of my pictures on my computer.   I store all of my photos in different locations on my hard drive.  I have photo files dedicated to reviews that I do here, my photography business stuff is stored in another file, and the pictures of my boys are in another.   So everything is sort of all over, and wouldn't it be nice to just be able to  have a device that does all the work for you and gathers all the pictures on your computer, organizes them, and wahlah, you have them all together?
Well now there is a simple solution, and what I like to call my magical anti-stress device, called the Picture Keeper. I was recently given a Picture Keeper to try and I am very impressed!  The Picture Keeper is a little USB flash drive that creates a backup of your images simple by plugging it in your computer and clicking the "start backup" button.  Then it works its magic and finds all images with jpg extensions on the computer. If you wish to backup other images with a different extension there are advanced option to where it can save additional file types.   The folders and sub-folders are copied just as they are on you computer! And it gets even better. If you have multiple computers, which I do, you can just plug it in on the next computer and do the same thing.  There is no special setting, and Picture Keeper does the work.  When you want to go back in and update your files and do another backup, you don't have to remember what files you have or haven't gotten because the Picture Keeper will do that all for you as well. Do they make husbands like this? LOL
Being someone who takes a lot of pictures and in the photography business, I am always conscious of the fact that I have so many pictures and that computers do fail, and having some other form of a back up is critical. The Picture Keeper is nice because I can set up a few different backups and store a few of these flash drives in various locations. I would recommend getting several,  and keeping one in your home, giving one to a trusted family member to hang on to, and maybe keeping one in another location. This way you have multiple back ups in case something happens with your home then you have all your memories preserved.  Just to see how it worked, I plugged it into my laptop and let it go.  Later when I did a backup on my main computer with all my photos, it was just as simple.
ABOUT PICTURE KEEPER
Inventor Matthew Stanchie knew there had to be a better way to backup digital images. Despite working
for Hewlett-Packard, the thought of backing up his personal photos gave him a headache, and he could
only image what others without a background in computers went through. So, he created a user-friendly
program that automates the task (making sure to get the approval of an evaluator from his target
demographic—his wife.) Picture Keeper plugs into any PC, including Macs, and copies all images with
one click. With Picture Keeper, it's a snap to save.
Picture Keeper is available in 4GB, 8GB and 16GB sizes online at www.picturekeeper.com.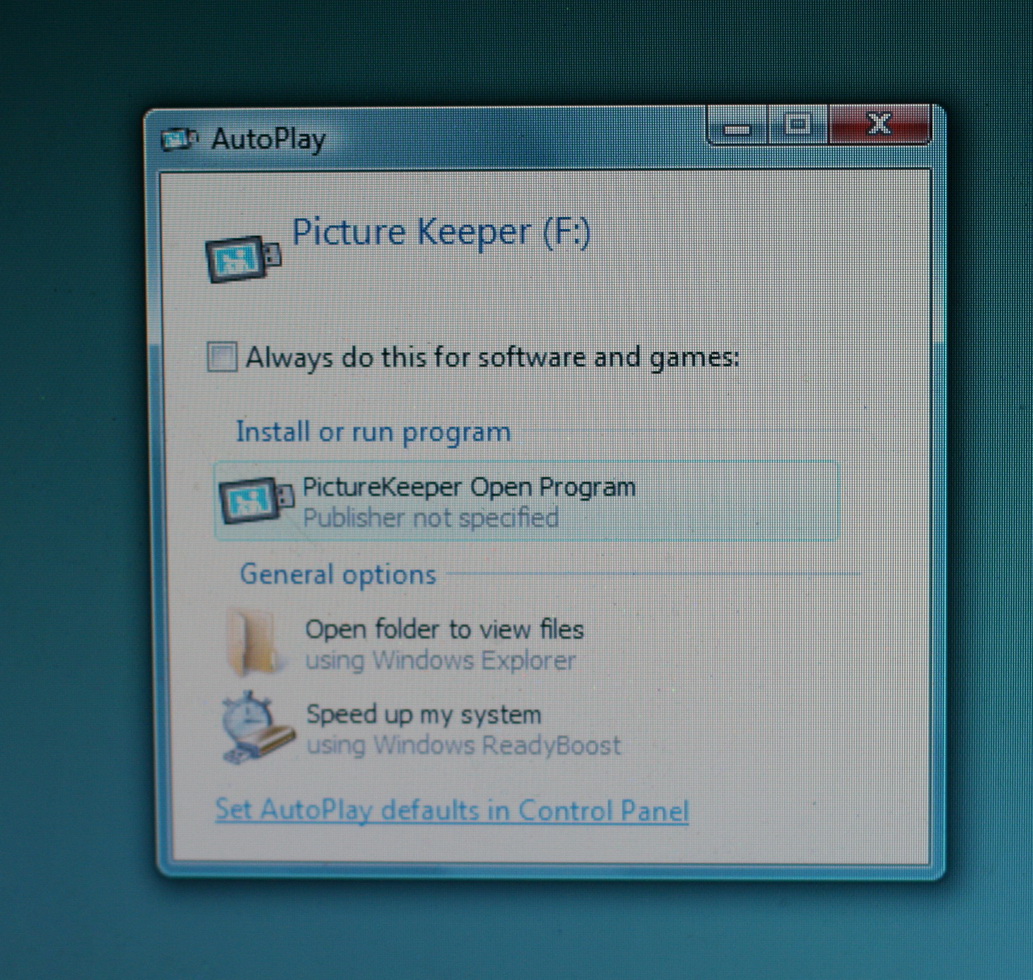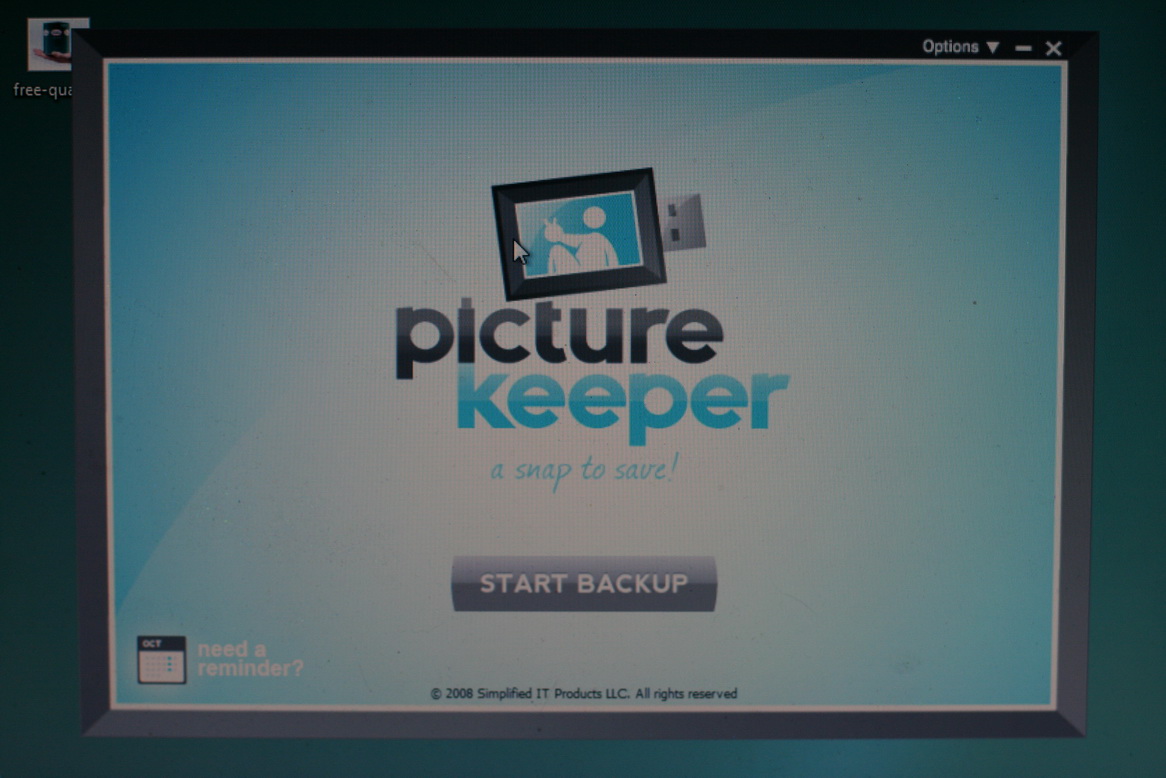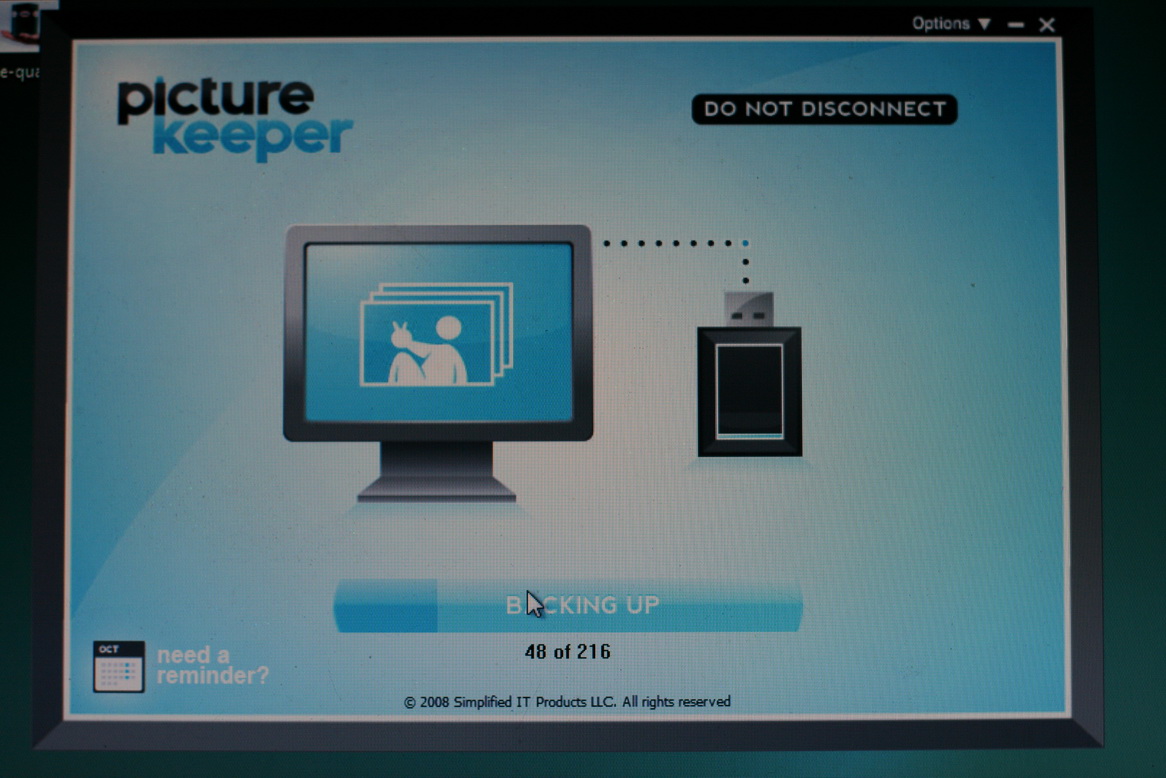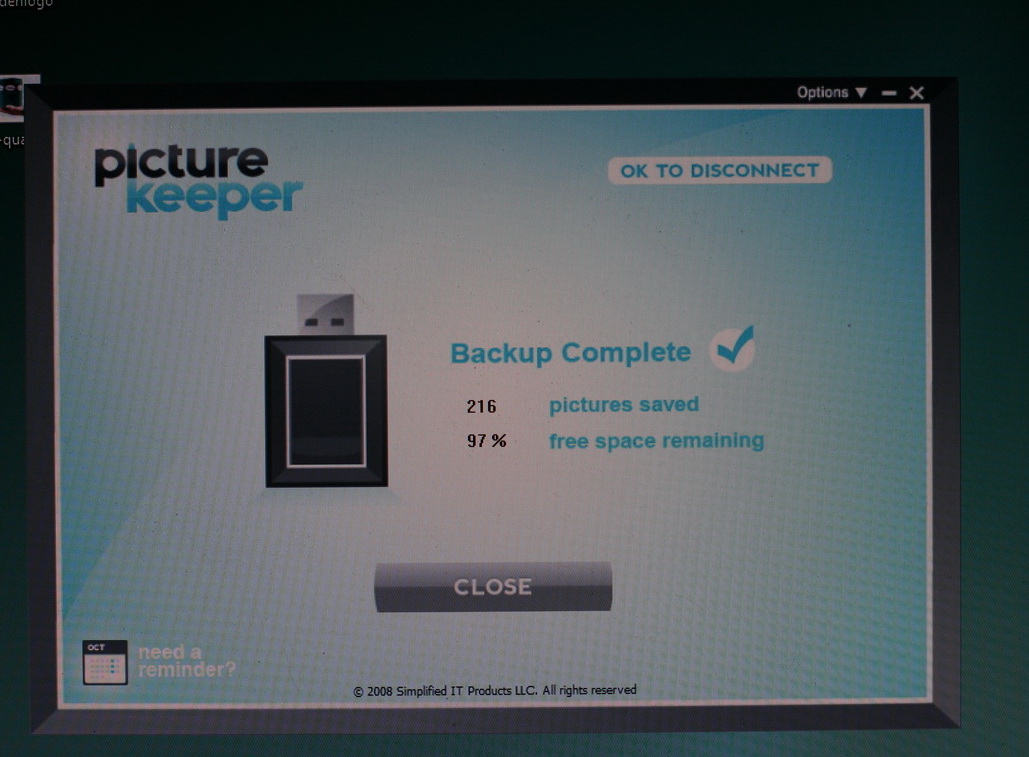 I was amazed at how fast all my files were backed up and how easy it was to use. Anything that can make my life easier, is a huge plus. The Picture Keeper is so awesome that Dr. Toy awarded them with a Best Vacation Product for Summer 2009 Award. I definitely give The Picture keeper the mom seal of approval and I applaud it's ease of use. It isn't a complicated gadget and yet it is worth a million dollars if something ever happens to your photos. Picture Keeper retails for 8GB ($39.99) and 16GB ($59.99).  The price is worth it when you consider how much it would be if you lost all of your photos!
Would you like to win a Picture Keeper of your very own??? DoubleBugs is giving away an 8GB Picture Keeper to one lucky reader.
THIS CONTEST IS CLOSED

Here's what you gotta do.
Mandatory
Leave me a comment and tell me one of your worst nightmares in losing your photos or why you think you might like to have a Picture Keeper.
For Additional Entries
You can tweet about this contest
Blog about this contest
Subscribe to my feed
Add me to twitter
Add me to your technorati favorites
Grab my button
Winners are Chosen Via Random.org
If Winner does not respond in 48 hours a new winner will be drawn
Contest Starts June 28, 2009, and Ends July 31, 2009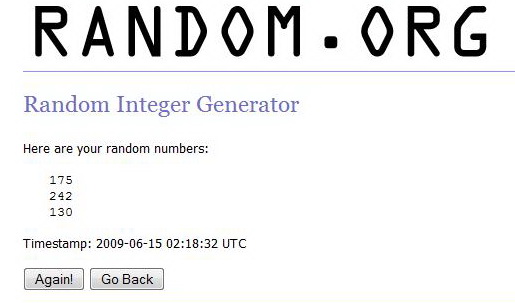 With Valentine's Day right around the corner, I always find myself looking for something different to give my husband. The traditional cards are fun but not unique and I am always wondering if I gave the same card to him the year before!
I just recently got to try out Snapily, an online photo service that uses special effects like animation and 3D to bring printed photos to life. They just recently came out with a great selection of Valentine's for your special someone. How fun would it be to bring out a little vixen in you, and take a few sexy pics to create a Valentine's Day Card he will want to hang on to? Grab your camera, set the self-timer, and take beautiful, and glamorous photos to add to any Snapily card. Choose the 3D effect to add depth to that pin-up pose, the morph effect to blend two romantic images together, or the flip effect to create your own strip-o-gram.

Besides Valentine's Day you can also create fun announcements, birthday cards, business cards, and you will surely get noticed. My favorite feature is the flip effect because it allowed me to put a picture of both the boys on a card. This is such a cute idea to send out  cards for any occasion. You have so many options that you can let your imagination run wild. If you hurry you will be just in time for Valentine's Day! You have until February 7th, for regular standard delivery and until February 11th for 2 day shipping.
THIS CONTEST IS NOW CLOSED THANK YOU TO ALL WHO ENTERED

The folks over at Snapily want you to be able to design your own fun greetings or special gift for someone so they are offering DoubleBugs readers $25 to use on your Snapily order!
So here's what you gotta do!
* Visit Snapily and have a look around and come back and leave a comment and let me know what you would choose and what idea you have for your project.

* Leave me an email so I have a way to contact you if you win

* Winners are chosen at random via Random.org.
For Additional Entries (please leave as an additional comment):
* Tweet about this post
* Follow me on Twitter
* Blog about my contest and give me the link!
* Put my badge on your sidebar
That's all you gotta do!
Contest starts Feb 6th, 2009, and Ends Feb. 23, 2009
Good Luck!!!!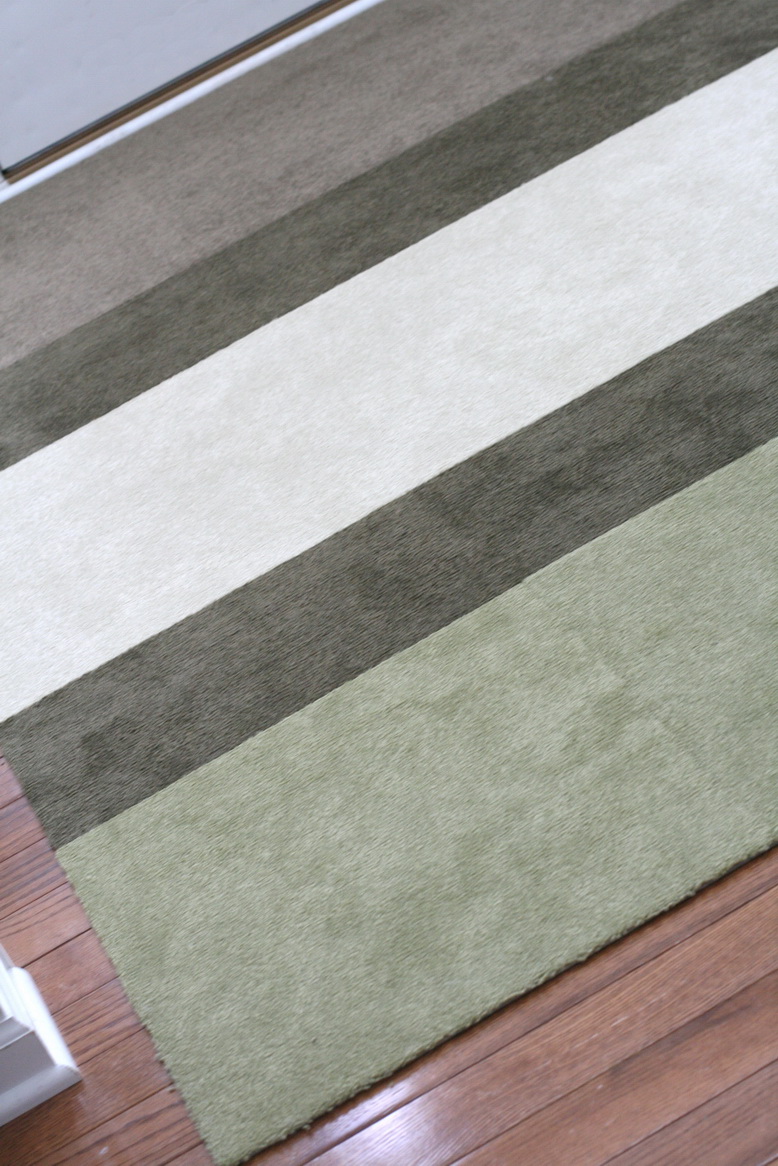 I am almost always looking for ways in which I can change things in our house to help update the look.  It isn't easy to change furniture because these are the big ticket items in your home.   I always love to shop for small things like rugs, or pillows, or a new place mats to help change things in the house.   Let's face it, if I am spending all my days at home, a change is always nice.
I recently was introduced to carpet tiles from FLOR.  I had watched the show Trading Spaces many times and I remember seeing an episode where they carpeted a room with FLOR carpet tiles.   This is such a cool way to change the look of an area in your home!   Not only that, they are so versatile, in that, you can mix and match colors, cut the tiles to make a cool floor pattern, and it is so incredibly easy to do!
I was extremely excited to get this opportunity because I was dying to give them a try, and so sick of the boring rug choices that you find in the stores.  Since this was my first experience using the tiles, I was primarily interested in how these things work and how they stay stuck once you had your design laid out.  Each tile is held together by a little circle of genius called a Flordot.  The Flordots are so easy to apply and hold the tiles together perfectly making it easy to move your masterpiece around if you need to.  When you want a change the tiles  come apart easily and you can store them, so if get bored you can change it up.  If you run out of Flordots you can just order more!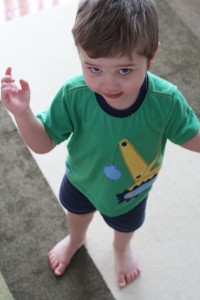 I was putting together FLOR's Seagrass Rug which looks absolutely stunning in my entry way.  It is made from their plush collection of tiles and it is so soft and feels great beneath your feet! I cannot tell you how much fun I had putting this rug together, and it makes you want to do even more.  It's a bit addicting and I was somewhat bummed when I ran out of tiles to stick together, because I was on a roll.  I am already looking for more reasons to go buy  more FLOR tiles to do various areas in the house.  We are looking to move the boys play area to the basement, one of these days, and this would be an ideal place to use them. Another thing I would definitely recommend when getting your FLOR rug is their cleaning kit, so you always have something on hand for the occasional spill or mishap to keep your FLOR tiles looking nice.
Thank you FLOR for such a ingenius product and we love our new FLOR rug! It is now a favorite playing spot for the boys and they love to hang out there where the sun pours through in the morning.  If you are looking for new flooring for your home or just something to spruce things up, this is definitely a really cool option.   There are tons of choices so you can let your creativity run wild and their prices are easy on budget too!
THIS CONTEST IS NOW CLOSED!!! THANK YOU TO ALL WHO ENTERED!

I have a really awesome announcement for my readers here at DoubleBugs!!! FLOR was kind enough to allow me to give one lucky winner the chance to win a FLOR Seagrass Rug of their very own!
So here's what you gotta do!
Visit FLOR and have a look around and come back and leave a comment and let me know what other cool rug you might like and what room in your house you would like to use it in.
Leave me an email so I have a way to contact you if you win
Winners are chosen at random via Random.org.
For Additional Entries (please leave as an additional comment):
Tweet about this post
Follow me on Twitter
Blog about my contest and give me the link!
Put my badge on your sidebar


That's all you gotta do!
Contest starts February 5, 2009 and Ends February 23rd, 2009
Good Luck to You!