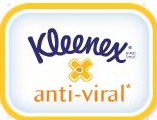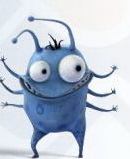 With all this talk of the swine flu it almost has me paranoid when the boys get even the slightest sniffle.  I must look like a total germaphobe at the grocery store when I am in race to wipe down the cart before the boys even touch it.  You hate to feel like you are paranoid but with having one child that is prone to bad asthma and the other who had so many ear infections, I try to be as vigilant as I can to keep things as germ free as possible.
Kleenex has introduced their Anti Viral tissues.  I think it is a really great concept from a Mom's point of view, when their are snotty noses in the house, I feel like I am constantly wiping somebody's nose and that in itself spreads plenty of germs.
About Kleenex Anti Viral

In our house we have been reading to the boys from a very early age nightly before bed. Sometimes we read one book and sometimes we read three. Reading is such an important factor in a child's development of language skills, and literacy.
Sometimes though, many children in lower income families simply don't get read to or cannot afford to have books in the home. Even worse, some of the lower income education centers and daycare lack a supply of age appropriate books. And, a recent study shows that the ratio of books per child in middle income neighborhoods is 13 to 1, while in low-income neighborhoods, the ratio is 1 age-appropriate book for every 300 children.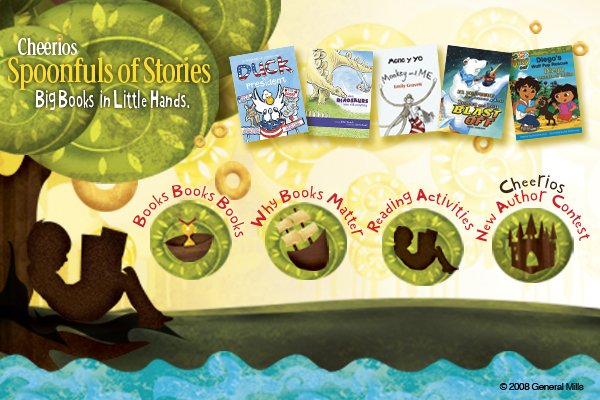 The Cheerios family of cereals, First Book and Jon Scieszka, author of the popular "Trucktown" series (which my boys simply adore) and other children,s books, have joined together to deliver 100,000 books to community-based programs serving children in need.
In order to help, all you have to do is go online with your child and test your combined knowledge of children's books by answering trivia questions related to "Trucktown" and other great children,s books.
For every trivia question answered correctly, you can cast one vote for the state you would like to receive books! The five states receiving the most votes will get 20,000 books each, for a total of 100,000 books. Visit www.FirstBook.org/Scieszka to test your knowledge and start voting.
I cannot think of a better way to help out communities in desperate need of books. Not only that, it is such an easy way to participate to make a big difference. Reading is a great way to make memories and to instill a lifelong love of books.
In helping get the work out about this great program, DoubleBugs would like to send one lucky reader an assortment of books from Cheerios, one of the many varieties of Cheerios cereals and a $25 gift card to Barnes & Noble.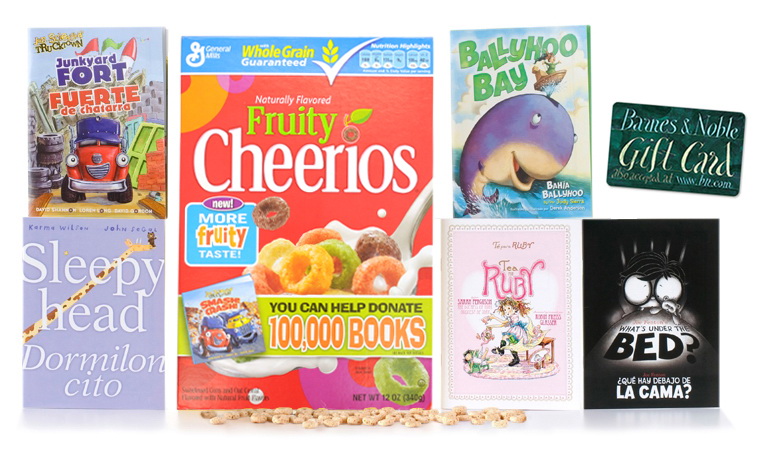 Here's What You Gotta Do
Visit www.FirstBook.org/Scieszka and vote for the state you want to receive books and come back here and tell me what you think of this great program and one of your favorite books your child loves.
Additional Entries
Tweet about this great contest
Add me to your twitter
Blog about this giveaway
Grab my button and post it on your blog
Add Me To Your Technorati Favorites
Contest Starts December 14, 2009 and Ends January 15, 2010
Good Luck!!
**Cheerios provided you with the free product, information, and gift pack through MyBlogSparkTM**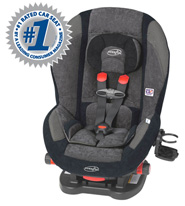 I have two three year olds and they will probably be in their car seats for at least a few more years. Choosing something that is there to protect your child in the event of an accident can sometimes be a daunting task.  The law would prefer that you have them in a seat of some sort up until the age of 8 I believe, or children that are below the height of four foot nine inches.  My boys have a lot of growing to do before they will be even close enough to be out of their car seats.
As a parent, this has been one of the bigger investments we have had to make. Being a first time parent I was overwhelmed at the choices and all the information when choosing a car seat.  We started out with two carriers, which grew to a bigger seat which only accommodated them till they were 40lbs in weight.  At three years of age they haven't reached their weight limit for those particular seats but they outgrew them well before they would have even gotten close to 40 lbs. So after that, I had to take a closer look at our choices for car seats for them.
As you know, car seats can be a rather pricey venture for parents, and especially if you have multiples.  Even though I felt like I was taking out a small car loan just to get them good seats, I wanted them to last this time.  We had two car seats situated in my vehicle since, I have the boys the most.  I have an SUV which is a gas guzzler but it was big enough to fit the boys in the back comfortably.  After awhile we decided that my husband should have at least one seat in his car for trips to the doctor, or when we wanted to divide and conquer.  His vehicle was more economical in terms of gas but much smaller.  We could have moved the seats when we needed them, but if you  know anything about car seats, once they are in a car, it is a pain in the butt to move them again.
We currently own, two Britax Regents, A Safety First Complete Air, our Previous Car Seats were Graco Comfort Sports.  We have have a few different brands to kind of compare.  Recently, I was offered the chance to review an Evenflo Triumph Advanced LX so I was interested to see how it compared to all these seats that we currently have.  If I am in the market for a car seat, I look for a few different things.
I look at the overall cost, the size of the seat, the weight limit, the buckles and straps (can I reach back and undo them with one hand etc), if the seat cover is able to be cleaned (because we all know that kids are messy), and if it looks comfortable and if I can find safety ratings on them.
When the seat arrived, we got it out of the box, and my initial reaction was that I was going to like this seat.  The seat itself was well padded and appeared to be comfortable to the boys when they sat in it.  Before we even got it in the car, I wanted to see how to adjust the shoulder straps.  The Evenflo Triumph Advanced LX, already has one exciting feature that I loved right away and that is the way you turn the dial on the side to adjust the straps.  It makes it ten times easier to work on the side of the car seat with a dial rather than fumbling in between the child's legs to find the well hidden button to release the straps and or tighten them.  The shoulder harness using Evenflo's Infinite Slide which is amazing in that, you can adjust them just by sliding the red tabs up or down.  There is know threading and re-threading the harness belts to readjust.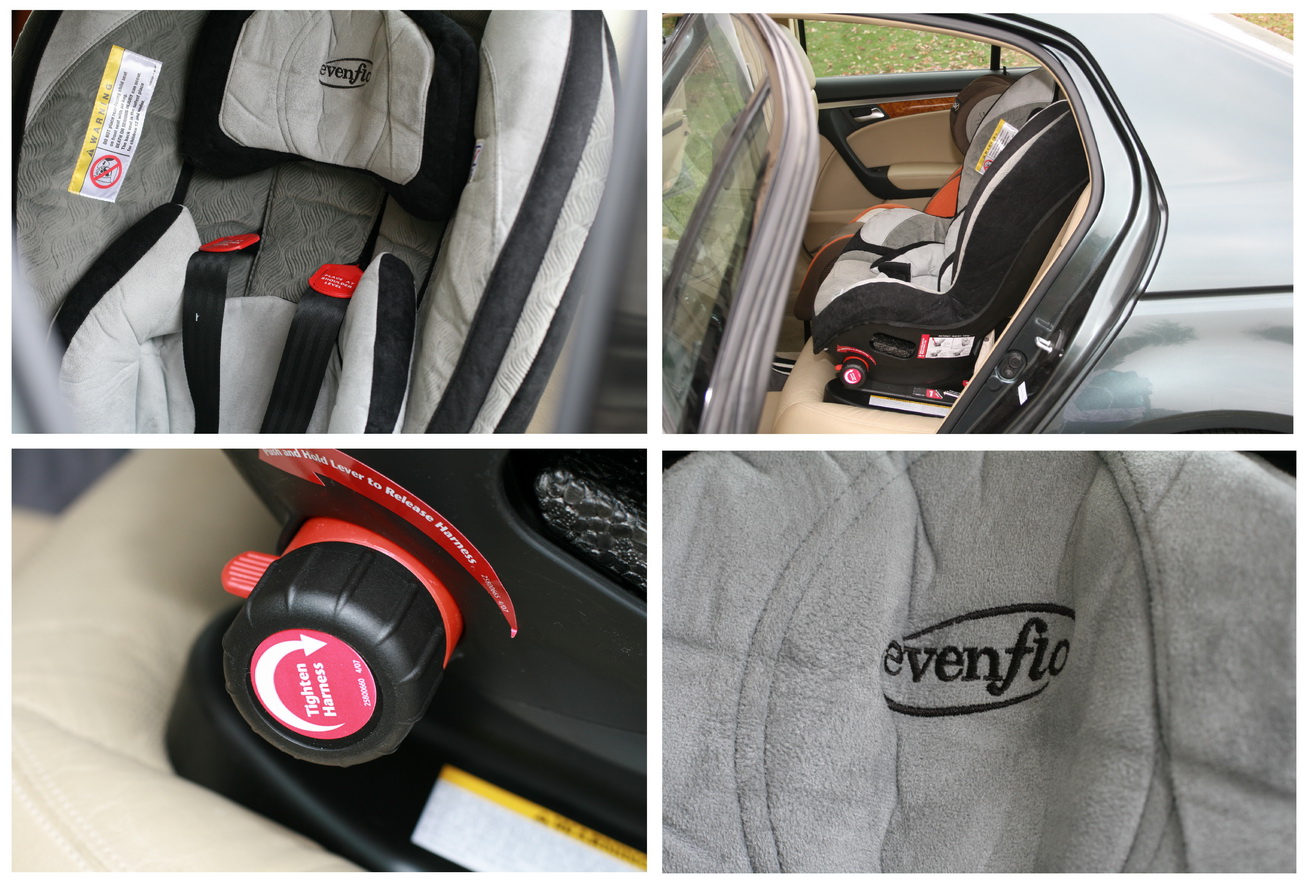 My husband has a relatively small car and I was worried about how far the seat may or may not overhang in the back.  Since my husband has relatively long legs, he tends to move the drivers side seat to the farthest position in his car which in turn leaves little leg room for the boys in the back.  The Evenflo Triumph Advanced passed this test with flying colors and sits far enough back on the rear seat that they still have ample leg room.  In comparison to our Britax Regents, this compact seat has a lot to offer in functionality and works well if you are limited on space.
When setting up the seat in the car, I almost always struggle to get a car seat in the car because you have to do a lot of maneuvering.   The Evenflo Triumph Advanced was fairly easy  on installation.  The seat had ample room to reach through the space when threading the seat belt through which is nice when you are trying to fit your adult hand through.   I struggled with installing the metal locking clip which is always the case, I wish they would make something that was a bit easier to deal with.  One thing in particular that I didn't care for, and I have the same problem with a lot of the seats we have had, is that, the harness belt gets twisted very easily on the Triumph Advanced as well as most other seats, and if you aren't used to getting it back, you will find yourself fussing with untwisting it very often. The padding itself is machine washable which is a must for a car seat in my opinion.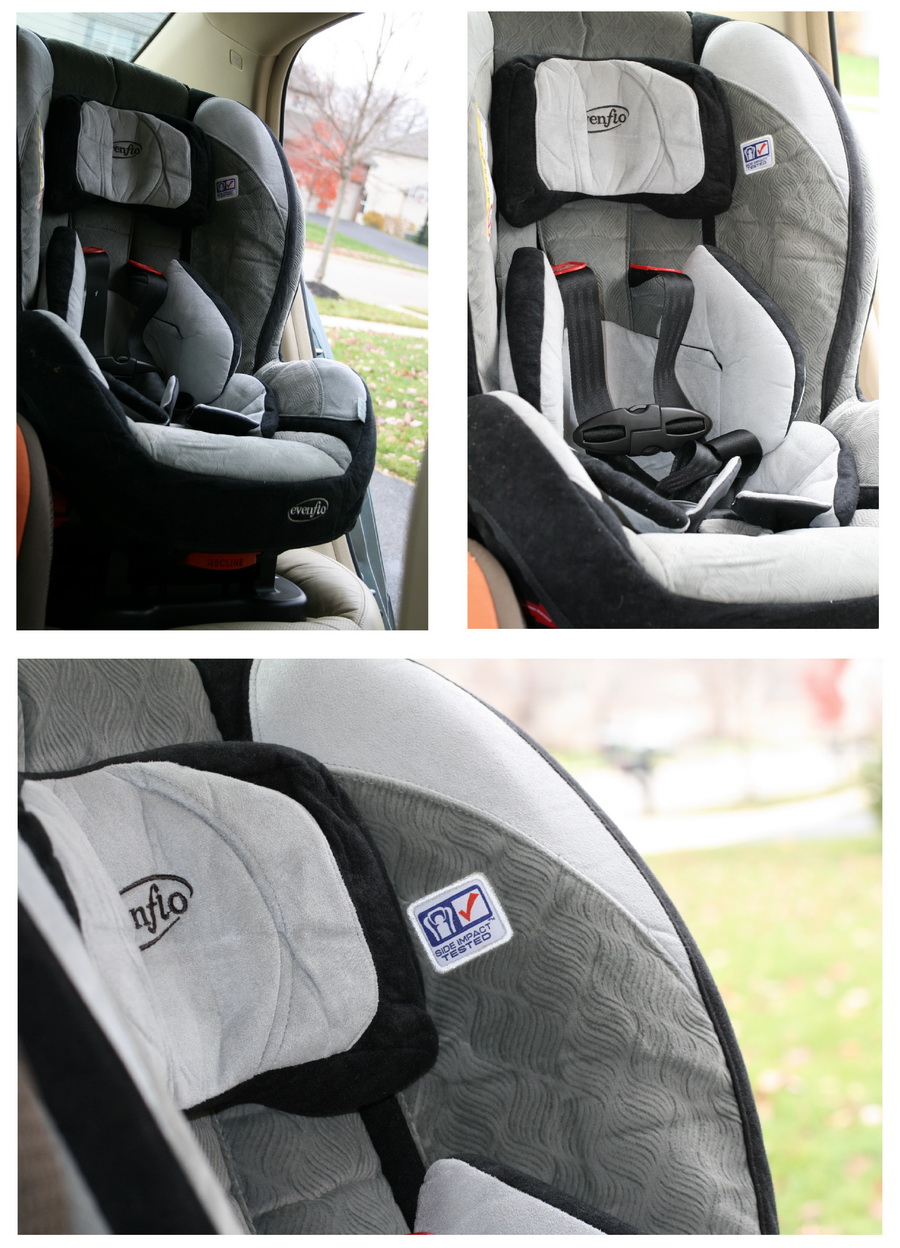 In general, this is an excellent seat for the price ($120-$150), and the boys both seem comfortable riding in it.  The Evenflo Triumph Advanced will also be with your child probably until they are able to ride in a booster which is nice.  You can use this seat with infants rear facing from 5lbs to 35lbs and forward facing from 20lbs to 50lbs.  For safety, it is recommended that you keep your child rear facing for as along as possible.  We love the Evenflo Triumph Advanced and it is really nice for compact cars.  It comes in about seven different color combinations so you can easily find something that looks nice in your vehicle.
Evenflo Convertible Car Seats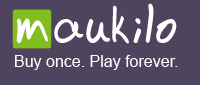 It is that time of the year again where parents are in a scramble to find that perfect toy for their children. The holidays are a wonderful time of the year, but along with all the merriment of it all, there is also a lot of stress. This year with many parents being budget conscious, you tend to want to find some of the hottest toys for 2009 but also toys, that your children will certainly be interested in for longer than five minutes.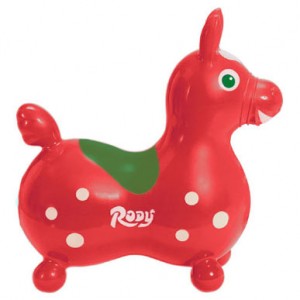 Each year I try and sit down and make a list of things that the boys seem interested in and start looking for things that sort of combine that interest with things that are going to last when they play. I ma a huge fan of wooden toys, and toys that are more educational. I still buy the boys some of the mass marketed toys but, I also like to get things that are a little more meaningful or have what I call higher quality play value.
One of my favorite places to visit for shopping is Maukilo. They are a great site that is owned by HABA, and if you know anything about HABA toys you will know that they make some of the greatest wooden toys. I have toys made by HABA that are still in perfect condition and can easily be passed on to another child and I love all of their brightly colored toys.
We were recently given the opportunity to pick one of the many wonderful toys that Maukilo has to offer. Amongst the great collection of HABA toys , they offer so many other choices. We were sent Rody the jumping horse and I could barely get the thing out of the box and inflated because the boys were literally bouncing with excitement to get on this thing. Rody is an inflated ride on horse which you can inflate more as your child grows. Balance and coordination are tested as kids enjoy hopping on their Rody. Made of latex-free vinyl, in Italy.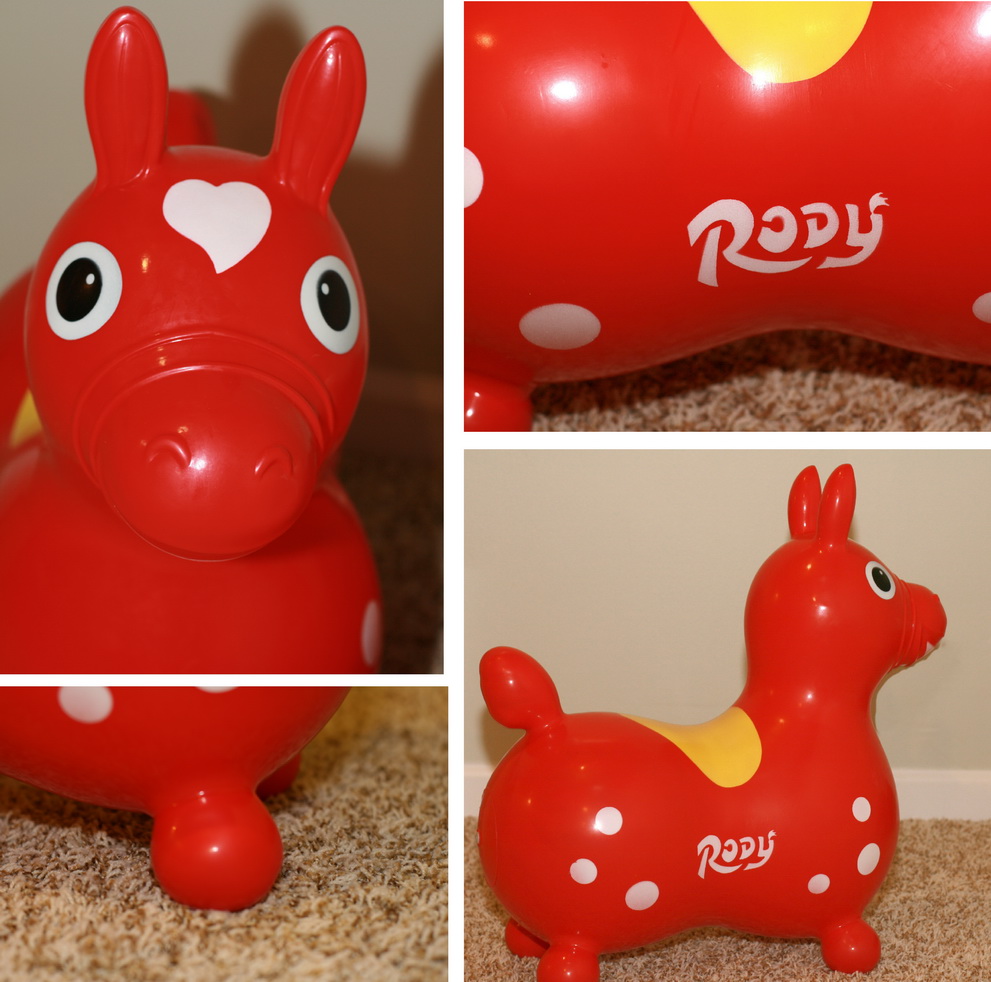 My twin 3 yr olds have boundless energy, and I can tell you that I am a huge fan of Rody. They hopped all over the house in this thing and it is perfect for expending all that pent up energy. I am thinking this is going to be excellent for the winter months when they are stuck inside! When I first looked at this inflatable horse, I couldn't imagine how much fun they would have, but they had a blast on it, and now I am thinking I will have to get them another one so they don't fight! Rody is a perfect gift to have under the tree and Maukilo is a great place to make that holiday magic happen.
**Rody the horse was provided to me free for review by Maukilo.com  the opinions expressed here are that of my own**
As part of the gift giving season, and to introduce you to a wonderful site. DoubleBugs and Maukilo would like to give readers the chance to win a $50 gift certificate to Maukilo.com to do a little holiday shopping for your child and light up their faces on Christmas morning.
This Contest Is Closed!

To Enter Here's What You Gotta Do!
Visit Maukilo.com and tell me what you would like to buy with your $50 certificate and who you would like to give the toy to.
Additional Entries
Tweet about this giveaway
Add me to your twitter
Blog about this contest
Add me to your technorati favorites
Add my button to your sidebar
Contest Starts November 22, 2009 and Ends December 15, 2009
GOOD LUCK!!!!
US Residents Only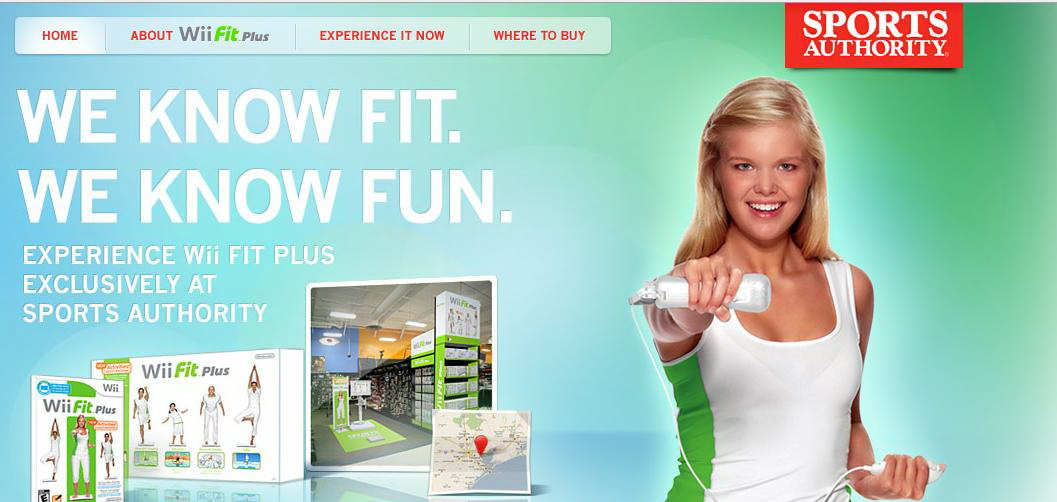 We are a huge Wii family here and love the opportunity to try out anything new.  With the Wii Fit board it has made it possible to have fun while getting in shape.  When  you are on a Wii Fit board you sort of forget that you are doing any work at all and that is my type of workout!
I was naturally excited to find out  that Sports Authority is teaming up with Nintendo to create a new way to experience fitness gaming.  Sports Authority will be selling Wii gaming consoles, Wii Fit and Wii Fit Plus, as well as various accessories and games for the Wii, in its stores.And to help you get to know the Wii better, Sports Authority will create a "We know fit. We know fun." experience at 102 of their stores. Stores will feature a dedicated area with a demo unit and knowledgeable trainers to help customers try the Wii Fit Plus before they buy! This is a great way to trade those boring workouts of the same thing  for something that is fun for everyone.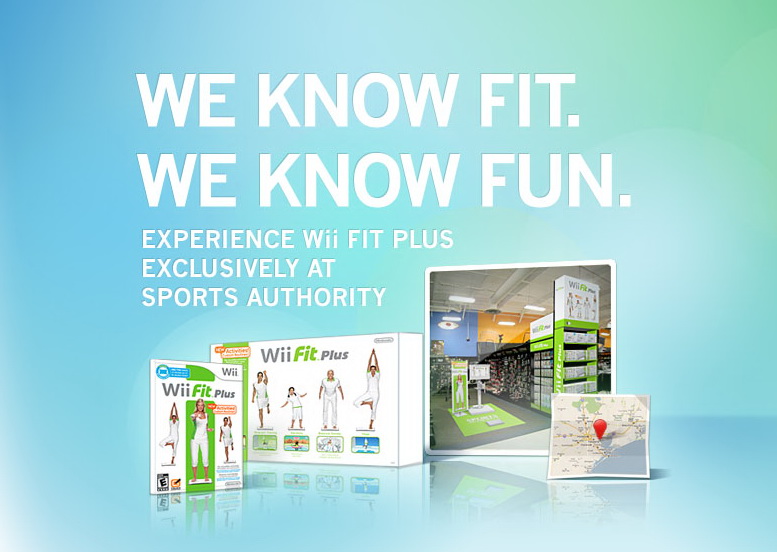 To kick off this great new initiative and campaign to get fit the Sports Authority is launching this experience on Thursday, Nov. 19 at its store in Torrance, Calif. (located at 3610 Torrance Blvd., Torrance, CA) starting at 9:30 a.m. If you are in the California area, the event will feature Jillian Michaels from the *Biggest Loser*, and the World's largest Wii Fit Demonstration with 102 people and tips from Jillian Michaels.  They are also giving away some really awesome prizes, Wii Fit boards included, so you won't want to miss it!
I can't think of a better way to get thinking about those dreaded New Years resolutions of getting in shape.  Rather than dreading it, why not make it fun!   You can find out more by visiting the Wii Sports Authority page.
As an incentive to get your body moving and in shape, DoubleBugs,  SportsAuthority and Nintendo, want to give readers a chance to win the Jillian Michaels' new fitness game for the Wii and a Wii Fit Plus board!
Here's  What You Gotta Do!
Visit Sports Authority and tell me what you would like to have to go along with your Wii Fit Plus Board and why you want to have a Wii Fit Board and come back here and leave me a comment
Additional Entries
Tweet about this great giveaway and Sports Authority
Add me to your Twitter
Blog about this great contest and Sports Authority's new program
Favorite me on technorati
Subscribe to my blog
Good Luck!!
Constest starts November 19, 2009 and ends December 12, 2009
Hello from bloggy world folks!  I have a few winners to announce.  All winners have been contacted via email.
Pillsbury Simply Giveaway
Congrats to Rebekah
Comment #129> blogged3
http://tennrose.blogspot.com/2009/09/pillsbury-simply-refridgerated-cookies.html
Yoplait Whips Winner
Congrats to Jammie
Comment#90> I love the strawberry mist frozen it is so yummy.
Zhu Zhu Pets Giveaway
Congrats to Susan
Comment#132>  Added your button to my blog!

I love being able to have versatility in the products that I have in my home. If you are anything like me, I get the urge to do something different in just about any room in my house. I love to do simple changes that help to rejuvenate a room and sometimes you can literally turn it into a completely different space.  When it comes to carpeting, carpet tiles or rugs are one way in which you can spruce up a dated area in your home.
I first laid eyes on the FLOR flooring system when I was watching an episode of Trading Spaces. There are a million different things you can do with flooring when you are using carpet tiles from FLOR. They offer every color and texture you can imagine and the possibilities are endless when it comes to decorating your space. Even though the floor is beneath your feet, it is something you notice when you walk into a room. You can bring color into the room, or tone it down based on the type of carpet tiles you use.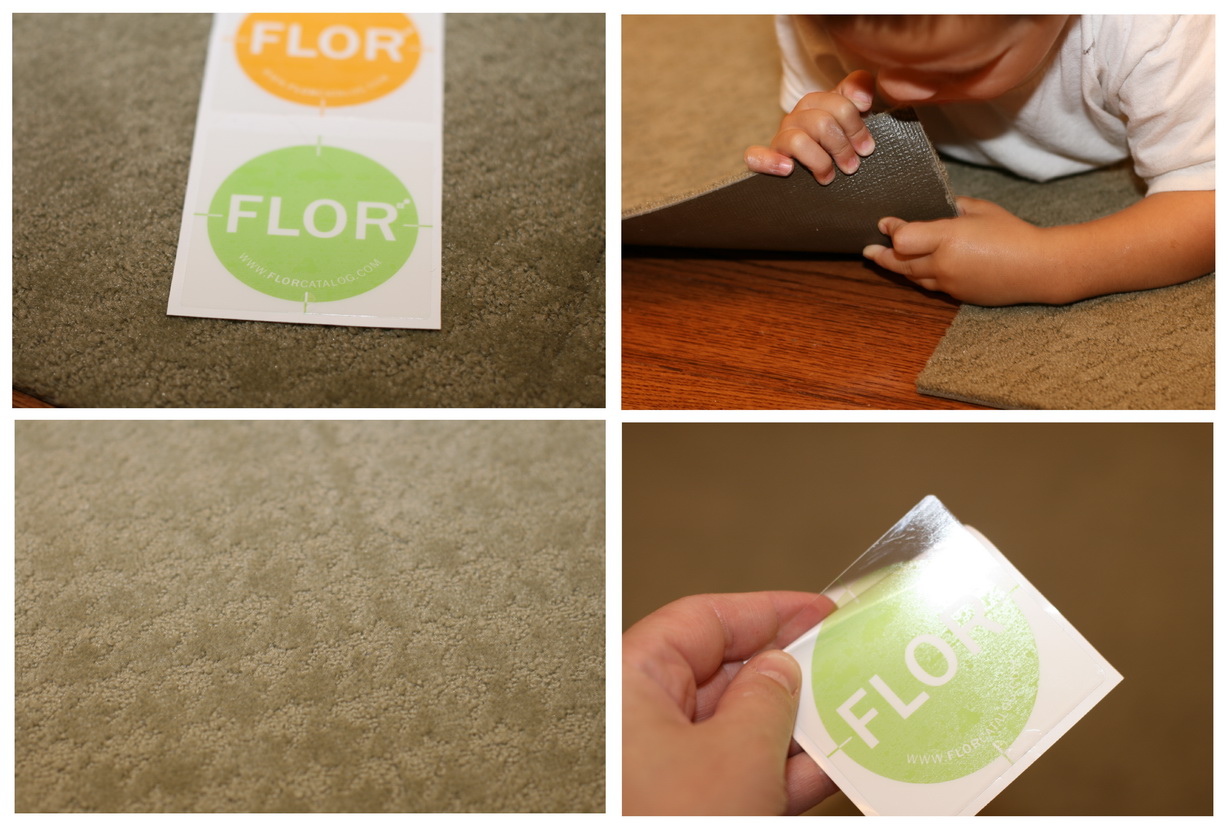 We aren't new to FLOR in this house, but each new rug from FLOR is still just as exciting as the first. We currently have FLOR  in our kitchen and entry way. We have hardwood floors, and FLOR is great for protecting them and adding a great design element. When I saw their new Fall line of carpet, I had a hard time deciding what to pick. They have so many great patterns that are rich in color and textures. We had the chance to try the  All Bark No Bite in Meadow. This particular pattern is an over sized, slightly raised hounds tooth pattern.  The color matches beautifully with the greens that I have in my home and it instantly changed the look of the foyer. The kids wanted to do somersaults on it and the dog quickly claimed it as her own.

The best part about FLOR is how easy it is to put together. I must warn you, that this process is extremely addicting and can lead to a new obsession. My husband offered to help me put this one together, but I told him to go away because I have so much fun putting FLOR tiles together. Each square goes together snugly and is held together by what I call "a  little circle of genius," the FLOR Dot. The first time I used a Flor Dot I was a bit skeptical about what I called a sticker, holding these tiles together, but I was amazed at how great they do hold. You can actually move the entire rug around after your FLOR Dots are in place.  All you have to do is line up your tiles, and place FLOR Dots to hold them in place.  Each FLOR Dot is center marked on all four sides which makes placement a breeze. The process took me all of about 15 minutes and I had a beautiful new rug in my foyer. I love the subtle pattern in the All Bark No Bite rug and how nice it feels to walk on.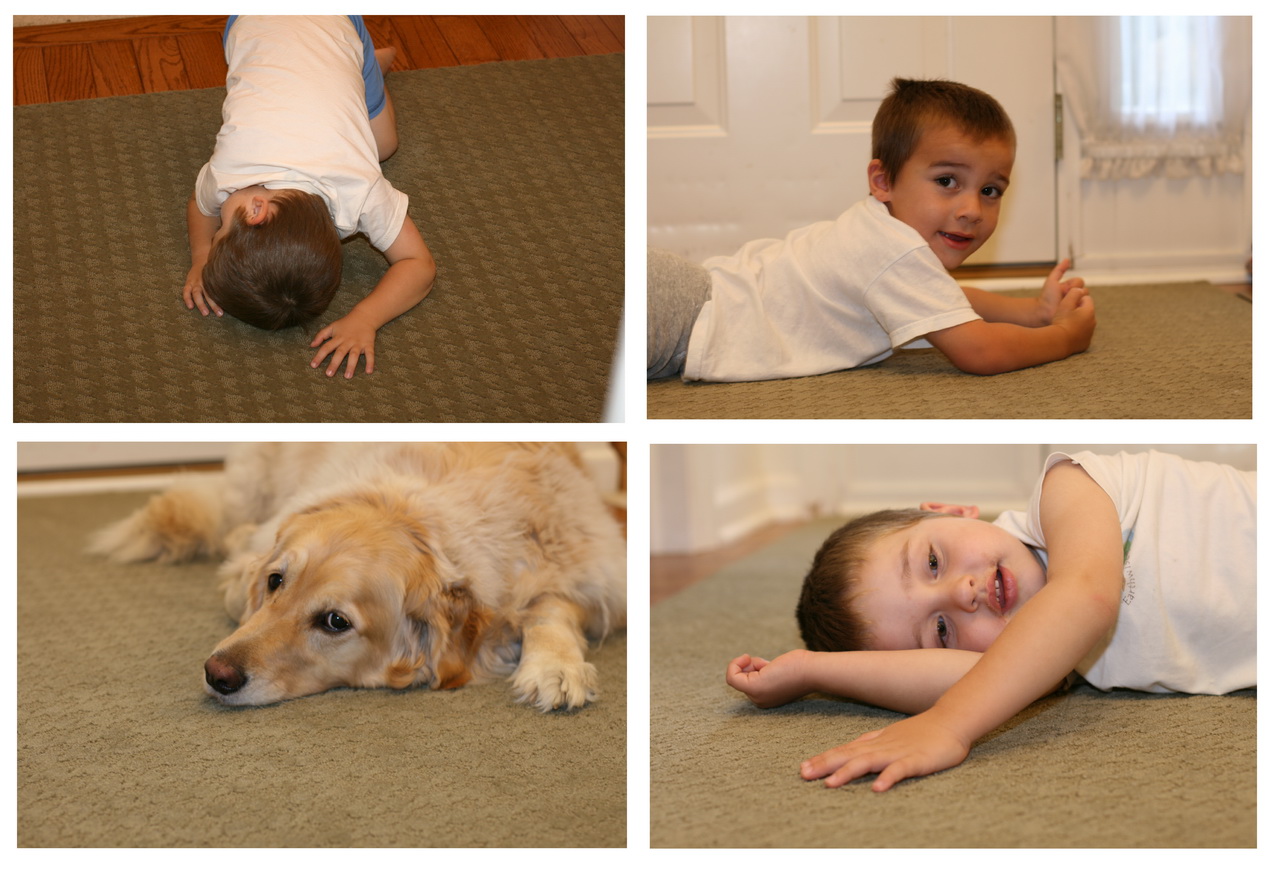 The possibilities are virtually endless when it comes to FLOR. You can even make some pretty ambitious patterns from cutting and splicing various tiles together. So if you have a creative mind and floor to use it on, FLOR is ideal. It opens up so many more options than the same old boring flowery rugs in the store, or rugs that just don't quite match. FLOR is one product that I absolutely stand behind because it is innovative, the designs are endless, and the prices are reasonable. Once you try it, you will never go back! Check out their newest additions for Fall.
**This product was provided to me by FLOR for review. The opinions expressed here are strictly that of my own.**
THIS GIVEAWAY IS NOW CLOSED!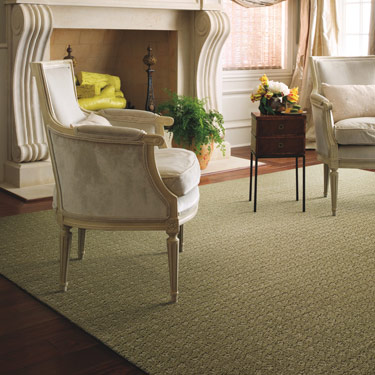 To celebrate FLOR's New Fall line of flooring, they would like to offer one of DoubleBugs' readers the chance to win a 5×7 FLOR rug (12 tiles) of choice (excluding Coir and Shaggy Sheep)!
Here's What You Gotta Do
Do a little dance (just kidding!)  Visit FLOR and tell me what rug you would like to have and what room you would dress up with a new FLOR rug.
Additional Entries
Blog about this contest with one link to my site and one link to FLOR.com (5 additional entries gained.  Please leave a separate comment for each.
Tweet about this giveaway ( you can tweet once a day for one entry)
Add me to your Twitter
Add me to your technorati favorites
Subscribe to my blog
Contest Begins September 28, 2009 and Ends October 31, 2009
Winners Chosen via Random.org
Winner must respond within 48 hours
Good Luck!
I can remember when  my husband and I were on a quest to find a Wii gaming console and how difficult they were to attain.  On a visit to see my parents, we got wind of a shipment at a local store and he raced up there and got one of the only five that they had received.
I am not a huge gamer, although I was brought up playing Nintendo when I was a kid and I have been a fan of their games ever since.  I can remember getting the first ever Zelda game and playing it every day until I finished the game.  Now that I am a mom to two boys, I know there will probably be some gaming in their future but even though I am older now, I still enjoy playing.  We even have the Wii Fit, which I must say is a rather impressive piece of equipment.  The way games are played have come a long way in the past twenty years from Atari to Wii.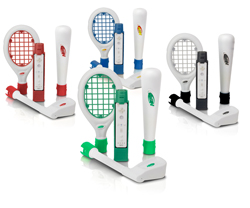 I was recently offered some fun new products from Performance Designed Products to try out with our Wii gaming console.  I was really excited to try them out.  The NERF Sports Pack, is a really cool way to play Wii Sports or any game that includes baseball, racketball/tennis, or golf.  I love Wii sports, but I was never exactly coordinated by using just the Wii remote to play and everyone is always kicking my butt.  Lets face it as an adult, I have become a bit clumsy and uncoordinated in the gaming department.  I am sure I am comical to watch.  But, with the cool NERF Sports pack, it was great to pop in my Wii remote into the tennis racket and feel like I had a better swing.  It made a huge difference in how I played rather that trying to coordinate moving like I had a racket in my hand, I actually had something like it to hold on too.  I managed to win a few games.  I think this is great for little hands too, the boys didn't necessarily understand the game but they fared pretty well.  They come in four colors, red, green, blue and black.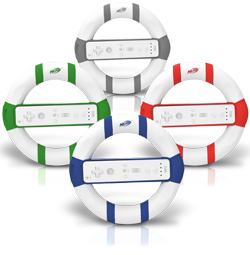 Later, we got ready to race with the NERF Racing Wheel.  I was never a huge fan of racing games, but with a cool NERF racing wheel that all changed.  I felt like I was in the pits at Nascar and ready to take off.  As with any Wii game, you can of course just play with the remote but the racing wheel made it feel much more real.  My husband was laughing at how into the game I was, and that my tongue was hanging out of my mouth in concentration.  Even though I am not gaming on a regular basis, I do tend to get competitive.  My only beef with all this NERF stuff is that it has that funky new out of the box smell that lingers a little more than I would like.  Maybe they can invent one that smells like berries, or new car leather?  How cool would that be?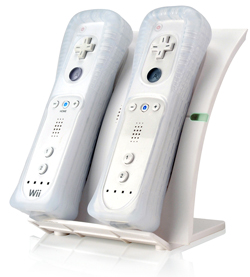 Then to top it off after giving your tired Wii remotes a workout, you can pop them in and bring them back to life in one of these two chargers!  There is the Wii 2X Induction Charger (sounds like a mouthful).  This charger specifically lets you charge two of your Wii remotes without having to fight to remove your silicone protection sleeve on your remote.  I like this idea because anything that saves me time and hassle is well worth it.  It also comes with 2 rechargeable battery packs, 2 battery covers and a UL-approved power cord. You can't ask for more than that.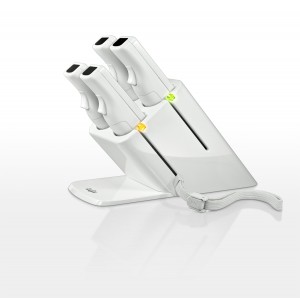 The other charger we received, the Energizer 4x Charger holds up to four Wii remotes (Wow!).  We only currently own two Wii remotes, but this great for when the family of gamers grows.  When the boys are a little older and more into gaming then, this will be great to have a place to put all of the remotes to charge and have them ready to go for the next round of fun.
These are great additions to your Wii gaming system and it makes a little less coordinated people like myself able to get in on the action.  It seems like the younger kids always pick up on how to use this stuff faster.  I love these PDP gaming accessories and it makes your game play a little more realistic.  The chargers are also useful in not having to replace batteries in your Wii remotes all the time.  These would make a great gift for any gamer, as well as fun Birthday or Holiday gifts.
**These products were provided by the company for me to review**

Would You Like to Win  A Set of These Accessories For Yourself???
DoubleBugs would like to give its readers the chance to win these fabulous accessories for your Wii gaming system!
Here's What You Gotta Do
Visit Performance Designed Products (pdp.com) and tell me what other products that you like and what games you will play with your new gaming accessories and why you would like to win.
For Additional Entries (please leave a separate comment for each)
Tweet about this giveaway
Add me to your Twitter (this must be an active account where you tweet on a regular basis)
Blog about and link to this giveaway and provide the link (3 additional entries)
Add me to your technorati favorites
Contest starts September 14, 2009 and Ends October 19, 2009
Good Luck!!!
Congrats to Kimberly, the winner of the Keurig Platinum Brewer!  Thank you to all who entered and come back to see what's going on, here at DoubleBugs!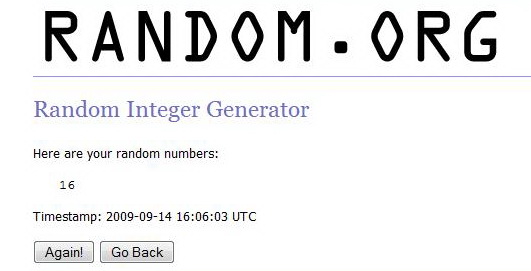 Original comment on post for main entry
I love the Keurig. My brother in law has one and a few people I know and they alaways rave about them and I'm so jealous! I have wanted one of these for over a year now.

I'm a busy mom and I enjoy a HOT cup of coffee in the morning but sometimes I'm so busy running around with the kids that by the time I get to the coffee that was brewed in the pot it's either "burnt" or cold. I love the Keurig because I could make fresh hot coffee when I have the time to enjoy it.

I would like to try the fair trade K-cups because I love to try different types of coffees and I love that the coffee was aquired with fair trade practices.

Thank you for the opportunity.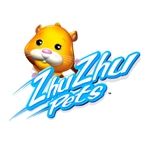 Hamsters are one of those pets that, I would never really want to have anywhere near my house.  They remind me a lot of a mouse and I don't find them particularly cute either.   I can remember growing up and having friends that had hamsters and the horrendous smell that always came from them.  Even though those cedar chips are supposed to help, cedar doesn't smell good either.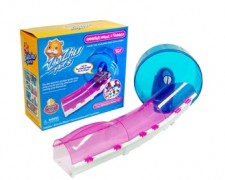 Now there is a great solution to your kids wanting a hamster!  Thanks to Mom Select, we were sent the cutest, most adorable, non smelly pets for the boys.  Let me introduce you to Zhu Zhu Pets.  They are fun interactive little hamsters that are sure to delight your child.  They have all sorts of fun things for your hamsters and a whole habitat that you can get, so they can scamper around in it.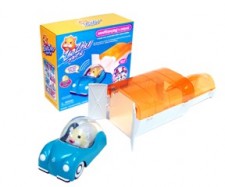 After we set up the entire habitat, the boys were very excited, when I pressed the little hidden button on their hamsters' backs and let them go to do their thing.  I was amazed at how well these things moved around, and the noises they make are so funny.  At one point when their noses bumped each other, I swore I heard a kissing sound, so cute!  They can drive off from the garage in a car, surf on a surf board, walk in their wheel, take a walk in their ball or take a nap.  This is better than any toy that I had as a kid!
The set up process was a little time consuming and takes up a considerable amount of floor space.  It isn't something you would want to continually take apart and reassemble.  The garage was a little on the flimsy side and the doors didn't stay in place so I just taped the sides of the garage and that seemed to work.  With all that being said I think in general is is a great toy and my boys have played with it almost every day.  A small word of warning, don't get the hamster anywhere near your hair because it will get caught in the wheel.
Zhu Zhu pets will be hitting the shelves this Fall and would make a perfect Christmas gift for a special someone who asks for that pet hamster.  At least you know it will make them happy and no messy cages to clean out.
** Thank you to Mom Select for providing the entire Zhu Zhu Pets set up for review**

Would you like to win a lovable hamster and starter slide for your special little someone?  DoubleBugs would like to give its readers the chance to win it!
Here's all you gotta do!
Visit the Zhu Zhu Pet site and tell me which hamster you love and what else you might like to have, and come back here and leave me a comment.
For Additional Entries You Can
(leave a separate comment for each)
Tweet About this Giveaway
Blog about this giveaway with a link to my site (5 additional entries gained)
Add me to your technorati favorites
Add me to your twitter
Subscribe to my blog
Add my button to your blog
Contest Starts September 8. 2009 and Ends October 1, 2009
Good Luck!