I am so sorry for the delay in posting all the contest winners here on the site.  I had drawn everyone's numbers and contacted everyone but never got around to getting the official post up.  So I am just going to do a summary post of the winners.
Picture Keeper Giveaway
Congrats To Staci A (comment #95)
Mimi The Sardine
Congrats to Melissa (comment #44)
Ben and Jerrys Giveaway
Congrats to Trisha P (comment #182), Tiffany S (comment #161) , and Kiley (comment #26) Leonara (comment #18)

Winners were not chosen at random for this contest.  Winners were drawn based on originality and best contest entry.
Dominos Giveaway
Congrats to Katie (comment #108)
Skin Free $30 Giveaway
Congrats to Jane H (comment# 99)
Congrats to all the winners and thank you for visiting DoubleBugs, come back often to see what's up!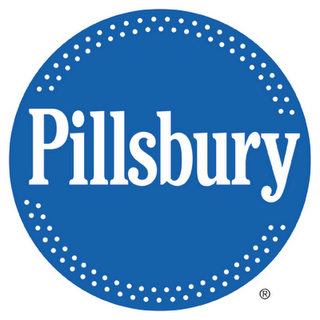 We love cookies in our house and one of my most favorite snacks has to be chocolate chip cookies and milk. They are the best when they are out of the oven, but I am not always in the mood to go though the whole spiel of making homemade cookie dough.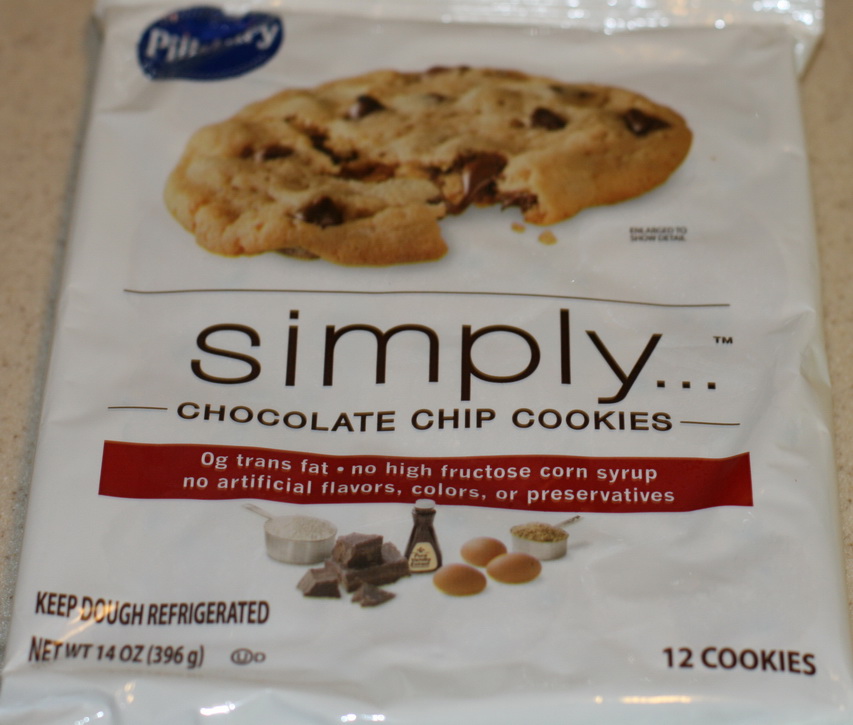 I have always been a fan of baking and usually steer clear of pre-made cookie dough. I try and make things that have natural ingredients especially when it comes to sweeteners. It seems like so many things these days contain high fructose corn syrup and not just normal sugar. Everything is ok in moderation, even sugar, and it's actually probably healthier than the modified high fructose used to sweeten just about everything these days.

We were given the chance to try Pillsbury's new Simply refrigerated cookie dough and the boys and I were very excited to bake them. The new cookies come in two flavors, Chocolate Chip and Peanut Butter. They are made with wholesome ingredients like flour, brown sugar, eggs and vanilla and have zero grams trans fat, no high fructose corn syrup, no artificial colors or flavors and no preservatives. They are just "Simply" made with all the good stuff that makes them taste homemade without the mess of making the dough yourself.
I made the cookies with my boys and it was nice to include them. They had fun putting the cookies on the baking sheet to go in the oven. They were very eager to eat the cookies, so they were really excited to see that they were done in just about 13 minutes. The chocolate chip cookies were so good and we polished a dozen cookies off by the end of the day between the four of us. The next batch I make, I think I will have to hide them. Pillsbury Simply cookies taste just like homemade without the mess, so I will definitely keep a couple packages on had for those sweet tooth cravings.

Thank you to My Blog Spark for giving us this wonderful opportunity to try Pillsbury Simply Cookies!
Would you like to try Simply cookies for yourself? DoubleBugs and My Blog Spark are giving readers a chance to win a fabulous prize pack that includes A coupon for free Simply cookies, a cookie jar to put these wonderful cookies in, a notepad for your grocery list, and a reusable canvas tote (perfect for your grocery shopping trip to get your cookies).
THIS CONTEST IS CLOSED!
Pillsbury is also offering a coupon for $1.25 off Simply cookies if you "simply" must try some now!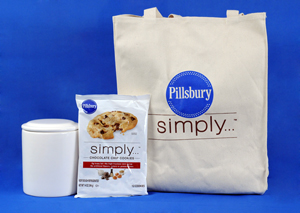 Here's What You Gotta Do!
Tell me a way in which you simplify cooking or your everyday life and leave me a comment about it
Additional Entries
Tweet about this giveaway
Blog about this giveaway (5 additional entries)
Add me to your technorati favorites
Add me to your twitter
Subscribe to my feed
Contest Starts August 7, 2009 and ends September 7, 2009
Good Luck!
*winners chosen via random.org*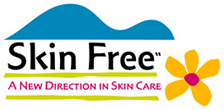 Both me and my boys have very sensitive skin, so much so that I have had to change the laundry detergent that I use in order to prevent theri skin from breaking out.  In the winter months I am combating eczema, which almost never seems to go away on its own.  I always have a hard time finding skin care related products that I can actually use, because half of them are loaded with fragrances and a at on of other stuff that can wreak havoc on sensitive skin types.
I received several wonderful items from Skin Free to review and I was a little apprehensive to try them out at first.  I received the Extra Moisturizing Liquid Soap, The Sweet and Smooth Sugar Scrub, and the Niaouli Scrub for Blemish Prone Skin.
The Sweeet and Smooth Sugar Scrub is absolutely fabulous on dry skin.  I used it in the bath on my elbows, knees, and on my face and I couldn't believe how good my skin felt afterward and not only that I didn't have any weird reactions to it, so that is always a plus.  You can use it sparingly on your face to slough away all the dead skin cells to leave your face with a nice clean glow. It has nothing weird in it either and when they say its fragrance free they mean it!  You know how some thing tout that it's fragrance free and it still has an odor to it, well this stuff doesn't and I like that.
The Extra Moisturizing Liquid Soap, is fabulous if you have your hands in the water often like I do when cleaning and working with my kids.  My hands tend to dry out in the colder months and sometimes in the warmer weather, so washing with this soap totally eliminated the feeling of having to put lotion on after I washed my hands.  I love the fact that all the moisturizing I need is in my soap and I don't feel like Im washing away essential oils in my skin when this is there to replenish it.  The package said that it is used for your face and rest of your body, but it can also be used as a good hand soap!
And for my blemish prone skin, I tried out the Niaouli Scrub and I love it!  Once a month it is inevitable that I get acne and here I was Naive to think that it would go away as an adult.  The Niaouli Scrub gently washed and cleans your face and helps to remove those excess oils that are culprit in causing acne.  Skin Free products felt so good on my sensitive skin and all of their prices are reasonable.  I know there are skin care products out there that claim to be free of irritants and hypoallergenic and my skin would beg to differ, but with Skin Free, I had no issues at all. This is some really great stuff if you or your family has skin issues or eczema prone skin.

Would you like to try Skin Free for yourself?
Skin Free and DoubleBugs would like to offer you the chance to try out Skin Free products with a $30 gift certificate!
Here's What You Gotta Do!
*Mandatory Entry Requirement* All you have to do is visit their site and come back here and tell us about your skin woes and what products you would like to try from Skin Free!
Additional Entries
Tweet About thie giveaway
Add me to your Twitter
Blog about this Giveaway
Add Me to Your Technorati favorites
Blog about this Giveaway and Link to Me
Contest Starts July 17, 2009 and Ends August 12, 2009
Good Luck!

Dominos pizza is partnering up with GreenGraffiti, a company that will go around New York City, Philadelphia, and Los Angeles, adding "green graffiti" to the cities on behalf of Dominos.  It's definitely"green", and in fact, it actually is good. GreenGraffiti is creating graffiti in those cities by power-washing their graffiti onto streets and sidewalks, essentially cleaning the streets.  I think this is a really great idea and not only that Green Graffiti participates in a water harvesting campaign giving back to people in need of drinking water.
How Does Green Graffiti Work?
GreenGraffiti® is an environmentally friendly form of outdoor advertising with a clear message; clean is green. GreenGraffiti® is completely carbon neutral, is one of the first companies in the world to compensate for our water footprint and contributes in a unique way to a healthier environment. That is why we can say with a clear conscience: the more GreenGraffiti® the better.
With the help of a template and a high pressure water sprayer an advertising message is cleaned out of the dirt. The result is a high impact message and a cleaner street.
You can read more about Dominos and this great project here.
Here's The Deal and How You Can Get Free Pizza!
If anyone in these participating cities can find the graffiti and take their picture in front of it, all they need to do is email that picture to Dominos and they get themselves a quick/easy gift card.
"The first 250 people to email pr@dominos.com and submit a photo of them with a Green Graffiti® sidewalk Domino's logo will receive a $15 Domino's gift card, good for a Domino's American Legends pizza."
Do you want to be part of the free pizza action? Even if you don't live in one of these cities or if you do, you are in luck here at DoubleBugs! We would like to offer one lucky reader a chance to win a $15 Gift Card for free pizza at your local Dominos.

Here's What You Gotta Do!
All you have to do is tell me what your favorite pizza at Dominos is and something that you learned about Green Graffiti or what you like about their "green initiative" and leave me a comment here!
For additional entries (please leave a comment for each additional entry)

Tweet about this post
Subscribe to my blog
Add me to your technorati favorites
Blog about Green Graffiti, Dominos and this great contest and link to me (5 additional entries)
Add me to your twitter
Add my button to your blog
Contest starts July 16, 2009 and Ends August 10, 2009
Good Luck!!!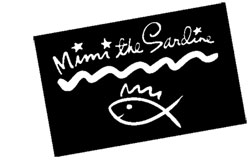 With the boys getting older and the weather being so nice we like to head outdoors frequently during the summer months.  On of our favorite outings is to head to the zoo for the morning and have sack lunch there before we head home for their naps.  When you visit places like the zoo the cost for food and beverages are usually outrageous and when you have a family of four, that can get a bit pricey.  For half of the cost we can pack a well rounded lunch for all us and it is so much more fun to sort of have a picnic as a family.
I am always in search of new and fun things that sort of make my life easier and appeal to the fun and whimsical that comes along with having children.  When I pack a lunch for the boys it is typically in a plastic baggie or in a brown paper bag.  If you know anything about food, presentation is always important especially when you have toddlers, and I try to make all things exciting to them.  They love the idea of picnics and bringing along their own special snacks for their trips to the zoo or to the playground.

Recently we were sent two Lunch Bug lunch bags from Mimi The Sardine and let me tell you they are incredibly adorable and when you see them, you will never go brown bagging again for your children.  We received the Hybrid Cars print and the Propellers because my two go nuts over planes and cars!  When I packed their lunch the first time in their new Lunch Bug bags they were really excited.  They have such bright and cheery colors and the boys thought that they were really getting something extra special.  Who wouldn't get excited about a peanut butter and jelly sandwich that was surrounded by such a delightful packaging?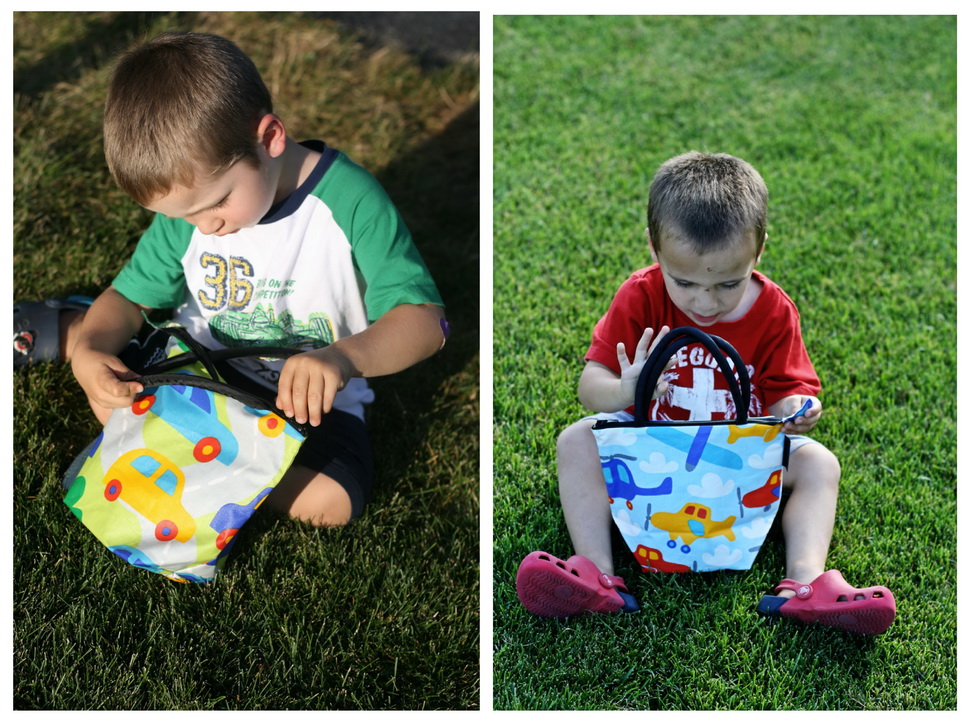 About Mimi The Sardine

A small, family-owned business located in Marin County just outside San Francisco, Mimi the Sardine's vibrantly colored Swedish prints capture a sense of delight and a bright innocence, appealing to youngsters and the young at heart, while they naturally bring smiles into life's everyday eating experiences.

The company's focus on bright, colorful, coated cotton prints and easy care fabrics has made Mimi the Sardine's bibs, aprons, splash mats, lunch bugs, backpacks, placemats, and tablecloths synonymous with good times in households all across America. With the transition into soft, safe, organically grown cotton in everything they make, healthy just got healthier—for you, your family, the farmers, and precious ecological systems.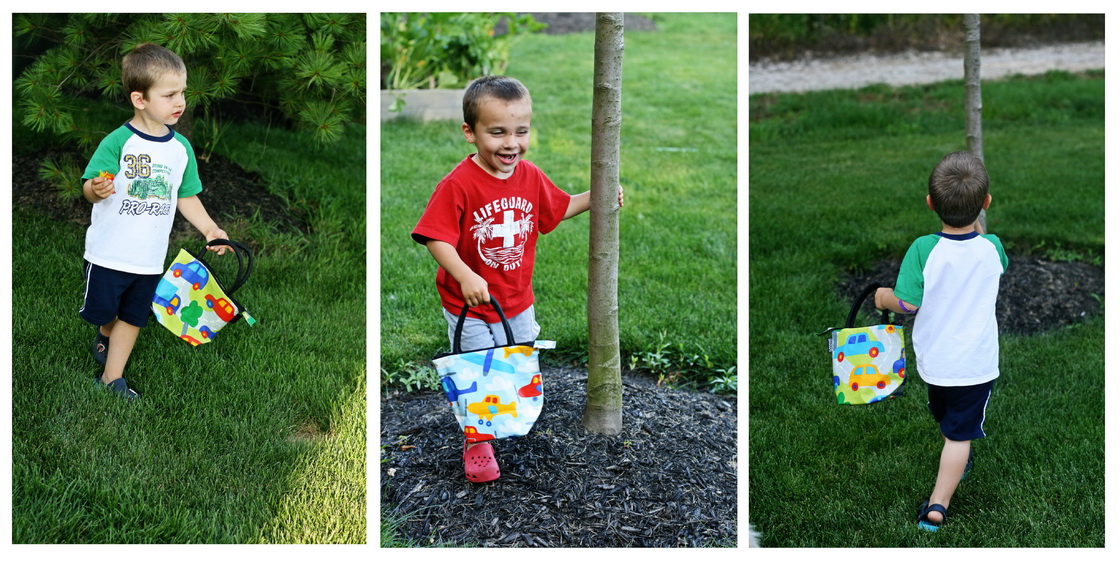 Lunchbugs  are also extremely easy to clean, which is a huge plus when you have little kids and you know there is always bound to be a mess near by. To clean them, you  just wipe, or machine-wash and tumble dry on low! Each bag is equipped with a sturdy zipper and soft handles, children and adults alike fall in love with the fun and colorful patterns, and everyone appreciates its eco-friendly and safe fabric.  I love love love these bags  because they are a vacation from the ordinary and are fun and you can tell that they are made with love.  This is a perfect alternative to brown bag lunches and is sure to brighten up any child's day.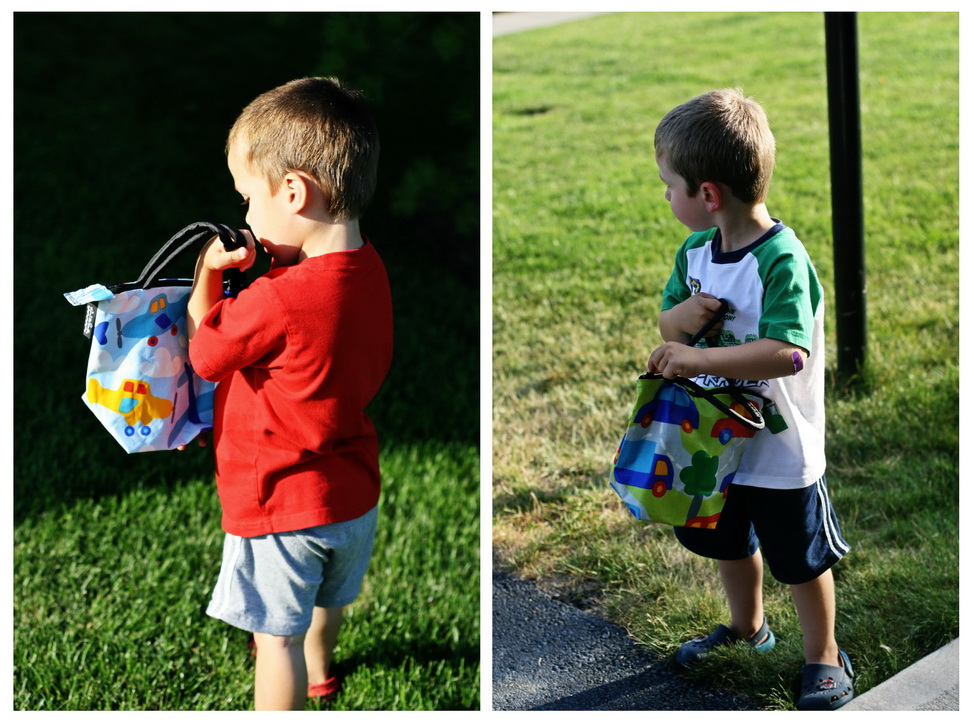 THIS CONTEST IS NOW CLOSED
Would you like to win a Lunchbug of your very own?
DoubleBugs and Mimi The Sardine are giving a reader the chance to win a Lunchbug or your choosing.
Here's What You Gotta Do
Visit Mimi The Sardine and tell me about another product that you like and why and come back here and leave me a comment.
For additional Entries
Tweet about this giveaway
Subscribe to my blog
Add me to your Technorati Favorites
Blog about this giveaway
Add me to your Twitter
Contest starts July 15, 2009 and Ends August 3, 2009
Good Luck!
Congratulations to the winners of the Windex All In One Giveaway!!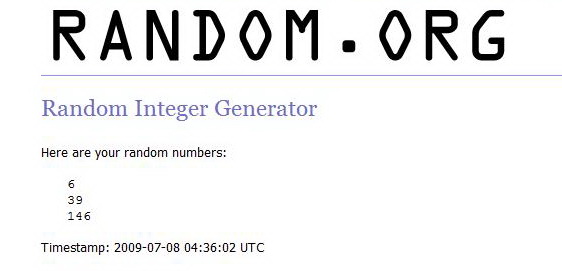 Did you know that July is National Ice Cream month???  I don't know about you, but I love ice cream.  Ice cream is a comfort food that I love most in the Summer time, and when you are having a blah day it is always nice to snuggle up to your favorite pint.  Well, not exactly snuggle, but a pint of Ben & Jerry's and a spoon in hand is sure to bring a smile to your face!  When I head to the store, I always find myself staring into the ice cream case at all the different Ben and Jerry's flavors and I can almost never pick out one flavor because something new always catches my eye.
National Ice Cream Month is celebrated by the US every July. This month was designated as national ice cream month by Ronald Reagan  in 1984. He also appointed the third Sunday in July as National Ice Cream Day Reagan recognized the popularity of ice cream in the United States (90% of the nation's population consumes ice cream) and stated that these two events should be observed with "appropriate ceremonies and activities." Unfortunately, many people do not even know that America even has a National Ice Cream Month.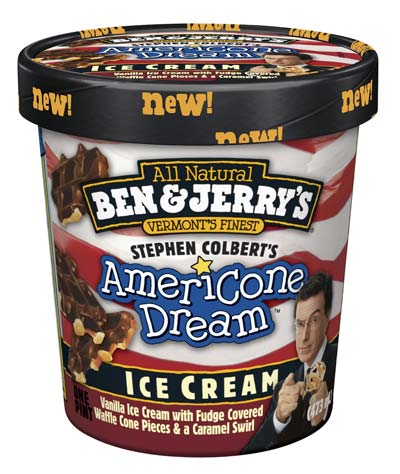 Some of my most favorite Ben & Jerry's ice cream flavors include the ever popular Cherry Garcia, Karamel Sutra, and my newest favorite and one of their newest editions Mission to Marzipan (let me wipe the drool from my keyboard).  Let's face it you can't just buy one pint and head home, you at lest have to get a few days worth or even a week's worth so you don't have to pout when you polish off a pint while watching a sappy love story, or you have had a stressful day, or just because you gotta have it.  At least you know you always have more!
I don't know how they do it but they manage to pack the right amount of stuff into that little pint, that make your taste buds do a little dance, and make your happy endorphins go crazy.  I don't know how they make the caramel in Karamel Sutra stay perfectly gooey in the middle but I do know that their ice cream is one of the best in my opinion!
Here at DoubleBugs, I decided that it would be fun to celebrate National Ice Cream Month and my love of Ben and Jerry's.  We (Ben and Jerry's and I) came up with a fab giveaway to make your mouth water and keep your freezer stocked with Ben and Jerry's!
We will be giving away one pint a day for the month of July.  3 Lucky Winners will win a 7 day supply of Ben and Jerry's (one pint for every day of the week), and a Fourth Grand Prize winner will win (10 pints of Ben and Jerry's and few extra goodies too!).
I know, I know, you are gleaming with excitement!  But we are gonna make you do a little work for your ice cream.  Don't worry we won't ask you to sell your soul but you might consider it, since it is Ben and Jerry's HA!
So here is the scoop (get it? scoop?) Ok, I'll quit with the cheesy jokes.
THIS CONTEST IS NOW CLOSED
This is what you gotta do

(read carefully!!! You wouldn't  want to lose out on a few pints)
You Can visit their site for inspiration

*For Main Entry into this Fab Giveaway, You Must Do One of The Following*
1.) Come up with your own poem about Ben and Jerrys (50 words or less) Your own ode to the pint so to speak
2.) Come up with a recipe using your favorite Ben and Jerry's flavors
3.) Do a little dance, go crazy, make a video or send us your pictures of you enjoying your favorite Ben and Jerry's (you can post me a link to them)
4.) Create a new ben and Jerry's Flavor that you think you might like to see
5.) Do a little bit of everything above
Grand Prize winner will be selected based on the most creativity!!! So the more you do the better your chances! We want you to have fun with it!
***For Additional Entries(please post a separate comment for each additional entry)***
Grab the Ben and Jerry's Giveaway Button and post it everywhere to share the love! Please provide me a link to your site  (3 entries gained when you post this)
Tweet about this Fab Giveaway
Blog about it tell people not to forget to grab the Ben and Jerry's button to share with all their friends (please provide the link to your post) (3 entries gained).
Add me to Your Technorati Favorites
Subscribe to my blog
Contest Starts July 1, 2009 and Ends July 31, 2009
Good Luck!!!!
I absolutely love The Cheesecake Factory, and in fact I was in mourning that there wasn't one near me, but in the last year they opened up one about ten minutes from my house!  I love all the choices they have on their menu and their cheesecake is to die for!  I admit I am not a huge fan of cheesecake but I never pass it up when I am there.
The Cheesecake Factory is giving away a trip for 4 to Florida!   You have the chance to win, just by sharing your pictures of a celebration.  Not only that, if you share the contest with your friends you can gain extra entries in to the contest. Take a look at the awesome prizes! You must hurry the deadline is June 30, 2009!
What you can win
By entering, participants receive a chance to win:
o Trip for 4 to Florida – Airfare, Hotel, Disney Resort Passes, and $1,000
o Chance to win a $25 gift card, or $500 in gift cards to Cheesecake Factory!
o Cheesecake for ONE YEAR!! (uh who wouldn't want cheesecake for a year from The Cheesecake Factory?!!!!)
How to Enter
During the Promotion Period, go to http://www.thecheesecakefactory.com/celebrate (the "Promotion Page") and fill out the online entry form. Complete and submit the online entry form including a valid home address. P.O. Boxes are not permitted. If this is your first visit to the site you will be required to upload one (1) photo or image of a celebration (the "Photo"). By uploading your Photo, you agree to the terms and conditions of these Official Rules, that your Photo conforms to the Photo Guidelines and Content Restrictions as defined below (collectively, the "Guidelines and Restrictions") and that Sponsor, in its sole discretion, may remove your Photo and/or disqualify you from the Promotion if Sponsor believes, in its sole discretion, that your Photo fails to conform to the Guidelines and Restrictions or if Sponsor determines, in its sole discretion, that removing your Photo is necessary in order to protect the name, reputation or good will associated with Sponsor or its parent, subsidiaries or affiliates.
Photo Guidelines

:

The Photo must be in .jpg format;
The Photo must not exceed 5 MB in size;
The Photo must contain a caption and description; and
The Photo's caption and description must be in English
The Photo cannot have been submitted previously in a promotion of any kind or exhibited or displayed publicly through any means.

Content Restrictions

:

The Photo must not contain material that violates or infringes another's rights, including but not limited to privacy, publicity or intellectual property rights, or that constitutes copyright infringement;
The Photo must not disparage Sponsor, Administrator or any other person or party whether or not affiliated with the promotion and administration of this Promotion;
The Photo must not contain brand names or trademarks other than Sponsor's mark, which entrant has a limited license to use for the sole purpose of creating and uploading a Photo in this Promotion
The Photo must not contain text, images or artwork not created by entrant;
The Photo must not contain or depict material that is immoral, unethical, illegal, inappropriate, indecent, obscene, hateful, tortious, defamatory, slanderous or libelous;
The Photo must not contain material that promotes bigotry, racism, hatred or harm against any group or individual or promotes discrimination based on race, gender, religion, nationality, disability, sexual orientation or age; and
The Photo must not contain material that is unlawful, in violation of or contrary to the laws or regulations in any jurisdiction where Submission is created.

The complete List of Rules are HERE
In honor of this celebration, The Cheesecake Factory would like to offer DoubleBugs readers the chance to win a $25 gift card to their restaurant!
All you gotta do is visit their site here, take a look around and drool a little and click on the link to  The Share Your Celebration Sweepstakes and enter if you wish!  The music is really catchy and you might find yourself dancing like me LOL!  Come back here and tell me what you love about the Cheesecake Factory and what your favorite celebration memory is.
THIS CONTEST IS CLOSED
For Additional Entries (*leave a comment for each additional entry*)

Add my button to your blog
Add me to your Twitter
Tweet about this fab contest and giveaway
Blog about it
Subscribe to my Blog
Add me to your technorati favorites
Contest starts June 29, 2009, and Ends July 31, 2009
Congrats to the Winner of the Little Miss Matched Giveaway!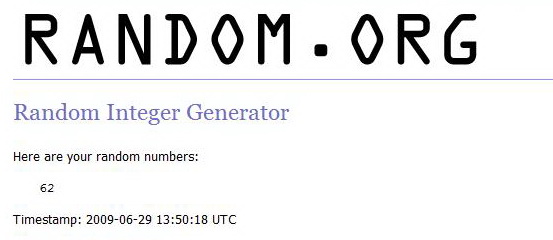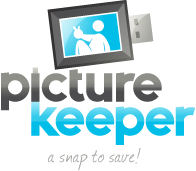 This day and age everything seems to be reliant on computers.  I know that I am on mine close to 8 hours a day and it is where I do a majority of all my writing and storing of just about everything.  Since we are smack in the middle of the digital age when it comes to cameras and taking pictures, it is only natural that you are storing them on your computer. When it comes to backing up images on your computer I bet a lot of us fail miserably.
I take tons and tons of pictures of the boys and I will have to sheepishly admit, that I don't have too many of them hanging on my walls. Let's face it in the digital age of picture taking, we all get lazy and get all too comfortable with the idea that we have them stored somewhere on our hard drive.  The reality of it is, that, hard drives fail and ultimately put you at risk for losing all of your precious memories.  My husband has a server in which he keeps a lot of our important files and photos on, but even then, I like to keep a disk or something that holds my pictures in a safe location far away from the computer.  Anything can happen and knowing that I have some alternate location for storing my photos eases my mind.
Up until now, there really wasn't an easy way to gather all of my pictures on my computer.   I store all of my photos in different locations on my hard drive.  I have photo files dedicated to reviews that I do here, my photography business stuff is stored in another file, and the pictures of my boys are in another.   So everything is sort of all over, and wouldn't it be nice to just be able to  have a device that does all the work for you and gathers all the pictures on your computer, organizes them, and wahlah, you have them all together?
Well now there is a simple solution, and what I like to call my magical anti-stress device, called the Picture Keeper. I was recently given a Picture Keeper to try and I am very impressed!  The Picture Keeper is a little USB flash drive that creates a backup of your images simple by plugging it in your computer and clicking the "start backup" button.  Then it works its magic and finds all images with jpg extensions on the computer. If you wish to backup other images with a different extension there are advanced option to where it can save additional file types.   The folders and sub-folders are copied just as they are on you computer! And it gets even better. If you have multiple computers, which I do, you can just plug it in on the next computer and do the same thing.  There is no special setting, and Picture Keeper does the work.  When you want to go back in and update your files and do another backup, you don't have to remember what files you have or haven't gotten because the Picture Keeper will do that all for you as well. Do they make husbands like this? LOL
Being someone who takes a lot of pictures and in the photography business, I am always conscious of the fact that I have so many pictures and that computers do fail, and having some other form of a back up is critical. The Picture Keeper is nice because I can set up a few different backups and store a few of these flash drives in various locations. I would recommend getting several,  and keeping one in your home, giving one to a trusted family member to hang on to, and maybe keeping one in another location. This way you have multiple back ups in case something happens with your home then you have all your memories preserved.  Just to see how it worked, I plugged it into my laptop and let it go.  Later when I did a backup on my main computer with all my photos, it was just as simple.
ABOUT PICTURE KEEPER
Inventor Matthew Stanchie knew there had to be a better way to backup digital images. Despite working
for Hewlett-Packard, the thought of backing up his personal photos gave him a headache, and he could
only image what others without a background in computers went through. So, he created a user-friendly
program that automates the task (making sure to get the approval of an evaluator from his target
demographic—his wife.) Picture Keeper plugs into any PC, including Macs, and copies all images with
one click. With Picture Keeper, it's a snap to save.
Picture Keeper is available in 4GB, 8GB and 16GB sizes online at www.picturekeeper.com.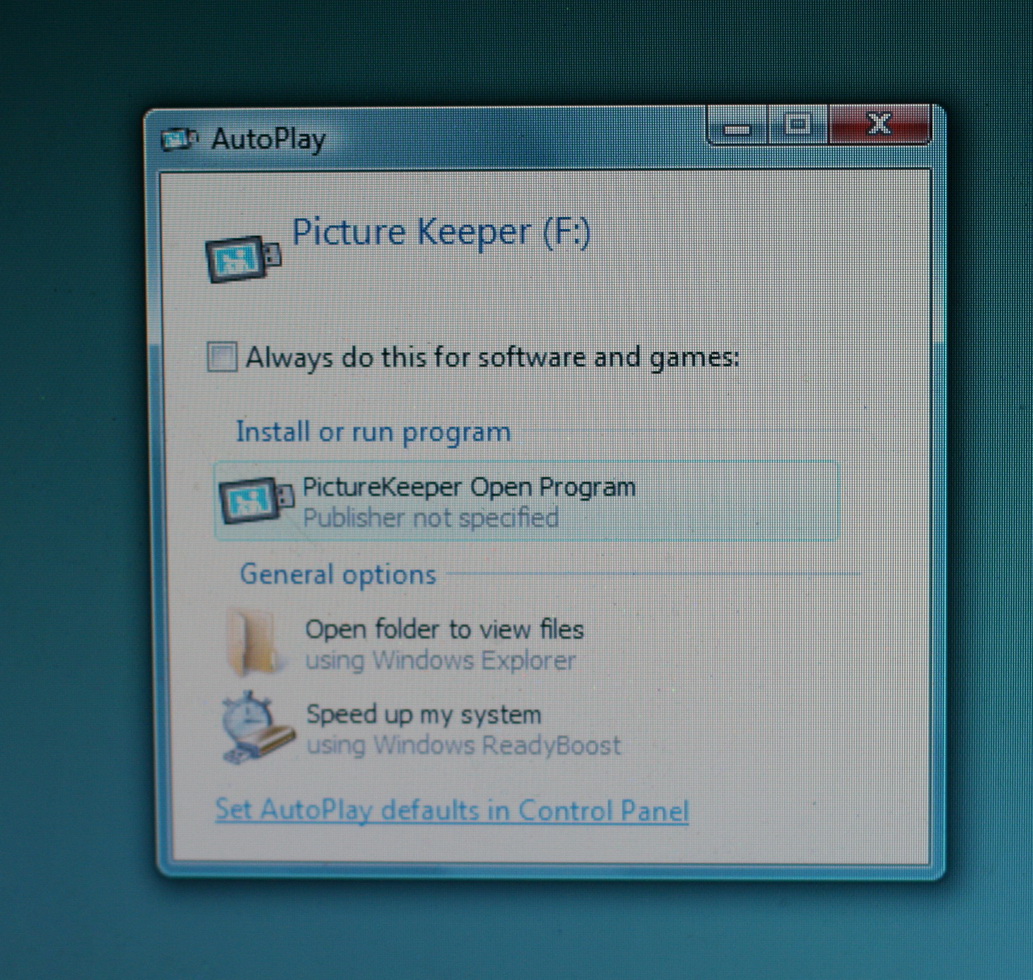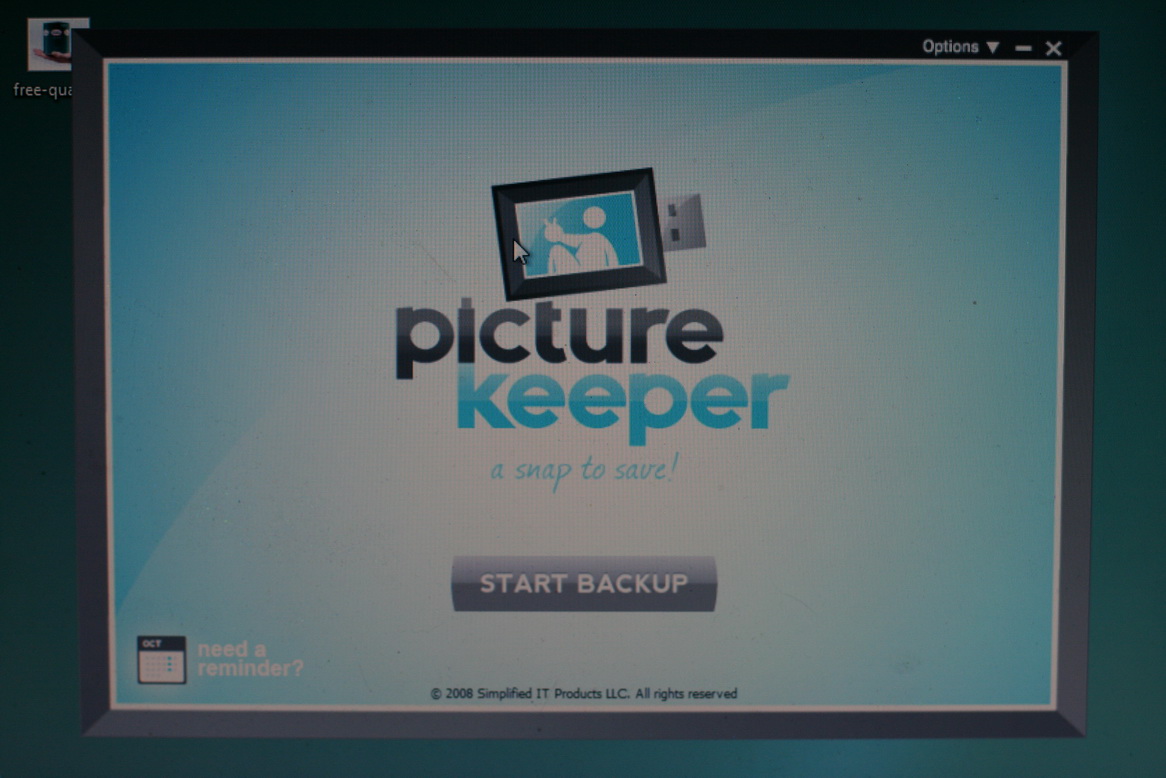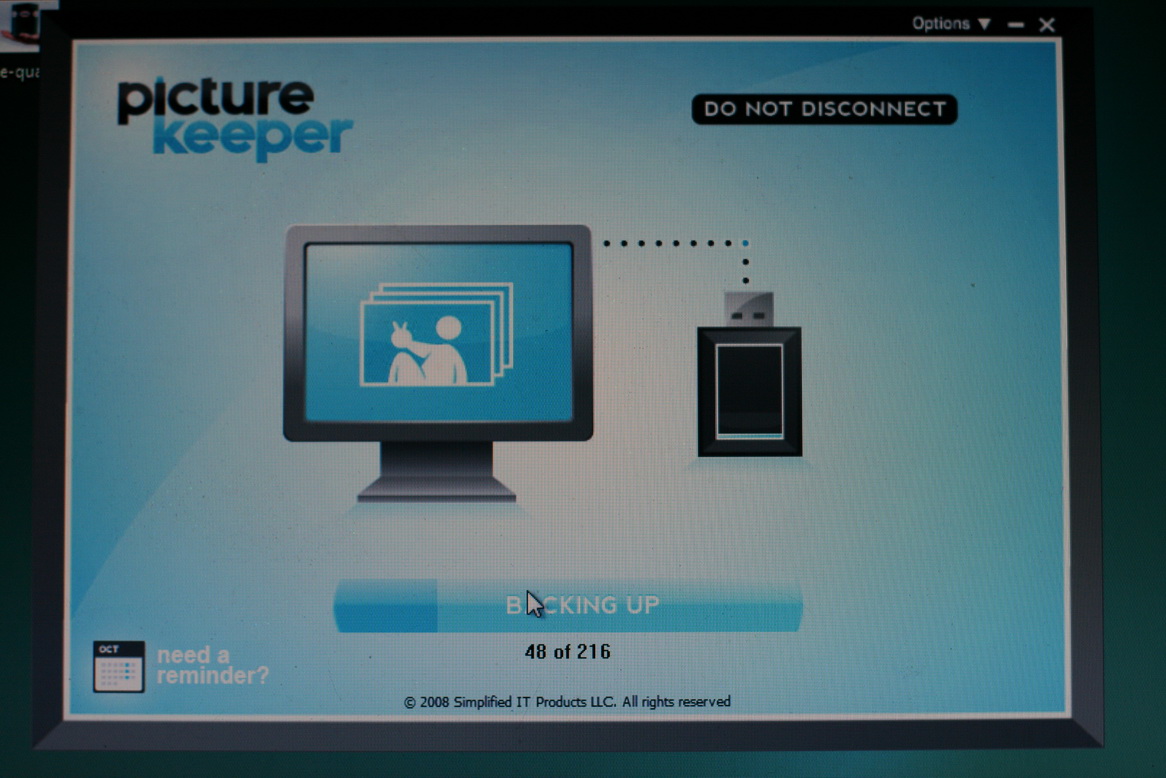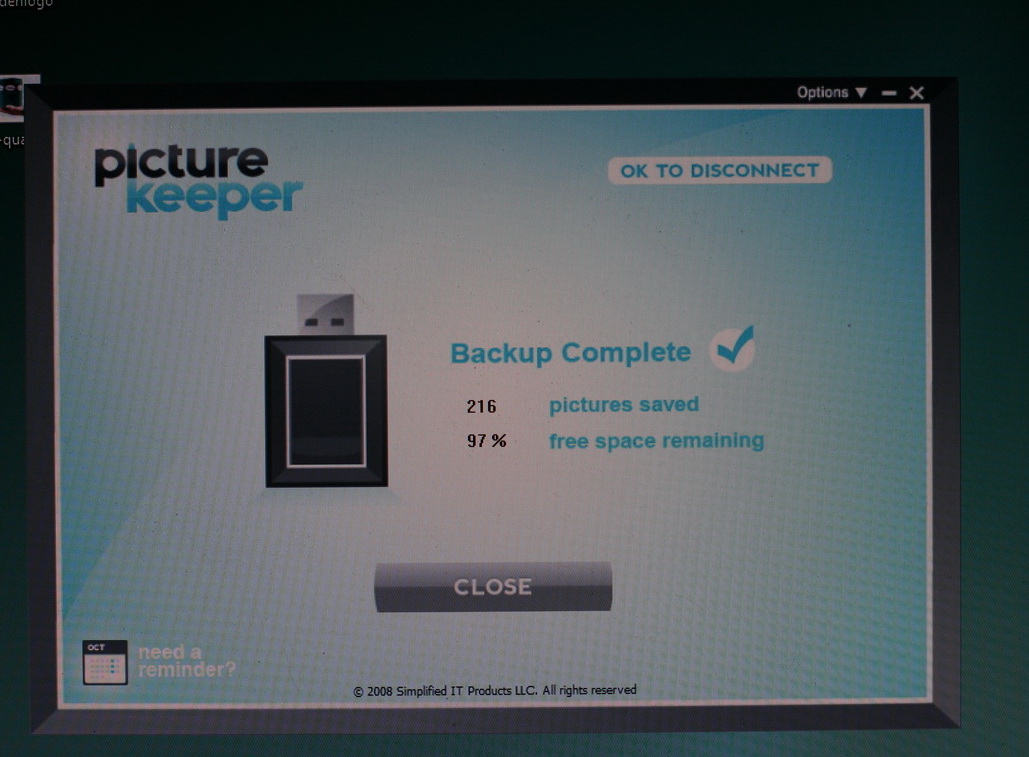 I was amazed at how fast all my files were backed up and how easy it was to use. Anything that can make my life easier, is a huge plus. The Picture Keeper is so awesome that Dr. Toy awarded them with a Best Vacation Product for Summer 2009 Award. I definitely give The Picture keeper the mom seal of approval and I applaud it's ease of use. It isn't a complicated gadget and yet it is worth a million dollars if something ever happens to your photos. Picture Keeper retails for 8GB ($39.99) and 16GB ($59.99).  The price is worth it when you consider how much it would be if you lost all of your photos!
Would you like to win a Picture Keeper of your very own??? DoubleBugs is giving away an 8GB Picture Keeper to one lucky reader.
THIS CONTEST IS CLOSED

Here's what you gotta do.
Mandatory
Leave me a comment and tell me one of your worst nightmares in losing your photos or why you think you might like to have a Picture Keeper.
For Additional Entries
You can tweet about this contest
Blog about this contest
Subscribe to my feed
Add me to twitter
Add me to your technorati favorites
Grab my button
Winners are Chosen Via Random.org
If Winner does not respond in 48 hours a new winner will be drawn
Contest Starts June 28, 2009, and Ends July 31, 2009