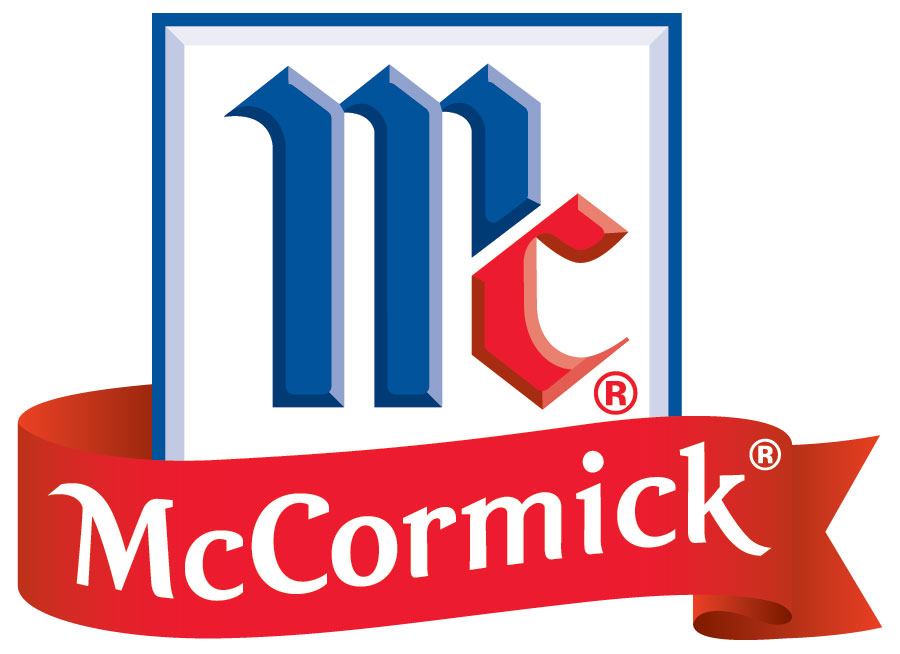 I am always on the look out for new recipes to try. I especially like changing up some of the standing recipes that we have in our house. I am addicted to flipping through recipes online and I love having the internet as a resource to create new things for my family.
McCormick has been a long standing name in my kitchen. Over half of my spice selection contains McCormick, my baking cabinet has vanilla, various flavored extracts, cinnamon, and nutmeg all with the classic red McCormick lid and name. McCormick also has a great resource online called the Look Book that has some really great recipes using some of McCormick's great spices and extracts. I went looking around at all their great Spring Recipes to try and the photos all had me drooling on my keyboard.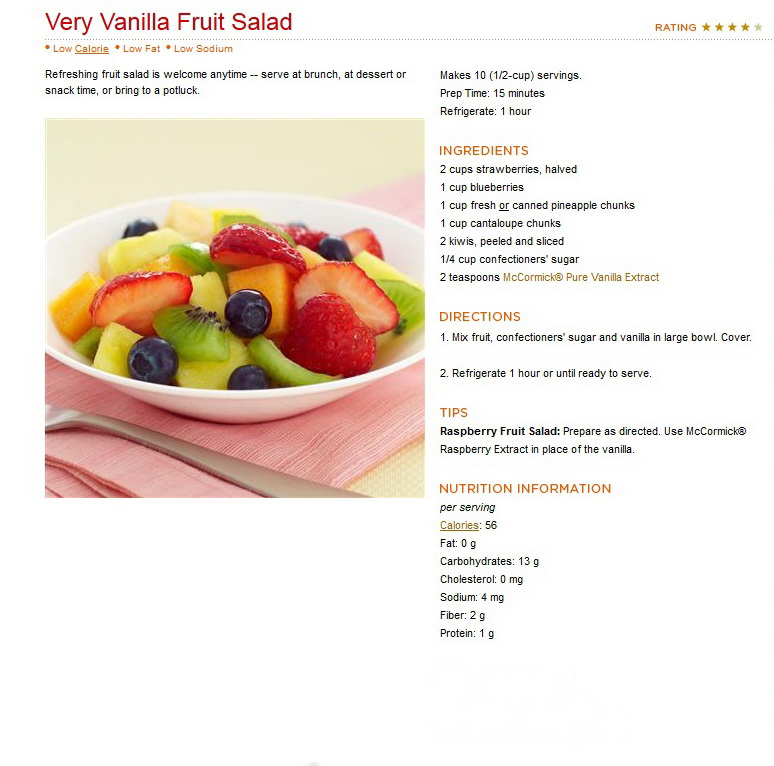 They have a little bit of everything from breakfast to dessert. We were sent some of McCormick's great products to make one of the recipes shown in the Look Book. Although, I saved about 10 of the recipes to make for a later date, I chose one of the healthier recipes available, the Very Vanilla Fruit Salad, since I am on a weight loss mission.  Fruit salad, is one of my favorite things to make during the Summer and when fruits become in season.  The McCormick Look book offered a new twist on our family favorite by adding vanilla and powdered sugar to your fruit salad.  I usually just toss with some fruit saver and serve it, so the vanilla was a unique twist.  This particular recipe was easy to throw together, and the vanilla gave the fruit a really nice subtle taste difference. The boys and I ate the whole fruit salad in a sitting and I will definitely be making this again in the near future.
Ours turned out lovely, and I love all the vibrant colors of the fruit and the subtle vanilla taste.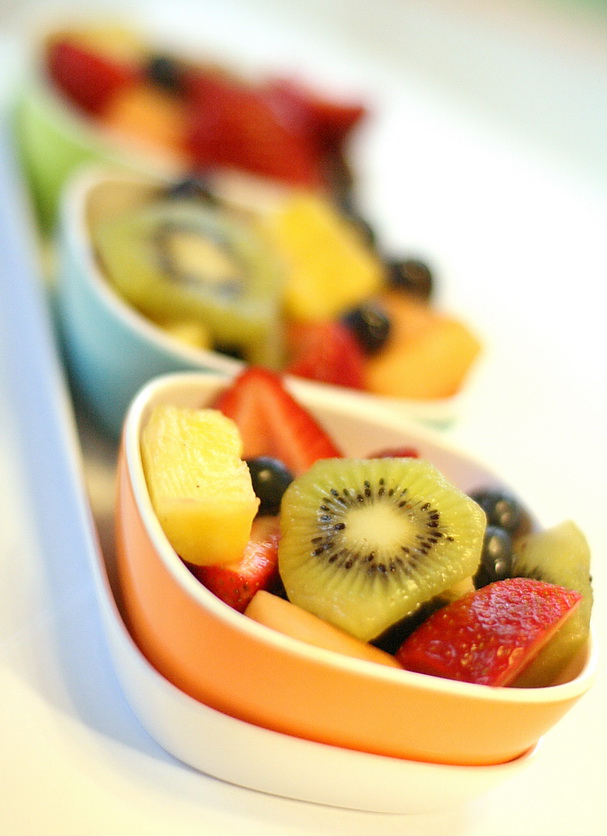 All the the recipes in the McCormick Look Book offered easy variations on products that we already use in our home.  I like that I can pin recipes, print them and save them for a later date.  Another great thing about the McCormick Look Book is that they offer images of all the recipes available, which is the first thing I look for when making something new.  The Vanilla Rich Chip Cake, will be next on on my list to celebrate when I lose my first ten pounds.  Check out McCormick's Look Book, there are some great recipe ideas.
"I participated in a campaign on behalf of Mom Central Consulting for McCormick. I received product samples and a promotional item to thank me for participating"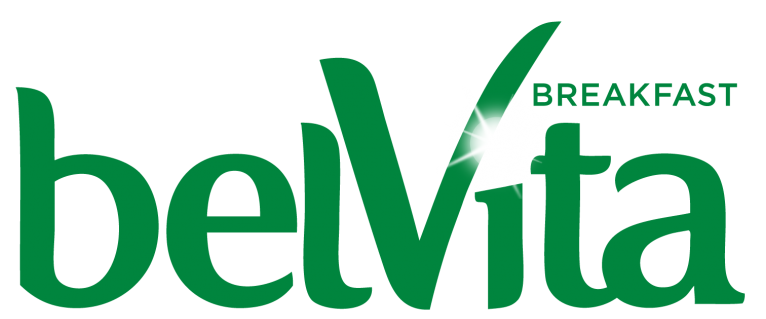 The kids have been sick and when they are sick, I get very little sleep.  The mornings come all to fast and then I hear that little whisper in my ear "mom, it's time to get up."  I am usually less than enthusiastic since it feels like I just went to bed.  Our morning routine consists of me getting to the kitchen, getting the boys set up with a drink, and whatever they decide on having for breakfast.  Most days I don't even remember to feed myself until noon, when my stomach reminds me that I am past hungry.
There isn't anyone to make me a full course breakfast, so I have to grab and run.  Nabisco has created the perfect solution, something that is easy to grab yet is filled with all the good stuff your body needs to get going.  BelVita Breakfast Biscuits are the perfect solution to my problem.  Each individual package of biscuits is has 18-20g whole grains per serving which gives you the fiber your body needs and has four B vitamins.  In case you didn't know B vitamins are great for stress relief and as a mom, I know I need it! BelVita breakfast biscuits also contain no high fructose corn syrup, no partially hydrogenated oils, and no artificial flavors or sweeteners. They come in three varieties, Blueberry, Golden Oat, and Apple Cinnamon.
About belVita

belVita Breakfast Biscuits are specially baked to release energy regularly and continuously in your body—which means you have nutritious sustained energy that lasts all morning.

Each pack includes four lightly sweet, crunchy biscuits to help you stay fueled up all morning long.

The sustained energy in  belVita Breakfast Biscuits comes from a combination of specially selected ingredients and a carefully controlled baking process that helps preserve the integrity of the grain. This means the carbohydrates from the grain are slowly released in your body, providing nutritious, long-lasting energy to help fuel your body throughout the morning.

Each individual package of 4 biscuits is portioned for part of a balanced breakfast. A 50 gram serving contains 18–20 grams of whole grain carbohydrates, 3 grams of dietary fiber, 3–4 grams of protein, and a good source of four B vitamins and iron. belVita Breakfast Biscuits also contain no high-fructose corn syrup, no partially hydrogenated oils (0 grams of trans fat per labeled serving), and no artificial flavors or sweeteners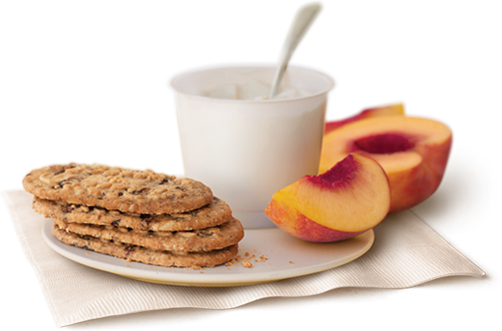 I have been trying belVita breakfast buscuits daily now for a little over a week, and truthfully I love how versatile they are in terms of breakfast or even snacks.  I love oatmeal in the morning and usually dip toast in it, but the belVita biscuits are even better especially the apple cinnamon flavor.  You can add them to just about any snack or meal or just tuck a package in your purse if you get hungry throughout the day.  My favorite belVita biscuits however, are the blueberry, with a thin layer of light cream cheese and a few strawberries on top or some organic strawberry fruit spread.  The boys usually come and snatch them before I get to eat one.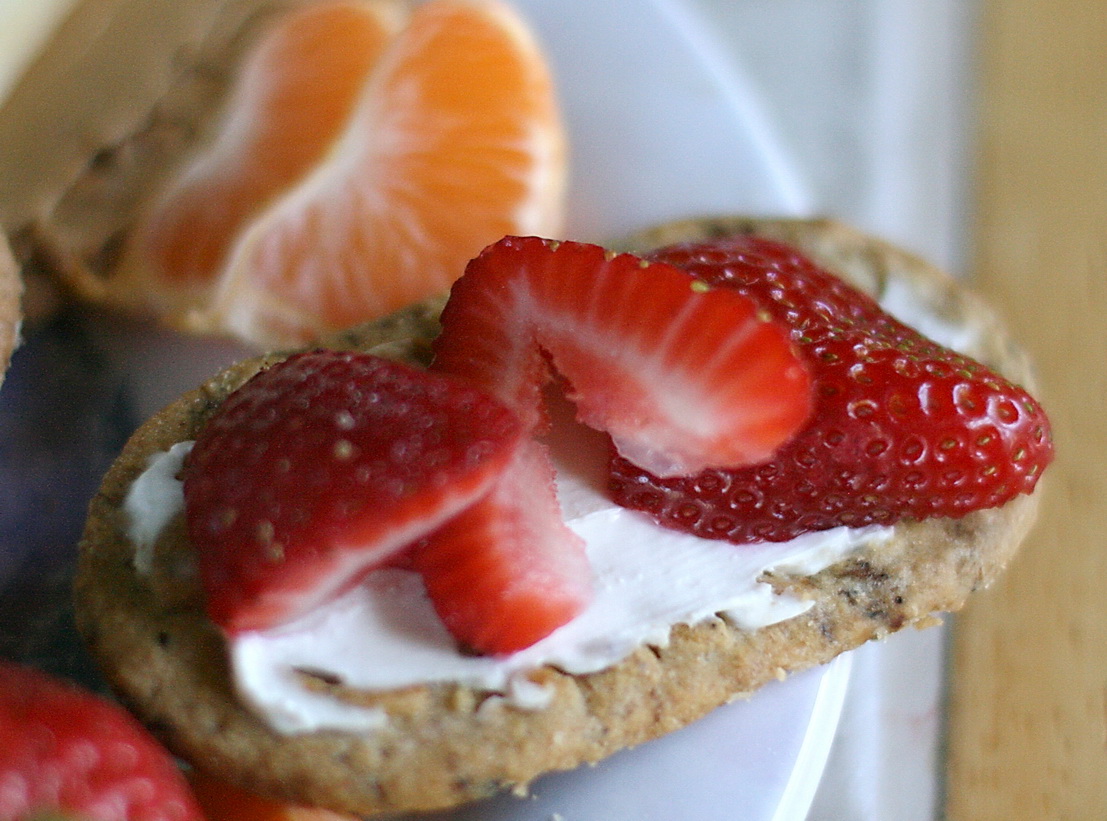 I have really enjoyed trying some new things with them. The golden oat belVita biscuits are fabulous with a little peanut butter and an apple slice.  We have already been to the store to buy more. What I Like is how simplistic and versatile belVita biscuits are. You can just eat them straight from the package or you can jazz them up with fresh fruit, peanut butter or just dip them in coffee or tea. Even if it is quick, you are getting the things you need to get up and go in the morning or that added extra pep in the day, or just a really yummy snack.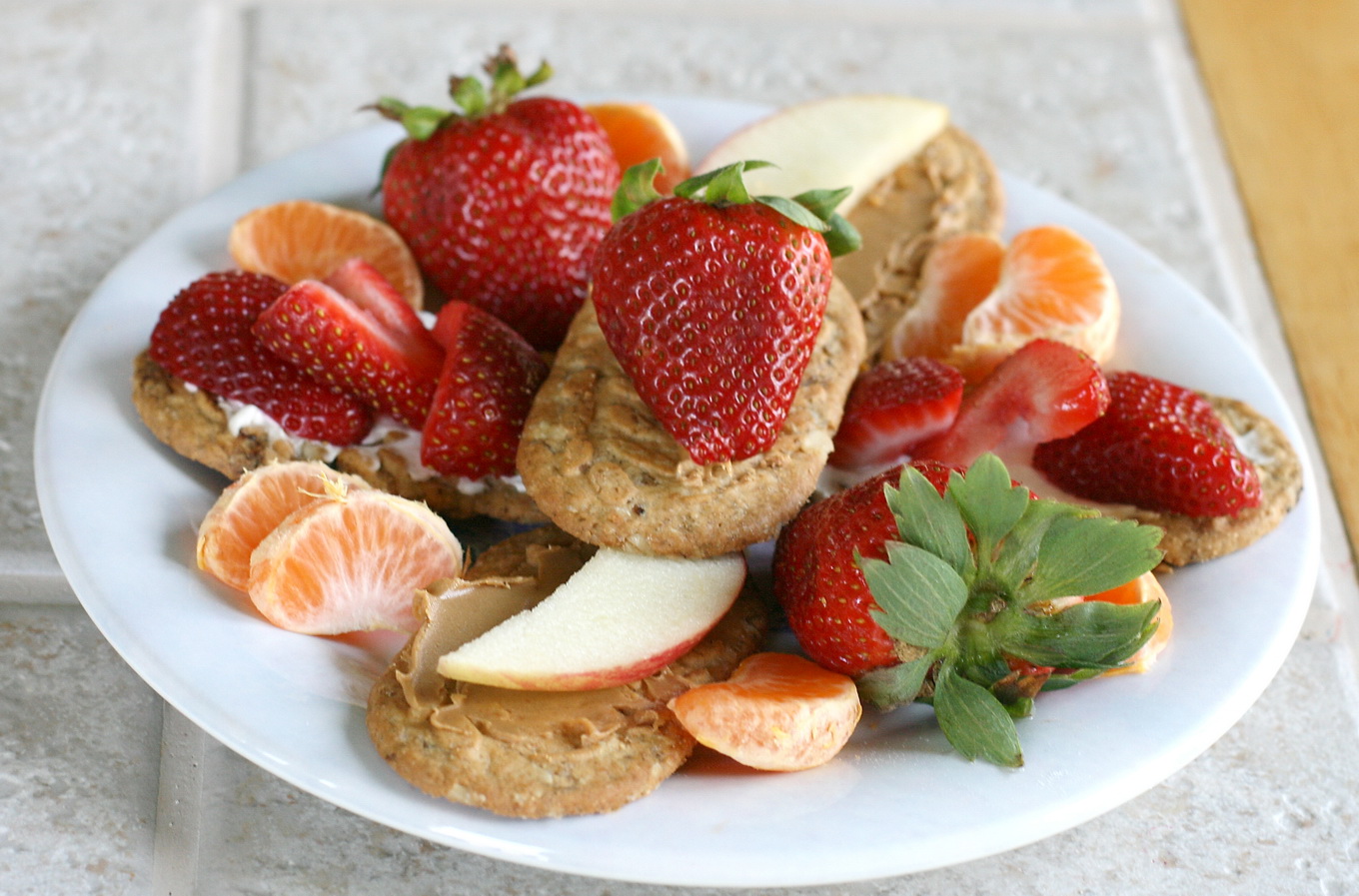 Breakfast is supposed to be one of the most important meals of the day. But if you are like me trying to find a minute in your day, belVita may be the perfect solution. You can just grab and keep on going! For more information on belVita Breakfast Biscuits you can visit belVitaor for information on how to "Power Up" check out belVita Breakfast's Facebook page!
**I wrote this review while participating in a blog tour campaign by Mom Central Consulting on behalf of belVita Breakfast Biscuits and received belVita Breakfast product samples to facilitate my review, and a promotional item to thank me for participating.**
We all know that the dental chair isn't always that much fun, so I like to spend as little time there as possible.  I am petrified of the dentist, in fact I even took an 18 year hiatus from the dental chair as a result of a negative experience.  After I worked up the nerve to go, I had to spend the better half of last year getting a few cavities filled and even the dreaded root canal and was also informed that I have periodontal disease.   Since then, I have vowed to make sure I don't transfer my fears to my boys, about getting regular dental check ups and attempt to make sure they have a really good oral care regimen.
It sounded easy enough to me, but I have two five year olds that often resist getting their teeth brushed.  It started off innocent enough, then it was a scene akin to bull wrestling.  They decided that the toothbrush made them cough, the toothpaste (kids toothpaste) was too spicy, or the they just plain didn't like it.  I quickly realized that I would have to get creative about getting them happy about brushing regularly.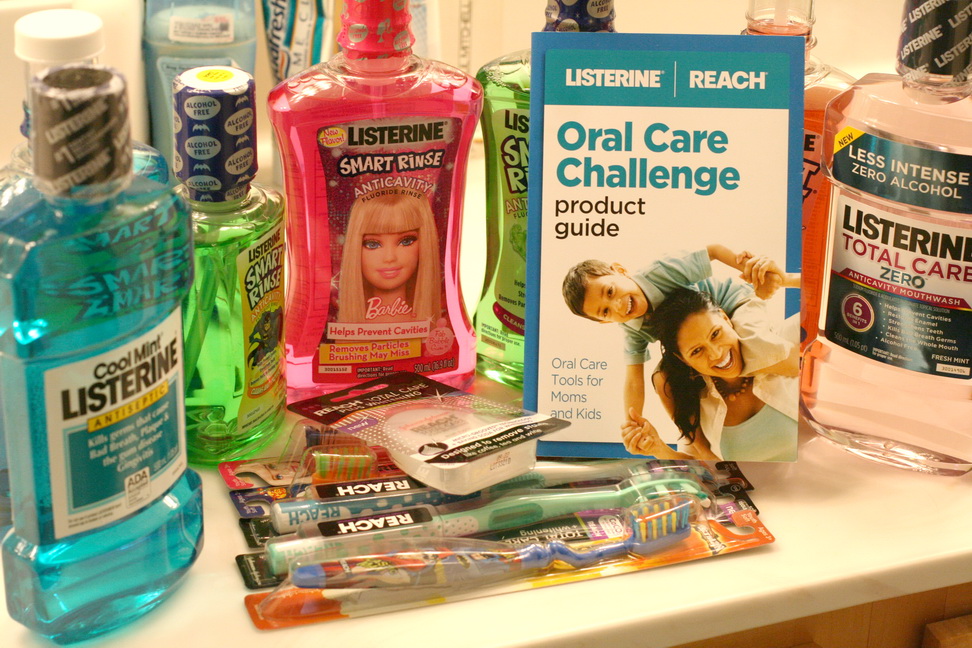 Then, the perfect opportunity came about.  The Motherhood has teamed up with LISTERINE® and REACH® for an exciting new project called– the LISTERINE® and REACH® Healthy Habits for a Lifetime Oral Care Challenge designed to  encourage families to adopt a healthy oral care regimen that will help lead to a healthier lifestyle.  They invited me and my family to take the challenge by taking a few extra minutes a day for a complete oral care routine including brushing, flossing and rinsing.  To complete the challenge, me and my family must do these steps twice daily for three weeks.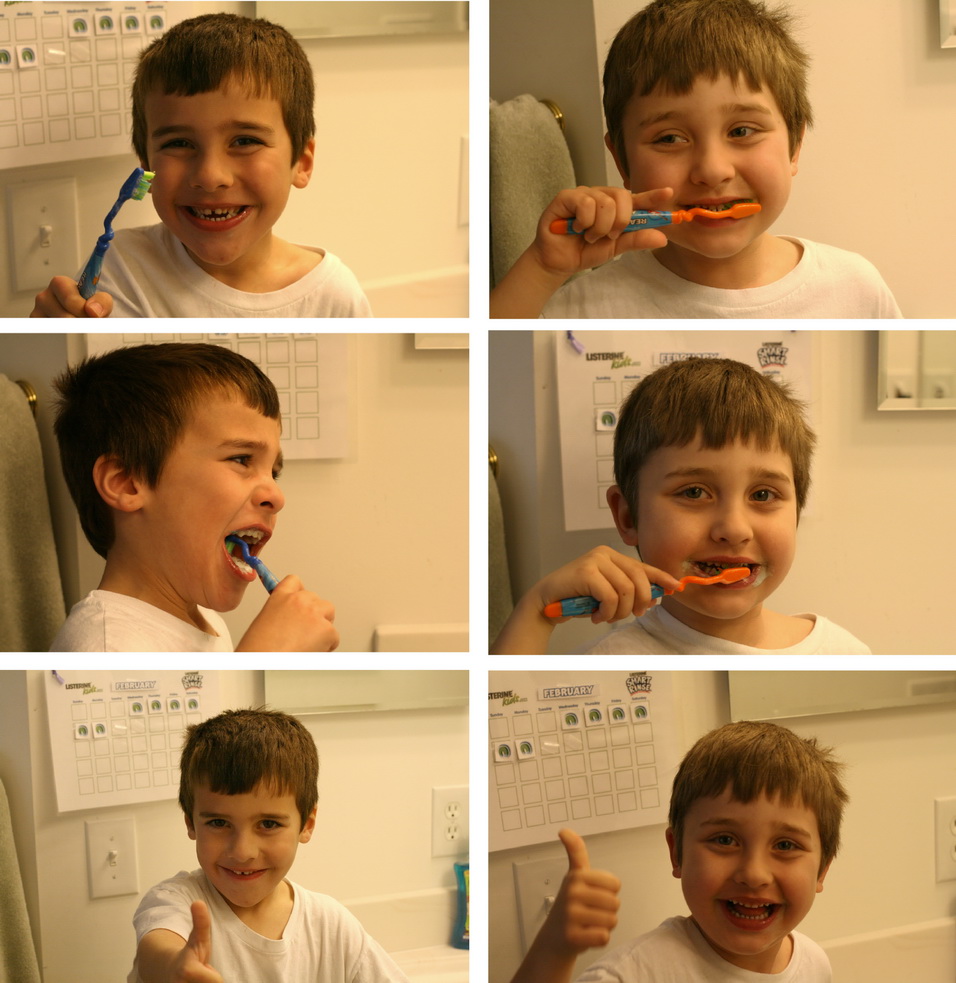 I know now, however, that I am not alone.   Did you know, that nearly 75 percent of American adults suffer from various forms of periodontal (gum) disease* and don't know it.  Despite the fact that I was brushing my teeth, I would  have never even known that I had periodontal disease.   Also after attending a webinar, I discovered that brushing your teeth alone misses the germs in 75 percent of your mouth!  I rarely even used mouthwashes, because I figured brushing would take care of it.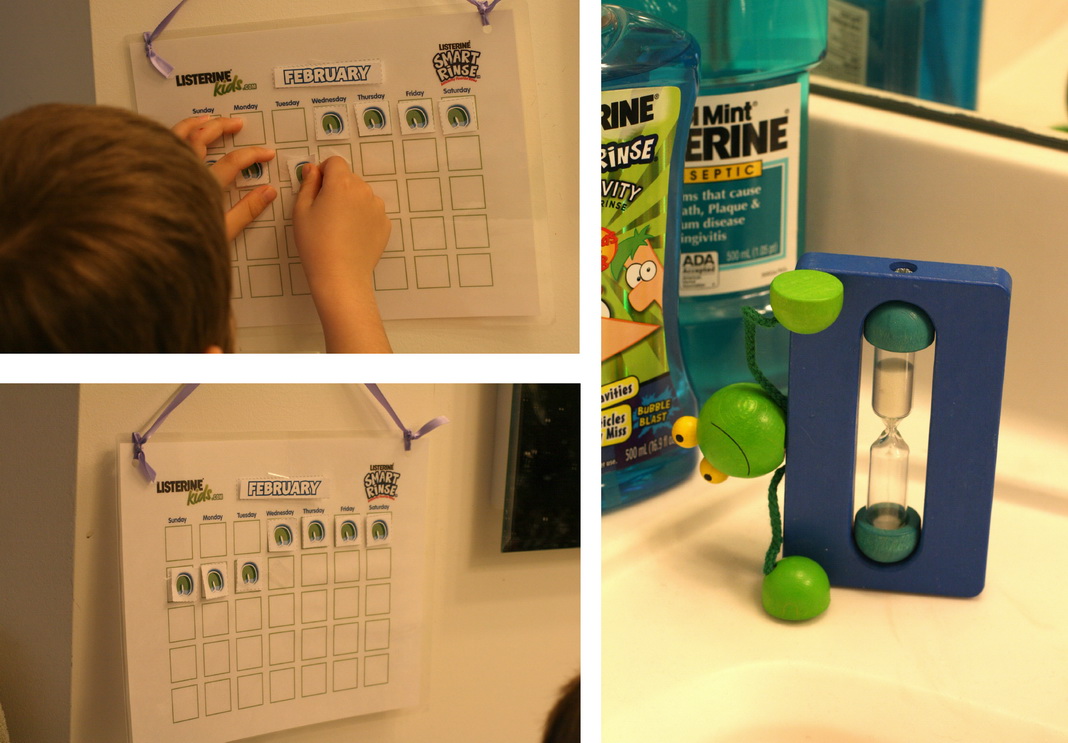 So I am on a new mission, to get our mouths in the best possible shape, by taking the Listerine Health Care Challenge and hopefully maintain a routine we all can live with, far beyond the three weeks and make it a lifetime habit with me and my kids.  We will be brushing flossing and rinsing, and making it a fun and healthy experience.  For the kids, we are keeping track on our Oral Care Challenge chart, and at the end they will be rewarded for keeping up the good work!  I am really excited to be a part of the Listerine Oral Care Challenge, and be able to keep my families teeth and mouths healthy and make it something we all enjoy doing.
I also would like to invite you to take the challenge with me!  You can visit www.walmart.com to access  tips from leading dental experts and great values and prices on oral care products.
**I received products and compensation from Johnson & Johnson and The Motherhood as part of my participation in the Oral Care Challenge. All thoughts and opinions expressed in this post are my own.**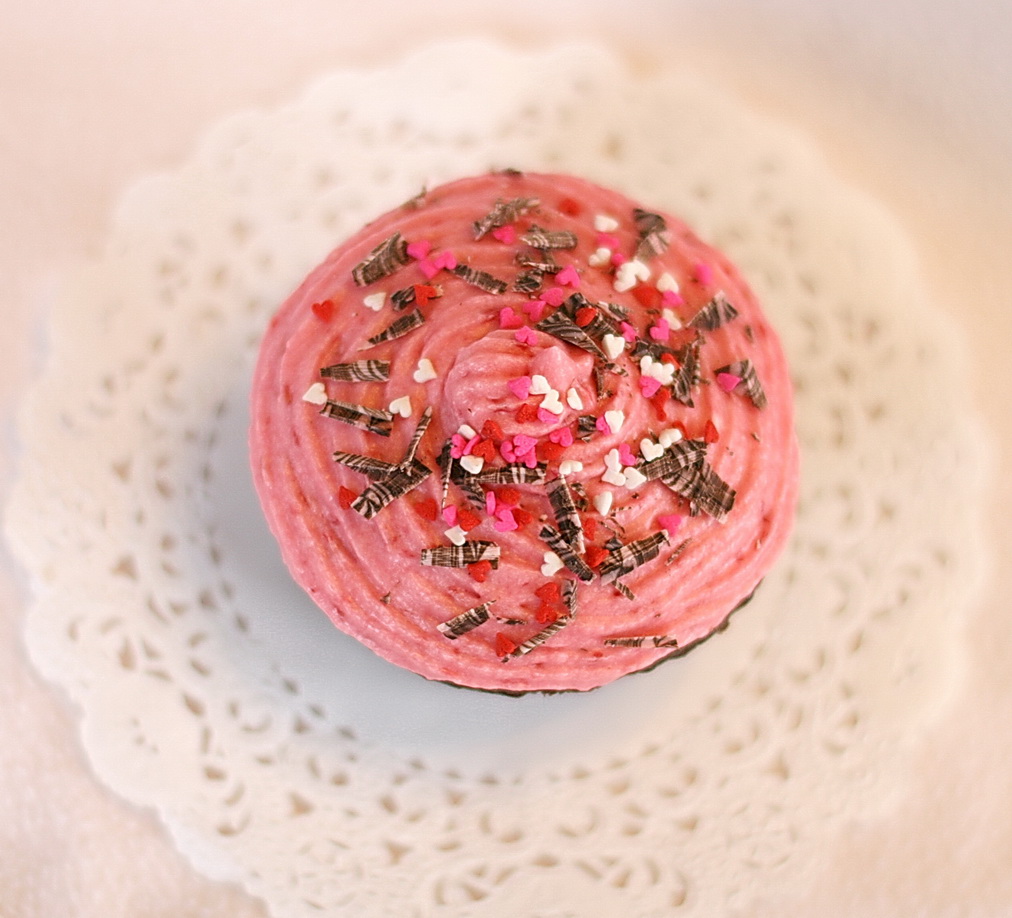 I was thinking of ways to wish you all Happy Valentine's Day, or just wish you all a happy day.  So my taste buds decided to take over.  I have an addiction to thee new Dove chocolates that I found in the store one day while I was crabby, PMS'ing and needed chocolate.  If you haven't tried them, they are the Dove Raspberry Dark Chocolate Promises.  They are the perfect ratio of chocolate to raspberry and I have to hide my stash in the house.
So I decided, what if I put these in a chocolate cupcake for Valentine's Day, or any day for that matter?  So I came up with a little recipe to celebrate this day of love…love for your loved one, love for yourself, love of all things chocolate, or just plain old LOVE!
Cupcake Ingredients
Raspberry Buttercream Recipe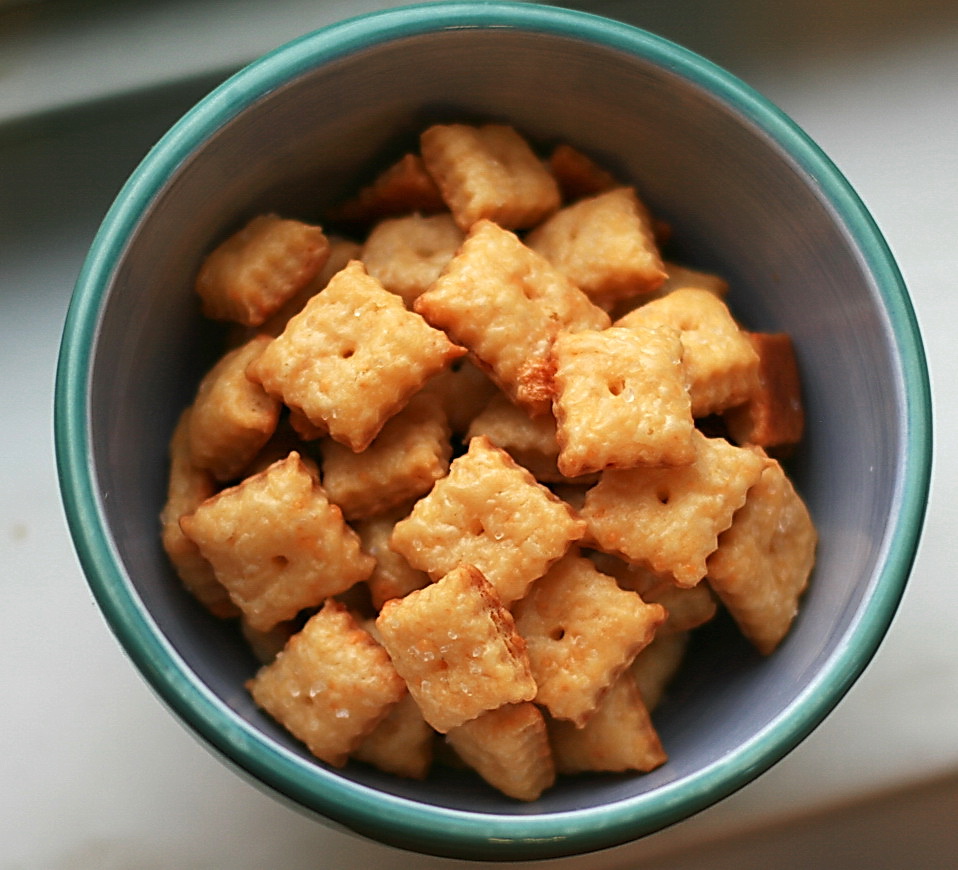 I was out and about surfing the web when I ran across a recipe for cheese crackers, that I knew I had to try. I almost always pick up a box of Cheez Its in the store. They have been around since I was a child and I still love them even today. So when I ran into a way to make my own baked crackers, I jumped at the chance to try and make a new family favorite. At first I had high hopes that these would taste just like the real thing, but to be realistic, that will never happen. I don't have enough preservatives and ingredients I can't pronounce in my baking arsenal. If I could find something that we like out of this, I prefer the natural, low preservative version.
The recipe is extremely simple to put together, and the end result is a cracker that is light and crispy. You could even turn these into twisted cheese straws, add some spices, and mix and match cheeses. For simplicity sake and for something that appeals to two 5 yr old little boys, I went with plain old sharp cheddar that I grated from a leftover brick of cheese that was just calling my name.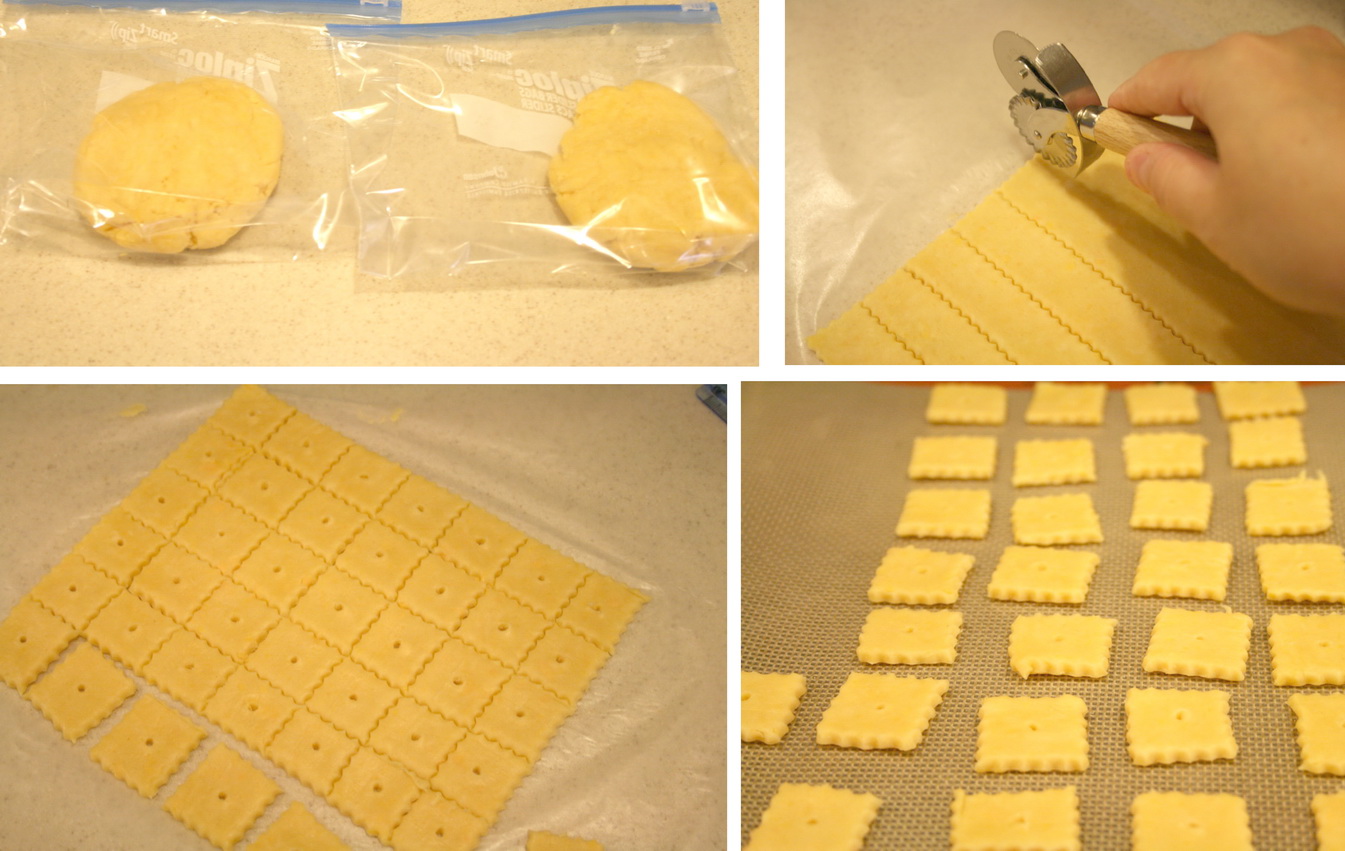 Recipe

Homemade Cheez-Its

(Adapted From: ReadyMade Magazine)

Ingredients:

8 oz sharp cheddar cheese, grated plus a little parmasean reggiano
Optional Seasonings (I used a little cayenne pepper)
3 Tbs of unsalted butter, room temperature
1 Tbs vegetable shortening (you can omit the vegetable shortening and use 4TBS of butter)
½ teaspoon salt
1 cup unbleached flour
2 Tablespoons ice water
Coarse salt for sprinkling

Directions:

Combine cheese, butter, shortening, optional preferred seasonings and salt in the bowl of your mixer fitted with the paddle attachment. The mixture will be crumbly.
Slowly add the flour then the ice water.  Add a few extra drops of water to help it come together (this is just like making a pie crust) but be careful not to add too much.
Pat the dough into 2 discs and wrap in plastic wrap. Chill for  30 minutes or overnight.
Preheat oven to 375?F.
Using parchment paper or a silicone mat roll each disc to 1/8 inch or less and cut into 1 inch squares (a pastry wheel or pizza wheel is easiest). A toothpick works great to punch a hole into the center of each square.
If you have difficulty separating and transferring the crackers onto the baking sheet return the parchment paper/mat to the refrigerator for 10 minutes (while you roll out the 2nd dough disc).
Bake for 10 – 15 minutes or until puffed and browning around the edges. If you pull them out too soon and the crackers don't have the desired crispiness you want then simply return them to the oven for 2-3 more minutes.
Move crackers to a cooling rack. Makes about 7 dozen crackers if you can keep them around that long!
The recipe is extremely easy.  I found the pastry cutter at Williams and Sonoma for around $10 but there are cheaper ones on Amazon.  You don't have to be that fancy however, but I like the pretty edges on the cracker.  I will be trying some twisted cheese sticks with this recipe for the Holidays, I think they would be pretty and make a great snack even with a warm artichoke and spinach dip.  Yummy!
If you have kids and you have a garage, it might look a lot like mine.  We have about twelve different things with wheels on it, and every outdoor play thing known to mankind.  I didn't have half of the things, I see kids with today, and sheepishly I admit that I would even like to have some of them.
Scooters seem to be a big deal in our neighborhood, I have seen motorized scooters, scooters with three wheels, my boys have scooters that spark, and I've even seen those ripstick things that look like anyone would break their neck on.  I think as a parent we are always kept informed by our children of the newest, latest and greatest toys out there.
Recently, we were given the opportunity to review the Rockboard Scooter, and the boys were absolutely excited to get this and try it out.  It was not like any other scooter that I had seen roaming about the sidewalks and streets in our neighborhood.  At first when we took it out of the box, the size seemed a little intimidating to me, but I couldn't get it set up fast enough for my two before they were up and rockboarding away.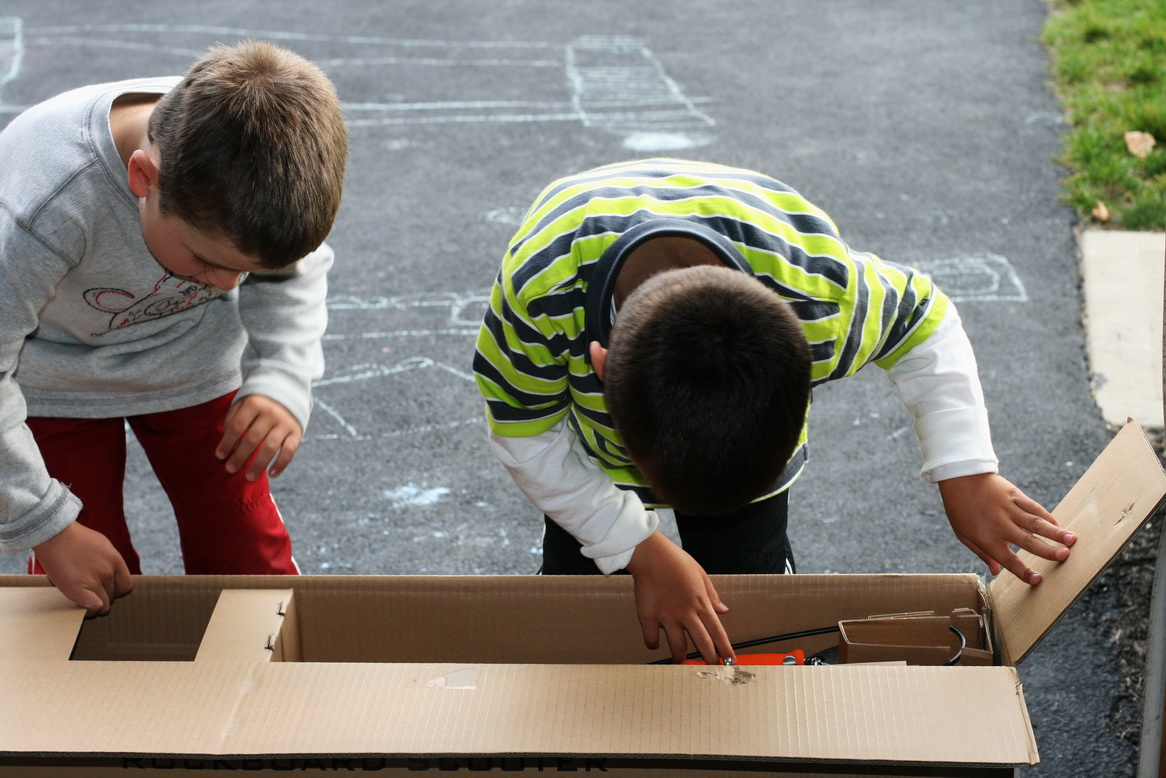 Firstly, there was absolutely no assembly required other than unfolding it and adjusting the handlebar height to fit the boys.  We were sent the full size Rockboard for them.  The recommended age on it is 8 and up with a 200lb weight limit.  They make a Rockboard mini for children ages 5 and up with a 90lb weight limit.  Despite the boys being 5, the full size Rockboard was perfect for them to handle.  I was a tad nervous at first when they got on it, but they made it look easy. Your child does have to have a sense of balance to ride this scooter.
The scooter is propelled forward by your child rocking the main step platform back and forth with their feet.  I had a slight heart attack at how fast they can get this thing moving, but thankfully it comes equipped with a brake on the handle bar.  In my nervous mom voice, and probably for my own sake, I had to continually remind them to brake, but they had the hang of it before I really had to say much, they quickly retorted "I know Mommmm" in the voice of a teenager in a five year old's body.  The Rockboard also doubles as a regular scooter, you simple lock the platform back into place and off you go. It comes equipped with a kick stand as well, which I really like, this way the scooter isn't getting tossed to the ground.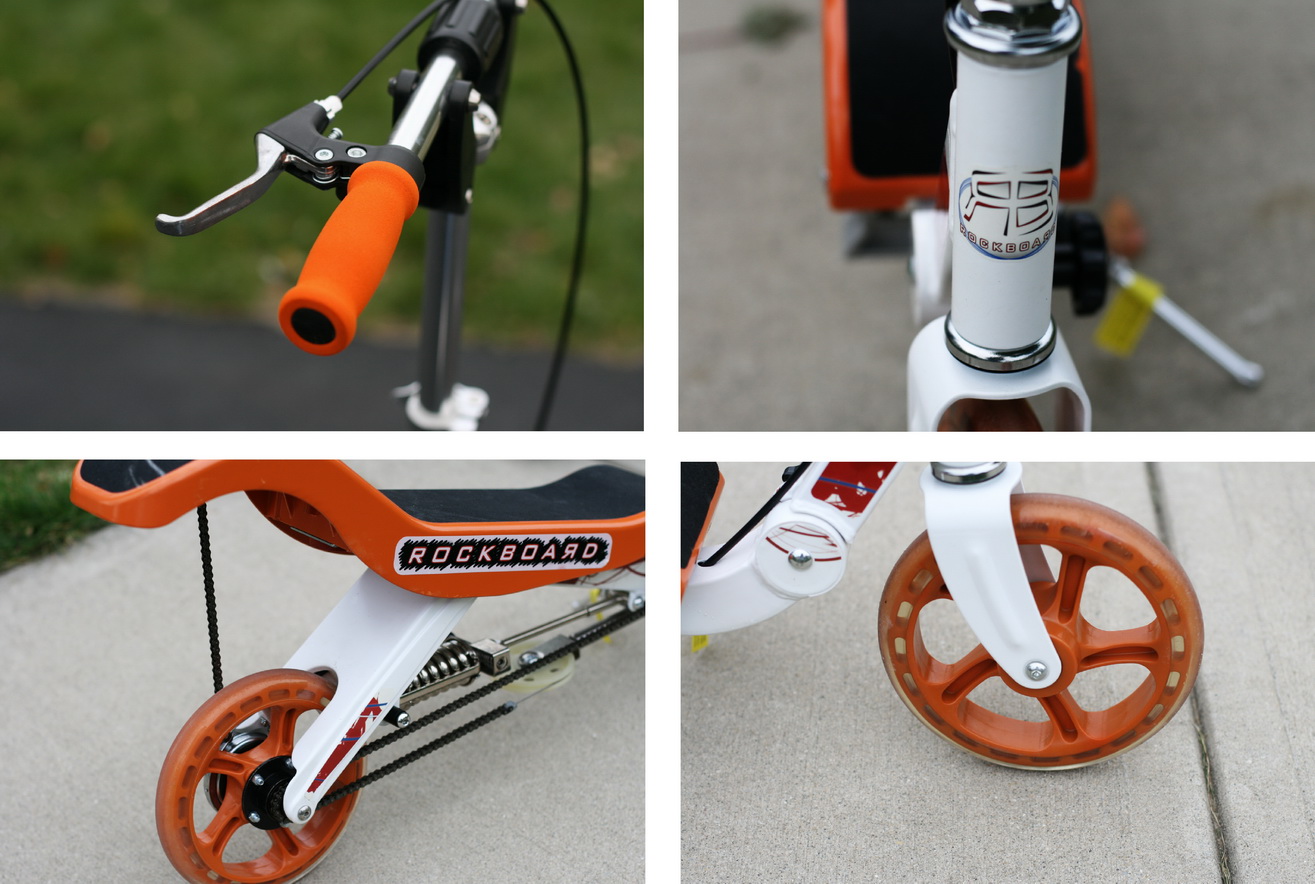 Product Features
One thing in particular, that I did notice, is that over time with braking repeatedly, you could possibly need replacement urethane wheels. Since we haven't had it that long that may or may not be an issue. All in all we really like it, and it drew quite the crowd when we got it out. The boys liked the fact that it could "race" really fast as they say, and it also appealed to the older kids 9, 11, and 12 that decided to take it for a spin as well. It is now one of my boys favorite things to get out when they want to play.
This would be a great scooter for younger and older kids alike. It deviates from the standard looking scooter and it is pretty cool how it gets around. The Rockboard scooter retails for right around $200 which may be a little pricey for some but you can find it at Target, Amazon or even Toys R Us.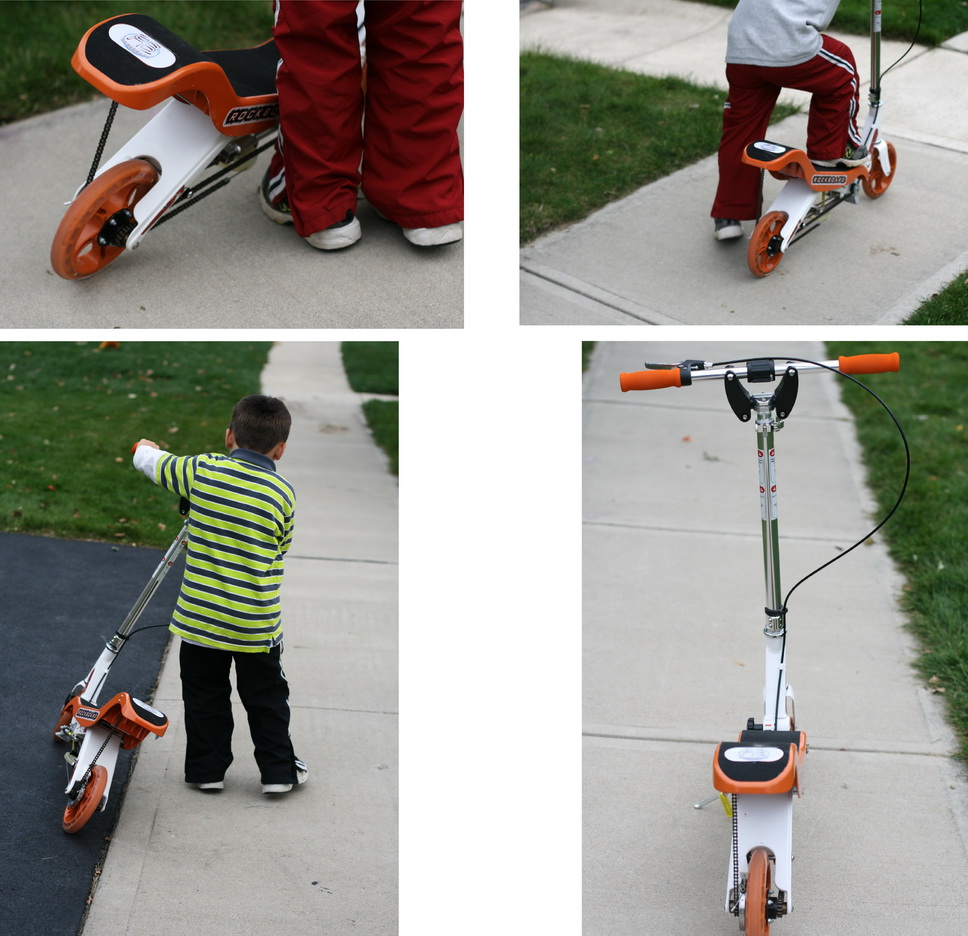 Would you like to see your kid rocking the neighborhood? To help you with your holiday shopping and to give you a chance to get your special someone a really cool and totally rocking scooter, Rockboard was kind enough to give one DoubleBug's reader a chance to win their very own full size Rockboard Scooter!.
Here's What You Gotta Do
(Mandatory) Leave a comment and tell me why you want to win
Additional Entries
Tweet about this giveaway and leave the link to your tweet
Follow me on Twitter @Laurie2008
Open to US Residents Only
Giveaway starts December 7, 2011, and Ends December 14, 2011
Good Luck!!!
**A Rockboard Scooter was provided in order to facilitate my review, the opinions voiced in this post are my own.**

This one time (recently), our cordless phone was left on the bumper of the car (whoops!), and my husband, took it for a little drive where it spent the night lonely on the side of the road in the rain.  It still worked sort of, but no one could hear me when I talked. It's been a long time since I've paid much attention to cordless telephones.  If you're anything like me, you look at a cordless phone and think "hey, it's just a phone, what's the difference?".  Thanks to VTech, I've had a chance to play around with a new modern "digital answering system", the DS6421-3.  Apparently there's a lot of difference between cordless phone systems nowadays, a lot has changed over the past 5+ years.
First, here's what's in the box, neatly packaged:
Quickstart guides, user's manual
Wall mount bracket
3 cordless phones (handsets) with batteries
1 base station with power adapter and phone cable
2 charging cradles with power adapters
Specs
I won't go into all the detailed specs here as part of this review, you can find the complete listing on the VTech DS6421-3 site here.  This set of phones operates on the DECT 6.0 standard.  That means it uses the 1.9 GHz frequency and it won't interfere with your wireless network (home wifi equipment  that generally uses 2.4 and/or 5 Ghz frequency).   Another feature that comes in handy is the "Connect To Cell" technology.  Connect to cell means you can use both your cell line and your landline with this set, easily switching between the two.   The VTech DS6421-3 also includes "Push To Talk" technology so you can use the sets like walkie-talkies.  Overall, the features are pretty impressive, equaling those of some of the more expensive high-end sets on the market.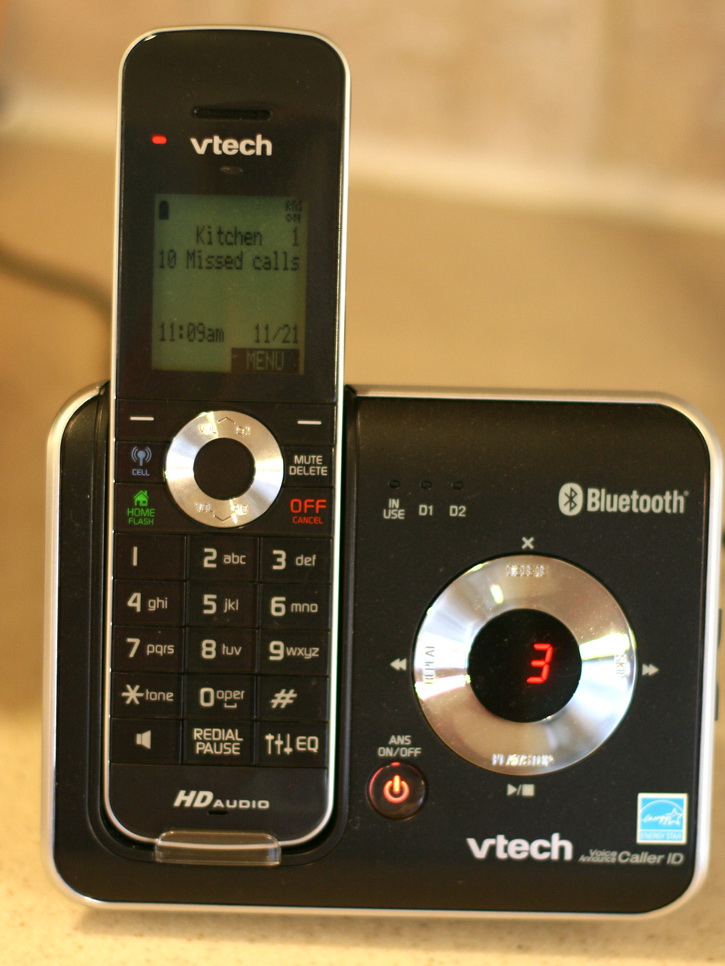 Installation
Installing the phone is as easy as can be.  You just have to figure out where you want to put the base station and plug the included phone cord into a phone outlet.  You can easily mount the base on the wall with the included wall mount bracket if you want, but I preferred to have mine on the counter.  The batteries included with the handsets come pre-charged, so you just plug them in and the 'base' automatically recognizes each handset and configures it.  One handset sits in the cradle as part of the base, the other two handsets can be placed anywhere you like, just plug each of the charger cradles into any available outlet.
Using the DS6421-3
Once you set up the base and cradles, you're ready to start using the phones.  The VTech DS6421-3 does everything you'd expect from a good cordless phone set.  The handsets themselves are very sleek, fit comfortably in your hand and feel well-built.  The back lighting is good, the screens on the handsets are crystal clear and easy to read.  So far everyone I have talked to sounds crystal clear. Each cordless phone has caller ID, functions as a speakerphone, and the base has an indicator on it that tells you how many voicemails (if any) are recorded.  You can also screen calls right on each handset – just hit the "screen" button  and you can listen to the person leaving the message on the handset speakerphone.  I love not having to get up to hear who is calling.   Another feature I found myself using frequently is the ability to listen to recorded messages from any of the handsets.  Just use the menu to select "play messages", and listen to the voicemails on whatever handset you have available.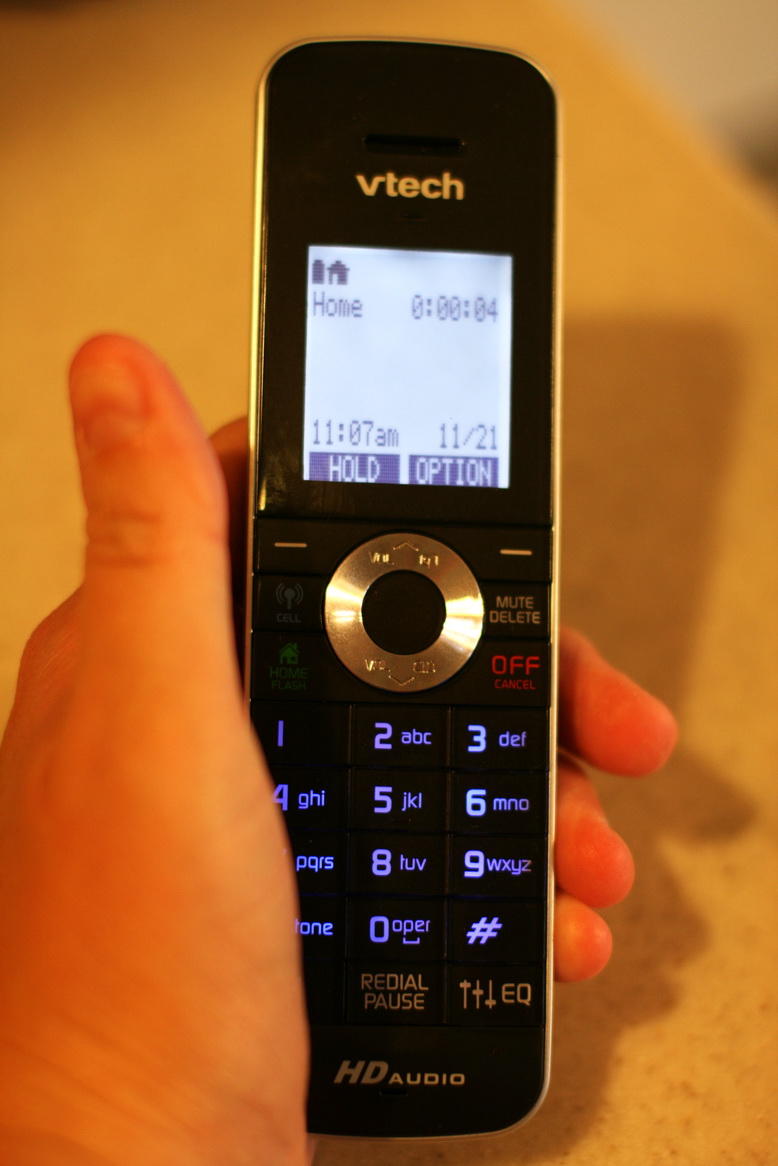 There's nothing more annoying than having your cordless phone run out of  battery all the time.  The VTech DS6421-3  features very long battery life.  I used the cordless phones for hours and didn't have to charge  them for at least a week.  I was very impressed with the battery life and I had no low battery sounds beeping in my ear mid conversation.
Another, aspect of cordless phones is their range of use.  I am often on the phone and going out to the mailbox and prefer not to lose connection.  You want something that will let you walk anywhere in the house without interference, as well as short distances like your driveway.  I was able to use the cordless sets throughout the house, outside the house all the way to the street in front of the house with no problems.  VTech lists the range as "up to 500 feet", which is probably only feasible under the most perfect conditions, but the range on these were great.
The 3 handsets in this set are identical.  They operate using a very simple menu, it didn't take long at all to figure out how everything worked without even opening the manual.  The menu is operated using a left / right select buttons along with a round disk .  The menu options are straight forward, you can customize pretty much everything from the ring tones to the ringer volume to the number of rings it takes before the answering machine picks up.  You can also set a name label for each handset so you know where each one goes.  This feature is perfect for when you want to use the "push to talk" functionality.   Picking up the phone and pushing the button for "Kitchen" or "Basement" makes a lot more sense then trying to remember where "handset #1" is located.
One thing I really liked about the phones is that when someone calls each set it speaks the name/caller id of the caller.  You don't have to look at the phone or base to know who's calling, which is very handy for easy screening of calls.  For me this is more fun than anything, because at first I had some trouble recognizing the pronunciations. The DS6421-3 also has "equalizer" functionality to optimize the sound quality of your phone calls.  I don't know about you, but I can't imagine ever needing to use an equalizer to fine tune the sound on my mono phone handheld…. But hey, it can't hurt, it's a nice touch they threw in!
Connect To Cell
The "connect to cell" functionality is one of the features relatively new to the cordless phone market.  Basically, it allows you to integrate your cell phone(s) and your landline together into one seamless phone system.  it works like this:  you "pair" up to two cell phones to the DS6421 base, using Bluetooth connectivity.  That means the paired phone just has to be somewhere near the base (in the same room generally) to be connected to the DS6421 base.  Once paired, the base will treat the paired cell phone as another "line" in addition to your land line.   You can receive incoming calls from your cell phone(s) on your cordless phone the same way you would incoming calls on the land line.  Different ring tones indicate whether the call is on the landline or on the cell.
This is an excellent feature for those with a cell phone with Bluetooth.  When you come home, just put your cell phone in the same room as the DS6421 base, plug it in to charge the battery, and you'll be able to make and receive calls using your cell or your landline with the simple click of a button.   Click the "cell" button, and you receive or make a call using your cell phone.  Click the "home" button, and you receive or make a call using your landline.  Since you can pair two cell phones, two people living in a home cold both have their phones paired, and both use the same set of cordless phones to access either the landline or the cell phone.
One important note to the landline/cell phone functionality is that you only need to have one or the other to use the system.  If you have both cell phone(s) and a landline, the DS6421-3  integrates them perfectly… but you can use the VTech DS6421-3 without having a landline at all, great for those who are thinking of getting rid of their land line and just using cell phones.  With this system you get the best of both worlds, a nice handset with great range and coverage while your cell phone is charging.   For example, you could use your cell phone for free long distance if your landline doesn't have free long distance.
Another great feature of the connect to cell technology is that the DS6421 phone system can copy your contacts from your cell phone(s) to the cordless phone system.  That makes the issue of having someone's info on your cell but not your home phone a thing of the past.
You can also connect Bluetooth headsets to the DS6421 for easy hands-free calling in your house.  I found this feature somewhat less than useful since you are limited to a relatively small area around the base of the phone system.  You can't use the Bluetooth headset and wander off to the other side of the house while on the phone, the Bluetooth signal will get disconnected.  Still, it's a nice option to have if you need to be on the phone a lot and want an easy hands-free setup.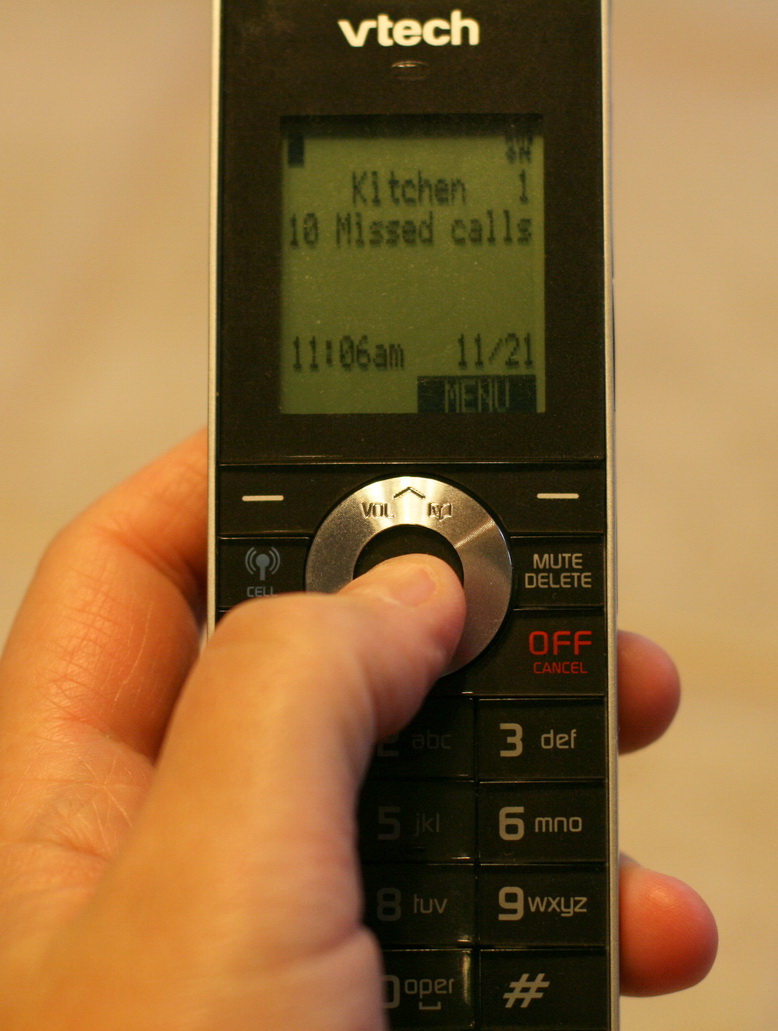 Expansion
The DS6421-3 can be expanded to up to 12 handsets, although who needs 12 handsets?  I found that the three provided were more than enough and felt like I had phones laying around everywhere.
In conclusion, I really like the VTech DS6421-3.
Pros: great feature set, great look and feel, cell/landline integration, phone contact copying, expandability, long battery life, ease of setup and use, overall value.
Cons: inability to set ringer volume for each handset, ringer options have to be set for all handsets at the same time.
Overall, I was thoroughly impressed by the VTech DS6421-3.  It was easy to set up, works great, integrates the land line with the cell phones seamlessly, and does everything at a very reasonable price (less than $100 last I looked).  That's a great bargain! I'd recommend this set to anyone who's in the market for a new cordless phone system.  You can save a few dollars by getting a "no frills" cordless phone set, but you'd miss out on a lot of great features and functionality for relatively small savings.  The bottom line: The VTech DS6421-3 is a really great phone for the home.
**I wrote this review while participating in a campaign by Mom Central Consulting on behalf of VTech and received a product sample to facilitate my review.  All of the opinions I have expressed here are my own.**

Not having a car payment is nice. Then you drive by the car dealership on your way home one day and you see those shiny new cars sitting on the lot. Stylish, sleek, with the latest gadgets and gizmos. You read about some of the newer models online, maybe you take one or two for a test drive, but it's hard to really evaluate a car in such a short time span. Thanks to Ford, we recently got a unique opportunity to really put a car to the "real world" test.
The folks at Ford allowed me to pick out the Ford vehicle model of my choice, then had it delivered to my front door for me to keep and use for a week. Talk about great service.
We decided to make it a family road trip, to head out to grandma and grandpa's place – about 450 miles away. When you go somewhere for a week and bring the whole family and the dog, you need a lot of space. A regular car was not going to cut it. We decided to try out the Flex.
The Ford Flex is an interesting and unique vehicle. With it's long boxy frame, it looks different than anything else out there. . It's not quite an SUV, it's not quite a crossover, it's not a minivan, and it's definitely not a truck… it's a little of all, it's a Flex.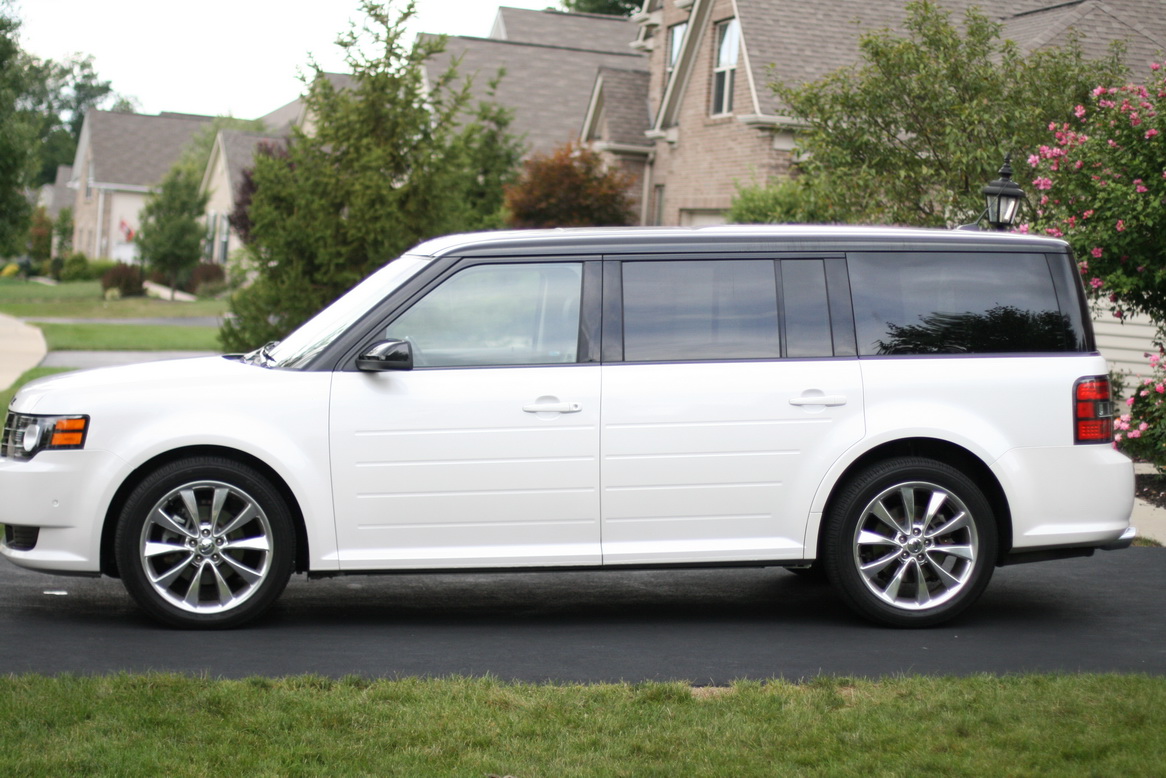 The first thing you notice when you get into the Flex is that it's very roomy on the inside, much more roomy than you would expect by looking at it from the outside. It has 3 rows of seating for a total of 7 seats. The leg and headroom for the front and middle rows are excellent, much better than what I've seen in other similar vehicles (including the Explorer). The 2 seats in the third row offer enough space for an adult to sit comfortably. The third row seats are very easy to fold down to expand cargo space as needed, even using  just one hand. One issue we had was that if you have two or more child seats or boosters in the middle row, there's no way to get to the third row seats. If you put those child seats in the third row, the cargo space is extremely limited, and it's tough to get the kids buckled into their seats.
The second thing you notice is that the Flex is very nicely finished. You can tell that a lot of thought and effort went into the interior design and finish. No cheap plastic look and feel. Buttons and controls are where you'd expect them to be and are easy to use. The leather seats are very comfortable and can be adjusted a million ways to fit just right. The overall impression is that of a high end vehicle.
When you have a vehicle for 7 days and you take it on a road trip, you really get a feel of what it's like to use it on a daily basis. One of the things we really liked about the Flex is that it's packed with all the electronic goodies you could want. Bluetooth connectivity, built in GPS navigation system, a touchscreen interface on the dash where both the driver and passenger can reach it, Sirius satellite radio built in, easy phone pairing, and the really cool Ford SYNC functionality. You can easily pair up the SYNC with your smart phone (android or ios), play music from your phone or MP3 player, and control the music using voice commands so you can keep your hands on the wheel. Being able to change channels, select songs by title or artist etc all without lifting a finger is great. You can check out all the SYNC features here: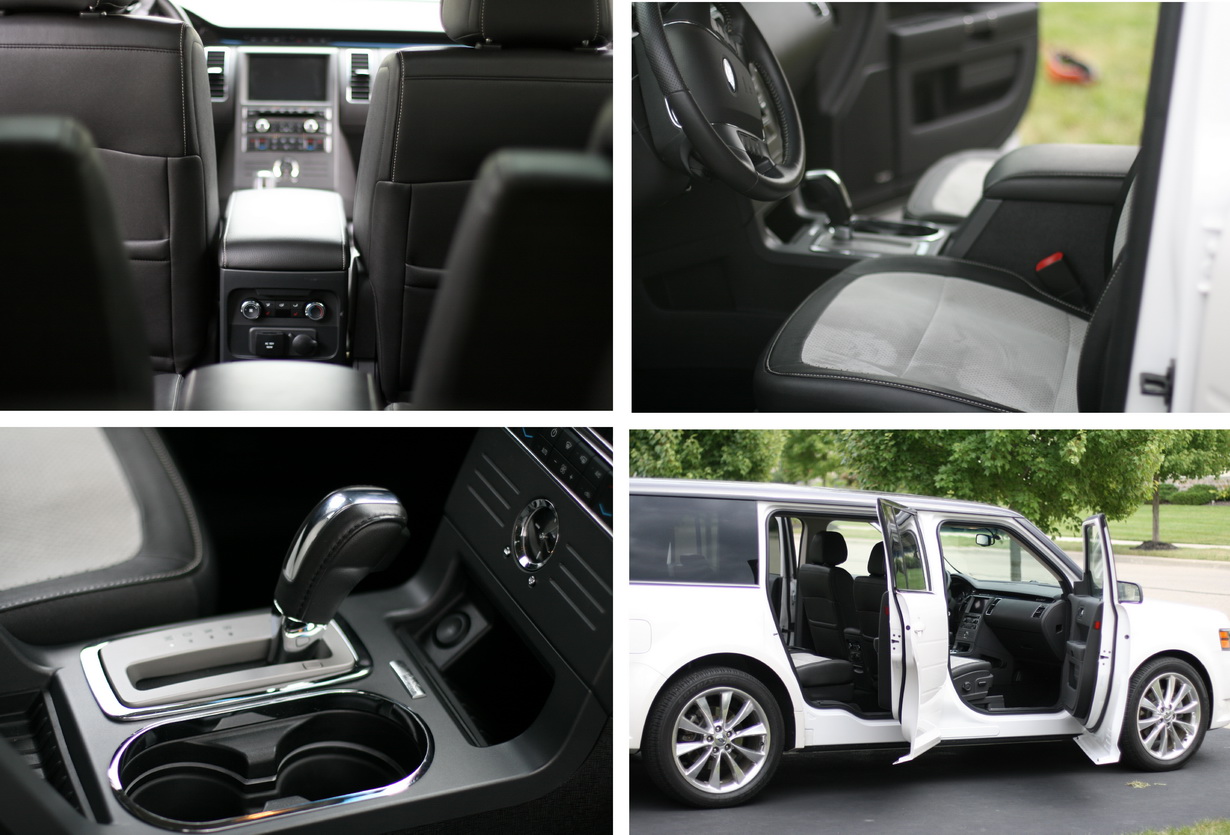 Another cool feature is being able to see exactly how much gas your engine is using at any particular time. The vehicle we used was equipped with the 3.5L EcoBoost engine , and we actually got better mileage than the EPA estimated 16 city/23 highway. We were consistently getting 26 mpg on the highway. We were a little surprised when we stopped for gas and noticed that there is no gas cap on the Flex, it uses the Ford "easy fuel" cap-less system, a nice touch.
Another feature that you won't find in many vehicles is a refrigerated compartment in the middle console. That's fantastic when you go on a long road trip, you can put some drinks in there and keep everything nice and cool, even on the hottest of days (the temps hovered in the 100's during our trial).  I could forgo the refrigerated center console to have a clear path to the far back seats however.
Pros: very flexible with seating, very roomy, packed with technology, very refined, plenty of "oomph" under the hood, good mileage given it's size.
Cons: when the third row seats are not folded down, cargo space is very small.
So what's the final verdict? The Ford Flex is a really cool vehicle and true to its name it is very flexible in configuration. The Flex (depending on the model) goes for $29k to $39k. I personally would not be willing to pay close to $40k for the Flex, but in the $30k to $35k range it's a very good value. Ford continues to add innovative and interesting models to its lineup, I look forward to taking some of the other new models for a spin.
Our family consumes a lot of juice, especially the boys.  First thing in the morning, it is the thing they ask for the most.  To incorporate more water and less sugary juice, I started watering it all down.  Both of my kids love fruits and vegetables of all kinds, so that has never been a struggle, so I started considering ways in which I could still give them the juice that they loved in the morning and throughout the day, but offering them a healthier choice.
A good friend of ours suggested a juicer, so I went on a search to find out more information.  I used to own a juicer back in my college days, and a lot has changed since I owned that dinosaur of a juicer.  There are a lot of juicers on the market, there are centrifugal juicers, masticating juicers, and others, that make your mind spin with information. One of the supposed key benefits to juicing are the mega health benefits.  When you buy bottled juices in the store, most of these are pasteurized which means it is heated.  The problem with that, is you kill off all the "good for you" stuff, and you are  not getting the maximum benefit from the fruits and vegetables.  If you are drinking heated juice, then you might as well stir up some sugar water, and call it a day.  After reading about it, I don't think I would ever go back to a bottled juice again.
After countless hours of researching the health benefits, I realized that I wanted to try a juicer, not just for my children, but for myself as well.  I recently had the opportunity to review and Omega Vert Vrt350 HD Juicer.  For the most part, juicing is a foreign to me, so when it arrived at my doorstep, I was excited and a little intimidated by using it.  The first thing I noticed is that it was heavy!  I thought there must be a hunk of lead in the box, but to my amazement the juicer itself is very compact in size, the bulk of the weight is in the part that houses the motor, and the Auger (the part that turns to work the fruit through the mesh juicing screen).  I was surprised how easy it was to get up and running, within just a few minutes, I was already juicing my first apple  and a carrot.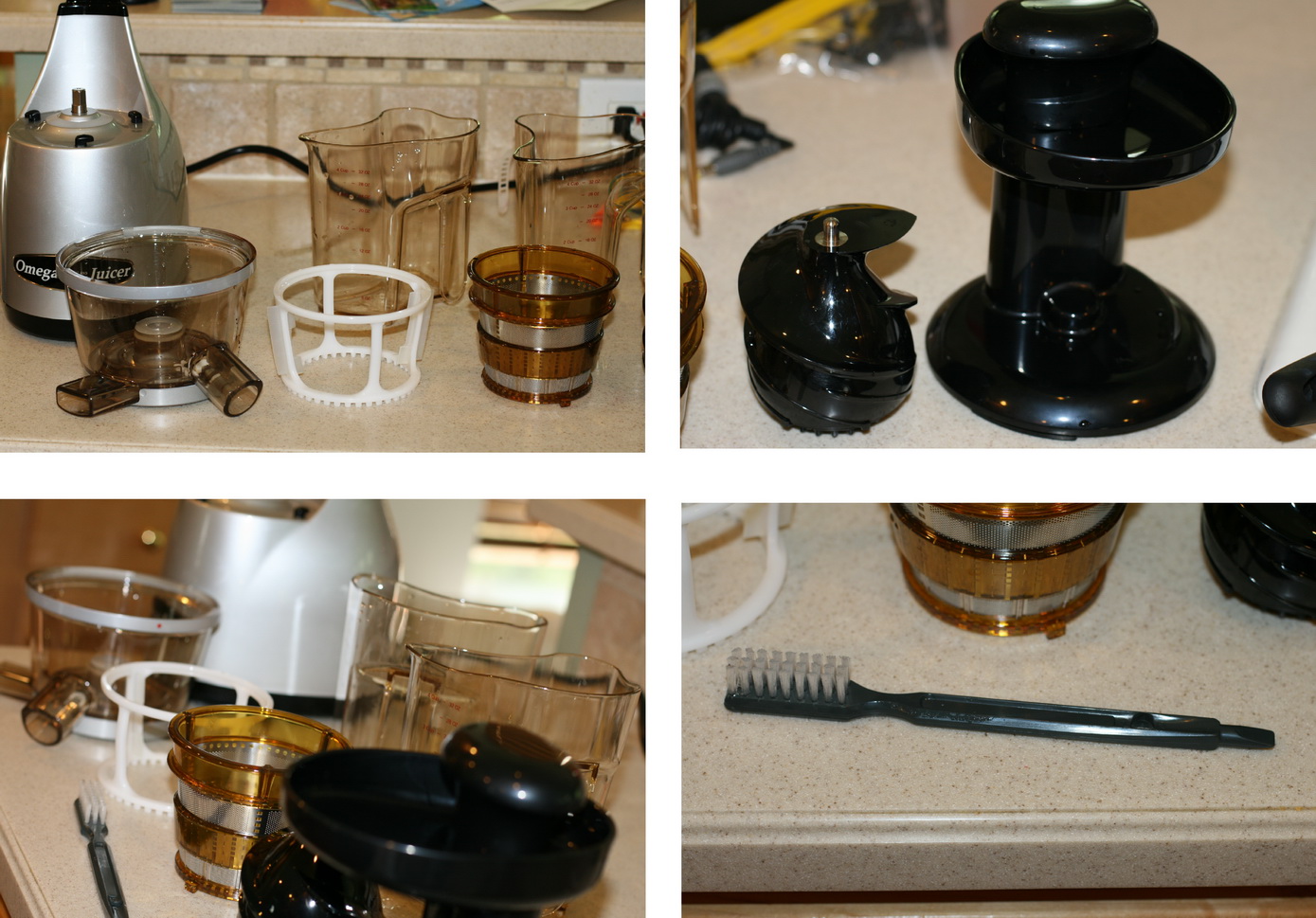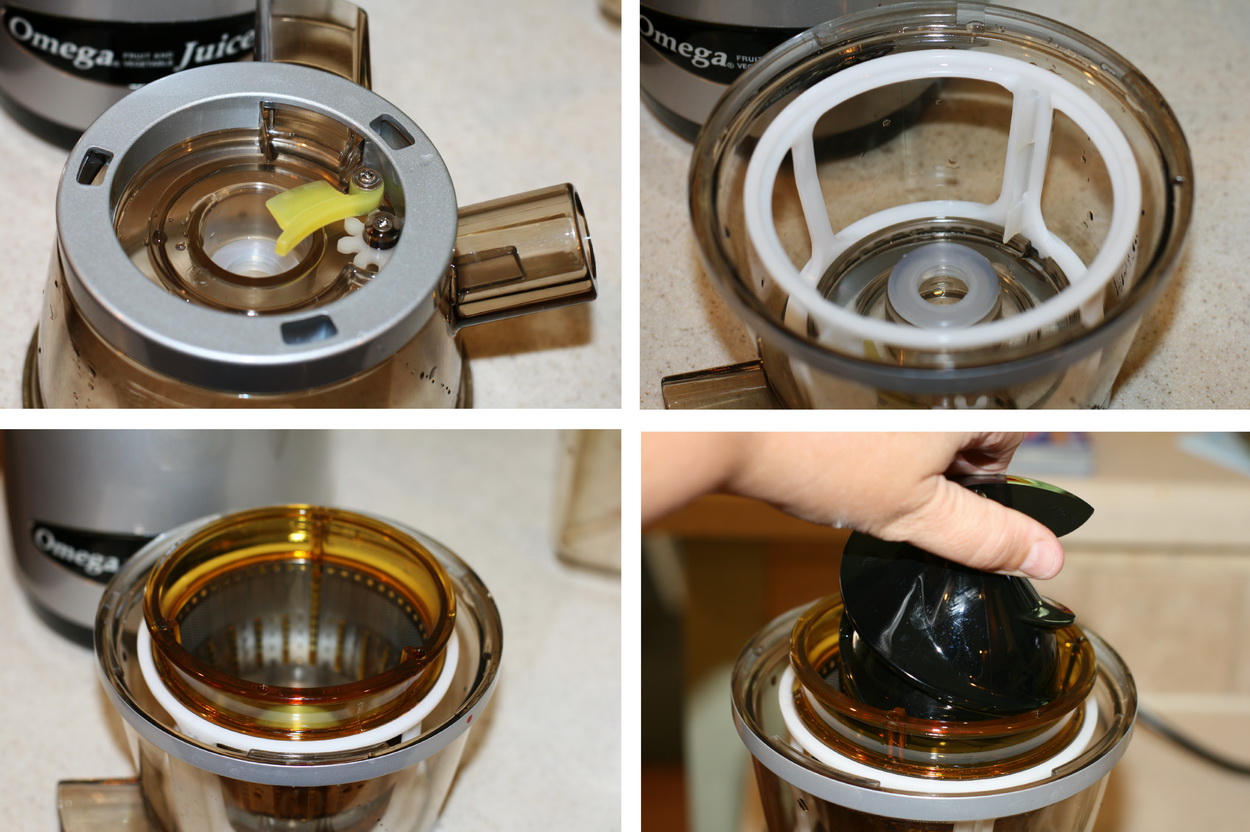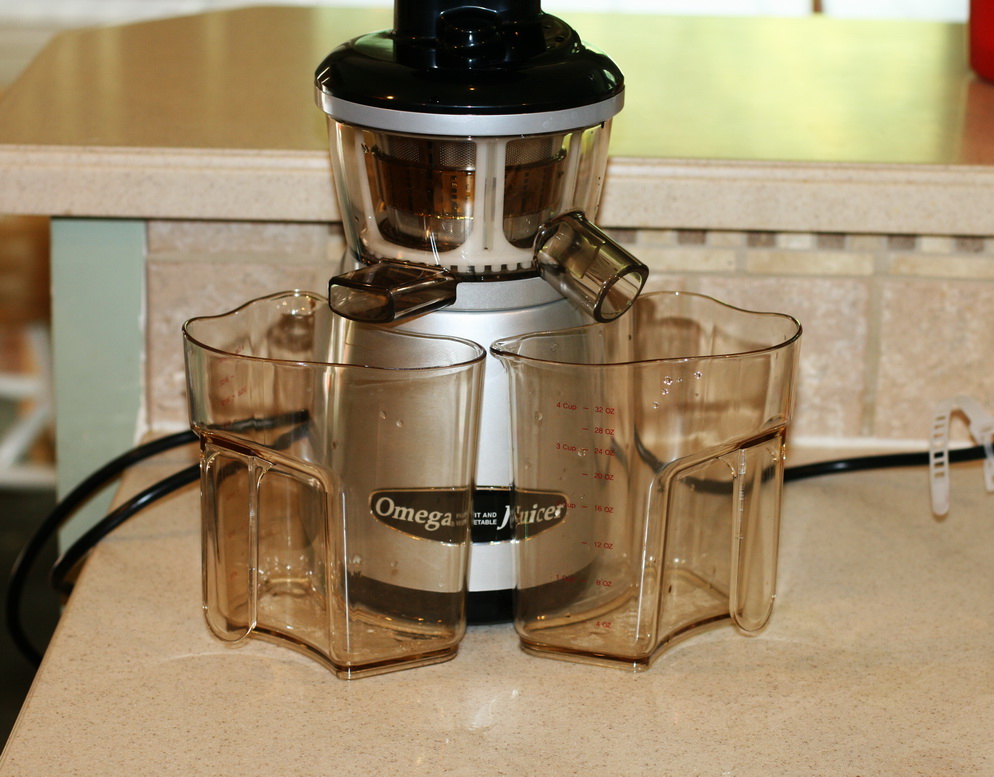 Try not to laugh at my demonstration video!
Omega Vert VRT 350 HD Details

The Omega Vert VRT350 Juicer  features the high efficiency of a

masticating  juicer

in a vertical design that is compact, contemporary and productive. Most juicers process at a speed of 1,650 to 16,000 RPM, destroying many healthy enzymes and causing juice to degrade shortly after being extracted. The Vert VRT350 Low Speed Juicing System processes at 80 RPM, preventing oxidation and allowing juice to be stored for up to 72 hours without degradation. The Vert VRT350 also features an innovative auto cleaning system that keeps the screen clear during juicing and increases its efficiency. The contemporary design is complemented by a virtually indestructible ULTEM juicing screen that will withstand heavy duty juicing. Ideal for fast pace commercial environments, this juicer combines a contemporary styling with the technology to cater to the  health conscious.

Features:

• Innovative design squeezes out
juice rather than grinding
• Preserves natural taste and
color of juice
• Preserves natural nutrients
• Exclusive Blade Cleaning System
keeps the screen clean during use
• Efficient Design ensures maximum
juice extraction with the driest pulp
in its class
• Easy disassembly and reassembly
• Auger is extremely hard and durable
• Auto Cleaning System
• 80 RPM for peak efficiency
• Crushing Ribs
• Commercial 1/3 HPMotor
• Exclusive Underwriters Laboratories
Inc. (UL) Household and Commercial
Approval
After using the Omega Vert VRT 350HD juicer for about 8 weeks now, I have noticed a marked difference in how I feel physically and surprisingly, juicing has changed how my skin feels.  I have also used it to help me in my weight  loss, and have just been drinking freshly juiced fruits and vegetables, when I am hungry between meals and have managed to lose weight in the process without feeling cheated.  I actually enjoy getting the juicer out and making fresh juice for me and the boys and experimenting with different combinations.
I have found that if you are over zealous with certain vegetables like celery, you can over power your juice, so with a little experimenting you can find a balance that tastes good to you.  The Omega Vert VRT350 HD comes with two juicing screens which allow you to have more or less pulp in your juice.  We prefer the finer screen with most things with the exception of juicing oranges and lemons.  My husband likes to run his through and even finer strainer after the juicing process, but he is ultra picky about anything healthy  LOL!  In the process of juicing, I also discovered a new way to make blackberry jam as well.  I wanted to make a seedless version, and was fighting with a potato masher to get the seeds separated, but then I decided to try my juicer and it removed all the seeds and left me with just the good stuff from my blackberries!  The Omega Vert VRT350 HD is awesome for this too!
What I love about the Omega Vert VRT 350HD juicer is that I can control what my family is getting with maximum health benefits.  It is very very easy to use and there is no fuss when cleaning it when I am done.  I can juice and clean the system literally in about 5-7 minutes which makes it practical for families on the go.  There is actually very little to clean with the silicone wiper blades that rotate along the juicing screen, there is little in the way of food that gets stuck anywhere.  It is perfect for kids and adults with texture issues who do not like to bite into an apple or a raw carrot but are willing to drink the juice instead.  I also like that, if there are bruised fruits in my fridge, I can toss them in the juicer and still get the same benefit and avoid tossing away money spent on fresh produce.  This juicer is also super quiet!  When I first used it I was expecting loud noises as it would grind up my fruits and veggies and I was beyond surprised.  I can run my juicer early in the morning and no one hears a thing.  We did have a little trouble juicing pineapple, but I found if I cut it into smaller pieces, the pulp chamber was less likely to back up.  Juicing also creates pretty much no waste if you want it to.  With the remaining pulp you can easily use this as compost in your garden, I plan on creating a composting bin starting this fall and this is perfect for that.  The Omega Vert VRT350 HD retails for around $380 and is worth every penny in my opinion.  If you are interested and serious in making some major changes in your diet, I would suggest trying a juicer and I highly recommend the Omega Vert VRT 350 HD juicer.  I have not been disappointed with it in the 8 weeks that I have had it.
Overall this is a great product, if you are interested in making health conscious decisions for the family and you want to offer the healthier choices for your kiddos.  Neither one of my boys has noticed a difference in the juice that I offer them from the juicer versus the watered down concentrates I used to give them.  This in itself is worth the switch.  You can read more about the Omega company and how they got started with their full line of Omega juicers.
**The Omega VRT350 juicer was provided for me to review, the opinions expressed here on my blog are that of my own.**
Each year I get a little more adventurous with my vegetable garden, and there is something nice about growing your own fresh veggies for your family.  Not only is it fun, everything just tastes so much better when it comes straight from your garden.
Trisha over at momdot, is growing some wonderful things in her family garden.  It seems she is ahead of the game, but I haven't been too lucky with any early harvests yet.  The weather for the most part here, has been cold and rather rainy, so everything is off to a slow start.
I thought I would give you all a sneak peek though.  Everything is indeed growing, and I think it is just my impatience that has taken over that has me out there telling everything to hurry it up.  I did get to enjoy my first salad with some lettuce, and it was yummy!
So here ya go, in the garden, cauliflower, broccoli, peas (regular shelling/garden peas, and sugar snap) they are the one vigorously climbing the trellis.  I have pole beans (also climbers), cucumbers, tomatoes, zucchini, asparagus (wont be ready till next year), cilantro, parsley, thyme, rosemary, basil, and oregano.  Up by the house, I have Stuttgarter onions (yellow onion), more tomatoes, more cucumbers, and red peppers.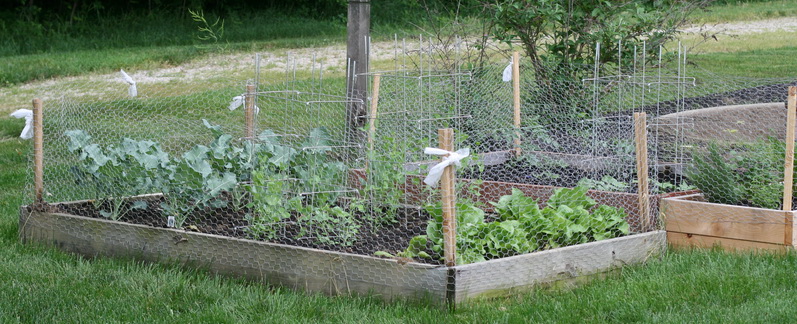 Here they all are growing in various stages but doing well.  The fence is for the bunnies to stay out, and the white ties are fabric softener sheets to deter the deer.  I also have a motion detector sprinkler that I am getting ready to put back up, otherwise bambi and his friends will eat every blessed thing I have.
Lettuce and Peas Doing Their Thing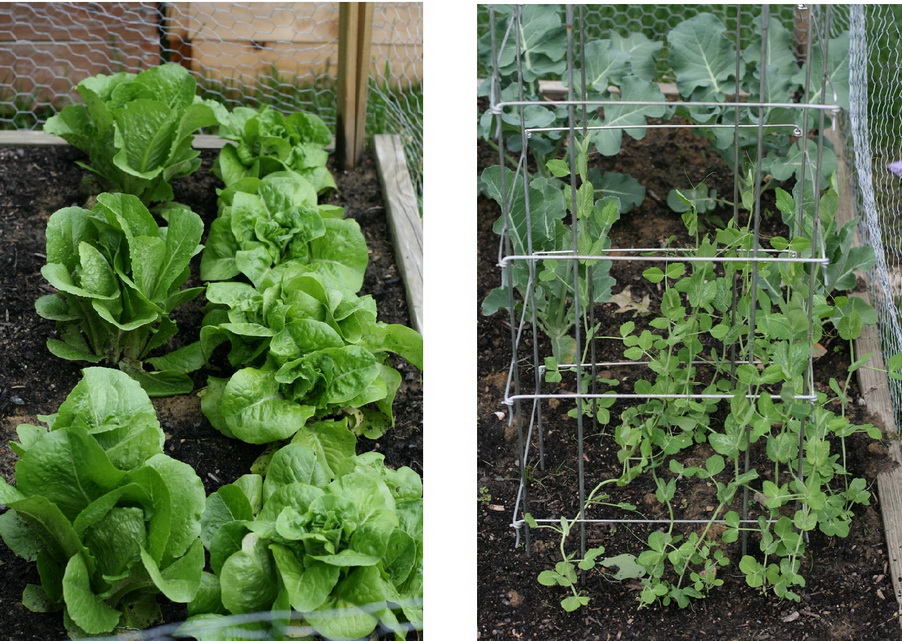 Broccoli and Herbs

Both Gardens Side By Side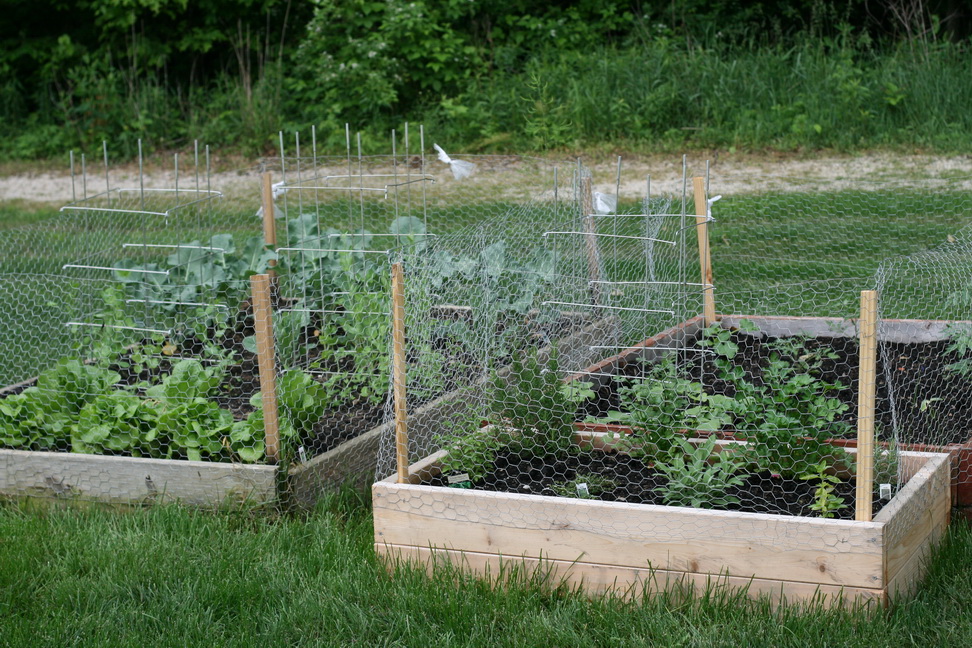 What are you growing this year in your garden?  What are your favorite veggies?  I plan on doing some canning this year if I get enough.