As a Mom, it is always a challenge to come up with things to feed your family.  It is even harder to come up with creative ways to slip healthy dinner choices into your family's diet, especially if you have picky eaters.  One of my boys will eat just about anything, but my other, you have to convince him that the food you put in front of him is good.  Making subtle changes with healthier variations is what I found to be easiest when attempting to put something good for us on our plates.
I will be the first to admit that I tend to skip over the healthier version of a favorite food because it has been burned into my mind that it just won't taste as good or taste the same, but I am usually willing to try it, if you put it in front of me..  My husband is a very anti-healthy anything, and if the label even mentions whole grain foods or whole wheat anything, he won't touch the stuff.
I was recently given the opportunity to try Uncle Ben's Brown Rice and I must say that I was pleasantly surprised.  We use a lot of white rice with various dishes in the house, so I figured that making a switch would be a good idea in the long run.  We were able to try a few different varieties Natural Whole Grain Brown, with the traditional cook time (40 minutes), plus Fast & Natural Instant Brown Rice and Boil-In-Bag Whole Grain Brown Rice (both ready in 10 minutes).  I am a big fan of the boil in bag rice but we tried the Fast & Natural Instant Brown Rice.  I was serving a pork dish with a sauce that I dumped over the rice, but because rice is so versatile you can incorporate it into many dishes.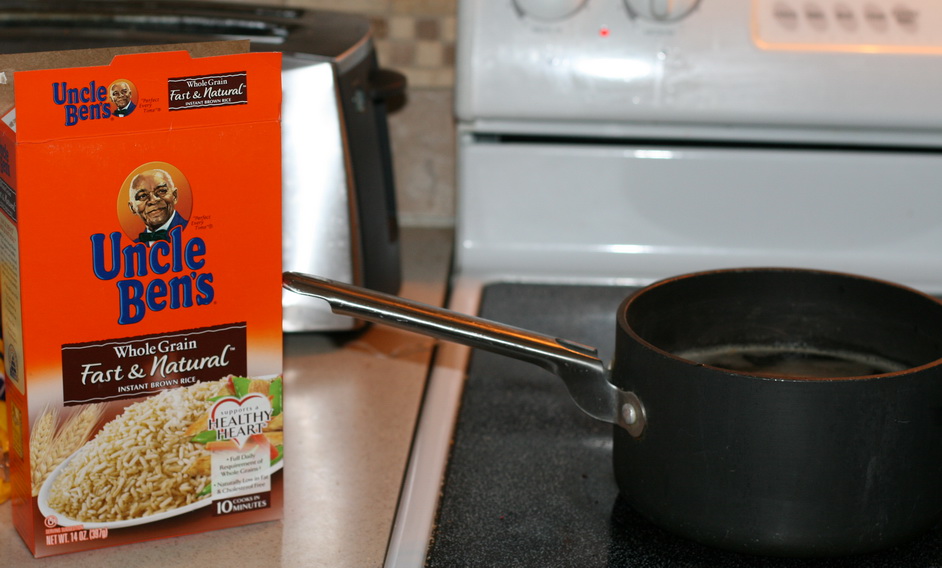 The rice definitely has a distinct taste, and you can taste the whole grain, but everyone seemed to really like it, and I can see switching to use it in place of just using white rice, although I don't think I will give it up completely.  Uncle Ben's also has some really  great recipes to try using their Whole Grain Brown Rice, such as: Chicken & Brown Rice Sloppy Joes (this is next on our list to try); Tex Mex Rice with Shrimp, Corn and Lime; Chicken, Apple and Walnut Brown Rice Salad; and Mediterranean Stuffed Portobello Mushrooms. This makes it really easy to incorporate healthier choices and please even the pickiest palate.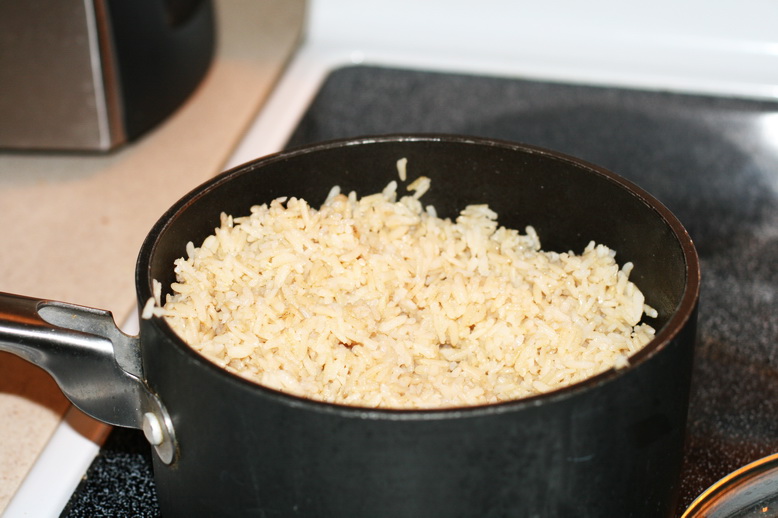 All in all, we really liked Uncle Ben's Whole Grain Brown Rice and will be keeping it as a staple in our pantry.  I can't wait to try their Sloppy Joe Recipe!
"I wrote this review while participating in a blog campaign by Mom Central on behalf of Uncle Ben's and received samples to facilitate my candid review. Mom Central sent me a gift card to thank me for taking the time to participate."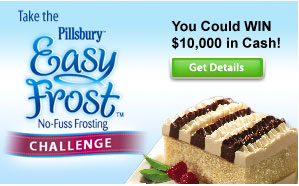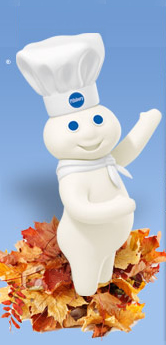 The holidays are in full swing, and with that comes holiday baking of all sorts!  Everyone loves a sweet treat and with new Pillsbury Easy Frost No-Fuss Frosting, creating delicious works of edible art has never been so easy!  Starting today, the makers of Pillsbury baking products announce the "Pillsbury Easy Frost No-Fuss Frosting Challenge," and call on all dessert lovers to unlock frosting fun, think creatively and transform their favorite homemade baked good into a chance to win $10,000 and a year's worth of Pillsbury Easy Frost No-Fuss Frosting.  Pillsbury Easy Frost No-Fuss Frosting is available in a convenient aerosol can with a built-in five-star applicator tip and can transform a cake, plate of cookies, or batch of brownies into bakery-style desserts.
Consumers are asked to use Pillsbury Easy Frost No-Fuss Frosting to decorate a homemade baked good of their choice and submit an original photo of the wholly edible creation online.  Submissions can be entered online starting November 23, 2009, through February 19, 2010, at www.pillsburybaking.com.  The winning photo will be posted in March 2010.
Pillsbury Easy Frost No-Fuss Frosting makes decorating baked goods a piece of cake!  The new product features the same creamy, delicious frosting in a tub that families love, in a 13.5 oz aerosol can with a five-star decorating tip.  Pillsbury Easy Frost No-Fuss Frosting is available in three delicious varieties: Decadent Chocolate Fudge, Vanilla Dream, and Velvety Cream Cheese.
"We are always thrilled to offer new ways to add fun and convenience to baking," said Maribeth Badertscher, Vice President, Corporate Communications, The J.M. Smucker Company. "The Pillsbury Easy Frost No-Fuss Frosting Challenge is meant to inspire amateur bakers to share their creativity."
To help consumers get started, Pillsbury offers a variety of delicious baking products for fun and convenience in the kitchen.  New products include Pillsbury Brownie Minis Brownie Mix, delicious bite-size treats that need only water and bake in half the time of traditional brownie mix; and premium Pillsbury Cookie Mixes in three mouth-watering, family favorite flavors: Funfetti Cookie Mix; Reduced Sugar - Sugar Cookie Mix; and Dark Chocolate Chunk Cookie Mix.
The "Pillsbury Easy Frost No-Fuss Frosting Challenge" is open to legal residents of the 50 United States and D.C.,18 years of age and older.  Void in Arizona, Maryland, New Jersey, Tennessee, Vermont and where prohibited.  For Official Rules and complete entry details visit www.pillsburybaking.com.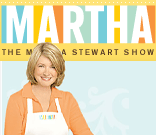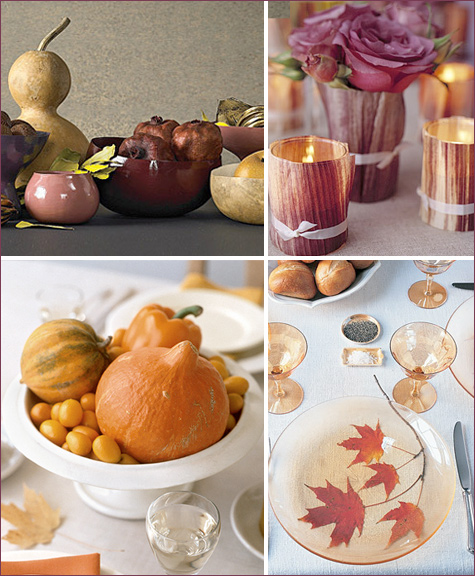 With the upcoming holidays, you know that us moms will be in the kitchen and cooking some of the family's favorite dishes. I am a huge fan of watching cooking shows when I get the chance, and if I had more time, I would probably be trying new things more often.
I just got wind of an upcoming event on Sirius radio with Martha Stewart. This woman has her stuff together when it comes to anything crafty or anything food related and I wish I could be a fly on the wall when these broadcasts go live. I love just about anything Martha Stewart and drool over all the beautiful things that she does and secretly dream up in my head the energy it must take to get all of that done.
One of my favorite things are the cookie recipes she comes up with for the holidays and all the neat ways she packages them up for giving. Eventually when the boys are older, I want to get back to doing those things.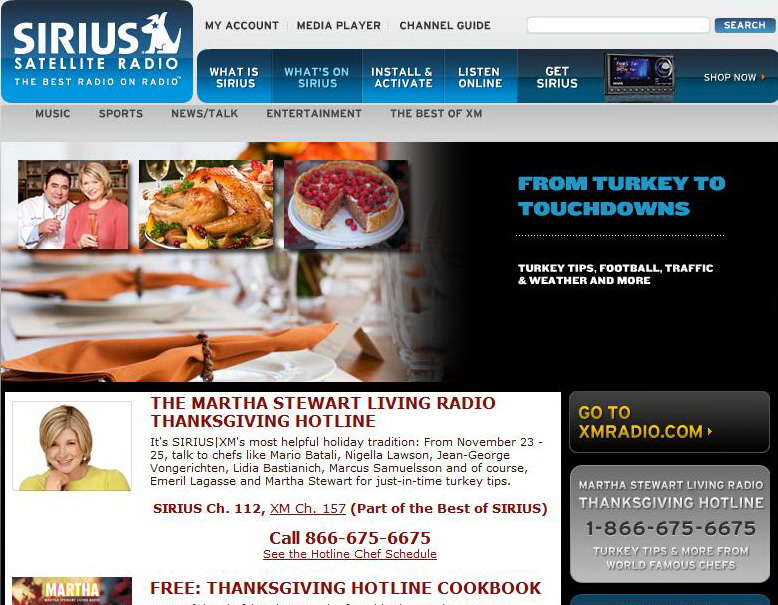 Here is a little bit about the upcoming Martha Stewart Living Thanksgiving Hotline..it looks like it is going to be a great show!
NEW YORK  November 10, 20009 SIRIUS XM RRadio (NASDAQ: SIRI) today announced that more than 30 top chefs and entertaining experts will participate in the Martha Stewart Living Radio "Thanksgiving Hotline." For 30 hours over three days

November 23, 24 and 25 these chefs and experts will broadcast tips, trricks, recipes, and kitchen secrets on SIRIUS XM to listeners across the country while answering questions from callers and tackling holiday quandaries ranging from the traditional to the unexpected.

For this annual SIRIUS XM special, more than 30 of the world's leading chefs and entertaining experts including Martha Stewart, Emeril Lagasse, Mario Batali, Lidia Bastianich, Jean-Georges Vongerichten and Bill Telepan will join the Martha Stewart Living Radioo hosts live in studio to reveal their juiciest Thanksgiving tips and personally answer questions and offer advice.

The Martha Stewart Living Radio "Thanksgiving Hotline" will air November 23, 24 and 25 from 7:00 a.m. – 5:00 p.m. ET on Martha Stewart Living Radio, SIRIUS channel 112 and XM channel 157 as part of "The Best of SIRIUS" package.  Each full day of programming and interviews will replay nightly at 7:00 pm ET on both SIRIUS and XM.

This extraordinary "Thanksgiving Hotline" offers Martha Stewart Living Radio and SIRIUS XM listeners a rare chance to hear these culinary legends divulge their favorite Thanksgiving recipes for the main course, hors d'oeuvres, variations on the traditional turkey meal, desserts, wine pairings, specialty cocktails (including non-alcoholic suggestions) designed for the holidays and much more. They will also share their personal Thanksgiving memories and family traditions.

Martha and her team of Thanksgiving experts will also supply useful tips for cooking on a budget and share simple yet elegant suggestions to spruce up the table and spread holiday cheer.

SIRIUS XM Radio listeners can call 866-675-6675 or email their questions to radio@marthastewart.com.

Full lineup of scheduled guests:

Monday, November 23

7:00 am ET: Alex Guarnaschelli, chef, Butter
8:00 am ET: April Bloomfield, executive chef, co-owner, The Spotted Pig

9:00 am ET: Michael Anthony, chef, Gramercy Tavern

10:00 am ET: Thomas Keller, executive chef, restaurant owner, Per Se, The French Laundry, Bouchon
11:00 am ET: Gina DePalma, pastry chef, cookbook author
12:00 pm ET: Bill Telepan, chef/owner, Telepan, cookbook author
1:00 pm ET: David Burke, chef, David Burke Townhouse, David Burke Prime and Fishtail

2:00 pm ET: Amanda Freitag, executive chef, The Harrison
3:00 pm ET: Emeril Lagasse, chef, restaurateur of numerous restaurants including Emeril's and NOLA, television personality, and cookbook author
4:00 pm ET: Martha Stewart, cooking, entertaining expert and founder of Martha Stewart Living Omnimedia

Tuesday, November 24

7:00 am ET: Mikey Price, executive chef/owner, Market Table
8:00 am ET: Lidia Bastianich, Italian chef, owner of numerous restaurants including Felidia, cookbook author, television host
9:00 am ET: Michael Lomonaco, executive chef, Porter House, television host, cookbook author
10:00 am ET: Nigella Lawson, television host, bestselling author
11:00 am ET: Johnny Iuzzini, executive pastry chef for Jean Georges, author, Dessert FourPlay: Sweet Quartets From a Four-Star Pastry Chef,
12:00 pm ET: Charlie Palmer, chef, restaurant owner of numerous restaurants including Aureole, Charlie Palmer Steak, cookbook author

1:00 pm ET: Anita Lo, chef/owner, Rickshaw Dumpling Bar; food/wine columnist
2:00 pm ET: Marcus Samuelsson, chef, owner, Aquavit, cookbook author; Isaac Mizrahi, leader in the design business for almost twenty years
3:00 pm ET: Frank Stitt, chef/owner, Highlands Bar & Grill, Bottega and Café Bottega
4:00 pm ET: Jean-Georges Vongerichten, chef, restaurant owner, television personality; Bernie Sun, sommelier, corporate beverage director for Jean-Georges' four-star restaurant group

Wednesday, November 25
7:00 am ET: Franck Deletrain, chef, Cafe Centro
8:00 am ET: Pierre Schaedelin, executive chef, Benoit Bistro
9:00 am ET: Mario Batali, chef/owner of numerous restaurants including Babbo, Del Posto, Casa Mono, Esca, television personality, cookbook author
10:00 am ET: Paul Liebrandt, executive chef, Corton, New York City

11:00 am ET: Elizabeth Karmel, chef, cookbook author and founder, Girls at the Grill, website that provides backyard cooks with simple barbecue instructions and recipes
12:00 pm ET: Jonathan Waxman, chef, restaurateur, Barbuto, cookbook author
1:00 pm ET: Rick Bayless, James Beard Award-winning chef, Frontera Grill and Topolobampo, cookbook author, television host

2:00 pm ET: Anne Burrell, chef, television personality
3:00 pm ET: Joey Campanaro, chef and owner, The Little Owl and Market Table, television personality
4:00 pm ET: Allen Katz, director of mixology and spirits education for Southern Wine and Spirits of New York; Govind Armstrong, executive chef/owner, Table 8, cookbook author

All of the chefs contributed their own recipes for a special, free online cookbook, Martha Stewart Living Radio's Thanksgiving Hotline Recipes, created for SIRIUS XM especially for the occasion. This extraordinary collection of recipes and tips covers everything from turkey to desserts to wine selections, and is available for download at www.sirius.com and www.xmradio.com.

For more information, please visit: www.sirius.com/martha and  www.sirius.com/thanksgiving
I just realized that Thanksgiving is quickly approaching and that means getting ready to do a little cooking.  We rarely head home for this particular Holiday because of Christmas being so close.  I love all the food that comes along with Thanksgiving but sometimes the task of making all the good things you remember a can be an undertaking for our small but growing family.
The boys are still little so they don't really eat all that much in a sitting, my husband refuses to eat anything with onions or nothing with any taste.  He won't even eat sausage stuffing and I love the stuff.  I like to go all out so I don't feel like I am missing the good food like I remember from back home.  The only problem is that, I wind up with all this food and it never tastes the same to me when you eat leftovers.
So this year, I will still probably go all out, but there is one thing, I have yet to master, the TURKEY.  I would love to taste a turkey that isn't dry, that isn't undercooked and that tastes like all these famous chefs brag about.  I have no clue what recipes to try, and there are  like a bazillion of them on the internet.  A turkey should be awesome, because it is the center of the meal.  I have heard that to brine a turkey is the best method, and I tried it one year and made a mess.  Isn't there an easier way?  What is the best turkey recipe? I would love some hints and tips!
I absolutely love Paula Deen, in a very I want to stand in the kitchen with her and cook all day, sort of way.  I am a comfort food girl and being a mom to twin three year olds, and a husband that doesn't cook, I rarely get to eat what I call good home cooked food.  For me, I can cook some really good dishes, but it never tastes the same as when someone else helps with the meal or cooks it.  I'm not saying that Paula should come and cook a meal for me, but I would love to be in her kitchen for a week and learn some new ideas.
I love the way she says "Pie" and I was in tears laughing when she dropped the bowl in the mixer on the Oprah show!  She strikes me as a down to earth person, who I could easily get along with.  I am the quiet sort of gal, but I am sure she could make me forget about that.  My dream would be to have her in my kitchen, although I would be embarrassed about my lack of cookware, shoot it wouldn't have to be my kitchen, I don't think I would care if Paula Deen was there.
If I could have anyone in the world cook for me, it would surely be Paula Deen.  I missed her appearance at Blogher and I was pretty bummed.  Oh and is cooking really that neat or is that for television only, because I make a darn mess when I am cooking!  They make it look so pretty on tv that I would never have to clean my kitchen.  Give this mommy a spa, 12 hours of sleep and a meal with Paula Deen.  A girl can dream can't she?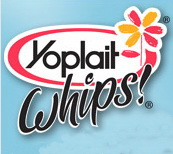 My kids are huge Yoplait Yogurt fans and ask for it just about anytime of the day.  I have almost always bought the Yoplait brand yogurt because it offers a variety for the whole family.  My husband doesn't like yogurt that has chunks of fruit so he gets the smooth and creamy and I love Yoplait's regular and whipped yogurt.
It wasn't until I was visiting Costco that I had actually tried it frozen.  They were passing out Yoplait yogurt that had been frozen and to my surprise it tasted really good and the boys loved it too.  So thanks to My Blog Spark, I was able to try Yoplait Whips and I decided to try them frozen.  They were really yummy and the boys couldn't get enough.  The best part about them is that they are low in fat and are actually a healthier treat than ice cream.
Yoplait Whips! are currently available in a variety  flavors like Strawberry Mist, Chocolate, Key Lime Pie, Orange Crème, Chocolate Raspberry, Lemon Burst, Peaches 'N Cream and Raspberry Mousse. As well as their  newest flavor Vanilla Creme which just came out.
If you want to offer a healthier alternative to other frozen novelties, I would suggest giving frozen Yoplait a try and I think y ou could freeze just about any kind of Yoplait yogurt and it would taste just as good.  And even  better, you can make your kids think they are getting something really special yet it is a much helathier alternative.
If you would like to try out frozen Yoplait whips, you can visit here and print a coupon for .60 off of three Yoplait Whips.  Additionally, right now, new members who sign-up to become subscribers of Betty Crocker's newsletter, will receive a free coupon for Yoplait Whips!
Would you like to win a fun gift pack from My Blog Spark and Yoplait? The Summer Cool Down" gift bag includes two free coupons for Yoplait Whips!, cooler tote, Popsicle molds and a set of 12 color-changing spoons.
THIS CONTEST IS CLOSED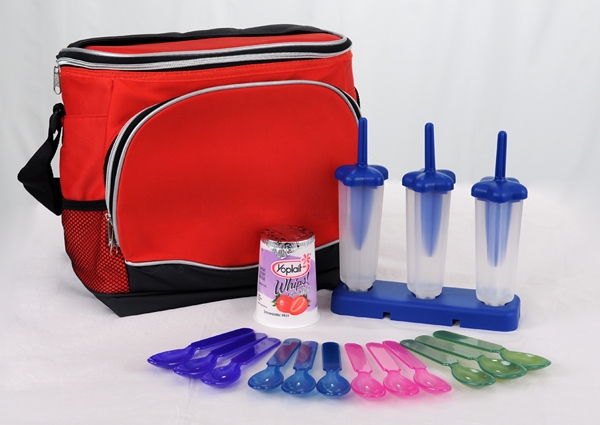 Here's What You Gotta Do
Tell me you favorite way to enjoy Yoplait Whips and what flavor you like
Additional Entries
Tweet about this giveaway
Blog about it
Add me to you twitter
Subscribe to my blog
Add me to your technorati favorites
Contest Starts August 31, 2009 and Ends September 21, 2009
Good Luck!
**Thank you to My Blog Spark who provided me with free samples of yogurt and a gift pack to try for review**

Making lunches and finding different ways to make the ordinary interesting for kids is often a task that us moms dread at times.  You often hear about how kids are bartering away their lunches in the school cafeteria in exchange for something they find more exciting.
I was recently given the opportunity to try out Oscar Mayer's new Lunchable Lunch Combinations.  My husband is a huge fan of the smaller Lunchable packets and he takes them for a snack at work or in the morning.  Even though my boys aren't in school yet, I can see that this would be a perfect alternative to brown bagging it.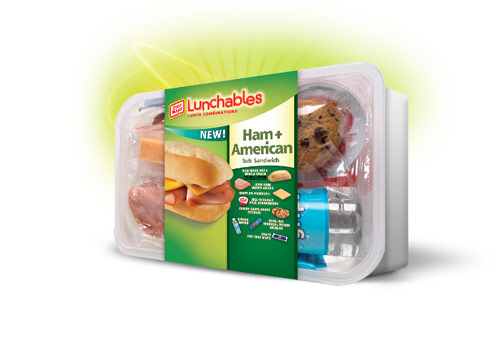 In comparison to an unhealthier choice of fast food or cafeteria foods, this at least offers a source of more rounded nutritional value.  We tried the Ham and American Sub combination and I was surprised at how much was actually in the package.  Included in the package was ham, american cheese, sub bun, mayo,sugar free jello, chewy chips ahoy cookies, water and kool aid drink mix packet.  The only thing that I personally would have liked is that there just be plain water in the meal, regular jello since I am not one to give the kids artificial sweetener, and maybe apple slices in place of the jello or the cookies.  I think it is a great idea especially on days where you are running behind and it makes for a hearty meal.  I think if I were a kid this would be a real treat and you wouldn't find me trading a single morsel.
You can find Oscar Mayer Lunchables Lunch Combinations in your grocer's refrigerated section next to the packaged lunch meats.  There are six new varieties that include: Turkey + Cheddar Sub Sandwich, Ham + American Sub Sandwich, Turkey + Cheddar Cracker Combos, Ham +American Cracker Combos, Deep Dish Cheese Pizza and Deep Dish Pepperoni Pizza.
**I wrote this review while participating in a blog tour by Mom Central on behalf of Oscar Mayer Lunchables and received a sample to facilitate my candid review. In addition, Mom Central sent me a gift card to thank me for taking the time to participate.**

As a stay at home mom, I do a lot of cooking.  Sometimes it isn't always easy coming up with new ways to make scrambled eggs, or new ideas for that frozen chunk of chicken sitting in your freezer.   I have spent many days just staring into the pantry or fridge wondering what I could whip up for dinner that night.
After awhile you just have to find ways to be creative in preparing the same old chicken breast or steak.  I have spent days where I pounded chicken, breaded it, boiled it, you name it, just to make it interesting.  A few times, it wound up in the trash or I got some "what is this?" look from all members of my family including my twin toddlers.
I am always looking for healthy ways in which to prepare our meals and I usually tend to use a lot of butter or something to compensate for the lack of taste in some of the things I have made.  I have found, that using the right seasoning can make a world of difference when you are preparing a meal.  You can often give chicken a totally different taste based on what seasoning you use.
I recently received a bottle of Mrs Dash Fiesta Lime seasoning and I was more than eager to give it a try.  When I saw that it was Fiesta Lime, I automatically thought of a meal with Mexican flair.  So I cooked up plain old chicken breast and sprinkled a little of this on it.  We made some spanish rice, cut up some fresh tomatoes from the garden, lettuce, and warmed up some soft tortillas.  It gave the chicken a southwest flair and wasn't overly spicy either.It was delicious and the only thing I added to the chicken was Mrs Dash!  The whole family devoured everything on their plate and my sons were asking for more.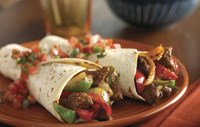 Mrs Dash has no salt or MSG which makes it a nice healthy alternative to overloading your food with sodium and butter.  It was as if I created an entirely new meal and the only thing I added was a different seasoning.  It was a refreshing change from the ordinary yes using familiar ingredients which made meal preparation easy.  Mrs Dash has a whole collection of various seasoning you can try and they aren't just good on meat.  You can sprinkle a dash here ans there on your salads vegetables and even soups.  It is a great addition to your spice cabinet and can make ordinary meals you have prepared over and over have a new an exciting taste without adding a bunch of unhealthy ingredients.
Thank you to Mom Central and Mrs Dash for sending out a sample for me and my family to try.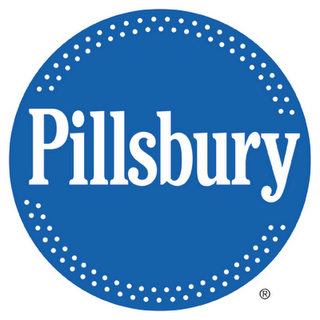 We love cookies in our house and one of my most favorite snacks has to be chocolate chip cookies and milk. They are the best when they are out of the oven, but I am not always in the mood to go though the whole spiel of making homemade cookie dough.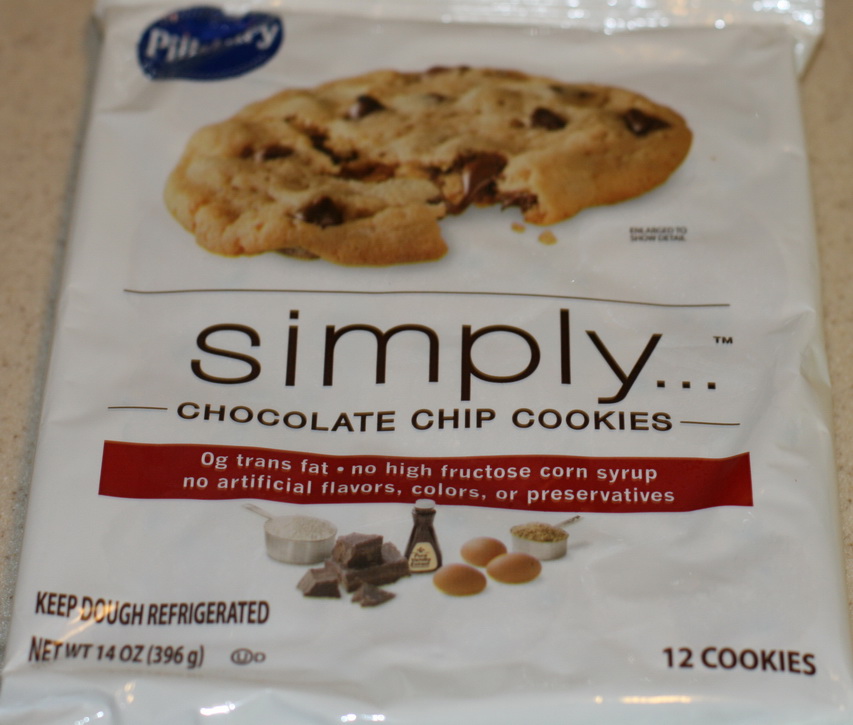 I have always been a fan of baking and usually steer clear of pre-made cookie dough. I try and make things that have natural ingredients especially when it comes to sweeteners. It seems like so many things these days contain high fructose corn syrup and not just normal sugar. Everything is ok in moderation, even sugar, and it's actually probably healthier than the modified high fructose used to sweeten just about everything these days.

We were given the chance to try Pillsbury's new Simply refrigerated cookie dough and the boys and I were very excited to bake them. The new cookies come in two flavors, Chocolate Chip and Peanut Butter. They are made with wholesome ingredients like flour, brown sugar, eggs and vanilla and have zero grams trans fat, no high fructose corn syrup, no artificial colors or flavors and no preservatives. They are just "Simply" made with all the good stuff that makes them taste homemade without the mess of making the dough yourself.
I made the cookies with my boys and it was nice to include them. They had fun putting the cookies on the baking sheet to go in the oven. They were very eager to eat the cookies, so they were really excited to see that they were done in just about 13 minutes. The chocolate chip cookies were so good and we polished a dozen cookies off by the end of the day between the four of us. The next batch I make, I think I will have to hide them. Pillsbury Simply cookies taste just like homemade without the mess, so I will definitely keep a couple packages on had for those sweet tooth cravings.

Thank you to My Blog Spark for giving us this wonderful opportunity to try Pillsbury Simply Cookies!
Would you like to try Simply cookies for yourself? DoubleBugs and My Blog Spark are giving readers a chance to win a fabulous prize pack that includes A coupon for free Simply cookies, a cookie jar to put these wonderful cookies in, a notepad for your grocery list, and a reusable canvas tote (perfect for your grocery shopping trip to get your cookies).
THIS CONTEST IS CLOSED!
Pillsbury is also offering a coupon for $1.25 off Simply cookies if you "simply" must try some now!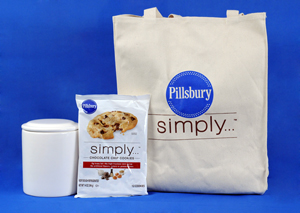 Here's What You Gotta Do!
Tell me a way in which you simplify cooking or your everyday life and leave me a comment about it
Additional Entries
Tweet about this giveaway
Blog about this giveaway (5 additional entries)
Add me to your technorati favorites
Add me to your twitter
Subscribe to my feed
Contest Starts August 7, 2009 and ends September 7, 2009
Good Luck!
*winners chosen via random.org*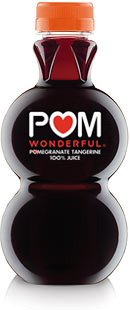 I recently was given the opportunity to try Pom wonderful juice.  I had always walked by the refrigerated beverage aisle and often saw those fancy looking shaped bottles of pomegranate juice but never actually picked on up.
I was really excited to try this juice because I am always hearing about the antioxidants in pomegranates and benefits of them in your diet.  I don't know if its all true, but I thought I would give it a try to see if I actually like the flavor of it.  I vaguely remember trying the actual pomegranate fruit when I was younger and just remember it being these little tiny bead like fruits that came from it, that you could eat.
The juice itself was a little tart for my liking and is probably meant to drink in smaller amounts.  It isn't a beverage that I would just guzzle down on a hot day, I don't think.  They have some flavor combinations such as pomegranate blueberry and one with tangerine too.  I actually really lliked the pomegranate tangerine and had no trouble finishing off the bottle.  The tangerine in it seems to negate some of the tartness making it something I might readily go to if it was in the fridge.
All in all I would say the juice is good in small amounts but it is definitely a little tart, but if you are one that likes a little of that than Pom Wonderful may be something you might like to try!  Even in moderation you can still get some of the health benefits from drinking it without downing an entire bottle.