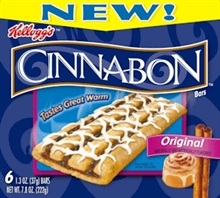 I have always  loved Cinnamon rolls of almost any kind and I usually have to refrain from eating them, otherwise I tend to over indulge.  I had always walked by the Cinnabon stores in the local malls, but never actually stopped to give them a try and I finally gave in on a day where, I was starving and had a craving for something sweet.  I sat down with my drink in hand and this huge cinnamon roll, and took my first bite.  That was when all those happy joy endorphins started partying like it was 1999 and I had found one of the best cinnamon rolls I had ever had.
I love to head to Cinnabon when I can, but that isn't always possible with our busy schedule and having two toddlers, makes it next to impossible to just head to the mall whenever I feel like it.  I was delighted to find out that there was a way to enjoy that favorite Cinnabon flavor in a snack bar.  Mom Central offered me and my family a chance to give Kellogg's Cinnabon Snack Bars a try so, I quickly accepted because I was eager to see if they tasted just as good as the Cinnabon rolls that I bought in the mall
The Kellogg's Cinnabon Snack Bars can be eaten right out of their package or warmed slightly in the microwave.  I prefer to eat mine a little warm so I microwaved mine for about 10-15 seconds.  After taking a bite, I was pleasantly surprised.  Although, they aren't quite like a sticky gooey Cinnabon Cinnamon roll, they are pretty yummy.  They are perfect for the kids too, and excellent when you want to give them a snack, or you need something to bring when you are on the go.  They are a little heavy on the cinnamon which I don't mind since I love cinnamon, so the more their is the better.  Each bar is an amazing 150 calories, so  you can indulge and not feel guilty about having a treat.
If you haven't tried them yet, they are a perfect treat to share with the family or keep to yourself.  I found them in the breakfast isle next to all the granola bar type snacks.  Kellogg's Cinnabon Snack Bars are a really yummy alternative to the same old boring granola bars.

Did you know that July is National Ice Cream month???  I don't know about you, but I love ice cream.  Ice cream is a comfort food that I love most in the Summer time, and when you are having a blah day it is always nice to snuggle up to your favorite pint.  Well, not exactly snuggle, but a pint of Ben & Jerry's and a spoon in hand is sure to bring a smile to your face!  When I head to the store, I always find myself staring into the ice cream case at all the different Ben and Jerry's flavors and I can almost never pick out one flavor because something new always catches my eye.
National Ice Cream Month is celebrated by the US every July. This month was designated as national ice cream month by Ronald Reagan  in 1984. He also appointed the third Sunday in July as National Ice Cream Day Reagan recognized the popularity of ice cream in the United States (90% of the nation's population consumes ice cream) and stated that these two events should be observed with "appropriate ceremonies and activities." Unfortunately, many people do not even know that America even has a National Ice Cream Month.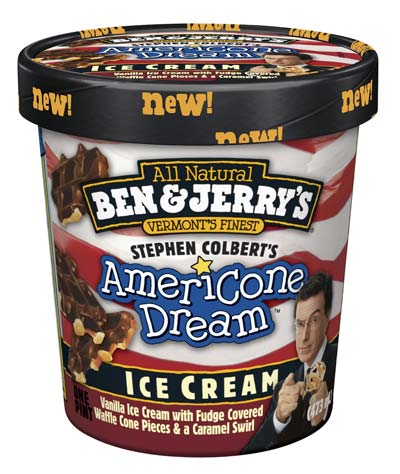 Some of my most favorite Ben & Jerry's ice cream flavors include the ever popular Cherry Garcia, Karamel Sutra, and my newest favorite and one of their newest editions Mission to Marzipan (let me wipe the drool from my keyboard).  Let's face it you can't just buy one pint and head home, you at lest have to get a few days worth or even a week's worth so you don't have to pout when you polish off a pint while watching a sappy love story, or you have had a stressful day, or just because you gotta have it.  At least you know you always have more!
I don't know how they do it but they manage to pack the right amount of stuff into that little pint, that make your taste buds do a little dance, and make your happy endorphins go crazy.  I don't know how they make the caramel in Karamel Sutra stay perfectly gooey in the middle but I do know that their ice cream is one of the best in my opinion!
Here at DoubleBugs, I decided that it would be fun to celebrate National Ice Cream Month and my love of Ben and Jerry's.  We (Ben and Jerry's and I) came up with a fab giveaway to make your mouth water and keep your freezer stocked with Ben and Jerry's!
We will be giving away one pint a day for the month of July.  3 Lucky Winners will win a 7 day supply of Ben and Jerry's (one pint for every day of the week), and a Fourth Grand Prize winner will win (10 pints of Ben and Jerry's and few extra goodies too!).
I know, I know, you are gleaming with excitement!  But we are gonna make you do a little work for your ice cream.  Don't worry we won't ask you to sell your soul but you might consider it, since it is Ben and Jerry's HA!
So here is the scoop (get it? scoop?) Ok, I'll quit with the cheesy jokes.
THIS CONTEST IS NOW CLOSED
This is what you gotta do

(read carefully!!! You wouldn't  want to lose out on a few pints)
You Can visit their site for inspiration

*For Main Entry into this Fab Giveaway, You Must Do One of The Following*
1.) Come up with your own poem about Ben and Jerrys (50 words or less) Your own ode to the pint so to speak
2.) Come up with a recipe using your favorite Ben and Jerry's flavors
3.) Do a little dance, go crazy, make a video or send us your pictures of you enjoying your favorite Ben and Jerry's (you can post me a link to them)
4.) Create a new ben and Jerry's Flavor that you think you might like to see
5.) Do a little bit of everything above
Grand Prize winner will be selected based on the most creativity!!! So the more you do the better your chances! We want you to have fun with it!
***For Additional Entries(please post a separate comment for each additional entry)***
Grab the Ben and Jerry's Giveaway Button and post it everywhere to share the love! Please provide me a link to your site  (3 entries gained when you post this)
Tweet about this Fab Giveaway
Blog about it tell people not to forget to grab the Ben and Jerry's button to share with all their friends (please provide the link to your post) (3 entries gained).
Add me to Your Technorati Favorites
Subscribe to my blog
Contest Starts July 1, 2009 and Ends July 31, 2009
Good Luck!!!!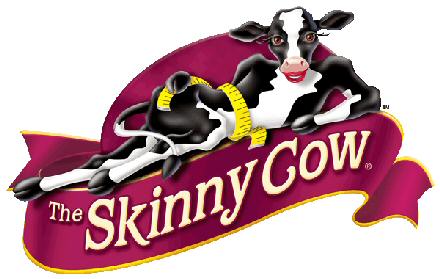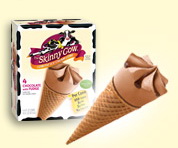 With the weather warming up we spend a lot of time outdoors as a family.  One thing that I love about summer and remember as a child was the local ice cream truck that came through the neighborhood.  So, I have always associated the warmer weather with ice cream and who doesn't love ice cream?
Nowadays when I have ice cream, I always feel like I am over indulging, and most ice cream is high in sugars and fat, so if you just look at the container it seems like you can gain five pounds.  Until recently, I had never tried any low fat ice cream, simply because I figured that it would be rather tasteless as most fat free things can be.  They either taste horrible or have no taste at all.  Thanks to Mom Central, I got the chance to try Skinny Cow ice cream.   I had always seen it in the store but just assumed it wouldn't taste that great.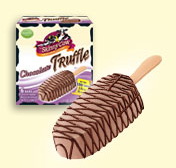 Skinny Cow's low-fat ice cream sandwiches are a great way to enjoy ice cream as part of a healthy lifestyle. Each ice cream sandwich only has 150 calories and 2 grams of fat,so you don't have to feel guilty about when reaching into the freezer for a snack. The light and creamy frozen treats come in seven different flavors, including cookies 'n cream, chocolate peanut butter, and mint.   These sandwiches taste anything but low fat, and I love them!
So if you are looking to enjoy an ice cream with your kids without feeling like you have to skimp, Skinny Cow is definitely a healthier alternative and it tastes like you are getting a real treat.  I tried out the Truffle Bars as well, and I wound up hiding the box in the freezer so I could have them all to myself!  Thank you Mom Central for this wonderful opportunity!
We are huge fans of pasta and Italian dishes of any kind in our house.  I love to cook  in general and I love trying new things.    We were recently given the opportunity to try Romano's Macaroni Grill Favorites, courtesy of My Blog Spark.  Not only was I excited to try these new meals, but I am a huge fan of Macaroni Grill Restaurant, so if it tasted anything like what I bought at the restaurant then I am a happy camper.
I must admit I have never been a huge fan of meals in a box but I can honestly say that I was pleasantly surprised!  We tried the Creamy Basil Dinner, and all you have to do is add chicken and a little milk.  The meal was extremely easy to prepare and took about 20-25 minutes to make.

The boys completely finished their plates and were saying "mommy more pastas please."  So, for them this was a big hit.  Toddlers can be some of the pickiest eaters around, and I think they tend to get bored with the same things, so this adds a little variety and they loved it.  The only thing is that I would have to prepare two boxes to feed out family of four, but other than that it was delicious.
The dinner kits include everything needed to create a high-quality meal in one box including premium ingredients such as such as vine-ripened tomatoes, select cooking wines, specialty herbs and 100% semolina pasta. All you have to do is add one pound of chicken or your choice of proteins such as shrimp or Italian sausage. Varieties of Romano's Macaroni Grill Restaurant Favorites dinner kits include Garlic & Herb Chicken Penne, Creamy Basil Parmesan Chicken & Pasta, Chicken Alfredo with Linguine and Chicken Marsala with Linguine.
I have only tried the Creamy Basil so far and I am very eager to try the others, because if they are anything like the first, then I will have 3 more easy meals to prepare.  It helps to take the guess work out of what's for dinner and makes it easy when you have had a really long day, or you just want something that is quick.
THIS CONTEST IS NOW CLOSED!
Would You Like to Try Macaroni Grill Favorites?
DoubleBugs and My Blog Spark are giving away What's For Dinner Gift Baskets to 3 lucky readers.
Gift Basket Includes
Sample of the Creamy Basil Parmesan Chicken Pasta variety
Three coupons for you to try the other varieties the next time you visit your local grocer,
A Colander
Serving spoon
Cheese grater.
Here's What You Have to Do To Enter
How to Enter
1.  Visit restaurantfavoritesathome.com and tell me which other Romano's Macaroni Grill flavor you think you would enjoy.  You can also print out a $1 coupon on this site.
2.  Subscribe to my blog vis RSS or Email, then leave me a comment to tell me you have done so.  If you are already a subscriber, leave a comment to let me know.
For Additional Entries ( Leave a separate Comment for each additional entry)
1.  Add Me To Twitter
2.  Add my blog to your Technorati Favorites
3.  Tweet About This Giveaway
4. Blog About This Giveaway
I reserve the right to delete comments not adhering to the above entry guidelines.
You can enter anytime now through June 8, 2009 at 11 PM EDT. Three winners will be selected at random. I will contact the winners by email shortly after the giveaway ends, and the winners will have 48 hours to respond. If a winner does not respond within that time frame, an alternate winner will be announced.  Open to US residents. Must be over 18 years of age.  Void where prohibited.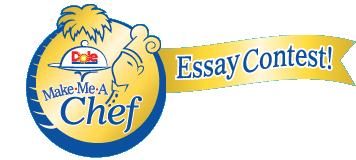 We are huge fans of Dole products in our house, and we almost always have their pineapple on hand in the fridge and in the pantry.  My husband likes to eat his straight out of the can and cold and I like to cook with it!  My most favorite things to do is to put it on my baked hams, and on my pizza.  I know that it isn't the most creative but it adds a whole lot of flavor and the boys gobble it up.
About Dole Make Me A Chef Contest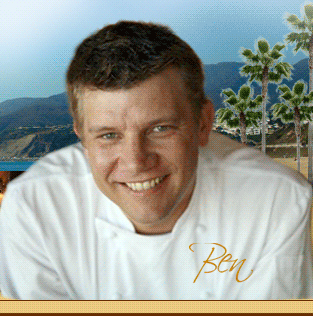 Win the chance to cook alongside acclaimed chef, Ben Ford. Ben has created four signature recipes with DOLE Canned Fruit and wants to share his culinary tips with you and three of your friends at his latest hot restaurant in Los Angeles. Enter your short essay and you could win a beautiful weekend in Los Angeles in June cooking and sharing a feast with Ben Ford!
How To Enter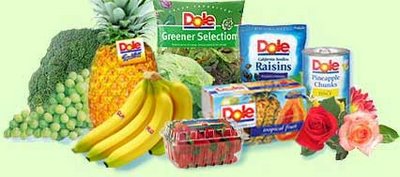 During the Promotion Period, visit http://www.dolemakemeachef.com and  complete the free registration and submit your essay in 200 words or less telling them why Dole is a staple in your pantry.
You can also win daily with giveaways of $100 worth of dole to stock your pantry, or one of 2 $500 Visa cards just by logging in each day or passing on the word about this great contest by referring your friends.
Would you like to win $25 worth of Dole to stock your pantry???
Visit  www.DoleMakeMeAChef.com to get new recipe ideas from celeb chef Ben Ford.  Come back here and comment which recipe is your most favorite.  For 5 additional entries head over to DoleMakeMeAChef and submit an essay and come back here and post an excerpt from it as well.  You can then enter 4 additional comments
For More Entries
Twitter about this contest
Put my button on your blog
Blog about this contest
Subscribe to my Feed
Add Me to Twitter
Contest ends April 30, 2009
Winner will be chosen via Random.org
GOOD LUCK!!!!


I am definitely a chocolate lover, but who isn't?   Id probably have chocolate with every meal if you let me, but that isn't very good for the waistline, but great for releasing the happy joy endorphins.   I am always on a quest to find some of the most divine chocolate creations on the market, when someone suggested I try Somebody's Mother's Chocolate sauce and they were nice enough to send over their Chocolate Sauce, White Chocolate Sauce, and Caramel Sauce which I have now strategically hidden in the refrigerator
About Somebody's Mother's
When Somebody's Mother's three children were little, Somebody's Mother hoped that their summer lemonade stands, which focused on advertising, cash flow and customer service, in addition to flipping quarters, would awaken in them an interest in business so that one day they might actually support themselves. Two of the three are now in college studying…acting.
In April 2005, Somebody's Mother and her children launched a company in order to produce and sell a really great chocolate sauce (made often over the years at home by Somebody's Mother's Mother) which can be eaten warm over ice cream, at room temperature fastened to fruit, or cold straight out of the jar. What began as a grown up lemonade stand has become a nearly booming business.
We had planned this past weekend to have a bit of an ice cream social in our house, and the boys were very excited to get ice cream.   My husband said since I twisted his arm, that he would love a sampling as well.   So I scooped up the ice cream, drizzled it with Somebody's Mothers Chocolate and Caramel Sauces and added a few colorful sprinkles, and I didn't hear a peep out of anyone.  Meanwhile I am hanging over the jar with a spoon of the chocolate sauce in my mouth.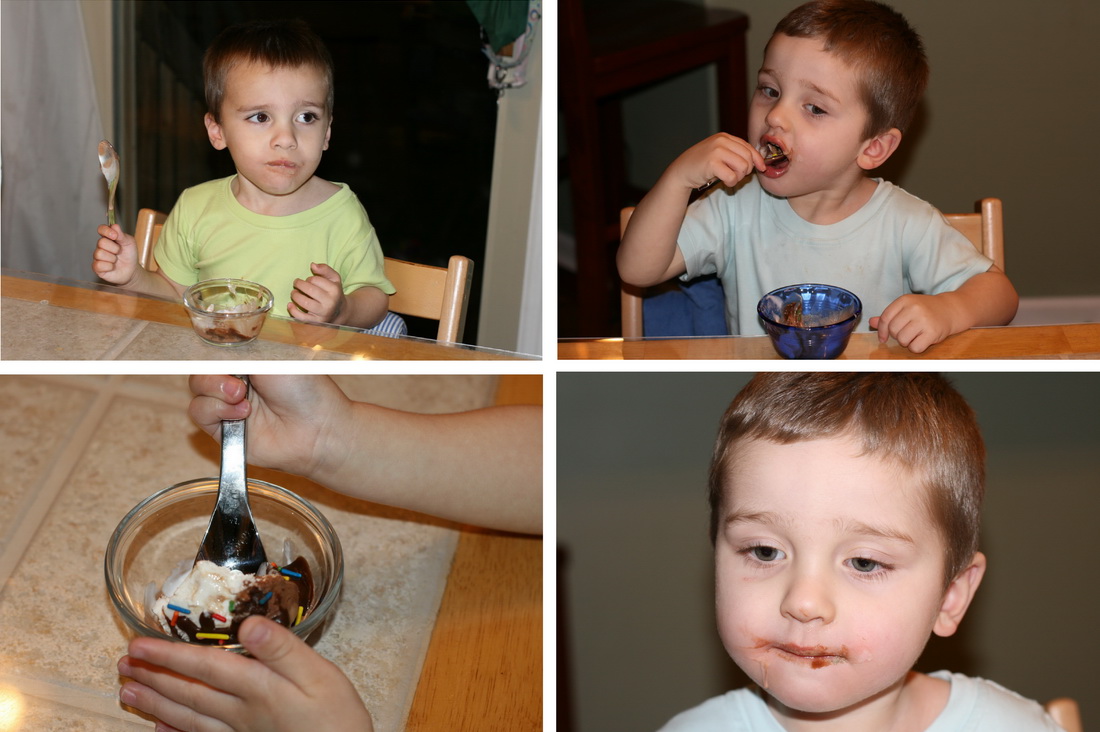 The sauce has no preservatives and is just plain chocolate, which I love.   There isn't anything that you cannot pronounce in the ingredient list.  You can eat the chocolate cold or hot, and I'm pretty content with a spoonful of it either way.   The boys bowls were cleaned, and faces were messy which is a pretty good indicator that this is some of the best stuff around!  In the afternoon after a particularly stressful day a bowl of Haagen Dazs vanilla ice cream with Somebody's Mother's Chocolate sauce is an instant stress reliever.
For Stress Relief

You can serve this chocolate sauce over just about anything, dip your strawberries, dip your spoons, over ice cream, over brownies.  The white chocolate sauce is divine over baked pears with cinnamon.  The possibilities are endless.
You can also check out their new gift boxes, a perfect anytime gift or even better, Mother's Day is coming up and Somebody's Mother's would make a perfect gift!

Valentine's Day is just around the corner and even though my hips really don't need the chocolate, I would really like something fancy from my dear husband.  I'm not sure where I was, when I ran across the Godiva website where I saw these heart shaped chocolates and I was already drooling.
So I started thinking of my absolute favorite chocolates and thought I would share them with you.
Hershey's chocolate bar with almonds-  This is a childhood favorite and I love just about any kind of nuts and chocolate except walnuts.
Almond Joy-  I never have been a fan of coconut but for some reason this is a favorite of mine.
Dove Raspberry Caramels-  OMG these are to die for, you will have to take the bag away from me.
Ghirardelli Caramel Choc Bar-  I like mine out of the refridgerator
Lindt-Excellence Toffee Crunch Bar (ok this is my ultimate, better not touch it or ill get you)  This is the best tasting chocolate bar and their Double Crisp bar is just as good but I love the Toffee
M&M's-  I love these things with a glass of milk and almost any chocolate I eat I grab a glass of milk.
Godiva-  Well what girl doesn't love Godiva?   I don't have it very often because I can't afford it, but feel like I am really getting pampered when I get Godiva.
What are your favorites???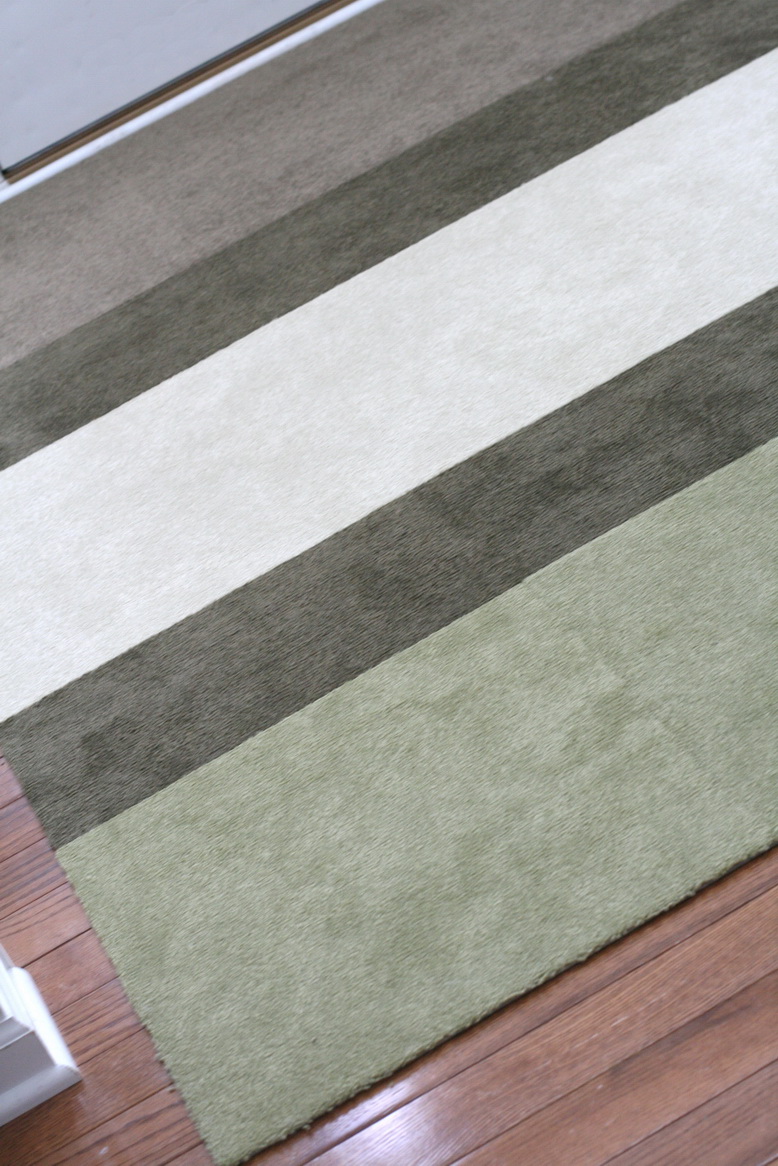 I am almost always looking for ways in which I can change things in our house to help update the look.  It isn't easy to change furniture because these are the big ticket items in your home.   I always love to shop for small things like rugs, or pillows, or a new place mats to help change things in the house.   Let's face it, if I am spending all my days at home, a change is always nice.
I recently was introduced to carpet tiles from FLOR.  I had watched the show Trading Spaces many times and I remember seeing an episode where they carpeted a room with FLOR carpet tiles.   This is such a cool way to change the look of an area in your home!   Not only that, they are so versatile, in that, you can mix and match colors, cut the tiles to make a cool floor pattern, and it is so incredibly easy to do!
I was extremely excited to get this opportunity because I was dying to give them a try, and so sick of the boring rug choices that you find in the stores.  Since this was my first experience using the tiles, I was primarily interested in how these things work and how they stay stuck once you had your design laid out.  Each tile is held together by a little circle of genius called a Flordot.  The Flordots are so easy to apply and hold the tiles together perfectly making it easy to move your masterpiece around if you need to.  When you want a change the tiles  come apart easily and you can store them, so if get bored you can change it up.  If you run out of Flordots you can just order more!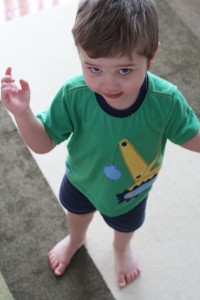 I was putting together FLOR's Seagrass Rug which looks absolutely stunning in my entry way.  It is made from their plush collection of tiles and it is so soft and feels great beneath your feet! I cannot tell you how much fun I had putting this rug together, and it makes you want to do even more.  It's a bit addicting and I was somewhat bummed when I ran out of tiles to stick together, because I was on a roll.  I am already looking for more reasons to go buy  more FLOR tiles to do various areas in the house.  We are looking to move the boys play area to the basement, one of these days, and this would be an ideal place to use them. Another thing I would definitely recommend when getting your FLOR rug is their cleaning kit, so you always have something on hand for the occasional spill or mishap to keep your FLOR tiles looking nice.
Thank you FLOR for such a ingenius product and we love our new FLOR rug! It is now a favorite playing spot for the boys and they love to hang out there where the sun pours through in the morning.  If you are looking for new flooring for your home or just something to spruce things up, this is definitely a really cool option.   There are tons of choices so you can let your creativity run wild and their prices are easy on budget too!
THIS CONTEST IS NOW CLOSED!!! THANK YOU TO ALL WHO ENTERED!

I have a really awesome announcement for my readers here at DoubleBugs!!! FLOR was kind enough to allow me to give one lucky winner the chance to win a FLOR Seagrass Rug of their very own!
So here's what you gotta do!
Visit FLOR and have a look around and come back and leave a comment and let me know what other cool rug you might like and what room in your house you would like to use it in.
Leave me an email so I have a way to contact you if you win
Winners are chosen at random via Random.org.
For Additional Entries (please leave as an additional comment):
Tweet about this post
Follow me on Twitter
Blog about my contest and give me the link!
Put my badge on your sidebar


That's all you gotta do!
Contest starts February 5, 2009 and Ends February 23rd, 2009
Good Luck to You!

During the winter months my skin seems to be more affected by dryness and irritation.   With the heat blowing constantly, and little or no humidity, my skin seems to suffer.  Combine that with the fact that, I am a mother, and that means my hands are always washing or cleaning something a trillion times in a day.  There is nothing worse than itchy, dried out, chemically exposed skin.  That is why skin care is so important.
I have slathered many bottles of lotion on myself in efforts to kill the flaky alligator skin I have.  So I guess you can say I have tried enough to know what does and doesn't work well.   When trying out lotion, I really pay attention to how the stuff goes on.  If there is anything I hate, it is lotion that goes on and doesn't ever go away!  There isn't anything worse than a greasy/oily lotion that if you stood in the shower you'd be a commercial for Rain-X.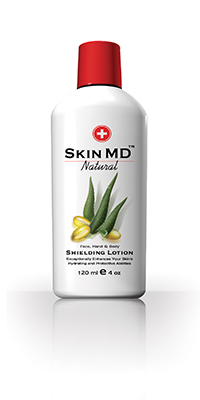 It wasn't till recently that I got to try Skin MD Natural with SPF 15, and I must say I really like this stuff.   It is such a great product for us moms because it provides the hydration that your skin needs, while providing a protective barrier to all the moisture robbing elements that we are exposed to on a daily basis.  I never had the issue with it being greasy and it sort of just disappears into my skin and leaves my hands feeling really good.   I love the fact that I can reapply whenever I need to without feeling like I was dipped in Crisco.
What is a shielding lotion?
Shielding lotions are basically lotions that bond with the dead skin cells of the epidermis, forming a protective layer with the outer-most layer. This protective layer is virtually the same as what was naturally formed with the outer-most layer of skin cells and the skin's own natural oils and lipids, up until about 100 years ago – before modern life and frequent hand washing stripped it away. This protective layer helps prevents irritating substances from penetrating the skin and getting into its deeper layers. Additionally, it helps to retain the natural moisture and oils, which are responsible for the skin's elasticity and integrity, thus helping the skin to rejuvenate itself.
Skin MD Natural utilizes the latest developments in skin care technology as well as the most effective natural ingredients to restore your outer layer of skin's natural ability to protect against dangerous toxins and irritants as well as to reduce the loss of natural oils and moisture. A shielding lotion replaces the barrier that's stripped away with the daily use of most soaps and cleansers. Plus, Skin MD, is not tested on animals, is fragrance free and hypoallergenic.   This is perfect if you have sensitive skin like I do.
Give Skin MD a try it is definitely worth it, especially now during the winter months.  It is the good stuff!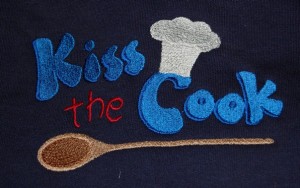 Here is week two of my Monday menu ideas.   Sorry, I forgot to take out my camera, but you get the idea.   This is a family favorite, and the boys simply love Beef Stroganoff as well as my husband.   The Broccoli Slaw has quickly become one of my favorites and Monkey calls any salad "fruit salad yummy yummy."  He loves to eat salad of any kind which I guess is a good thing!   The meal was a big hit and the plates were cleaned. ENJOY!
Beef Stroganoff
2lbs of Top Round Steak Slices in thin strips
2 Tbs Butter
One medium Onion
1 can of condensed beef broth
2 Tbs Worcestershire Sauce
4oz can of sliced mushrooms
8 oz Sour Cream
1/4 cup of Flour
12 oz of wide egg noodles cooked
Melt Butter, and Brown beef and onion in a large skillet.   Add beef broth, Worcestershire sauce, and mushrooms and simmer until beef in tender about 45min-an hour (if you need to you can add a little water).
Stir together flour and sour cream and add to the beef mixture, stir till combined over low to med heat and it starts to thicken. Add cooked egg noodles and wahlah! I love to serve mine over butter bread.
Broccoli Cole Slaw
I buy the Manns broccoli Slaw
Mix with Marzettis Cole Slaw Dressing
French Bread with Garlic/Herb Butter
Green Beans
(well out of the can)
Grapes
(I always like to give the boys fresh fruit with their meals)