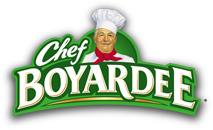 Chef Boyardee has always been a favorite in our house, but usually we would just have it as a quick and easy go to meal.  But what if you could turn it into an entire meal for your family or entertain a houseful? Well, this weekend, I put that idea to the test.  We rounded up some of our favorite people and went to work in the kitchen!
I decided to invite my neighbors and their family over for a fun dinner and dessert.  One of their twin daughters loves to cook so she was very excited to come over and help.  We decided to make a top secret dinner for her Mom and Dad and brother and sisters.  So on party day we turned on some music, and put together a masterpiece for dinner.  To help us out we were sent all the right tools, aprons, chef's hat, mixing bowls, baking dishes, and a timer.  I think everyone had just as much fun wearing the aprons and hat!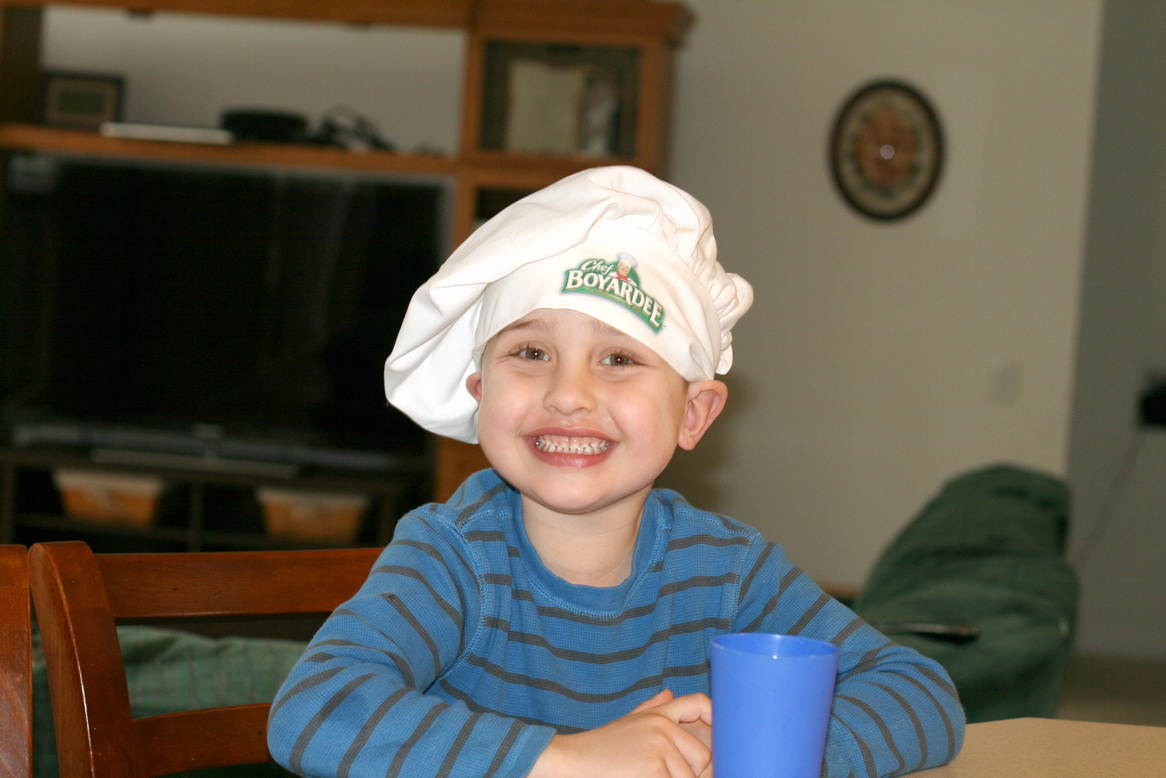 As part of our party, we had to create a Chef Boyardee recipe to share with everyone.  We chose to make the very tasty Pepperoni Spaghetti Bake and added some of our own little touches to the recipe.  We added some grated Reggiano and Romano cheeses and baked garlic bread on the bottom.  We made a side salad and the meal was complete!  Everyone had their own job in the kitchen, and the boys got a kick out of helping mom.  This has been a really wonderful opportunity for me and the kids, and the recipes offered really were not that difficult to prepare.  This made it easy for the boys and the other kids to participate and enjoy something that they made.  The end result was a really tasty meal, spending less time in the kitchen, and more time enjoying family and friends.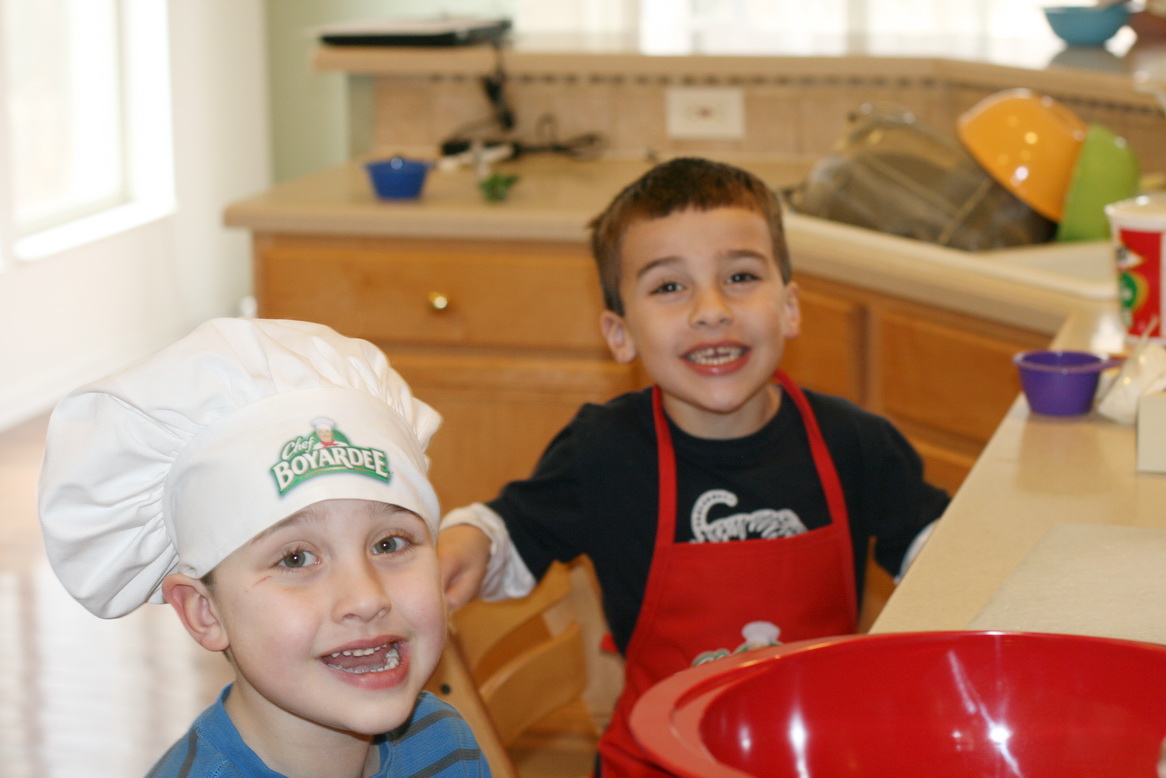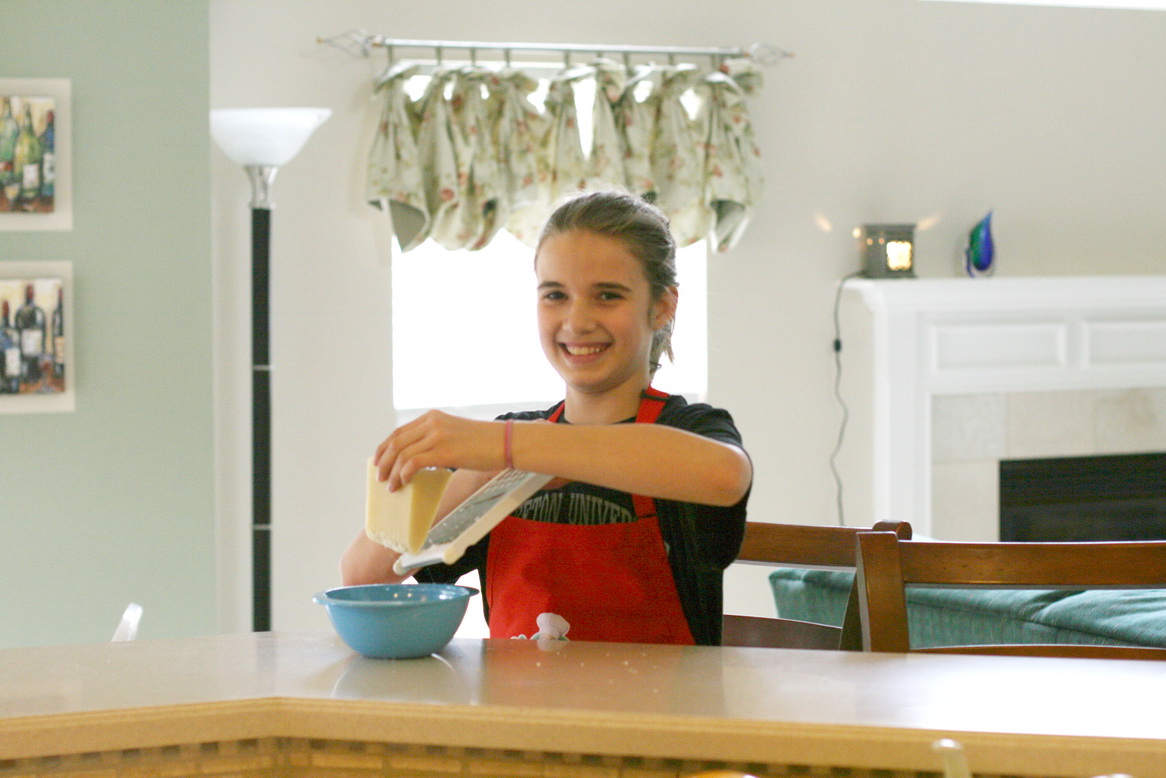 Right now through March 11, 2012, you can submit an original recipe that uses Chef Boyardee as an ingredient (anything you can dream up).  All you have to do is upload a photo of your recipe, and share why your family loves it.  A winner will be chosen based on creativity, all-family appeal, ease of preparation, and palatable appeal by an expert panel of judges.   You can win a $500 prize as well as $75 in Chef coupons or the grand prize of free groceries for a year!  I don't know about you, but who couldn't use a stocked fridge and pantry for the year to make delicious recipes like the ones offered by Chef Boyardee?   You can visit the facebook contest for your chance to win.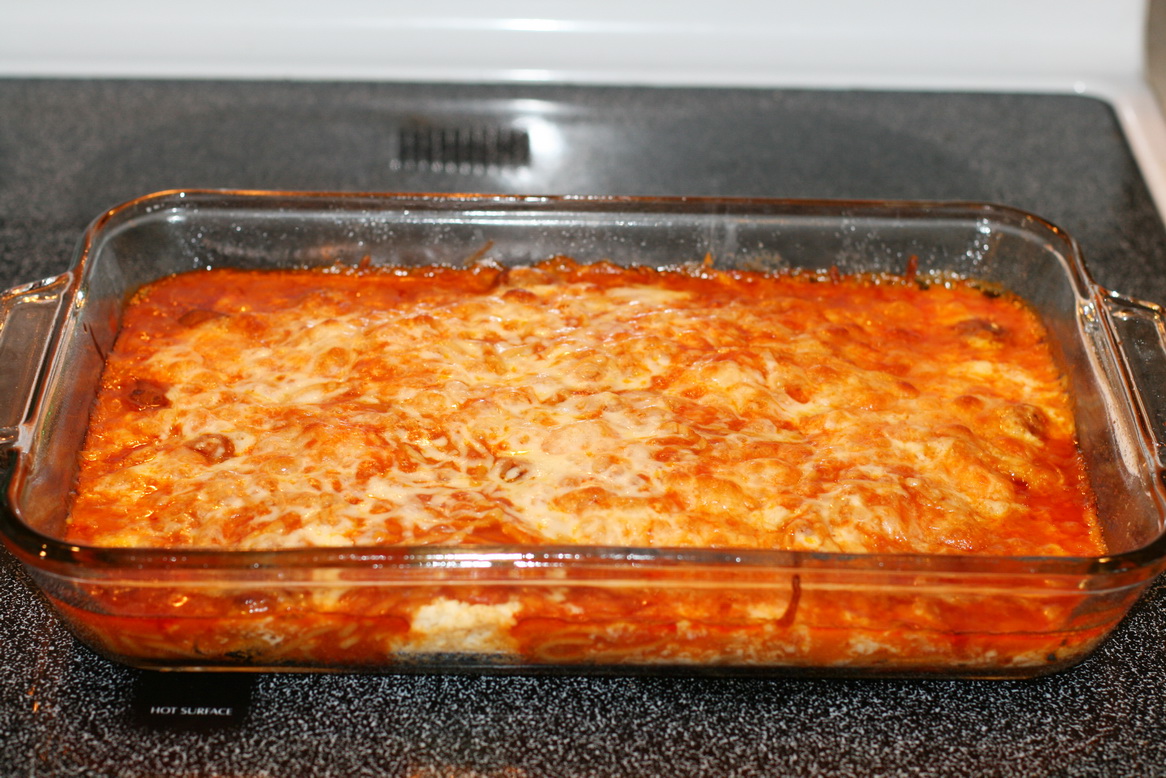 After all was said and done, everyone loved the meal that was prepared and we could hardly believe that it only took 30-40 minutes to prepare.  We loved throwing a party and I loved getting my kids involved in the meal preparation process.  It was a great learning experience and most kids like having a role in helping.  You can find some more really great Chef Boyardee Recipes on their site.  Don't forget to enter to win free groceries from now until March 11, 2012!
"I wrote this review while participating in a In Home Party campaign by Mom Central Consulting on behalf of Chef Boyardee and received product samples to facilitate my party and review, and a promotional item to thank me for participating."
While the weather is ping ponging up and down and Spring is trying to make it's entry, I am at my wits end in terms of keeping the boys occupied.  They don't attend preschool, and it's too cold for them to go out and play with the neighborhood kids.  This is the time where I start to get a little crazy.  We have just about run out of things to do in the house, and we are an outdoor family by nature.  There are only so many tents you can make, cars you can play with,  and tv shows to watch before it just gets old really fast, so I was on the hunt for some kid's crafts that they could do.
So I decided to head to the craft store, and find some craft activities for boys to do for the entire week.  I found some really fun things to do.  We plan on making some Wilton lollipops with their candy melts (I will try my best).  I found some really cute ones with a pirate treasure chest and pirate, and since the boys are really into Jack and the Neverland Pirates on Disney, they got really excited when I showed them.  For our crafting adventure, I found some magnets they can paint, and some wooden race cars, and trains to paint by Faber Castell, they have some really neat things for kids.  I figure it was a great activity so they can use their creative skills, and fine motor skills, and I got the mommy pleasure of watching them.  For being four and some change, they did a really fantastic job on their trains, and had so much fun doing it.
The Tongues Help Make The Masterpiece!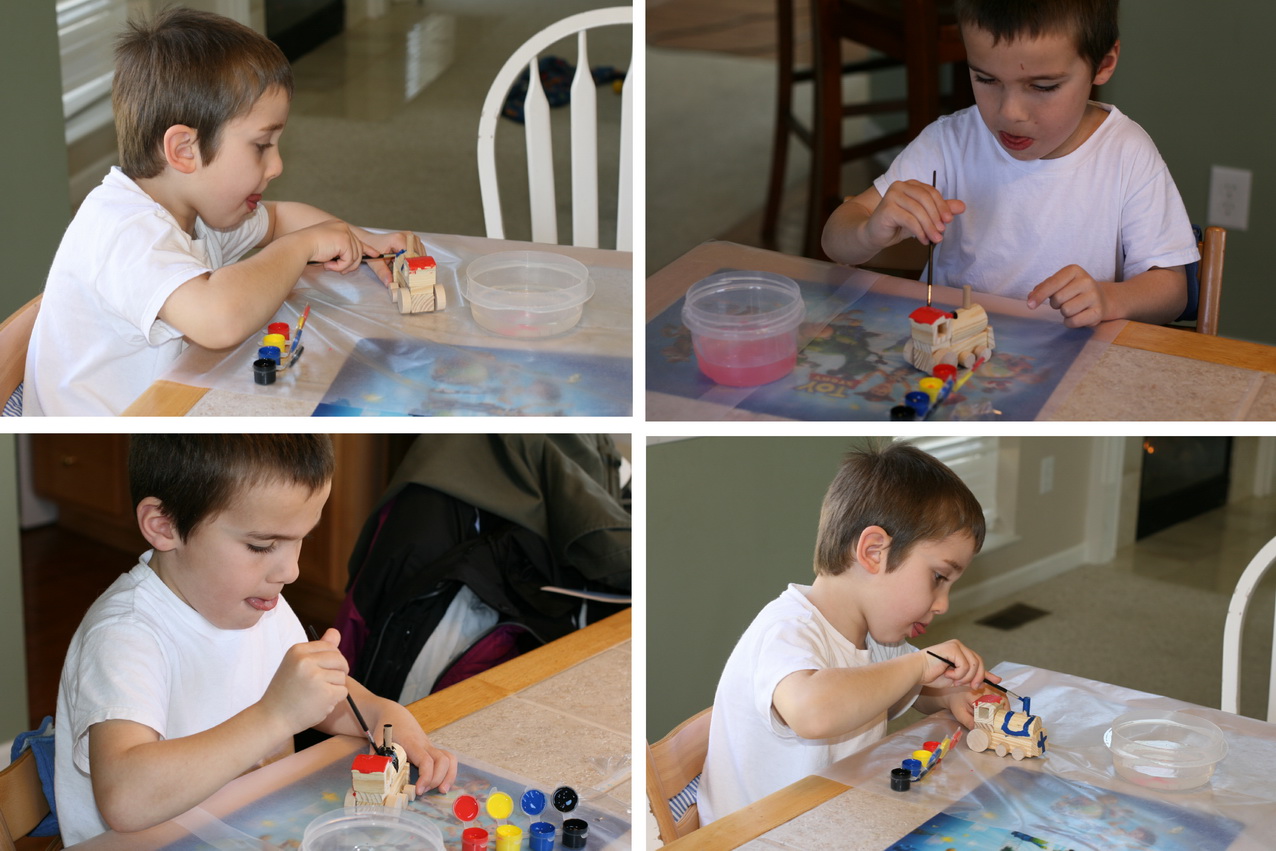 Our next project is our Wilton lollipops, I hope they turn out, because I have no clue what I am doing for those!  They look easy but ya never know!
My husband and I, go round and round over what color certain towels are in our house.  After bathing the boys, I tell him to grab the green towel over there, or the brown towel.  He always grabs the towel I'm pointing too and goes "this towel? its not green it's blue," or, "its not brown, it's green!"
I am almost certain the man is color blind, after all, I am the one who picks out and buys his clothes and I am always the one saying "you wore that to work?"  I am not colorblind I know what color my towels are and so do the boys.  I always ask them and they usually agree, unless the husband is trying to win  LOL.
So you tell me what color this towel is, so I we can put it to rest.  The man drives me crazy.
He says the towel on the left is blue, I put a blue shirt next to it for reference, he just claims the towel is a shade of blue. I say it is clearly  lavender and the pic doesn't do it justice but its purple people. But you can be the judge.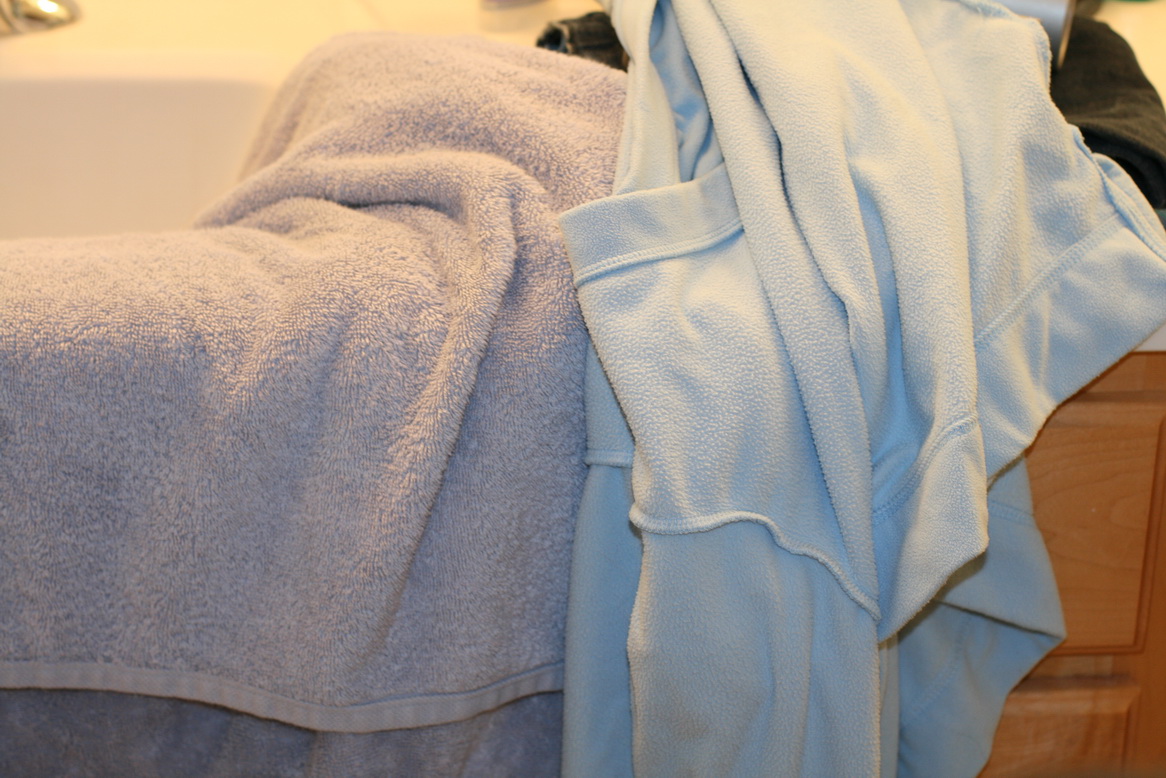 We love listening to music in our house. These days, the only music I know, are children's songs from all the shows that the boys watch. One of our favorite shows, is Jack's Big Music show and the boys have always been infatuated with it since they were about two years old. If you haven't seen it, it comes on Nick Jr, and it features lots of music by Laurie Berkner.
Not only do I share her first name, but I simply love all of her music. I find myself singing them throughout the day, and would rather listen to her music then a lot of the modern music that comes on the radio. Some of our favorite songs of hers are, Rocketship Run, Family, and BOOTS. It's the kind of music that you can turn on for your children, and not worry about what it is they are listening to.
Over last weekend, we had the chance to go see Laurie Berkner live at a Birthday Concert. And we were all very excited, especially my husband and I, because even though he won't admit it, he likes her songs too. The boys were thrilled to be going to a show and they got so excited seeing the stage all done up for a Birthday Party. The atmosphere was great with parents and children as far as the eye can see, and the nice part about it being a kids show is that, there can be lots of noise, and antsy kids everywhere and there isn't a problem. I didn't find myself saying sit down, sit still, and behave because it was an arena where kids, can just be kids!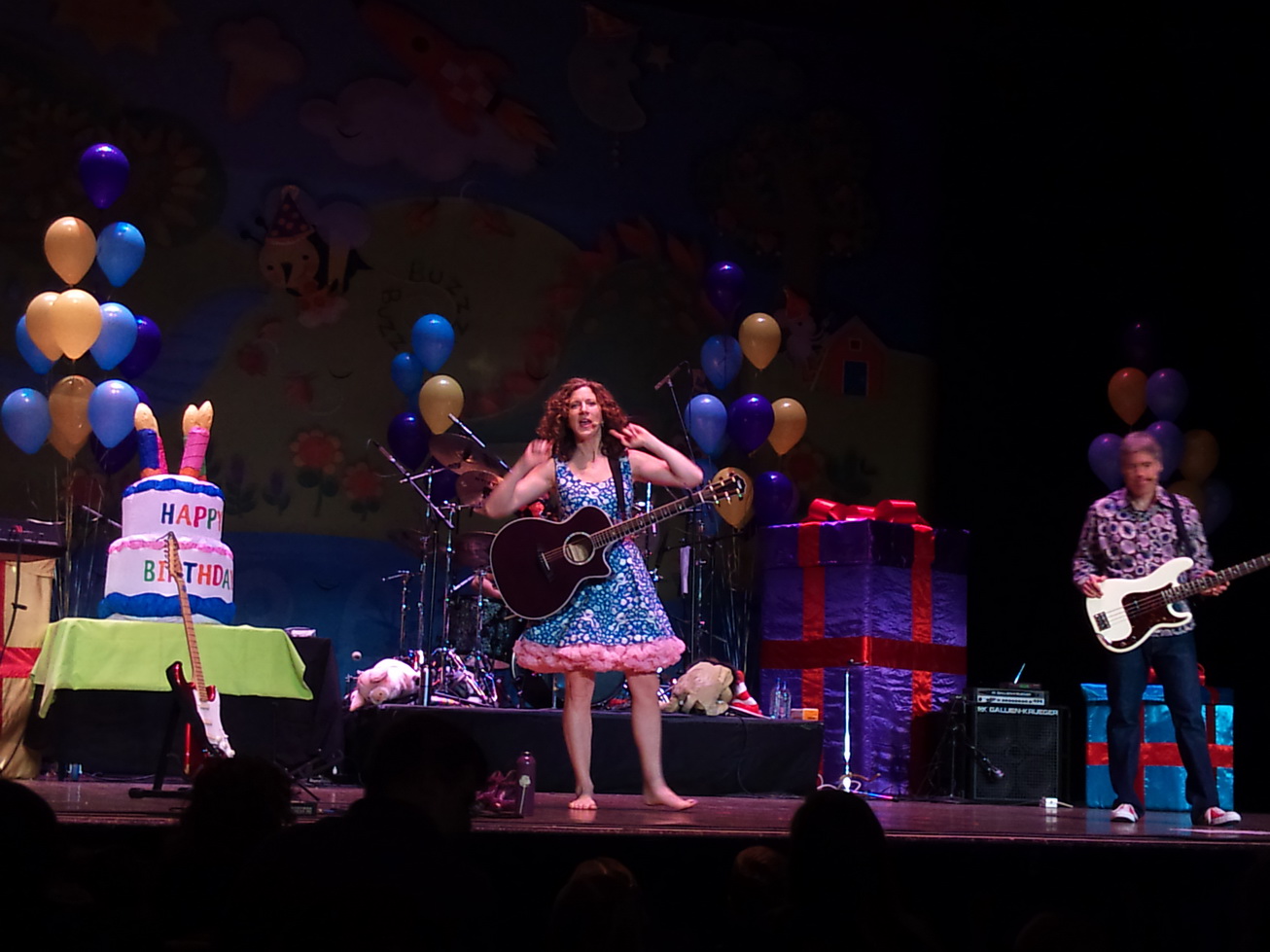 When the lights dimmed, and Laurie Berkner took the stage, all attention was on the stage. A few of the songs we didn't readily recognize, but for the most part she sang all of her popular and well known songs. She even sang a medley of them from Jack's Big Music Show. She made a point of engaging everyone, in the audience, and it was just plain old, good wholesome fun. I had trouble taking the boys for a potty break because I didn't want to miss anything. The concert length was right at the one hour and twenty minute mark, which is probably more than ample for a children's show, as I think their attention spans are only for about an hour, so the show seemed to be just right in terms of length. I liked that the entire atmosphere was very laid back. Laurie Berkner, would stop and talk with everyone in the audience and band members which kind of gave it a very home like and down to earth feel for a show. A few songs into the concert, she even kicked off her shoes and went barefoot for the rest of the show. We simply had a blast and I would go again in a heart beat.
You can see how much they enjoyed the show
About Laurie Berkner
Laurie Berkner has been a professional musician since 1992, but her success as a children's recording artist was a surprise to her. "It was so unexpected," says Laurie. "I'd been performing in rock bands (including Lois Lane, an all-female cover band, as well as her own original rock band, Red Onion) and struggling to write original music. Writing music for kids has not been a struggle at all. The more I started working on material for children, the more I realized that it opened up creativity in me that I never knew I had."

You can read more here
Another wonderful note about our concert attendance that we learned. Not only giving back through her music and putting many smiles on young and old faces alike, Laurie Berkner is about giving back to people, all over the world. While in attendance to her concert, and for every concert throughout this year, the Laurie Berkner Band is hosting a shoe drive at every concert to benefit Soles4Souls. Soles4Souls, takes gently used and new shoes collected at all the concerts and distributes them to children in need all over the world. Also, for every "The Best Of The Laurie Berkner Band" cd sold, $1 will also be donated to this benefit. Please visit http://www.laurieberkner.com/site/live.php to see tour dates and cities near you, so you can dance and have fun and help give back to children in need.
All in all we, had a really wonderful time, and I don't really have anything negative to say. It is a great family outing that you can just sort of let your hair down and enjoy the music and watching your children have fun. I haven't been able to get her songs out of my head for the entire week. The boys love to watch the videos of themselves dancing and singing, and ask for me to play the Rocketship Run song every day. We are thankful that we had the chance to see such a wonderful show! Many thanks to the Laurie Berkner Band for creating quality entertainment for the entire family!
"Tickets to the Laurie Berkner Band for my family were provided to facilitate my review, all opinions expressed here are that of my own"
So this is the weekend that it decided to get cold and the weekend in which we headed to the tree farm to pick out our Christmas tree.  At first I wasn't sure how this was going to go since I am sick and the boys seemed a little cranky.
It all started out ok but then one of the boys saw a tractor and well, that seemed to be the primary focus.  He wanted to sit in that tractor and that was all she wrote.  The guy sent us over the the hill way over yonder for the taller trees.  We wanted at least a 9 ft tree since we have vaulted ceilings.  We went to where he pointed and the tallest one was 7 ft.  I am now frozen, and the boys aren't cooperating.  The one who wanted the tractor decided to stop moving, throw his hat on the ground and proceeded to scream.
Meanwhile, my husband has the other on the little tree cart, and they are bouncing through the hills.  I wave back and say i'll be right back to see if we are in the right place.  I find an old guy and he says, "ok see the opening there, make a left….head to the second douglas fir sign, you'll see small tiny white pines, head back to the neighbors fence line and there's about 40 trees there."  By now I can't feel my face so what's a little more cold?  So we head off into the hills one more time, and find the patch of 40 trees.  They were basically tall sticks with a few sprigs.  So I had resigned ourselves to a much smaller tree.  We head over to the 7 ft trees and I look at the price and its $50.  They had some premium frasier firs already cut, smelled phenomenal and they were 10 ft or taller up front.  For the extra $30, my husband says, lets just get the one you really want and be done.  I think we had all had it by now.  The years previous we were able to find a tree with no problem, but I guess they all had been cut.
They packed up the tree, shook it out, and put a hole in the bottom and we creatively tied it to the roof.  We began our hour drive back and I prayed the tree wouldn't fly off the roof.  Even though I knew it wouldn't go anywhere, my dear husband pulled back the cover to the sunroof so I could babysit the tree.  I could see it, but if it did come undone, it's not like I could catch it.
I spent the day Sunday decorating and getting ready for Santa.  The tree turned out beautiful and now Santa can come to our house.  I love the magic of Christmas!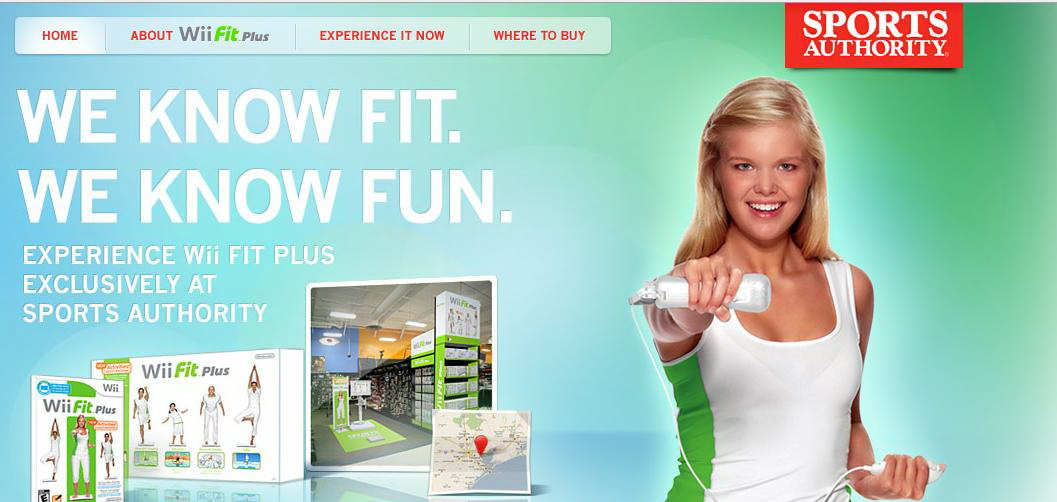 We are a huge Wii family here and love the opportunity to try out anything new.  With the Wii Fit board it has made it possible to have fun while getting in shape.  When  you are on a Wii Fit board you sort of forget that you are doing any work at all and that is my type of workout!
I was naturally excited to find out  that Sports Authority is teaming up with Nintendo to create a new way to experience fitness gaming.  Sports Authority will be selling Wii gaming consoles, Wii Fit and Wii Fit Plus, as well as various accessories and games for the Wii, in its stores.And to help you get to know the Wii better, Sports Authority will create a "We know fit. We know fun." experience at 102 of their stores. Stores will feature a dedicated area with a demo unit and knowledgeable trainers to help customers try the Wii Fit Plus before they buy! This is a great way to trade those boring workouts of the same thing  for something that is fun for everyone.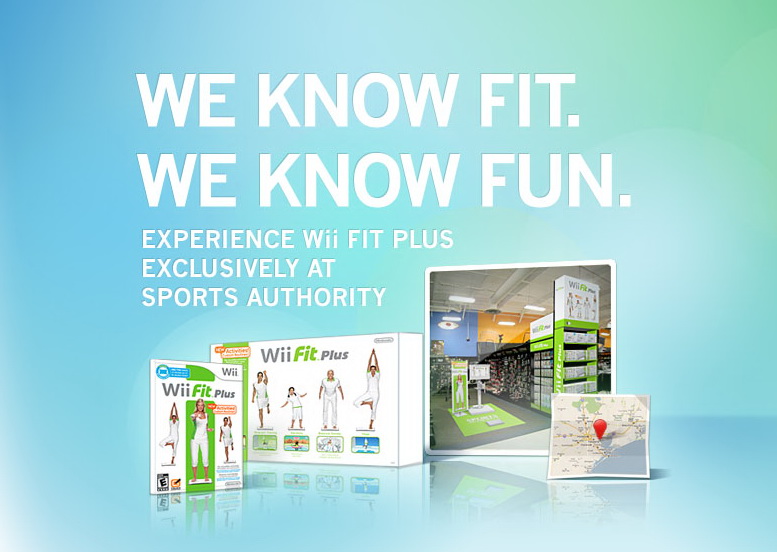 To kick off this great new initiative and campaign to get fit the Sports Authority is launching this experience on Thursday, Nov. 19 at its store in Torrance, Calif. (located at 3610 Torrance Blvd., Torrance, CA) starting at 9:30 a.m. If you are in the California area, the event will feature Jillian Michaels from the *Biggest Loser*, and the World's largest Wii Fit Demonstration with 102 people and tips from Jillian Michaels.  They are also giving away some really awesome prizes, Wii Fit boards included, so you won't want to miss it!
I can't think of a better way to get thinking about those dreaded New Years resolutions of getting in shape.  Rather than dreading it, why not make it fun!   You can find out more by visiting the Wii Sports Authority page.
As an incentive to get your body moving and in shape, DoubleBugs,  SportsAuthority and Nintendo, want to give readers a chance to win the Jillian Michaels' new fitness game for the Wii and a Wii Fit Plus board!
Here's  What You Gotta Do!
Visit Sports Authority and tell me what you would like to have to go along with your Wii Fit Plus Board and why you want to have a Wii Fit Board and come back here and leave me a comment
Additional Entries
Tweet about this great giveaway and Sports Authority
Add me to your Twitter
Blog about this great contest and Sports Authority's new program
Favorite me on technorati
Subscribe to my blog
Good Luck!!
Constest starts November 19, 2009 and ends December 12, 2009
I know with the colder weather coming up, it means much more time spent indoors with your children.  With twin 3 yr old boys it makes it hard when they are so full of energy and you cannot let them out to play.  The past few days have been so rainy here and I was scrambling to find something to do with them, that would occupy at least one hour of the day.  Finding small crafts for toddlers is sometimes a challenge but I ran across a really cute one at Walmart the other day.
Wilton the famous cake decorating and candy making supply company had these really cute Halloween candy necklaces that kids can put together and they were only $3.99, so I thought I would give them a try.  The boys had a blast and had even more fun eating them!  It is a nice little project to do with kids ages 3 and up, and they may need a little help.  But stringing on the candy beads is also a great way to develop those fine motor skills.
Check out our crafting day!!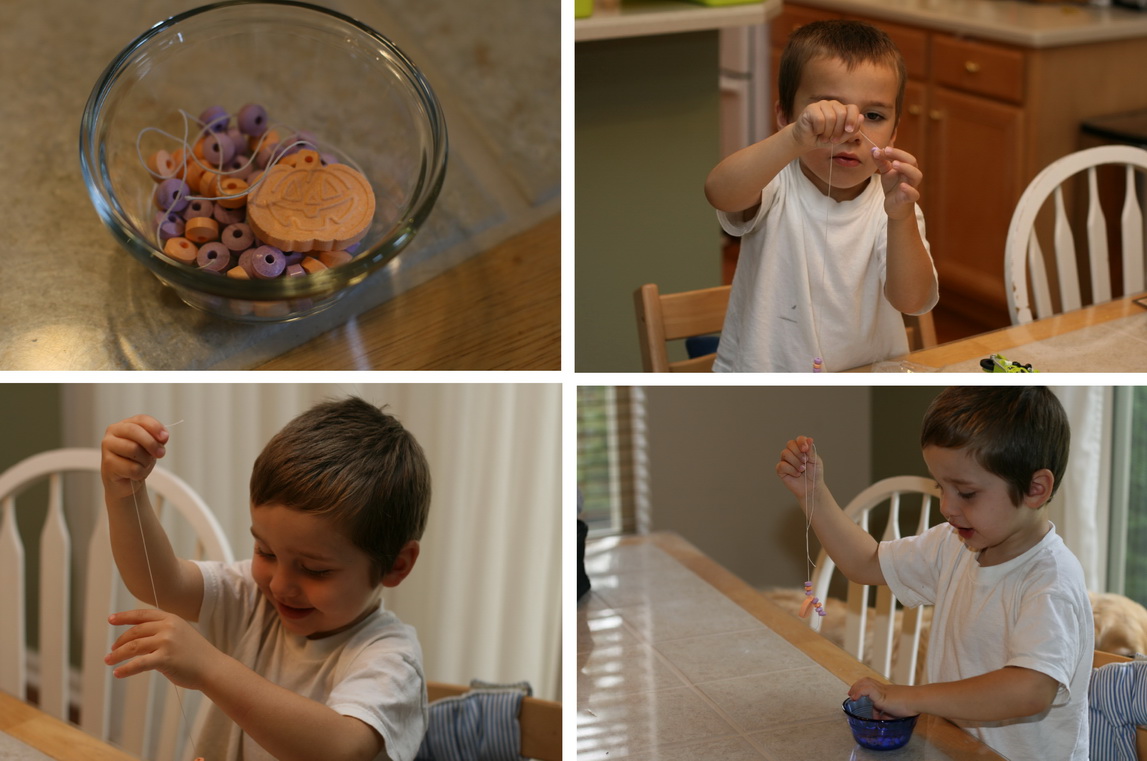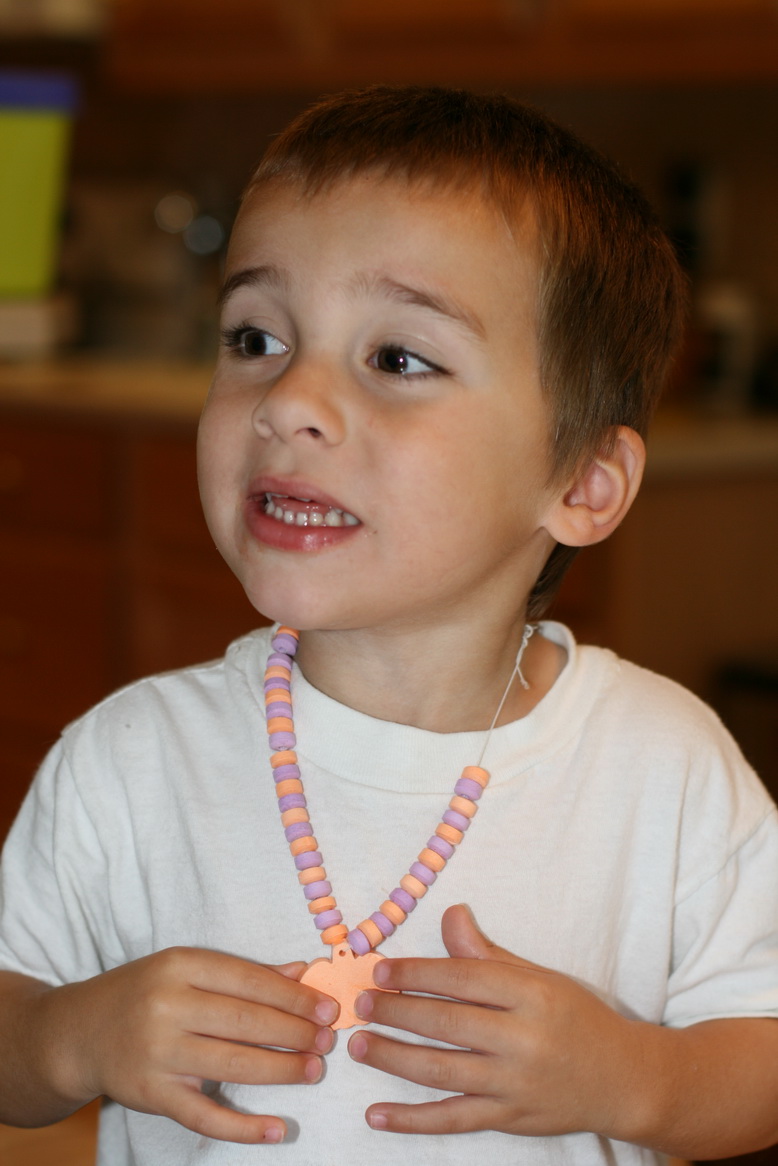 My goodness, it has been a long day, and I am ready to head to bed.  Today we let the boys pick out a pumpkin at the pumpkin patch and did some more apple picking.   Not only that we took tractor rides and went to a neighbors party for football.  Neighbors up the street even had a bus dedicated to the local team with a big screen tv in it.
Needless to say, the boys got to bed late but were asleep in less than five minutes.  I will have some fun pictures from our adventures at the orchard up soon.  This weekend has been a whirlwind and I have lots to show my readers.  We got the carpet installed in our basement which was the highlight of my Friday.  You wouldn't think new carpet would make someone this excited but it means that we are one step closer to being done with the room.  It is going to be a family space where the boys can make a mess if they want and we can sort of hang out down there.  The boys know the room is for them because they immediately asked if they could bring their toys down there  lol.
Tomorrow we will be working on the new room, I will be making some applesauce, and fresh apple pies. We are having a great weekend!   What are your plans?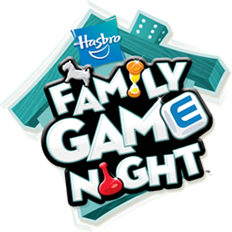 Family time is so hard to come by with everyone's busy lifestyle.  I think that it is important to take a time out to be together and focus on some activity that you can do as a family without any outside interruptions.
So as part of the family time initiative, Hasbro is having its first everNational Family Game Night on September 23rd.  They want you to turn off the TV, gather round the table and break out your favorite games like Monopoly, CLUE, or a fast and furious game of Connect Four.
About Family Game Night
"Family game night invites families everywhere to turn off the outside world for a short time and create memories together," said Belisa Anzalotti, Director of U.S. Marketing for Hasbro Games. "Hasbro has established National Family Game Night to designate one evening where American families are encouraged to play games and share in learning and laughter."

For families on a budget, National Family Game Night provides an opportunity to share an affordable night in. Buying a new game costs significantly less than many other entertainment options, such as dining out or attending a sporting event, and Hasbro games can be played year after year providing hours of entertainment. When planning your family game night, consider some of America's favorite Hasbro games, most of which are available for less than $20: MONOPOLY, SCRABBLE, OPERATION, YAHTZEE, GUESS WHO?, BATTLESHIP or CRANIUM. Or, if you're looking for a new game, try PICTUREKA!, a fast finding picture game that provides fun for the whole family.

Some of Hasbro's classic favorites have also been updated this year, adding a new dimension of play to each game. For example, MONOPOLY Family Game Night: Championship Edition gives players the opportunity to host a Championship showdown at home, complete with tournament style rules and a Mr. MONOPOLY trophy for the victor. CLUE: Secrets & Spies Edition is a new suspense-filled game of global espionage where players work undercover and decode secret text messages sent through real time cell phone text messages. And CONNECT 4×4 is the first double grid, four-player game of CONNECT 4, introducing more competition and strategy to the classic game of four in a row.

In addition to offering hours of fun and entertainment, games also provide countless learning opportunities. Playing games reinforces patience, turn taking and teamwork, as well as losing gracefully and following directions. MONOPOLY, for example, is a great way to start teaching kids and young adults budgeting skills, while BOGGLE and SCRABBLE help with spelling, and CLUE helps with deductive reasoning. Spend an affordable night in with any Hasbro game for an educational and enjoyable experience that will be remembered for years to come.
I can remember before my husband I got married, we spent may Saturday nights with friends playing Monopoly and to this day, it is still one of my favorites.  It is so fun to grab some snacks, turn off the television and just have fun talking and laughing with a good old fashioned board game.  With the boys, just starting to get the idea of playing games, we have decided to take the time once a week to play a game together.  National Family Game Night is a perfect opportunity to start a tradition and make lasting memories, and come together as a family.
Outside National Family Game Night, you can set s a specific day each week and involve family in planning their own special game night.  For the competitive folks you can set up a scoreboard to keep track and award a winner a trip to their favorite restaurant, or have the ultimate game player trophy to pass on from year to year.  Whatever you decide you can make it something special.
Get your game face on for September 23rd!
Sorry about the quality my good camera was in repair!
Bad Boys Whatcha Gonna Do When They Come For You