It's been a few weeks since I mentioned that my family and I were taking the Listerine Oral Care Challenge in an effort to encourage us to adopt a healthy oral care regimen that the whole family could use and maintain.  I wanted to be involved with this in order for us to spend less time and money at the dentist and to get my boys to enjoy the brushing routine because it has always been somewhat of a struggle to get them brushing regularly.  More like wrestling bulls at times.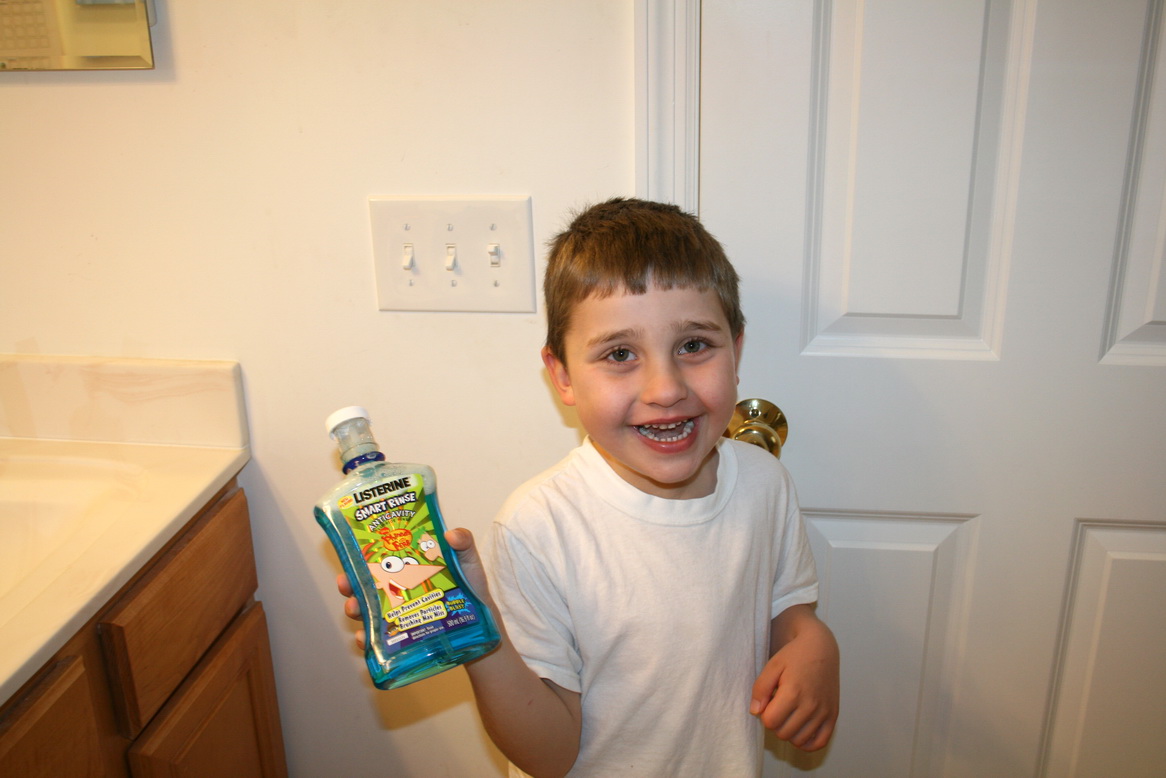 So how did we fair?
We truthfully enjoyed the challenge and made it a fun experience for the boys.  I have learned that with kids, if you make a big deal about something, like you are throwing a party, they become excited too.  We kept track of their brushing with a chart and gave rewards at the end of each week that they brushed, rinsed and flossed without argument.  I also made it fun, by making up fun songs to sing while they were in front of the mirror brushing.  I made a fool of myself, but the  boys loved it and it made them want to brush just so mommy could act silly.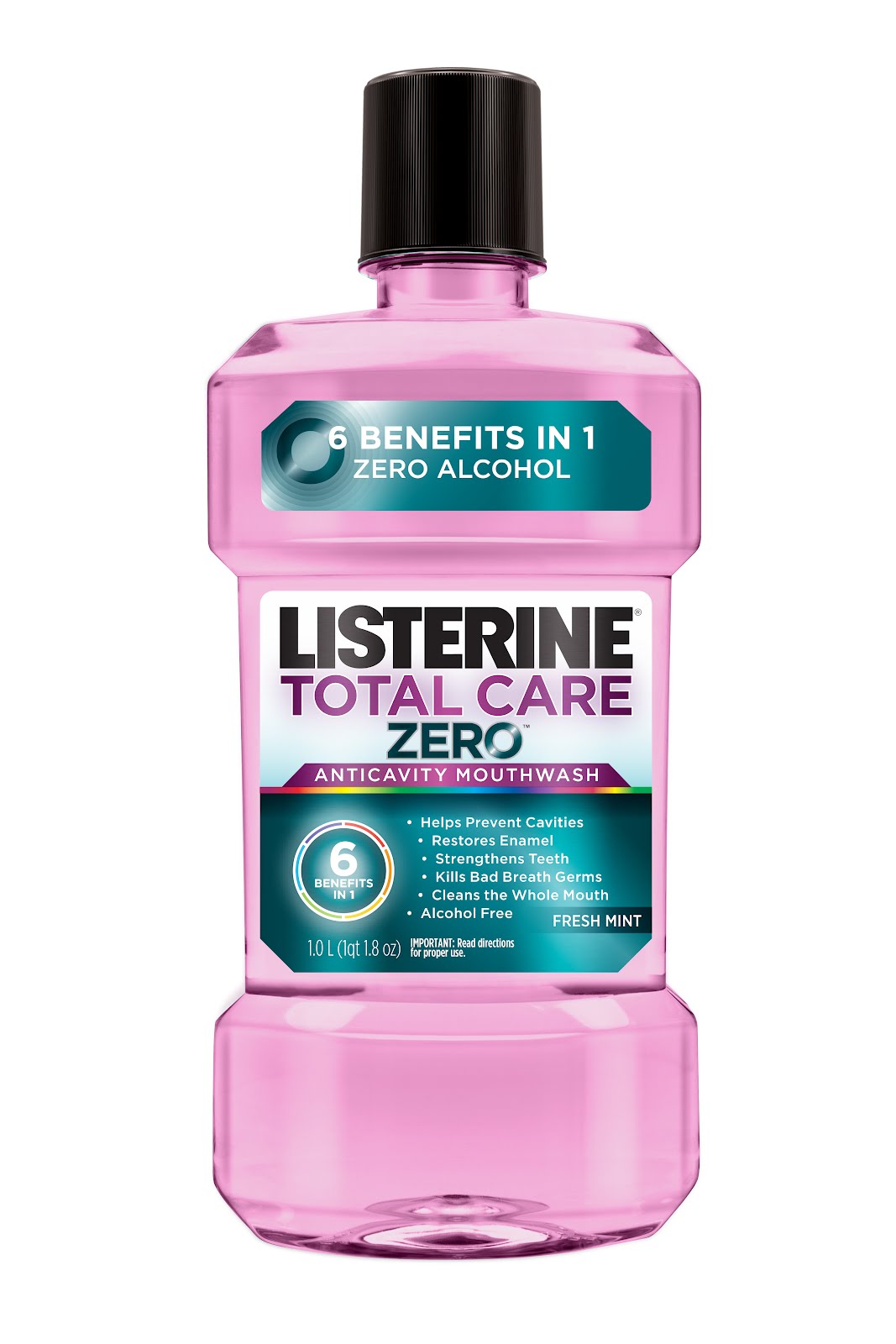 Some of my favorite times as a parent are spent doing the daily things in our life, like giving the boys a bath, or brushing their teeth.  The boys have come to love this time and enjoy having choices about the rinse they used, and their character toothbrushes, and it really helped to make that positive association with brushing.  It was fun to be able to stand at the same sink doing the same thing as a family knowing that we were all reaping the benefits.  We just had our family dental check ups last week, and everyone had a good report.
After listening to the webinar and reading more information, I realized that brushing is a great way to maintain good oral health, but to be thorough you must rinse and floss on a regular basis too.  I had never been a big fan of how rinses taste, but Listerine has come out with some really great tasting products and the Listerine Zero is the best ever!  I don't feel like my mouth is on fire, so I can actually spend an adequate amount of time rinsing.
It was nice to have several different products to choose from.  My husband likes the stronger regular Listerine, I liked using the Listerine Zero without the burn and the boys loved choosing their favorite Listerine Smart Rinse.  My most favorite product though had to be the Reach Cleanpaste floss.  I love that I can floss and have that between the teeth minty clean feeling.  Since the challenge has begun, I have already gone out and bought a couple more.  I have had a truly wonderful experience taking the Listerine Oral Care Challenge with my family.  It is great adopting healthy habits together and enjoying doing things towards better health as a family.  Most importantly, kids learn from example, and having great tasting products help maintain good oral health care. Eventually, they will have children of their own, so instilling good habits will carry on.   Why not make oral care something that you do together as a family, and make it fun?   I dare you to take the Listerine Oral Health Care Challenge!  You can visit WalMart where there is some great information on oral health care and great deals on all the great Listerine products to make your oral hygiene regimen complete!
**I received products and compensation from Johnson & Johnson and The Motherhood as part of my participation in the Oral Care Challenge. All thoughts and opinions expressed in this post are my own.**
Recently, I mentioned that I was on a weight loss mission.  My ultimate goal is to lose 65lbs so I can go shopping for the cute clothes and just feel better in general.
I have been working hard for the past 4 weeks and I have lost nearly 20lbs in that time.  I am logging all of my intake, so I can be accountable for what I eat.  You would be surprised how much you can overeat without even knowing.  For instance, I love SunChips and this peach salsa.  When you "gasp" look at the bag you will see that a serving is only 15 chips or something like that.  When you sit there and physically count your chips one by one, you will realize that this seems like a meager amount.  Normally you would just reach in the bag as much as you want until you are satisfied.
I have had to adjust the way that I eat.  If I want something sweet, I head for the fruit before I go to my next step which is chewing gum.  I will admit that I do not deny myself treats.  In fact, I made a homemade chocolate cake with chocolate icing from scratch and had one piece nightly after dinner for a few nights.  The key is moderation.
I had not been used to eating healthy, so at first a piece of fruit tasted like crap to me.  But now it is something that I crave.  If I eat a piece of chocolate and go to fruit, the fruit doesn't taste sweet, so try to avoid high sugar foods.
I have gone from walking between 5-10 miles per day, to starting to run.  I only made it ten full minutes, before I thought I was gonna die, but it feels good do it.
My favorite snacks so far:
Sliced white peaches with a Tbs of light whip cream
SunChips Garden Salsa flavor with peach salsa
Carrots drizzled with a half tsp of green goddess dressing
Apple with 1 tbs natural no sugar peanut butter
Cranberry Rush Trail Mix from Meijer and Nutrition Nut/Fruit Mix from Planters
Canteloupe
Chocolate graham crackers with light whip cream in between, and put it in the freezer for a mock ice cream sandwich
My favorite breakfast
Maple and Brown Sugar Outmeal with Flax by Three Sisters
As for dinner, I haven't found a favorite meal, but I tend to eat whatever is made for the family but I measure out portions.  I will drink water but sometimes I want something else and I have found that I really like the regular Vitamin Water.

What are your favorite lo cal snacks?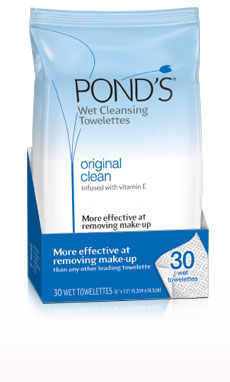 As a busy Mom, I am always looking for things that are more convenient and that saves time in my daily routine.  I have never been a huge make-up wearer but I do appreciate having a clean face, without having to do too much to myself.  I am always looking for new products that I can use that take less time.
I was given the opportunity to try out Ponds Cleansing Towelettes.  I usually hesitant to try out too many new things on my skin, since I have relatively sensitive skin, I have a tendency to steer clear of any harsh skin cleaning products.  So I opened up my package and it is resealable which is nice, which also means you can keep them handy in your purse as well.  I had just mowed the lawn and was all sweaty and felt grimy and used one of the towelettes and I could see the dirt that it  has removed from my face.
About Ponds Cleansing Towelettes
Pond's Towelettes remove up to 40% more dirt, oil and make up than other leading products and even waterproof mascara. The Pond's exclusive cleansing system, with oil and dirt trapping fibers, works like a magnet to lift away impurities in one portable step even without the use of water. Available in three varieties, Pond's Towelettes are hypoallergenic and dermatologist tested for a gentle Pond's Superior Clean, guaranteed or your money back!
What do they do?
The most gentle of Pond's towelettes, these combine gentle deep cleaning with effective make-up removal to whisk away dirt and make-up in one easy, portable step.
How do they work?
Pond's original clean sweep towelettes gently clean and remove make-up (including waterproof make-up) and impurities.
Triple Tea Antioxidant Complex

Chamomile

Vitamin E

Essential features:
Ophthalmologist and dermatologist tested
Hypoallergenic
Alcohol free
Safe for contact lens wearers
Ideal for all skin types, including sensitive skin
What I love about Ponds Cleansing Towelettes is that they are convenient, and I have no soap bottles, or washcloth and I can just pull one directly out of the package and clan my face.  The only thing I wasn't particularly crazy about was the strong flowery scent.  I would like to see one that had no fragrance at all.  I love that my skin feels clean afterward and would definitely use them again.
*This product was provided to me for free to try for review*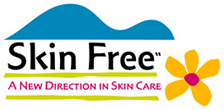 Both me and my boys have very sensitive skin, so much so that I have had to change the laundry detergent that I use in order to prevent theri skin from breaking out.  In the winter months I am combating eczema, which almost never seems to go away on its own.  I always have a hard time finding skin care related products that I can actually use, because half of them are loaded with fragrances and a at on of other stuff that can wreak havoc on sensitive skin types.
I received several wonderful items from Skin Free to review and I was a little apprehensive to try them out at first.  I received the Extra Moisturizing Liquid Soap, The Sweet and Smooth Sugar Scrub, and the Niaouli Scrub for Blemish Prone Skin.
The Sweeet and Smooth Sugar Scrub is absolutely fabulous on dry skin.  I used it in the bath on my elbows, knees, and on my face and I couldn't believe how good my skin felt afterward and not only that I didn't have any weird reactions to it, so that is always a plus.  You can use it sparingly on your face to slough away all the dead skin cells to leave your face with a nice clean glow. It has nothing weird in it either and when they say its fragrance free they mean it!  You know how some thing tout that it's fragrance free and it still has an odor to it, well this stuff doesn't and I like that.
The Extra Moisturizing Liquid Soap, is fabulous if you have your hands in the water often like I do when cleaning and working with my kids.  My hands tend to dry out in the colder months and sometimes in the warmer weather, so washing with this soap totally eliminated the feeling of having to put lotion on after I washed my hands.  I love the fact that all the moisturizing I need is in my soap and I don't feel like Im washing away essential oils in my skin when this is there to replenish it.  The package said that it is used for your face and rest of your body, but it can also be used as a good hand soap!
And for my blemish prone skin, I tried out the Niaouli Scrub and I love it!  Once a month it is inevitable that I get acne and here I was Naive to think that it would go away as an adult.  The Niaouli Scrub gently washed and cleans your face and helps to remove those excess oils that are culprit in causing acne.  Skin Free products felt so good on my sensitive skin and all of their prices are reasonable.  I know there are skin care products out there that claim to be free of irritants and hypoallergenic and my skin would beg to differ, but with Skin Free, I had no issues at all. This is some really great stuff if you or your family has skin issues or eczema prone skin.

Would you like to try Skin Free for yourself?
Skin Free and DoubleBugs would like to offer you the chance to try out Skin Free products with a $30 gift certificate!
Here's What You Gotta Do!
*Mandatory Entry Requirement* All you have to do is visit their site and come back here and tell us about your skin woes and what products you would like to try from Skin Free!
Additional Entries
Tweet About thie giveaway
Add me to your Twitter
Blog about this Giveaway
Add Me to Your Technorati favorites
Blog about this Giveaway and Link to Me
Contest Starts July 17, 2009 and Ends August 12, 2009
Good Luck!

Acne and pimples can be a real pain and inconvenience when trying to look your best. I have always gotten those obligatory pimples that come with "that time of the month" but I guess I was all too naive to think that when I became an adult that they would magically disappear.  Well, I was wrong and even though I don't care as much now when I get a pimple as I did when I was a teenager, they are still a real pain.
You can always feel a pimple coming on, like the day before your meet and greet with someone important, when you have to smile and look nice for the camera, or the night before your wedding.  Sometimes it's like they have a mind of their own, and decide that it's pay back and pop up on the end of your nose like rudolph.  You head into the bathroom, armed like Tim The Toolman, with your seven different creams, washes and scrubs in hopes of washing them away.  In my experience and only because I have sensitive skin, all those creams can sometimes do more harm than good.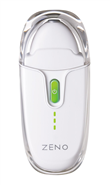 I was given a Zeno Mini to try and it is a really cool little device designed to help when that dreaded pimple decides to pop up.  Basically it is a little handheld device that uses the science of heat to help your blemishes disappear or fade significantly within 24 hrs.  Clear Point technology as it is called, delivers a dose of natural soothing heat to the blemish that kills the bacteria that causes pimples to worsen. I was a little skeptical at first when I saw how little this things was.
So I decided to give it a try and never in my life had I been more excited to get a pimple LOL!   I ran to get my Zeno Mini, giddy with excitement, and turned it on.  My boys were dazzled by all the lights on it and the fun beeping that reminded me of a video game, but after it warmed up, I was ready to start zapping.  I wasn't sure what to expect with my first use, but the heat that the Zeno Mini delivers felt great.  Zeno is most effective on blemishes that are just starting, below the surface of the skin. If you know anything about the start of a blemish,  you know that they tend to hurt especially if you get ones on your upper lip.  But after using the Zeno Mini once the pain that I experienced actually had lessened quite a bit.  After a second treatment and about fourteen hours later, I could barely tell I even had a pimple! I don't know how well this works for other people. as each person is different, but for me I was very pleasantly surprised at how effective it was.    Not only that, I didn't have to hang over the sink using creams and washes, and I could sit right in front of the tv while zapping my pimple.  I love that the size is small and can fit in your purse.  You can zap blemishes anytime, all you need is your Zeno Mini and 2.5 minutes!
I also wanted to mention that if you have sensitive skin, the Zeno tends to leave some redness where you treated the pimple but that faded for me within an hour, but everyone's skin is a little different.  So I would try it before going to bed, that way if it leaves some redness you can sleep it off.
The price of the Zeno Mini ($89)  might seem a little daunting and the tips ($18.99) on it should be replaced after approximately 45 uses, but I think for the convenience, it may well be worth the investment.  I don't think it is a miracle cure if you have acne and as with anything, it does have its limits, but seems to be very effective when you have the start of a pimple, at least in my opinion.  I will definitely keep this little beauty in my purse, so I will be armed with zit zapping power when the inconvenience of a blemish arrives.  The key is to get them early and the blemish might be a little less problematic.    All in all, I think it is a useful product if you tend to have the occasional pimple, and definitely a modern convenience.  I just like the fact that it is easy to use, I can use it anywhere, and if it's going to work, it works quickly!  The Zeno also comes in a bigger version, but I prefer small and discreet. Definitely check out a Zeno and get zapping!