I have recently started re-organizing our dining room or the boy's play room. I have decided to give it a fresh coat of paint and get all their toys in check. If you have young children you know what I am talking about when I talk about a trail of toys all over the place!
I have been searching for some sort of solution to organize all their little things, like blocks, and cars and little people, to where these things are contained yet my boys can see what's there. I currently have everything in bins but you cannot see through them, so they forget what is in there.
I ran across Kids Klutter Katchers and thought I would give them a try. I love these things, because they are durable mesh and you can see through them. They hold blocks, cars, puzzle pieces, train track, drawing supplies, you name it…the possibilities are endless. They are great for other clutter in the house as well. Definitely worth having on hand for organizing the place!
If you are looking for organization this is a good place to start.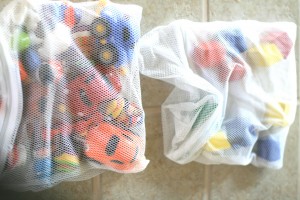 For a limited time at Kids Klutter Katchers you can use coupon code 3FREEDB at checkout to receive 3 free Kids Klutter Katchers zippered mesh fabric toy bags with the purchase of 15 or more! Expires 10/1/08.
I decided to make hamburgers tonight and I had divided ground beef in freezer bags.  I always have to remove my rings to mix up the hamburger when it dawned on me to just thaw and mix it in the bag!  Here's what I did for my hamburgers tonight…
1lb of ground beef
1/2 cup of shredded cheddar cheese
Few dashes of worchestershire sauce
splash of soy sauce (my good friend Jack gave me this tip)
Onion powder (as much as you like)
Pepper (as much as you like)
Garlic powder ( as much as you like)
I just grilled mine on my George Foreman grill…but you can grill them or broil them
1. Chocolate: Its a good thing because I always have it on hand here at the house LOL It's partiularly good when the toddlers are bouncing off the walls and I need a "me" moment. The kind of chocolate that's good for you is the dark or bitter chocolate (you can wash it down with some milk chocolate haha). It contains chemicals called polyphenols that reduce the presence of free radicals, which cause cell and DNA damage. It also protects the heart.
2. Red Wine: Well I never have really liked alcohol of any kind. Now folks this doesn't mean get slopping drunk. Polyphenols are the key – chemicals such as tannins and flavonoids in the grape skin and seeds that are powerful antioxidants.
3. Stress: SAY WHAT?!!! Ok, well long term stress is no good, but short bursts are good for the whole "fight or flight"…used to help keep men protected against predators…does that mean my kids are the predators? LOL!
4. Ice cream: WOOOHOOOO! Ice cream is low GI, which means it releases its sugar gradually into your blood after you've eaten it, which means you're not left wanting another pint lol. Bring on the Ben & Jerry's. I can handle this one folks!
5. White bread: White bread flour is fortified with calcium and iron as well as B1 and niacin. And because white bread has less fiber, it means that more of the calcium is absorbed. As a rule you should stick with whole grain breads…but at least white bread isnt totally bad for you
6. Work: Ugh makes me feel tired. But work helps you stay healthy. It helps reinforce your sense of social worth and extending your life expectancy. Guess the houseworkk isn't totally thankless LOL
7. Coffee: Well that's a yuck for me. Coffee contains antioxidates, and tannins which help unblock the arteries and protects the heart. It's also good for the liver to protect against cirrhosis. One cup a day lowers your risk by 20%!
8. Baked beans: Yummy! Genuinely just good for the heart and I would imagine high in protein. Break out the Beano folks…they aren't without some downwind risk! LOL
9. Guinness: Not the book…the beer. Yuck! Apparently a pint of the dark black stuff is much like a daily aspirin.
10. Newspaper Lists: Apparently reading long lists in papers helps with stress..go figure.
You can read more about it HERE
With having two little ones running around, I inevitably have someone with a runny nose! If it's not allergy related it is the dreaded cold and we all know that most toddlers aren't great at getting to a kleenex right away. I know when my son Monkey sneezes it sort of goes everywhere and before I can trip over the toys to the kleenex, he has managed to use his arm… ugh! It never fails!
The hardest part about kids with colds, is the dried up crusties and crud that they manage to have everywhere. A lot of times they wake up with it dried to their little faces and its hard to get off without practically scrubbing off their skin! The stuff is worse than super glue I tell ya!
So, I ran across a product called Boogie Wipes. Finally someone developed a product that was useful in managing the dreaded booger fest! I tried Boogie Wipes out and, they take the dried crud right off their faces without scrubbing your kid to death.
Boogie Wipes are made with extra saline and makes for gentle removal of dried on mucous. They are hypoallergenic, alcohol free and moisturize with added Chamomile, Vitamin E and Aloe.
Boogie Wipes will definitely be in stock in my cabinet!
I am sure I am not the only one who lives with a snorer. My dear husband has snored as long as I have known him, and recently I had to kick him out of our room because the walls began to rattle lol!
He is an allergy sufferer, and I think this time of the year makes the snoring worse. I have spent many nights tossing and turning, listening to the myriad of sounds he makes.
You know how it goes….you start out with a friendly lil tap on the shoulder and the snoring stops for a few seconds (long enough to get yourself comfortable), and then you start to hear the subtle zzzz coming back. As it gets louder, you try another tactic…give the covers a yank, to shake him around a bit. LOL! It works for approximately 60 seconds and then you are back to square one. Then I make the concerted effort to politely ask him to roll over, but first you have to get him to understand what you are saying! After he rolls over, it all stops for about 5 minutes, and then it begins all over again but much louder than before. So, for 45 minutes I am laying in bed trying to devise a tactical plan,when I finally smack my husband and tell him to move! He then proceeds to tell me "Hon, I don't know what you're talking about…I was awake the whole time!" Here we are arguing in the dark whether or not he was awake or not…LOL!
Anyway I ran across an article…maybe it will help some poor soul out there who lives with a snorer.

9 Ways to Help You Stop Snoring
Yesterday it was an unusually cool day for Summer! We have a black driveway so I decided to bust out the sidewalk chalk with the boys and do a little artistic creation. As the creative juices starting flowing I decided to draw a road on the driveway and got out the boys little bobby cars. Monkey caught on right away and was driving his car on the road LOL. He had a blast and it is a great idea! They loved the idea of drawing on the ground and then took turns running in circles stepping on all the new artwork on the ground. We weren't sure what that was about but they were laughing and having fun, so it was a big hit. If boredom has taken over, then this might be an idea to help get out of the funk. It helps lil ones explore their creativity and gives them something new to try. Be creative, draw a town with a road, Spell their name, do the alphabet, draw things for them to identify, or just make spots for them to jump on. The possibilities are endless.! It gets the family fresh air and most important time together!
I ran across a list of things to have on hand for busy toddlers taken from the family education site and thought I would share. I am always looking for things to do with my boys. It always nice to have a variety of supplies on hand ad at the ready, especially on rainy days when you are stuck indoors! Also varying their activities helps with all aspects of their development!
Top 10 Materials to Have on Hand for Toddler Activities
1. Crayons: Remove the labels from crayons when possible. For the younger child, fatter crayons work best. (Crayola makes a great triangular crayon!)
2. Construction paper: Construction paper is very versatile. Be sure to keep a wide variety of colors on hand.
3. Poster board: Use poster board when you need a stronger, more durable paper.
4. White craft glue: You can also use rubber cement or school paste for most projects. Choose what works best for you and your child.
5. Old magazines: Old magazines are a wonderful source for collage and activity pictures. Nature and home-living magazines are the best for this.
6. Scissors: In addition to adult scissors for you, purchase a pair of safety scissors for your child. If you wish, you can also find beginners' guiding scissors and fancy-edged scissors at school supply stores.
7. Felt-tip markers: Markers are useful for adding small details to projects. Washable markers are available.
8. Food coloring: This is handy for coloring homemade dough and various other craft materials. Please note: It does stain.
9. Recycled household materials: You can reuse materials such as egg cartons, yarn scraps, toilet paper tubes, and boxes for many activities.
10. Tempera paint: Tempera paint is an easy paint for your child to work with. It has a nice smooth texture and comes in many colors.
So I made spaghetti the other night and the boys loved it, but I didn't exactly love the mess! They are both busy trying to master the use of their forks. Sometimes they do really well and other times the fork winds up on the floor and their hands are what works best. I had spaghetti noodles everywhere and although it was fun eating for them, mommy wasn't having fun cleaning it up. So I think next time I will try a heartier noodle…like macaroni or rigatoni or something. The noodles taste the same but I think it will be easier for them to get their fork into.
Ok, since having the boys things in the yard have become a bit of a jungle. I have a vegetable garden that usually grows vegetables but I was running behind this year and never got around to it! So I have been growing a nice crop of weeds. I went searching on the internet for an organic solution for weed control since I didn't want to use chemicals in a place where we grow food to eat! And I ran across a thing that said you can use newspaper! Newspaper wetted down about 1/4 inch thick then put some weed barrier/black tarp over them and your garden will be weed free next year! I tried just black tarp and suddenly my black tarp is rising LOL. The weeds are doing just fine under it ROFL! I plan on doing this in my flower bed as I am tired of trying to yank the weeds the size of trees out. Leave any other tips if you wish!
Ok for all you coupon clipping moms out there…I am in need of a really good coupon organizer that isn't too huge or bulky but is well designed. I have a current organizer but I hate how the thing works. When you open it you have to turn the thing upside down and unwrap the flap at the same time and I seem to lose coupons on the floor of the grocery store! I'd love to hear some input as to what the best organizer is…so please leave a comment and let me know!