Birthday Boys

Whatever happened to Sunday being a day of rest?  I decided early this morning that I was going to clean the carpets so , I headed up to Lowes to rent a Rug Doctor.  I had so much laundry that I could have been doing but I couldn't bare to look at my carpets any longer.
It was my intention to have a carpet cleaning service come out, but the reality is that it costs a lot more money than doing it ourselves.  To my surprise the blue crayon came out of our area rugs, so I am very happy about that.
One little beef I have about Rug Doctors is that the cleaning solution they sell to you is horribly expensive for a half gallon of cleaner it cost you just as much at the rental!  I'm like are they for real?  Not only that you have to supposedly by this anti-foam stuff to put in the water recovery tank which cost more money.  It is a total gouging, so I wised up.  I went into Lowes, and rented the rug doctor, but I visited the cleaning aisle and found industrial strength/commercial carpet shampoo with a deodorizer for $9.00!  Normally I will get two bottles of Rug Doctor stuff and be out the money, but I wont fall for that anymore.  Not only that, the anti foam stuff is a crock if you buy low foam carpet shampoo you have no foam at all to speak of.
Seriously, what a way to rip people off!  No bottle of soap or shampoo/cleaner for your carpet should cost $20! The unit cost $26 to rent….what a rip!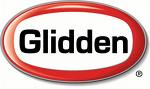 I have heard through the grapevine that Glidden Paint is giving away a free quart of paint!  It's only good for today 6/25/09 so hurry and get yours!  You just pick your favorite color!  I can think of a ton of things I can do with some extra paint.  I have a few chairs that need touched up, some trim to paint, or I can even paint a few blocks on my wall for a cool look.  Just a word of warning the page is loading very slowly, due to the amount of traffic. Who couldn't use free paint?  Hurry and go get yours now!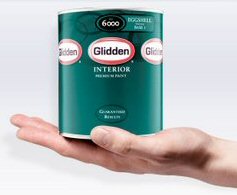 Mother's Day is just around the corner and if you are like me, I am always thinking of something that is different or original. for gifts.  When I think of Mother's Day, it is a special time where you get to honor Mom and give her a day that belongs only to her.  I enjoy the simple things, like a clean house, not having to cook, and maybe something to indulge in.  These are the things that I think of.
A delightful package showed up at our doorstep over the weekend from Edible Gifts Plus.  I was so excited to receive this special box of goodies to try.  I'll have to admit that I went and hid while opening the box, otherwise I would have to share.  I am all about sharing, but these treats were all mine!  I received a few samples of some really yummy things like chocolate dipped rice krispie treats, and chocolate covered fortune cookies just to name a few.  Everything Edible Gifts Plus has to offer makes it very hard to choose, because I wanted just about everything I saw!

Even more special than all the wonderful things on the site is how it all got started.  Owner Margo Rappel started her confectionery  about 1 1/2 years ago.    Margo is a single mother with three children and single handedly runs all aspects of Edible Gifts Plus including product buying, website production, order processing and customer service.  Margo credits the success of Edible Gifts Plus to her "above and beyond" customer service philosophy and offering customers many delicious ways to make an impact with a personalized gift without breaking the bank.
In her own words "Edible Gifts PLUS is the result of years of party planning, research, and lots of delicious sampling!!  It is this experience and lifestyle that has enabled me to arrive at this business.  My enthusiasm for this special collection of cookies, chocolates, dipped fruits, pretzels, popcorn, and so much more is evident with each and every customer. "
Everything we received was so wonderful and decorated so pretty that it just gives it that personal touch and would be a perfect thing to give as a special gift for Mother's Day, or for any special occasion where you want to make a statement.
Would you  like to give some of these tasty treats a try?
Edible Gifts Plus and DoubleBugs would like to give you a chance to win a $40 gift certificate to buy some of these tasty treats of your very own. Also, if you just can't wait you can use the coupon code doublebugs10 for 10% off your purchase!

Here's What You Gotta Do!
Mandatory
Visit Edible Gifts Plus and come back here and leave a comment on what you might like from their site and who you would give it to.

*For additional entries
Tweet about this contest
Blog about this contest
Put my button up on your sidebar
Subscribe to my blog
Contest Starts April 30, 2009 and Ends May 14, 2009
Good Luck!!!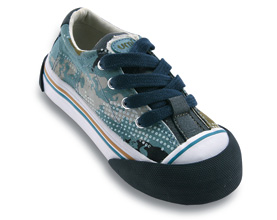 I am definitely a bit of an addict when it comes to shoes for the boys.  Children's shoes are so adorable that it makes it hard for me to pass them up.  And, if you know anything about little kids and their feet, they seem to outgrow them almost overnight.
I became a bit of a connoisseur when I started shopping for shoes.  I have two toddlers to buy for so, I pay close attention to how their shoes fit, how they move with them, and how they stand wear and tear.   There have been many times where I will go out and buy the same pair of  shoes  in a different size if I feel like it is a good shoe.  I haven't changed the type of sneakers I have bought in 10 years.
I was introduced to Umi shoes last Fall and I simply fell in love with them.  This year's Spring and Summer collection is to die for and I found it hard to pick any one style that I loved more than the next.   They carry such a wide range of shoes, and one is a cute as the next.   We received the Riley a canvas shoe in an adorable chambray print  and the Trek, a waterproof sandal in a very cool olive green.
The Scoop on Umi Shoes
At Umi, they build real children's shoes, not floppy leather slipper socks,  and not miniature grown-up shoes. They know a lot about growing feet. Front to back. Side to side. Top to bottom. Umi shoes are designed with children's feet in mind.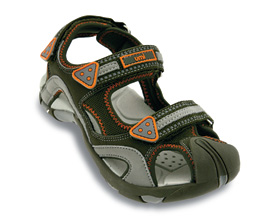 They have some pretty high standards. Umi crafts other shoes from the highest quality nappa and nubuck leather, with carefully constructed lasts. Their manufacturing process includes more than twenty quality control checks to ensure that every pair of shoes meets their standards. The result: Umi shoes are flexible, supportive, built to fit, and go the distance.
All the things that they take pride in are the things that I appreciate as a parent.  We have to follow a tight budget and when I fork over the money for shoes I expect to get a quality shoe that matches the price.  I love Umi shoes because they are fun, stylish, and are made to last the rigors of a young child.  I love how they fit, how they move, and how they look.  Umi shoes are awesome and definitely mommy approved.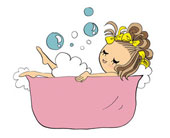 Tonight, I spent a good deal of time doing research on what fish oil is the best to buy.  I am about to embark on a healthy eating dtreak and since I hate fish of any kind, I am looking to supplement.
Here my thoughts for tonight"
I am going to have to give up brownies, this sucks.  Well I don't have to give them up completely.
I need to organize my office!
I need to go to Whole Foods tomorrow.
Maybe I should sleep in. Sleep in?  What's that?
I really want to get my garden ready, blach I am too tired
I still need to stop biting my nails!
There are thin mints in the pantry, how the hell am I going to diet with those in there?
I wish I had a maid, well and a cook, and a gardner.
Oh I have to finish a review, well I need to finish three this weekend.
Wonder what Blogher will be like.
I really need to turn my brain off when I'm trying to relax in the tub!
Well tomorrow I am yet another year older and I am now heading towards the big 40.  I am sharing my birthday with my wonderful friend Tanya and with my dear husband and my two sweet little boys.   We are planning on going out to dinner and just sharing some time together with friends and family.  It seems like time is moving by so fast, and it was just yesterday that I was turning 16.
I hope that this year brings with happiness and health.  And my wish, is to hopefully add a pending new arrival to make our family complete.  I am hoping for a little girl at some point but I would be absolutely thrilled with a healthy little one.  We will see what 2009 has in store for me.  Anyway, Happy Birthday To Me, and it will be a good one.
What are some of your favorite romantic movies? After all the talk of Valentine's Day over the weekend, it just brought to mind some of my absolute favorite movies. I love romantic comedies and just regular romantic movies. Here are some of my favorites.
1. Officer and a Gentleman- OMG can it get any better than this movie. I used to dream that a guy in uniform would come and sweep me off my feet after watching this one.
2. Under the Tuscan Sun- I could so picture myself in this girls shoes, fixing up my little house in Italy and falling in love.
3. Pretty Woman- Richard Gere, whats not to love? I used to think he was the sexiest looking guy and he had just enough gray hair. Well I still think he looks good.
4. Only You- I love this movie and Marisa Tomei! I would be nuts enough to chase a guy through the streets of Italy. Do you see a going theme here? Magic must happen in Italy. I have always wanted to go there, maybe on a second honeymoon with my hubby.
5. Notting Hill-Anything with Mr Hugh Grant. I love him in a suit with no tie and the top three buttons undone. LOL.
6. Dirty Dancing-I've watched this movie like 80 times and I still love it.
7. The Family Stone
8. Bridget Jones's Diary-Hugh Grant…hello people!
9. Nine Months-Hugh Grant, ok I love the guy shush!
10. Serendipity-I love what this movie is about
I have a few more that I really like but these are my top ten. I can only watch these when my husband is away otherwise he makes fun of me. These are great when he is out playing poker with the guys. Grab a margarita, some popcorn and your girlfriends. What are your favorites?

I was driving in the car with the boys the other day, when one of my favorite 80′s songs came on.  The song, by Men@Work, was "I Come From A Land Down Under."  I have lots of favorite songs from the 80′s since I grew up listening to all of them.  This song in particular brings back fond memories, of some dance my cousins and I made up in the basement of their house.  Ok, I admit it all seems hokey now, but back then, it was serious business.
And ladies let us not forget legwarmers!  I remember that I had a pair in every color and wore them all the time.  You had the layered look, or you could wear them one color at a time.  I am not sure they were much different then socks but they were the "in" thing.  Do you remember "Flash Dance?"  I dreamed about being a star, I danced around the room in my legwarmers to "What A Feeling!" SO much for that.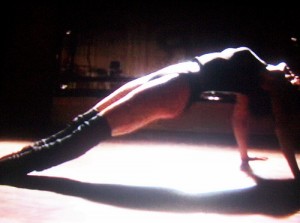 And What about TV?  I had a few favorites, I feel like a nerd but I loved to watch Punky Brewster, Facts of Life, and Different Strokes.  I can hear myself singing the theme songs in my head.  Everyyyyy time I turn around…. LOL
And last but not least that ever so fab side pony tail! It kind of looked like you could crank us up and let us go. Seriously I don't know how this remotely resembled something stylish but I grew my hair out just so I could wear this fashionable growth out the side of my head.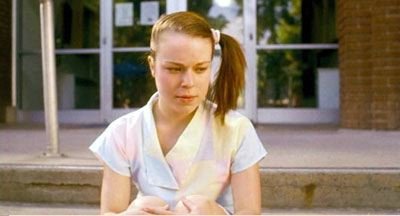 What do you remember?

Valentine's Day is just around the corner and even though my hips really don't need the chocolate, I would really like something fancy from my dear husband.  I'm not sure where I was, when I ran across the Godiva website where I saw these heart shaped chocolates and I was already drooling.
So I started thinking of my absolute favorite chocolates and thought I would share them with you.
Hershey's chocolate bar with almonds-  This is a childhood favorite and I love just about any kind of nuts and chocolate except walnuts.
Almond Joy-  I never have been a fan of coconut but for some reason this is a favorite of mine.
Dove Raspberry Caramels-  OMG these are to die for, you will have to take the bag away from me.
Ghirardelli Caramel Choc Bar-  I like mine out of the refridgerator
Lindt-Excellence Toffee Crunch Bar (ok this is my ultimate, better not touch it or ill get you)  This is the best tasting chocolate bar and their Double Crisp bar is just as good but I love the Toffee
M&M's-  I love these things with a glass of milk and almost any chocolate I eat I grab a glass of milk.
Godiva-  Well what girl doesn't love Godiva?   I don't have it very often because I can't afford it, but feel like I am really getting pampered when I get Godiva.
What are your favorites???