"I participated in a campaign on behalf of Mom Central Consulting for Orbit for Kids. I received product samples to facilitate my review and a promotional item as a thank you for participating."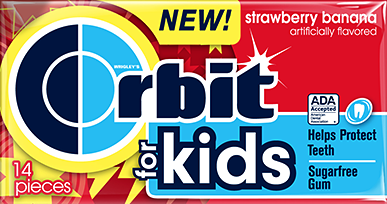 I am a mom to boys, and let's face it, boys tend to get messy, and refuse to get clean.  When it comes to brushing their teeth and getting ready for bed it is like I am wrestling a bull in a china shop.  For the longest time when I would brush their teeth, they would whine through the whole process, saying things like, "it hurts, it tickles, toothpaste tastes bad."   I have come oh so close to practically sitting on them.  If you are a parent, I am sure you are well aware that there will be many more battles to fight, and can appreciate anything that might make things easier.
A great way to help protect your kiddos teeth between brushing is to chew gum!  Not only does it clean their mouths of food debris and stimulate saliva flow, which helps to protect teeth by reducing plaque acids and strengthen teeth, they are usually pretty willing to participate.  New Orbit for Kids sugarfree gum gives parents an easy and fun way to help protect kids' teeth between brushing.   Orbit has come out with two kid-friendly sugarfree flavors, Original Bubblegum and Strawberry Banana (yummy!)  In fact, Orbit for Kids gum has been awarded the ADA Seal of Acceptance.
Since I need all the help I can get, we decided to give new Orbit for kids, a try.  We had Strawberry Banana, and I personally thought it was really tasty and definitely a flavor that my kids enjoyed.  The flavor lasted with enough intensity that you could chew for a good long while without losing the taste.  Brushing should always be a part of your child's daily routine, but you can always give them a head start with Orbit chewing gum for kids, and it tastes good so they think they are getting a treat!  Check out what one of my little guys thought about Orbit for Kids.
Movie night in our house is always a perfect opportunity to get the family together and enjoy time with one another.  I was driving in my car a few weeks ago and I was telling my husband that I actually missed going to a drive in movie.  I can remember as a kid when we would all pile in the car with a cooler full of snacks, and blankets, and spending the evening at the drive in.
What if there was a perfect way to bring back those memories in your own front yard or have your own big screen right in your own home?  The 3M Mobile Projector brings the big screen to you in a tiny package.  3M's Mobile Projector allows you to turn your mobile devices like an iPad, or iPhone into a big screen theater. Set up is pretty easy right out of the box, and you are ready to make some movie memories.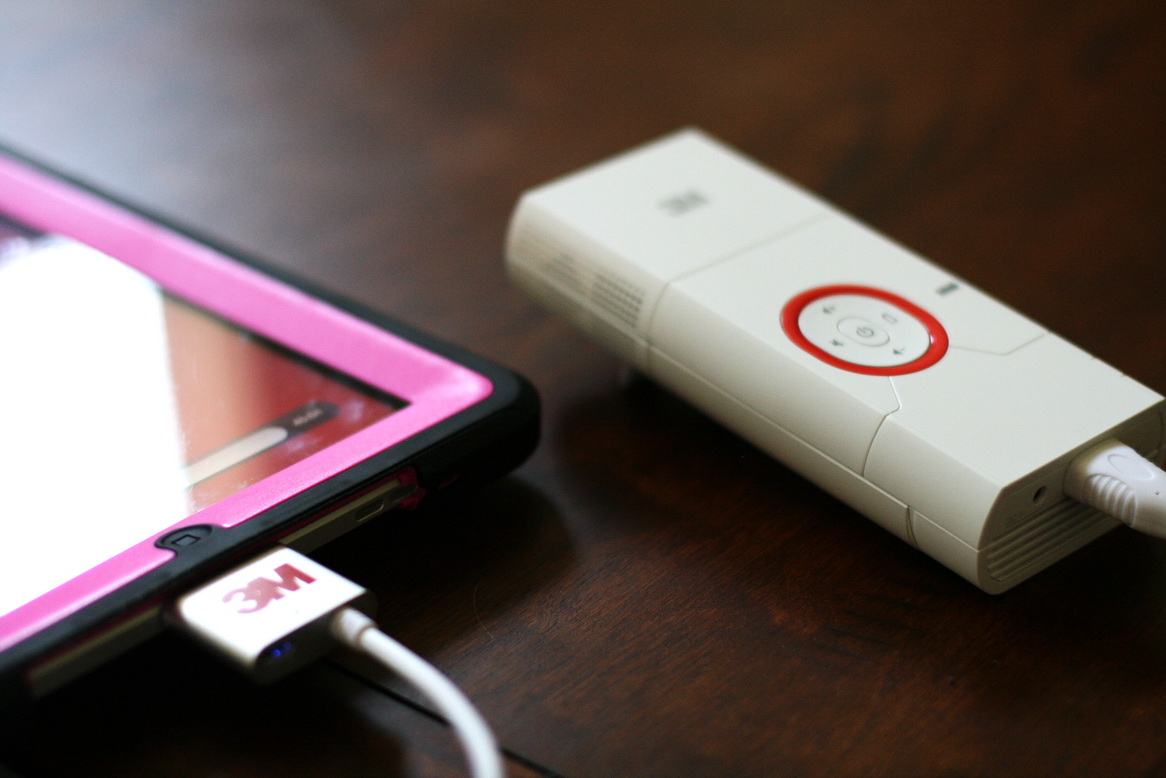 Video quality on the 3M Mobile Projector is pretty darn impressive.  You can plug in any portable speakers and have instant sound.  I had a little trouble with the sound being a little too low, I am not sure if this is a product of the device itself, or something that needed adjusting on my end.  Overall, though, it sounds really good.  Our first experience we watched a documentary on sharks and the ocean.  The boys and I had so much fun with it, we all curled up in bed and watched the show on the ceiling!  We had a movie night set for our front yard, but we had a storm blow through here and knocked out power, so we didn't get the opportunity to have our drive in movie with the neighborhood kids. The 3M Mobile Projector has 2 hours of battery life per charge (or runs continuously on AC power).  If you don't have an iPad or a mobile device you can easily get a cable specifically sold by 3M to hook up to your laptop.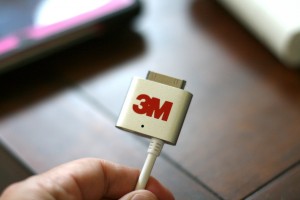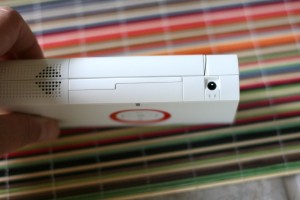 The screen size is ample and projects a screen size of up to 80" diagonally.  You can put the projector on a table top and it has a small flip out tab to elevate it, but I found it easier to use a tripod since it has a standard tripod mount and it keeps the screen from moving.
3M Mobile Projector Features
Up to 2 hours of battery life per charge (or runs continuously on AC power)
Projects a screen size of up to 80" diagonally
32 lumens brightness
Built-in stereo speakers
Audio out for external speakers or headphones
Native resolution: 800 x 600 SVGA
Supported resolutions: VGA 640 x 480' SVGA 800 x 600' XGA 1024 x 768' WXGA 1280×768 and 1440 x 900 @ 60 Hz' SXGA 1280 x 960 @ 60 Hz
MAC: 640×480 @ 67Hz' 832×624 @ 75Hz' 1152×870 @ 75Hz
No lamps to replace; uses long-lasting LED technology (up to 20'000 hours)
Flip stand (built-in image height adjustment)
Standard tripod mount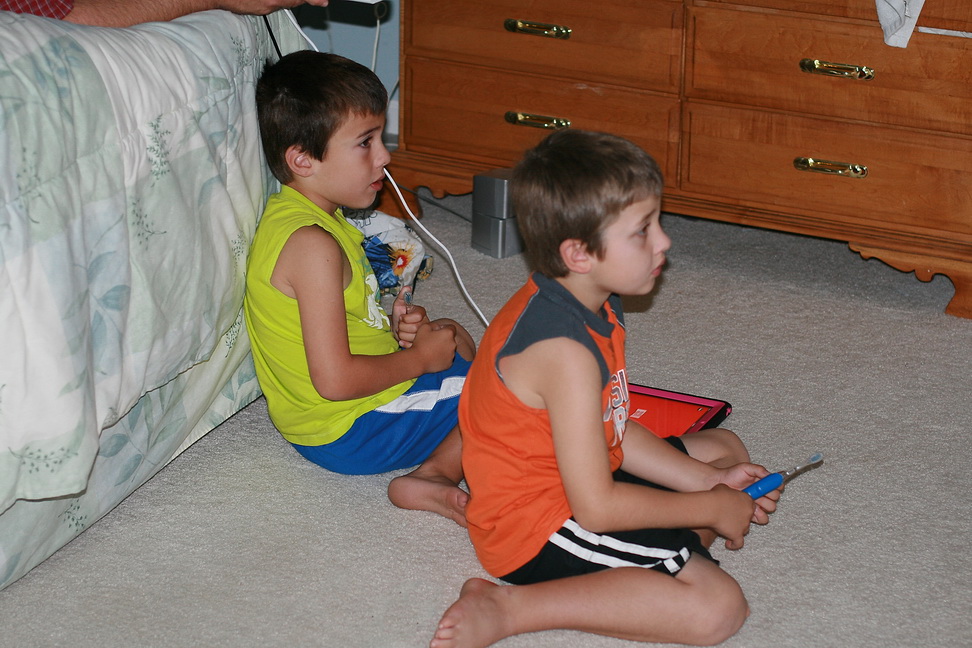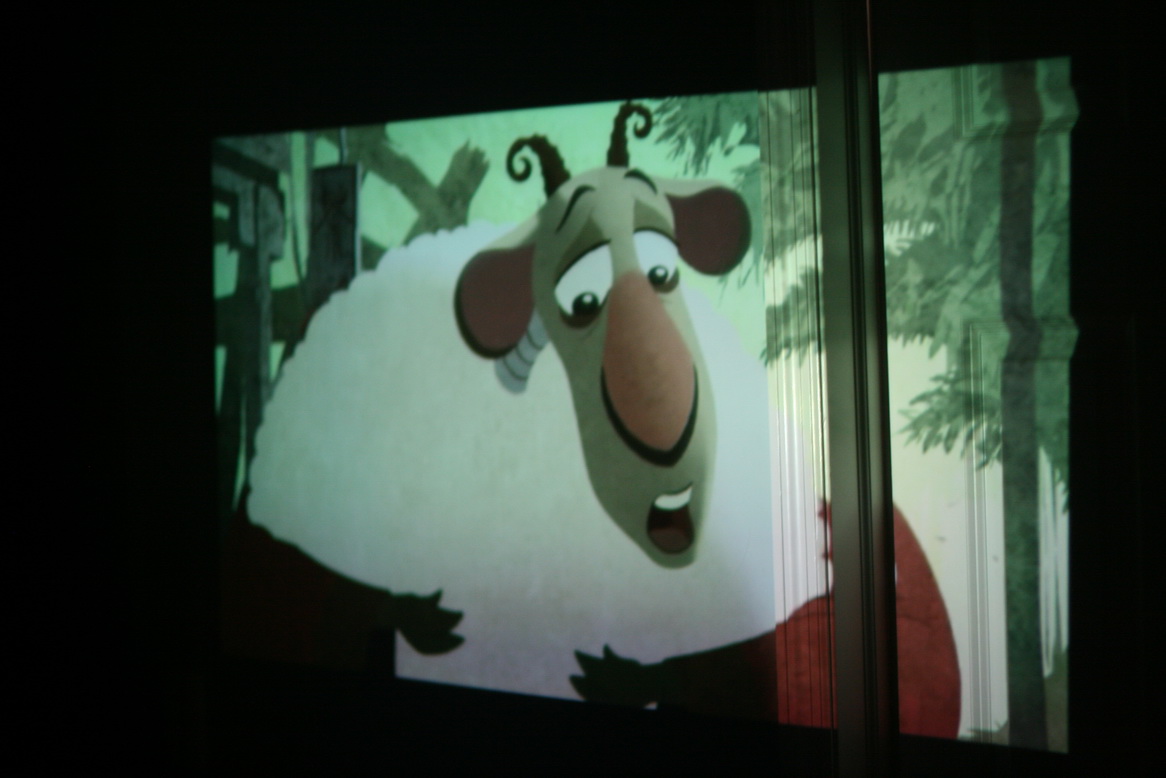 One fun thing you can do which I didn't get to try because I have an iPad 1, was that you can project your favorite apps on the wall too, it would have been really fun to play Angry Birds in big screen mode.  Overall, I love the 3M Mobile Projector, the resolution is great for such a small device, it is easy to set up out of the box, and it is great if you have young children to create a fun family movie night.  There are so many versatile ways to use this projector.  I can imagine it would be a great tool in classrooms for presentations, and the device could easily fit in your purse or bag.  I can't wait to have our make up movie day at the drive in, complete with blankets, snacks, and lots of smiles! The 3M Mobile Projector brought back so many fun memories for me, and I love just doing something different as a family.  I love it!
If you want to learn more about the 3M Mobile Projector, you can check out the 3M  facebook page or follow their twitter stream!
"I wrote this review while participating in a blog tour by Mom Central Consulting on behalf of 3M and received a promotional item to thank me for taking the time to participate."
.

There are some days when I don't get to even sit down, till after the boys are in bed.  Along with being a mom, comes this weird phenomenon when you have kids, it is the one where if you sit everyone is right there needing something, but if you are busy doing the laundry, everyone seems to leave me alone for a few minutes anyway.  I call my laundry time, my phone time, when I can call my mom and talk while I fold, but holding the phone isn't always feasible.  I also, like to call my husband when I am outside watching the boys, so a hands free option is always welcomed, so I can do several things at once.
Vtech has the perfect solution. I was given te opportunity to try out  the Vtech LS6475-3 cordless phone set and answering system.
Here's what you get in the box and all very easy to set up.
An answering machine and phone base unit with AC power adapter.
A charging cradle with AC power adapter.
2 DECT cordless phone handsets
1 DECT headset with ear hook and ear bud
1 head band for use with the headset
Phone cable, manuals, two battery packs (one for each phone)
3 additional ear buds and two ear hooks.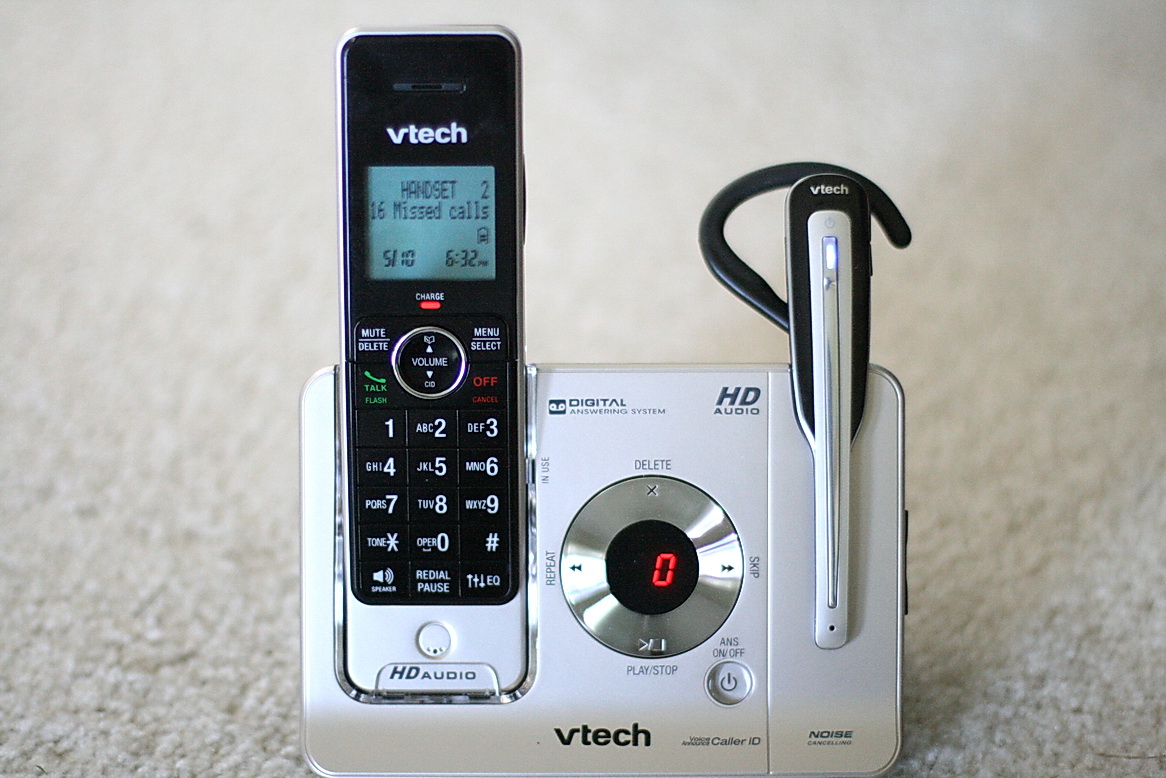 The phones themselves feel solid and well put together,  they are not heavy and I love the sleek silver that accents the handsets and is the primary color of the base.  You can see from the pictures that the phones and the base/charging units look very nice.  To me, if a phone has to sit there on my counter or wall, it needs to look decent.
The handsets were partially charged when I got them out of the box, but I decided to fully charge them for my review.  Setting up the base was very simple, the phone cord into a phone jack, plug the ac adapter into any outlet, and voila, you're ready to go.   One thing you'll notice right away is that Vtech added a little "lip" on the cradle for the handsets so that when you put the phone in the cradle, you know for sure it's in there correctly to charge.  That's a nice touch.
One of the things that makes this phone set unique is the included headset.  The headset is very versatile, it can be worn on the ear (kind of like a blutooth cell phone ear piece), but it also comes with a head band so you can wear it using the over the head band.  You also get additional ear buds, and various different size ear hooks so you can be sure you can fit it on your ear properly.  This is a great feature if you are running around the house getting things done, yet you have phone calls to make.  The headset is well built and I was able to wear it comfortably on my ear.  More importantly, the sound on the headset is excellent, and the range is absolutely great.  I was able to wear the headset and walk outside my house over to the neighbors house while talking on the phone without any static or noise!
There is a button on the headset to answer an incoming call (which works well), but there is no way to make a call with the headset.  You have to first make a call using one of the cordless hand sets, and then you can continue the call on your handset.  If you want to be able to make calls using the headset, this unit is not for you.  One of the things I really liked about it though, is the way you connect it to the base when charging.  It has a magnetic connector that makes it super easy to put the headset on the base to charge it.  It clicks into place snugly – no worries about having the headset laying around somewhere and not being able to find it.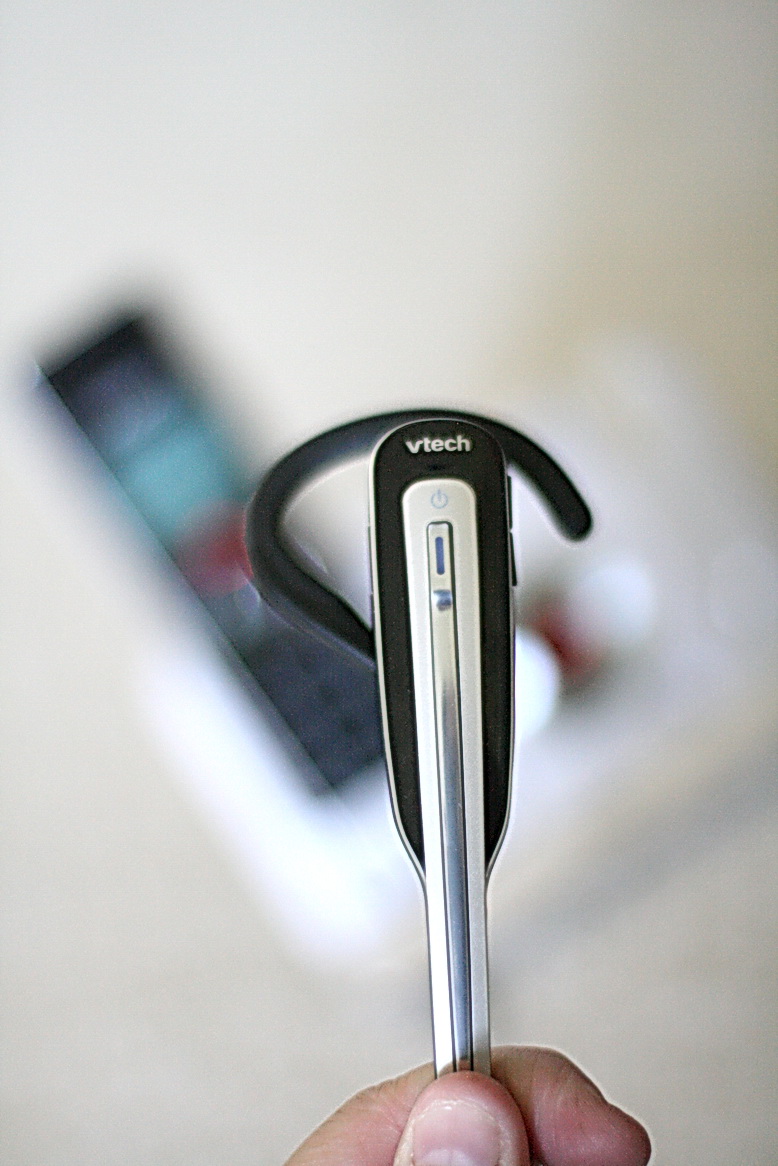 The two handsets come with a very clear and easily readable blue backlight, including the key pad.  No fumbling around in the dark trying to see the keys when you're trying to call at night.  The contrast on the displays is good so the text is easily readable.  This phone set uses DECT 6.0 technology, which means it won't interfere with your home wireless network for your PC or other wireless devices.  I tested both handsets in different areas of my house, in my yard, and even across the street — the sound remained crystal clear, the range on these phones is remarkable.  Vtech calls it "HD Audio", and it definitely delivers.  Both handsets have speakerphones built in, just push the speakerphone button and you can use the handset as a speakerphone.  The speaker produces clear sound and the mic seemed to work well.
Another feature I really like on this phone set is "voice announce".  The base unit as well as the two handsets announce the name and number (based on caller ID info) of the person calling using a robotic sounding voice.  The digital voice is sometimes funny in how it pronounces names, but it's very handy to be able to tell who's calling without having to be near any phone.  This has to be one of my most favorite features in the Vtech phones.  It is so nice, not to have to go running for a telemarketing call or for someone I don't know.
The phone handsets also have a handy "push to talk" feature.  Just click a button and your phone becomes a two way radio with other handsets.  The set I got only has two handsets, but you can easily expand your set by adding more handsets.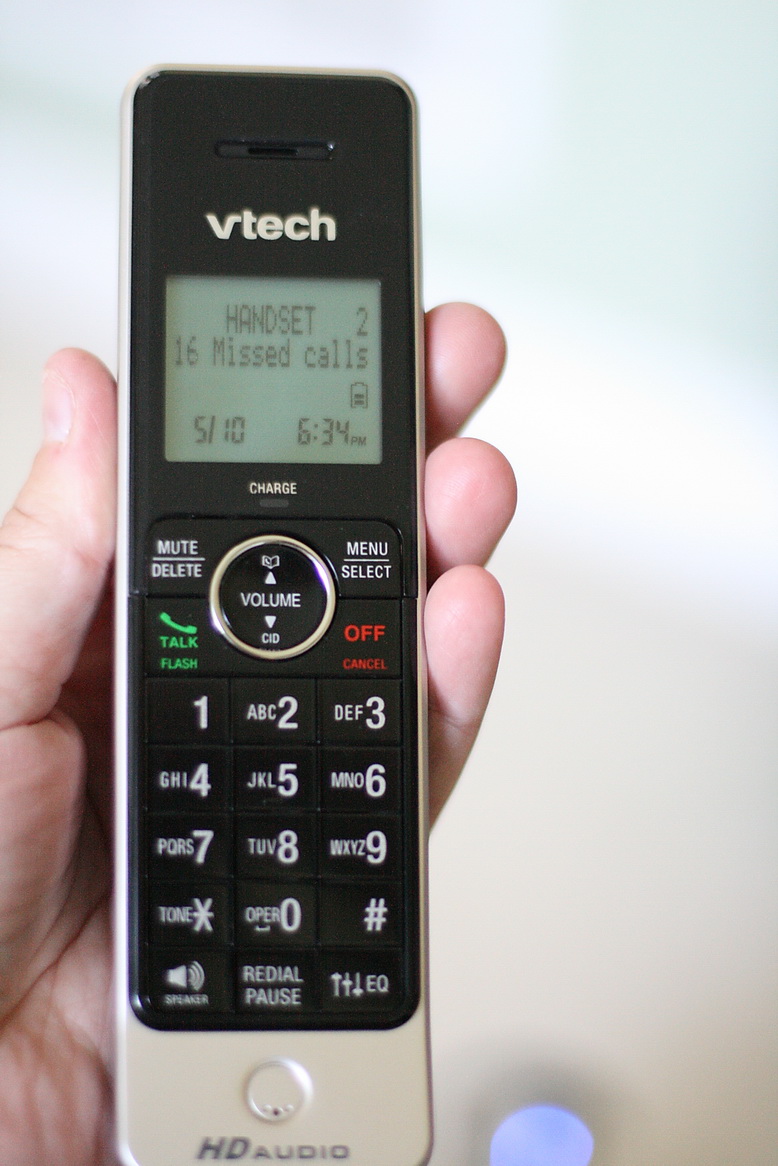 The fully digital answering system works as expected, it allows you to record up to 14 minutes of messages.  The messages are recorded clearly and can be played back from any handset so you don't have to go to the base answering machine to hear the messages.
All manufacturers claim wonderful talk times for their phones, but actual results are often less than spectacular.  Both cordless phones worked for more than a week without having to be recharged, with at least a few hours of active use.  Basically, battery time on your phones should not be an issue.  The headset lasted even longer than the cordless handsets on a single charge.
Final verdict:
The Vtech LS6475-3 generally retails for about $80.  At that price point, it's really an excellent set.  It does everything you'd expect, and more.  It looks nice, feels well built, and can easily be set up in your home.   The headset is a feature you generally won't find on other phone sets in the same price category.
Pros include the large feature set, cool headset with multiple configurations, voice announce, DECT technology, push to talk, and nice speakerphones.  The headset simply rocks, it's very handy to be able to talk on the phone while keeping both hands available to do other stuff.
The only cons to this set are the lack of bluetooth (cell phone) integration and the inability to initiate a phone call using the headset.
A great way to stay up to date on all of Vtech's latest technology you can visit Vtech's Facebook Page, or follow along the Vtech Twitter Stream!
"I wrote this review while participating in a campaign by Mom Central Consulting on behalf of VTech and received a product sample to facilitate my review."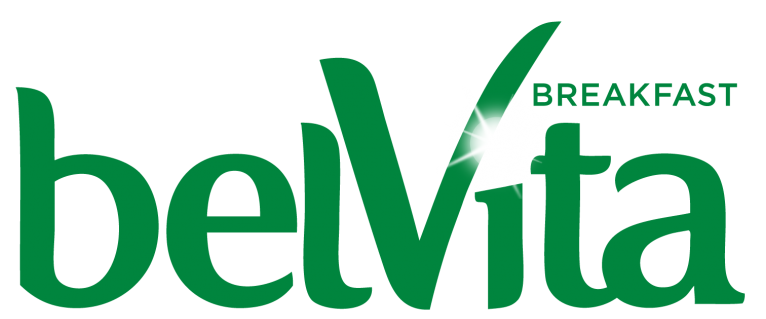 The kids have been sick and when they are sick, I get very little sleep.  The mornings come all to fast and then I hear that little whisper in my ear "mom, it's time to get up."  I am usually less than enthusiastic since it feels like I just went to bed.  Our morning routine consists of me getting to the kitchen, getting the boys set up with a drink, and whatever they decide on having for breakfast.  Most days I don't even remember to feed myself until noon, when my stomach reminds me that I am past hungry.
There isn't anyone to make me a full course breakfast, so I have to grab and run.  Nabisco has created the perfect solution, something that is easy to grab yet is filled with all the good stuff your body needs to get going.  BelVita Breakfast Biscuits are the perfect solution to my problem.  Each individual package of biscuits is has 18-20g whole grains per serving which gives you the fiber your body needs and has four B vitamins.  In case you didn't know B vitamins are great for stress relief and as a mom, I know I need it! BelVita breakfast biscuits also contain no high fructose corn syrup, no partially hydrogenated oils, and no artificial flavors or sweeteners. They come in three varieties, Blueberry, Golden Oat, and Apple Cinnamon.
About belVita

belVita Breakfast Biscuits are specially baked to release energy regularly and continuously in your body—which means you have nutritious sustained energy that lasts all morning.

Each pack includes four lightly sweet, crunchy biscuits to help you stay fueled up all morning long.

The sustained energy in  belVita Breakfast Biscuits comes from a combination of specially selected ingredients and a carefully controlled baking process that helps preserve the integrity of the grain. This means the carbohydrates from the grain are slowly released in your body, providing nutritious, long-lasting energy to help fuel your body throughout the morning.

Each individual package of 4 biscuits is portioned for part of a balanced breakfast. A 50 gram serving contains 18–20 grams of whole grain carbohydrates, 3 grams of dietary fiber, 3–4 grams of protein, and a good source of four B vitamins and iron. belVita Breakfast Biscuits also contain no high-fructose corn syrup, no partially hydrogenated oils (0 grams of trans fat per labeled serving), and no artificial flavors or sweeteners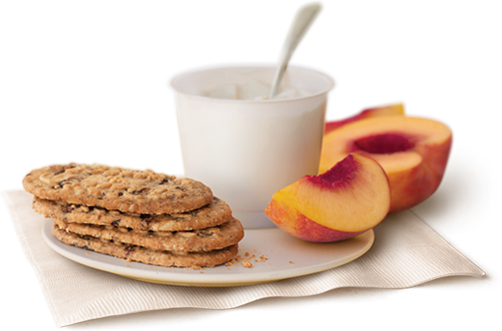 I have been trying belVita breakfast buscuits daily now for a little over a week, and truthfully I love how versatile they are in terms of breakfast or even snacks.  I love oatmeal in the morning and usually dip toast in it, but the belVita biscuits are even better especially the apple cinnamon flavor.  You can add them to just about any snack or meal or just tuck a package in your purse if you get hungry throughout the day.  My favorite belVita biscuits however, are the blueberry, with a thin layer of light cream cheese and a few strawberries on top or some organic strawberry fruit spread.  The boys usually come and snatch them before I get to eat one.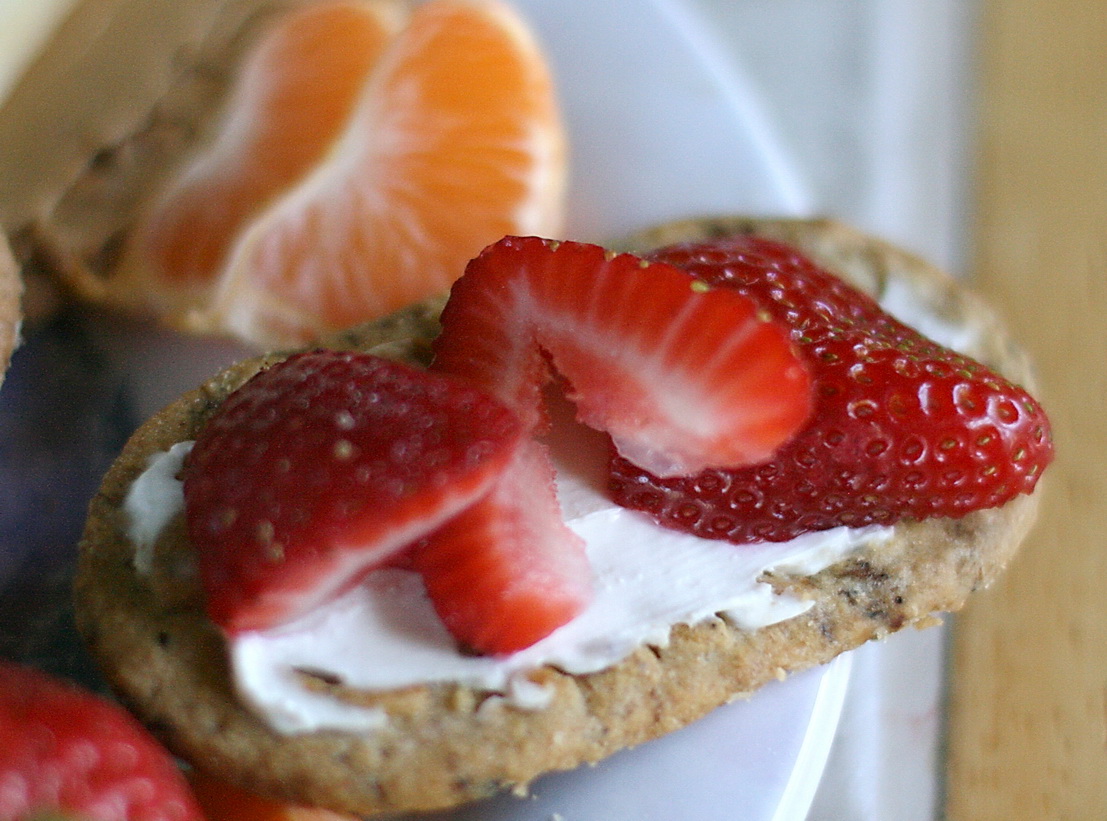 I have really enjoyed trying some new things with them. The golden oat belVita biscuits are fabulous with a little peanut butter and an apple slice.  We have already been to the store to buy more. What I Like is how simplistic and versatile belVita biscuits are. You can just eat them straight from the package or you can jazz them up with fresh fruit, peanut butter or just dip them in coffee or tea. Even if it is quick, you are getting the things you need to get up and go in the morning or that added extra pep in the day, or just a really yummy snack.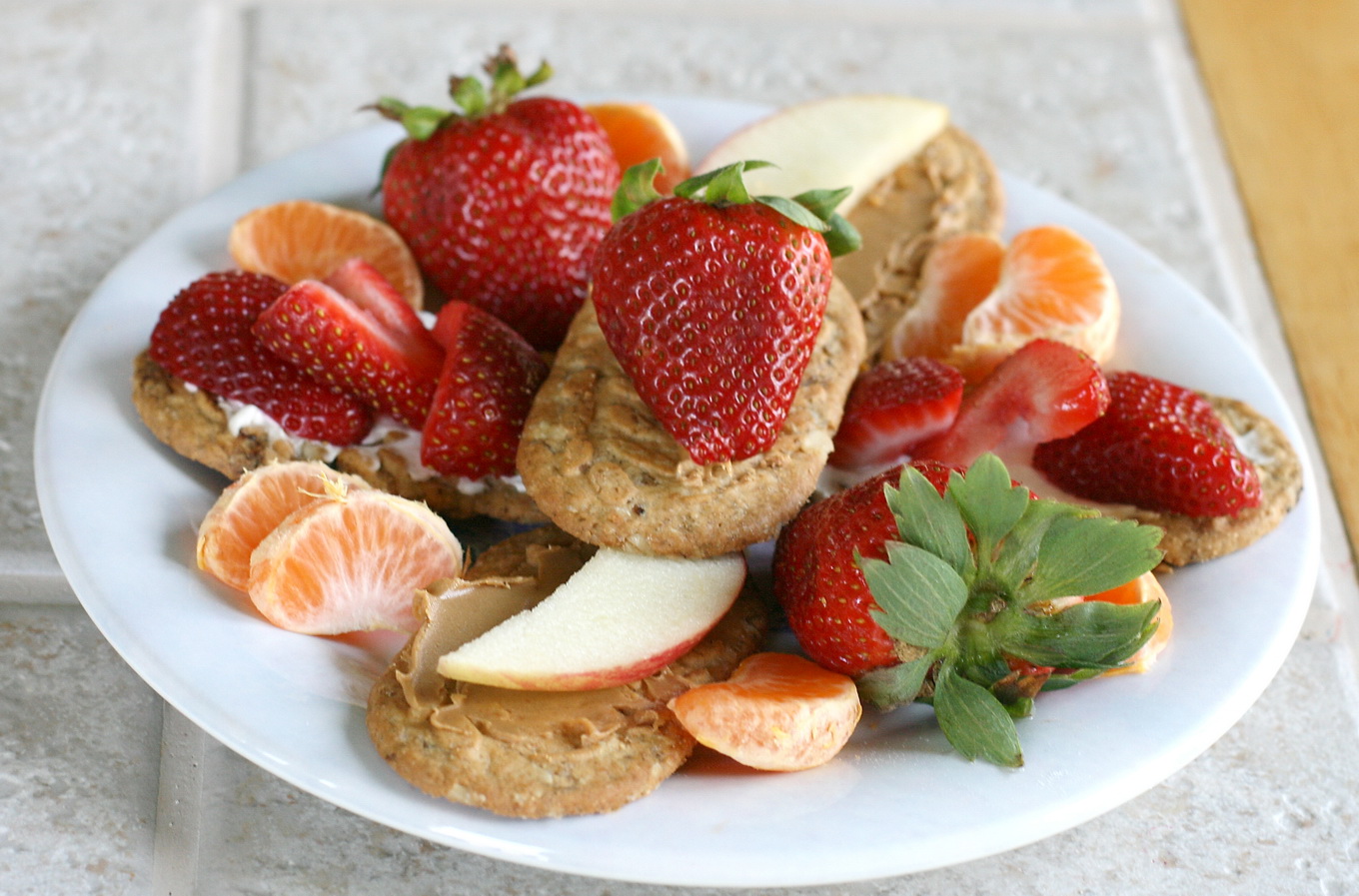 Breakfast is supposed to be one of the most important meals of the day. But if you are like me trying to find a minute in your day, belVita may be the perfect solution. You can just grab and keep on going! For more information on belVita Breakfast Biscuits you can visit belVitaor for information on how to "Power Up" check out belVita Breakfast's Facebook page!
**I wrote this review while participating in a blog tour campaign by Mom Central Consulting on behalf of belVita Breakfast Biscuits and received belVita Breakfast product samples to facilitate my review, and a promotional item to thank me for participating.**
It has been a month that I have been using the Meaningful Beauty products that were sent to me. I have enjoyed using the products more than I thought I would. Before I started using them, I rarely used any skin care type products on my face. In fact, I rarely wear make-up. After using the Meaningful Beauty products, I have begun to like taking the time out to do something nice for my skin.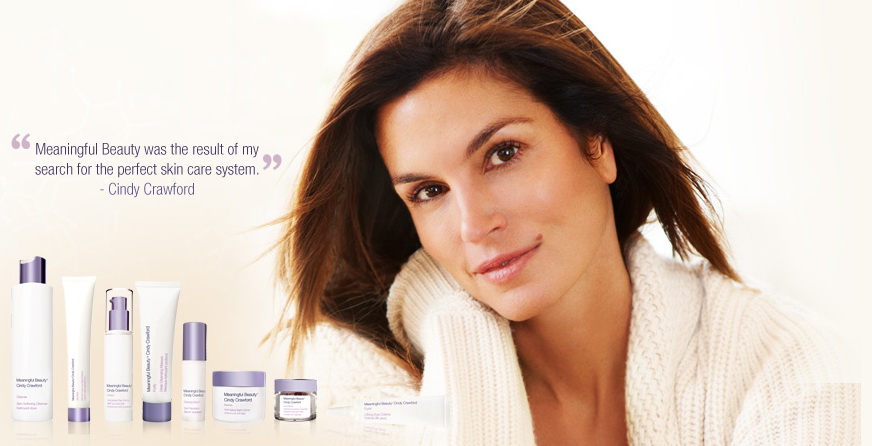 Normally, my daily routine, just involved brushing my hair and brushing my teeth then heading to the kitchen to get the boys breakfast. But since taking the Meaningful Beauty opportunity, I just let the boys brush their teeth while I wash my face and give my skin a little love in the morning. It doesn't take long at all, maybe an extra 5-10 minutes of my time. At first I was concerned about my skin reacting to new products because I have relatively sensitive skin, but everything felt great and I had no bothersome side effects. My skin has felt amazing since I have been using the Meaningful Beauty 5 step skin care program, and I have less break outs and my skin is softer. I also have these tiny capillary/veins on parts of my face that have seemed to diminish somewhat which may be because I am actually doing something to my skin other than soap and water in the shower! The eye cream has done a little bit to help with my permanent "no sleep for mommy" eye circles and I have a little more refreshed look to my face.
Overall, I am pleased with the Meaningful Beauty skin care regimen and I like taking the extra moments to do something for myself. I also like that the pricing for the the 5 step program is reasonable at around $40, plus a little goes a long way! I passed on my extra kit to my mom, and she loves it. I plan to keep Meaningful Beauty in mind for the future to put together mini spa baskets for some of my friends.
"I wrote this review while participating in a test drive campaign by Mom Central Consulting on behalf of Meaningful Beauty and received a 5-step treatment kit to facilitate my review, a second 5-step treatment kit to giveaway, and a promotional item to thank me for taking the time to participate."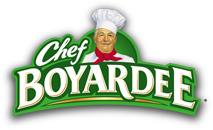 Chef Boyardee has always been a favorite in our house, but usually we would just have it as a quick and easy go to meal.  But what if you could turn it into an entire meal for your family or entertain a houseful? Well, this weekend, I put that idea to the test.  We rounded up some of our favorite people and went to work in the kitchen!
I decided to invite my neighbors and their family over for a fun dinner and dessert.  One of their twin daughters loves to cook so she was very excited to come over and help.  We decided to make a top secret dinner for her Mom and Dad and brother and sisters.  So on party day we turned on some music, and put together a masterpiece for dinner.  To help us out we were sent all the right tools, aprons, chef's hat, mixing bowls, baking dishes, and a timer.  I think everyone had just as much fun wearing the aprons and hat!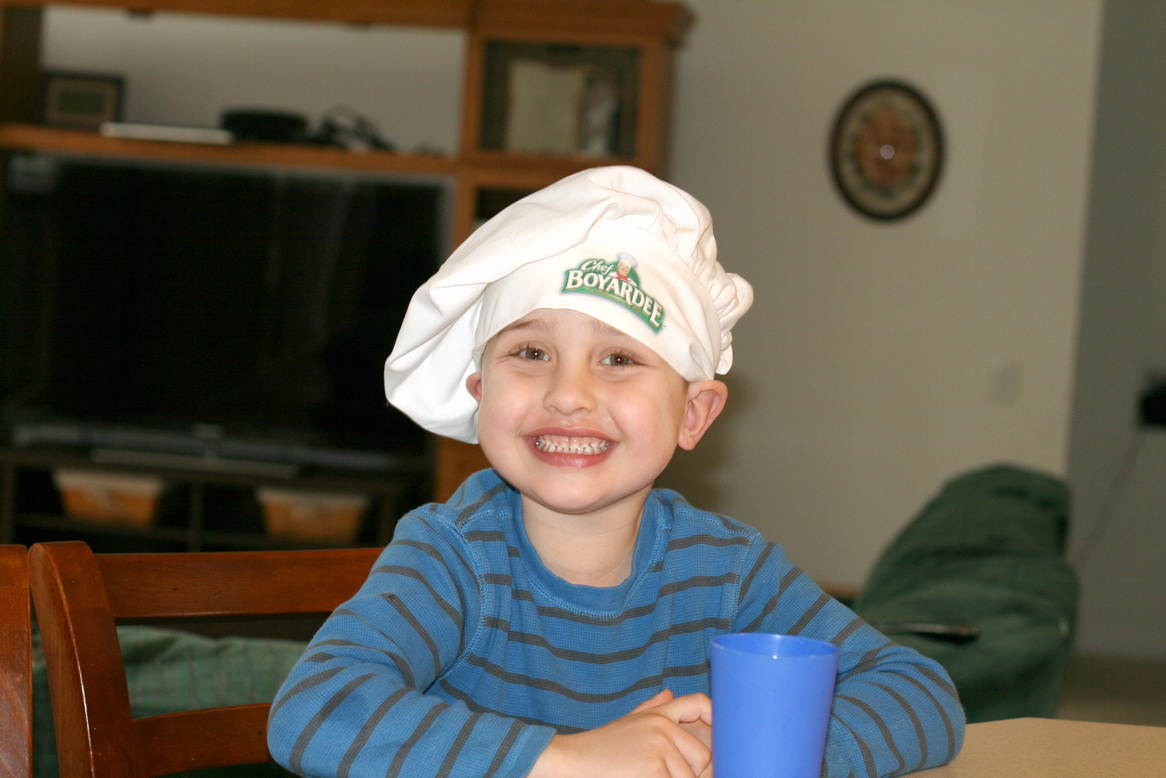 As part of our party, we had to create a Chef Boyardee recipe to share with everyone.  We chose to make the very tasty Pepperoni Spaghetti Bake and added some of our own little touches to the recipe.  We added some grated Reggiano and Romano cheeses and baked garlic bread on the bottom.  We made a side salad and the meal was complete!  Everyone had their own job in the kitchen, and the boys got a kick out of helping mom.  This has been a really wonderful opportunity for me and the kids, and the recipes offered really were not that difficult to prepare.  This made it easy for the boys and the other kids to participate and enjoy something that they made.  The end result was a really tasty meal, spending less time in the kitchen, and more time enjoying family and friends.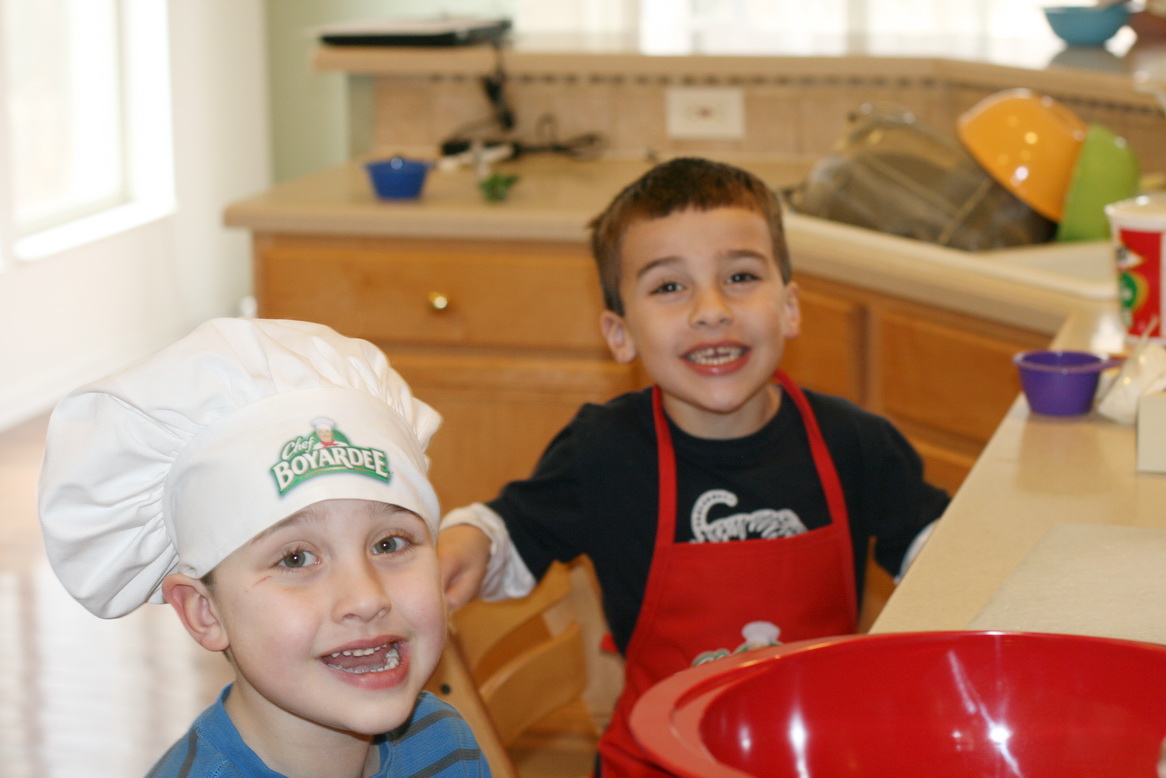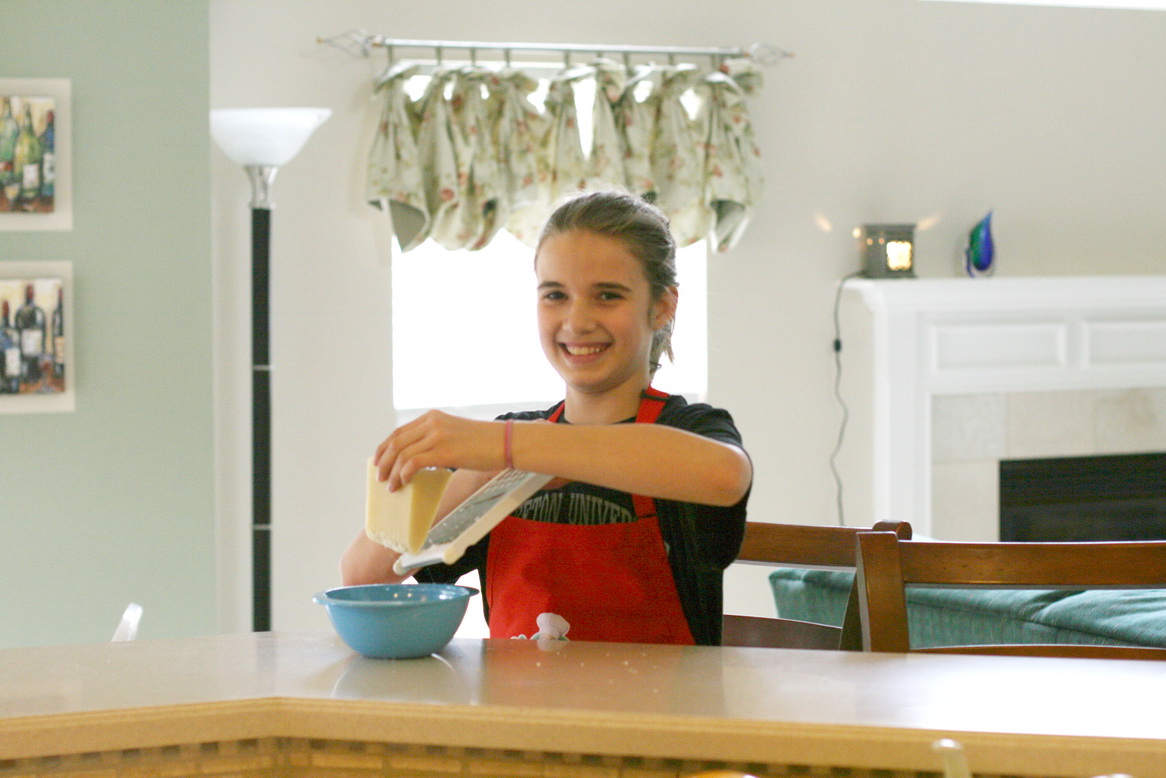 Right now through March 11, 2012, you can submit an original recipe that uses Chef Boyardee as an ingredient (anything you can dream up).  All you have to do is upload a photo of your recipe, and share why your family loves it.  A winner will be chosen based on creativity, all-family appeal, ease of preparation, and palatable appeal by an expert panel of judges.   You can win a $500 prize as well as $75 in Chef coupons or the grand prize of free groceries for a year!  I don't know about you, but who couldn't use a stocked fridge and pantry for the year to make delicious recipes like the ones offered by Chef Boyardee?   You can visit the facebook contest for your chance to win.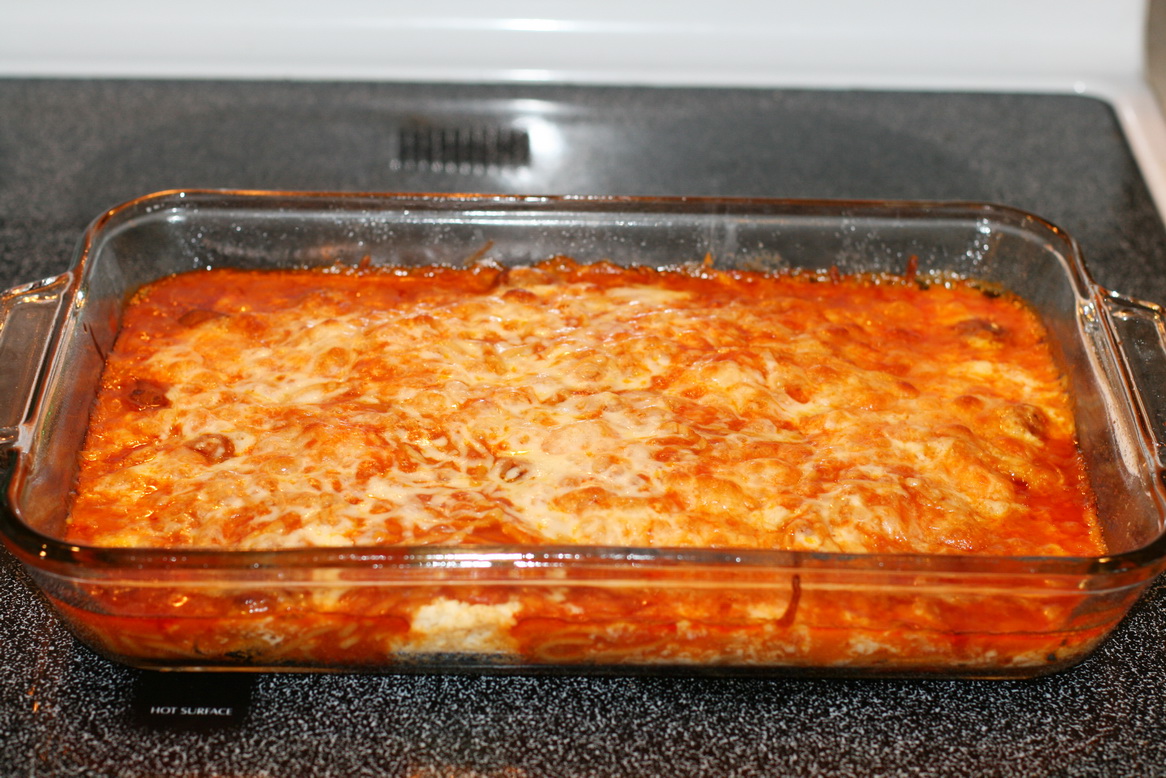 After all was said and done, everyone loved the meal that was prepared and we could hardly believe that it only took 30-40 minutes to prepare.  We loved throwing a party and I loved getting my kids involved in the meal preparation process.  It was a great learning experience and most kids like having a role in helping.  You can find some more really great Chef Boyardee Recipes on their site.  Don't forget to enter to win free groceries from now until March 11, 2012!
"I wrote this review while participating in a In Home Party campaign by Mom Central Consulting on behalf of Chef Boyardee and received product samples to facilitate my party and review, and a promotional item to thank me for participating."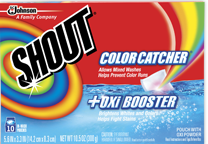 Laundry reproduces like bunnies in our house.  There isn't even a full day where I can officially say I am all done or caught up on doing laundry.  I get a less than satisfied look on my face when I turn a corner and the hamper has a few articles of clothing in it after I just emptied it.  Then there is the tiny load dilemma, where I have some light colors and dark colors,  and I don't really have enough to kick off a load unless I combine them.  We all know that colors bleed, hence why there is sorting of laundry.
Since I am a Shout Brand ambassador, I have been given a chance to try some of their wonderful products like their Shout Free Stain Remover that I reviewed a few weeks ago, and this time Shout Color Catcher with Oxi Booster.  What if you could combine some of those darks with the lights without risking your clothes coming out pink or grey or a new shade of baby blue?  Shout Color Catcher eliminates having having to separate darks and lights and eliminates the need to wait until you have enough darks or lights to complete a load.  Just toss a sheet into your laundry and it absorbs loose dyes to prevent them from bleeding on to other clothes.

About Shout Color Catcher With Oxi

Product Information
I will admit when using the sheets I was still a little hesitant to use them.  After twenty plus years of sorting religiously like my mom always taught me, it was like I was committing a felony by tossing darks and lights together.  I wasn't as liberal with my color combining because I wanted to test things out before I knew if it really worked.  So, I took some of my husband's dark work socks and threw them in with some of my light colored pajamas.  After the cycle was complete, I looked at the color catcher sheet and it was a light shade of gray from the black socks, and I noticed nothing on the light colored clothes.  So I would say it does it's job.  I eventually got a little braver and threw in a red placemat with some light towels and the sheet came out pink but nothing was visible on the towels.  I was pleased with the results.  Will this end my sorting days?   Probably not, because I think it has been drilled into my laundry psyche, but for days when I have less than a load and want to get clothes washed and put away, this is a great alternative, just toss in a Shout Color Catcher with Oxi and I don't have to give it a second thought!
Want to try out Shout Color Catcher with Oxi for yourself?  You can win it, right here on DoubleBugs!  I am giving it away to two lucky winners! And, if you can't wait to win it and you want to try it out,  the Shout Facebook Page is offering downloadable coupons  Shout Free and Color Catcher with Oxi !

Here's What You Gotta Do to Win!

Leave me a comment and tell me your worst laundry nightmare, I know we have all had one.
Additional Entries
Follow me on twitter
Subscribe to my RSS feed
Tweet about this giveaway and provide the link
Contest starts Jan 23, 2012 and Ends Jan 29, 2012
Winners have 24 hrs to respond or the prize is forfeited
Open to US residents only
Good Luck!!!!!
"I wrote this review while participating in a campaign by Mom Central Consulting on behalf of Shout and received a product sample to facilitate my review and a promotional item to thank me for taking the time to participate."
Having kids, equals a big mess, no matter how you think about it, they are not the neatest and cleanest creatures on the planet.  Inevitably, there is always a stain that pops up on their clothes, and it never fails to be the newest shirt that I just bought for them.   Since, I have boys, there is always dirt involved and one of my boys has the habit of wiping his mouth on his shoulder/sleeve which drives me crazy.  By the time I do laundry, it looks like they have been wallowing in the mud for the past week.
I am always doing battle with one stain or another on our clothes, whether it is grape juice stain, spaghetti sauce, grease stain or ink, I am usually always trying something new to get them out.  In addition, myself and my children have pretty sensitive skin and I am usually very cautious and particular about the detergents, I use to wash our clothes.
I am always on the look out to try things that actually work on some of the more set in stains or the surprise stains that pop up in the weekly laundry.  I recently had the opportunity to try Shout Free, and shout products have always been one of my mom's favorite go to stain removers, so I was interested in giving it a try.  Shout free, appealed to me because  it is dye free, fragrance free, has 99% natural ingredients, and is safe for all your washables.  This way, I don't have to worry as much about potential skin reactions, and use the same great product to get stains out of our clothes.
The handy spray bottle allows you to effectively cover the stain and cover a wide area of the stain quickly, so you can toss your clothes right in.   So for a week, I served up juices, and spaghetti to put it to the test.  Shout Free took out a grape juice stain, as well as, spaghetti sauce.  It works best if you treat the stain as soon as you notice it or when it happens.   Overall, I was pleased with it, and it doesn't seem to bother our skin.  The nice part is that I can save some of our clothes that would otherwise be ruined by a permanent stain.  There is nothing more frustrating then getting new clothes for the boys and not being able to remove a stain.
Currently Shout is offering downloadable coupons on their Facebook page for Shout Free and Color Catcher with Oxi!  And to get your stain fighting off to a good start DoubleBugs is giving away a free sample of Shout Free, to two lucky readers.
Here's What You Gotta Do
Subscribe to my RSS Feed, and Become a fan on the Shout Facebook Page
Extra Entries
Tweet about this giveaway and provide the link to your tweet
Follow Me On Twitter
Contest starts December 27, 2011, and Ends Jan 2, 2011
Open To US residents only

Good Luck!!!
*winners need to respond within 24 hours of being contacted otherwise the prize is forfeited*

"I wrote this review while participating in a campaign by Mom Central Consulting on behalf of Shout and received a product sample to facilitate my review and a promotional item to thank me for taking the time to participate."


Christmas is in full swing at our house,  the tree is up, shopping is being done, and I am busy checking off my list of people that we have to buy for.  The kids are easy, because toys are usually at the top of their list for Santa to bring.  But I always seem to get stuck when it comes to getting things for the adults in the family.  I always struggle with gift ideas.  What do you buy for people who seem to have everything, who give you very vague ideas as to what they could want, and who tell you they want nothing but you insist on buying something for?
We recently received a wonderful Hickory Farms Gift basket, stuffed with yummy summer sausage, and smoked cheeses and we have already been enjoying its contents.  Hickory Farms, is one of my favorite go to gifts during the holidays.  I have loved Hickory Farms since I very little and remember when my Mom would bring home a gift basket from them, or we would buy some of their famous beef summer sausage and cheeses.  I have fond memories of the strawberry bon bons that they used to place in between all the wonderful tasting food goodies within the basket.  For us, our traditions would often involve a family movie night, and we would slice up the sausage and cheeses, and crab the crackers.
Every year around this time Hickory Farms sets up shop in our local mall and I always love to stop and get a few things for our travels back home.  My parents are always delighted to get Hickory Farms goodies, and the tiny mint meltaways are one of my mom's favorite treats.
So, when it comes to giving, I like to give Hickory Farms.  There is something for everyone and you cannot go wrong with food.  It is a perfect general gift that can be given to family and friends and something that everyone can enjoy.   Hickory Farms has a wide selection of signature sausages and savory cheeses that are always packaged so pretty.
And, to kick off the holiday gift giving season, Hickory Farms will donate $5 from each Party Planner gift box sold to Share Our Strength's No Kid Hungry Campaign, a national nonprofit that is working to end childhood hunger in America. In addition, Hickory Farms provides free shipping on select products to APO/FPO military addresses across the globe, allowing loved ones overseas to share in holiday traditions.   I love when companies incorporate good causes into the items that they are selling and  Hickory Farms products taste so yummy, that it makes it easy to buy. Right now you can have Hickory Farms delivered right to your door in 3 days for just $3!
So if you are stumped as to what to buy family and friends and you don't want to give them something they might not like.  Hickory Farms has some tasty gifts for everyone.
**"I wrote this review while participating in a campaign by Mom Central Consulting on behalf of Hickory Farms and received a product sample to facilitate my review."**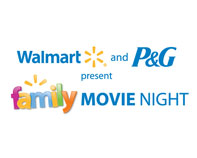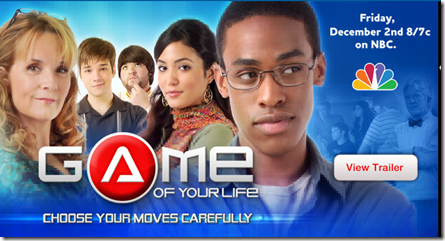 Teaching our kids to make the right choices is something that you hope to instill in them before they go off on their own.  Life is full of lessons, that we either learn the easy way or sometimes the hard way.  It is hard to watch your children do this, but often times these are things that help them in the end.
At least once a week we watch movies or a show together as a family.  Some of my favorite shows to watch are the ones that involve life's valuable lessons with examples that kids today can relate to.  Periodically, P&G and Wal-Mart offer Family Movie Night, and I have been pleasantly surprised by their wholesome quality.  Their newest movie, Game of Your Life, premieres December 2at 8/7c on NBC.  I love the wholesome content of the movies offered, and I feel like I don't have to shield my child's ears or eyes when we are watching.  It also has valuable lessons, that can open up good conversations after the movie about the story, and the lessons learned.  My boys are only 5 but no matter what they got from the movie you can incorporate lessons learned.  Game of Your Life, was a good story with a great ending and I loved the movie as always.
What the movie is about


When Zach Taylor heads to an elite video game design program his future takes a promising turn.  First he must survive the good ole freshman year and make the cut after the first three months.

Teamed up with determined group leader Sara, his roommates, Donald and Phillip, the four set out to involve the entire campus  in a new social interactive game of making choices. At the height of their new project development Zach learns that his father Billy, is  facing growing debt and financial problems back home. Worried and desperate  to help his Dad and not lose the only home he has known, Zach accepts an opportunity to work directly with Marcus Bentton on the side which is against policy at the school. His new secretive project has Zach falling asleep in classes and falling behind on the team project. which he should be devoting to the project. Struggling to keep it together, Zach is torn between his responsibility to his team, his admiration for Bentton and a chance to help his father.

Everything comes undone when Zach's teammate threatens to remove him from the group the  truth behind Bentton's secret project comes to light. With the help of his  Professor Abbie Lambert, Zach must make a decision that will impact his family and those around him.



Game of Your Life, premieres December 2at 8/7c on NBC. So grab some popcorn and your kids, curl up in your pjs and watch a movie that you all can watch. You can check out the Family Movie Night webpage to see previous movie offerings and read about the current movie and become a fan on Family Movie Night's facebook page.
"I wrote this review while participating in a campaign by Mom Central Consulting on behalf of P&G and received a promotional item to thank me for taking the time to participate."