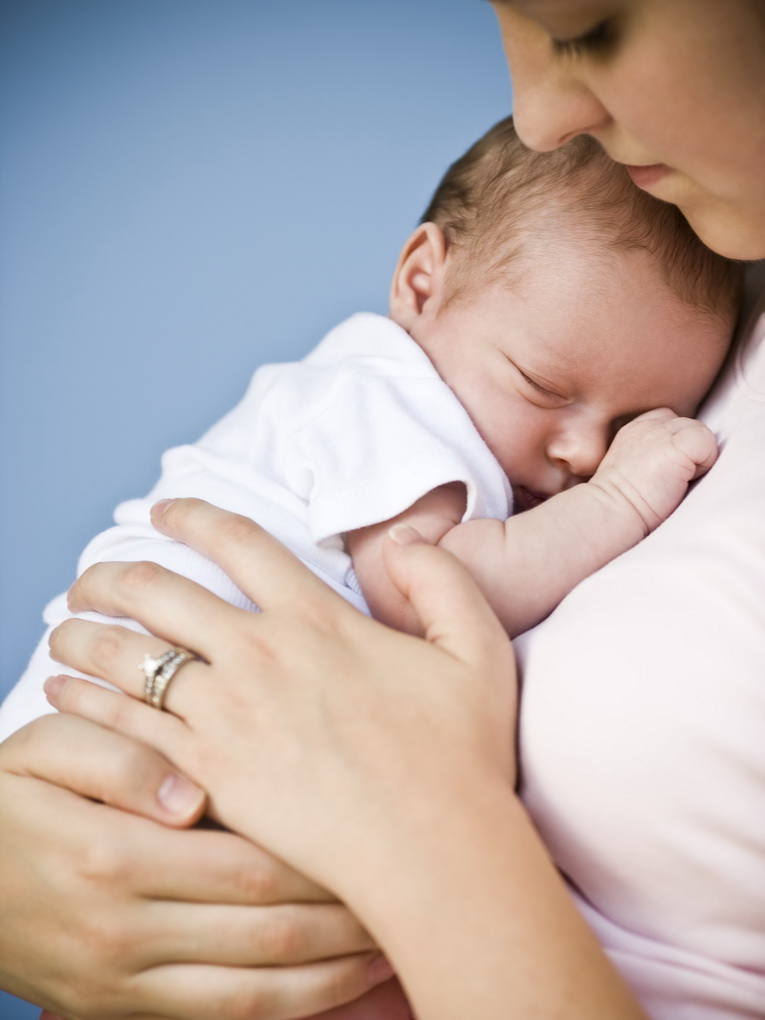 More than half a million American babies are born prematurely each year.  When I was pregnant with the twins, I was aware of the increased risk of complications of carrying multiples.  At 19 weeks into my pregnancy, a relatively uneventful pregnancy became a scary one.  I was placed on bed rest and hospitalized at 25 weeks for premature labor.  I was able to maintain the pregnancy till about 34.5 weeks, when my water broke and the boys were born nearly six weeks early.
Being a new parent is scary enough, but you never even think of or are prepared for the special medical care that your babies may require if they come early.  Even though the boys were a healthy 5lbs each, they still spent close to three weeks in the NICU with breathing issues and learning how to eat, swallow and breathe at the same time, as well as, maintain their body temperatures.  According, to a March of Dimes survey,  most expecting parents don't discuss preterm birth with their doctor during prenatal care, even if they are at high risk and even though I went to a high risk doctor, we didn't particularly discuss the possibilities in depth.
November 17th is World Prematurity Day and a great way to help spread awareness to existing parents, new parents and soon to be. Nearly every baby contracts respiratory syncytial virus (RSV) by age two. In most full-term babies, symptoms are similar to those of the common cold and parents may not even know their child has the virus. However, because they don't have the antibodies needed to fight off infection, preterm infants—even those born just a few weeks early—are at increased risk for developing an RSV-related infection, often requiring medical attention or hospitalization.  One of my sons had a great deal of difficulty with RSV and today he has to have breathing treatments and he has a lot of trouble when he gets a respiratory illness.
RSV Quick Facts:

RSV is the leading cause of infant hospitalization, responsible for more than 125,000 hospitalizations and up to 500 infant deaths each year.
RSV occurs in epidemics each fall through spring. The CDC has defined "RSV season" as beginning in November and lasting through March for most parts of North America.
Certain regions have longer RSV seasons than others, with the season beginning as early as July (e.g., Florida) or ending in April.
Despite its prevalence, one-third of mothers have never heard of RSV.

Prevention is Key:
There is no treatment for RSV, so it's important for parents to take the following preventive steps to help protect their child:
• Wash hands, toys, bedding, and play areas frequently
• Ensure you, your family, and any visitors in your home wash their hands or use hand sanitizer
• Avoid large crowds and people who may be sick
• Never let anyone smoke near your baby
• Speak with your child's doctor if you believe he or she may be at high risk for RSV, as a preventive therapy may be available

Be Aware of Symptoms:
Contact your child's pediatrician immediately if your child exhibits one or more of the following:
• Persistent coughing or wheezing
• Rapid, difficult, or gasping breaths
• Blue color on the lips, mouth, or under the fingernails
• High fever
• Extreme fatigue
• Difficulty feeding
I think that this is so important, especially for new parents. Many doctors may not share these possibilities to avoid stressing parents out  but I am a firm believer that knowledge is power and keeping parents informed can go a long way in preventing RSV. I know how scary breathing issues can be and even though you don't want to face the possibilities of having a premature infant or a sick child, it is easier to face if you know something about it before hand. The RSV Protection site is a great resource for you or someone who is expecting.  We can't control if a baby is coming early in most cases but we can give them a leg up by knowing what to expect.
"I wrote this review while participating in a blog tour by Mom Central Consulting on behalf of MedImmune and received a promotional item to thank me for taking the time to participate."

This one time (recently), our cordless phone was left on the bumper of the car (whoops!), and my husband, took it for a little drive where it spent the night lonely on the side of the road in the rain.  It still worked sort of, but no one could hear me when I talked. It's been a long time since I've paid much attention to cordless telephones.  If you're anything like me, you look at a cordless phone and think "hey, it's just a phone, what's the difference?".  Thanks to VTech, I've had a chance to play around with a new modern "digital answering system", the DS6421-3.  Apparently there's a lot of difference between cordless phone systems nowadays, a lot has changed over the past 5+ years.
First, here's what's in the box, neatly packaged:
Quickstart guides, user's manual
Wall mount bracket
3 cordless phones (handsets) with batteries
1 base station with power adapter and phone cable
2 charging cradles with power adapters
Specs
I won't go into all the detailed specs here as part of this review, you can find the complete listing on the VTech DS6421-3 site here.  This set of phones operates on the DECT 6.0 standard.  That means it uses the 1.9 GHz frequency and it won't interfere with your wireless network (home wifi equipment  that generally uses 2.4 and/or 5 Ghz frequency).   Another feature that comes in handy is the "Connect To Cell" technology.  Connect to cell means you can use both your cell line and your landline with this set, easily switching between the two.   The VTech DS6421-3 also includes "Push To Talk" technology so you can use the sets like walkie-talkies.  Overall, the features are pretty impressive, equaling those of some of the more expensive high-end sets on the market.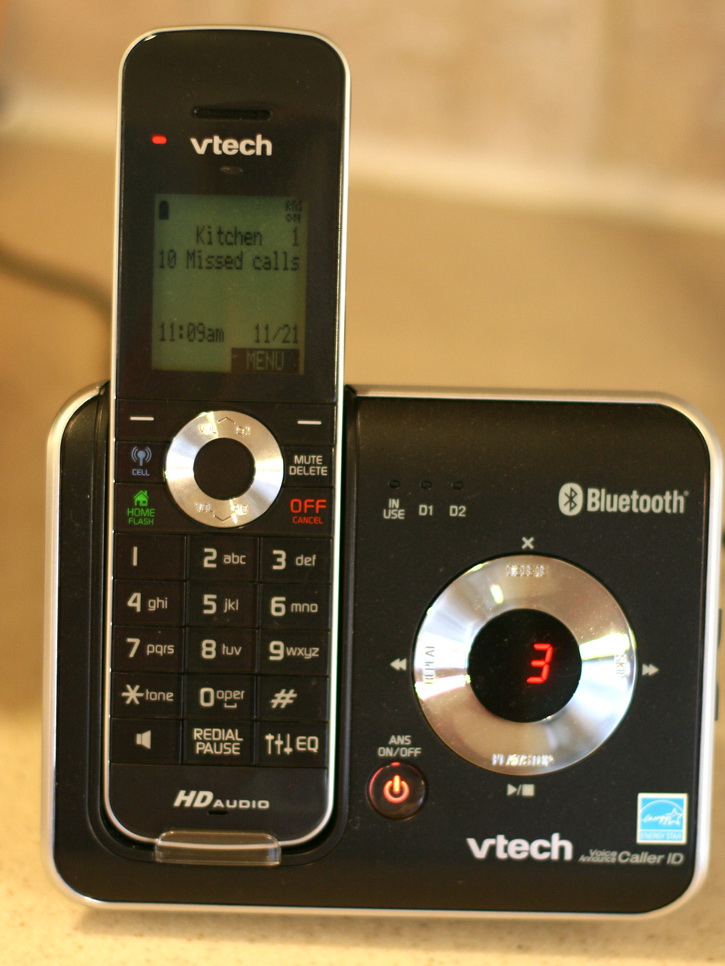 Installation
Installing the phone is as easy as can be.  You just have to figure out where you want to put the base station and plug the included phone cord into a phone outlet.  You can easily mount the base on the wall with the included wall mount bracket if you want, but I preferred to have mine on the counter.  The batteries included with the handsets come pre-charged, so you just plug them in and the 'base' automatically recognizes each handset and configures it.  One handset sits in the cradle as part of the base, the other two handsets can be placed anywhere you like, just plug each of the charger cradles into any available outlet.
Using the DS6421-3
Once you set up the base and cradles, you're ready to start using the phones.  The VTech DS6421-3 does everything you'd expect from a good cordless phone set.  The handsets themselves are very sleek, fit comfortably in your hand and feel well-built.  The back lighting is good, the screens on the handsets are crystal clear and easy to read.  So far everyone I have talked to sounds crystal clear. Each cordless phone has caller ID, functions as a speakerphone, and the base has an indicator on it that tells you how many voicemails (if any) are recorded.  You can also screen calls right on each handset – just hit the "screen" button  and you can listen to the person leaving the message on the handset speakerphone.  I love not having to get up to hear who is calling.   Another feature I found myself using frequently is the ability to listen to recorded messages from any of the handsets.  Just use the menu to select "play messages", and listen to the voicemails on whatever handset you have available.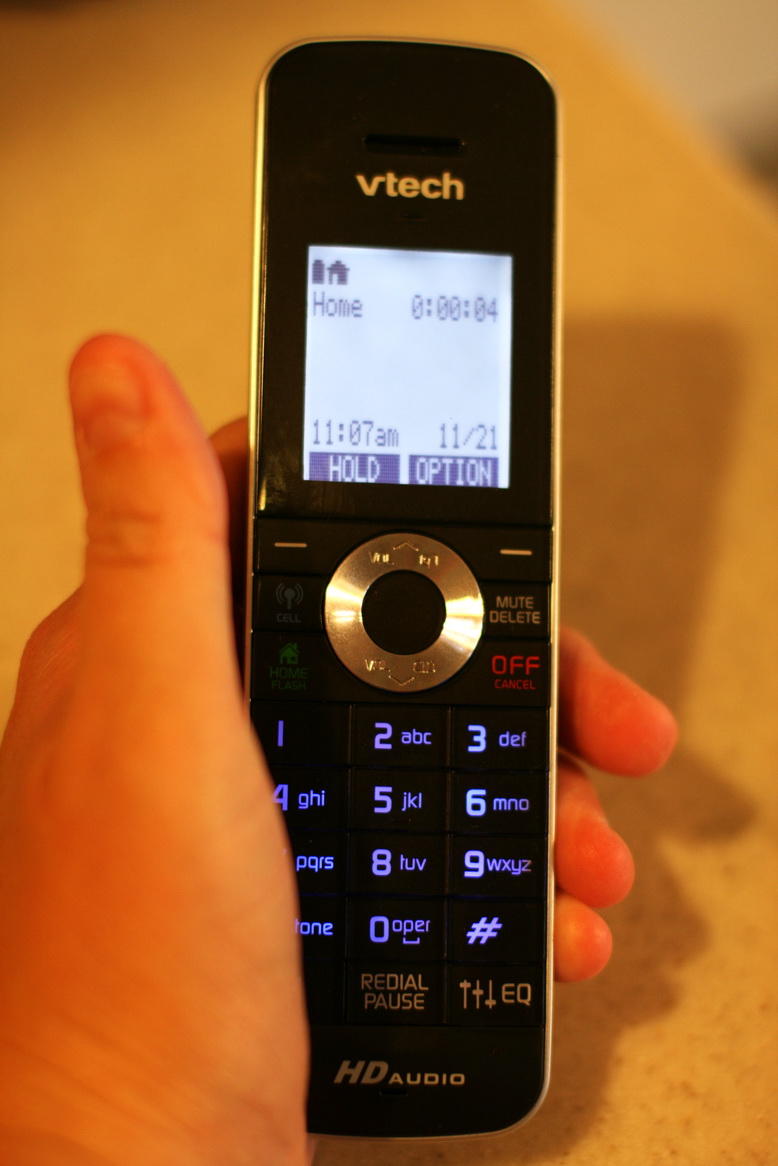 There's nothing more annoying than having your cordless phone run out of  battery all the time.  The VTech DS6421-3  features very long battery life.  I used the cordless phones for hours and didn't have to charge  them for at least a week.  I was very impressed with the battery life and I had no low battery sounds beeping in my ear mid conversation.
Another, aspect of cordless phones is their range of use.  I am often on the phone and going out to the mailbox and prefer not to lose connection.  You want something that will let you walk anywhere in the house without interference, as well as short distances like your driveway.  I was able to use the cordless sets throughout the house, outside the house all the way to the street in front of the house with no problems.  VTech lists the range as "up to 500 feet", which is probably only feasible under the most perfect conditions, but the range on these were great.
The 3 handsets in this set are identical.  They operate using a very simple menu, it didn't take long at all to figure out how everything worked without even opening the manual.  The menu is operated using a left / right select buttons along with a round disk .  The menu options are straight forward, you can customize pretty much everything from the ring tones to the ringer volume to the number of rings it takes before the answering machine picks up.  You can also set a name label for each handset so you know where each one goes.  This feature is perfect for when you want to use the "push to talk" functionality.   Picking up the phone and pushing the button for "Kitchen" or "Basement" makes a lot more sense then trying to remember where "handset #1" is located.
One thing I really liked about the phones is that when someone calls each set it speaks the name/caller id of the caller.  You don't have to look at the phone or base to know who's calling, which is very handy for easy screening of calls.  For me this is more fun than anything, because at first I had some trouble recognizing the pronunciations. The DS6421-3 also has "equalizer" functionality to optimize the sound quality of your phone calls.  I don't know about you, but I can't imagine ever needing to use an equalizer to fine tune the sound on my mono phone handheld…. But hey, it can't hurt, it's a nice touch they threw in!
Connect To Cell
The "connect to cell" functionality is one of the features relatively new to the cordless phone market.  Basically, it allows you to integrate your cell phone(s) and your landline together into one seamless phone system.  it works like this:  you "pair" up to two cell phones to the DS6421 base, using Bluetooth connectivity.  That means the paired phone just has to be somewhere near the base (in the same room generally) to be connected to the DS6421 base.  Once paired, the base will treat the paired cell phone as another "line" in addition to your land line.   You can receive incoming calls from your cell phone(s) on your cordless phone the same way you would incoming calls on the land line.  Different ring tones indicate whether the call is on the landline or on the cell.
This is an excellent feature for those with a cell phone with Bluetooth.  When you come home, just put your cell phone in the same room as the DS6421 base, plug it in to charge the battery, and you'll be able to make and receive calls using your cell or your landline with the simple click of a button.   Click the "cell" button, and you receive or make a call using your cell phone.  Click the "home" button, and you receive or make a call using your landline.  Since you can pair two cell phones, two people living in a home cold both have their phones paired, and both use the same set of cordless phones to access either the landline or the cell phone.
One important note to the landline/cell phone functionality is that you only need to have one or the other to use the system.  If you have both cell phone(s) and a landline, the DS6421-3  integrates them perfectly… but you can use the VTech DS6421-3 without having a landline at all, great for those who are thinking of getting rid of their land line and just using cell phones.  With this system you get the best of both worlds, a nice handset with great range and coverage while your cell phone is charging.   For example, you could use your cell phone for free long distance if your landline doesn't have free long distance.
Another great feature of the connect to cell technology is that the DS6421 phone system can copy your contacts from your cell phone(s) to the cordless phone system.  That makes the issue of having someone's info on your cell but not your home phone a thing of the past.
You can also connect Bluetooth headsets to the DS6421 for easy hands-free calling in your house.  I found this feature somewhat less than useful since you are limited to a relatively small area around the base of the phone system.  You can't use the Bluetooth headset and wander off to the other side of the house while on the phone, the Bluetooth signal will get disconnected.  Still, it's a nice option to have if you need to be on the phone a lot and want an easy hands-free setup.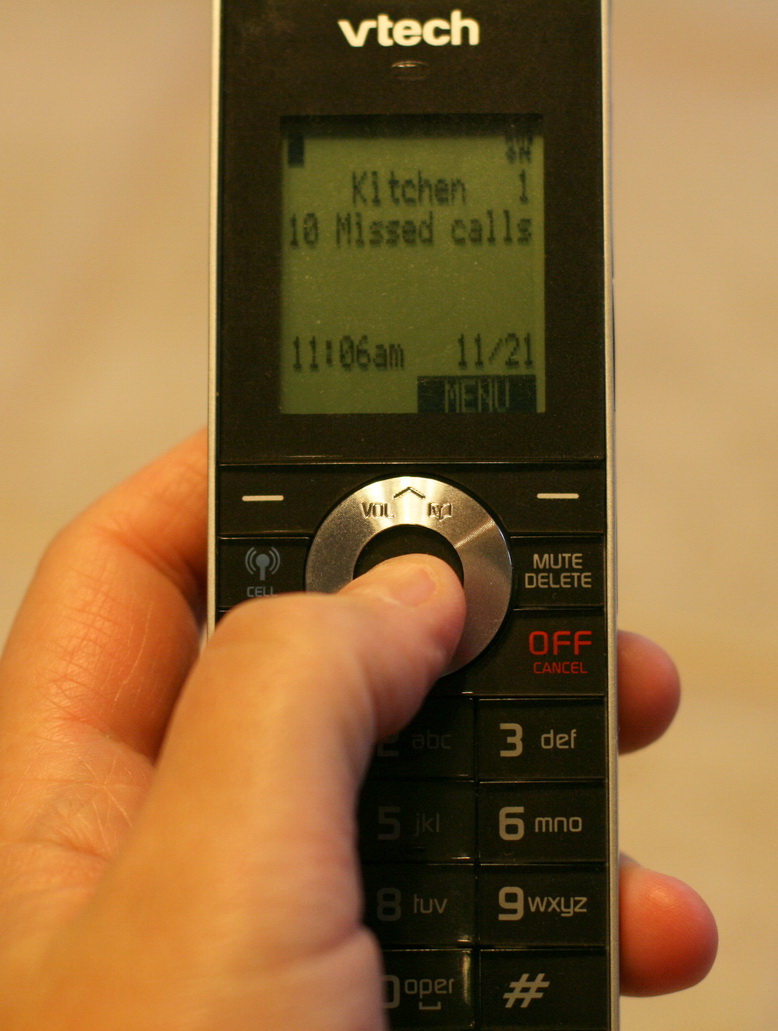 Expansion
The DS6421-3 can be expanded to up to 12 handsets, although who needs 12 handsets?  I found that the three provided were more than enough and felt like I had phones laying around everywhere.
In conclusion, I really like the VTech DS6421-3.
Pros: great feature set, great look and feel, cell/landline integration, phone contact copying, expandability, long battery life, ease of setup and use, overall value.
Cons: inability to set ringer volume for each handset, ringer options have to be set for all handsets at the same time.
Overall, I was thoroughly impressed by the VTech DS6421-3.  It was easy to set up, works great, integrates the land line with the cell phones seamlessly, and does everything at a very reasonable price (less than $100 last I looked).  That's a great bargain! I'd recommend this set to anyone who's in the market for a new cordless phone system.  You can save a few dollars by getting a "no frills" cordless phone set, but you'd miss out on a lot of great features and functionality for relatively small savings.  The bottom line: The VTech DS6421-3 is a really great phone for the home.
**I wrote this review while participating in a campaign by Mom Central Consulting on behalf of VTech and received a product sample to facilitate my review.  All of the opinions I have expressed here are my own.**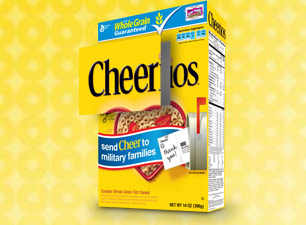 With the age of the internet, most things we do, even the mail we send is often via the computer. I sometimes miss the days when someone would just send me a handwritten letter. There is something special about receiving a note of encouragement or just a thank you in your mailbox outside. I believe it to be much more meaningful and a heartfelt expression to a special person or even a complete stranger.
I know a lot of military families that I have met either online or just friends and acquaintances. I know that sending their loved ones overseas for months and even years at a time cannot be something that is easy. Many of their spouses are back at home taking care of the family, paying the bills, and holding the household together. I think being in the military is a huge monumental sacrifice to take care of the American people and I think the families involved make just as many sacrifices by giving up their loved ones to go protect our country. I can imagine that it can be a huge emotional taxing on families, and often times it's nice to be able to hear kind uplifting messages to help get you through each passing day.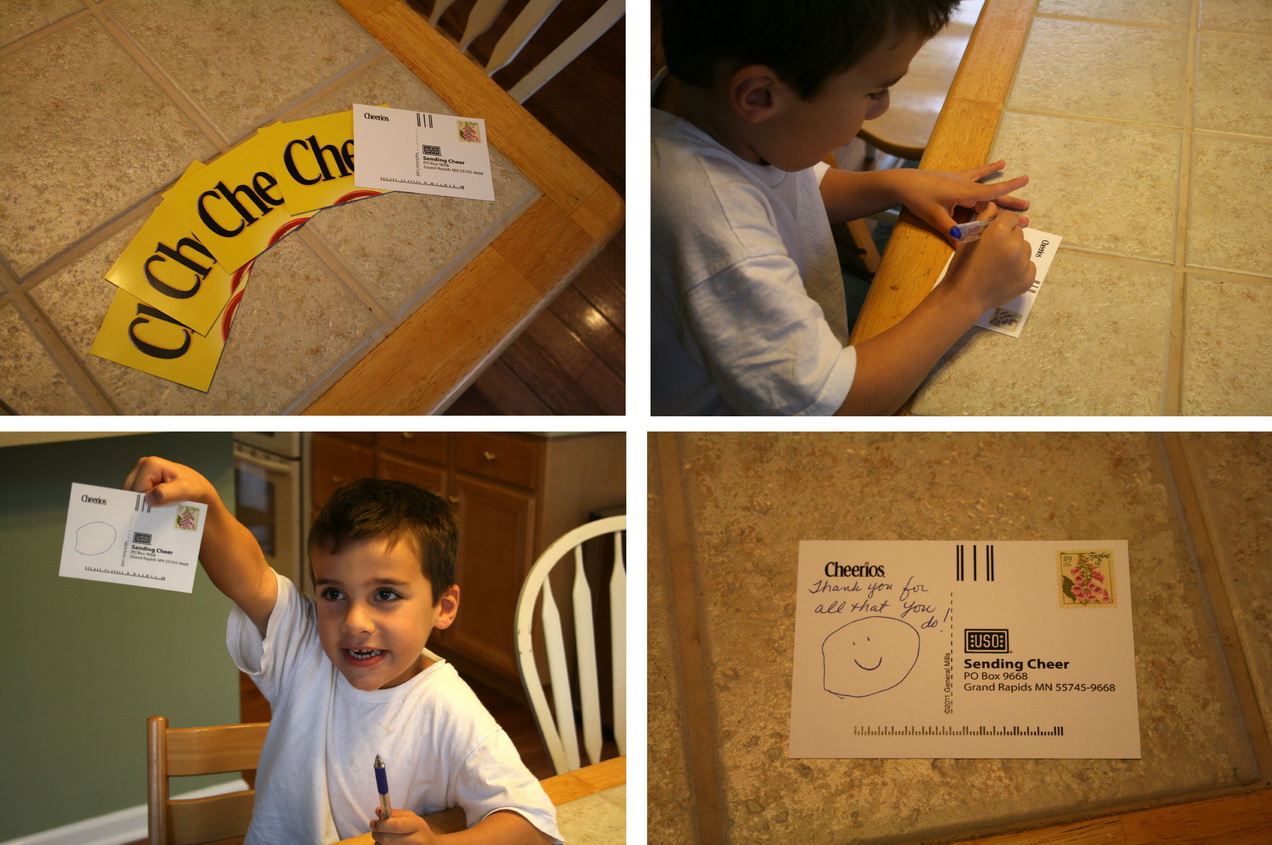 To help spread these messages, Cheerios has started a wonderful campaign. Cheerios and the USO have launched "Cheer," a postcard campaign that spreads cheer directly to these honorable military families and supports USO programs. During the months of October and November, 2011, specially-marked boxes of Cheerios cereal will feature Cheer postcards on the front of the box. You and your family, can out the postcard, write a message of thanks, let the kids make a drawing, or write words of encouragement. Then, all you have to do is, add a stamp, and mail the pre-addressed card to the USO. The USO will then deliver the Cheer card to military families across the country!
And, along with that, Cheerios will donate $1 to the USO for every postcard that is mailed and received by November, 30, 2011. Cheerios has already donated $150,000 to the USO, and will donate up to an additional $100,000 based upon the number of postcards received. Your participation is needed to reach this goal and who doesn't love cheerios?  So stock up on a few boxes, and mail some wonderful words of thanks and encouragement to these families who are making big sacrifices each day.
**I wrote this review while participating in a campaign by Mom Central Consulting on behalf of Cheerios and received product samples to facilitate my review and a promotional item to thank me for taking the time to post.**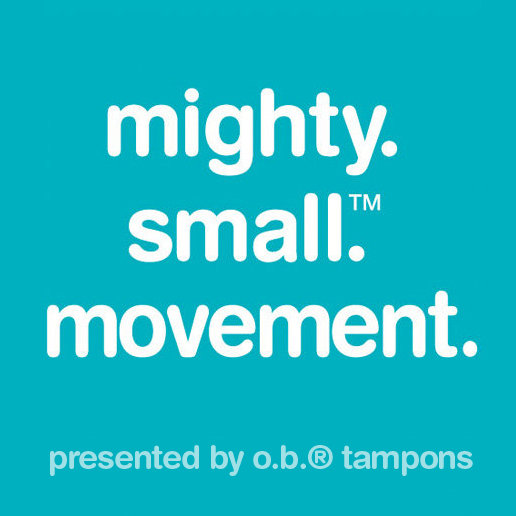 We have become a society of modern day conveniences.  Everything has sort of evolved, something as simple as a toothbrush has even changed over the years, to the more compact and newer model.  Being female, when I think of that inevitable time of the month, the last thing I want to be is uncomfortable with the personal feminine protection products I am using.  I know how horrible cramps, bloating and moodiness can make you feel.  Could you imagine being without the modern convenience of a maxi pad or tampon?  I do believe we are pretty spoiled, because in some countries, women go without these things.  I cannot even imagine not having what I needed during that time of the month.
For millions of girls in developing countries, sanitary protection is a luxury item, that we just toss in our grocery cart when we need it. Unable to afford sanitary protection,  young woman in these countries resort to dangerous alternatives or simply avoid school for the duration of their periods.  They are missing out on valuable education necessary for change  and increasing their susceptibility  to poverty and disease, including HIV.
Recognizing a very overlooked problem,  the o.b. Brand has created a Share It Forward Facebook campaign to raise money and awareness for Huru International, a non-profit organization that provides at-risk young girls in developing countries with the resources and knowledge they need to complete their education and safeguard their health. Now through November, the o.b. Brand will donate $1 (up to $25,000) for every person who visits the o.b. Outreach Tab on the mighty. small.™ movement Facebook page and "Shares" a message about Huru International's mission.
In these countries, twenty five thousand dollars could buy a lot of these much needed products and help to provide the education these woman need.  I think this is a great cause and helping out couldn't get any easier than visiting the mighty. small.™ movement Facebook page and sharing a message about Huru International's mission. What a great reminder about appreciating the little things in life that we are all guilty of taking for granted.
"I wrote this review while participating in a campaign by Mom Central Consulting on behalf of o.b. and received a promotional item to thank me for taking the time to participate."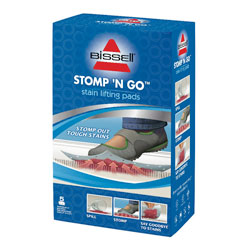 If you have kids, pets and carpet in your home, then you are bound to be cleaning up some sort of stain or spill from it.  I have had our carpets professionally cleaned numerous times, and it looks great for a few weeks then slowly, stains begin to reappear.  Often times they are just stains that seem to resurface.
Recently, I was given the chance to review a new product by Bissel, called Stomp 'N Go.  Naturally, this peaked my interest for two reasons.   Firstly, it sounded way too easy and simple of a product, and two I am constantly looking for "at the ready" carpet stain removal products, that I can use to get a stain that is fresh or one that I have come across.  In our home there are our most common stains, like dirt, spilled juice, always the blue candy or popsicle, and usually the cat that inevitably throws up.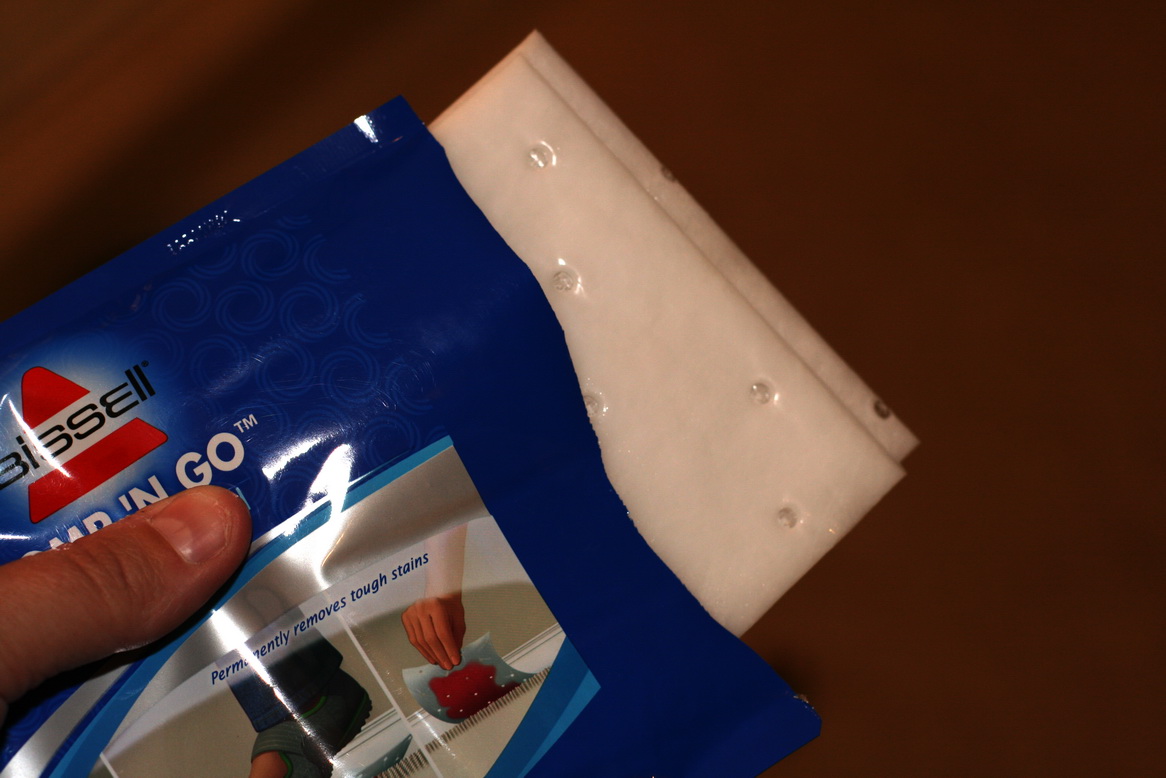 About Bissel Stomp 'N Go
BISSELL® Stomp 'N Go®

Innovative one-of-a-kind pad cleans carpet messes with just one STOMP

Forget about scrubbing out spots and stains on carpet, stomp them out! BISSELL's new Stomp 'N Go® stain lifting pad is unlike any cleaning product available. Using a powerful oxy-based formula, the pre-moistened pads make cleaning easy and fun. Simply place the pad on a spot or stain and stomp on it.  Upon stomp, the pad begins working, lifting and removing the mess. You can actually see the stain being absorbed into the pad. There is no need for scrubbing or using other cleaning tools – the pad does all the work.

Stomp 'N Go® pads are great for permanently cleaning tough set in stains like red wine, food, fruit juice, coffee/tea, pet messes, blood, mud/dirt and more. The pads leave carpet smelling fresh and come in convenient, individually wrapped packages.

The stain lifting pads can also be used on rugs. Additional features and benefits include:

Pads are portable and safe for use on all carpets including nylon, wool and stain resistant carpet
Spots and stains are gone in about 30-minutes; tough stains may take up to 24 hours

No scrubbing or manual work required

BISSELL Stomp 'N Go® pads are currently available at Kmart, grocery stores and select Wal-Mart stores for $4.99. Each package contains five individually wrapped pads.
I was  particularly interested in trying Bissel Stomp 'N Go on this one stain that I have been wandering by in the main traffic area of our living room.  It was driving me crazy, and I had not yet had the time to get out my little handheld spot removing machine, because I didn't think anything else would get it out.
The not so lovely stain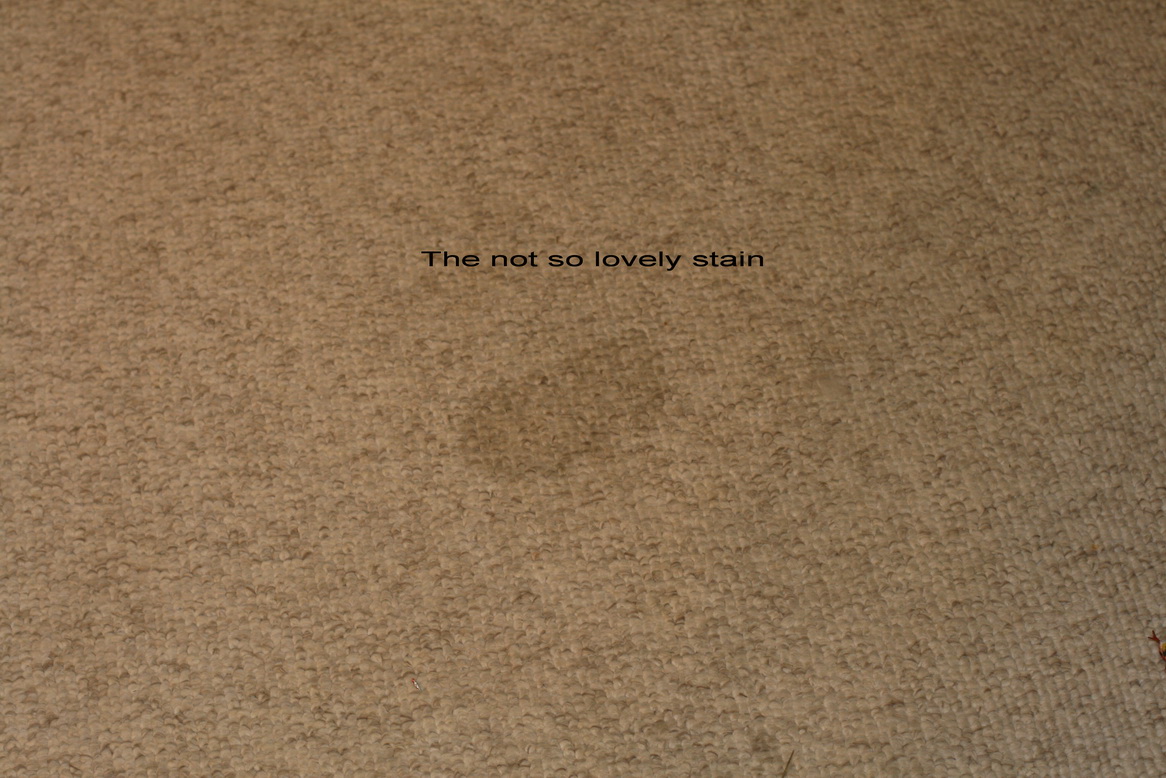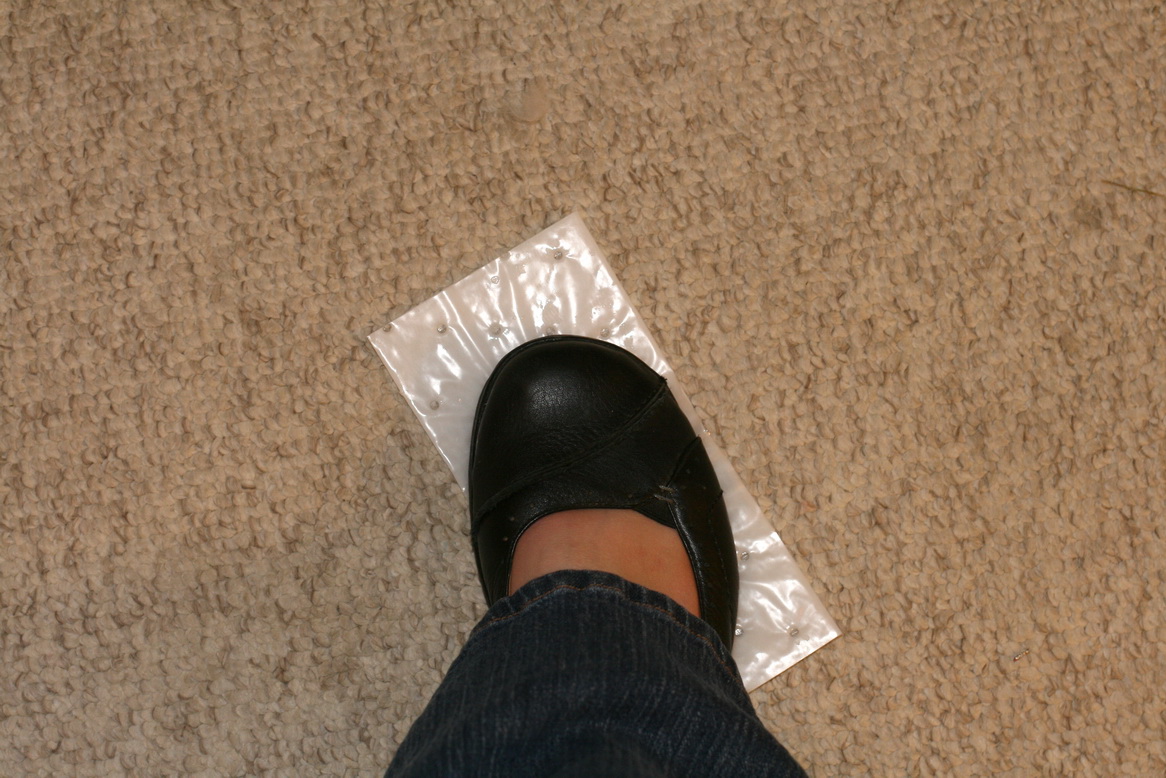 The product is incredibly easy to use. I opened up one sheet of the Bissel Stomp 'N Go, placed it over the stain wet side down, and stepped on it, and left it there for about thirty five minutes.  My initial thought was, "how the heck is that going to take anything out of the carpet, without scrubbing or using a machine to extract it?"   After about fifteen minutes, I walked by and could actually see some of the stain being picked up by the sheet on the opposite side.  When I removed it, the stain was literally gone.  Not only was I thrilled, but I was happy I didn't have to walk by that stupid stain anymore and better yet, there was no scrubbing at it with an arsenal of products I had on hand.  I love it!  I even reused the sheet (*note: It says to not reuse, to throw away after use) but  I tried it on a smaller nearby stain and it got that one as well.  It made me want to search my house for other stains just so I could use it.
Wahlah!   No more stain!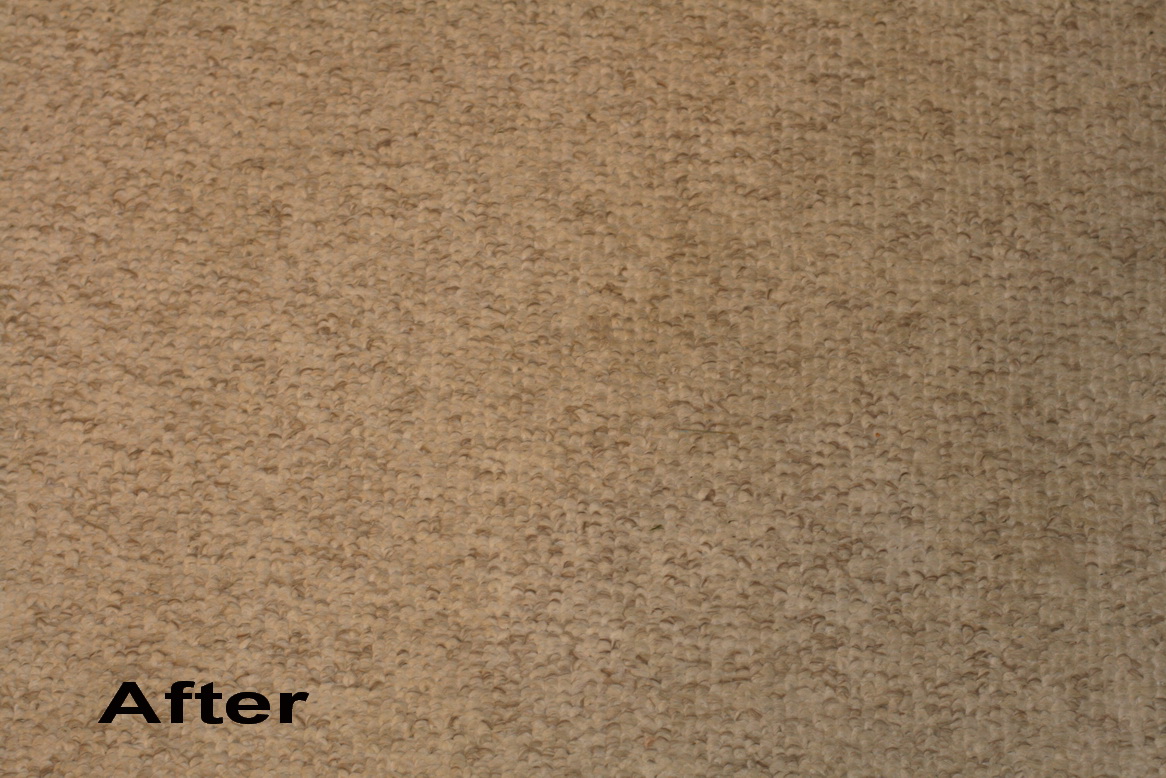 As with any carpet care product, the manufacturer states that you should always test for color fastness before using Bissel Stomp 'N Go on your carpet.  But, what I can say, is that you will want to have a few of these handy  sheets in your home!  They come in packs of five for about $5, and take up a whole lot less space than all the carpet cleaning product in your arsenal.
"I wrote this review while participating in a campaign by Mom Central Consulting on behalf of BISSELL and received product samples and a promotional item to thank me for taking the time to participate."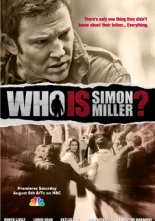 Finding the time to sit down as a family to watch movies can be difficult, but finding things that are appropriate and engage all members of the household are even harder it seems. Sometimes, I am shocked at movies that are rated for all members of the family and I see and hear things I would rather my children not be exposed to. Family Movie Night brought to you by Wal Mart and P&G is designed to bring families together to watch fun and engaging movies that you don't have to shield your child's ears and eyes from. Their latest movie Who Is Simon Miller? will be premiering August 6th at 8/7c on NBC.
"Who is Simon Miller?" is about a typical family and a Dad that doesn't have a typical job. Simon (Loren Dean) is always leaving his wife and two kids for emergency trips as a geologist to work in the oil fields.  Meredith (Robyn Lively) is then left to handle the family and all that comes with raising two teenage children.
When  Simon Miller  disappears one night, the Miller family frantically searches for him. Simon's wife Meredith and their two kids, Sarah, 18, and Kevin, 15, look in Simon's office for information, when they find that he has been living a double life, finding  passports all with Simon's picture, and all with a different alias.  Who is Simon Miller?  A relationship with the husband and father they know, has now become unfamiliar. The Millers embark on an international mission to get him back.  (The movie stars Robyn Lively, Loren Dean, Skyler Day, Drew Koles, and Christine Baranski.)
Movie Trailer
My husband and I really enjoyed the movie, although I felt the concept was much too complex for my five year olds to watch and understand.  There was some very mild violence but the movie is very appropriate for the the 11 yr old and up crowd.  Who Is Simon Miller? is a perfect example that you can make a movie with lots of action but eliminate unnecessary things like extreme violence, blood and gore and still enjoy the movie. Plan to grab your popcorn or set your DVRs for a really great family movie night the premiere of Who Is Simon Miller? is on Saturday, August 6 on NBC at 8pm ET/7pm CT! You can also check out the Family Movie Night website for more information and a list of other great movies that have family in mind as well as the Family Movie Night Facebook Page.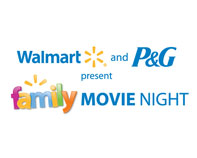 "I wrote this review while participating in a campaign by Mom Central Consulting on behalf of P&G and received a promotional item to thank me for taking the time to participate."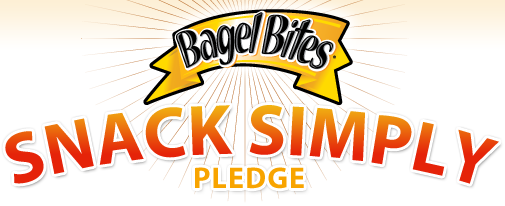 With the Summer in full swing, we spend a lot of time out of the house and busy doing all sorts of activities with the boys.  Usually, we are in the door to eat and then right back outside to play.  The boys are going through a growth spurt as well as being very active outside playing and seem to snack much more often throughout the day.  As a parent, it is my goal to make sure that they fill their bellies and nourish their growing bodies with the right things.
Bagel Bites are one of those favorite go to snacks because they are made from simple ingredients. Bagel Bites are made with real mozzarella cheese, their own tomato sauce, and crispy mini bagels with 8g of whole grain per serving and are really tasty and easy to make.  We just pop them in the microwave and the boys literally devour them.  They also love the idea of having mini pizzas.  Besides Bagel Bites, snacks do not have to be elaborate. I always have simple and healthy snacks on hand like apple slices and fresh fruit, yogurt cups, and carrot sticks.  These are all great choices if you are constantly on the go.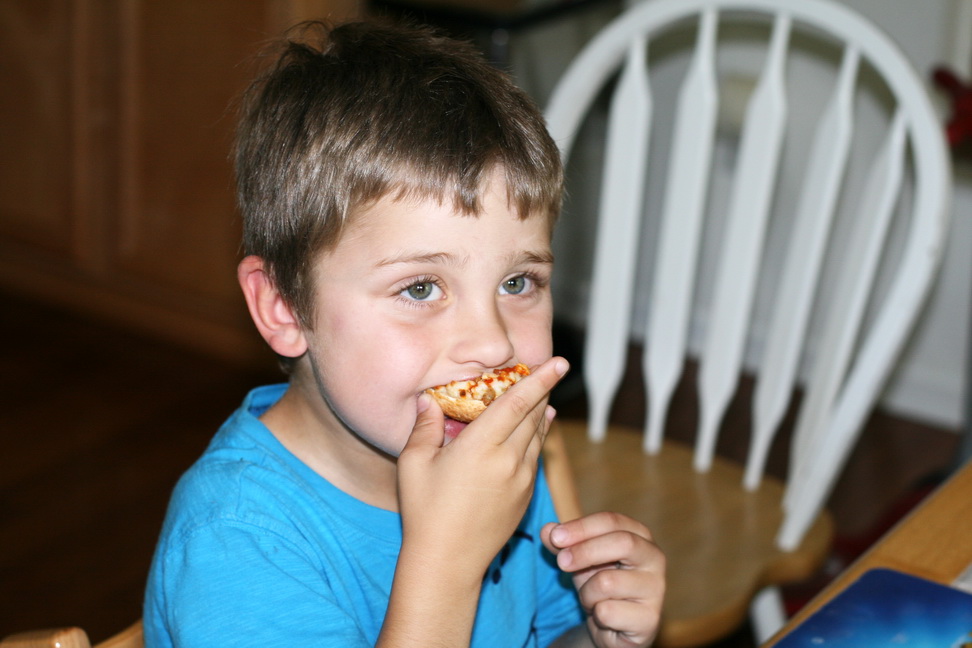 Some other great tips include keeping the pantry stocked at eye level with healthy choices for the kids.  Have fresh bottled mini water available and remember that snack choices don't have to be boring, you can jazz them up, like adding peanut butter to apple slices or adding crunch granola to yogurt.
So, as part of an initiative to encourage families to make healthy choices, " Bagel Bites wants all of you to Snack Simply! For every pledge taken at www.snacksimplypledge.com , Bagel Bites will donate $1 to Boys & Girls Clubs of America and send you a $1 off coupon towards a Bagel Bites Snack, making snack-time into a great way to help kids in need. Their goal is 50,000 pledges, which means Bagel Bites could donate up to $50,000 to Boys & Girls Clubs of America!
To help you kick start your "Snack Simply," pledge, DoubleBugs is giving away 4 coupons good for free Bagel Bites.
Here's What You Gotta Do!
All you gotta do is take the "Snack Simply Pledge" And leave a comment here stating what simple snack you like to make for your family or for yourself.
Additional Entries
Tweet About This Post
Follow Me On Twitter
Stumble This Post
Constest Ends August 20, 2011
Good Luck!
"I wrote this review while participating in a campaign by Mom Central Consulting on behalf of Bagel Bites and received coupons and a promotional item to thank me for taking the time to participate."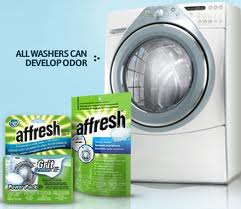 Clean clothes right from the dryer are the best because they are warm and smell so good.  Often times, we only focus on keeping our clothes clean, but have you ever really thought about cleaning your washer?  Sometimes, when I get too busy with my kiddos, I often forget that I have clothes inside the washer, and they can sometimes sit there for a few days before I remember them.  By then, they stink and I have to re-wash them.
When you let clothes sit like that, your washer probably has the potential to grow all sorts of things, and the cold, dark, and wet space is bound to develop an unpleasant odor and probably when you wash your clothes, they aren't smelling as nice as they should be.  I happen to have a front loading machine, and inevitably it seems like it has a musty odor to it.  Wherever, there is a  constant place for moisture, you are bound to have that musty smell.  I don't really think I have ever cleaned the inside of my Whirlpool Duet washing machine, and I am sure there is some instruction somewhere that I got 9 years ago, that I need to keep it cleaned, but I have blissfully ignored it (whoops!).
Recently, I was invited to be a part of a program to try out Whirlpool's Affresh Washer Cleaner, so I am trying it out, to see if I notice a difference on if my washer smells better and seems cleaner.
How Does Affresh Work???

How?

Affresh® washer cleaner helps remove and prevent odor-causing residue build-up that can accumulate in all brands and configurations of washers. The oxygenated bubbling action of Affresh® Power Puck™ tablets penetrates and dissolves unseen residue, providing a more effective cleaning option than bleach alone.

If used once a month, Affresh® washer cleaner pouch prevents odor-causing residues from accumulating. Heavily soiled washers may require repeated treatments to remove traces of odor and residue. In this case, Whirlpool recommends running three successive washer cleaning cycles with one Affresh® Power Puck™ tablet in each.

For HE models, Whirlpool offers the Affresh® washer cleaning kit with three Power Puck™ tablets and six Grit Grabber™ cloths. Due to their more efficient design, HE washers seal more tightly and use less water than traditional top-load models, increasing the potential for residue build-up. The Affresh washer cleaning kit removes and prevents odor in areas that cannot be reached – such as behind the washer drink – and in areas that can be reached, such as around the rubber door seal and detergent dispenser. The hypoallergenic Grit Grabber™ cloths remove odor-causing build-up and lock it into the cloth.
While using  Affresh Washer Cleaner I am going to see if I notice a marked difference in odor and tell you my findings. I am looking forward to not only my clothes smelling nice but getting rid of that darned musty odor that seems to be lingering in my washer! I can tell you, that if it smells just as good as the Affresh tablets that I can smell through the package, then it is something you will want to try, to maintain your washer and have  a fresher smelling laundry experience all around.  If you don't like doing laundry, at least the smell can be nice!  Who wants to knowingly clean their clothes in a dirty washer?  I can't wait to try it out.
"I wrote this review while participating in a campaign by Mom Central Consulting on behalf of affresh and received product samples and a promotional item to thank me for taking the time to participate."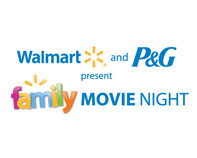 It is rare that you see wholesome movies anymore.  As a parent, I am finding it to be a difficult task picking movies that I feel comfortable letting my kids watch.  I am running across Disney movies that are using words like "idiot" and "stupid."  My kids seem to be at an age where they pick up on all of it, and then I am fighting a battle to correct what was negatively instilled in them by a "kid friendly" movie.  Good movies with good lessons are important.
P&G and Wal-Mart have partnered to create more made for TV family movies and have created Family Movie Night. Their most recent movie Field of Vision, premieres June 11th at 8/7c on NBC.   I had the chance to see Field Of Vision and it is a great movie with a very strong anti-bullying message.  I read about bullying in the schools often, and as a parent to young children, I must say it scares me.  My two are just months away from heading to school and it has been my experience unfortunately, that kids can be mean.
Overview
Through mysterious footage captured on an old malfunctioning video camera, Sinclair High School's star quarterback, Tyler McFarland, learns that some of his teammates have been bullying Cory Walker, a troubled new transfer student. Aware that sharing this information with the coach might get his friends kicked off the team and ultimately cost the school the state championship, Tyler must choose what's more important: winning or doing what's right.
This movie was a wonderful example of how to make a good movie minus all the language, and exudes a message to live our best life and teach our children to do the right things.  From a Mom's perspective, there were many poignant moments that I could relate to, and I was crying by the end.  I won't give away the whole movie, but it is a good one to sit down as a family to watch and discuss afterward.  My boys are only 5, so I felt the concept wasn't something they could relate to or grasp yet, but I think it is very appropriate for children ages eleven and up, who are on the verge of their teen years.  Faith Ford was wonderful in the movie.  But even more wonderful, was the fact that this was a movie that the entire family could watch.
"I wrote this review while participating in a campaign by Mom Central Consulting on behalf of P&G and received a promotional item to thank me for taking the time to participate."
I have been getting acquainted with the Nescafe Dolce Gusto now for a couple of weeks, and enjoying some nice warm beverages.  It has been a great addition for our busy house because, I like being able to make things relatively quickly, and with as little mess as possible.  It saves time and work when you are chasing after little ones.  The other nice thing about single serve coffee makers is the fact that you can make tea, and my husband can follow behind me and make coffee.  It offers a whole new lever of convenience.
When using my Nescafe Dolce Gusto, getting started was pretty darn easy, the fold out instruction sheet offers a visual set of steps.  Then you select what you want to drink.  The display on the Creativa was very easy to read, and see and made selecting my coffee type easy (in this case hot chocolate).

Getting Started
Initially before brewing anything, you have to fill up the water reservoir and run water through the Nescafe Dolce Gusto six times before you can brew.  I had to find something I could catch the water with however, because I didn't have anything big enough.  I wound up using a small pot, which worked out well.
Ready To Brew
After I ran water through the machine, I was ready to taste my first cup.  I chose hot chocolate.  You have to run through all the coffee names and kinds to find which one you are having and make the selection on the display.  I found this a little busy, rather than just putting the cup in the little spot it goes in and closing the handle and hitting start.  There are a lot of flavors!  Then I was ready to go!  I guess I didn't read, or didn't realize that the hot chocolate had two capsules, one with the milk and the other with the hot chocolate.  So when the machine first started brewing, the stuff in my cup was white and I sort of freaked  LOL!  Then I realized it was a two part process.    The hot chocolate was yummy, but I would have preferred it just be one cup, it might cut down on some of the waste.  The flavors are available in one and two capsule varieties.  The nice thing is that the Nescafe Dolce Gusto, comes with a container that you can put next to your machine, to throw away your used flavor capsules.  This was nice because I didn't have to carry it dripping, over to my trash can.  I also tried the peach iced tea which I really liked.  Both the capsule holder and bin are dishwasher safe so you can give them a good wash from time to time.  I just fill my capsule bin with warm sudsy water and toss the holder in there and let them soak.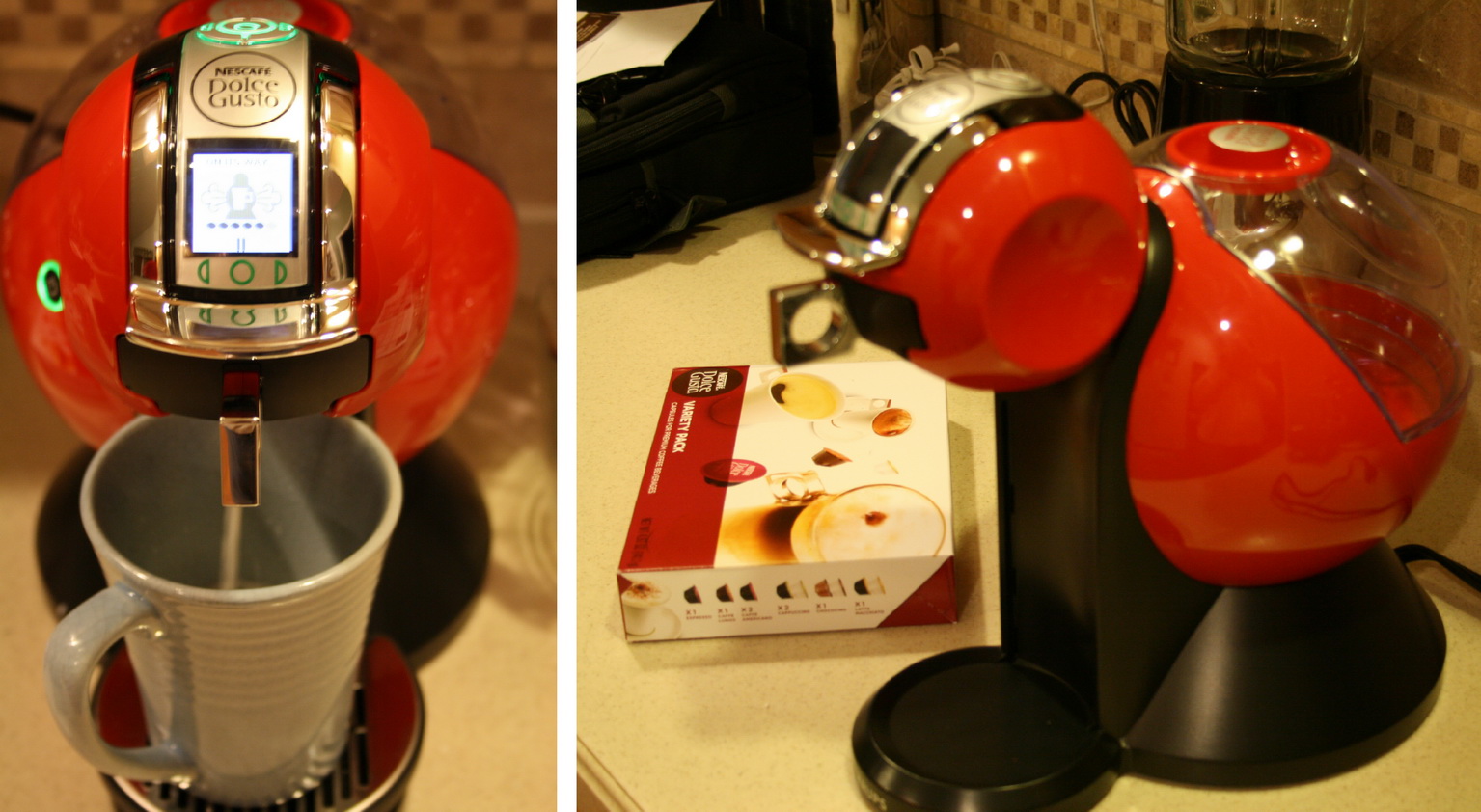 Nescafe Dolce Gusto Creativa Features


-No mess, No fuss. Everything you need to make hot or cold drinks are contained in our easy-to-use capsules

-Automatic "on" feature, digital machine with LCD screen

-Personalize your cups and it memorizes them – perfect preparation guaranteed

-Program automatic preparation of your breakfast, mid-day, dessert or any other cup whenever you like it

-Display works in many different languages and pictograms

-Nescafe's technologically advanced machines and precisely designed flavor capsules combine to give the NESCAFÉ® Dolce Gusto® a professional-level 15-bar pressure system (similar to coffeehouse machines) which helps to ensure that every cup is perfect with a foamy froth, rich crèma and luxurious flavor

-The exclusive Thermoblock technology heats the water fresh every time, in less than one minute

-NESCAFÉ® Dolce Gusto® uses only the highest quality ingredients – featuring only 100% Arabica, rich chocolate and foamy milk
Flavor Varieties

One Capsule Varieties:

-DARKROAST/CAFFÉ GRANDE INTENSO

-NESTEA PEACH ICED TEA:  A cool and refreshing peach icedtea,topped with a velvet foam, from one of your favorite tea brands

-HOUSEBLEND/CAFFÉAMERICANO: A smooth,mild coffee with delicious aroma and velvety crema layer

-Caffe Lungo:  :A full bodied long espresso with a rich aroma and velvety crema layer

-ESPRESSO: An unadulterated shot of pure 100% Arabica coffee

Two Capsule Varieties

-VANILLA LATTE MACCHIATO

-CAPPUCCINO SKINNY: A slightly sweetened milk blanketing a shot of espresso, now with fewer calories

-CAPPUCCINO: A slightly sweetened milk blanketing a shot of espresso

-HOTCOCOA/CHOCOCINO: Gourmet liquid chocolate topped off with sweetened milk

-ICEDCAPPUCCINO: Frothy cream and chilly coffee

-LATTEMACCHIATO: Frothy milk with a shot of strong espresso

-MOCHA: Hot chocolate and coffee do a delicious duet

Capsules:$8.99MSRP(one capsule beverages: 16servings/pack; two capsule beverages: 8servings/pack)
My Final Take
My general take overall is a good one for the Nescafe Dolce Gusto. I like that it is fairly easy to use for a single serve coffee maker and that is looks good on my countertop. There isn't anything ordinary about how it looks, which makes the appliance fun to use. I think ultimately it is more efficient than brewing an entire pot of coffee and allows for variety among the people who use it in the house. You can program the Nescafe Dolce Gusto to make you your favorite beverage at anytime during the day, but in the case of using two capsules, that sort of negates the purpose of programming it but in general a good feature to have. It also has an automatic shut off so you don't have to remember to turn it off, which is a step up from the traditional coffee makers where they never used to turn off.
If you are in the market for something fun and functional with a great variety of choices, the Nescafe Dolce Gusto might be what you are looking for. I am enjoying using mine and it looks good in my kitchen!  The MSRP for the Creativa is $169.99.  Check out their commercial!
"I wrote this review while participating in a test drive campaign by Mom Central Consulting on behalf of NESCAFÉ Dolce Gusto and received a coffee machine to facilitate my review."