I know with Christmas fast approaching, I am in a scramble to get everyone's gifts. And usually my problem is what to get everyone and I am almost inevitably searching for the perfect gift idea. And with having twin two year olds to look after in the mix, it can make finding gifts even more stressful. That's why it is so nice to have a place where you have gift ideas all in one place for everyone!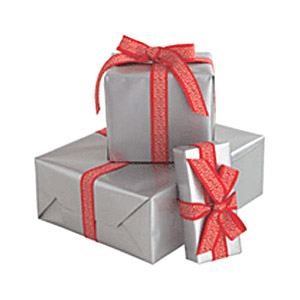 Mom Central has done all the brain racking work of finding the perfect gift in their 2008 Gift Guide. They have reviewed hundreds of products for everyone on your list right down to your favorite furry friends in your life. You are sure to find something that will put a smile on that special someone's face this holiday season. Mom Central will also give away thousands of dollars worth of prizes in multiple daily drawings!
To be eligible to win the daily prizes, participants must register on Mom Central, log-in, and leave a comment on the post. In addition, if participants tweet or email friends about the giveaway, they can earn another entry! In order to earn the entry, they simply go back to the Mom Central Review blog and leave a second comment letting them know.  Plus, Mom Central is such a cool place to be a part of!
Head on over to Mom Central and save your sanity by making your holiday gift buying a breeze!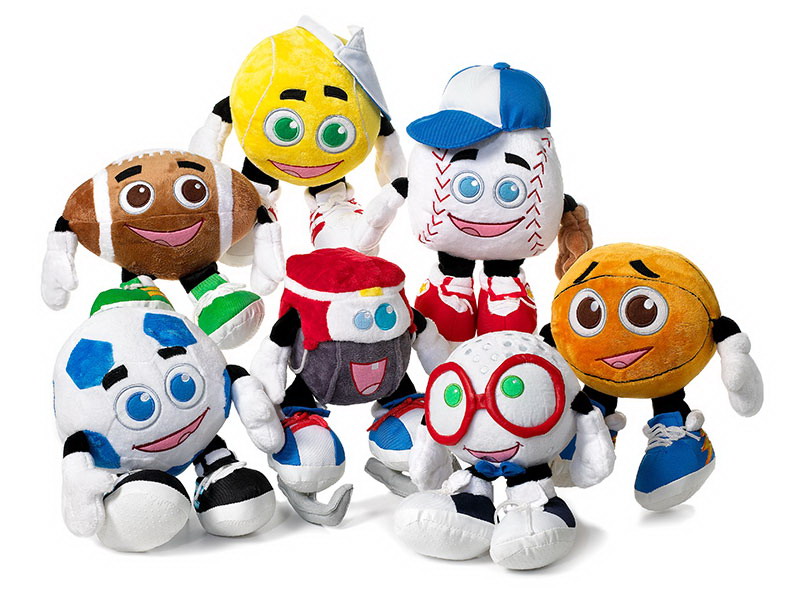 As a mother to twin boys, as you can imagine, my boys naturally love balls.  I actually think they were born with a football and soccer ball in their hands!   So, when I got the chance to experience All Star Buddies, I knew they would be a big hit.   Bubs is a huge fan of Blitz (the football buddy) and quickly exclaimed "ohhhhhh footballllll."   Monkey is my little soccer ball guy and loves Striker (the soccer buddy).  He carried his soccer ball dude all around the house and would sit him next to him on the couch.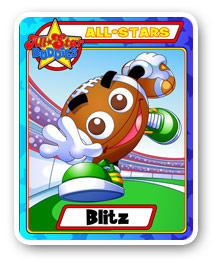 The All Star Buddies world was created by two moms who share a passion for sports, fitness and leading a healthy lifestyle.  They have managed to create an online world that is safe for kids and creates a way to have fun through learning.    Each buddy comes equipped with a hang tag that has a code on it, which unlocks a fun new virtual world of games and bonuses.  The games are wholesome and perfect for kids and it can all be monitored by their parents through a separate account.  I think this is a huge plus.
The games and activities are interactive and fun and helps to encourage your child to use their thinking and reasoning skills in an exciting way that makes learning fun and captures their interest.  I thoroughly enjoyed playing some of these games myself!
All Star Buddies would make a perfect gift for any child 6 years and up and if they are stuck inside on a dreary day or are into computers, this is a perfect way to introduce them in an educational way.  And after a long day of learning you can tuck them in with their Buddy!
DoubleBugs would like to give its readers a chance to win an All Star Buddy of their own. and all in perfect timing for the holidays!


THIS CONTEST IS NOW CLOSED THANK YOU TO ALL WHO ENTERED!!!
Here's what you gotta do!

Visit the All Star Buddy site and tell me which buddy you would choose and what you like about the site and its concept.
Leave me an email so I can contact you if you win
If the winner does not respond in 2 days a new winner will be chosen
Contest ends November 10th, 2008
Good Luck!

Briarpatch has a strong legacy of stimulating children's lives through fun and eco-friendly products.  Since its founding, the company's co-founders applied environmentally conscious business practices in such innovative ways as using vegetable and soy-based inks and post consumer materials. A key to Briarpatch's success has been to combine fun with learning.
Briarpatch has unveiled its first Thomas and Friends game!  I know my boys just love playing with all their little Thomas trains and saying "allll aboard!" when they move them along the track.  I was delighted to see that there is now a game that they can actually play.  They are both at a stage where they are getting really involved with counting, focusing on one thing for longer periods of time, and just really interactive with things.
The game is designed for children ages three and up so my two are just about at the perfect age for the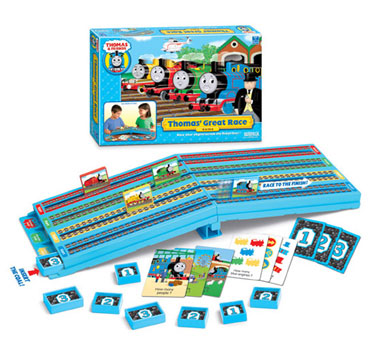 game.  Not only that, it is so nice to get together as a family around the table and just interact with the boys.  I think this is of major importance, especially this day in age, when families are always on the go.
We took the game out of the box and Bubs the younger of my twins was like "OHHHH WOW."  He is always saying this whenever there is something new to look at.  It is so cute how his face lights up.  Both of them recognized the characters right away and were ohhhing and ahhing over Thomas.  Both my husband and I sat with them to play the game.  Each of them are learning to count, so this game was fun and helped that along.  They are still a little young, when it comes to board games but I think this is a terrific start!  If anything, it teaches them the basics of following directions, counting and taking turns.
Each game includes a Great Race track, 4 racing engines, 24 question cards, 30 coal blocks and complete game rules. The race can be played with two to four players. Look for it on store shelves at specialty toy stores and major outlets!
THIS CONTEST IS NOW CLOSED! THANK YOU TO ALL WHO ENTERED!
Well tomorrow I am off to pick more apples. This time they are the Fuji apples, which are some of the best apples you can get. It is supposed to rain this weekend so I need to get my apple picking in. I mostly enjoy just being in the outdoors and wandering through the orchard. It will be a cold one, but I am excited, this is definitely goin gto be a future family tradition!!
Both of my boys are just at the age where they are showing an interest in potty training. They usually tell us when they have given us a little present in their diaper, so I figured that we should probably think about getting a potty of some sort.
The Boon Potty Bench has exceeded all of my expectations for a potty. I couldn't make up my mind whether I was going to allow the boys to sit on the big toilet, or if we would do potty chairs for them. The logical choice, I decided, would be a potty chair. First off it is easier for them to get to and secondly, they both want to do the same thing at the same time.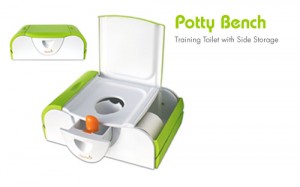 The Potty Bench has locking compartments on the sides that lock when the lid is closed on the bench. The compartments are roomy and hold a roll of toilet paper, a container of wipes, and can also hold a little book or some potty training rewards. When the potty isn't in use, it doubles as a step stool or bench. Both of the boys have been using it to wash their hands and to brush their teeth. They actually can both stand on it at the moment, side by side! It is even sturdy enough to hold me and can manage up to 300 lbs. I was pleasantly surprised, and intend on getting a second one, so there is no fighting over it. It is definitely worth the investment. Last thing you want is a potty that doesn't hold up to wear and tear.
The Boon Potty Bench typically sells for about $35 and 10% of their profits are donated to children's charities. So not only are you getting a great product, but you are helping a good cause.
If you are a Mom you know that there is almost always a visit to the grocery store in your near future!
I thought that I would just give you some of the things that I do to save money and welcome any other tips that anyone can offer!
-I almost always check the stores weekly ads to see what I can stock up on.
-Coupons, coupons, coupons! You would be surprised at how much you can save on things in the store with coupons. You can find manufacturers coupons at their product website, along with the coupons from your local newspaper. Some places even offer to clip for you. One place in particular is The Coupon Clippers. Sometimes my local grocery offers super doubles where coupons up to 1.00 in value are doubled!
-Stock up! I always stock up on the non parishable things like bottled juices, canned goods, and dry goods that I know will keep. This helps limit your visits to the store and discourages all the unnecessary buying that comes with frequent trips! Bread freezes well, and if you love milk like our family does…I always buy enough for 10 days. Also fresh frozen fruits are a good alternative when you run out of the fresh stuff. It always helps to extend supply.
-The freezer is your friend! The freezer is a great tool for limiting grocery trips. If you happen to hit a good stock up sale. You can make meals ahead of time that freeze well. Also if you can swing an extra freezer for the basement you can store alot of things in there! It's useful when meat is on sale!
-Make a list: And stick to it! It is ever so tempting to wander in the grocery and just buy, but if you have a strict agenda..then you can get in and get out and your pocket book will thank you!
I recently started taking these paid online surveys periodically just to see what they were all about. I just received my first payment in the mail for a whopping 3 million…oh wait I mean $3.00 LOL! I figure it is $3.00 more than I had before so it is a bonus. You have to love free money!