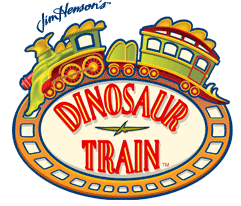 My boys love anything that has to do with Trains, Monsters, and Dinosaurs, so naturally any of those combinations are a big hit in this house.  I was really excited to learn about a new Jim Henson series called Dinosaur Train and even more excited to get a sneak peek at the show to see if it would be something that the boys would enjoy.
When I popped the DVD in to let the boys watch, their faces instantly lit up when the catchy music, brightly colored dinosaurs and the big choo choo train flashed on the screen.  I could tell instantly that this was going to be something they were going to love!
There are all sorts of learning opportunities and little off screen inserts where Scott D Sampson the Paleontologist teaches the kids a little something about dinosaurs.
The Characters

Buddy

Buddy, a curious, funny, and intelligent T-Rex is the star of the show. He is cautious, but always ready to jump into action and start asking questions. While on the Dinosaur Train, Buddy makes a hypothesis and begins searching for the answers to his questions with the help of his Mom, the Conductor, and the new dinosaurs he meets on the train. When Buddy isn't taking exciting trips on the Dinosaur Train, he is playing with his siblings, Don, Tiny, and Shiny and anticipating their next adventure.

Tiny, who loves to make rhymes, is quite clever and very brave. Tiny approaches every dinosaur she meets with the confidence of a news reporter trying to get the full scoop. Tiny is so brave that she often wanders a little bit too far; but, Buddy is always there to help her get back on the right track. And in return, Tiny is fiercely protective of her brother Buddy. Tiny also has two Pteranodon siblings: Don and Shiny.

Shiny is more "girly" than Tiny and proud of her shiny exterior, but can become shy in social situations. Shiny is outgoing with her siblings and acts as if she is the "wisest." She can be a bit of a show-off and loves role playing with her brothers and sister. Shiny is happiest at home in Pteranodon Terrace hanging out with Dad and Don, while her Mom, Buddy, and Tiny take trips on the Dinosaur Train.

Don is a sweet, mellow little Pteranodon. Although he has a goofy streak, he is steady as a rock and very focused on the task at hand. Don is loyal to all his siblings and graciously waits his turn. Once his mind is made up, though, Don goes enthusiastically head-first into every challenge.

Mrs. Pteranodon: teacher, companion, and tour guide extraordinaire. But, first and foremost, she is "Mom" to Buddy, Don, Tiny, and Shiny. She is always there to listen to Buddy's questions about being an adopted member of the Pteranodon family. Mrs. Pteranodon is intent on a good education, but she is also always looking for ways to let her kids explore their world.

The kids' devoted, hands-on "sports dad," Mr. Pteranodon loves to approach parenting like coaching a team. He can even make a squawk that sounds like a whistle when he needs to call "time out!" He exhorts his kids to work together towards their goals, often calling out, "Go Team Pteranodon!" He is fun, can be a little silly, and encourages the kids to "be adventurous."

The Conductor is a Troodon and a special friend to Buddy and his family. He becomes one of Buddy's heroes because he is the Conductor of one the most awesome trains of all, the Dinosaur Train! The Conductor is very intelligent and is happy to explain facts about dinosaurs, the places they visit and even how the Dinosaur Train works.
Without spoiling things for you, all I can say is that this is a really awesome program for kids and it offers the opportunity for them to learn about Dinosaurs in a fun and creative way.  By the time the show was over the boys had learned about herbivores, and omnivores.  They were running around the backyard pretending to be  Pteranodons and imitating the way they catch fish.
The series will start on September 7,2009 on your local PBS channel and it is one that you won't want to miss, so get your DVR's ready!  Get ready for the Dinosaur Train To Come To Your Town.
I usually only get to watch TV in the evening after the boys go to bed.  Last season, I had ER to look forward to each Thursday, and I must admit that I am extremely sad that it had to end.  I had been watching it since I was in college.  I attended nursing school and a bunch of us, including one of our professors gathered with popcorn to catch the new show.
I admittedly out of the loop on what is coming up on the local networks such as NBC, but I am also pretty burnt out on Survivor, Biggest Loser and all the popular shows.  It seems like a good portion of the shows start out ok and then become far fetched in the story line.  I do enjoy American Idol, and America's got talent, but beyond that, I am thoroughly bored.
So I did some poking around on the Fall Television lineup.  Fox has shows like House that I casually watch off and on with my  husband.  ABC will have the Bachelor, which I am interested in seeing if they will pick from the previous show.  CBS enters with shows like "How I Met Your Mother, Survivor, and CSI.  I love the crime scene investigation type shows, but it seems like they are running out of content, so it makes the shows redundant.
All in all, there doesn't appear to be much to choose from.  I am hoping something sparks my interest, otherwise I will be going to bed at 8pm, which might not be a bad thing.  I miss my ER!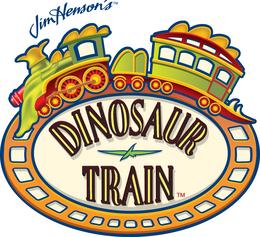 We are huge fans of PBS in our house and amongst their favorite shows are Sid The Science Kid. I have always loved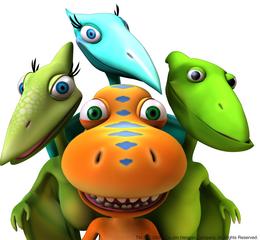 this series because they can actually learn things from it.  I have always loved the things that Jim Henson Company has done and was a huge fan of The Muppets when I was a kid so when I hear his name, I am always interested in seeing new programs.
PBS KIDS will debut an all-new CGI-animated series, DINOSAUR TRAIN, this Fall.   The new series embraces and celebrates the fascination that preschoolers have with both dinosaurs and trains while encouraging basic scientific thinking and skills as the audience learns about natural science, natural history and paleontology. The series will join other top-ranked PBS KIDS preschool series including The Jim Henson Company's series SID THE SCIENCE KID, which premiered in fall 2008.  I can't wait to show this to my boys because they adore  anything with trains and have a whole collection of dinosaurs that they play with.
DINOSAUR TRAIN is seen through the eyes of Buddy, a preschool-aged Tyrannosaurus Rex. Buddy and his adoptive family of Pteranodons go for adventures on the Dinosaur Train to meet all kinds of dinosaurs in different eras and learn fascinating new facts about these incredible creatures.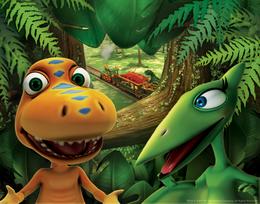 This looks like this might be a big hit amongst my twins and for any preschool aged child.  I am looking forward to watching this with my boys.  The best part about it, is I can watch all of this stuff as an adult and enjoy it with the excuse that I have kids!  I am a big kid at heart so it doesn't take much to excite me.
PBS and Jim Henson have always offered quality kids entertainment in my opinion so I have high hopes that this will be yet another great show.  Keep and eye out for Dinosaur Train chugging to your tv in Spetember of 2009!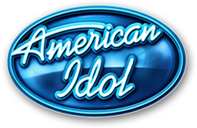 I am a huge American Idol fan.   My husband makes fun of me and he only likes to watch the auditions then he is done with the show.   I love to watch it from start to finish, and I actually go through a mourning when the show is over.   I savor every evening where I can sit and watch one of my favorite shows and then I can hardly wait for the next week.   When you become a parent, it's the little things, like a television show, that make me happy, not a date, but quiet time with my favorite shows.
This year American Idol kicks off in Phoenix, Arizona, home of Jordan Sparks.   So far I think the season shows promise, but I won't know who exactly I like, until I see more of the show.   I sometimes wonder about these people that show up that think they can sing.  The chic in the bikini was a little strange and she actually made it through, we will see what she has to offer with her clothes on.   I really like the guy who worked on the oil pumps for some reason, but only time will tell as the season moves forward as to who has what it takes.   I sometimes wonder if the judges are hearing the same thing I am, because some of the people that make it through are a bit on the iffy side.
Thankfully I have a Tivo hooked up with a dual tuner so I can record Biggest Loser and American Idol!  Anyway here's to a new season of American Idol…I am in couch potato heaven!