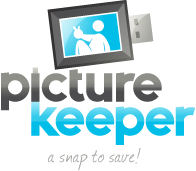 This day and age everything seems to be reliant on computers.  I know that I am on mine close to 8 hours a day and it is where I do a majority of all my writing and storing of just about everything.  Since we are smack in the middle of the digital age when it comes to cameras and taking pictures, it is only natural that you are storing them on your computer. When it comes to backing up images on your computer I bet a lot of us fail miserably.
I take tons and tons of pictures of the boys and I will have to sheepishly admit, that I don't have too many of them hanging on my walls. Let's face it in the digital age of picture taking, we all get lazy and get all too comfortable with the idea that we have them stored somewhere on our hard drive.  The reality of it is, that, hard drives fail and ultimately put you at risk for losing all of your precious memories.  My husband has a server in which he keeps a lot of our important files and photos on, but even then, I like to keep a disk or something that holds my pictures in a safe location far away from the computer.  Anything can happen and knowing that I have some alternate location for storing my photos eases my mind.
Up until now, there really wasn't an easy way to gather all of my pictures on my computer.   I store all of my photos in different locations on my hard drive.  I have photo files dedicated to reviews that I do here, my photography business stuff is stored in another file, and the pictures of my boys are in another.   So everything is sort of all over, and wouldn't it be nice to just be able to  have a device that does all the work for you and gathers all the pictures on your computer, organizes them, and wahlah, you have them all together?
Well now there is a simple solution, and what I like to call my magical anti-stress device, called the Picture Keeper. I was recently given a Picture Keeper to try and I am very impressed!  The Picture Keeper is a little USB flash drive that creates a backup of your images simple by plugging it in your computer and clicking the "start backup" button.  Then it works its magic and finds all images with jpg extensions on the computer. If you wish to backup other images with a different extension there are advanced option to where it can save additional file types.   The folders and sub-folders are copied just as they are on you computer! And it gets even better. If you have multiple computers, which I do, you can just plug it in on the next computer and do the same thing.  There is no special setting, and Picture Keeper does the work.  When you want to go back in and update your files and do another backup, you don't have to remember what files you have or haven't gotten because the Picture Keeper will do that all for you as well. Do they make husbands like this? LOL
Being someone who takes a lot of pictures and in the photography business, I am always conscious of the fact that I have so many pictures and that computers do fail, and having some other form of a back up is critical. The Picture Keeper is nice because I can set up a few different backups and store a few of these flash drives in various locations. I would recommend getting several,  and keeping one in your home, giving one to a trusted family member to hang on to, and maybe keeping one in another location. This way you have multiple back ups in case something happens with your home then you have all your memories preserved.  Just to see how it worked, I plugged it into my laptop and let it go.  Later when I did a backup on my main computer with all my photos, it was just as simple.
ABOUT PICTURE KEEPER
Inventor Matthew Stanchie knew there had to be a better way to backup digital images. Despite working
for Hewlett-Packard, the thought of backing up his personal photos gave him a headache, and he could
only image what others without a background in computers went through. So, he created a user-friendly
program that automates the task (making sure to get the approval of an evaluator from his target
demographic—his wife.) Picture Keeper plugs into any PC, including Macs, and copies all images with
one click. With Picture Keeper, it's a snap to save.
Picture Keeper is available in 4GB, 8GB and 16GB sizes online at www.picturekeeper.com.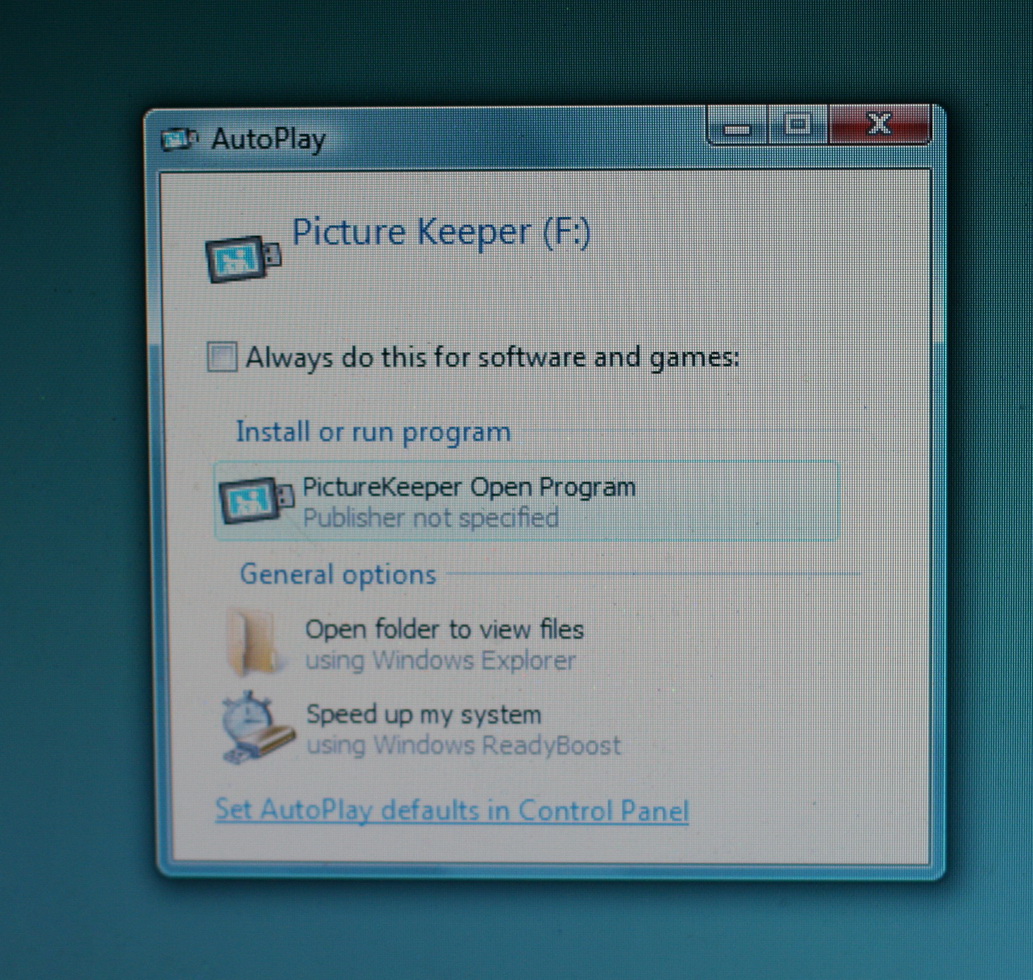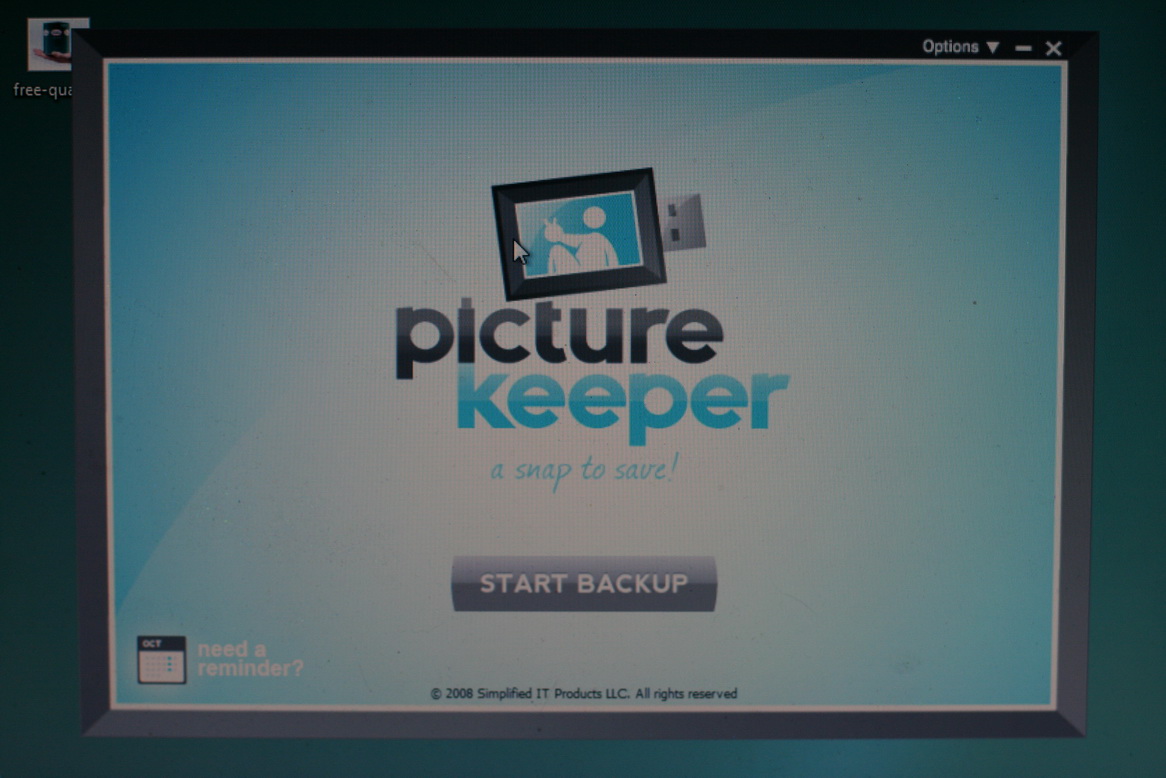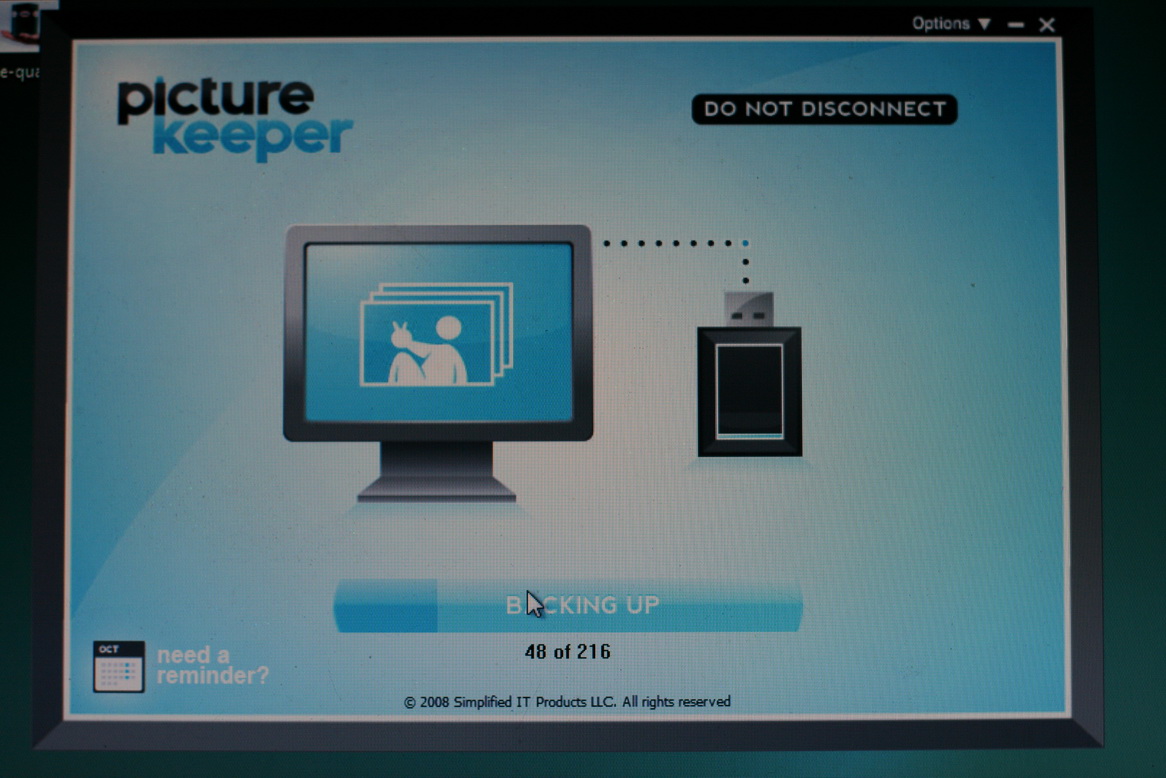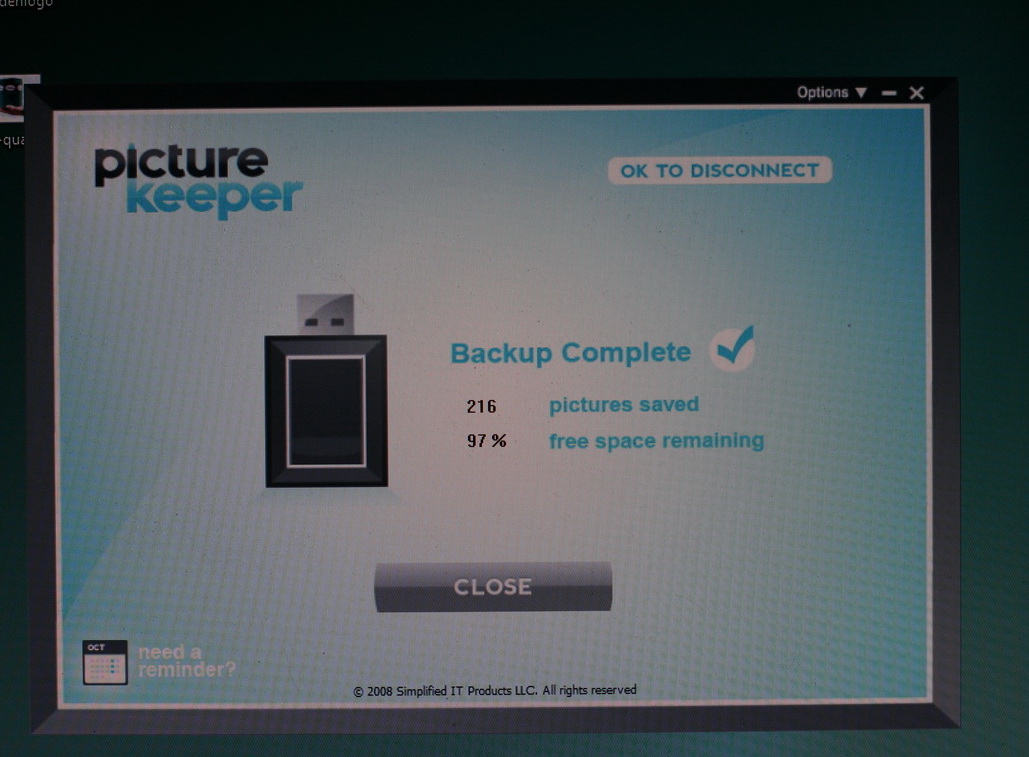 I was amazed at how fast all my files were backed up and how easy it was to use. Anything that can make my life easier, is a huge plus. The Picture Keeper is so awesome that Dr. Toy awarded them with a Best Vacation Product for Summer 2009 Award. I definitely give The Picture keeper the mom seal of approval and I applaud it's ease of use. It isn't a complicated gadget and yet it is worth a million dollars if something ever happens to your photos. Picture Keeper retails for 8GB ($39.99) and 16GB ($59.99).  The price is worth it when you consider how much it would be if you lost all of your photos!
Would you like to win a Picture Keeper of your very own??? DoubleBugs is giving away an 8GB Picture Keeper to one lucky reader.
THIS CONTEST IS CLOSED

Here's what you gotta do.
Mandatory
Leave me a comment and tell me one of your worst nightmares in losing your photos or why you think you might like to have a Picture Keeper.
For Additional Entries
You can tweet about this contest
Blog about this contest
Subscribe to my feed
Add me to twitter
Add me to your technorati favorites
Grab my button
Winners are Chosen Via Random.org
If Winner does not respond in 48 hours a new winner will be drawn
Contest Starts June 28, 2009, and Ends July 31, 2009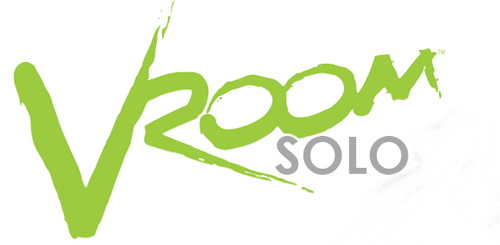 When it comes to vacuuming, it seems like I have our vacuum attached to my hip all day long.  With two 3 year olds running around, a dog and a cat, I am always cleaning up hairballs, and messes.  I have to be pretty vigilant about keeping the pet hair up off the floor because one of my twins has allergies.  One of the major pains about vacuuming is you have to unwind the cord, get it plugged in and then you have to put it all away.  If you vacuum your high traffic areas frequently, like the kitchen and foyer, then you have to get out all your gear and move from plug to plug to reach everything.  I know my current vacuum has a very limited reach so I have to move plugs, I don't mind doing it that way if I have to, but anything to make it easier is a plus.
I was given the opportunity to review the Vroom Solo vacuum and I must say that I love how easy this thing is to use and put away!  And even better when you "put it away" it is hidden from sight and you don't have a clunky vacuum cleaner laying about.  Vroom Solo can be installed right under your kitchen sink and is perfect for high traffic areas in your home, and you don't have to lug out your vacuum when you need to do a quick cleaning.  Vroom solo, also has a 24ft retractable hose which makes it easy to reach just about anywhere in my kitchen which is where a majority of the messes occur.
Installation was pretty easy. We did have to do a little work changing out our outlet to accommodate plugging in our dishwasher and the vacuum but that only took us about five minutes to do. I highly recommend having a professional install the vacuum you don't feel comfortable messing with wiring and installation. Vroom offers installation from qualified dealers in your area.  The unit that holds the hose is mounted to the inside of the cabinet to keep it in place and typically the collection unit where all the stuff goes can be placed next to the unit that holds the hose, but under our sink we had to put it on the opposite side.  It works great either way, as you can see from the pictures and video.
After installation, we were ready to give this thing a whirl and I gave it a workout!  I swept behind the dishwasher since I had that pulled out, behind the fridge, under the kitchen table, along all the baseboards, where the dog hair seems to collect, and my entire kitchen floor.  Everything was spotless and I didn't have anything to put away afterwards.  I was impressed with the power from this little thing that is no bigger than a pc box or gaming device.  The vacuum does come with and extra hose attachment and a brush attachment  and I store those under my sink with the vacuum.  Now when any messes occur, I know that I can just pull out my Vroom and off I go. You can use this vacuum anywhere in the house and Vroom would be perfect for the laundry room, the basement, and bathrooms so you have quick cleaning access in all areas of your home.
The Vroom Solo retails for $299 which isn't too shabby for a vacuum, and I know that I paid close to $500 for my Dyson and the Vroom solo has just as much power and a whole lot more convenience.  All in all, the Vroom Solo is convenient to use, works great, and can be kept where it doesn't contribute to clutter in your home.  As a busy mom this is a huge plus! You can also register to win one on thier site.  Now get busy and "Vroom Your Room!"  Thank you Vroom for a great product!

Ok so here's the deal. I decided to try this out. I know that Mondays are hard because you are busy getting back into the swing of things. Being a stay at home mom means my husband goes back to work and I am again working solo in all things household. I figured that I would share my dinner with you, and maybe it will help give you some ideas. I know from experience that it is so easy to get in a rut when it comes to thinking of what to make for dinner, and for alot of families you need things that are fairly easy to make.
The meals I make aren't foo foo either because being a mom of twins doen't give me a whole lot of time to fancy things up. And, I don't think toddlers care just as long as their bellies are full.
So here is today's meal!
Chicken in the crock
I just toss in 4- 6 boneless chicken breasts
1 carton of chicken stock (usually use Swanson)
2 cans of Campbells Cream of Chicken and Mushroom Soup
Toss it in the crockpot and let it go on high for about 6-8 hours
Fresh Garden Salad (toss in whatever you want…I like to buy the bagged lettuce and wash it, add a tomato, cucumber, a few grapes, and some cheese…green goddess dressing is our fav)
Steamed Broccoli (The Birdseye Steamfresh broccoli is perfect! I just add a little butter, sprinkle with salt and garlic powder)

Au Gratin Potatoes (I use the Betty Crocker ones out of the box but if you are industrious you can make your own homemade ones)
Fresh Frozen Peaches (I buy the ones at whole foods, thaw them out just a little and sprinkle with a little brown sugar and cinnamon or just a little plain sugar…the boys love these!)
This is a fairly simple meal to make and the chicken is so good.  You can also serve the chicken over rice or noodles as an alternative.   Here is my meal in pictures!  It doesn't look gourmet but the plates were cleaned!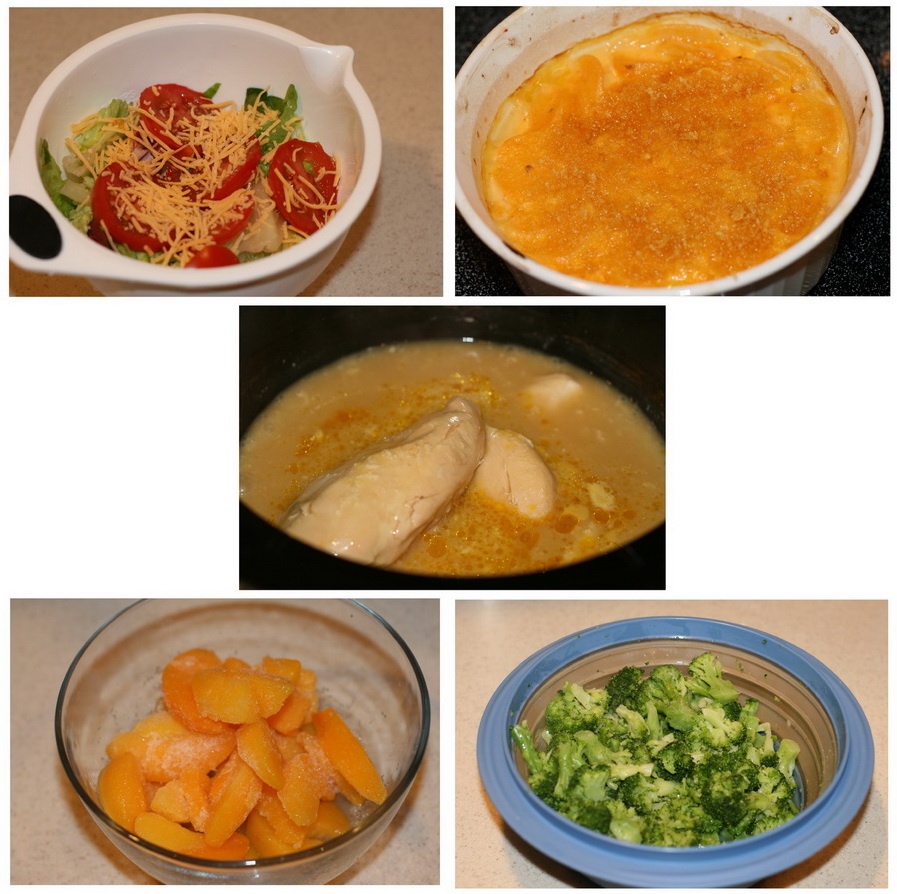 Share your Monday Dinner Ideas!

I am always looking for ways to get organized. Since having children, it seems that my mind is busy trying to be in fifty places at one time.   I am planning what is for dinner, remembering where I need to go, doctor's appointments, and what needs to be picked up at the grocery store, and errands to run.   With all these things swirling through my head, I almost always forget something.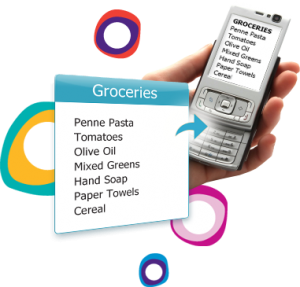 I was recently introduced to Cozi, a FREE web service that helps busy families manage crazy schedules, track shopping and to do lists, organize household chores and stay in communication, all in one easy-to-use solution.  It gives you one central location to manage everything from family schedules, shopping lists, messaging tools, mobile messaging, and even a family journal.   One of the coolest features Cozi has , is that you can access your shopping lists or schedules from your mobile phone!   I cannot tell you how many times I have left the house without my shopping list or, I cannot remember if the boys appointment was at 10 or 10:30.  Simply call up Cozi using their toll free number and it can read it to you over the phone or text it to you!  In addition, Cozi now has a mobile version especially for the iPhone and Windows Mobile phones! Families can now sign-in and access their Cozi account using their mobile web browsers.   They can add and edit shopping lists and view and edit their family calendar using the mobile version of Cozi right from their iPhone.  This is a new feature! You can learn more about it here.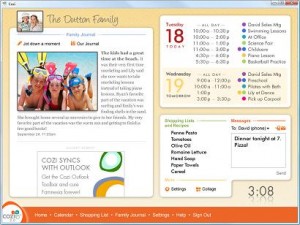 Cozi is such a cool site and it makes getting organized fun and makes forgetting even more fun!  I can't wait to leave home without something just so I can try it out.  Plus, there will be no more tearing off the corner of the phone bill envelopes to scribble down my grocery lists (an I know you know what im talking about  lol).  Check out Cozi and save your sanity as well a few trees!
As a stay at home Mom I am busy preparing 3 full meals a day and snacks pretty much 7 days a week. After awhile as you can imagine I get bored, as well as, the boys. It's hard to come up with new ideas when you don't have alot of time and meals need to be nutritious and fairly fast for impatient little ones. I thought that I would share some of the things that my boys like to eat but are fairly simple to prepare.
As a rule of thumb I always try to offer them fresh fruit for breakfast, lunch, & dinner. I also offer the boys snacks and drink throughout the day.
-My boys love berries of every kind! Raspberries, Blackberries, and Strawberries (sliced) make colorful additions to meals and also make great snacks. I also buy these fruits dried and pack them if we go out. Brother's All Natural is one of the brands that I buy. If fruits aren't in season I will look at buying them frozen.
-For vegetables I make a lot of the Birdseye Steamfresh Veggies! I love these things because they are easy to prepare. The boys love the broccoli florets from them (sprinkled with a little garlic powder salt, pepper, and a touch of butter). I always try and make it appetizing for them. Usually a bag of broccoli will make it through two meals so I always have a vegetable at the ready for meals.
-For the main part of the meal I offer the boys all sorts of things. For example I give them meatballs, or chicken tenders, they love pasta of any kind. I like to make them mac and cheese and I throw in a little extra cheese for the calcium as my boys aren't huge milk drinkers. We are working on using our forks so anything that is "fork friendly" works well for them! Grilled ham and cheese is a favorite and I slice it up in little squares. Monkey is my salad eater, so he loves that with ranch dressing. Also they are at a stage where they like to dip their food in ketchup etc. So this allows for interesting taste and can make ordinary foods taste different.
-For breakfasts we do scrambled eggs with cheese, bacon sometimes, they love sausage. My husband brought home some organic toater pastries and they loves those, I use Bisquick to make mini belgian waffles and this will last me two days or I can make the whole batch and freeze them. Also to change it up you can ass blueberries or bananas to them.
-If I give them juice I always water it down..they get the taste without all the unnecessary sugar.
I almost never omit junk foods, its always a treat for them to get something fun. I think that is part of being a kid. My two love getting the freezer pops. Just as long as you don't over do it and offer them a variety…they will have healthy eating habits.
I have only bid on ebay a handful of times for various little things. The one frustrating thing is being outbid in the last remaining seconds of an auction grrr! Nothing like getting your hopes up for that thingamajig that you really wanted to brighten up your button collection or whatever it may be. I ran across a site that allows you to type in what you are looking for and then looks it up with all the common misspellings on Ebay. These items have fewer bids or no bids because the person who put it up for auction spelled something wrong. This increases your chances of getting those buttons! Kind of cool!
Being a mother of twins, I am always looking for things that make my life a little easier! Whenever we go to restaurants we always have a hard time with where to put the boys' food because we never want to put it directly on the dirty table tops and the paper place mats they give you always go flying off the table. If the plates were a little less breakable then that would be great because often times the plates can go flying with two toddlers! While I was at Babies R' Us this past weekend I found these really cool place mats that you can travel with and they roll up when you're done and you can wash them at home, they also have this really cool catch all pouch so you aren't losing a ton of food on the floor! I'm sure the staff at the restaurant appreciate that! Its the Tiny Diner by Kiddopotamus…Did I mention I love these things??!!