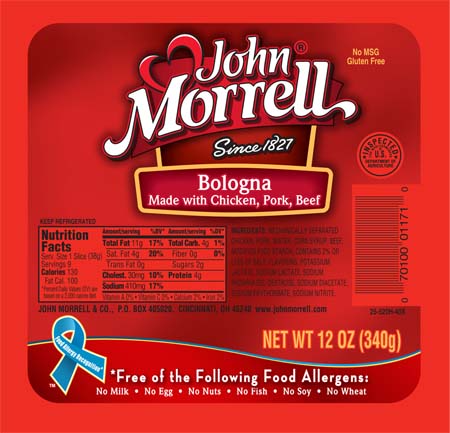 Allergies are big deal here in my house.  I have always suffered the occasional sniffles and sneezes that come along with allergy seasons, and as a child had a milk allergy.  Since having the boys, I have always been concerned that they might acquire some of my husband's allergy problems.  As babies, I was always a little on edge when trying new foods, because you just never know when a food allergy would pop up.
There are a whole host of food allergies that run in my family.  I actually have an Aunt that is severely allergic to beef.  They aren't certain if it is an allergy to the hormones that are used to treat the cattle or not, or if it is something else.  Often times when you read a food label, there are a myriad of food preservatives or other ingredients that could potentially trigger a food allergy  in them, so having foods available that offer an allergen free alternative is always nice and choices may not be as limited.  Plus, when you read that some foods my not actually have nuts in them, but have been processed in places that do use nuts, it makes you even more concerned and more limited on the foods you can buy if your child or family has food allergies.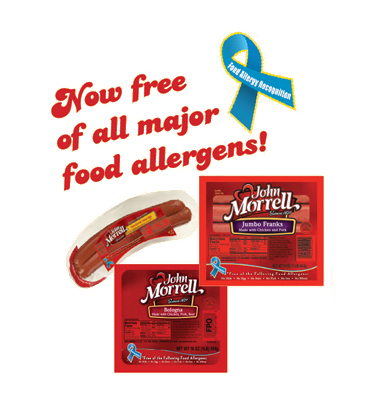 We recently were given the opportunity to try John Morrell Allergen Free Meat.  John Morrell makes their brand hotdogs, smoked sausages, and bologna now 100% "worry-free".  This means that they are free from allergens of milk, nuts, egg, soy, wheat, gluten, and MSG!   They even went a step further by making their hot dogs, smoked sausages and bologna in a completely allergen-free facility.   We tried their hotdogs on a weekend trip to the lake and grilled out.  They were a big hit and I didn't notice any taste difference, and I could be happy knowing that I was avoiding some of the potential things that could possibly trigger a  food allergy.  It is also nice when you have people that have allergies to foods, that you can have them over and not feel like you have to exclude them from your meal, or make separate a separate food choice. 
If you or your family has food allergies, John Morrell Allergen Free Meats may be a great choice for you and your family to enjoy without the worry.  If you or your family would like to give John Morrell Allergen Free Meats a try you can visit their facebook page and get a $1 off coupon towards your purchase! 
"I wrote this review while participating in a blog campaign by Mom Centralon behalf of John Morrell and received a free coupon for John Morrell products to facilitate my candid review. Mom Central also sent me a gift card to thank me for taking the time to participate."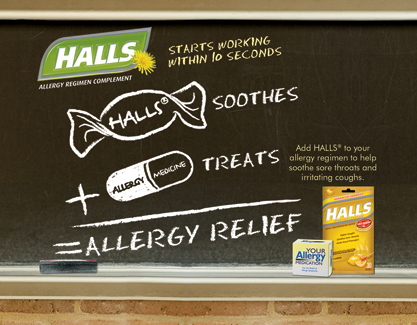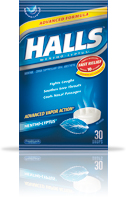 This has to be one of the worst allergy seasons for me and my family this year. Our entire family seems to suffer from seasonal allergies. But my husband seems to get them the worst. My poor husband has been sleeping upstairs because with allergies, his snoring has become almost unbearable.
All of us are armed with allergy medications this year and take them on a regular basis. But even with medication, it seems like it is hard to get any sort of relief. My husband and I have the biggest problem with our noses being so stuffed up we can hardly breathe, and my worst problem is always having one side of my nose plugged up in the morning.
I get up and take my allergy medicine and wait at least and hour or two for it to take effect. In the meantime me and my husband spend a good half of the time sniffling away with stuffed up noses.
Finding methods for quick relief are always a plus. We were sent some Halls cough drops to help with just this sort of problem and provide some much needed short term relief while you are waiting for allergy medicine to kick in. Halls can complement your medicine and help relieve allergy related sore throat and cough symptoms and even help cool nasal passages. I have always taken Halls when I have a cold, and the feeling of being able to breathe easier with a stuffed up nose, is just something you can appreciate, when you are already feeling miserable.
Halls is a great addition to your allergy regimen for fast-acting allergy relief, so you can get on with the more important things, like playing outside with the kids and breathing a little easier!
"I wrote this review while participating in a blog tour campaign by Mom Central on behalf of Halls and received products necessary to facilitate my candid review. In addition, I received a gift certificate to thank me for taking the time to participate."

Both my husband and one of my boys have extreme allergies. I love Spring and all the flowers blooming but along with all these wonderful things comes the sniffling, sneezing and breathing issues.  One of my sons is always rubbing at his little nose, and nose drops have become a nightly routine just to keep him from sneezing so much.
Because of his allergy issues, it is imperative that I keep up with cleaning the house and taking measures to prevent allergens in our home.  We have the pillows and mattresses coveres, and air purifier running at all times in the room, we keep the dog out of the bedrooms, and I am vacuuming sometimes twice a day.
One important factor that many people forget is to change their furnace filters.  For us, it is one of those things that is out of sight and out of mind until you realize that you are way past due for a filter change.  But since we have allergies running rampent in this house, I put a reminder to change the filter on our calendar.
Studies indicate that indoor levels of many pollutants may be two to five times higher than outdoor levels, making it one of the top five urgent environmental risks to public health.  In fact, many seasonal activities such as cooking, spring cleaning and redecorating can spread indoor pollutants.
Dr. Neil Schachter, M.D., past president of the American Lung Association of the City of New York, suggests a "home health check-up" to help make your home a healthier place to live.  He recommends avoiding cleaning products that contain ammonia or chlorine, and limiting your pet's access to certain areas of the home, including the bedroom. A high performance air filter, such as a Filtrete filter, may also help improve indoor air quality.
It is currently recommended that you change you air filter at least once per season.  This is about every three months. This may be the last thing on your mind especially when you are busy with life in general.  3M, makers of Filtrete filters recognizes that this is often neglected, so they offer the Clean Air Club.  You can receive a season e-newsletter featuring special offers, better home living tips, and filter change reminders.  Plus the first people to sign up each week will receive a free bamboo plant.  Plants act as a natural air purifier in your home!
If you or anyone in your house suffers from seasonal allergies or allergies in general, this is a great resource to help you get on your way to a cleaner, more allergy free home.  Thank you to Mom Central and Filtrete for helping to understand the importance of how to help better your home for allergen protection.