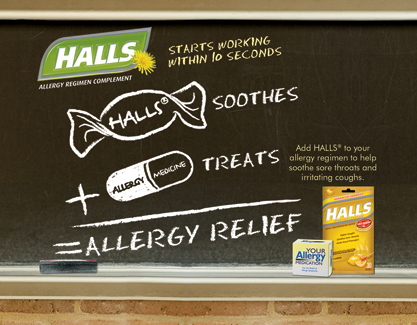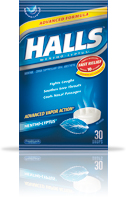 This has to be one of the worst allergy seasons for me and my family this year. Our entire family seems to suffer from seasonal allergies. But my husband seems to get them the worst. My poor husband has been sleeping upstairs because with allergies, his snoring has become almost unbearable.
All of us are armed with allergy medications this year and take them on a regular basis. But even with medication, it seems like it is hard to get any sort of relief. My husband and I have the biggest problem with our noses being so stuffed up we can hardly breathe, and my worst problem is always having one side of my nose plugged up in the morning.
I get up and take my allergy medicine and wait at least and hour or two for it to take effect. In the meantime me and my husband spend a good half of the time sniffling away with stuffed up noses.
Finding methods for quick relief are always a plus. We were sent some Halls cough drops to help with just this sort of problem and provide some much needed short term relief while you are waiting for allergy medicine to kick in. Halls can complement your medicine and help relieve allergy related sore throat and cough symptoms and even help cool nasal passages. I have always taken Halls when I have a cold, and the feeling of being able to breathe easier with a stuffed up nose, is just something you can appreciate, when you are already feeling miserable.
Halls is a great addition to your allergy regimen for fast-acting allergy relief, so you can get on with the more important things, like playing outside with the kids and breathing a little easier!
"I wrote this review while participating in a blog tour campaign by Mom Central on behalf of Halls and received products necessary to facilitate my candid review. In addition, I received a gift certificate to thank me for taking the time to participate."