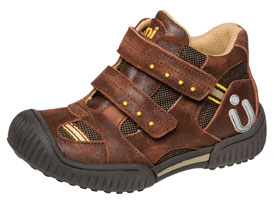 With Summer winding down and Fall kicking in, it is time for back to school, cooler weather, and new wardrobes.  With kids shoes you have to buy them more frequently because their feet grow so quickly. I love buying shoes for little feet, and it seems like each and every pair has a little character all of their own.
Fall is my favorite time of the year to buy shoes for the boys, because I love all the rich earth tones and colors.  Besides the fashion statement, I like to look for shoes that I know will withstand the wear and tear of two rambunctious little boys and still look great after a hard day of play.
The difficult task in buying shoes for them, is I cannot try them on myself and sometimes young children can't exactly verbalize whether or not a show is comfortable, so as a Mom I like to check the shoe out before I put them on their feet.  Umi shoes have been a long time favorite in our house because they are the ultimate in comfort for little feet.  Every shoe that we have ever gotten from Umi always wears beutifully, flexes and bends with the boys feet, and are lightweight, so they aren't tripping over them.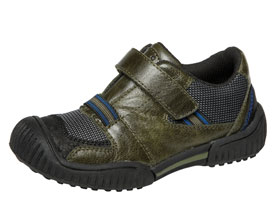 Recently, we were sent two pairs of their newest shoe styles for this Fall, and I instantly fell in love.   We received the Aileron and Aviator and they are some of the most handsome shoes for their little feet.  The Aileron is a cute little half boot type shoe with leather and just enough mesh like detailing that makes the shoe stand out.  The Aviator comes in Black or Forrest which is my most favorite of the shoes we received.  Both pairs of shoes are versatile and are great for play and a night  on the town afterwards.  The boys love to put their Umi shoes on and you can tell that they feel good on their feet. I swear by Umi shoes and they are built to accommodate fast growing little feet with a little extra room to grow too!
Umi has a wide variety of new styles to choose from for boys and girls this Fall.  Your little guy or gal will be the talk of the town and you will be happy they are walking on clouds.  You can find Umi shoes online at their site www.umishoes.com or at www.endless.com.
**Thank you to Umi who provided me with these shoes for review**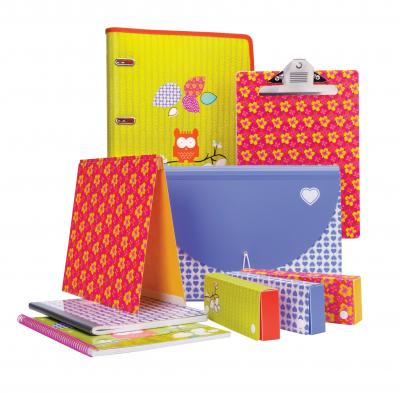 It's that time of the year again when all the kiddos are heading back to school.  When I was a kid, it was always exciting getting all those new school supplies and heading off to school all organized.  It always seemed like everything stayed organized for the first few weeks and then it always seemed to fall apart.
Recently I was able to participate in a web cast  with organizational guru Peter Walsh just in time for back to school.  He was giving some wonderful tips on how to get your child organized for school and how to keep them organized, using some wonderful tips and supplies from Office Max and their new Schoolio Von Hoolio back to school line.  Everything in this new bright and cheerful line can help your child get organized and stay organized while focusing on the more important things in class.
Peter Walsh offered up some fantastic. tips to help your child stay organized.  Color coding can be a great way to teach your child how to stay organized.  By color coding, it makes things easy for your child to recognize and to put things back in their place.  He also stressed how important it is to lead by example, as this sets a solid foundation for your child to learn organizational kills that will carry through into their adult years.
Whenever I watch Peter Walsh, I start to look around my house to see what I can attack in the way of cleaning.  I find myself walking by the kitchen junk drawer and the next thing I know, I have completely reorganized all of my kitchen drawers.  I have always found that being organized in your home makes being organized in your finances, work, and everything you do, so much easier.  I have also discovered that whenever there is clutter around me, I can't even think normally, because it is a distraction.  The same thing probably holds true for kids.  Sure they can function in clutter, but I think they can perform even better when things are organized.
Here is a recap from the web cast
TIPS FOR HOME
1) Find the Vision you have for a Space
2) Make Organization a Family Value
3) Use the Right Tools for Great Organization
TIPS FOR ORGANIZING YOUR CHILD
1) Show that you Value Organization
2) Establish Clear Limits and Routines
3) Always 'Finish the Cycle' (Complete a Task)
TIPS FOR THE CLASSROOM
1) Establish Clear Routines
2) Involve Kids with Classroom Organization
3) Use Words, Pictures and Color to help Organize
You can see Peter's web cast here!
So get organized and get back to School with Peter Walsh and Office Max!
**Thank you to Office Max for providing me with some wonderful school supplies form their new line!**