Brownies have to be one of my all time favorite treats, especially when I am craving something chocolate.  It is no secret in my house that I am an edge lover.   I will sheepishly admit to making a whole pan of brownies, and eating only the edges.   By the time I get done it looks like some one tunneled a path around them.   After that the brownies are fair game because I won't normally eat anymore.  Anyone who wants to call out the corners, well you got to beat me to them first!
Then it happened….   A true love affair.   There just so happens to be a pan especially for smitten edge lovers like me!  I couldn't believe my eyes when I ran across the Baker's Edge "Edge Brownie Pan."   It was love at first site, and I don't think I will ever use anything else.  At first, I thought, this is too good to be true, but when I took it out of the box and made my first batch of brownies, my heart went pitter pat.   Not only does the pan work well, it makes the best double edged brownies ever!  Each brownie has the perfect combination of slight crust on the very edge and that wonderful chewiness  with substance.   And as if two edges weren't enough, there are the two double cornered brownies at the end reserved only for mommy.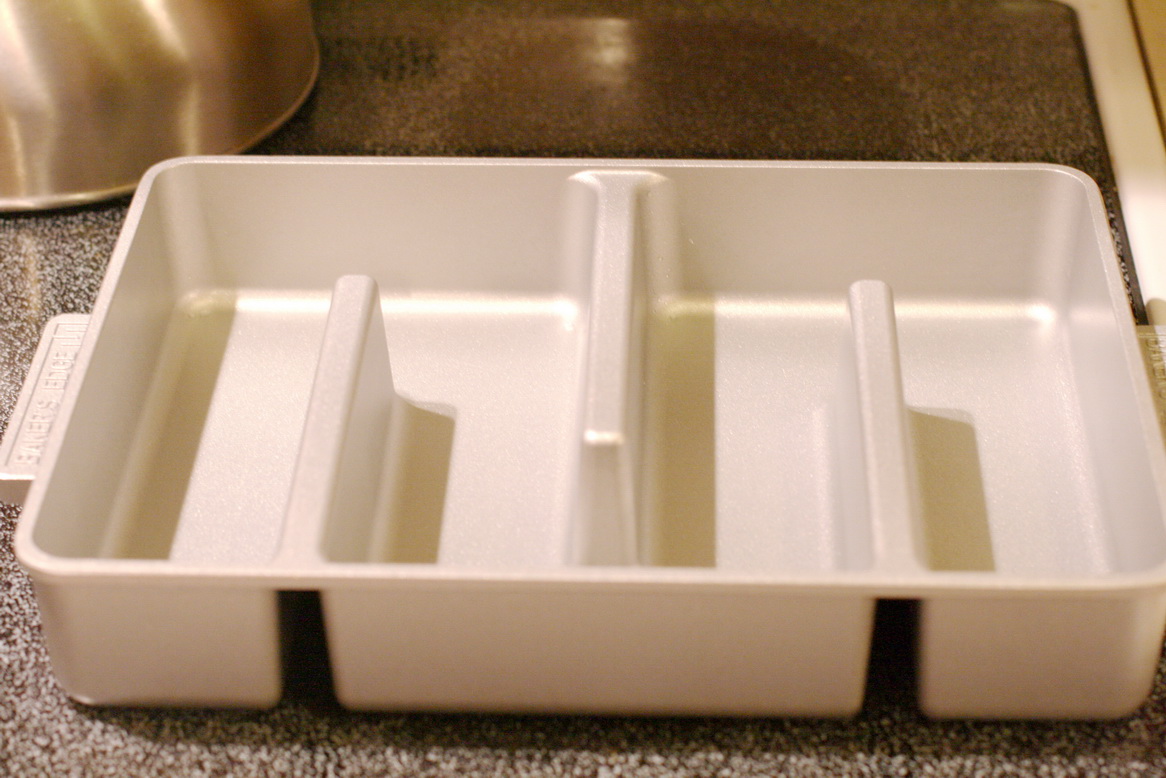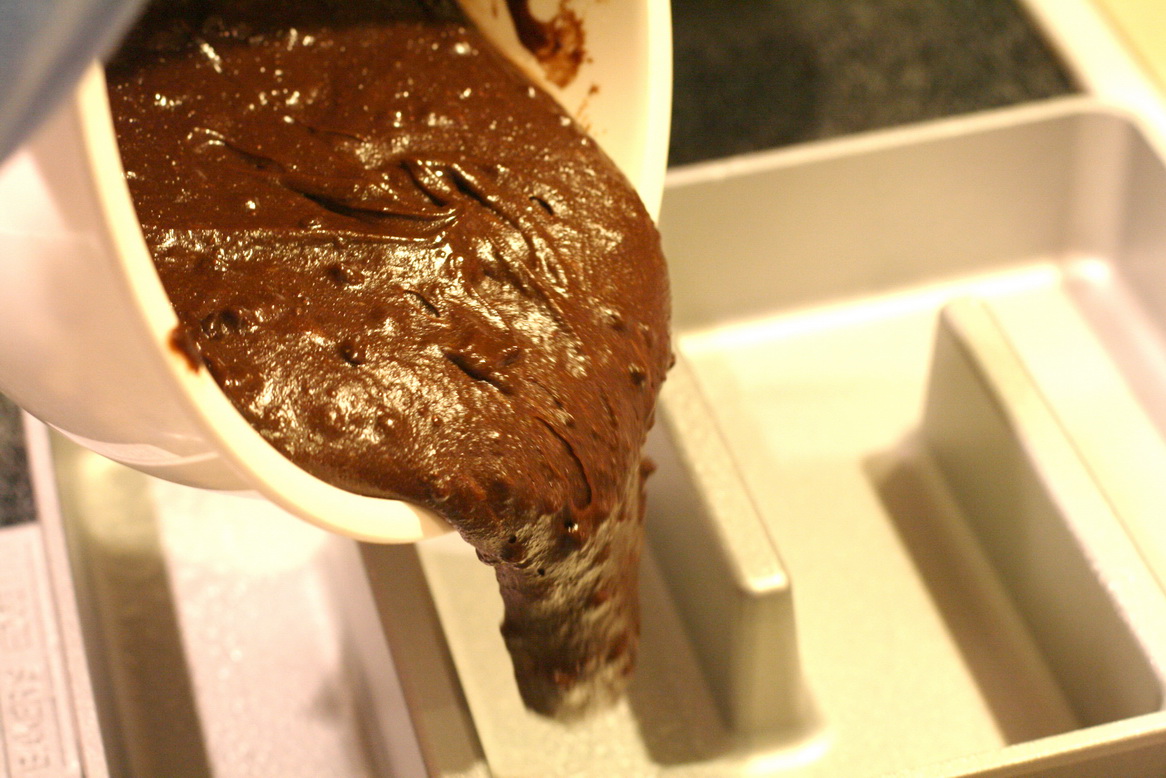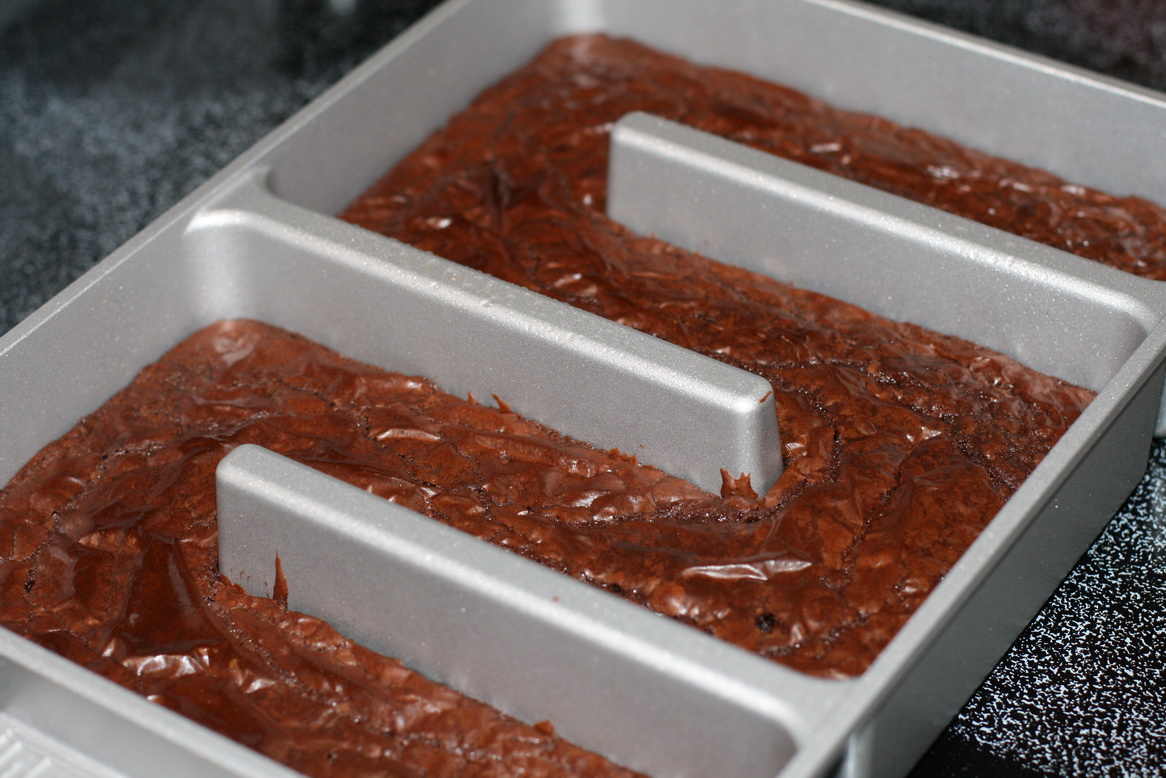 Features
Two delicious, chewy edges on every brownie or bar cookie (individual serving)
70% more edge (side) surface area than a conventional 9"x13" pan
Sized to fit most box mixes with no adjustments necessary
Perfect for moist and chewy brownies, bar cookies, and breads
Better Baking from Edge to Edge
Patented interior sidewalls circulate heat evenly throughout the pan
Better performance – fewer undercooked middles and burned edges
Premium nonstick coating and round, easy-to-clean corners
Heavy-gauge cast aluminum construction for superior durability
Recessed handles allow pan to be easily gripped when turned upside-down
Lip on underside helps to prevent fingers from slipping
Custom mini-spatula and recipes/instructions insert included
This pan would also make a perfect gift for any cook in the family or definitely brownie lovers. It is extremely easy to use, and the spatula that comes with the pan is perfect for getting the brownies out. There are even some recipes that came along that you can try. The pan itself will fit most standard boxed brownies our favorite is Ultimate Fudge Brownies from Betty Crocker yummy! I love this pan….thank you Baker's Edge for an awesome product!

One of my most favorite things to do is to get in the kitchen and cook, especially if I can open up a recipe book and find a new dish. They always say that the kitchen is probably one of the main hubs of the home, and having a family to feed, means I am in there at the very least, three times a day.
We just recently went apple picking with the boys and of course this means that there is baking to be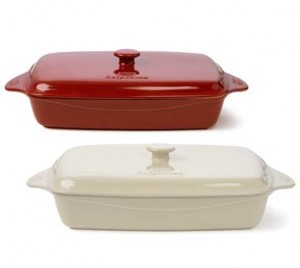 done! I went right to work looking for the perfect apple pie recipe to try with my new Calphalon ceramic deep dish pie pan. I have almost always associated the Calphalon name with my pots and pans that I own, and was pleasantly surprised when I found out that they had a new ceramic bake ware line. I had the chance to try out their pie pan and 9×13 covered dish. Of the things I use most, it would have to be the 9×13 rectangular baking dish (perfect for casseroles). I currently do not own one with a lid however, so this was something unique to me. I know that there may be others, but this is the first time I have laid eyes on one and I love this feature! Not only that, their ceramics can go from fridge or freezer and straight into the oven or microwave. This is great for make ahead dishes, then all you have to do is take it out of the fridge or freezer and just pop it in the oven. Calphalon ceramics are dishwasher safe, which is also a nice feature especially for families like mine who are always on the go.
Calphalon Ceramics Features
Contemporary Design for sweet and savory baking
They can go from the freezer, to the oven, to the table, to the refrigerator…allowing for complete versatility through the cooking to storing process
Glazed interiors — red and cream exteriors
For oven, broiler and microwave cooking
Calphalon ceramics would make such a wonderful addition in any cook's life and is simply a must have if you enjoy cooking as much as I do. My Beef shell pasta casserole turned out awesome in the 9 x 13 dish and the leftovers, I just put on the lid, and shoved it in the fridge for the next day.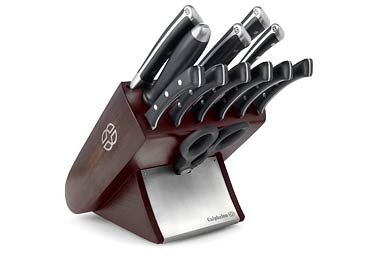 As if Calpahlon's ceramic line wasn't enough, I got the privilege to experience their LX series cutlery line. And I say experience, because it was the ultimate pampering session while I was using their 8 inch chef knife. If you are one who loves to cook, you can appreciate a good knife. My husband could hear me ohhing and ahhing from the kitchen while I was chopping my onions for the chili. I am simply in love with these knives and I actually tossed out my old chef knife because it pales in comparison. Chopping through that onion was like chopping through melted butter! I couldn't believe what I have been missing all these years with my 10 year old knife set. You would think a knife is just a knife…but it isn't and Calphalon's LX Cutlery will prove the point. It even fits comfortably in your hand and you just know that you are holding a well made piece of cutlery simply by the sheer weight and feel of it. I am completely spoiled now, and I don't think I will ever go back to my old knives!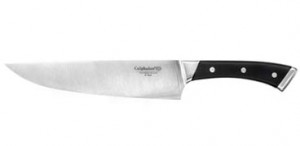 Features

Each knife is made from high carbon German no stain steel
sharpens more easily than stainless and maintains it's edge longer. The ergonomic handles has each knife's identification etched on the bottom of the handle for easy knife selection!
- Blade:
German steel—high carbon, no stain steel with Molybdenum and Vanadium
One piece of metal for blade, bolster and tang
Full tang for balance and strength
Fully tapered from cutting edge to spine and from tip to heel for superior strength
Tempered- heat hardened to 1000 degrees C

HRC 54-56 (Hardness Rockwell "C" scale – a standard measurement of hardness)

- Handles:
Full tang—first ever ergonomic handle which shows the full tang

Made from fiberglass reinforced poly-resin—won't split, crack or harbor micro-organisms
Knife identification etched on the butt of the handle
Classic triple riveted handle updated with modern ergonomic design
Lifetime Warranty


I am thoroughly impressed with both my Calphalon ceramics and cutlery. These would make perfect holiday gifts for the cook in your life and come backed by the Calphalon name you can trust. I still have my pots and pans that are at least 10 years old and they are still just as wonderful as the first day I used them.