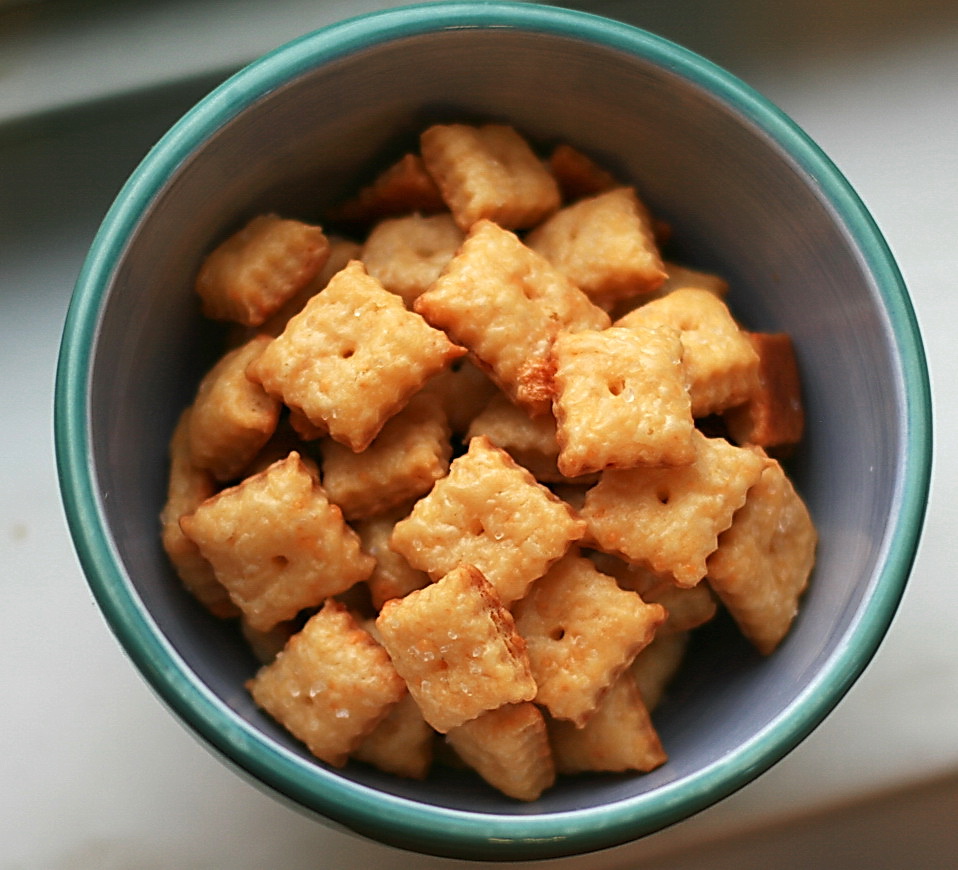 I was out and about surfing the web when I ran across a recipe for cheese crackers, that I knew I had to try. I almost always pick up a box of Cheez Its in the store. They have been around since I was a child and I still love them even today. So when I ran into a way to make my own baked crackers, I jumped at the chance to try and make a new family favorite. At first I had high hopes that these would taste just like the real thing, but to be realistic, that will never happen. I don't have enough preservatives and ingredients I can't pronounce in my baking arsenal. If I could find something that we like out of this, I prefer the natural, low preservative version.
The recipe is extremely simple to put together, and the end result is a cracker that is light and crispy. You could even turn these into twisted cheese straws, add some spices, and mix and match cheeses. For simplicity sake and for something that appeals to two 5 yr old little boys, I went with plain old sharp cheddar that I grated from a leftover brick of cheese that was just calling my name.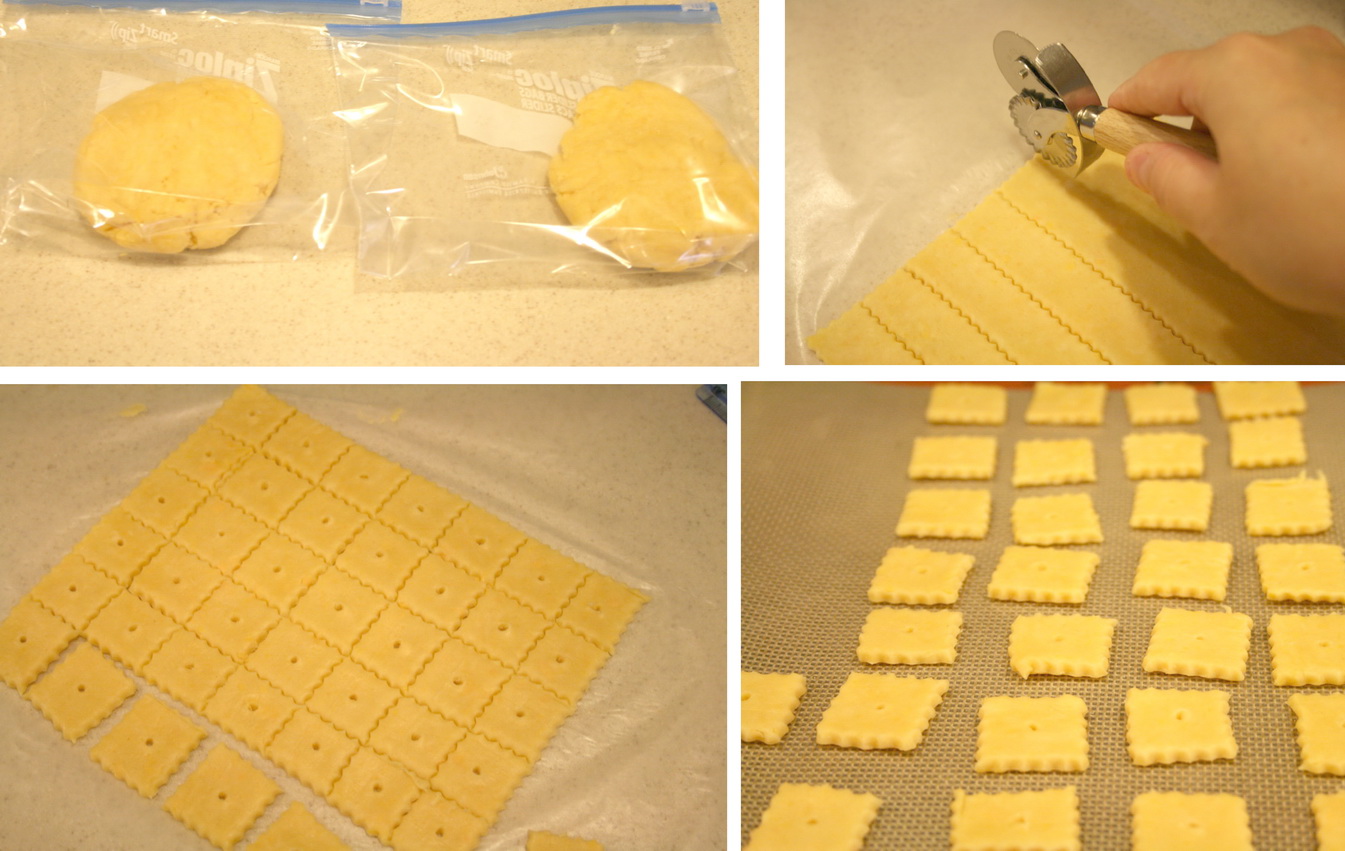 Recipe

Homemade Cheez-Its

(Adapted From: ReadyMade Magazine)

Ingredients:

8 oz sharp cheddar cheese, grated plus a little parmasean reggiano
Optional Seasonings (I used a little cayenne pepper)
3 Tbs of unsalted butter, room temperature
1 Tbs vegetable shortening (you can omit the vegetable shortening and use 4TBS of butter)
½ teaspoon salt
1 cup unbleached flour
2 Tablespoons ice water
Coarse salt for sprinkling

Directions:

Combine cheese, butter, shortening, optional preferred seasonings and salt in the bowl of your mixer fitted with the paddle attachment. The mixture will be crumbly.
Slowly add the flour then the ice water.  Add a few extra drops of water to help it come together (this is just like making a pie crust) but be careful not to add too much.
Pat the dough into 2 discs and wrap in plastic wrap. Chill for  30 minutes or overnight.
Preheat oven to 375?F.
Using parchment paper or a silicone mat roll each disc to 1/8 inch or less and cut into 1 inch squares (a pastry wheel or pizza wheel is easiest). A toothpick works great to punch a hole into the center of each square.
If you have difficulty separating and transferring the crackers onto the baking sheet return the parchment paper/mat to the refrigerator for 10 minutes (while you roll out the 2nd dough disc).
Bake for 10 – 15 minutes or until puffed and browning around the edges. If you pull them out too soon and the crackers don't have the desired crispiness you want then simply return them to the oven for 2-3 more minutes.
Move crackers to a cooling rack. Makes about 7 dozen crackers if you can keep them around that long!
The recipe is extremely easy.  I found the pastry cutter at Williams and Sonoma for around $10 but there are cheaper ones on Amazon.  You don't have to be that fancy however, but I like the pretty edges on the cracker.  I will be trying some twisted cheese sticks with this recipe for the Holidays, I think they would be pretty and make a great snack even with a warm artichoke and spinach dip.  Yummy!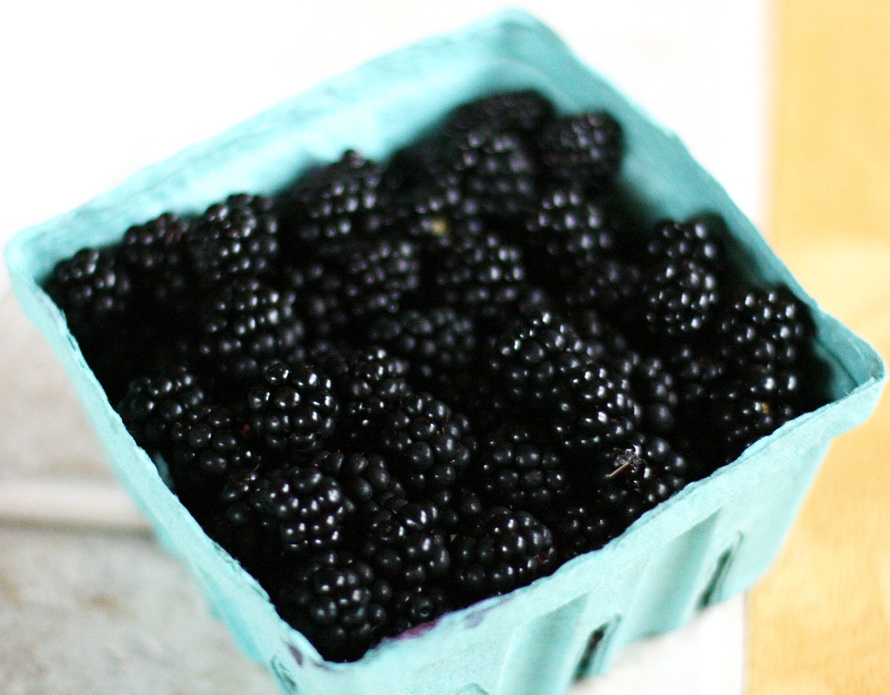 I am a fruit picking fool lately.  There is something about going out to a farm and out in the fields and picking your own personally selected berries and fruits.  For me, I get a real sense of peace being out there and picking fresh berries with my family or just by myself.  Recently, I decided to go blackberry picking because I had simply never been.  It was a challenge finding a place to go, and then I found a place about 20 miles from me and off we went!  I actually frequented the blackberry patch twice in the last two weeks.  The first batch went to make seedless blackberry jam and the next was to get more and find some things to make with them.
My first recipe was a blackberry pound cake with a vanilla custard sauce that was simply to die for! So, I thought I would share the recipe I used.  I de-seeded the blackberry puree because I didn't like the seeds in it, but you can do either way.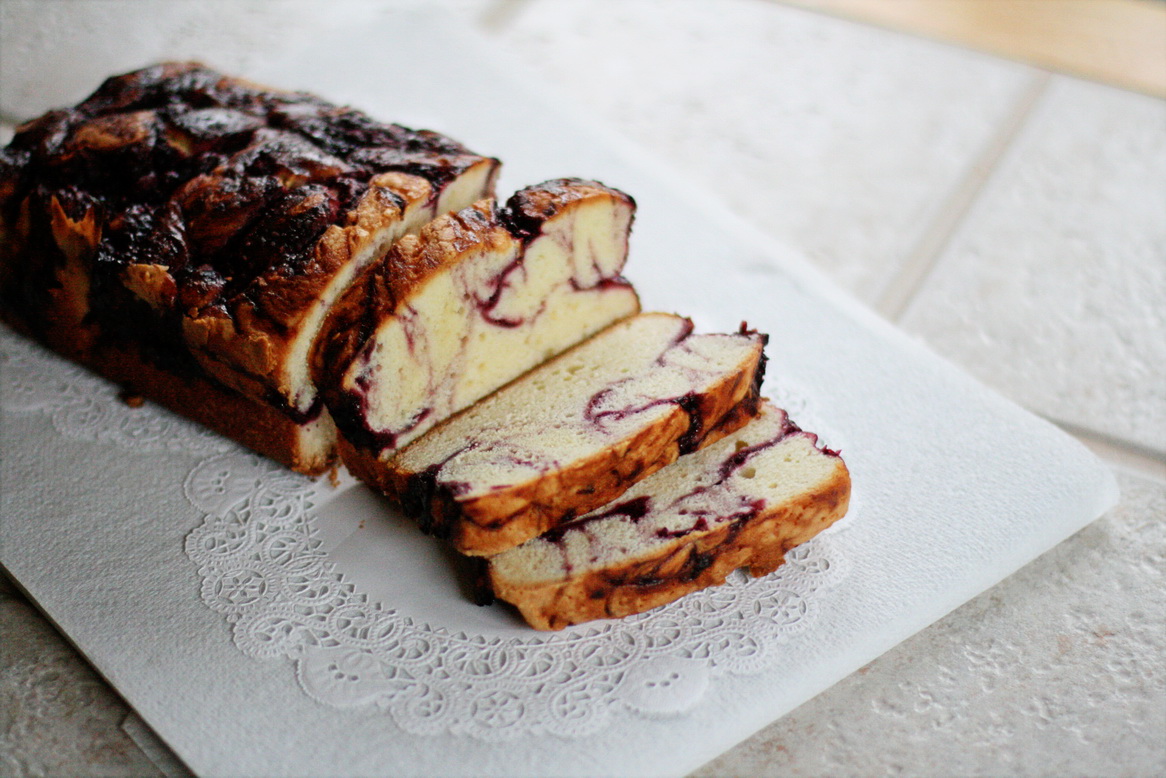 Blackberry Pound Cake
Ingredients
1/2 cup (1 stick) unsalted butter, room temperature, plus more for buttering the pan
6 ounces blackberries (1 1/3 cups)
1 1/4  cups plus 3 tablespoons sugar
1 1/2 cups all-purpose flour
1/2 tspkosher salt
1/4 tsp baking powder
2 large eggs, lightly beaten
1/2 teaspoon pure vanilla extract
1/2 cup sour cream, room temperature
Directions
Preheat oven to 350 degrees. Lightly butter a 5-by-9-inch loaf pan and line it with parchment paper and butter the parchment paper too, leaving a 2-inch overhang on all sides; butter parchment. In a food processor or blender, puree blackberries with 3 tablespoons sugar, I de-seeded the mixture before adding to the recipe. In a medium bowl, whisk together flour, salt, and baking powder.
In a large bowl, using an electric mixer, beat together butter and 1 1/4 cups sugar until light and fluffy, 5 minutes. Add eggs and vanilla and beat to combine, scraping down bowl as needed. With mixer on low, add flour mixture in 3 additions, alternating with sour cream, beginning and ending with flour mixture.
Transfer half the batter to pan and plop a dollop of about a 1/2 cup blackberry puree. Repeat with remaining batter and puree. With a skewer or thin-bladed knife, swirl batter and puree together. Bake until golden brown and a toothpick inserted in center of cake comes out clean, about 1 hour and 15 minutes.  Let cool in pan on a wire rack, 30 minutes. Lift cake out of pan and place on a serving plate; let cool completely before slicing.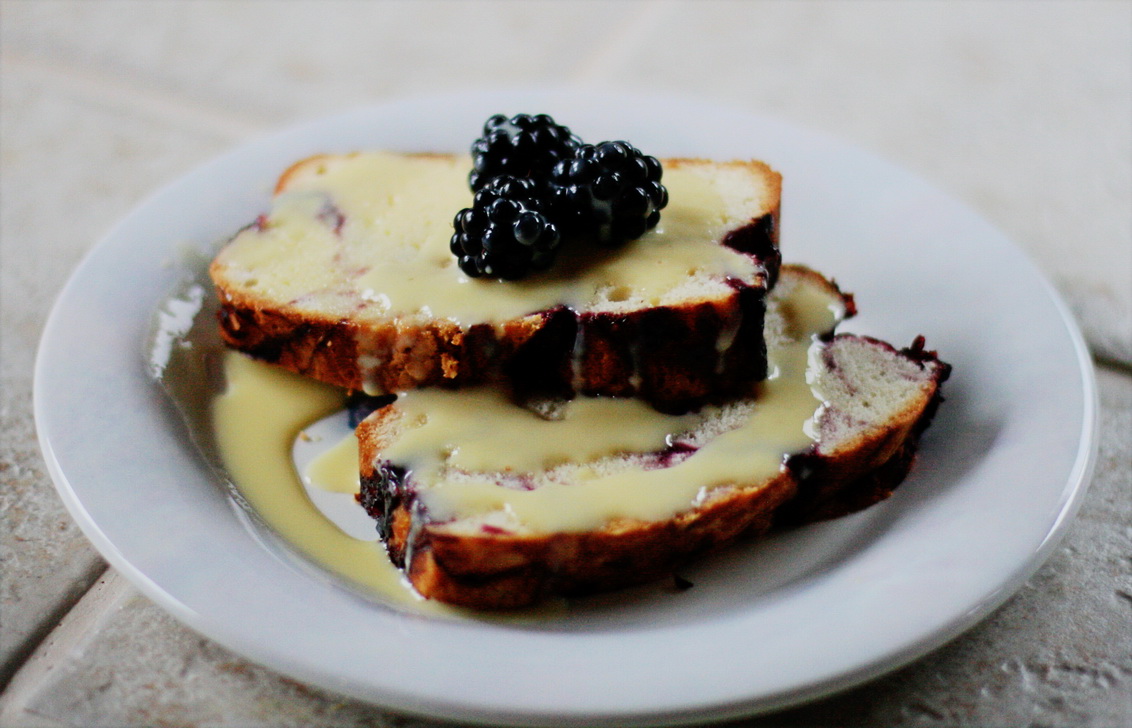 Vanilla Custard Sauce
Ingredients

2 cups whole milk
1/2 cup sugar
5 large egg yolks
1 1/2  tsp vanilla
Bring milk and sugar to a simmer in a saucepan without stirring. Whisk yolks in a bowl until blended, then gradually whisk in hot milk mixture. Return to saucepan and cook over moderate heat, stirring constantly, until sauce thickens enough to coat back of a wooden spoon and registers 170°F. on an instant-read thermometer. PS. This step happens relatively quickly if you wait too long you will have scrambled eggs.
Immediately pour sauce through a fine sieve into a metal bowl and place bowl in a large bowl of ice and cold water. Stir in vanilla and whisk custard occasionally until cool, then cover surface with a piece of wax paper to prevent a skin from forming.
Chill until cold.
Blue is my favorite color.  I was at the Farmer's Market when I ran across this little hole in the wall cupcake shop and I decided I must go in.  Prominently displayed in just four simple glass dome cases perched on crystal cake stands were one of four flavors for the day.  They had the obligatory chocolate, vanilla chocolate, and something else which I forget, then my eyes were drawn to these pretty little blue velvet cupcakes with white icing.  I had to have that one!  Not only is it my favorite color, I wanted to see just how good could a blue cupcake be?
I didn't have time to eat it on the way home, so I tossed it in the fridge till I could savor the moment.  The husband was gone with the boys and I decided to give it a try.  I took a bite and the flavors danced on my tongue like the most beautifully indulgent serenade.  I found my blue heaven, these things were to die for!  I quickly began to scour the internet for a recipe because the Farmer's Market is only once a week, and well I wanted to see if I could replicate.  I ran across a few variations when I stumbled across a recipe I liked.
Humming the song "blue belvet"  popular in 1950 and, written by Bernie Wayne and Lee Morris (can't get the song out of my head now), I made a few variations, because I was a little timid about using all this blue food color, I like vanilla so I added a smidge more.  I only halved the recipe for the cream cheese frosting because I only made half a batch.  The result was a very blue, and very yummy blue velvet cupcake.  I was rather impressed.  My kitchen on the other hand looked a little like a visit from the Smurfs.  A little secret about me, is I like to spread out in the kitchen, which results in a big old mess, if it's my first time baking a new thing.  What I did for the cocoa and coloring gel was I mixed it as per instructions then added only about half of what was there.  The violet color is so your cupcakes don't turn out to bee turquois.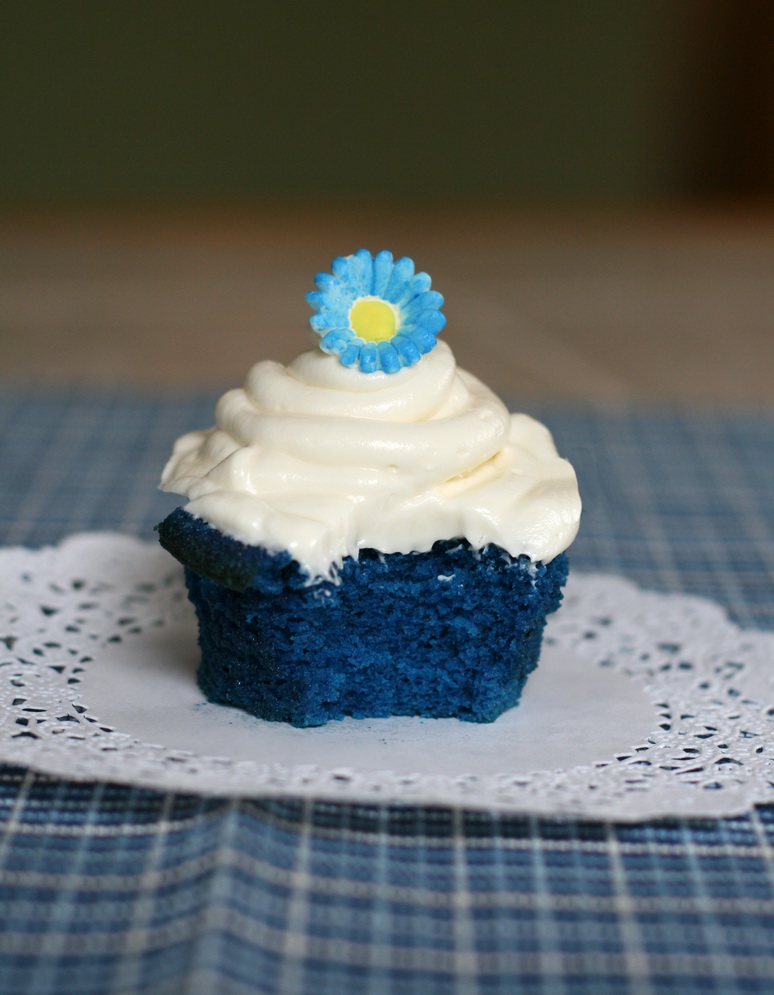 Here is the Recipe
For the cupcakes:
2 cups sugar
½ pound (2 sticks) butter, at room temperature
2 eggs
1 tablespoon cocoa powder
1 Tbsp Wilton royal blue gel food coloring or if you can find the paste you can just use two tsp)
1 small dab of violet gel food coloring (just a little bit on a toothpick will do)
2 ½ cups cake flour (Swans Down is the best hands down)
1 teaspoon salt
1 cup buttermilk
1 teaspoon vanilla extract
½ teaspoon baking soda
1 tablespoon vinegar
the frosting:
1 pound cream cheese, softened
2 sticks butter, softened
1 1/2 teaspoon vanilla extract
4 cups sifted confectioners' sugar
Preheat your oven to 350 F and line cupcake pans with liners
Cream sugar and butter in mixing bowl till light and fluffy, then add eggs one at a time, mixing well after each egg
Mix cocoa and food coloring together to make a paste — this takes a while and patience  to mix thoroughly with all gel (looked a bit like a science experiment), but it came together nicely; add this paste to sugar mixture and mix well again
Sift  flour and salt, and add to creamed mixture a bit at a time, alternate with buttermilk, then mix in vanilla
Combine baking soda and vinegar in a small bowl and add to cake batter; mix just to combine
Scoop thick batter into cupcake liners, filling about 2/3 full, and bake for probably 20-25 minutes, but start checking at 18 minutes — mine were done at about the 20 minute mark; watch for toothpick inserted in center to come out clean, watch your edges they can brown very quickly (trust me I know from my first batch  lol)
Remove cupcakes from oven and allow cool completely on a wire rack
How to make the frosting
Beat cream cheese, butter and vanilla with electric mixer until nice and smooth
Add sugar gradually and beat on low till combined, then beat on high speed until very light and very fluffy
If you like red velvet cake, this would be a great twist on a classic!  They taste just like red velvet but ate a wonderful, beautiful blue.  Give it a try and let me know what you think.  My boys got a kick out of them and gobbled every last one up!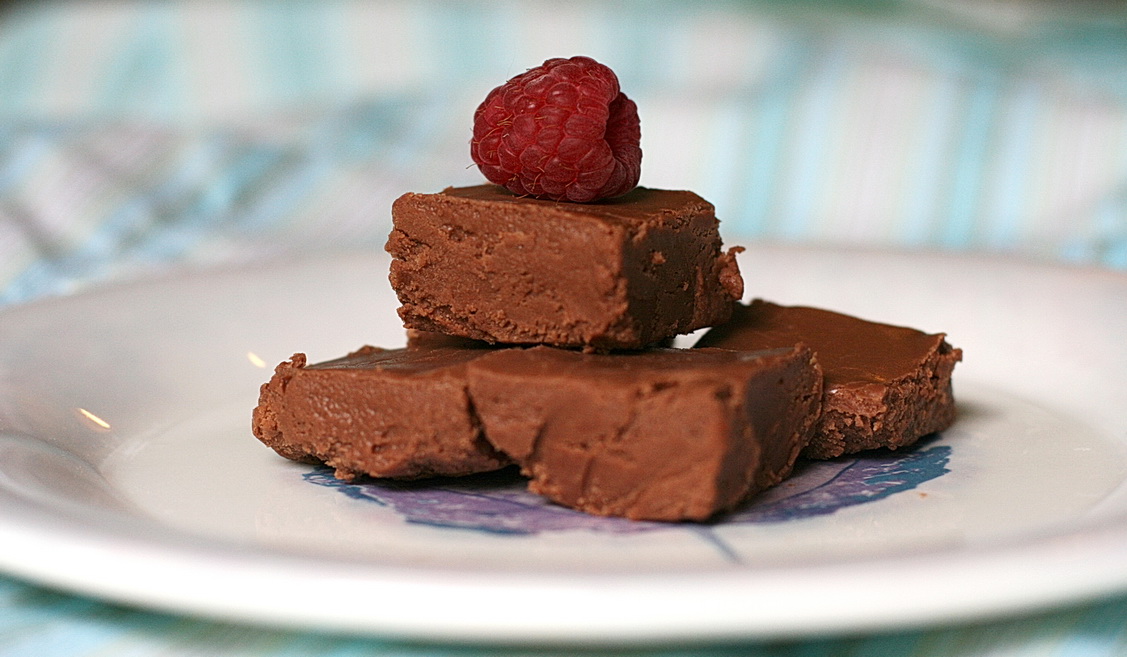 I have never before in my life made fudge of any kind.  In fact, I have never really eaten it.  Over the weekend I tried some raspberry fudge at one of the vendors and I instantly had to buy some.  They were completely out of it with the exception of two small blocks, and I told them to discount it and I bought them.  I took them home with the idea that these tiny blocks of fudge would last me a few weeks, but sadly they were gone in two days  LOL.  Since the farmer's market is only on Saturdays, in my desperation I decided to make my own.  I scoured the internet and came up with several recipes and decided to give it a try.  This is the raspberry fudge recipe I used but I changed the amount of sugar to 2 cups instead of 2 and 3/4.  To me fudge is rather sweet, so I wanted to experiment and it came out ok as far as I can tell, you can go all out with the sugar or experiment.  I also added a little more of the raspberry flavoring because I like it.  I would recommend using an oil which I found at a cooking supply place.  The imitation stuff at the store is too liquidy (is that a word?).
Here is the Cast of Characters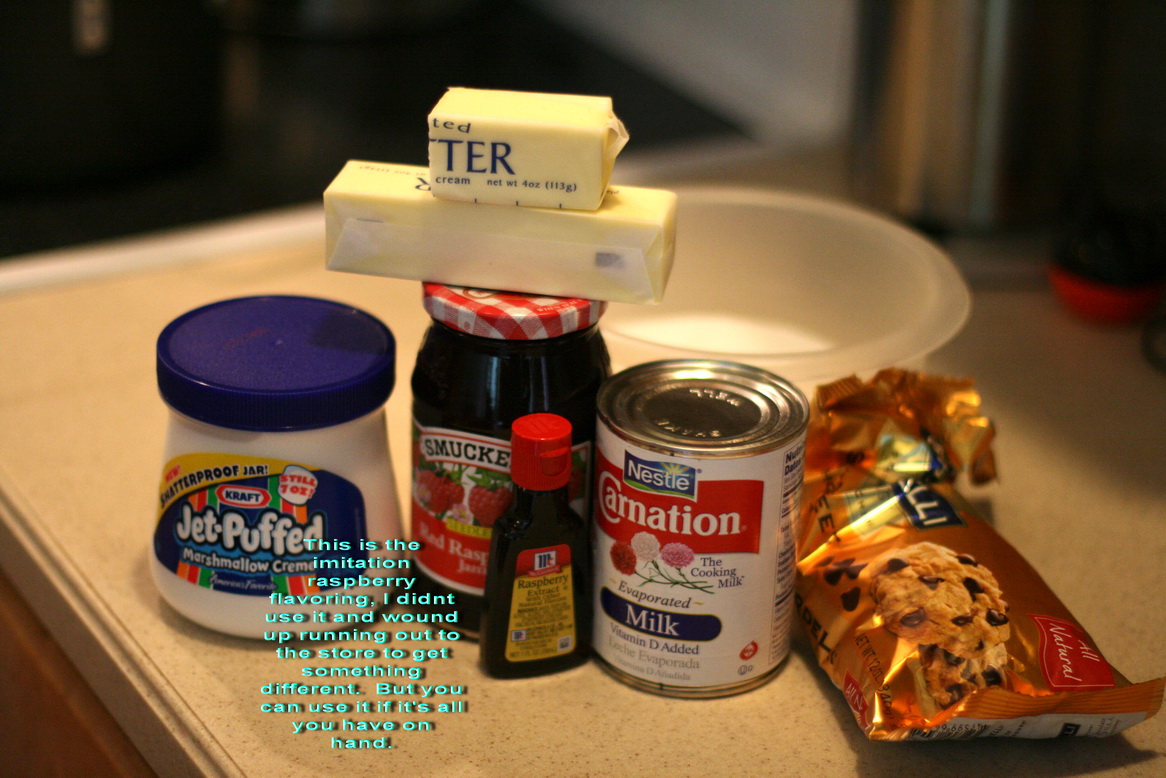 Recipe
3/4 cup (1 1/2 sticks) margarine or butter
1 5-ounce can (2/3 cup) evaporated milk
1 7-ounce jar Marshmallow Cream
1/3 cup seedless raspberry jam
2 cups or 2  3/4 cups sugar(depending on personal preference)
1 12-ounce package semi-sweet chocolate chips
1 cup chopped nuts – optional
1 teaspoon vanilla extract
10 drops Raspberry Flavoring
Lightly grease a 13-x9-inch or 9-inch square pan.
Mix margarine or butter, sugar and milk in a heavy 3-quart saucepan; bring to a full rolling boil on medium heat, stirring constantly.
Continue boiling 5 minutes on medium heat or until candy thermometer reaches 234°F, stirring constantly to prevent scorching.
High Altitude: Decrease recommended temperature (234°F) 2 degrees for every 1,000 feet above sea level. (Who pays attention to this?)
Gradually stir in chocolate chips until melted. Remove from heat.
Add all remaining ingredients and mix well.
Pour into prepared pan.
Cool at room temperature.
When cooled, cut into squares.
Makes about 3 pounds
ENJOY!!!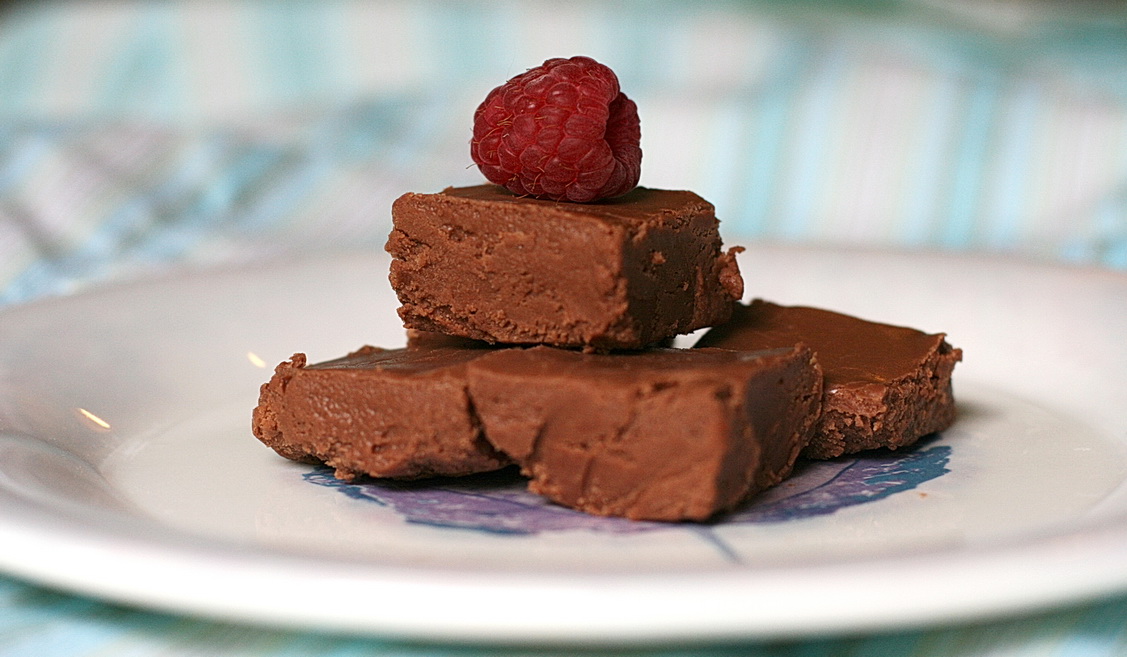 This is the end result and it turned out pretty yummy for my first go around.  The nice thing about fudge is it will last you an eternity if you exercise self control.  I am personally trying to diet, so just a tiny piece of it, is enough to curb my chocolate cravings so I don't fall off the wagon.  What is your favorite chocolate recipe or fudge recipe?
The boys are well into their soccer season, and each game a parent is responsible for bringing a snack and a drink for after the game for the whole team.  At first I felt a little snippy about having to pony up more money to feed 9 other children besides my own after already paying the dues for actually letting the boys play.  Eventually, I realized that there will probably be many many more of these to come in the near future with the boys heading to school.  So, I decided to have fun with our last obligatory snack day.  Since I have two boys, I signed up for two days.
I decided to bring cupcakes this time around.  I was bored with the pre-packaged snacks that had been brought so far.  I am the creative type, and I took it as a moment to just have fun, so I came up with soccer cupcakes after scouring the internet for ideas on how to do them.  Thanks to Wilton, which I drool over their stuff on a regular basis, I got the #233 decorator tip, candy melts in white and used candy colors to tint some black and the soccer ball mold, and I made cute lil cupcakes with icing that looked like grass and candy soccer balls (all 12) that I painstakingly molded one at a time.  Apparently, they were a big hit cause the other little team members tried to take them as well  LOL.  I wish I had brought 24
They turned out so cute!   Don't ya think????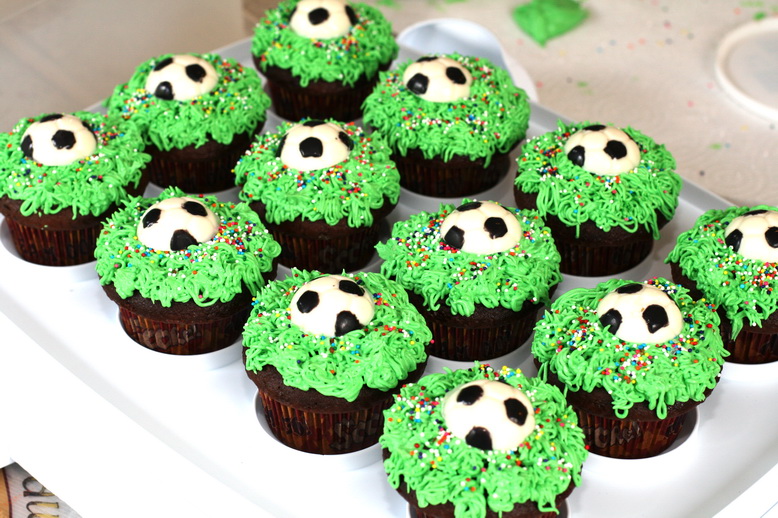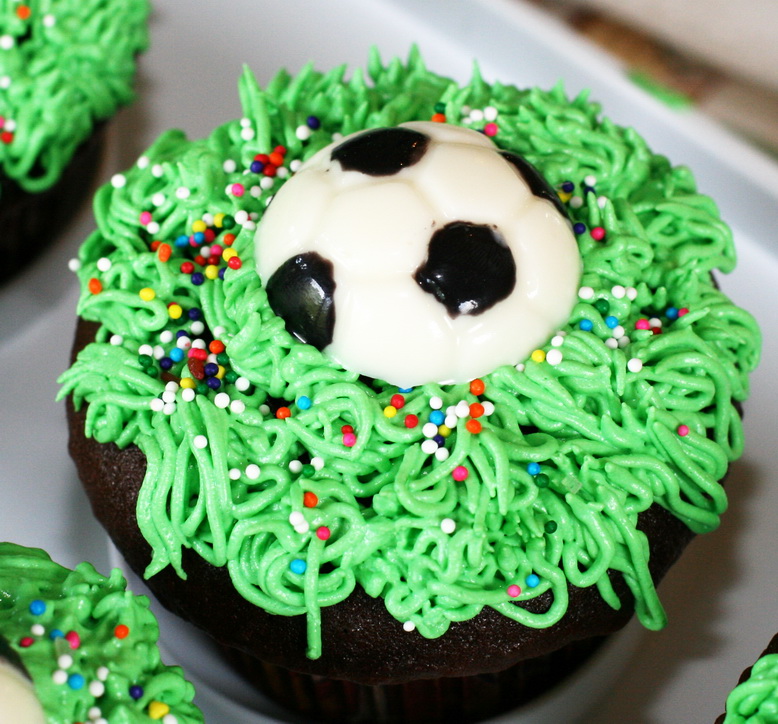 Secretly I dream of having my own cupcake shop, you know like the ones you see on tv.  These were fun to make and the kiddos love them.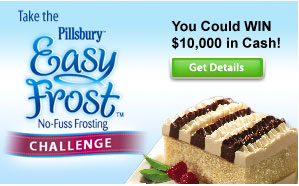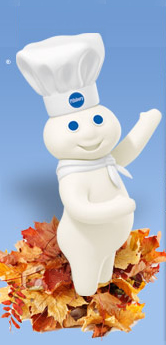 The holidays are in full swing, and with that comes holiday baking of all sorts!  Everyone loves a sweet treat and with new Pillsbury Easy Frost No-Fuss Frosting, creating delicious works of edible art has never been so easy!  Starting today, the makers of Pillsbury baking products announce the "Pillsbury Easy Frost No-Fuss Frosting Challenge," and call on all dessert lovers to unlock frosting fun, think creatively and transform their favorite homemade baked good into a chance to win $10,000 and a year's worth of Pillsbury Easy Frost No-Fuss Frosting.  Pillsbury Easy Frost No-Fuss Frosting is available in a convenient aerosol can with a built-in five-star applicator tip and can transform a cake, plate of cookies, or batch of brownies into bakery-style desserts.
Consumers are asked to use Pillsbury Easy Frost No-Fuss Frosting to decorate a homemade baked good of their choice and submit an original photo of the wholly edible creation online.  Submissions can be entered online starting November 23, 2009, through February 19, 2010, at www.pillsburybaking.com.  The winning photo will be posted in March 2010.
Pillsbury Easy Frost No-Fuss Frosting makes decorating baked goods a piece of cake!  The new product features the same creamy, delicious frosting in a tub that families love, in a 13.5 oz aerosol can with a five-star decorating tip.  Pillsbury Easy Frost No-Fuss Frosting is available in three delicious varieties: Decadent Chocolate Fudge, Vanilla Dream, and Velvety Cream Cheese.
"We are always thrilled to offer new ways to add fun and convenience to baking," said Maribeth Badertscher, Vice President, Corporate Communications, The J.M. Smucker Company. "The Pillsbury Easy Frost No-Fuss Frosting Challenge is meant to inspire amateur bakers to share their creativity."
To help consumers get started, Pillsbury offers a variety of delicious baking products for fun and convenience in the kitchen.  New products include Pillsbury Brownie Minis Brownie Mix, delicious bite-size treats that need only water and bake in half the time of traditional brownie mix; and premium Pillsbury Cookie Mixes in three mouth-watering, family favorite flavors: Funfetti Cookie Mix; Reduced Sugar - Sugar Cookie Mix; and Dark Chocolate Chunk Cookie Mix.
The "Pillsbury Easy Frost No-Fuss Frosting Challenge" is open to legal residents of the 50 United States and D.C.,18 years of age and older.  Void in Arizona, Maryland, New Jersey, Tennessee, Vermont and where prohibited.  For Official Rules and complete entry details visit www.pillsburybaking.com.

Brownies have to be one of my all time favorite treats, especially when I am craving something chocolate.  It is no secret in my house that I am an edge lover.   I will sheepishly admit to making a whole pan of brownies, and eating only the edges.   By the time I get done it looks like some one tunneled a path around them.   After that the brownies are fair game because I won't normally eat anymore.  Anyone who wants to call out the corners, well you got to beat me to them first!
Then it happened….   A true love affair.   There just so happens to be a pan especially for smitten edge lovers like me!  I couldn't believe my eyes when I ran across the Baker's Edge "Edge Brownie Pan."   It was love at first site, and I don't think I will ever use anything else.  At first, I thought, this is too good to be true, but when I took it out of the box and made my first batch of brownies, my heart went pitter pat.   Not only does the pan work well, it makes the best double edged brownies ever!  Each brownie has the perfect combination of slight crust on the very edge and that wonderful chewiness  with substance.   And as if two edges weren't enough, there are the two double cornered brownies at the end reserved only for mommy.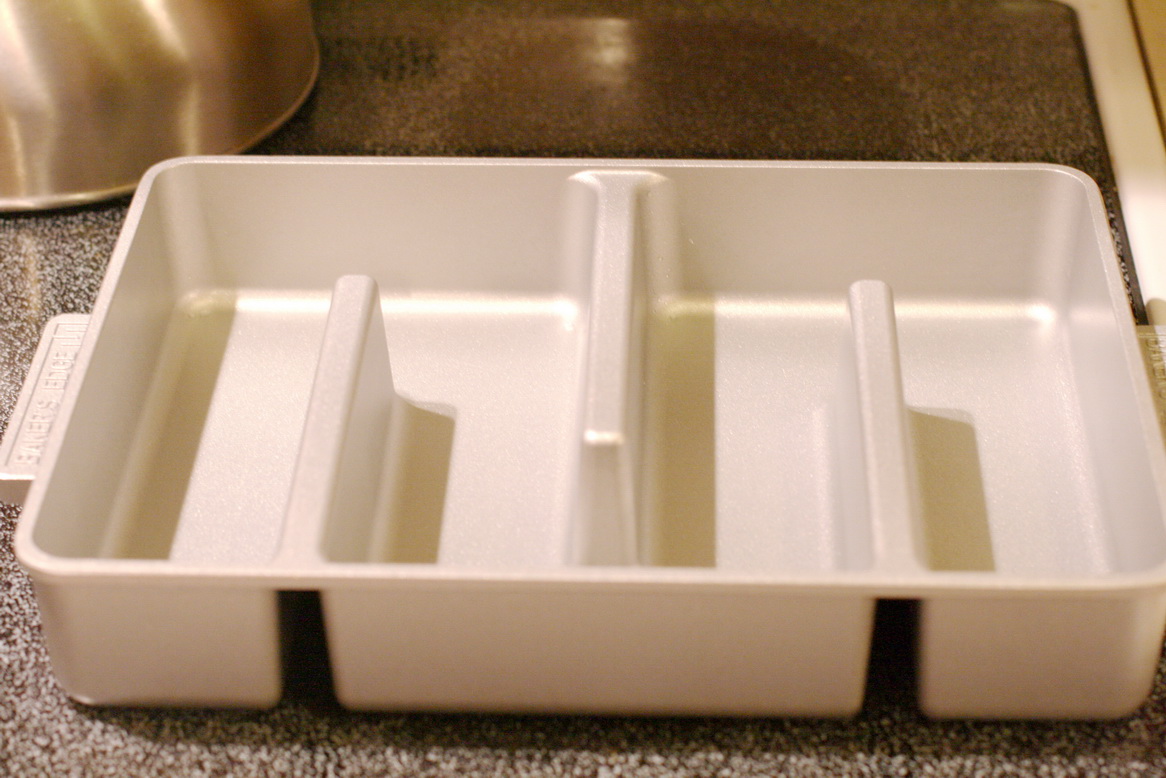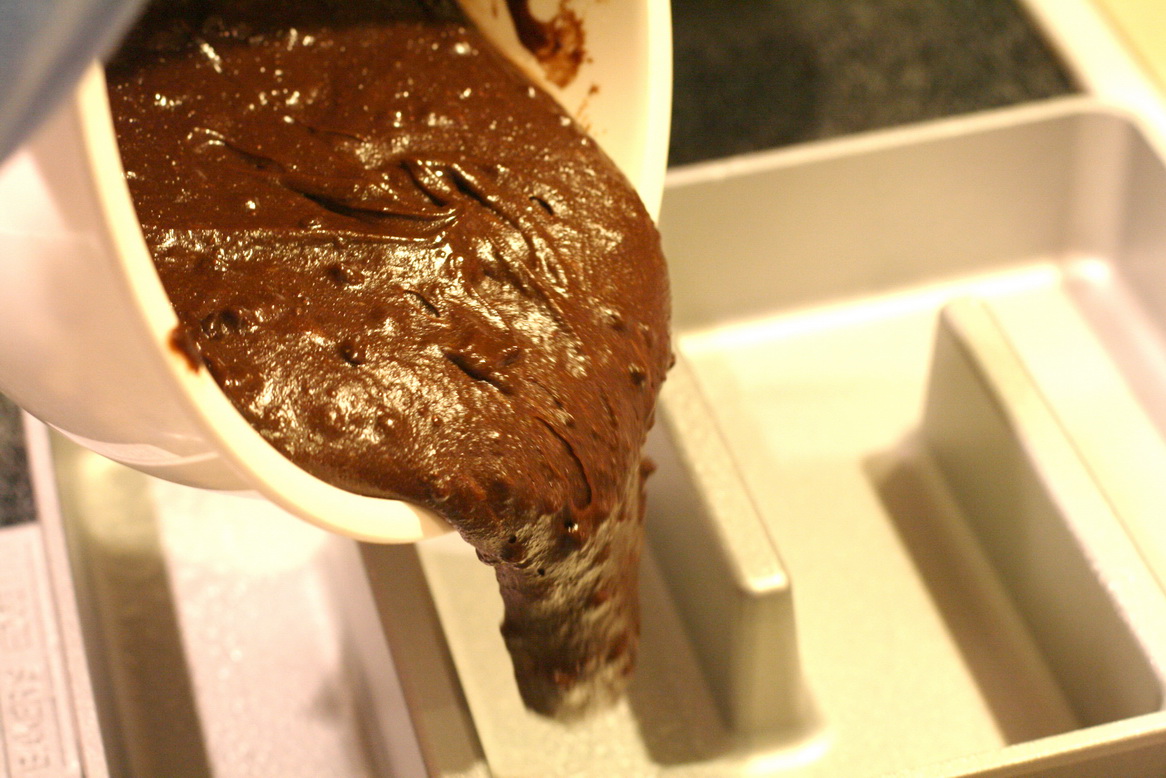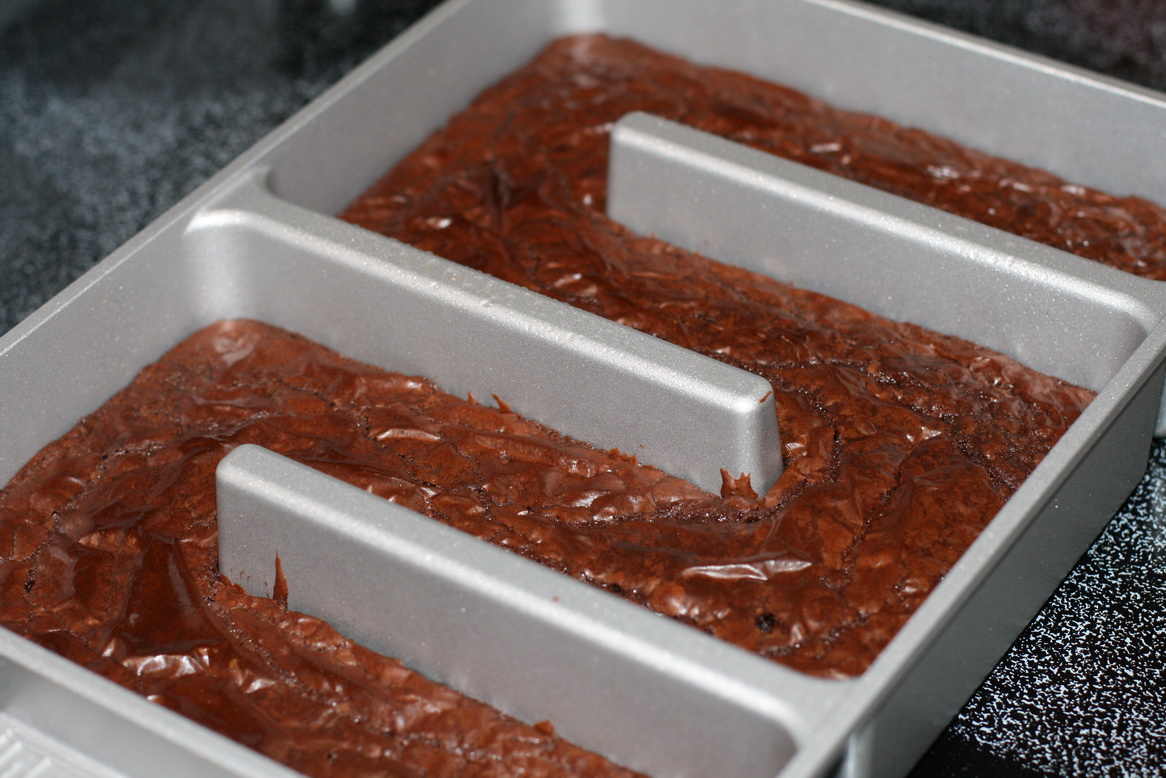 Features
Two delicious, chewy edges on every brownie or bar cookie (individual serving)
70% more edge (side) surface area than a conventional 9"x13" pan
Sized to fit most box mixes with no adjustments necessary
Perfect for moist and chewy brownies, bar cookies, and breads
Better Baking from Edge to Edge
Patented interior sidewalls circulate heat evenly throughout the pan
Better performance – fewer undercooked middles and burned edges
Premium nonstick coating and round, easy-to-clean corners
Heavy-gauge cast aluminum construction for superior durability
Recessed handles allow pan to be easily gripped when turned upside-down
Lip on underside helps to prevent fingers from slipping
Custom mini-spatula and recipes/instructions insert included
This pan would also make a perfect gift for any cook in the family or definitely brownie lovers. It is extremely easy to use, and the spatula that comes with the pan is perfect for getting the brownies out. There are even some recipes that came along that you can try. The pan itself will fit most standard boxed brownies our favorite is Ultimate Fudge Brownies from Betty Crocker yummy! I love this pan….thank you Baker's Edge for an awesome product!