I haven't made it to my blog for very long this week since I am in preparations for Blogher in Chicago this week.  Sometime I wish that if I wiggled my nose everything would pack and organize itself.  To make matters worse the boys are extremely whiny and that makes getting things done next to impossible.
I can tolerate the shining for an hour or so but then that noise they make sort of reaches the core of your body and sound like nails on a chalk board  LOL!  They are about to turn 3 and they fight like siblings do.  The other day I was in the restroom and of course you never get a moments privacy, and they were arguing about one looking at the other.  Ahhhh hes looking at me! *rolling eyes*  Here I am trying to go to the bathroom, and I just tell them to close their eyes, then they go ahhh you're looking at me!  Then I closed my eyes, now can someone please beam up please.
So I have not begun to pack yet for Chicago on Thursday, and I probably will be doing that at the last minute.  I have so much to accomplish, that its that paralysis by analysis thing, all I can do is stare at it all and feel overwhelmed.
On another note, one of my twins has successfully used the potty twice today  YAY.  I knew the no pressure to go potty would pay off.  I think kids do so much better when they are ready and express interest in doing it themselves!  It will definitely be a relief and save us about $100 a month!

So, I have my ticket to go to Blogher.  I spent my $100.00 for my birthday to get it.  I am really excited that I will be a part of something so big, and I am a little intimidated.  I think that this is such a great opportunity to meet some really great people and learn some new things. Protect-A-Bed is giving another shot at help with getting there!
I never actually thought I would enjoy blogging so much, and when a good friend somehow convinced me to start, I haven't been able to stop.  Being a stay at home mom and being far from my family is never easy, because I am pretty much stuck here in these four walls for about 6 days out of the week.  Sure we get out but, it is always with kids in tow.  I think I could really use the time away, even though the thought of leaving my boys with my husband, worries me as to what I may come home to!
I have my ticket, I even bought a plane ticket, and well, I have a room with my friend but currently it is all coming out of my pocket, and I had to skip buying new tennis shoes for my birthday to help get my ticket.  My expenses are mounting, but I know that it is all worth it for the experience.  I could really use this me time, even though being away from my boys so far away  tugs at my heart strings and would probably be the only reason why I wouldn't go (I am such a home body).  That, and I haven't had not even a pinch of a margarita or a sip of an adult drink in like 4.5 years, I have resigned to my toddlers offering me their sippy cups, and juice or water.  Nothing wrong with that, I am just saying.
Anyway, I would love some help with the funds because groceries and diapers for twins are expensive, and I would love to go without having so much guilt about the money I am spending to go to this fab shin dig! I don't get out often lol.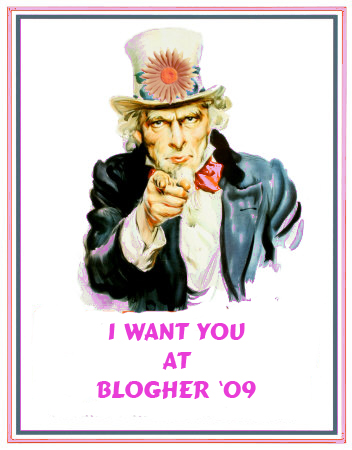 I just recently got my conference pass to Blogher09, one of the biggest blogging events out there.  I am so thrilled to be able to be a part of this great opportunity.  Blogher09 will be bringing bloggers from every corner of the online blogosphere to provide hands on learning, discussions and opportunities to meet with the companies that support them along with huge networking opportunities.  I cannot even begin to tell you how exciting this is…Will your company be there?
I have only been blogging for a short time and may still even be considered a rookie, but I have met some really terrific people and have worked with some fantastic companies, that I continue to work with even now, and I truly love being able to spread the word about them to readers everywhere.   I would love to be able to take your company to Blogher and get your foot in the door a little further.
In case you haven't heard, online  media is huge and it's NOW.   Mom bloggers are firing up the blogosphere and are a sure avenue to get things heard.  We are real people with real opinions and did you know, 80% of household buying is done by us?  This means you want us on your side, and what better way than a blogging momma to get your product and company noticed in a place where you will have 1200 eager people at your disposal?
You don't have to attend….let me do the leg work for you!  As a blogger who you would sponsor, I will advertise you in my sidebar for the rest of 2009, hand out your business cards at the conference, hand out your buttons, your badges, SWAG bags or any other goodies you might like to send.  All you  have to do is help me with the cost of getting there and I will get your company in the right hands…1200 of them to be exact. This will save you a lot of time and get your company major exposure.  Put your idea in the hands of one blogger let alone 1200 and you have just put the word out to thousands more.  Us Momma bloggers have audiences that are listening!
I am on a mission and I am committed to make this the best experience for myself and the companies I will be representing, and I would love for that to be you.  I hope to make some wonderful connections with new companies or ones I have worked with and am excited to be a part of Blogher09.  Companies if you are listening…Let me take you there!
Tell anyone you know about this opportunity, Tweet about it, email me and let me be your ally!
Blogher here I come!!!!