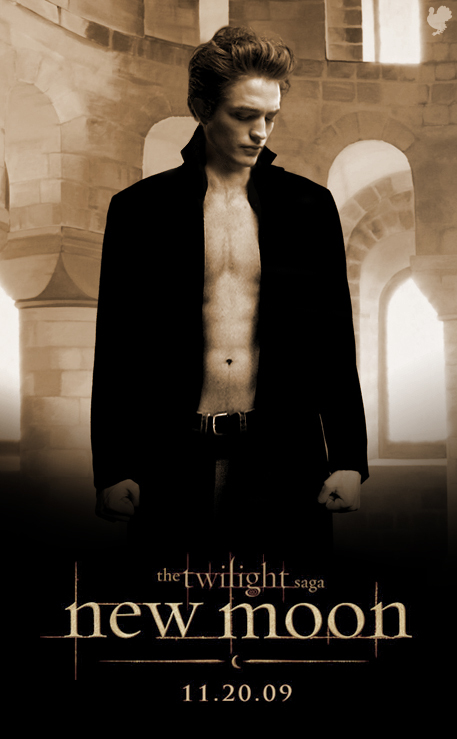 For the first time in well over four years I found myself sitting in a theater this weekend for New Moon.  I was determined to go see the newest movie in the Twilight series of books and I didn't care that I was going alone.  I wasn't overly impressed with the first movie Twilight, but compared to the books, the movies just cannot possibly do them justice.
I normally have a hard time sitting down and reading much of anything and if I am going to read, it better capture my interest immediately.  I blew through the entire Twilight series in just 7 short days.  I had stayed away from the first movie for the sake of preserving my dreamy images of all the characters.  In Twilight, it took some getting used to staring at characters that didn't fit into my active imagination.  The movie should have been four hours long though and I wouldn't have cared because they would have been able to include a little more detail.  The movie is never as good as the book, with the exception of Gone With The Wind, and you saw how long that was!
Did New Moon change my outlook on the movie?  Well, it was definitely better than Twilight, and they left you hanging so you know they will come out with the next movie.  I thought it was good for movie representation standards, I still feel like they left too much out.  The movie's portrayal of the Volturi was spot on and I love Alice.  There was a good amount of humor presented in this one, and it made the movie a little more likeable.  Overall, I would say it was good as the time limit would allow, but tack on another hour and it probably would have made A-list.
I still have the books to read again so I can slip into the awesome world of vampires and the Cullens.  My only hope is that Stephenie Meyer writes more! Ok, I admit Edward is growing on me.
So I thought I would try and venture into the world of books again.  It has always been so difficult for me to sit still long enough to read a book.  My Mom has always been an avid reader, but for some reason, I just never developed a love for reading or I didn't read enough as a child.  I am  hoping that my boys love to read, since we read to them daily.
The best books are the ones that move fast from the beginning.  If it is a good book, it grabs my attention from the first page and then I cannot put it down.  This is hard to do when you are a mom to twins, so this hampers my ability to read when I am in the mood.  Reading at night is my best option, if I can keep from drooling on my pillow!
So I finally picked up a book called Twilight.  There are many people raving on and on about this series of books that were actually intended for the teenage audience, but adults are reading them too.  I have never been much of a vampire fan, but a good romance is always a plus.  Come to think of it, the last time I read a romance was back in high school when I secretly read Harlequin romance novels.  Are those even still around?
Oh, and I remember the Judy Blume books. Who can forget Blubber and Are You There God It's Me Margaret?  At the time there was so much conflict about kids reading these books, I thought they were the best.  I suppose, I did read a little.  I love the thrillers, and some romance, but I have yet to get into some of the more novel like reading.  Are there any good ones that you suggest?  I would love to know because I am now determined to jump into books.  Since I don't get out much, it would be fun to escape into books, especially with the Winter months approaching.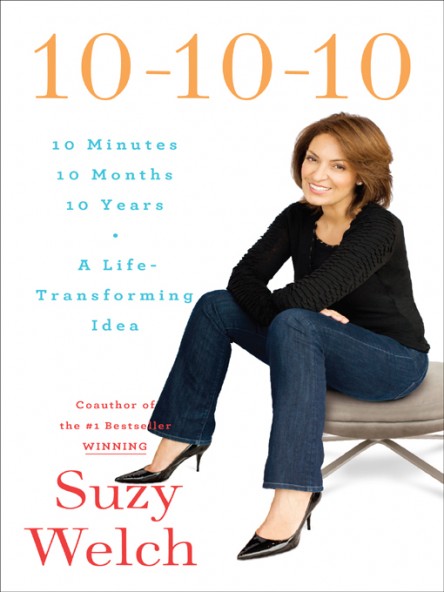 There are so many instances in my life where hind sight is always better than when you are in the actual moment and making a decision about your life or something of importance.  I think if my life had a rewind button, I could make my outcomes much more appealing in certain situations.
I know with being a busy mom to twins, that things can get hectic and I tend to let my impulses get the best of me.  It is so hard just to slow down, take a deep breath and evaluate things in that moment.  Sometimes when you have a kid screaming in your ear, it is almost impossible to think straight.
But what if you had had a tool to help you think through the choices and determine how the decision would impact your life immediately, in the short term, and over a long period of time?
The book 10-10-10 by best-selling author Suzy Welch, who herself is a mother of four and a columnist for BusinessWeek and O, The Oprah Magazine, provides moms with a decision-making practice that is as simple as it is profound. Suzy shows readers the ways in which using the 10-10-10 method can remove the emotion and uncertainty from decision-making and dramatically change how you make choices in your life.  If there is anything that I can relate to is how emotional I get, especially in situations where I am stressed, tired, and frustrated.  With every decision, all you need to do is consider your options and their consequences in ten minutes, ten months, and ten years, and then compare them to your own set of values. The goal of this practice is an authentic life through which consistency replaces chaos and guilt replaces joy.
Suzy Welch uses actual life experience to demonstrate the 10-10-10 principle, so you can get an actual feel for how to apply this in your own life. The idea is simple and and clear and engages you in a thought process that can positively impact your life.  The part I like that best, is that she is a wife and mother and has been there.  There is nothing worse than someone trying to explain how to live your life when they have no actual life experience to present the information.  I feel like this book has given me some tools to approach situations differently to end up with a more favorable outcome.  Thank you to Suzy Welch and Mom Central for such a wonderful opportunity. This is a book worth reading!