Summer is still in full swing at our house and even though the kids are back to school, my two are still at home and want to be outdoors as much as two little boys can be.  As a stay at home mom, it can be difficult finding things for the boys to do when the neighborhood kids aren't around, and when they are bored with their own yard.  Many times, I need to get things done inside and they want to be outside and I certainly want to encourage them being as active as they can, rather than sitting inside.
Recently, we were given the opportunity to review the Bazoongi Nuclear Bounce House from Hayneedle and let me tell you, that, this is the best thing since slice bread.  If you want to get your kids moving, and excited to be outdoors, this will surely make them jump with excitement. When I told the boys what was in the box, they couldn't wait. The great thing is, that I can put it right out in my backyard and keep a close eye on them.
Set up was super easy and I had two little helpers by my side.  The bounce house is actually rolled up like a sleeping bag, and you simply unroll it, and unfold it, stake it down, and attach the blower and it is fully inflated in about a minute.  The  stakes help  keep the Bazoongi Bounce House in place,  so it doesn't move around while jumping and your children don't blow away.   The best part is that it keeps them active, happy and busy while they are outside and they aren't sitting in front of the television.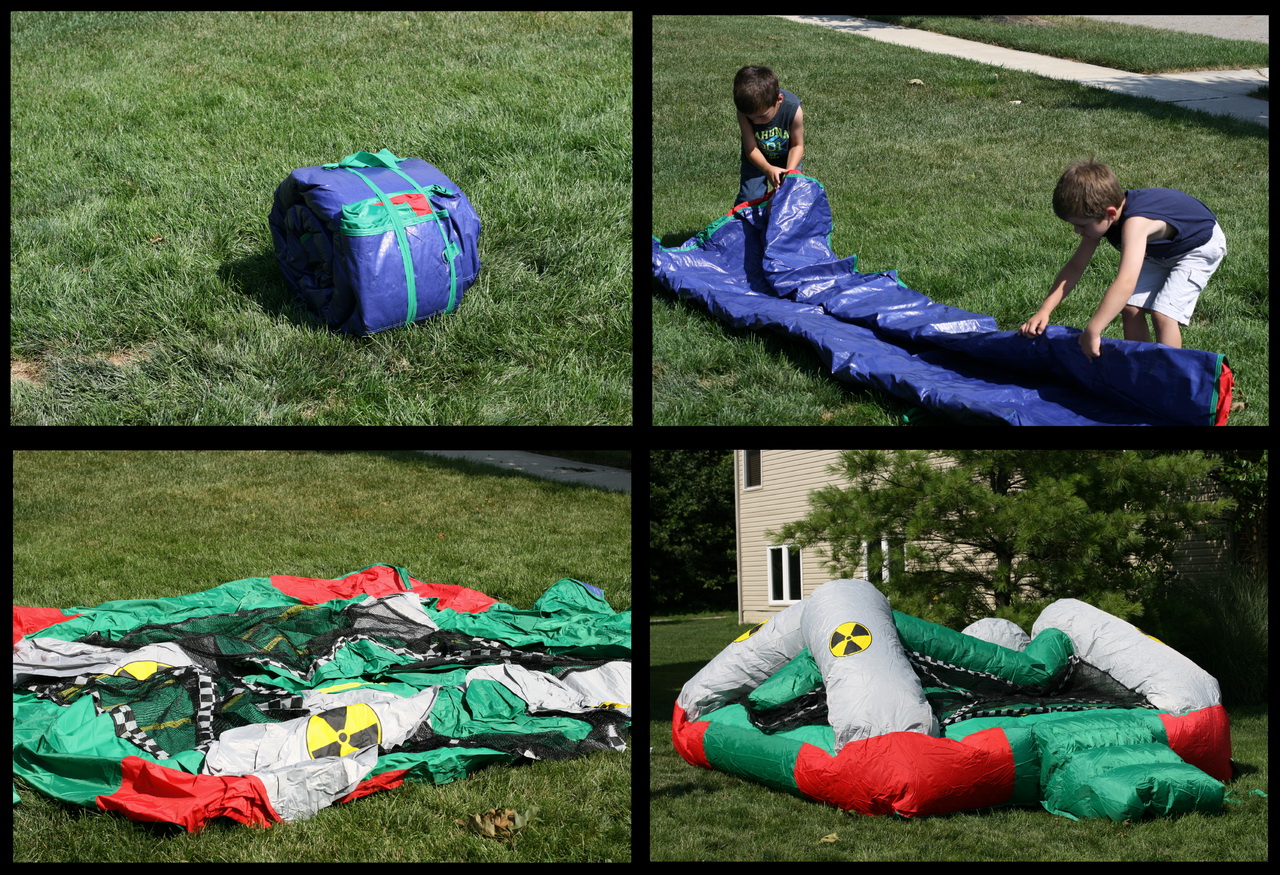 The Bazoongi Nuclear Bounce House is also compact in size but offers plenty of bouncing room for 1-3 kiddos.  The maximum weight limit is 200lbs which makes it perfect for younger kids. The bounce house itself, is made of  semi-commercial-grade, puncture-resistant PVC material and seems to withstand all the boys tumbling, bouncing and running with absolutely no problems.  The entire bounce house is enclosed in netting.  The front entrance can be zippered clothes and attached by click in tethers, so no one is going to fall out.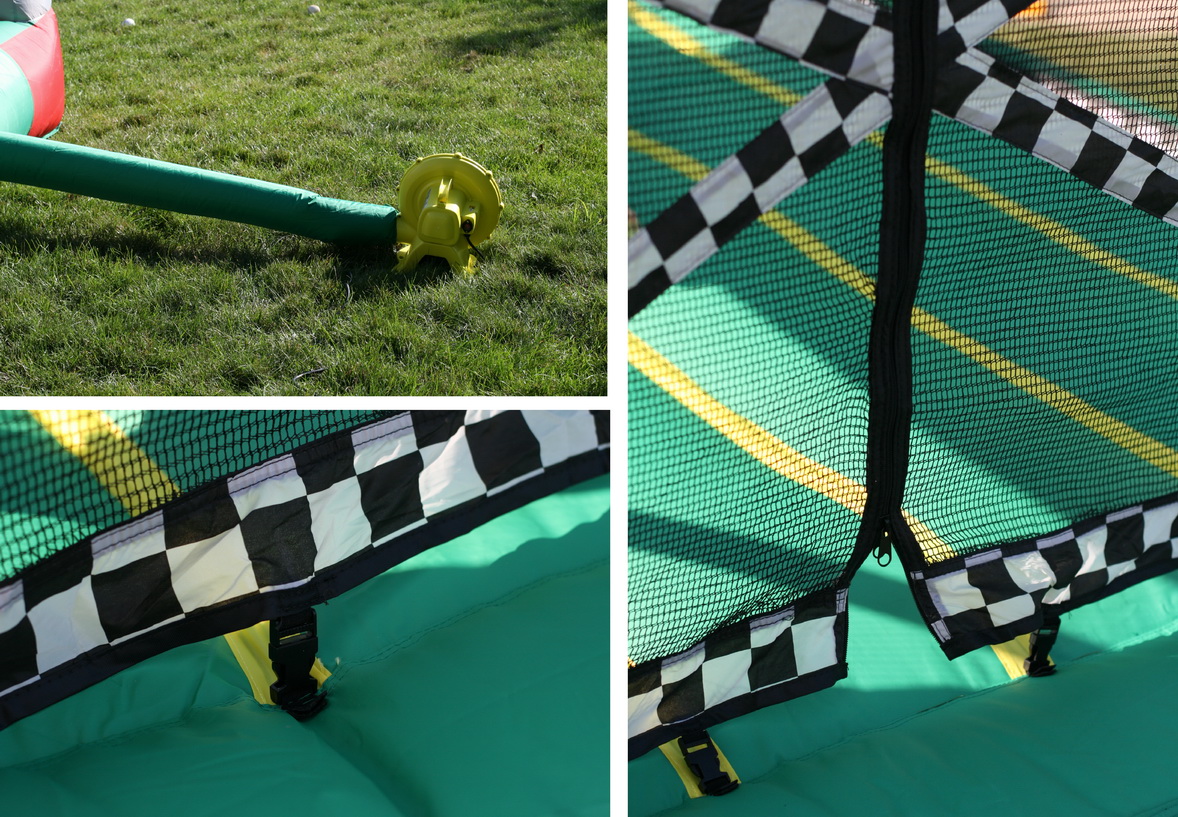 Because of its compact size 9ft x 9ft,  it  fits nicely indoors!  We have a basically empty dining room and it fits nicely in there.  So on rainy days and in the winter when the kids are stuck inside, I can bring their outdoor bouncing fun indoors!  I have tried this already on several occasions and it's a big hit.  At first, I thought they would bump into the walls but the netting around it and the bounce house foundation goes well past the netting so this was avoided.    The boys were bouncing, running circles, doing somersaults, and just having a giggling good time all inside the confines of the bounce house.  After a day of bouncing, they slept like rocks and as a parent, you can surely appreciate that.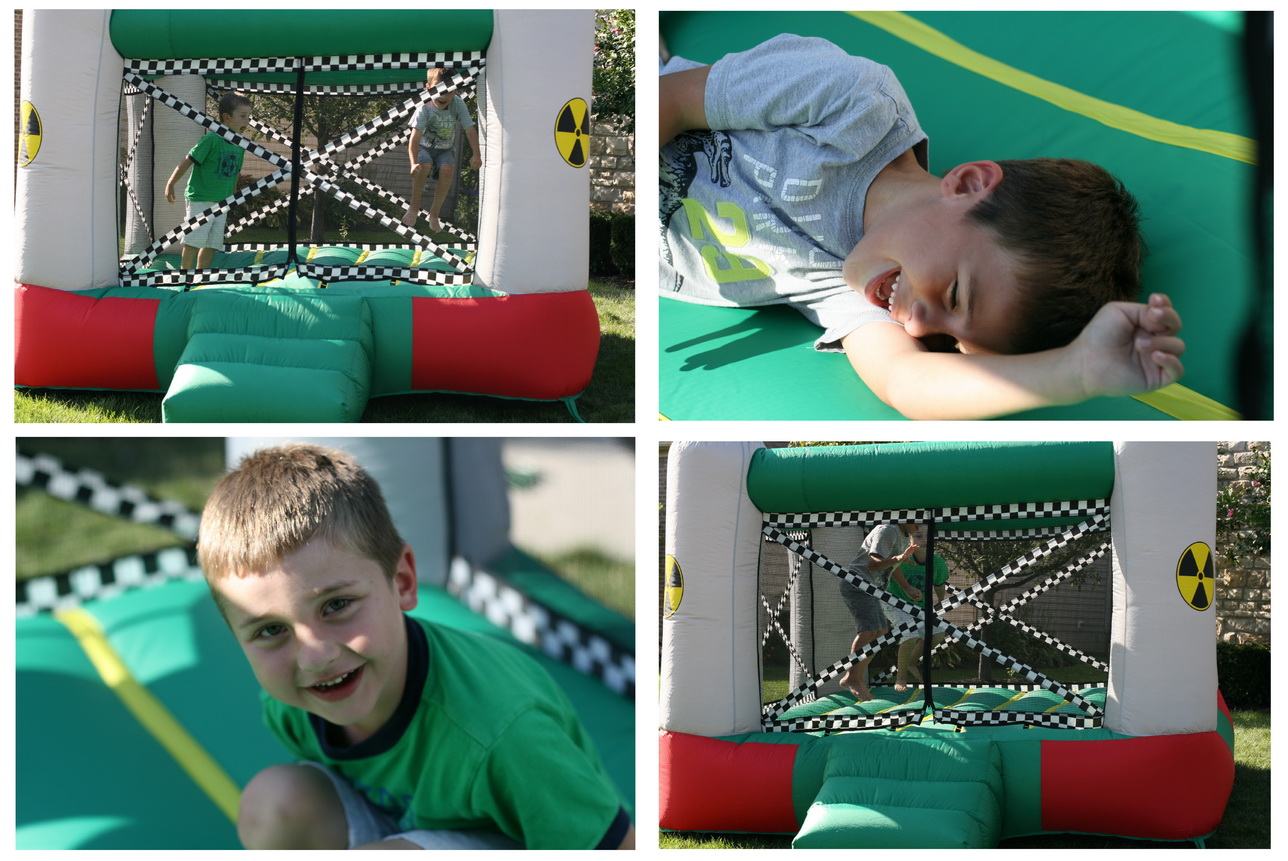 The boys have a myriad of outdoor toys from scooters, to bikes, to their Power Wheels, and I love that I can actually put this bounce house away!  The first time I had to put it away (you know how stuff never goes back in the way it came), I struggled a little bit trying to get it folded and rolled small enough to fit into the provided duffel bag.  I found that if you kind of lean into it while rolling it up (just like a sleeping bag), it gets all the air out and fits nicely in the bag to be put away and I was also able to fit the blower in the same bag and store it in our coat closet. The Bazoongi Nuclear  Bounce House, retails for $269.99 at Hayneedle.
We love our new Bazoongi Bounce House from Hayneedle where you can buy even more than just great outdoor things for the kids.  They have everything you can possibly imagine in one place.  You can buy just about anything your heart desires from Hayneedle,  and to help you do that, Hayneedle and DoubleBugs has a a $50 gift card to Hayneedle to help get your shopping started!
Win A $50 Hayneedle Gift Certificate!!!
Winners are chosen at random using "And The Winner Is"
Here's What Ya Gotta Do!
Visit Hayneedle.com and do a little shopping around and tell me what you would like to buy, come back here and leave a comment
Extra Entries (not required) Please leave a separate comment for each

Become a fan of Hayneedle on their Facebook Page
Follow Hayneedle on Twitter
Subscribe to my feed
Follow me on Twitter @Laurie2008
Good Luck!!!
Contest starts August 17, 2011 and Ends Sept 1, 2011
**The bounce house was provided by Hayneedle   for review, all the opinions expressed here are that of my own**