With the holidays comes all the family gatherings and meal preparations to feed what seems like an army of people.  I know how easy it is these days to go to the store for just a few simple things and you wind up spending nearly a hundred dollars and feel like you come home with next to nothing.  With the current state of the economy, I think families are truthfully struggling to keep food on the table and finding ways to make a holiday meal and or party memorable on a budget can sometimes be tough.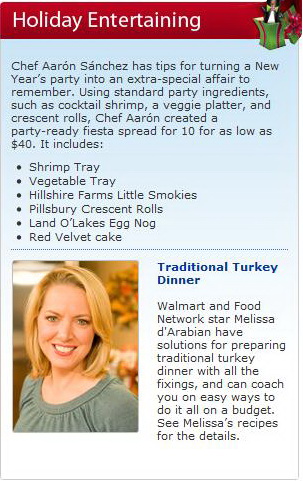 Walmart is helping families celebrate without breaking the bank and they are offering fresh and affordable holiday meals to help eliminate some of the stress that comes from footing the bill in hosting a large gathering.  Walmart's Christmas Dinner for Eight under $30 provides all the ingredients necessary for a traditional meal, including a 10-lb Spiral Cut Half Ham, three cans of Del Monte green beans, one 10-lb bag of russet potatoes, Sara Lee dinner rolls, and a pumpkin pie! The New Year's party basket for 10 for under $40 includes a Shrimp Tray, Vegetable Tray, Hillshire Farms Little Smokies, Pillsbury Crescent Rolls, Land O'Lakes Egg Nog, and a Red Velvet cake. And to give your recipes some pizazz Aaron Sanchez of Food Network is sharing some cooking tips and unique, delicious recipes he created with Walmart's basket of holiday and New Year's ingredients.  I am amazed at how much you can get for under $40 to make a really great event!  Not only that their holiday meal pages offer some great recipes and tips.
We do a lot of our pantry staple items at Walmart simply because they offer prices that are well below the supermarkets in our area.  I think that offering meals that the whole family can enjoy without the additional stress of finding out how to pay for all of it is a great way to give families a leg up.  One less worry makes our job as Moms a little easier so we can enjoy the holidays as well.
DoubleBugs, Walmart and Mom Central would love to give two lucky readers a $30 Walmart gift card to buy the perfect celebration meal for your family and friends.
Here's What You Gotta Do!
Tell me what your favorite family meal or tradition is, tell me what you love about Walmart's prices and meals for under $40
Additional Entries
Tweet about this great contest
Add me to your twitter
Blog about this giveaway
Grab my button and post it on your blog
Add Me To Your Technorati Favorites
Contest Starts December 18, 2009 and Ends December 31, 2009
Good Luck!
"I wrote this review while participating in a blog tour campaign by Mom Central on behalf of Walmart. In addition, I received a Walmart gift certificate to thank me for taking the time to participate and two to offer as a giveaway."

I typically make a conscious effort to make relatively healthy meals for the boys.  From day one I had vowed that I would offer them as many fresh fruits and vegetables as I could.  They have developed a love for just about any fresh fruit except cantaloupe, and love just about any vegetables. But, the reality is that, eating healthy is expensive.
What I have found, is that it is getting increasingly difficult to buy fresh produce for us, without literally spending $60 to $100 per week in efforts to get fresh things to prepare. You would honestly think that the cost to buy fresh, would be a little more reasonable than buying all these processed foods. Something in this country is very backwards. If we made the healthier choices more accessible, I would think that insurance costs would go down (less cardiac disease, less diabetes, and cancers). If people had more incentive to eat fresher foods, the benefits to their health are enormous and it might save this nation some money and make insurance more affordable.
I personally think realistically, that we are too far gone in this world of "get it now and convenience" to truthfully go back. When it comes right down to brass tax, we want everything right now, in the fastest manner possible and eating fresher foods just simply requires more time and effort. As a Mom, this isn't what's always best but I am also hard pressed to save a buck. It is dizzying to see how many of us spend sometimes hours in the grocery store with stacks full of coupons to feed our families, but I can guarantee none of those coupons offer a dime off of fresh produce. It's an admitted rush to leave the store with $200 worth of groceries for $100, even though it can live in our pantries for years, is it really all that healthy? It is no wonder why people are unhealthy, they can't afford to eat whats actually good for them! One of my favorite places to shop is Whole Foods (I love love love this place!), but with the economy and money being tight, I can only make a trip there as a treat rather than a weekly visit.
I am all for indulgence and I certainly don't deny my kids the occasional chips or cupcake and I even make dinners from a box, but I would love to have a coupon for lettuce, broccoli, and some of the things that their body actually needs. Local grocery stores should make these coupons available and I bet they would draw in more customers. Eating healthy should be rewarded not a financial burden.
It was a beautiful day out today so the boys and dh got out to play.   I spent a lot of my day catching up on the dreaded laundry that only seems to multiply.  The minute you think you are done, there seems to be another load sitting there mocking me.
I took the time today to make about 60 homemade meatballs for the freezer, made a fresh batch of brownies, and made a roast, with carrots, mashed potatoes, rolls for dinner.   After all of that I must say I am worn out so, I will be heading to bed early tonight, if you consider 10 pm early.
My new goal now is to start really watching our money for grocery spending.   It is difficult sometimes to determine our budget with food and it seems like I live at the grocery store.  Today I did well, and spent $50 and managed to get a cart full.  I have been cutting coupons  and I really watch the local ads and there is some serious money to be saved if you just do a little research.  I will have to keep you updated on my endeavor.  It is hard with figuring out meals, especially when you are in a rut but I plan on sticking with our budget.