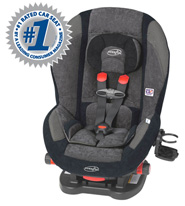 I have two three year olds and they will probably be in their car seats for at least a few more years. Choosing something that is there to protect your child in the event of an accident can sometimes be a daunting task.  The law would prefer that you have them in a seat of some sort up until the age of 8 I believe, or children that are below the height of four foot nine inches.  My boys have a lot of growing to do before they will be even close enough to be out of their car seats.
As a parent, this has been one of the bigger investments we have had to make. Being a first time parent I was overwhelmed at the choices and all the information when choosing a car seat.  We started out with two carriers, which grew to a bigger seat which only accommodated them till they were 40lbs in weight.  At three years of age they haven't reached their weight limit for those particular seats but they outgrew them well before they would have even gotten close to 40 lbs. So after that, I had to take a closer look at our choices for car seats for them.
As you know, car seats can be a rather pricey venture for parents, and especially if you have multiples.  Even though I felt like I was taking out a small car loan just to get them good seats, I wanted them to last this time.  We had two car seats situated in my vehicle since, I have the boys the most.  I have an SUV which is a gas guzzler but it was big enough to fit the boys in the back comfortably.  After awhile we decided that my husband should have at least one seat in his car for trips to the doctor, or when we wanted to divide and conquer.  His vehicle was more economical in terms of gas but much smaller.  We could have moved the seats when we needed them, but if you  know anything about car seats, once they are in a car, it is a pain in the butt to move them again.
We currently own, two Britax Regents, A Safety First Complete Air, our Previous Car Seats were Graco Comfort Sports.  We have have a few different brands to kind of compare.  Recently, I was offered the chance to review an Evenflo Triumph Advanced LX so I was interested to see how it compared to all these seats that we currently have.  If I am in the market for a car seat, I look for a few different things.
I look at the overall cost, the size of the seat, the weight limit, the buckles and straps (can I reach back and undo them with one hand etc), if the seat cover is able to be cleaned (because we all know that kids are messy), and if it looks comfortable and if I can find safety ratings on them.
When the seat arrived, we got it out of the box, and my initial reaction was that I was going to like this seat.  The seat itself was well padded and appeared to be comfortable to the boys when they sat in it.  Before we even got it in the car, I wanted to see how to adjust the shoulder straps.  The Evenflo Triumph Advanced LX, already has one exciting feature that I loved right away and that is the way you turn the dial on the side to adjust the straps.  It makes it ten times easier to work on the side of the car seat with a dial rather than fumbling in between the child's legs to find the well hidden button to release the straps and or tighten them.  The shoulder harness using Evenflo's Infinite Slide which is amazing in that, you can adjust them just by sliding the red tabs up or down.  There is know threading and re-threading the harness belts to readjust.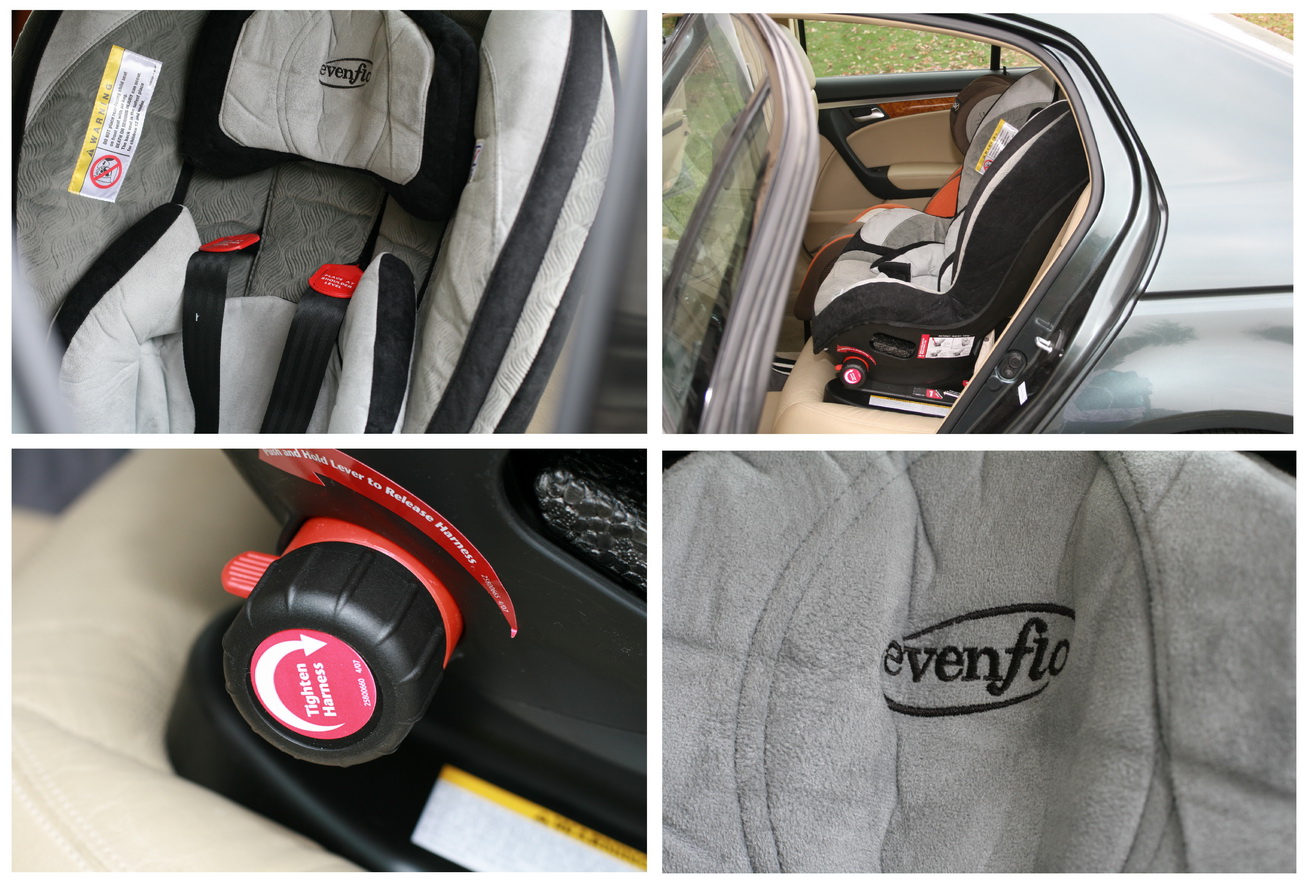 My husband has a relatively small car and I was worried about how far the seat may or may not overhang in the back.  Since my husband has relatively long legs, he tends to move the drivers side seat to the farthest position in his car which in turn leaves little leg room for the boys in the back.  The Evenflo Triumph Advanced passed this test with flying colors and sits far enough back on the rear seat that they still have ample leg room.  In comparison to our Britax Regents, this compact seat has a lot to offer in functionality and works well if you are limited on space.
When setting up the seat in the car, I almost always struggle to get a car seat in the car because you have to do a lot of maneuvering.   The Evenflo Triumph Advanced was fairly easy  on installation.  The seat had ample room to reach through the space when threading the seat belt through which is nice when you are trying to fit your adult hand through.   I struggled with installing the metal locking clip which is always the case, I wish they would make something that was a bit easier to deal with.  One thing in particular that I didn't care for, and I have the same problem with a lot of the seats we have had, is that, the harness belt gets twisted very easily on the Triumph Advanced as well as most other seats, and if you aren't used to getting it back, you will find yourself fussing with untwisting it very often. The padding itself is machine washable which is a must for a car seat in my opinion.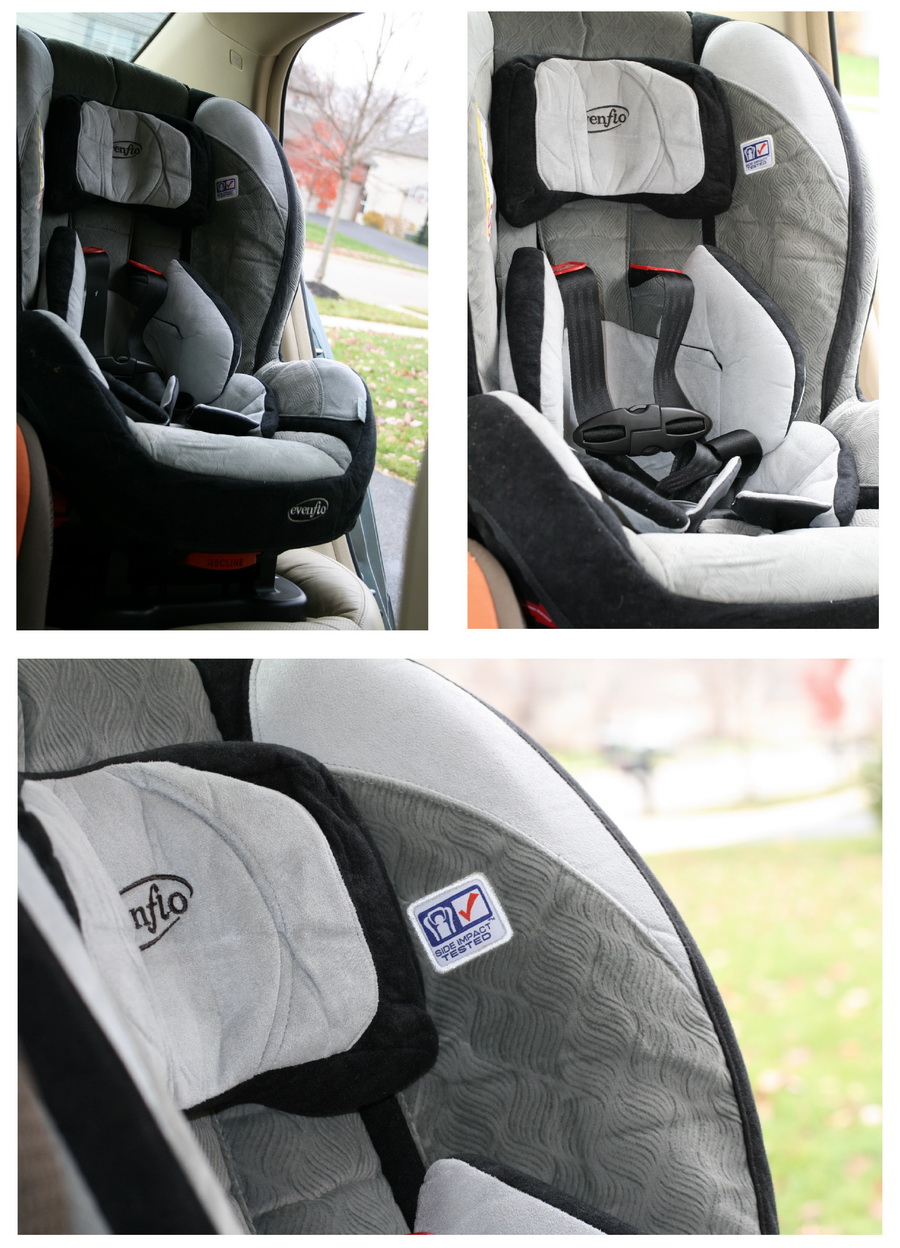 In general, this is an excellent seat for the price ($120-$150), and the boys both seem comfortable riding in it.  The Evenflo Triumph Advanced will also be with your child probably until they are able to ride in a booster which is nice.  You can use this seat with infants rear facing from 5lbs to 35lbs and forward facing from 20lbs to 50lbs.  For safety, it is recommended that you keep your child rear facing for as along as possible.  We love the Evenflo Triumph Advanced and it is really nice for compact cars.  It comes in about seven different color combinations so you can easily find something that looks nice in your vehicle.
Evenflo Convertible Car Seats
Increased! Rear Facing for infants 5 to 35 lbs.
Increased! Forward Facing for infants 20 to 50 lbs.
New! Infinite Slide Harness adjustment system
Removable body and infant head support pillows
Multi-position ReclineRight™ base
Exclusive! TensionRight™ knob tightens harness easily from the side
New! EPP, energy absorbing foam liner
Fold-down cup holder for easy access to drinks and folds out of the way when not in use
Removable, washable pads
2 buckle strap positions accommodate growing child
Meets or exceeds all applicable federal safety standards
Use & Care
The Triumph 5 convertible car seat is for use rear facing with children that are 5 to 35 lbs or forward facing for children that are 20 to 50 lbs.
Read all instructions and warnings on the product, product labels, and instruction manuals before use. Consult your vehicle owner's manual to determine proper placement of child restraint in your vehicle and familiarize yourself with your vehicle's components.
Machine wash pad with mild detergent, cold water, and gentle cycle
If you visit the Evenflo website, you can find a host of information including instructions on how to install your car seat.
**As part of my review on behalf of Evenflo, they provided me with a free Evenflo Triumph Advanced for review.  The opinions expressed are strictly that of my own**
Evenflo and DoubleBugs would like for one of it's readers to experience the Evenflo Triumph Advanced  and is giving away The Triumph Advanced to one lucky reader!

Here's What You Gotta Do!
Visit evenflo.com and tell me what else you would like to have or something you have learned from the  site and why you would like to have this car seat.
Additional Entries
Blog about this contest
Twitter about this great giveaway
Follow me on Twitter
Add me to your technorati favorites
Subscribe to my blog
Contest Begins December 2, 2009 and Ends December 31, 2009
Good Luck!!!!
Open To US Residents Only