I have been getting acquainted with the Nescafe Dolce Gusto now for a couple of weeks, and enjoying some nice warm beverages.  It has been a great addition for our busy house because, I like being able to make things relatively quickly, and with as little mess as possible.  It saves time and work when you are chasing after little ones.  The other nice thing about single serve coffee makers is the fact that you can make tea, and my husband can follow behind me and make coffee.  It offers a whole new lever of convenience.
When using my Nescafe Dolce Gusto, getting started was pretty darn easy, the fold out instruction sheet offers a visual set of steps.  Then you select what you want to drink.  The display on the Creativa was very easy to read, and see and made selecting my coffee type easy (in this case hot chocolate).

Getting Started
Initially before brewing anything, you have to fill up the water reservoir and run water through the Nescafe Dolce Gusto six times before you can brew.  I had to find something I could catch the water with however, because I didn't have anything big enough.  I wound up using a small pot, which worked out well.
Ready To Brew
After I ran water through the machine, I was ready to taste my first cup.  I chose hot chocolate.  You have to run through all the coffee names and kinds to find which one you are having and make the selection on the display.  I found this a little busy, rather than just putting the cup in the little spot it goes in and closing the handle and hitting start.  There are a lot of flavors!  Then I was ready to go!  I guess I didn't read, or didn't realize that the hot chocolate had two capsules, one with the milk and the other with the hot chocolate.  So when the machine first started brewing, the stuff in my cup was white and I sort of freaked  LOL!  Then I realized it was a two part process.    The hot chocolate was yummy, but I would have preferred it just be one cup, it might cut down on some of the waste.  The flavors are available in one and two capsule varieties.  The nice thing is that the Nescafe Dolce Gusto, comes with a container that you can put next to your machine, to throw away your used flavor capsules.  This was nice because I didn't have to carry it dripping, over to my trash can.  I also tried the peach iced tea which I really liked.  Both the capsule holder and bin are dishwasher safe so you can give them a good wash from time to time.  I just fill my capsule bin with warm sudsy water and toss the holder in there and let them soak.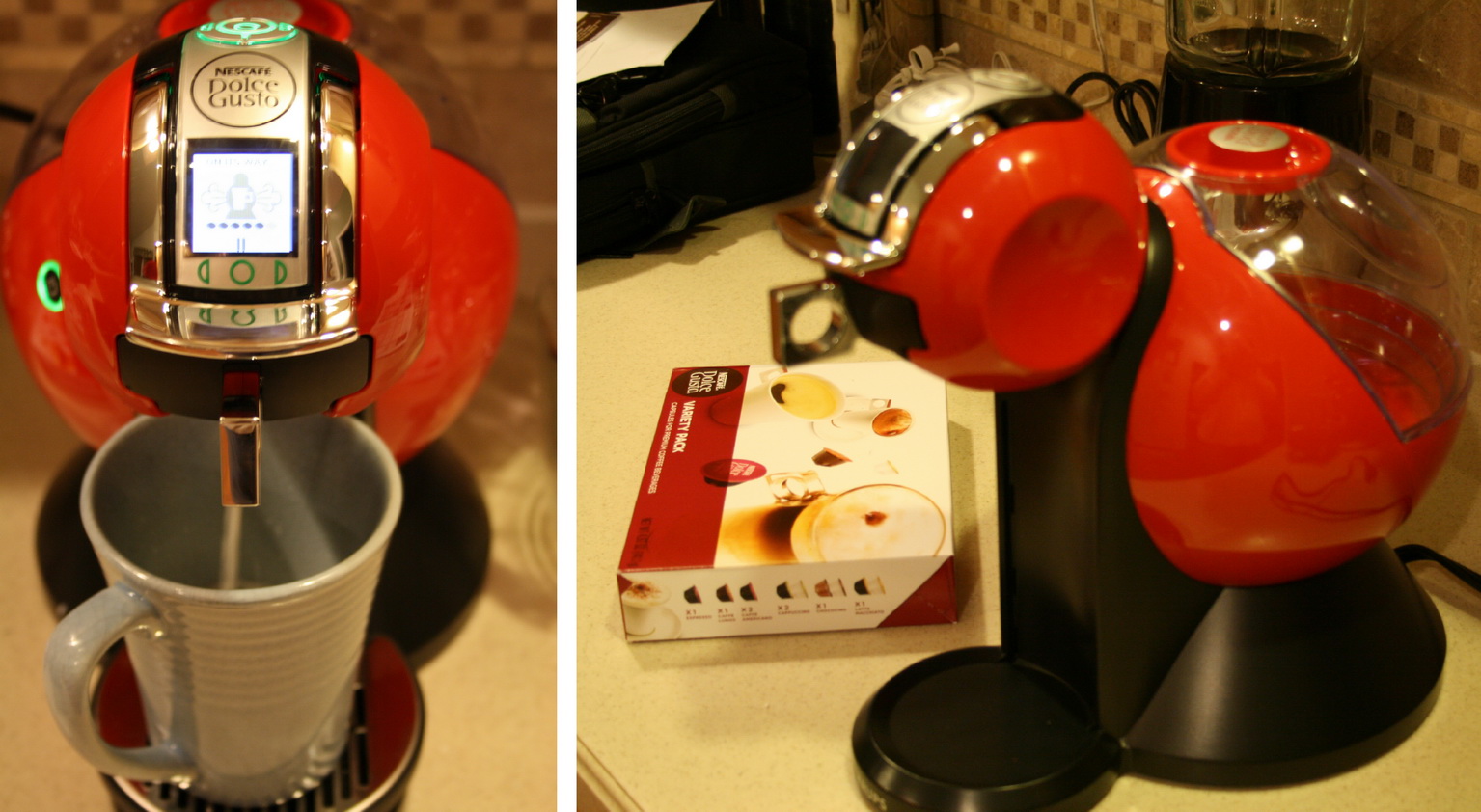 Nescafe Dolce Gusto Creativa Features


-No mess, No fuss. Everything you need to make hot or cold drinks are contained in our easy-to-use capsules

-Automatic "on" feature, digital machine with LCD screen

-Personalize your cups and it memorizes them – perfect preparation guaranteed

-Program automatic preparation of your breakfast, mid-day, dessert or any other cup whenever you like it

-Display works in many different languages and pictograms

-Nescafe's technologically advanced machines and precisely designed flavor capsules combine to give the NESCAFÉ® Dolce Gusto® a professional-level 15-bar pressure system (similar to coffeehouse machines) which helps to ensure that every cup is perfect with a foamy froth, rich crèma and luxurious flavor

-The exclusive Thermoblock technology heats the water fresh every time, in less than one minute

-NESCAFÉ® Dolce Gusto® uses only the highest quality ingredients – featuring only 100% Arabica, rich chocolate and foamy milk
Flavor Varieties

One Capsule Varieties:

-DARKROAST/CAFFÉ GRANDE INTENSO

-NESTEA PEACH ICED TEA:  A cool and refreshing peach icedtea,topped with a velvet foam, from one of your favorite tea brands

-HOUSEBLEND/CAFFÉAMERICANO: A smooth,mild coffee with delicious aroma and velvety crema layer

-Caffe Lungo:  :A full bodied long espresso with a rich aroma and velvety crema layer

-ESPRESSO: An unadulterated shot of pure 100% Arabica coffee

Two Capsule Varieties

-VANILLA LATTE MACCHIATO

-CAPPUCCINO SKINNY: A slightly sweetened milk blanketing a shot of espresso, now with fewer calories

-CAPPUCCINO: A slightly sweetened milk blanketing a shot of espresso

-HOTCOCOA/CHOCOCINO: Gourmet liquid chocolate topped off with sweetened milk

-ICEDCAPPUCCINO: Frothy cream and chilly coffee

-LATTEMACCHIATO: Frothy milk with a shot of strong espresso

-MOCHA: Hot chocolate and coffee do a delicious duet

Capsules:$8.99MSRP(one capsule beverages: 16servings/pack; two capsule beverages: 8servings/pack)
My Final Take
My general take overall is a good one for the Nescafe Dolce Gusto. I like that it is fairly easy to use for a single serve coffee maker and that is looks good on my countertop. There isn't anything ordinary about how it looks, which makes the appliance fun to use. I think ultimately it is more efficient than brewing an entire pot of coffee and allows for variety among the people who use it in the house. You can program the Nescafe Dolce Gusto to make you your favorite beverage at anytime during the day, but in the case of using two capsules, that sort of negates the purpose of programming it but in general a good feature to have. It also has an automatic shut off so you don't have to remember to turn it off, which is a step up from the traditional coffee makers where they never used to turn off.
If you are in the market for something fun and functional with a great variety of choices, the Nescafe Dolce Gusto might be what you are looking for. I am enjoying using mine and it looks good in my kitchen!  The MSRP for the Creativa is $169.99.  Check out their commercial!
"I wrote this review while participating in a test drive campaign by Mom Central Consulting on behalf of NESCAFÉ Dolce Gusto and received a coffee machine to facilitate my review."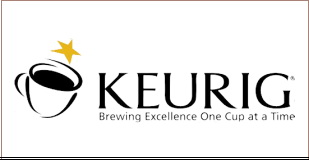 We are huge tea and hot chocolate drinkers in our house, and I like to enjoy the occasional decaf flavored coffees.  I know that we are lightweights here in the house, but we always have coffee available for our family members when they come to town.   My one big problem with a coffee maker is that it makes a whole pot of coffee, or you don't get to have any options on what you get to make.  So when you have guests in your house or you and your husband drink something different you are confined to making large batches of coffee, or making separate messes in the kitchen for two small cups.
I was recently given the chance to review the Keurig Platinum Brewer and I must say that I already love the functionality of this coffee, tea, and hot chocolate brewer.  Yes, I did say all three!  What is so wonderful about having the Keurig Platinum Brewer is that you can choose what you are having and brew your own individual cup and then the next person that comes along can choose something totally different.  I can remember over the holidays having a large amount of family here and all of them drank or preferred a different kind of tea or coffee and I surely needed the Keurig then, but I didn't even know that such a thing existed.  When I received the Keurig Platinum Brewer and tried it out I was excited that I had a way to make myself my hot chocolate or tea and then my husband could have something different if he wanted.
Another great feature is that you can pick which size cup of coffee or tea you want to brew and it even has an option for making an iced beverage.  You can set your brewer to turn on or off when you want it too, so that makes it nice for when you get up in the morning.  The brewer is incredibly easy to use, and you will have a fresh cup of tea or coffee in less than a minute.
Nothing about the Keurig Platinum Brewer is difficult, right down to cleaning the unit.  I haven't done what they call a purge on the system yet but that looks like a fairly easy task.  You can remove the drip tray and put it in the dishwasher, and the k-cup holder is easily removed to clean it.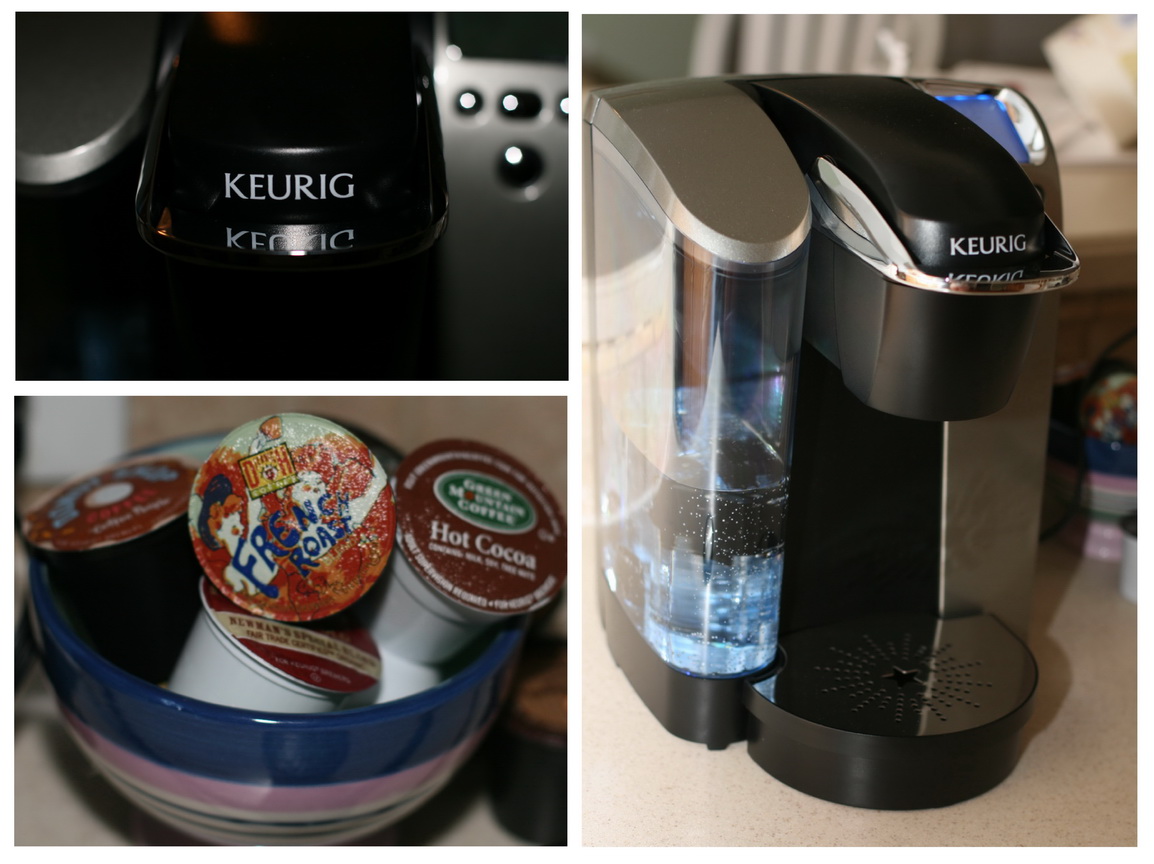 Features
The Platinum offers the full spectrum of features including Auto On/Off, Digital Clock, Adjustable Temperature Control and the "Set Your Favorite Cup Size" option. The largest available 60 oz. removable water reservoir holds up to ten cups before refilling and the removable drip tray allows for easy cleaning and the use of travel mugs. The sleek, award-winning design is a unique footprint among Keurig's line of home brewing systems and includes both a blue lit water reservoir and blue lit LCD display.
5 cup sizes 4 oz, 6 oz, 8, 0z, 10 oz and 12 oz cup size options
Removable 60 oz water reservoir
Fully Programmable Features
Blue Backlit Display
Quiet Brew Technology
Award Winning Design
About Keurig

The word "keurig" is derived from the Dutch word for excellence. Excellence guides everything they do at Keurig from their patented single-cup brewing technology, to the gourmet brands of coffee and tea that are packaged in their K-Cup® portion packs, to their customer service.

Today, Keurig® is the leading single-cup brewing system in North America-for both At Home and Away From Home. Now, you can enjoy a fresh cup of gourmet coffee or tea, and hot cocoa Keurig Brewed® in less than a minute, without any set-up or clean-up. Keurig's popular coffee, tea and hot cocoa brands offer hundreds of K-Cups® to choose from, so everyone can have their favorite variety.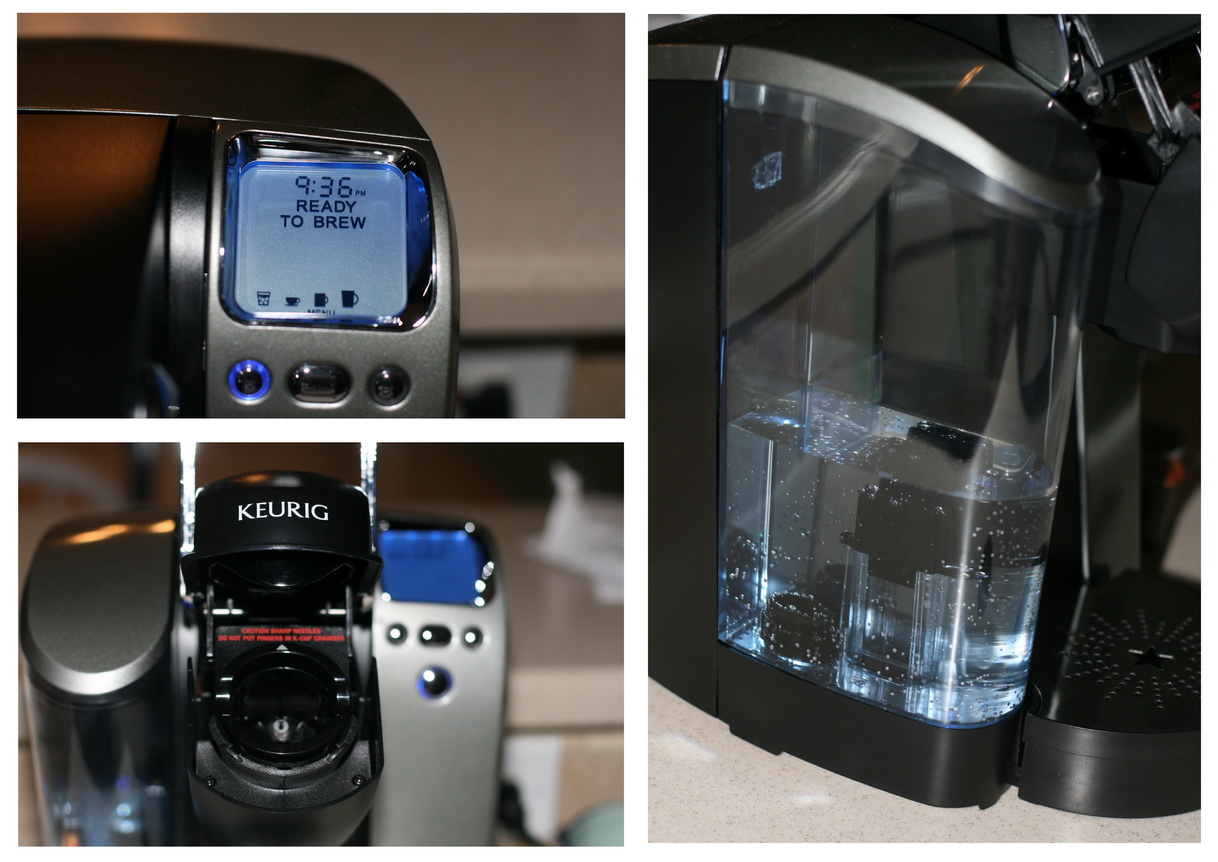 I was amazed while browsing their site at the huge selection of coffees, teas and hot chocolates, and they also have some really nice accessories to go with your brewer as well.  They have water filters available, racks to hold all your k-cups so they are nice and neat and easily accessible on your counter, and they even have a special My K-Cup adapter so you can brew a cup of your favorite tea or coffee that you are used to drinking.
I love the versatility of the Platinum Brewer because you can make several cups of anything you choose and you don't have to worry about the mess or making more than you can actually drink, just to enjoy one cup of coffee or tea.  It is incredibly easy to use and I love the blue backlit display because it makes it easy to see.  The temperature preference is also nice because you can pick how hot you want your drink to be, I am one of those people who likes it somewhere in the middle.    The one thing that you have to be careful with is to remember to have your cup in place before you start brewing or you will have a mess to clean up.  I would definitely recommend chucking that coffee pot for a Keurig Platinum Brewer because it is a one man show when it comes to making hot beverages for yourself, for your husband or for visitors.  You'll never have to rinse out the coffee pot to set it up for something different ever again.  I get excited just to go make a cup of tea or coffee now. I LOVE IT!
THIS CONTEST IS NOW CLOSED!!

Would you like to win a Keurig Platinum Brewer? I know you would.
Keurig would like to give DoubleBugs readers a chance to win a Keurig Platinum Brewer of their very own!
Here's What You Gotta Do
*Mandatory For Entry*

Visit the Keurig website and tell me what you like about Keurig and what kind of K-cups you would like to try
For Additional Entries (leave a separate comment for each)
Tweet About this Giveaway
Blog about this giveaway with a link to my site (5 additional entries gained)
Add me to your technorati favorites
Add me to your twitter
Subscribe to my blog
Add my button to your blog
Contest Starts August 2, 2009 and Ends September 7, 2009
Good Luck!!!
*Winners Chosen via Random.org*