It is tax time, which means everyone is in a time crunch to get their taxes done and out the door by the April 15th deadline.  If you are anything like me, you look forward to getting some sort of refund.  Most families have already earmarked what the money is for, whether it is home improvements, to pay off debt, or just to put a little money back in the bank.   With a little extra money in your pockets you feel a little richer and can set aside money for more important things.  What about college?
College advantage has a great way to put money aside for your child's education.   Getting started is super simple and families can enroll by going online at www.collegeadvantage.com. In just a mere ten minutes, you are already taking a step in in the right direction to ensure your child's or children's future. You can invest as little as $25 to get started you can make contributions through payroll deduction or electronic funds transfers throughout the year. Future participants can enroll online, download enrollment materials or request enrollment materials by calling 1-800-AFFORD-IT.

When you look at College Advantage you may be noticing that is says the "Ohio College Advantage 529 savings plan" but CollegeAdvantage funds can be used at any college not just Ohio and any university nationwide to pay for tuition, fees, room and board and other eligible expenses.  CollegeAdvantage offers nationwide enrollment, so you don't have to be an Ohio resident to participate in Ohio's College Advantage 529 Savings Plan.   This makes it to where anyone can get a child ready for the future, whether you are a parent, a doting grandparent, or you wish to give someone a gift, it is a win win situation for everyone and a gift you can feel good about giving.
Recently, College Advantage welcomed Paul Paeglis as the new Executive Director. Paul brings more than 20 years of experience in the banking and financial services industry, with skills in finance, risk management, operations, strategic planning and relationship management. Most recently, he served for more than 10 years as Chief Financial Officer of Tax Related Products at JPMorgan Chase. With  children of his own, Paul is passionate about the mission to provide high-quality savings programs to help families prepare financially, he understands what this means to families and the financial challenges that saving for college entails.
Now is a great time to start a College Advantage Savings Plan!
Currently, Ohio Tuition Trust Authority is encouraging families invest using their tax return dollars. From March 18 through June 1, 2012 Tuition Trust will provide a $25 account bonus to any new  College Advantage direct account with a $500 or more initial contribution. Existing account holders who make a onetime contribution of $3,000 to an account between March 1 and April 30, 2012 will receive a $50 bonus. This is a great added bonus and who couldn't use free money towards college?
So if you are wondering what to spend your tax refund on, or you want to give a thoughtful gift to a child in your life, College Advantage is a great way to do that!  They may not jump for joy at a gift that isn't tangible right now, but will appreciate the gift of education later when it matters the most.  More information can be found about College Advantage's latest promotions and SAVINGS by visiting www.collegeadvantage.com and entering promo code SAVINGS or by visiting the OTTA Promotions tab at Facebook.com/CollegeAdvantage.
**I was compensated for this post all opinions expressed here are that of my own**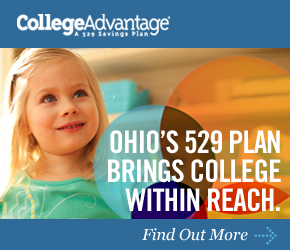 The holidays are in full swing and like me, many of you are out searching for the perfect gift to give.  If your kids are like mine, they get spoiled by two sets of grandparents, Santa comes to the house, and they have all their aunts and uncles.  So why not give a thoughtful gift, like the gift of education, designed to benefit families and their children for their future?
Giving the gift of education, is probably one of the most valuable gifts we can give our children and saving for college can be a family's most daunting task.  The Ohio Tuition Trust Authority  has the perfect gift this season, the CollegeAdvantage 529 plan. CollegeAdvantage, Ohio 529 plan, makes it easy for a family to save for college and offers a choice of investment options from leading fund managers. Funds invested in CollegeAdvantage can be used at any college in the country to pay tuition, fees, books and room and board.  I don,t know about you, but with having twin boys, we are going to need all the help we can get.
Right now, if you open a CollegeAdvantage account with at least $100 by Dec. 31,2011 you will get a $25 bonus contribution to the newly opened account. All you have to do is enter the promo code SAVINGS at sign-up.
FEATURES AND BENEFITS OF A 529 COLLEGE SAVINGS PLAN.
If you ask us, they pretty much speak for themselves.
TAX-FREE WITHDRAWALS

The account grows tax-free. Withdrawals are free from federal and state income tax if used to pay for qualified higher education expenses.
STATE INCOME TAX DEDUCTIBILITY

Contributions to your state's plan may be eligible for a total or partial deduction on your state income tax return.
REDUCED ESTATE TAX

Generally, the account value isn't included in anyone's estate for federal estate tax purposes. State estate taxability varies by state.

INVESTMENT FLEXIBILITY

Generally, you can choose between two types of investments: age-based options (investments change to a more conservative mix as your child nears college) and individual investments (you manage and create your strategy). You can change investments within the plan once each calendar year.
UNLIMITED PARTICIPATION

Under Ohio's plan, anyone—parent, grandparent, or friend—can own an account or contribute to another's account for a beneficiary. Some states' plans allow only the account owner to contribute.
ABILITY TO CHANGE BENEFICIARY

You may transfer the account at any time to a different beneficiary who is an eligible family member of the original beneficiary.
MINIMUM IMPACT ON FEDERAL OR FINANCIAL AID

Funds invested in a 529 plan are considered to be an asset of the account owner. If the parent is the account owner, on average, about 5.64% of the value of the account is considered in determining federal financial aid.
NO INCOME RESTRICTIONS

You may invest in a 529 plan no matter how much you earn.
FLEXIBLE AGE LIMIT

Most plans allow contributions for a beneficiary of any age. Only a few plans have age restrictions.
Ohioans who contribute to a CollegeAdvantage 529 account can also take advantage of the state of Ohio tax deduction for college savings. Up to $2,000 of contributions can be deducted each year per contributor (or married couple), per beneficiary, with unlimited carry forward in future years. Any Ohio taxpayer contributing to a CollegeAdvantage account including grandparents, other family members and friends can also claim the state tax deduction. In addition to the state tax deduction, earnings in a CollegeAdvantage account are free from state and federal income taxes when the funds are used for higher education expenses.

Being a new parent, I had not even heard of CollegeAdvantage, and I have been living here for nearly 17 years. As my husband and I were getting our bills in order, these are the types of things that cross your mind. The boys are only 5, but momentary panic sets in when you realize just how much it will cost to send both of them to college at the same time. With CollegeAdvantage, it makes it a realistic option to actually save up for college without making big adjustments in the family budget. Also, I like that anyone can contribute, so when Christmas, and things like graduations come around, money can be spent on a gift that matters most.
Rather than buying toys that eventually fall apart, why not give the gift of education for Christmas? Now, is the perfect time to get the new niece or nephew in the family started on one of a family's biggest investments, their child's future. Families, can quickly open a CollegeAdvantage account by visiting the CollegeAdvantage site.
To help get you on your way, DoubleBugs is happy to offer 3 $100 CollegeAdvantage Savings Plans to help you start saving for your child's college.  It is never too late to start!
To Enter
Leave a comment why you would like to win and how this would benefit you.
Additional Entries
Become a fan of Ohio's 529 College Savings Plan on facebook
Tweet about this giveaway and leave the link
Follow me on Twitter
Contest starts December 19, 2011 and Ends January 19, 2011
Winner has 24 hrs to respond or prize is forfeited
Good Luck!
**I was compensated for this post all opinions expressed here are that of my own**