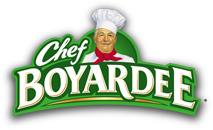 Chef Boyardee has always been a favorite in our house, but usually we would just have it as a quick and easy go to meal.  But what if you could turn it into an entire meal for your family or entertain a houseful? Well, this weekend, I put that idea to the test.  We rounded up some of our favorite people and went to work in the kitchen!
I decided to invite my neighbors and their family over for a fun dinner and dessert.  One of their twin daughters loves to cook so she was very excited to come over and help.  We decided to make a top secret dinner for her Mom and Dad and brother and sisters.  So on party day we turned on some music, and put together a masterpiece for dinner.  To help us out we were sent all the right tools, aprons, chef's hat, mixing bowls, baking dishes, and a timer.  I think everyone had just as much fun wearing the aprons and hat!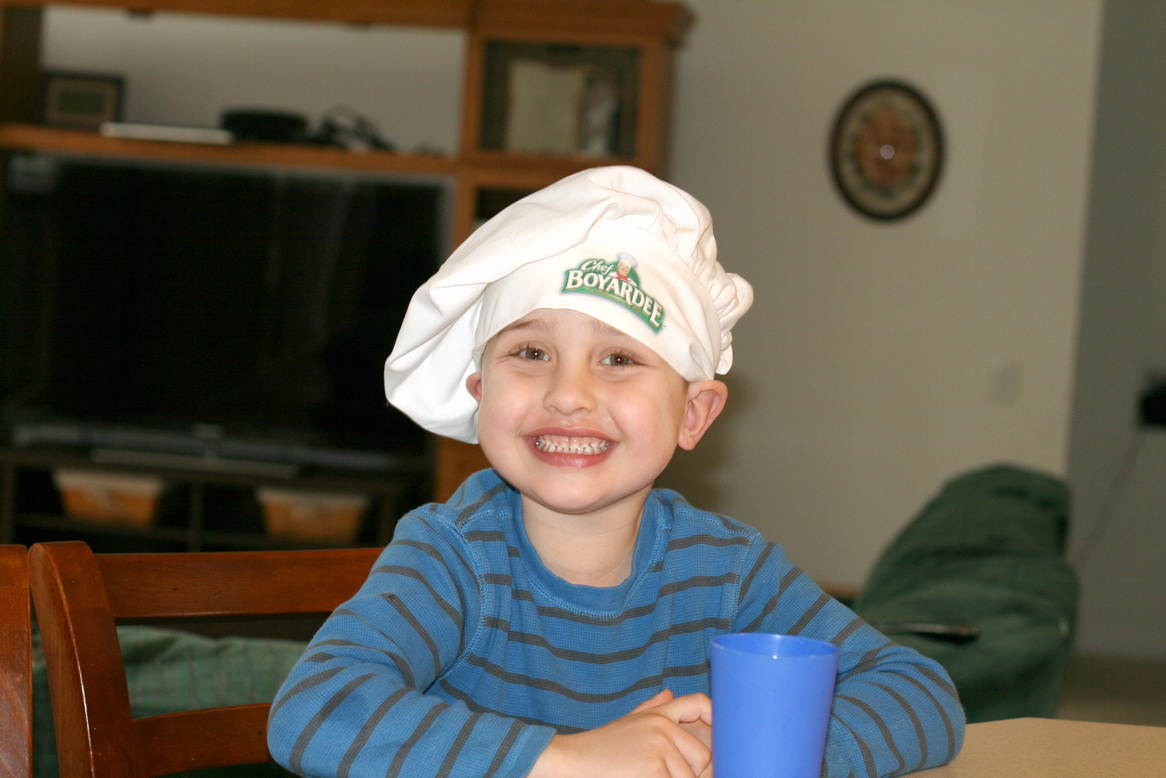 As part of our party, we had to create a Chef Boyardee recipe to share with everyone.  We chose to make the very tasty Pepperoni Spaghetti Bake and added some of our own little touches to the recipe.  We added some grated Reggiano and Romano cheeses and baked garlic bread on the bottom.  We made a side salad and the meal was complete!  Everyone had their own job in the kitchen, and the boys got a kick out of helping mom.  This has been a really wonderful opportunity for me and the kids, and the recipes offered really were not that difficult to prepare.  This made it easy for the boys and the other kids to participate and enjoy something that they made.  The end result was a really tasty meal, spending less time in the kitchen, and more time enjoying family and friends.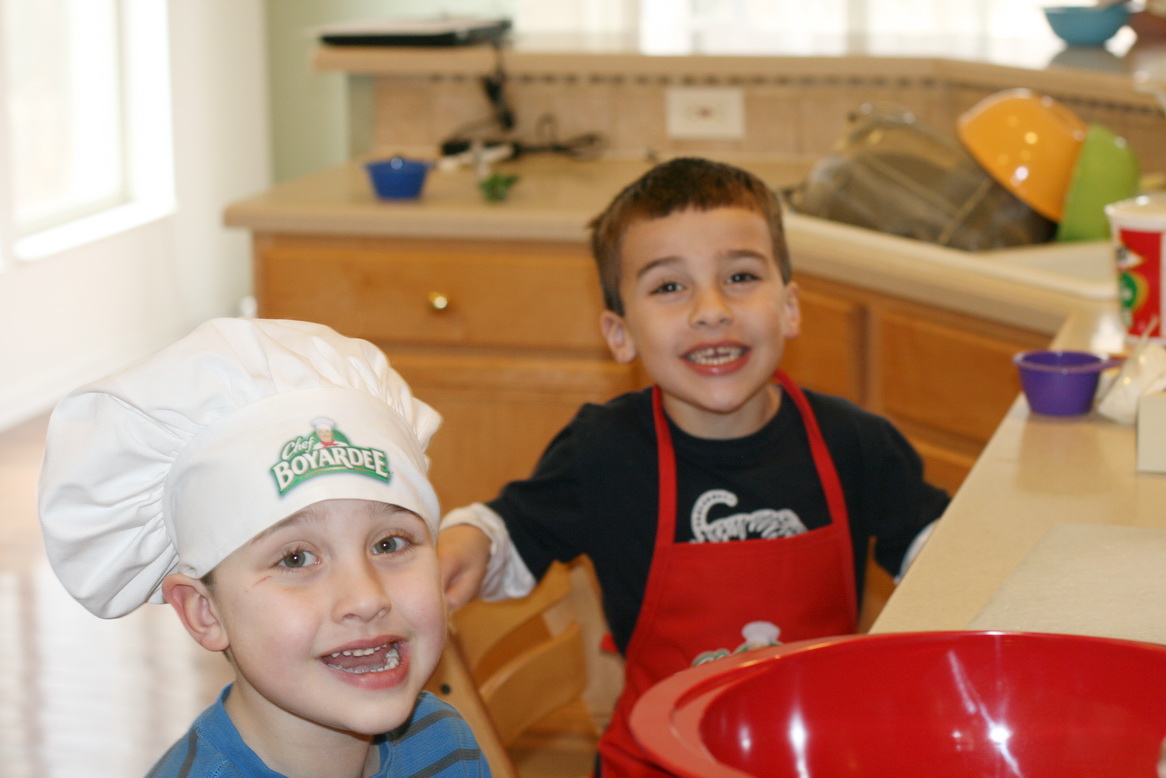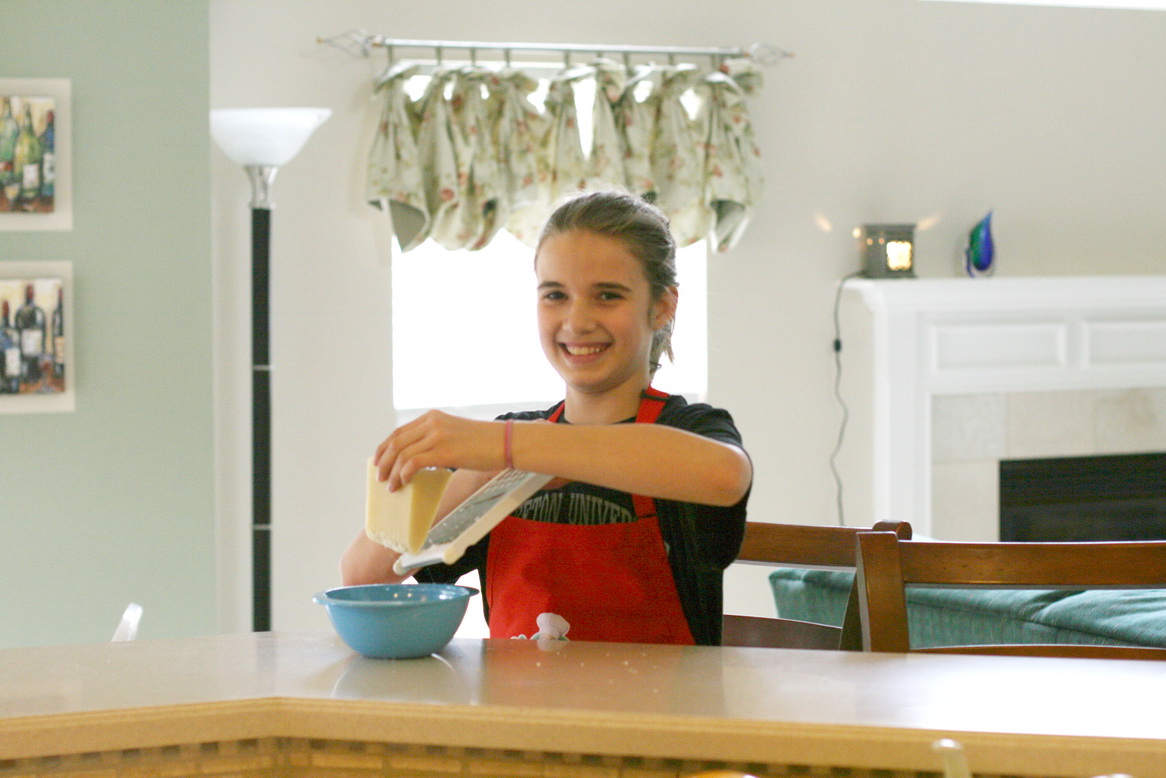 Right now through March 11, 2012, you can submit an original recipe that uses Chef Boyardee as an ingredient (anything you can dream up).  All you have to do is upload a photo of your recipe, and share why your family loves it.  A winner will be chosen based on creativity, all-family appeal, ease of preparation, and palatable appeal by an expert panel of judges.   You can win a $500 prize as well as $75 in Chef coupons or the grand prize of free groceries for a year!  I don't know about you, but who couldn't use a stocked fridge and pantry for the year to make delicious recipes like the ones offered by Chef Boyardee?   You can visit the facebook contest for your chance to win.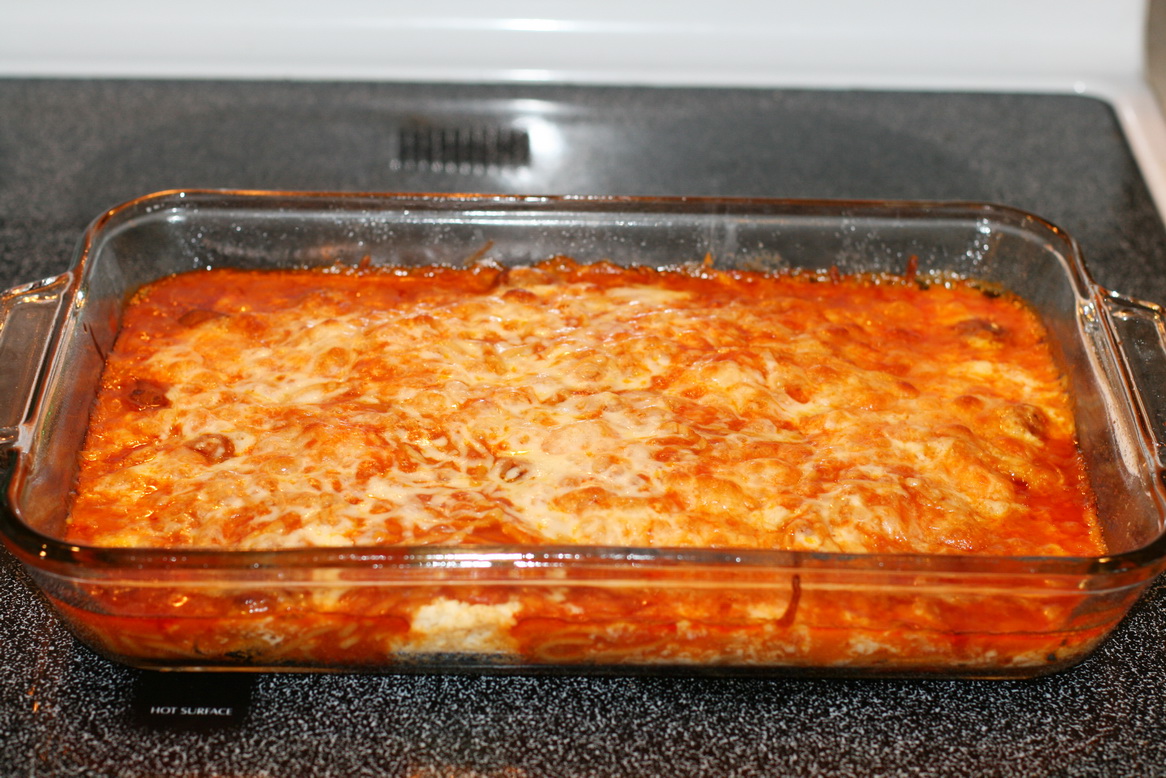 After all was said and done, everyone loved the meal that was prepared and we could hardly believe that it only took 30-40 minutes to prepare.  We loved throwing a party and I loved getting my kids involved in the meal preparation process.  It was a great learning experience and most kids like having a role in helping.  You can find some more really great Chef Boyardee Recipes on their site.  Don't forget to enter to win free groceries from now until March 11, 2012!
"I wrote this review while participating in a In Home Party campaign by Mom Central Consulting on behalf of Chef Boyardee and received product samples to facilitate my party and review, and a promotional item to thank me for participating."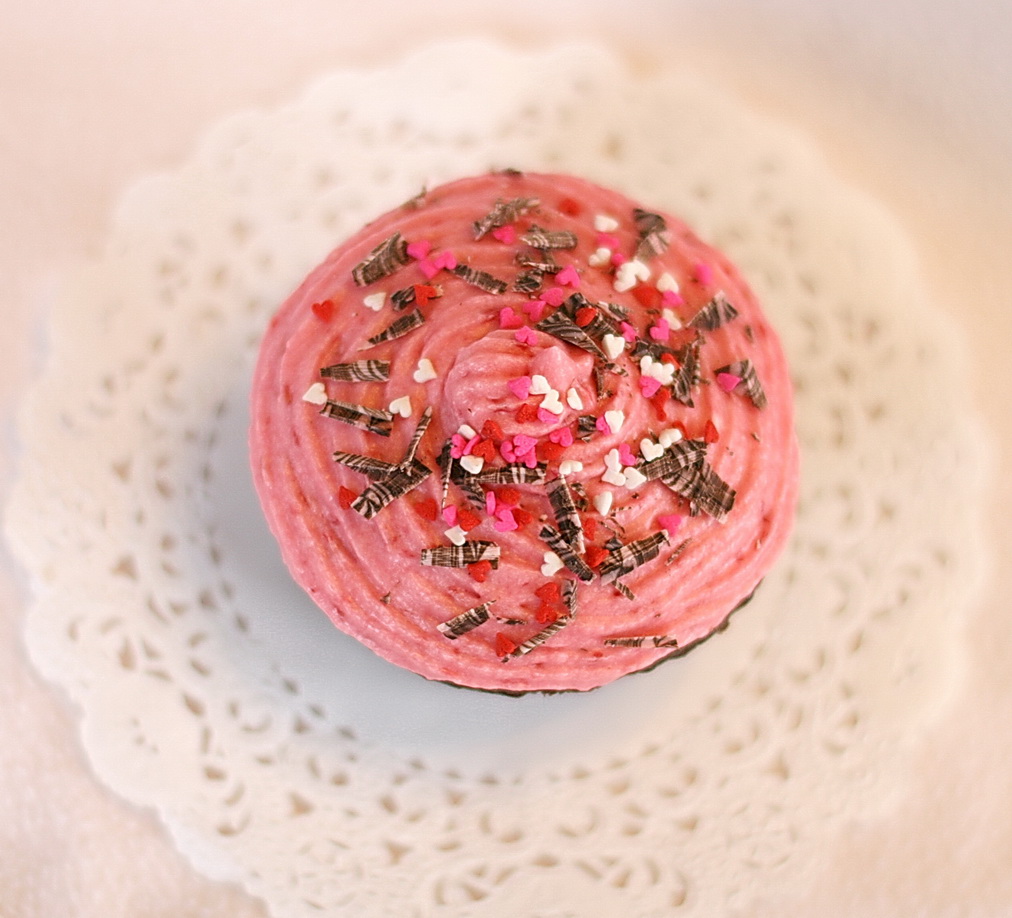 I was thinking of ways to wish you all Happy Valentine's Day, or just wish you all a happy day.  So my taste buds decided to take over.  I have an addiction to thee new Dove chocolates that I found in the store one day while I was crabby, PMS'ing and needed chocolate.  If you haven't tried them, they are the Dove Raspberry Dark Chocolate Promises.  They are the perfect ratio of chocolate to raspberry and I have to hide my stash in the house.
So I decided, what if I put these in a chocolate cupcake for Valentine's Day, or any day for that matter?  So I came up with a little recipe to celebrate this day of love…love for your loved one, love for yourself, love of all things chocolate, or just plain old LOVE!
Cupcake Ingredients
Raspberry Buttercream Recipe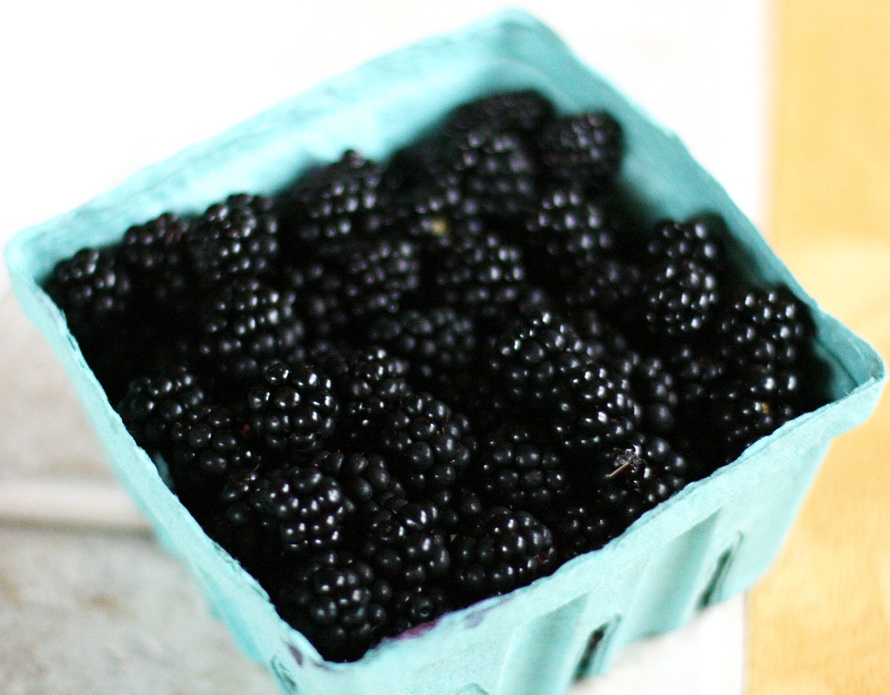 I am a fruit picking fool lately.  There is something about going out to a farm and out in the fields and picking your own personally selected berries and fruits.  For me, I get a real sense of peace being out there and picking fresh berries with my family or just by myself.  Recently, I decided to go blackberry picking because I had simply never been.  It was a challenge finding a place to go, and then I found a place about 20 miles from me and off we went!  I actually frequented the blackberry patch twice in the last two weeks.  The first batch went to make seedless blackberry jam and the next was to get more and find some things to make with them.
My first recipe was a blackberry pound cake with a vanilla custard sauce that was simply to die for! So, I thought I would share the recipe I used.  I de-seeded the blackberry puree because I didn't like the seeds in it, but you can do either way.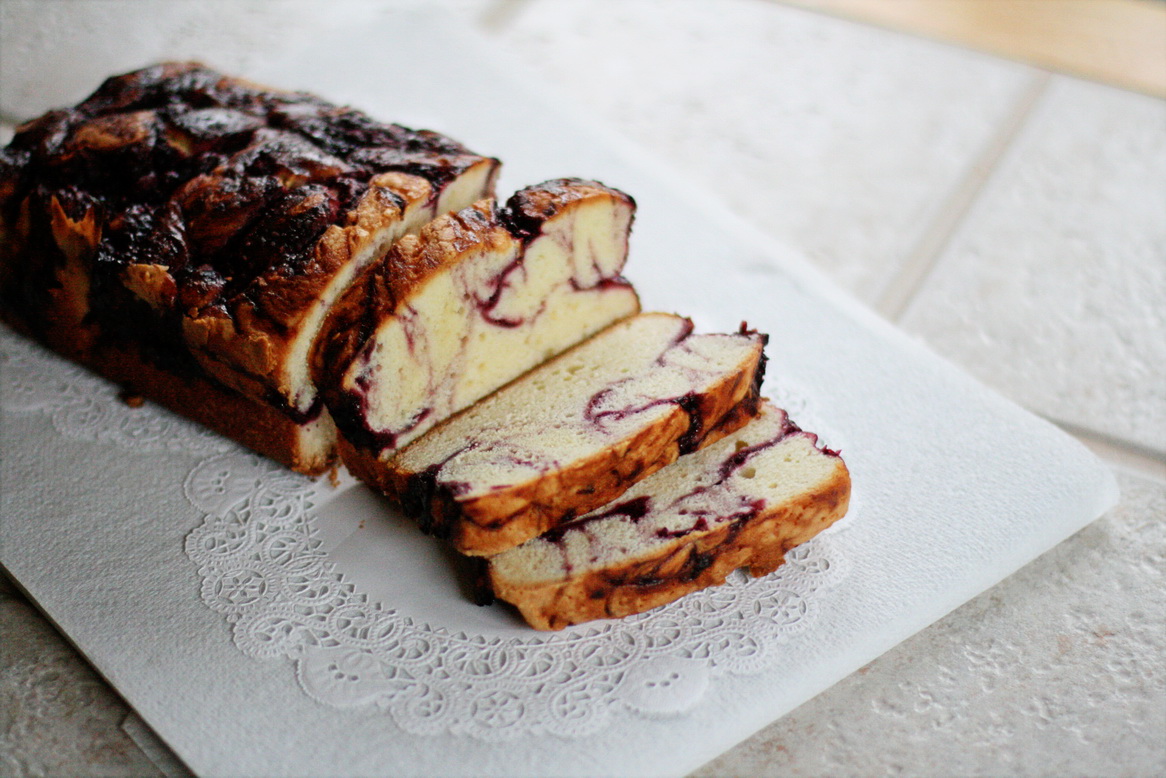 Blackberry Pound Cake
Ingredients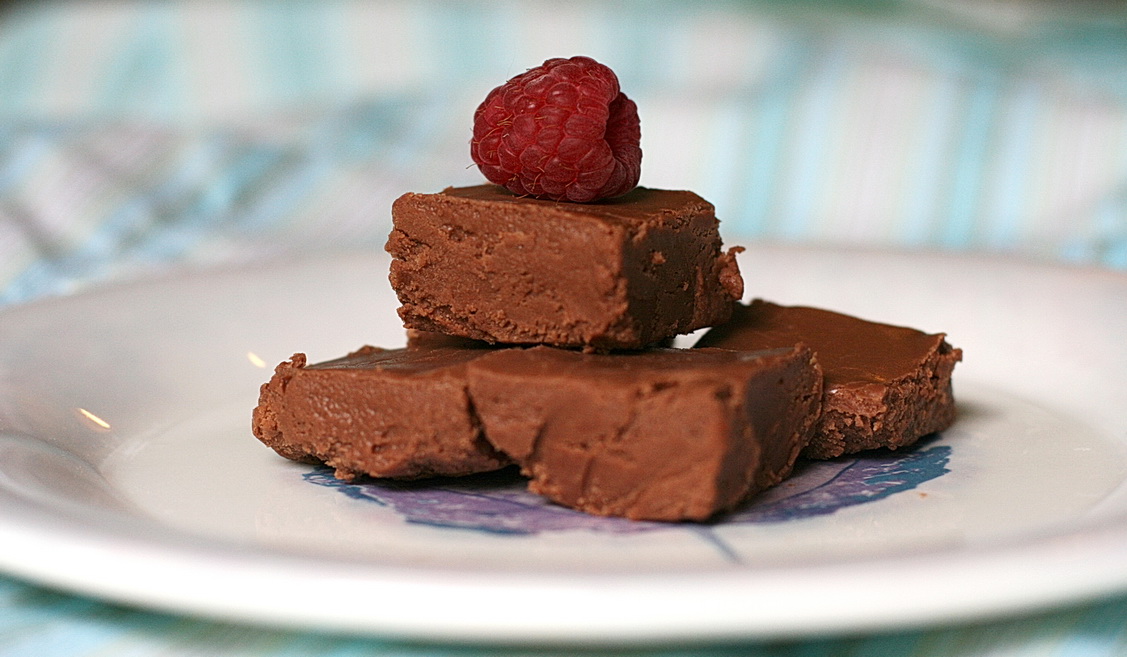 I have never before in my life made fudge of any kind.  In fact, I have never really eaten it.  Over the weekend I tried some raspberry fudge at one of the vendors and I instantly had to buy some.  They were completely out of it with the exception of two small blocks, and I told them to discount it and I bought them.  I took them home with the idea that these tiny blocks of fudge would last me a few weeks, but sadly they were gone in two days  LOL.  Since the farmer's market is only on Saturdays, in my desperation I decided to make my own.  I scoured the internet and came up with several recipes and decided to give it a try.  This is the raspberry fudge recipe I used but I changed the amount of sugar to 2 cups instead of 2 and 3/4.  To me fudge is rather sweet, so I wanted to experiment and it came out ok as far as I can tell, you can go all out with the sugar or experiment.  I also added a little more of the raspberry flavoring because I like it.  I would recommend using an oil which I found at a cooking supply place.  The imitation stuff at the store is too liquidy (is that a word?).
Here is the Cast of Characters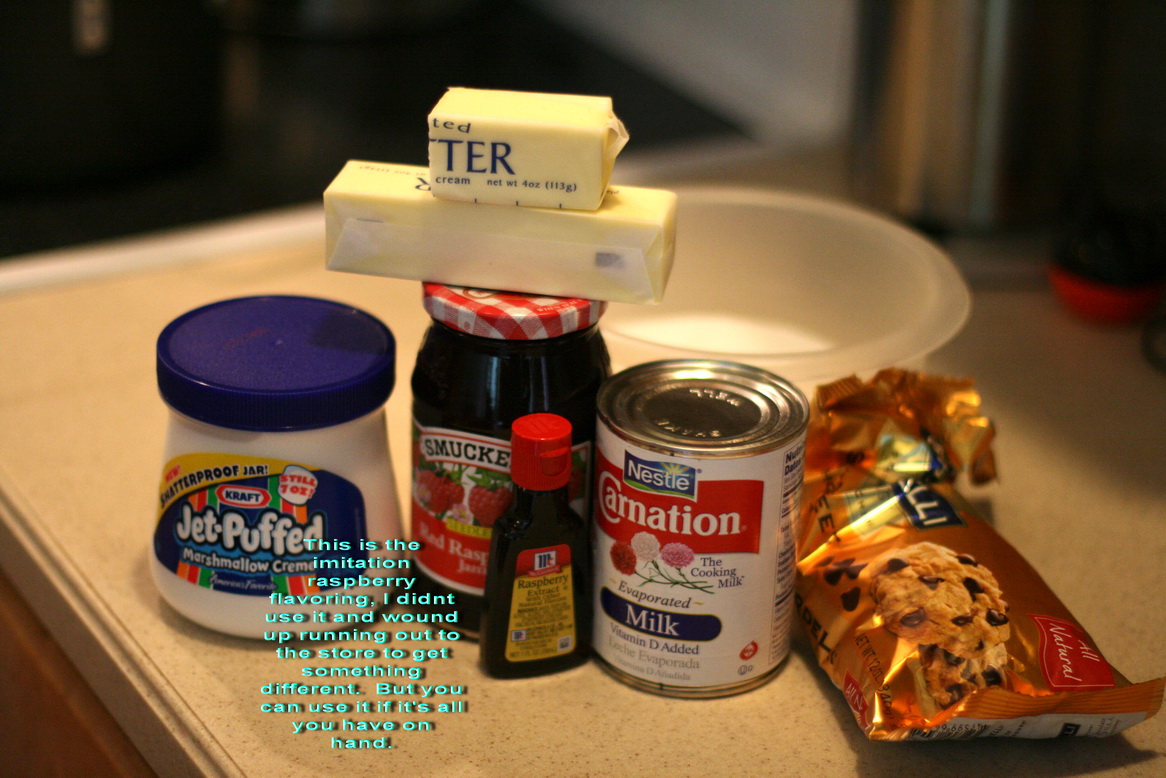 Recipe
3/4 cup (1 1/2 sticks) margarine or butter
1 5-ounce can (2/3 cup) evaporated milk
1 7-ounce jar Marshmallow Cream
1/3 cup seedless raspberry jam
2 cups or 2  3/4 cups sugar(depending on personal preference)
1 12-ounce package semi-sweet chocolate chips
1 cup chopped nuts – optional
1 teaspoon vanilla extract
10 drops Raspberry Flavoring
Lightly grease a 13-x9-inch or 9-inch square pan.
Mix margarine or butter, sugar and milk in a heavy 3-quart saucepan; bring to a full rolling boil on medium heat, stirring constantly.
Continue boiling 5 minutes on medium heat or until candy thermometer reaches 234°F, stirring constantly to prevent scorching.
High Altitude: Decrease recommended temperature (234°F) 2 degrees for every 1,000 feet above sea level. (Who pays attention to this?)
Gradually stir in chocolate chips until melted. Remove from heat.
Add all remaining ingredients and mix well.
Pour into prepared pan.
Cool at room temperature.
When cooled, cut into squares.
Makes about 3 pounds
ENJOY!!!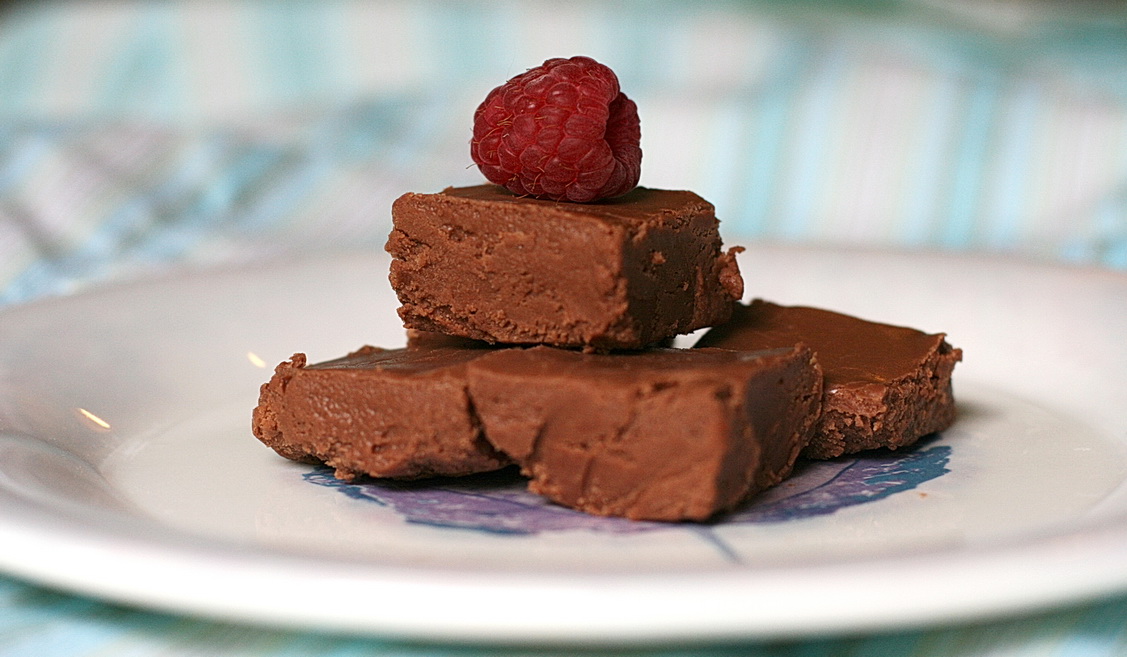 This is the end result and it turned out pretty yummy for my first go around.  The nice thing about fudge is it will last you an eternity if you exercise self control.  I am personally trying to diet, so just a tiny piece of it, is enough to curb my chocolate cravings so I don't fall off the wagon.  What is your favorite chocolate recipe or fudge recipe?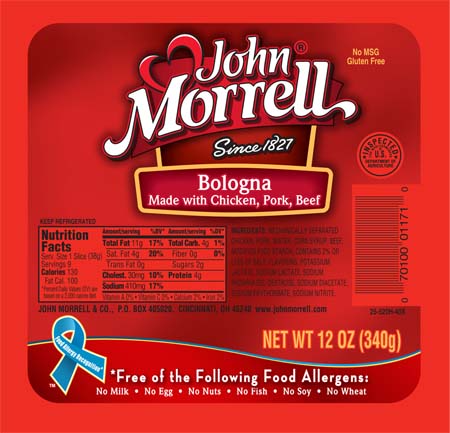 Allergies are big deal here in my house.  I have always suffered the occasional sniffles and sneezes that come along with allergy seasons, and as a child had a milk allergy.  Since having the boys, I have always been concerned that they might acquire some of my husband's allergy problems.  As babies, I was always a little on edge when trying new foods, because you just never know when a food allergy would pop up.
There are a whole host of food allergies that run in my family.  I actually have an Aunt that is severely allergic to beef.  They aren't certain if it is an allergy to the hormones that are used to treat the cattle or not, or if it is something else.  Often times when you read a food label, there are a myriad of food preservatives or other ingredients that could potentially trigger a food allergy  in them, so having foods available that offer an allergen free alternative is always nice and choices may not be as limited.  Plus, when you read that some foods my not actually have nuts in them, but have been processed in places that do use nuts, it makes you even more concerned and more limited on the foods you can buy if your child or family has food allergies.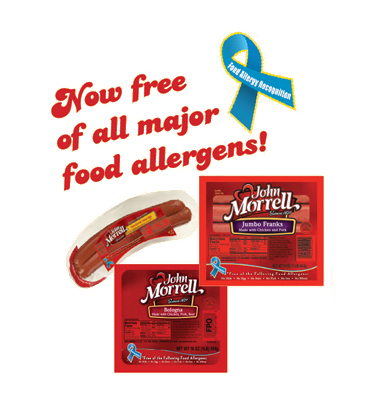 We recently were given the opportunity to try John Morrell Allergen Free Meat.  John Morrell makes their brand hotdogs, smoked sausages, and bologna now 100% "worry-free".  This means that they are free from allergens of milk, nuts, egg, soy, wheat, gluten, and MSG!   They even went a step further by making their hot dogs, smoked sausages and bologna in a completely allergen-free facility.   We tried their hotdogs on a weekend trip to the lake and grilled out.  They were a big hit and I didn't notice any taste difference, and I could be happy knowing that I was avoiding some of the potential things that could possibly trigger a  food allergy.  It is also nice when you have people that have allergies to foods, that you can have them over and not feel like you have to exclude them from your meal, or make separate a separate food choice. 
If you or your family has food allergies, John Morrell Allergen Free Meats may be a great choice for you and your family to enjoy without the worry.  If you or your family would like to give John Morrell Allergen Free Meats a try you can visit their facebook page and get a $1 off coupon towards your purchase! 
"I wrote this review while participating in a blog campaign by Mom Centralon behalf of John Morrell and received a free coupon for John Morrell products to facilitate my candid review. Mom Central also sent me a gift card to thank me for taking the time to participate."

As a Mom, it is always a challenge to come up with things to feed your family.  It is even harder to come up with creative ways to slip healthy dinner choices into your family's diet, especially if you have picky eaters.  One of my boys will eat just about anything, but my other, you have to convince him that the food you put in front of him is good.  Making subtle changes with healthier variations is what I found to be easiest when attempting to put something good for us on our plates.
I will be the first to admit that I tend to skip over the healthier version of a favorite food because it has been burned into my mind that it just won't taste as good or taste the same, but I am usually willing to try it, if you put it in front of me..  My husband is a very anti-healthy anything, and if the label even mentions whole grain foods or whole wheat anything, he won't touch the stuff.
I was recently given the opportunity to try Uncle Ben's Brown Rice and I must say that I was pleasantly surprised.  We use a lot of white rice with various dishes in the house, so I figured that making a switch would be a good idea in the long run.  We were able to try a few different varieties Natural Whole Grain Brown, with the traditional cook time (40 minutes), plus Fast & Natural Instant Brown Rice and Boil-In-Bag Whole Grain Brown Rice (both ready in 10 minutes).  I am a big fan of the boil in bag rice but we tried the Fast & Natural Instant Brown Rice.  I was serving a pork dish with a sauce that I dumped over the rice, but because rice is so versatile you can incorporate it into many dishes.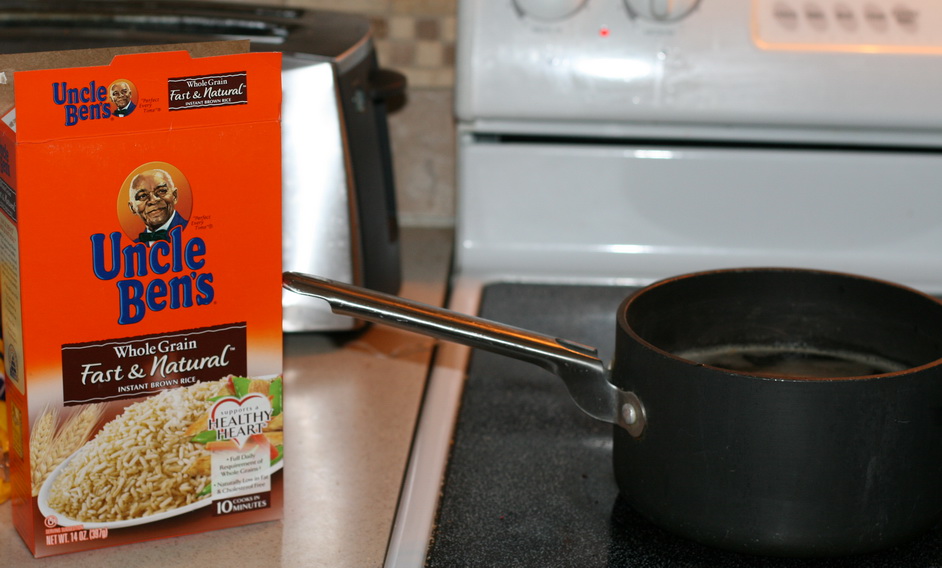 The rice definitely has a distinct taste, and you can taste the whole grain, but everyone seemed to really like it, and I can see switching to use it in place of just using white rice, although I don't think I will give it up completely.  Uncle Ben's also has some really  great recipes to try using their Whole Grain Brown Rice, such as: Chicken & Brown Rice Sloppy Joes (this is next on our list to try); Tex Mex Rice with Shrimp, Corn and Lime; Chicken, Apple and Walnut Brown Rice Salad; and Mediterranean Stuffed Portobello Mushrooms. This makes it really easy to incorporate healthier choices and please even the pickiest palate.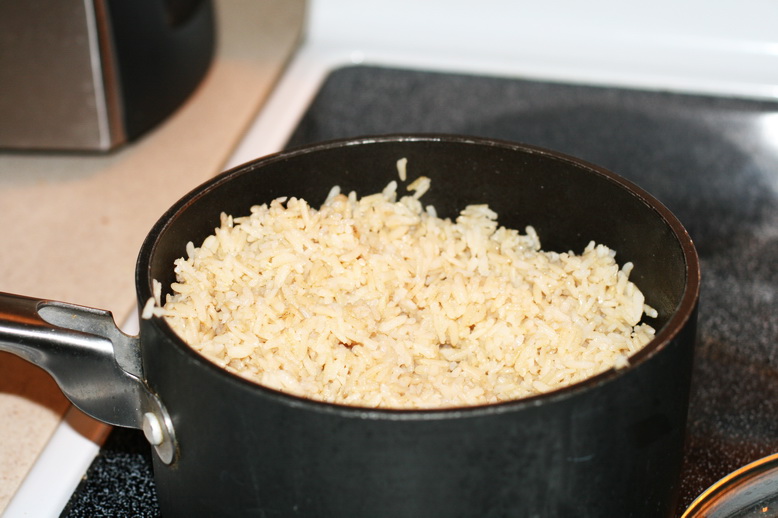 All in all, we really liked Uncle Ben's Whole Grain Brown Rice and will be keeping it as a staple in our pantry.  I can't wait to try their Sloppy Joe Recipe!
"I wrote this review while participating in a blog campaign by Mom Central on behalf of Uncle Ben's and received samples to facilitate my candid review. Mom Central sent me a gift card to thank me for taking the time to participate."


With the holidays comes all the family gatherings and meal preparations to feed what seems like an army of people.  I know how easy it is these days to go to the store for just a few simple things and you wind up spending nearly a hundred dollars and feel like you come home with next to nothing.  With the current state of the economy, I think families are truthfully struggling to keep food on the table and finding ways to make a holiday meal and or party memorable on a budget can sometimes be tough.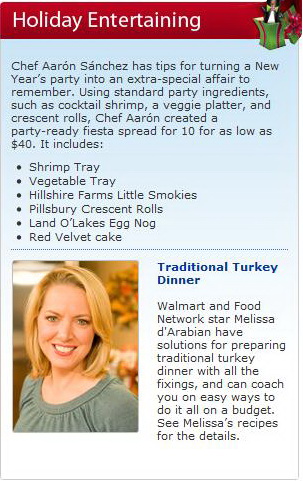 Walmart is helping families celebrate without breaking the bank and they are offering fresh and affordable holiday meals to help eliminate some of the stress that comes from footing the bill in hosting a large gathering.  Walmart's Christmas Dinner for Eight under $30 provides all the ingredients necessary for a traditional meal, including a 10-lb Spiral Cut Half Ham, three cans of Del Monte green beans, one 10-lb bag of russet potatoes, Sara Lee dinner rolls, and a pumpkin pie! The New Year's party basket for 10 for under $40 includes a Shrimp Tray, Vegetable Tray, Hillshire Farms Little Smokies, Pillsbury Crescent Rolls, Land O'Lakes Egg Nog, and a Red Velvet cake. And to give your recipes some pizazz Aaron Sanchez of Food Network is sharing some cooking tips and unique, delicious recipes he created with Walmart's basket of holiday and New Year's ingredients.  I am amazed at how much you can get for under $40 to make a really great event!  Not only that their holiday meal pages offer some great recipes and tips.
We do a lot of our pantry staple items at Walmart simply because they offer prices that are well below the supermarkets in our area.  I think that offering meals that the whole family can enjoy without the additional stress of finding out how to pay for all of it is a great way to give families a leg up.  One less worry makes our job as Moms a little easier so we can enjoy the holidays as well.
DoubleBugs, Walmart and Mom Central would love to give two lucky readers a $30 Walmart gift card to buy the perfect celebration meal for your family and friends.
Here's What You Gotta Do!
Tell me what your favorite family meal or tradition is, tell me what you love about Walmart's prices and meals for under $40
Additional Entries
Tweet about this great contest
Add me to your twitter
Blog about this giveaway
Grab my button and post it on your blog
Add Me To Your Technorati Favorites
Contest Starts December 18, 2009 and Ends December 31, 2009
Good Luck!
"I wrote this review while participating in a blog tour campaign by Mom Central on behalf of Walmart. In addition, I received a Walmart gift certificate to thank me for taking the time to participate and two to offer as a giveaway."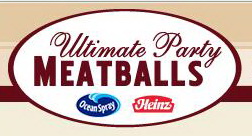 It is that time of the year when holiday festivities are about to be in full swing.  Every year my husband and I are invited to at lease several events that involve bringing a favorite appetizer or dish.  If you are a busy mommy like me, my ambitions are usually greater than my energy level in creating some new found masterpiece to bring to a gathering.
Over the weekend we were invited to a football party and it was a "bring a favorite dish" type party, so I found myself thinking about what I should bring. I quickly remembered that I had a new recipe to try, and I had all the ingredients to give it a test.  Heinz and Ocean Spray have teamed up to create a really easy yet great tasting addition to any holiday gathering.  Their Ultimate Party Meatballs recipe takes three ingredients and they taste unbelievable.  If I had known how easy this was all along, I would have been coined the meatball lady at all these parties!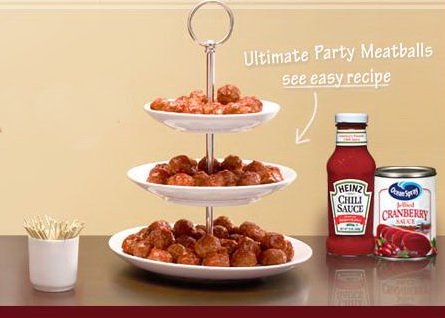 I chose to do the crockpot method of preparation.  All you do is throw in a bottle of Heinz Chili Sauce and Ocean Spray Jellied Cranberry Sauce, and two sof frozen meatballs and put your crockpot on high for four hours and you are good go.   They smell totally awesome and they taste even better.  I couldn't stop stealing meatballs from the crockpot,  at least I made a double recipe. They have the perfect combination of salty and sweet tangy zip that make you want to keep coming back.  I came home with just a few lone meatballs left.
Here is the official recipe
If you like a little bit of a kick to your meatballs you can add a dash of tobasco to them to give them a little kick. I refrained from adding it this time because some people might not like the spicy. They were so yummy that I took the last of the meatballs and made a sub out them for my late night snack.
Whether you are heading out to a party this holiday season or if you are looking for something easy to make for an appetizer. Ultimate Party Meatballs by Heinz and Ocean Spray are a perfect addition!
"I wrote this review while participating in a blog tour campaign by Mom Central on behalf of Heinz and Ocean Spray and received the ingredients necessary to facilitate my review. In addition, Mom Central sent me a gift card to thank me for taking the time to participate."

I absolutely love Paula Deen, in a very I want to stand in the kitchen with her and cook all day, sort of way.  I am a comfort food girl and being a mom to twin three year olds, and a husband that doesn't cook, I rarely get to eat what I call good home cooked food.  For me, I can cook some really good dishes, but it never tastes the same as when someone else helps with the meal or cooks it.  I'm not saying that Paula should come and cook a meal for me, but I would love to be in her kitchen for a week and learn some new ideas.
I love the way she says "Pie" and I was in tears laughing when she dropped the bowl in the mixer on the Oprah show!  She strikes me as a down to earth person, who I could easily get along with.  I am the quiet sort of gal, but I am sure she could make me forget about that.  My dream would be to have her in my kitchen, although I would be embarrassed about my lack of cookware, shoot it wouldn't have to be my kitchen, I don't think I would care if Paula Deen was there.
If I could have anyone in the world cook for me, it would surely be Paula Deen.  I missed her appearance at Blogher and I was pretty bummed.  Oh and is cooking really that neat or is that for television only, because I make a darn mess when I am cooking!  They make it look so pretty on tv that I would never have to clean my kitchen.  Give this mommy a spa, 12 hours of sleep and a meal with Paula Deen.  A girl can dream can't she?

I make potato salad a lot during the summer and grew up eating it because we made it for family functions.  We always boiled the potatoes, had to let them cool and then peeled them.  I was just sent a really cool video on how to do this, and I am gonna try it the next time I make potato salad. I must be living in the dark ages to have not figured this one out sooner.   So cool!