Costco is running a great deal on pork this month and as part of a project to promote the National Pork Board I am posting one of my favorite recipes using my trusty crock pot and a Sirloin Tip Roast from Costco. Pork is considered the "other white meat" and it is relatively easy to prepare. I recently made a trip to my local Costco to pick up the things I needed to make a really great dinner for my family using pork.
Costco has a lot of great products that I buy on a regular basis. I was able to pick up the canned mushroom soup I needed, fresh organic Ceasar salad mix, rolls, and organic broccoli, pre made mashed potatoes and four pork sirloin tip roasts. As a busy mom, I typically make a lot of things in my crock pot because it is convenient. Usually what happens, is that I get busier as my day progresses, and by the time dinner rolls around, I am very short on time to come up with something to make on short notice. The crock pot is ideal because I can throw everything in there in the morning and just let it go for the day. When dinner rolls around, I can make up a few side items and dinner is pretty much ready to go.
Pork is relatively easy to prepare for the crock pot. You can make lots of great things, like pulled pork, and roasts that simply melt in your mouth by the time they have been in the crock pot for hours. My favorite is super easy and versatile for making sandwiches, Sunday dinner, or shredding up the pork roast for later use like egg rolls, or serving over rice. Recipe to follow.
Get your roasts at Costco!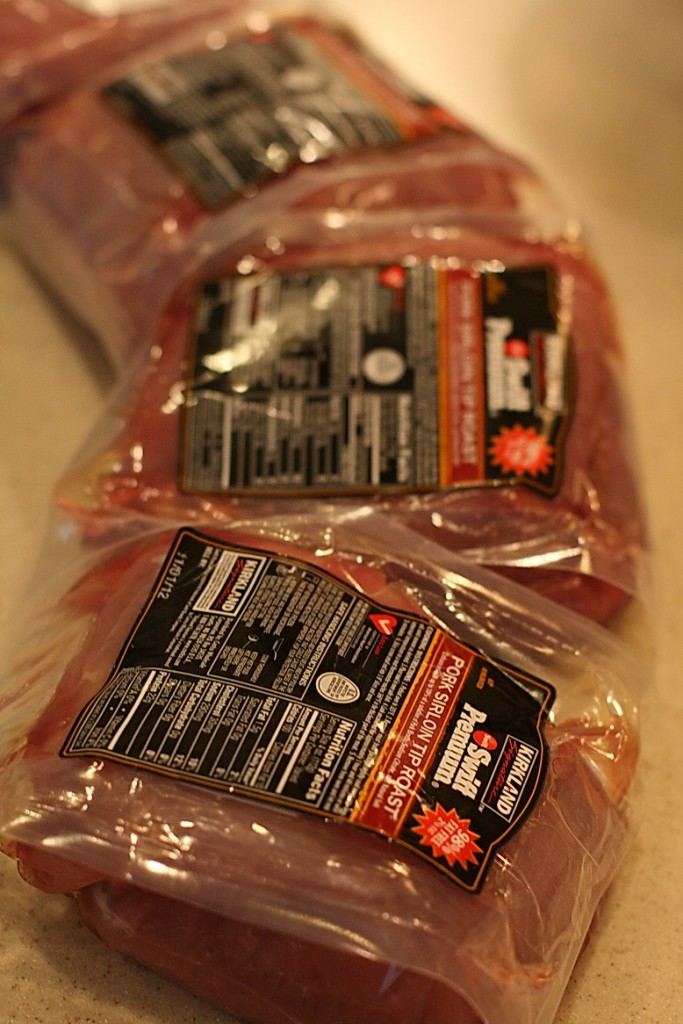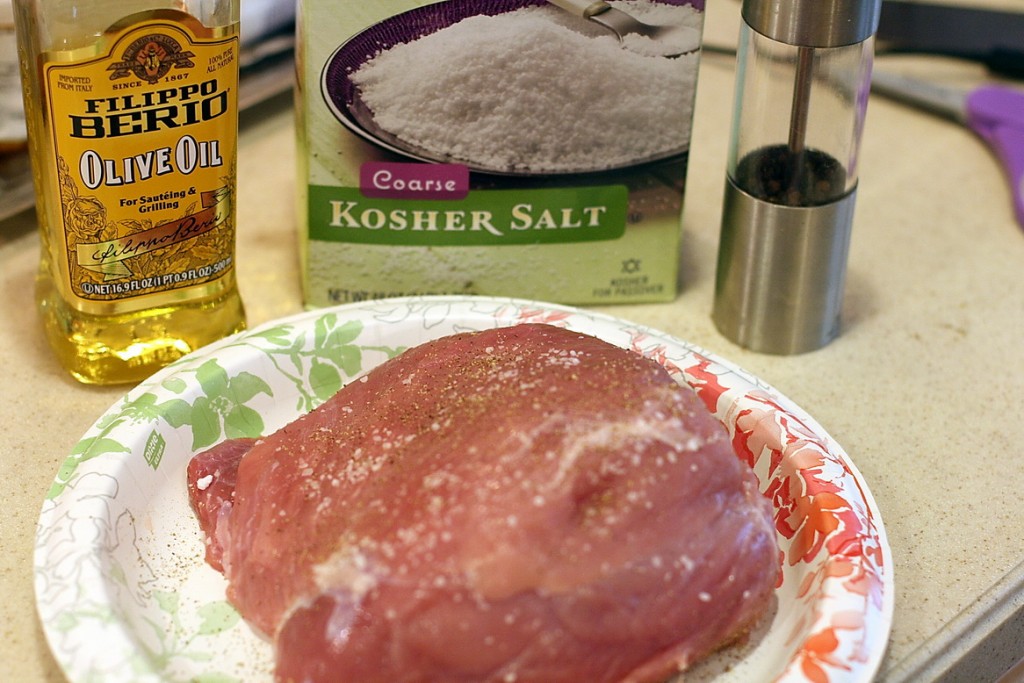 Get the roast ready for browning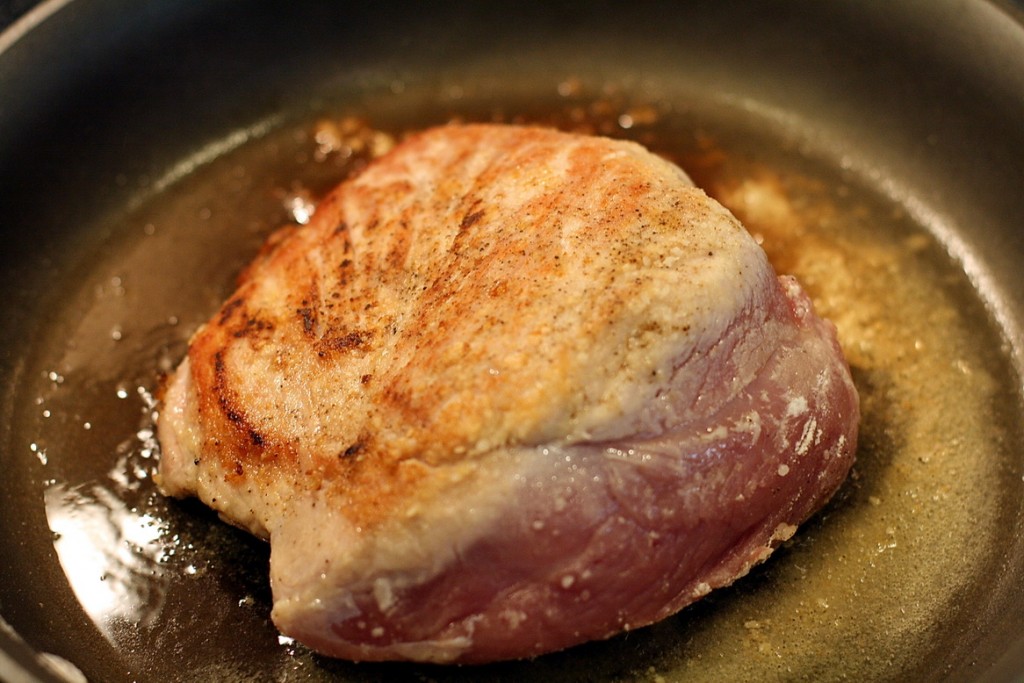 Brown the roast evenly on all sides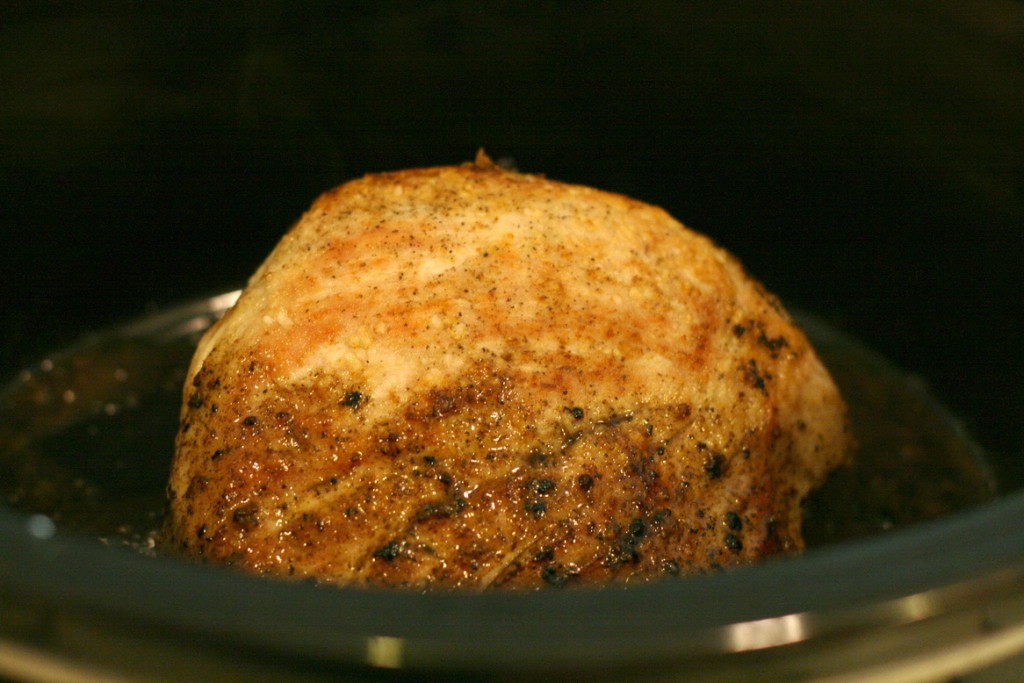 Deglaze the pan and put into the crock pot.  It's looking pretty already!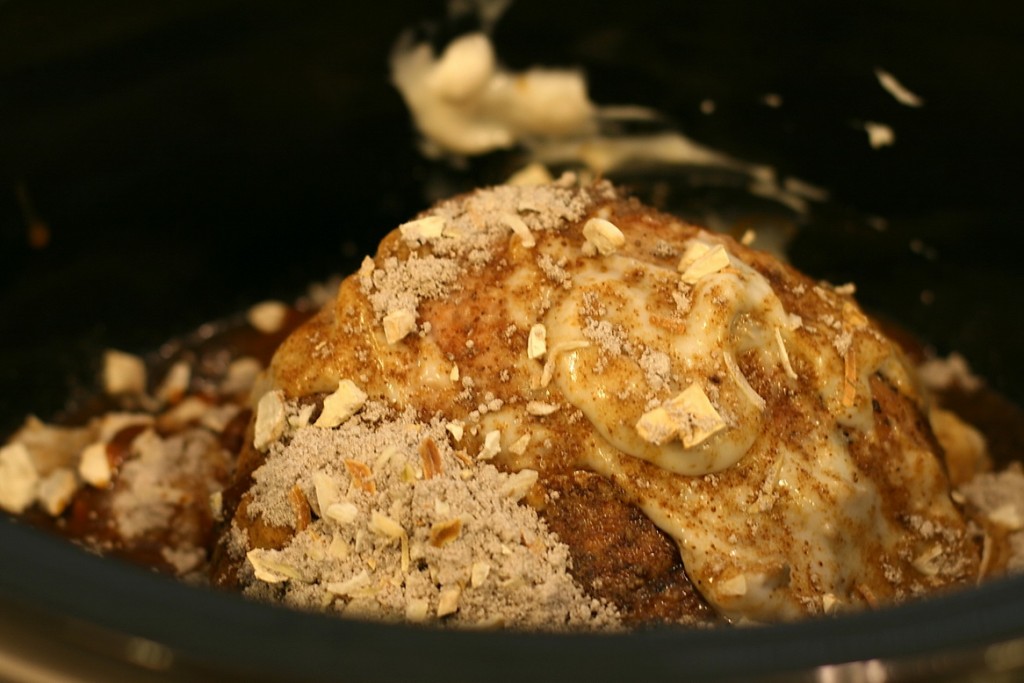 Add all the other ingredients, beef broth, soup mix, mushroom soup, and mushrooms and let the crock pot do its job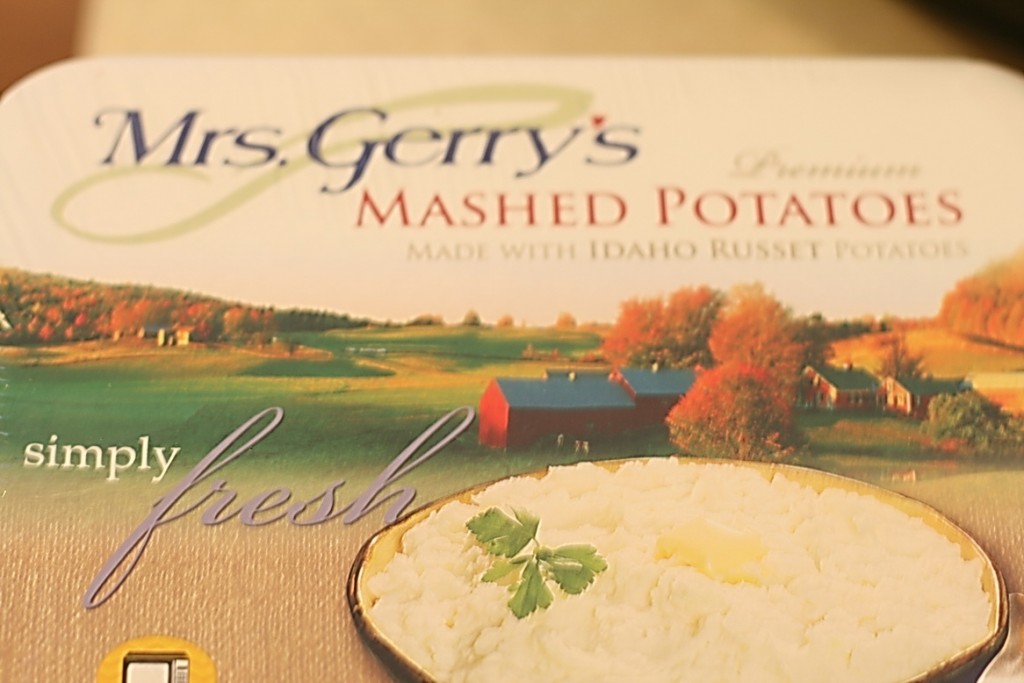 These were the mashed potatoes that I used that were on sample at Costco the weekend I went.  Who knew pre-packaged mashed potatoes could taste so good!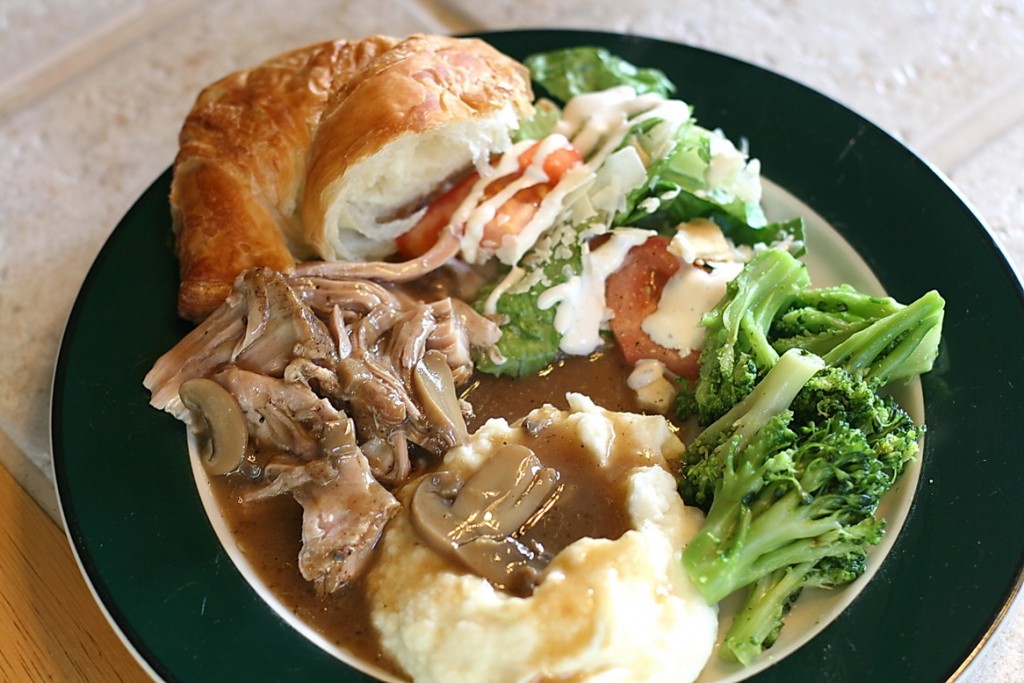 I know this looks all lumped together on the plate, but this is the best dinner ever!  The roast will just melt in your mouth!  Yum!
Crock Pot Pork Roast
1 2-3 lb Pork Sirloin Tip Roast
Olive Oil for browning
Flour
1 pouch of lipton onion mushroom soup
1 can of campbells cream of mushroom soup
3-4 cups of beef broth
Kosher Salt
Pepper
Can of sliced mushrooms if desire
White cooking wine for deglazing the pan

Directions:   Rinse and pat the pork roast dry.  Then sprinkle with kosher salt and pepper.  I just kind of eye ball it, I really don't have a set amount.  Heat 2-3 Tbs of olive oil in a skillet, and coat the pork roast in flour.  Brown it in the skillet, and remove the roast and put it into the crock pot set on high.  After I have browned the roast, I usually deglaze the pan with a little white cooking wine, it gets all the good stuff left behind from browning the roast and I toss it in the crock pot.  Add the lipton soup mix, cream of mushroom soup, mushrooms and beef broth over the top of the roast and put the lid on and let it go on high for 6-7 hours.  If you will be gone longer you can cook on low for 8-10 hours.  If you like potatoes or carrots, you can add these too about half way through the cooking process.  At the end of cooking, I will sometimes add a little cornstarch mixed with water to thicken up the sauce for a gravy.
I served broccoli, rolls, salad, and mashed potatoes this time around.
So, as you can see pork can be as simple or as complicated as you want for meal preparation.  This is by far my favorite recipe and the leftovers make really great sandwiches.
This is a sponsored post on behalf of Costco and The National Pork Board through The Motherhood.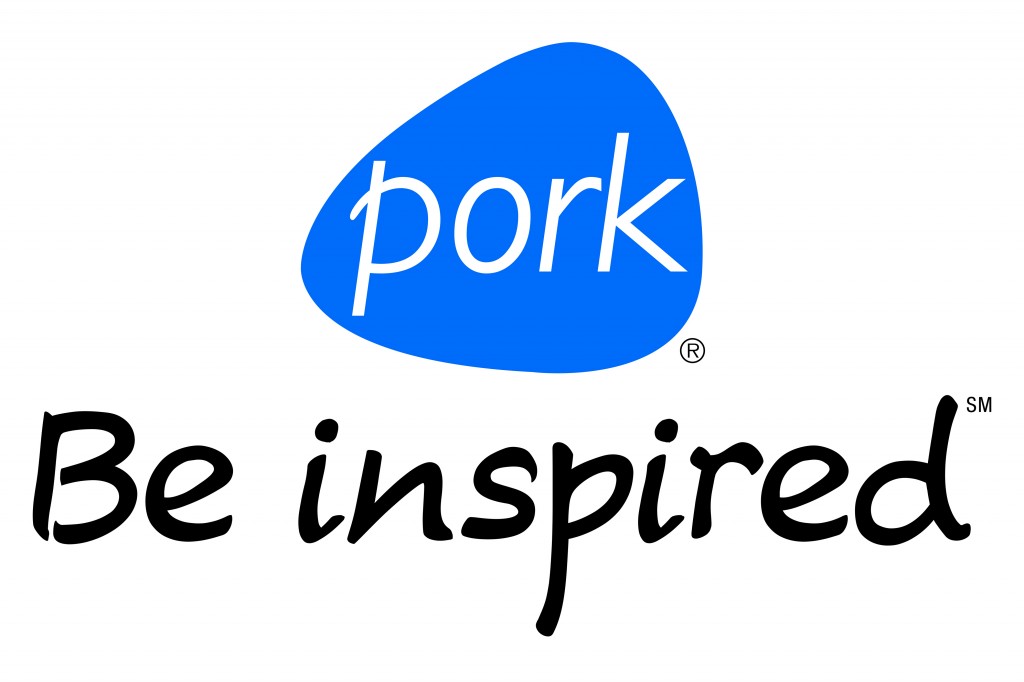 I used to be intimidated by making pork of any kind, although I  have always liked when my Mom made  pork roasts for family dinners.  They are so good and aren't nearly as dry as eating a beef roast.  After I got married, I started experimenting with different cuts of pork throughout our marriage and eventually I came up with a few of our favorites.  My most favorite recipe is one that I toss in the crock pot and let it go.  Now that I am pregnant, it makes it an even easier go to recipe for my family.
This month Costco is offering discounts on top pork cuts from chops and roasts to pork tenderloin and boneless loins with savings of $2-$2.50 on various cuts.  One of my favorite cuts for the crock pot, the Sirloin Tip Roast is on sale now between October 8 and October 14.  I was able to pick up a package this weekend that had four 2-3 pound pork sirloin tip roasts for $16 before the discount was even applied.  That will feed our family for four meals!

With the holidays coming up this a perfect opportunity to offer a variety of foods at your gathering.  I can think of some great pulled pork recipes in the crock pot for sandwiches, that can be great crowd pleasers. And if you are unsure of how to prepare pork, there are a ton of recipes out there.  And if you are uncertain about temperature and cooking guidelines, The USDA reduced the temperature guideline for pork loins, chops and roasts from 160 to 145 degrees F, with a three minute rest. Ground pork, like all ground meat, should be cooked to 160 degrees.  This will help take the guess work out of how to make cuts of meat you might be unfamiliar with.
The following is a great video and recipe using slow cooked pork!

If you steer clear of pork because you just don't know what to do with it, I will be posting a great and simple recipe using a sirloin tip roast from Costco. They offering a really great deal on them! To help you make a fabulous pork meal, I am offering one lucky reader a $50 Costco cash card. You can co and stock up on these great deals and more for meals and holiday gatherings.
Here's what you gotta do!
Watch the video in this post and share your favorite part of the video in the comments.  And that's it!
Giveaway starts October 10, 2012 and Ends October 24, 2012
Good Luck!
This is a sponsored post on behalf of Costco and The National Pork Board through The Motherhood.