Recently, I mentioned that I was on a weight loss mission.  My ultimate goal is to lose 65lbs so I can go shopping for the cute clothes and just feel better in general.
I have been working hard for the past 4 weeks and I have lost nearly 20lbs in that time.  I am logging all of my intake, so I can be accountable for what I eat.  You would be surprised how much you can overeat without even knowing.  For instance, I love SunChips and this peach salsa.  When you "gasp" look at the bag you will see that a serving is only 15 chips or something like that.  When you sit there and physically count your chips one by one, you will realize that this seems like a meager amount.  Normally you would just reach in the bag as much as you want until you are satisfied.
I have had to adjust the way that I eat.  If I want something sweet, I head for the fruit before I go to my next step which is chewing gum.  I will admit that I do not deny myself treats.  In fact, I made a homemade chocolate cake with chocolate icing from scratch and had one piece nightly after dinner for a few nights.  The key is moderation.
I had not been used to eating healthy, so at first a piece of fruit tasted like crap to me.  But now it is something that I crave.  If I eat a piece of chocolate and go to fruit, the fruit doesn't taste sweet, so try to avoid high sugar foods.
I have gone from walking between 5-10 miles per day, to starting to run.  I only made it ten full minutes, before I thought I was gonna die, but it feels good do it.
My favorite snacks so far:
Sliced white peaches with a Tbs of light whip cream
SunChips Garden Salsa flavor with peach salsa
Carrots drizzled with a half tsp of green goddess dressing
Apple with 1 tbs natural no sugar peanut butter
Cranberry Rush Trail Mix from Meijer and Nutrition Nut/Fruit Mix from Planters
Canteloupe
Chocolate graham crackers with light whip cream in between, and put it in the freezer for a mock ice cream sandwich
My favorite breakfast
Maple and Brown Sugar Outmeal with Flax by Three Sisters
As for dinner, I haven't found a favorite meal, but I tend to eat whatever is made for the family but I measure out portions.  I will drink water but sometimes I want something else and I have found that I really like the regular Vitamin Water.

What are your favorite lo cal snacks?
Diets are no fun.  The minute I start to eat all the so called good for you foods, I get cranky.  Going through the grocery store, makes me feel like I must be blindfolded so I don't pout.  And flaxseed with oats tastes a bit like dirt, don't let anyone tell you otherwise.
I hate water, well not hate but, I like soda, and not diet.  My goal is to avoid artificial sweetners and soda all together.  I am drinking more water, and feel like I need a catheter permanently attached to me, so I don't have to be in the bathroom peeing every five minutes and im only drinking three glasses a day folks.
I am walking every night and dragging the dog along.  I put my iTouch on shake to shuffle, and walking quickly made me feel a bit ADHD because it didnt like my brisk walking and proceeded to change songs with every step.
Day two and I am still alive! I am sure after my chocolate and coca cola withdrawals (in about 4 weeks), I will be a much happier camper.  But until then look for crab apple posts like this one.
I will conquer.
Fiber is one of those things that is important for our bodies, but let's face it, most people rarely get enough of it in their diets.  You hear it all the time "eat more fiber," it's essential for good health.  Fiber is found mainly in fruits, vegetables, whole grains and beans.  When I think of fiber, I think of poop.  Really, who doesn't think about that first?  It has its other health benefits, but I have always heard, you need more fiber to keep yourself regular.
With the new year, comes all the promises of a healthier lifestyle, and better eating habits.  I am always gung ho in the beginning, but eating the right foods, isn't always easy or very tasty.  When you are out of the habit of eating the healthy foods, everything good for you, is less than appealing.  Let's face it, lettuce leaves don't taste like much, unless you have cheese and dressing on it.  And eating fiber, is just as bad as the lettuce leaf, if you don't jazz it up with something it tastes like cardboard or wood chips.
Fiber Facts

Most people need 25 to 30 grams of dietary fiber each day, but most of us get only 12 to 15 grams a day.

One daily serving of FiberChoice® – just two chewable tablets – contains 4 grams of dietary fiber.

Fiber is typically associated with regularity, but fiber is also important for overall digestive and full-body health.

FiberChoice® should be taken every day as part of an ongoing effort to live a more healthy life.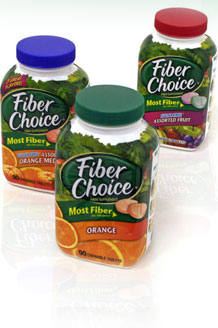 I always try to offer the boys fruits, vegetables and whole grains to ensure that they get enough fiber in their diets.  One of my boys has always had problems with constipation, so I have always tried to give him things like prunes, and encourage drinking lots of fluids.  I am always looking for easy additional ways to add some fiber in my diet and his.  I recently had the chance to try Fiber Choice, which is a fiber supplement.  My initial thought, when I read the bottle that said, sugar free and fiber supplement, was that this was a bottle of compressed taste free lettuce leaves.  But to my surprise, they actually tasted really good and are easy to take at any time during the day.  The recommended dosage is two tablets.  I started with that and found that I did get a bit bloated and gassy and I just reduced the serving to one and a half tablets for about a week to let my system adjust.   Each chewable tablet is scored down the middle so it makes it easy to break them in half and I also started giving my sons half a tablet daily, and my husband takes two in the morning.
Because they're chewable, FiberChoice® tablets are the fiber supplement you can keep anywhere, take everywhere – at your desk, in your gym bag, in the car, in your suitcase, in the kitchen counter – wherever it's convenient for you.

Inulin: A natural fiber source.

One daily serving of FiberChoice chewable tablets – just two tablets – contains 4 grams of inulin, an all-natural dietary fiber found in fruits and vegetables. Inulin is a unique fiber source that helps boost calcium absorption.*
We now make taking fiber a daily part of our routine. My husband hardly ever eats a vegetable or fruits for that matter, so this is also a great alternative, and helps to get at least some fiber in his diet. We recently stocked up with the 220 count bottle from our local Costco, and plan to keep up with the daily routine of taking Fiber Choice. A little more fiber in our diets can only help in maintaining our health and keeping our plumbing in order.  To learn more about Fiber and it's benefits you can follow @FiberChoice on Twitter or visit their website at http://www.fiberchoice.com
"I wrote this review while participating in a blog tour by Mom Central Consulting on behalf of FiberChoice and received a coupon to facilitate my review and a gift code to thank me for taking the time to participate."
I have recently decided to embark on an adventure to change my eating habits. I am not quite gung ho yet, because I simply dread taking that next step. I know that I will go through my standard three week sugar and no bad food withdrawal before I will even remotely feel like I am human.
Exercise sucks for the first few weeks, and even then I often find myself praying for my one hour to be over. You know you do it too! It isn't fun…and the people who say its fun are usually the people who are twigs. I don't enjoy it, and yes it may be mind over matter, but it still sucks.
Eating the actual healthy fruits and vegetables isn't really all that bad, since I usually like them. But I think my taste buds are dead from all the processed crap that I eat. A piece of fruit doesn't even remotely taste sweet at all. When I was feeling my best before I had the boys, I was working out and feeling great. Id go for an apple and it tasted like chocolate.
Eating healthy is difficult, because it costs more, and meal preparations take longer. Eating out of a box is certainly faster, but it isn't the greatest for your body. And I think maybe there is a big conspiracy between health insurance companies, the grocery stores, and fast food chains. There aren't coupons for lettuce or tomatoes, I can go to McDonalds and buy a full meal for 5.00, yet if I fix a healthy meals I spend way more. It's all ass backwards. We all need to go back to living off the land, like I can envision myself hunting and gathering in the woods, in the freezing weather.
So my taste buds are dead, and I need to get them back in order, to where bad food tastes like crap, and the healthy stuff tastes good again. I'm praying for the motivation and the will to pass up my favorite chocolate and go for the apples. Wish me luck! I think I can, I think I CAN, I THINK I CAN.