Around this house the toys take a beating and you can usually tell quality toys from ones that will break within the first hour your child plays with them.  As a mom to twins, I am often extremely selective about the toys that I buy for them.  I would much rather pay the extra money to get something that is going to last then spend ten dollars on one that, they only play with once. I think as a parent when searching for baby toys or learning toys for your child, you want toys that are going to hold up.
I buy a lot of  wooden toys for the boys, and surprise, they are the ones that they still have, that haven't broken and are in the best shape.  If you know anything about boys, they love to crash and smash just about anything, and when they are using their little imaginations toys can take some abuse.    Recently, as part of a toy review through ebeanstalk, Plan Toys sent us the Activity Bus to try. I will admit, I love websites like ebeanstalk that offer advice on toys that are age specific.  The boys recently had their third birthday and I will admit that I was clueless, because they are at this in between age where they are too young for older toys and too old for baby toys.  Ebeanstalk is a really great site that breaks toys  down by age so it takes out the guesswork when you want to find something developmentally appropriate for your child.
My boys love anything with wheels, and their faces just lit up when they saw the bright yellow school bus.  Along with the bus it came with little wooden desks, a seat for the bus driver, a mock classroom set up with a chalkboard and two wooden figures, I'm guessing these are the student and teacher or bus driver.  I think that the whole idea behind the toy is to encourage your child to use their imagination.  The side of the bus opens up for even more imaginative play.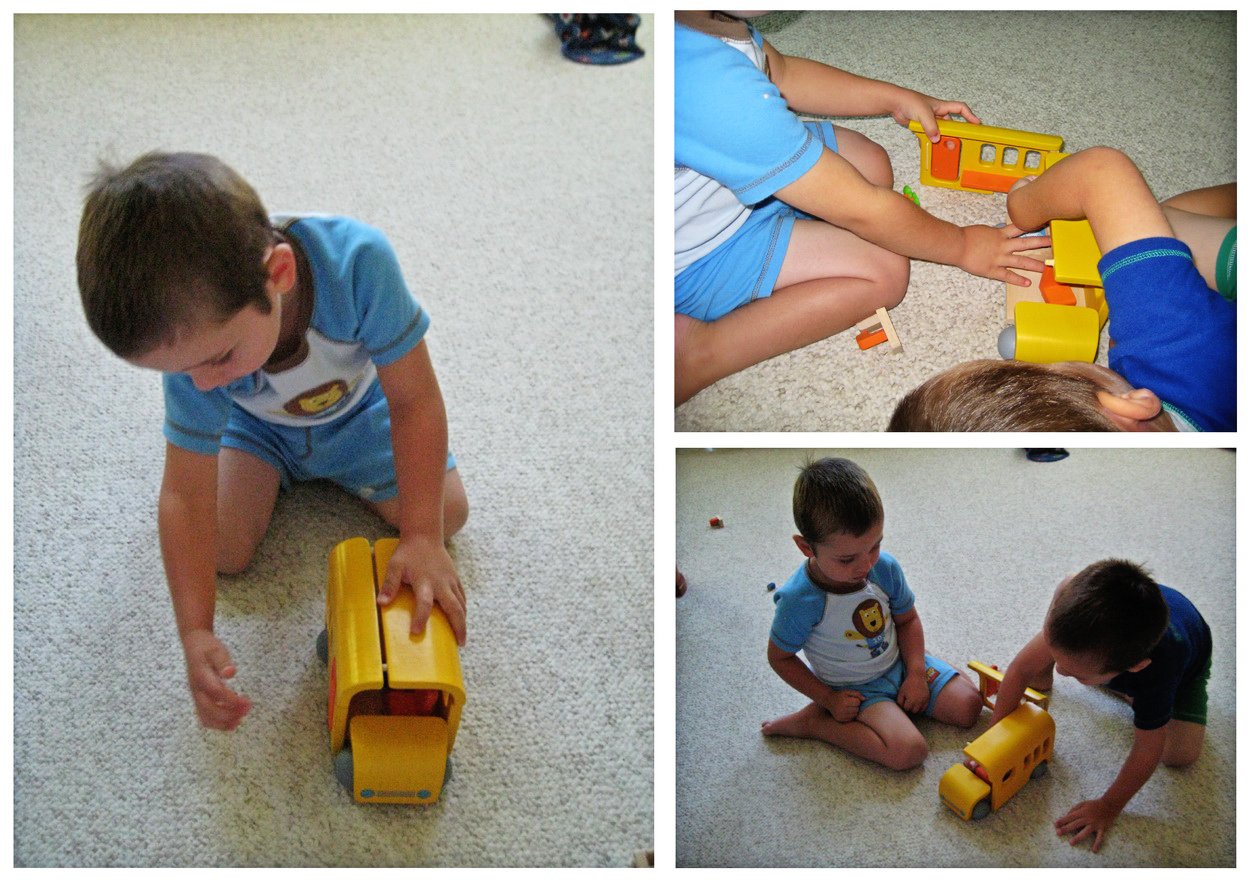 The only thing that I don't particularly like about the wooden figures is that their legs don't exactly bend and it is difficult to make them sit in the desk or in the driver's seat.  This is one thing that I think is important if little hands are trying to manipulate the figures to sit.  One of my sons instantly got frustrated when the little figure wouldn't sit and stay.  Outside of that, we love the Activity Bus and the boys play with it daily.  They love to put their lego guys in there and take them for a drive too. They push the bus all over the house and say "Mommy, they are going to school!"
The Plan Toys Activity Bus retails for $34.99 This is a perfect toy for little imaginations and if you are in the market for safe and eco-friendly toys for your child.  We have several Plan Toys in out house and the boys love them and I love the fact that they are still together and not broken.  In this case quality is so much better than quantity.
**The Plan Toys Activity Bus was provided to me for review and this is my own personal opinion about the product.  Thank you to Plan Toys and Ebeanstalk for providing the toy for review**


Since having the boys, my eyes have been opened to a whole new world of choices that I never really payed too much attention to before.  I have always been concerned about their development and have been fairly selective in the toys that I choose, because I want them to get the most benefit from them.  To me there are junk toys and toys that actually teach them something.  I am a firm believer that not everything has to talk or be battery operated to be of learning value either.  I love places to shop that offer me information on selections based on appropriate age and development and gives parent a wealth of valuable resources, because we can use all the help possible.
Ebeanstalk is dedicated to a baby's development. And they select the best baby toys matched to a baby's development. To see great information on how a baby grows up, check out the info on their baby toys page.
Picking toys for a baby is not as simple as it sounds. Here are some quick baby facts:
Toys for a newborn baby: A newborn baby is briefly looking at objects and attempting to imitate facial expressions. They can follow objects with their eyes and usually quiet down, when they are picked up.
Toys for a three month old: They will enjoy ?frolic play', reaching for objects and will repeat enjoyable activities. Believe it or not, they will respond to ?no' (about half the time) and will start babbling.
Toys for a six month old: They'll search for hidden objects (object permanence). They'll reach for themselves in the mirror, play peekaboo, crumple paper, roll from their stomach to their back and even respond to their name.
Toys for a nine month old: They are pushing toy cars, playing pat-a-cake and looking for hidden sounds. The baby toys they are playing with are also getting more fun.
You can see how children's play changes so drastically from month to month and year to year.  Play is such a valuable tool in encouraging their development that you want them to get the most out of it and get the most out of the money you are spending on toys. Ebeanstalk offers you all of these things in one place which makes it a great resource for parents and a great place to shop for your child.
There is a 15% discount on any first purchase at ebeanstalk — TGS345 — just enter the code at the shopping cart and give the perfect gift tailored for your special little someone!